Divi 2.7 development is well underway, and I am excited to give you a peek at some of the great new features we are working on. Divi 2.7 will focus on 3 major areas: Split Testing, Portability and a new set of Page Options. All three of these new feature sets have one thing in common: they take Divi's existing capabilities and making them even more powerful by enabling you to use them in brand new ways.
The Divi Leads Split Testing System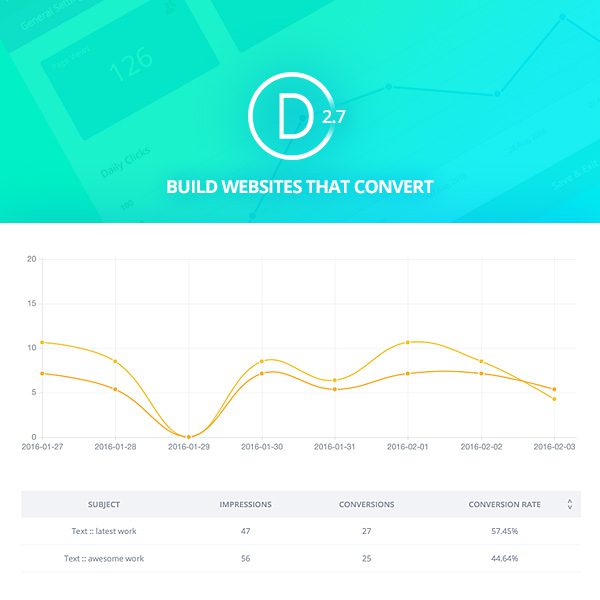 On it's own, the Divi Builder is already an amazingly-capable landing page builder. In Divi 2.7, we are making it even better by introducing a fully-functional split testing system that will make it easy to gain valuable insights from your visitors, test the effectiveness of different content variations and ultimately create higher-performing and better-engaging pages. Divi Leads will be a natural extension of the Divi Builder, making it simple to test different modules, rows or sections to see how each variation affects the conversion rate of your designated goal. This is going to be really, really cool, and I can't wait to dig deeper into the awesome new things that Divi Leads will make possible when 2.7 is released.
Enhanced Portability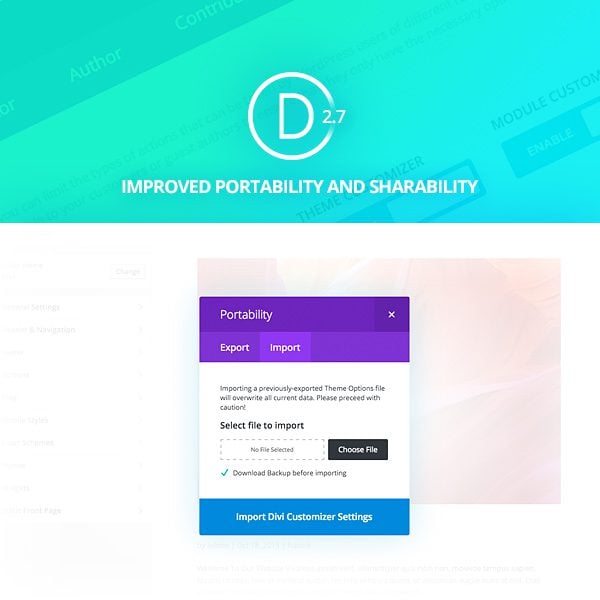 We are make some big improvements to the portability of Divi and the Divi Builder. We want to make it as easy as possible to create, share and transfer Divi configurations and Divi Builder layouts. Whether you want to jumpstart your new client build with a specific design preset, or share your favorite Theme Customizer settings with your colleagues, you will find that Divi 2.7 makes it easy to port very specific configurations from every area of the theme.
New Divi Builder Page Settings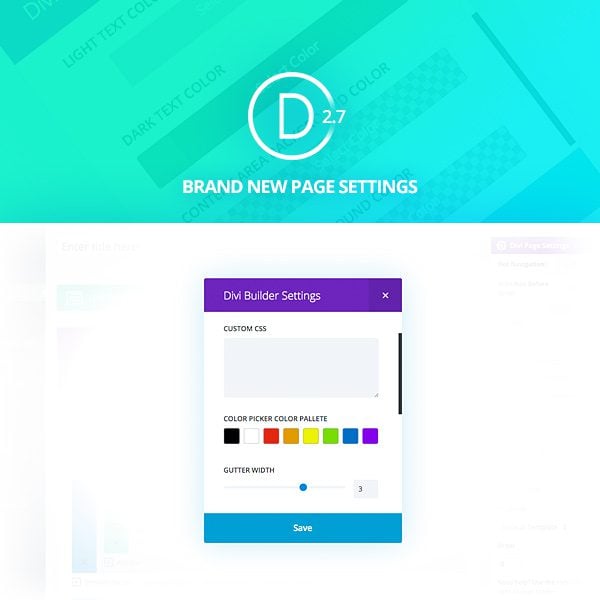 Divi 2.7 will introduce a new set of page settings to the Divi Builder. These settings affect the entire page you are working with, unlike module/row/sections settings (which affect only each individual element). This means you will be able to adjust certain design options for the entire page, instead of having to edit every single module.
I hope you are excited about all the great stuff we are working on. Divi 2.7 should be ready within 3-4 weeks, so you wont have to wait long to take advantage of these upcoming features! Stay tuned for more info and don't forget to let us know what you think in the comments 🙂