Our Mission To Provide The Best
Support In The Industry
There is a lot that goes in to providing great support. We want to do everything we can to improve the quality of our support interactions, as well as the speed at which we facilitate those interactions. The new Divi Support Center does just that.
Today, we are happy to announce the release of the Divi Support Center. At Elegant Themes, there is nothing we consider more important than providing the best level of support possible to our community. But let's be honest, it's not easy. It's especially difficult when dealing with a customer base of over 500,000 people that ask us thousands and thousands of questions every single day. Behind the scenes, we have been working extremely hard to improve our support system and the way we interact with customers. At scale, every little improvement we make can goes a long way, and often times it's the little things that cause the most frustration.
Recently we asked ourselves: What can we do outside of the support chat system itself to improve the way we interact with customers and remove the barriers that often cause frustration during support chats? The answer was the Divi Support Center, a new support area within Divi that allows customers to interface with our support system more directly and gives our support team the tools they need to quickly get to the heart of any problem. When it all comes together, it's a wonderful thing.

The Divi Support Center
The Divi Support Center gives you and our support team the tools they need to fix problems more quickly and efficiently, without disrupting your website.
System Status
Within the Divi Support Center, the first thing you will notice is the System Status section. System Status gives you a quick overview of your server statistics and configuration, and will let you know if there are any issues that might cause compatibility problems with Divi. If all the lights are green, you are good to go. If something is red, you should probably address it. If something is yellow, you might consider making adjustments to improve your system. Configuring your hosting environment correctly will solve the most common problems that Divi users face, and that means the System Status area will save tons of back and forth between you and our support team. It's always the first step to a healthy Divi website.
Remote Access
Remote Access is something that we are really excited about because it will allow our support team to give you a seamless and high level of support that is truly unmatched. When you need extra help, you can enable the Remote Access toggle with a single click. This will send a secure token to the Elegant Themes support staff that they can use to log in to your WordPress Dashboard. No passwords are shared and there is no need to send the token to our team yourself. It all works seamlessly in the background. While remote access is enabled, our team will be able to log in to your website and help explore whatever problems you are experiencing. You can even enable it preemptively before chatting with our support team so that we can jump right in if necessary.
By default, our support staff will have limited access to your website using a custom WordPress support role. You can also enable full admin access if requested. Remote access is automatically disabled after 4 days, or when you disable Divi. You can also turn it off manually after an issue has been resolved, and of course, Remote Access can only be enabled by you, the website owner, and not by Elegant Themes or anyone else.
The Remote Access system is wonderful because it saves tons of time during support chat, and it saves you the hassle of having to debug certain complicated issues yourself. It allows us to take a hands on approach to solving problems quickly, instead of wasting hours or days chatting back and forth.
Safe Mode
The next feature of the Support Center is Safe Mode. The bulk of problems that people experience while using Divi are compatibility related, which is natural considering the open source WordPress ecosystem. Sometimes there might be a problem with your child theme, third party plugins or custom code. Traditionally, the only way to figure out what was causing the problem was to disable your child theme, all of your plugins and your custom code at once. However, this took time and could cause disruption to your visitors. Website owners were often unwilling to take this step, which made it impossible to figure out what the problem was. Safe Mode solves this issue.
When you enable Safe Mode, all of your third party plugins, your child theme and all custom scripts are temporarily disabled. But, they are only disabled for you! This means you or our support staff can enable Safe Mode for their current session with a single click, and without causing any change to your visitor's experience. While in Safe Mode, you can explore your website and the Divi Builder to see if you still experience problems. If the problems are gone, then you know that they were caused by a third party compatibility issue. Once this is confirmed, we can move on to the next step and try to fix it.
Safe Mode combined with Remote Access is a wonderful thing. With two clicks you can allow our support staff to log in and get to the bottom of problems without affecting your actual website or disrupting your visitors.
Documentation & Help Videos
The Support Center also includes a Documentation section that includes some videos that will help you get started with Divi, as well as quick links to some of our most popular documentation articles. For new users, this is a great place to get started with Divi. Many questions that our support team gets asked can be answered with a link to our documentation page.
Debug Log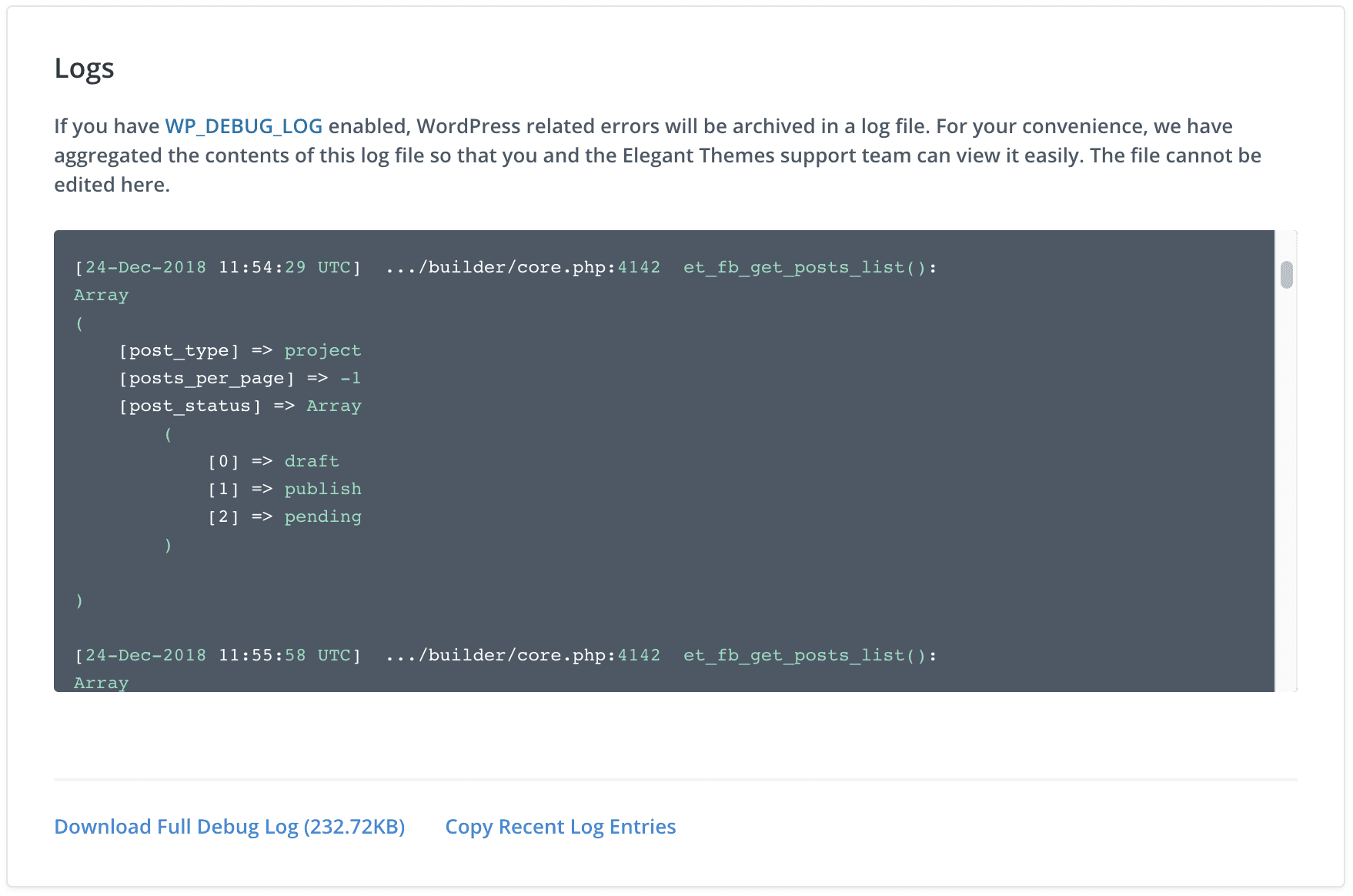 Finally, we have the Debug Log section, which gives you and our support team easy access to all of the errors and warnings that have been occurring on your website. This can give you and our team insight into what the cause of any particular issue might be. In the past, we have had to request this information, which caused unnecessary back and forth during support chat. Customers were often unaware how to find their debug logs, which means even more time was wasted contacting their host for assistance. The Debug Log is super convenient and saves a lot of time.
Putting It All Together For A Better Support Experience
When combined, all of these features solve most of the biggest inefficiencies in our support process, and give us the ability to provide you with better and faster support. Gone are the days where the first few hours of support are wasted requesting server information, disabling plugins and installing our support plugin.
We are really excited to see the positive impact that the Divi Support Center has on our support interactions, and we are confident that it's going to make a big difference. The Support Center is available today, so download Divi and take it for a spin. Let us know what you think in the comments and don't forget to check back next week for even more great Divi features coming your way.