The New Documentation System
The Divi documentation system has been redesigned and articles have been consolidated into one easy-to-use location.
Every Tutorial In One Place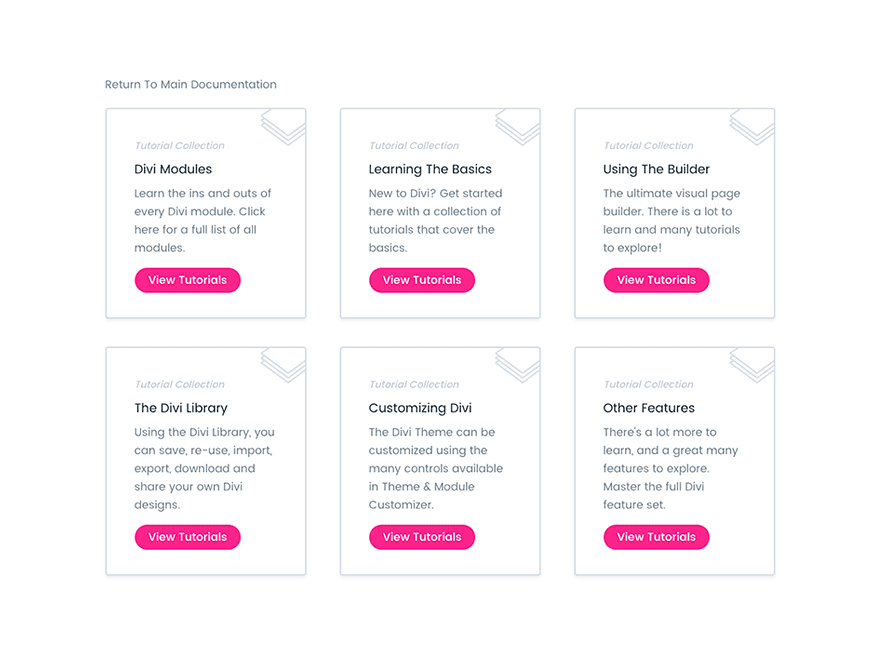 We have taken all of the tutorials from Bloom, Monarch, The Divi Builder, Extra and Divi and combined them into one central location. This makes it easy to browse all of our documentation articles at once. It's also a lot easier to remember where to find the Elegant Themes documentation since each category branches off the www.elegantthemes.com/documentation/ homepage. Previously, the documentation of each product was hosted on its own unique URL, which made it difficult to find without logging in to the Elegant Themes Members Area and clicking the links from there.
It's Searchable!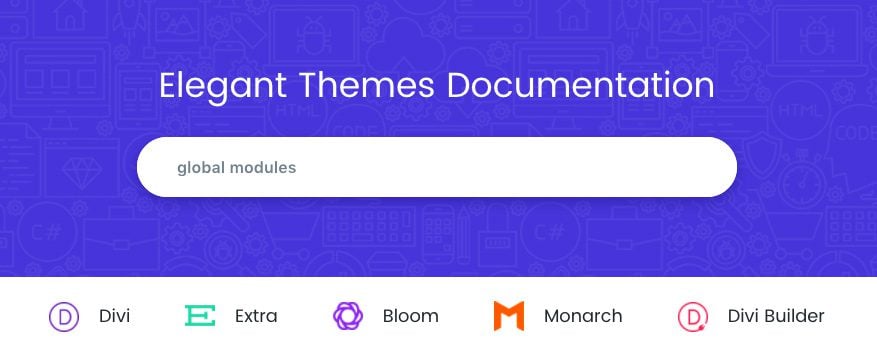 All of our documentation is now searchable (finally)! When we first started writing tutorials for Divi, the list was rather small. It was easy to digest on a single page and there wasn't really a need to search. A lot has changed since then, and now Divi alone has over 70 tutorials on its documentation page. The larger our collection of docs become, the bigger role search will play when looking for help. This is especially true as we begin working on the developer documentation for our upcoming Divi 3.1 release.
The Search Is Enhanced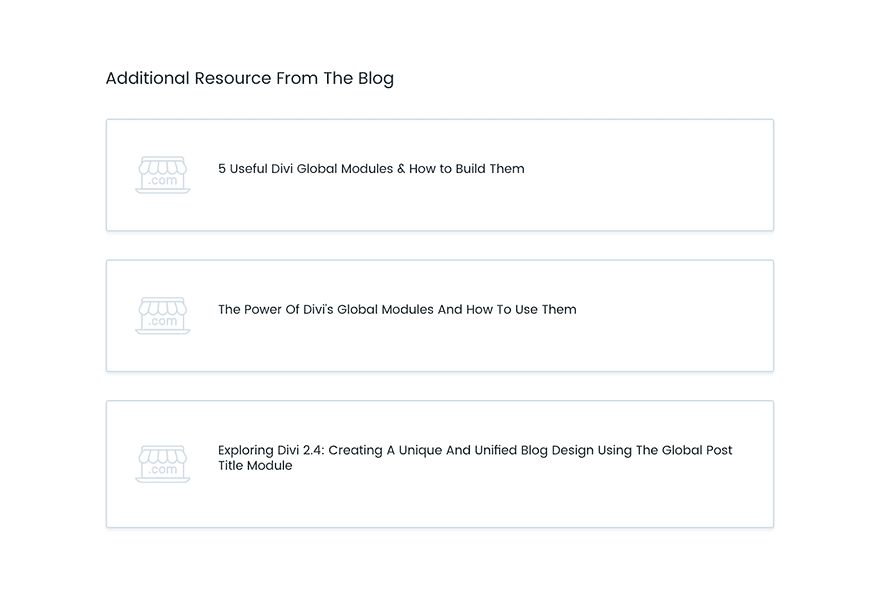 The documentation search does more than just find tutorials, it also searches through our blog and our support forum. When you search for something in the documentation system, it will display relevant posts from our blog and relevant questions and answers from our team along with the standard documentation results. Now you have access to hundreds of tutorials, thousands of knowledge-rich articles and million of answer-filled conversations from one easy-to-use location. It's a really amazing resource.

Updated Divi Tutorials
Every single Divi tutorial has been updated with new text and images, and brand new video tutorials are in the works.
Fresh New Docs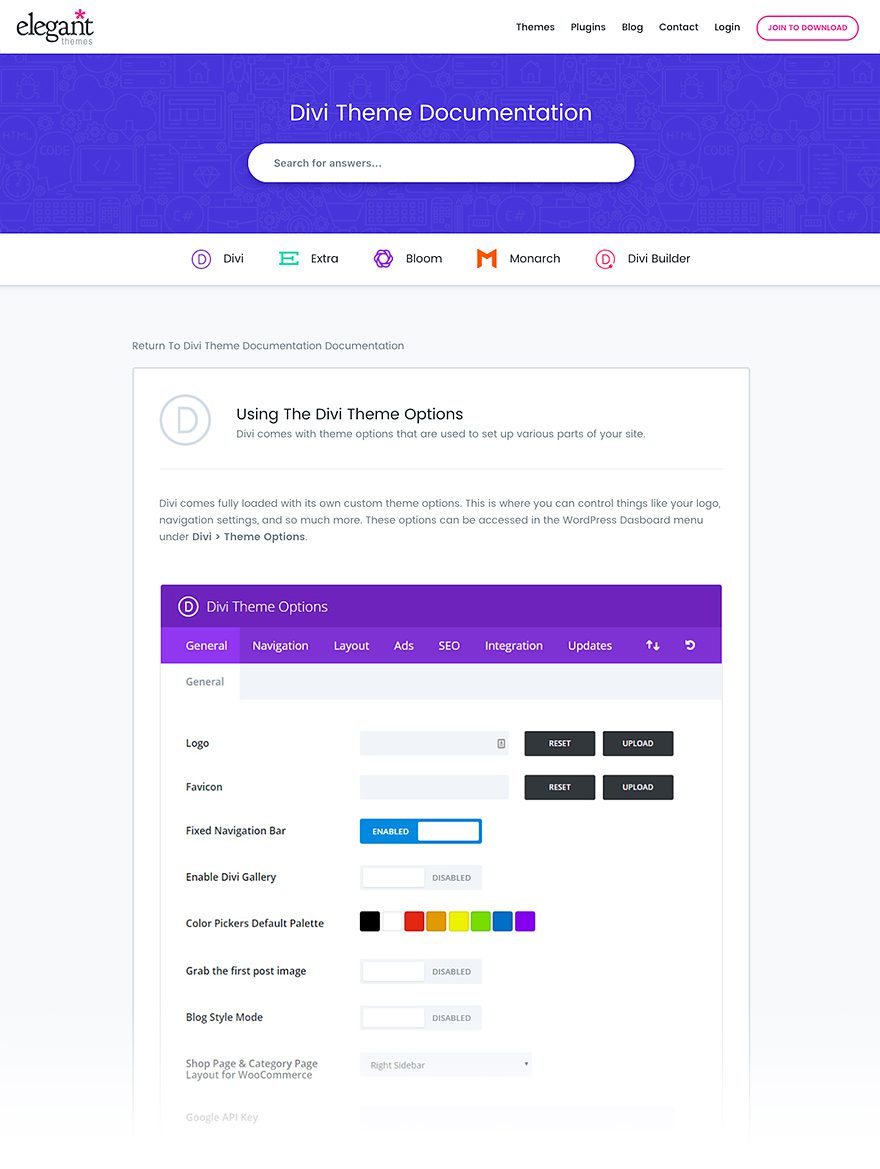 Before today, Divi's documentation articles were in varying states of freshness. Each time we added a new feature or changed the Divi Builder UI, all 70 Divi tutorials needed to be updated. We finally committed to getting everything up to date, and after a few weeks of hard work we have successfully combed through every tutorial and made sure that the information provided is accurate. This means that all of the latest modules settings are listed and all of the screenshots are relevant. Now that we are all caught up, we will remain committed to keeping things current.
Videos Are On The Way
We are now working on new videos tutorials for the Visual Builder and we have some exciting plans for how these walkthrough will be integrated into Divi. We want to make it as easy as possible for anyone to jump right into the builder for the first time without getting lost. We still have a lot of work to do and a lot of videos to record, but it's something you can look forward to very soon. In the meantime, stay tuned for more great Divi updates coming your way next week!