Anyone who works with clients or customers will inevitably need a way to provide customer service. When you do, you want your customer service efforts to be a good experience for your customers. You want them to feel satisfied with the support you provide. You want to ease their pain and make them happy. You want to make it easy for them to contact you and get answers. The faster and easier it is for them to get answers, the more likely they are to buy from you, and the better your reputation will be.
Providing the service starts with offering an easy way for them to contact you. There have been many different methods over the years, and many of them have frustrated customers more then helped them. Email, phone calls, and contact forms are nice, but they require your customers to wait. Sometimes that wait can be too long and there can be misunderstandings between the two parties.
To really improve your customer service you need more than that. To be stellar, customer service needs to improve. You need more powerful systems to knock it out of the park. You need systems such as live chat, ticket support, and FAQ with a searchable Q & A.
These customer service improvements can be integrated into WordPress using plugins. There are actually quite a few choices. To help you make your decision, I've installed several customer service plugins and given them a test drive. This list will show what I think are some of the best choices.
What Makes a Good Customer Service System?
What elements do you expect to see in a customer service system? We've already mentioned these, but here's a more detailed look at them and what they need to do.
Email – email is easy to use and a good system will give users a response with a ticket number so they know they're not being ignored.
Live chat – this is a little popup box where users can talk to you through text, audio, or even video.
FAQ – a page with frequently asked questions is a great way to let users help themselves to your support information. Many users prefer to search for a solution themselves before contacting you for service.
Tickets – a good system will provide a ticket that's trackable. It will include a number, the user's information, the problem, and the solution.
Phone – provide your phone number so users can call for support.
Some systems provide one of these features while others provide a complete package. Good systems will provide an intuitive way to track and manage your support efforts. You not only want to make it easy on the user's end, but you also want to make it easy on your end.
Here's a look at the plugins. Some provide all of these, while others specialize in just one. Now, onto the list!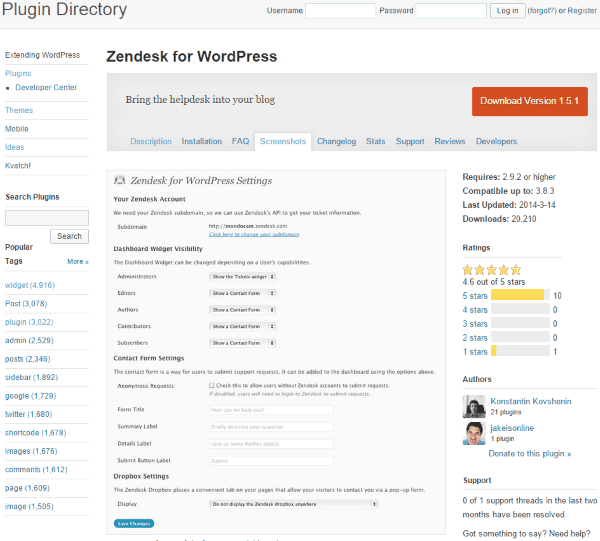 Zendesk is a premium customer service package that provides customer support with a ticketing system, self-service, and gathers data to help build customer engagement. This plugin will connect to your Zendesk support subscription into WordPress.
It gives you a button so you can turn your blog comments into Zendesk tickets. It adds a tab that will allow users to search the knowledge base, chat with you (or an agent), and submit a ticket. It gives you a dashboard where you can see all of the tickets and comments.
The plugin is free, works great, and is easy to use, but you do have to have a Zendesk subscription. The subscription provides a lot of powerful help-desk features. Prices for the subscription range from $1 per month to $195 per month, with $59 per month being the most popular.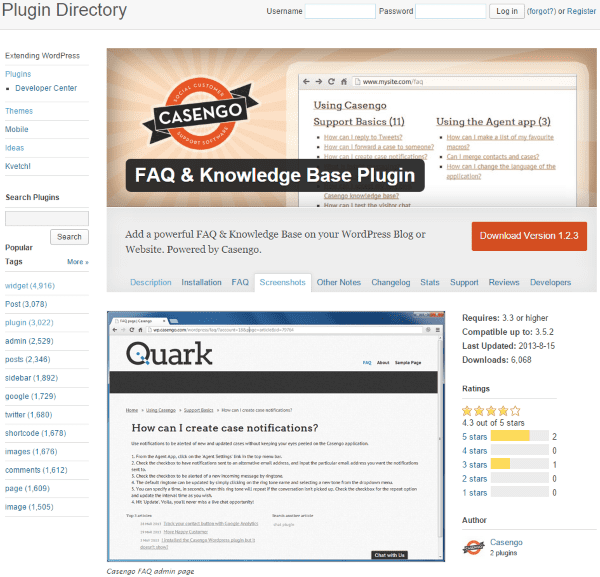 This plugin requires a free Casengo account. It will allow you to add a free FAQ and knowledge base to your site. You can create as many articles as you want and they can have as much detail as you want.
Once you install it, you'll be taken to Casengo's website where you can create your free account and set up the types of support you would like to offer.
You can then input your free Casengo URL and get your FAQ page started. You create a page for your FAQ and input its page title. Casengo will place a search bar and top articles on the page. You can also set your styles or use a custom CSS.

The page looks clean and separates out the information nicely. You can add categories and articles from the Casengo admin site. This one is easy to use and integrates nicely with your site. If you want to expand it into a full service you can upgrade later.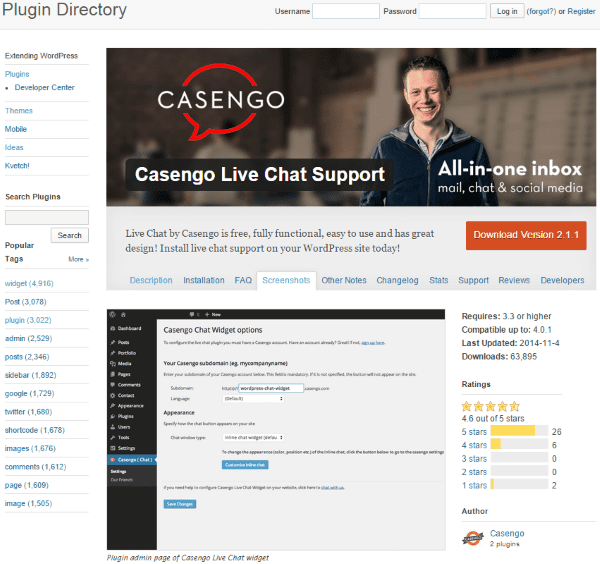 This is an all in one that lets you handle questions from live chat, email, Facebook, and Twitter directly from your website. Like the Knowledge Base plugin, it requires a free Casengo account. It gives you a chat box that also includes a place for visitors to enter their email addresses if they don't want to wait for live chat.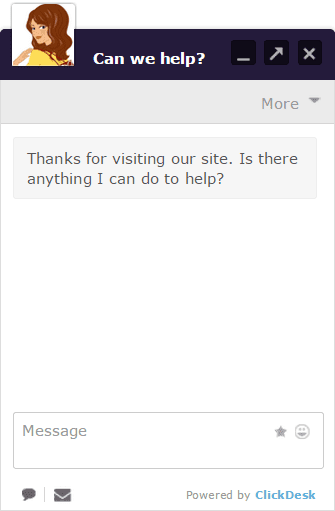 You can customize the chat window by changing the theme color, widget size, widget position, and add a custom badge.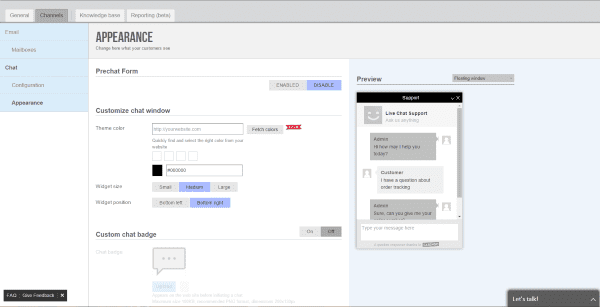 You can also change the system message, make it a floating window, modify what information goes in the prechat form, what information goes in the chat area, and what information goes in the prechat disabled text.
There are three plans (prices in British pounds). Free gives you 3 users, chat, and 30 conversations. Basic is 9 pounds per month and gives you 3 users, chat, email, social media, and 100 conversations. Premium is 29 pounds and gives you unlimited users, unlimited conversations, and adds multiple mailboxes and multi-language.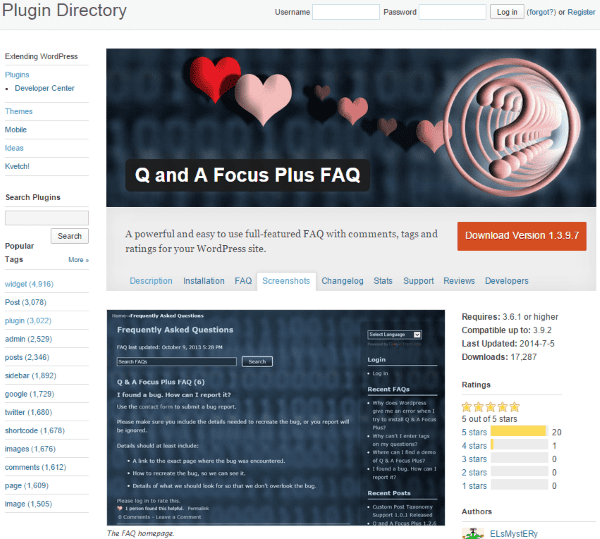 This one lets you create an unlimited number of FAQs and insert them into your posts or pages with shortcodes. You can create them, categorize them, and reorder them. It uses custom post types and support post tags.
After installing it, you can create a FAQ homepage by clicking a button in the options screen. It also includes a FAQs widget that you can drag and drop onto your sidebar. The widget will show the latest FAQs. You can choose the number of FAQs to show. It includes full documentation to step you through creating your FAQ page and using the shortcodes and widget.
This one is easy to use and has a lot of settings and functionality for a free plugin.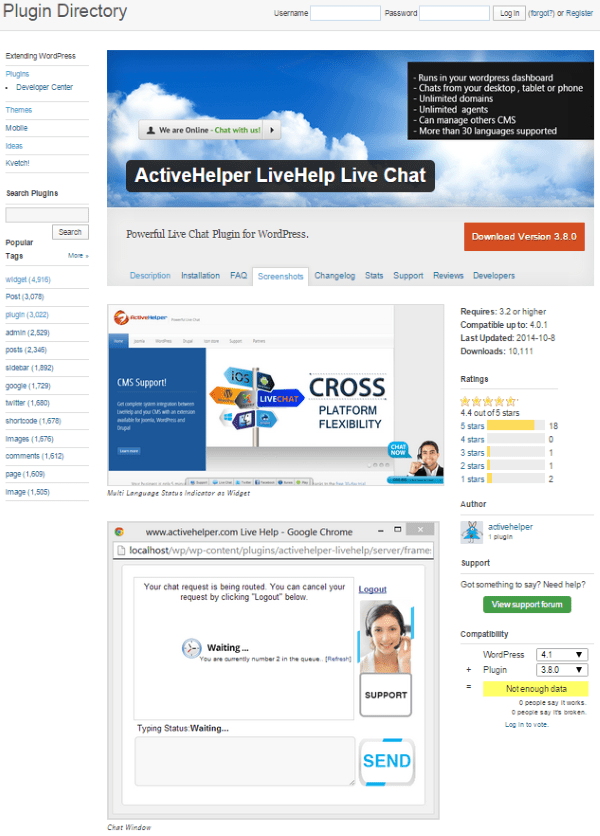 This one is a feature-rich plugin that means business. It's scalable, so it works great for any size business. It adds a live chat that can be answered from any system, including mobile devices. It has a chat queue and allows you to transfer chats to other agents. You can have unlimited operators, departments, and domains. You can even rebrand your chat if you want. It includes agent to agent chat, agent scheduling, multiple chat, auto save transcripts, offline messages, and lots more.
It allows you to monitor your site in real time and gives you stats about your visitors, where they came from, what keywords they used to find you, their navigation history, their patterns, conversations, and agents service. It even shows you a map based on their geo-location.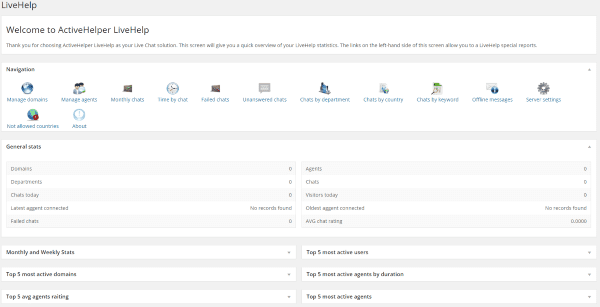 It includes a sharp dashboard where you can see all of the information and adjust all of the many settings. You can search by date and export everything as CSV files. It is one of the most customizable customer support plugins I've seen.
To use it you have to add and enable your domain (as many as you want). Then you go into the settings and add the URL, site name, etc. It provides a widget that you can adjust and have it to display the window in one of several locations.
The settings themselves are not quite as intuitive as I would like, but that comes from how many there are. Once you get the hang of it, it isn't difficult to use. The setup takes the longest amount of time.
This is a premium plugin. It comes with a 30 day free trial so can try before you buy. It is a lifetime license and costs $79.95 with standard support and $99.95 with premium support. Both include the same features.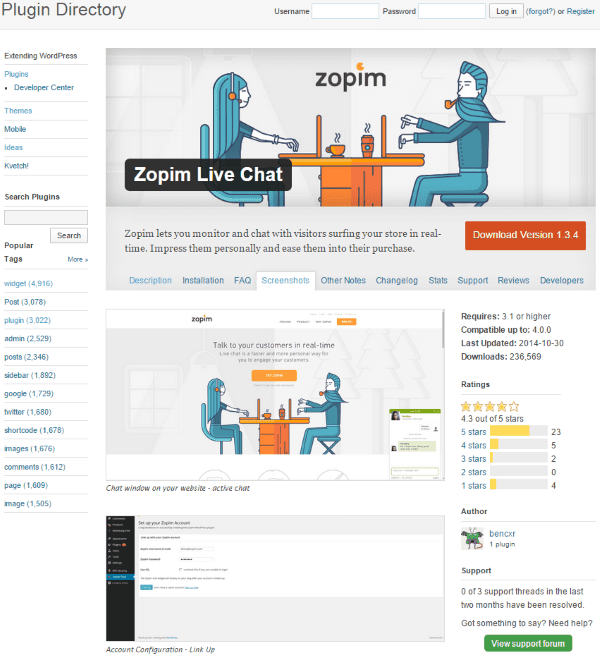 This one uses something called pro-active chatting. You can set it to provide pre-written comments, or you can chat in real time. It has tons of features.
First you have to create a free Zopim account and then link your WordPress plugin to your account. You can then update your widget with optional code if you want. Once your account is linked you will see the email message box appear on the right bottom corner of your site.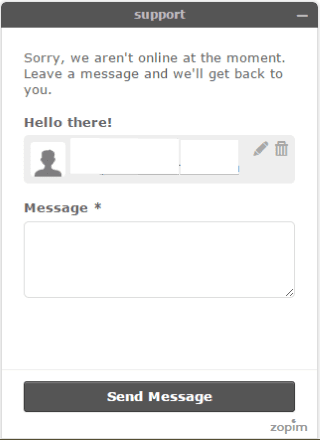 Users can click on it and start chatting. If you're not online they can send you an email instead. They can sign in with Facebook or Google+.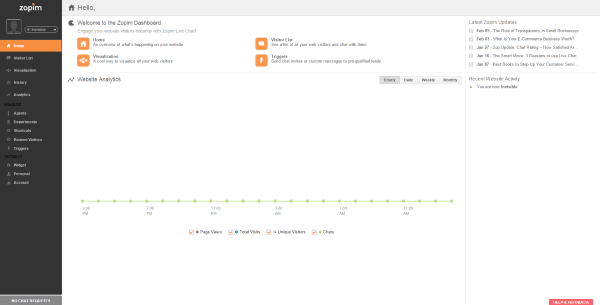 All of the updates and settings are done in the dashboard. Here you can manage visitors, see history and analytics, manage agents and departments, set triggers, set up shortcuts, ban visitors, read the help files, and lots more.
This plugin is easy to use and has lots of nice features. I found it to be one of the easiest to set up and use. I can't recommend it enough. It's one of my favorites.
There are 3 packages for this service and they have far too many features to list. The Lite package is free and lets you have 1 agent, with 1 concurrent chat, and a 14 day chat history. It does not include triggers, departments, or widget customization. The Basic package is $11.20 per agent per month and lets you have unlimited chats, 2 triggers, 2 departments, and full widget customization. The Advanced package is $20 per month per agent and has unlimited triggers and departments, analytics, chat and agent analytics, and an hours of operation notice.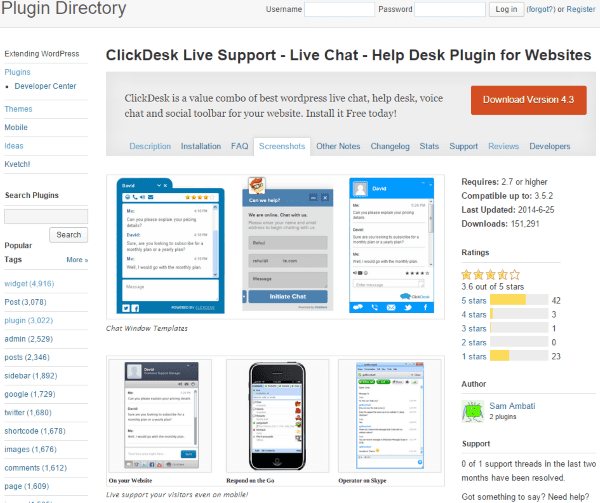 This plugin is a combo, or more like a plethora, of customer service tools. It includes live chat, help desk, voice chat, and a social toolbar. Agents can answer live chats and calls through an online agent panel, Google Talk, or Skype. It's mobile friendly. You can customize it to your heart's content with themes, HTML, CSS, positons, effects, etc. You can even white label it.
After installing you will have to create a free ClickDesk account. Once you've completed your account registration and connected your website your visitors can use the popup that appears on our site.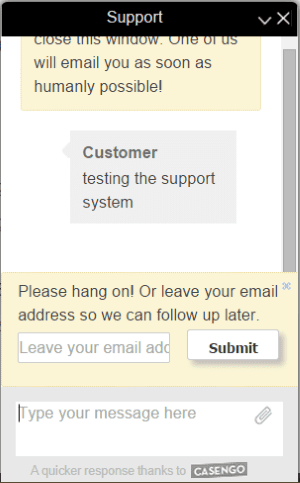 The message that the visitor's type into the popup will appear in the dashboard as a live chat. They will be asked for their name and email. This information will appear in the chat on the dashboard along with a map of their geo-location, IP, browser, and visitor path. Visitors are also given the option to use audio, video, phone, or email. When the conversation is over they can get a transcript of the conversation. They can rate the conversation and send emoticons.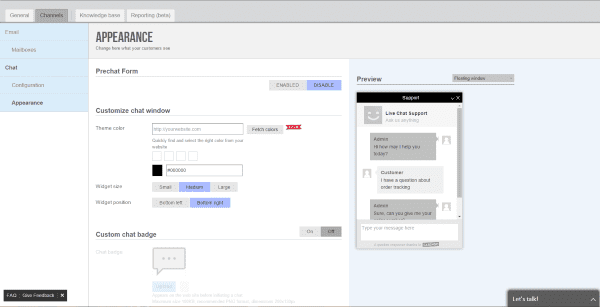 I found this one to be one of the easiest to use and probably the most elegant. The amount of information and the tools it offers is amazing. It's hard to say which is my favorite, but this one is definitely in the running.
There are several versions of this service available. The first is Free. It's for 1 agent, has help desk ticketing, and voice chat. The next is Lite. It costs $16.99 and has unlimited chats, Gtalk IM, widget customization, chat transfer and groups, 99.99% up time, and SSL security. The next is Pro. It is $21.99 and has chat conferencing, CRM integration, video chat, reports, and history.
Wrapping Up
Improving your customer service with plugins is simple and easy to do. The hardest part is choosing which system to use. There are plenty more plugins to choose from, but any one of these can give you the improvements you're looking for. Some are complete packages, while others add FAQs or chats. You have enough choices that you can use one for everything, or two that specialize in something specific that you want to improve. Whichever you choose, your visitors are sure to appreciate it.
How about you? Have you added a plugin to improve your customer service? Did you use one of these? Did I leave out your favorite? I'd like to hear about it in the comments below!
Article thumbnail image by Monkik / shutterstock.com