Podcasts are so popular these days. Everyone and their uncle has something to say about things they love the most. It's easy and cheap to get started, and the internet is full of some really high quality podcast software that not only will make your podcast sound better, but can also take the whole production to a more professional level.
Pretty much everyone gets recommended the same set of "best podcast software" when they're starting out: Audacity for recording (or Adobe Audition /Avid Pro Tools if you're fancy), Skype for interviews/guests/cohosts, and probably either Libsyn or Blubrry for hosting. And you know what? They're all fantastic and amazing, and there's a reason they are staples in the industry.
But there is a lot of podcast software out there that you might not know about yet, too. It would be a real shame for you to miss out on any of that awesomeness.
1. Auphonic
The thing about podcasts is that if yours doesn't sound good, many people won't listen to it. Even if your content and guests are amazing. Unfortunately, most of us aren't audio engineers. And while having a good microphone is the most important element here, good mixing is up there, too. Auphonic gives us non-engineers the sound quality that we want at the push of a button (literally).
From automatic leveling and noise/hum reduction to encoding your finished episode (and pretty much everything in between), Auphonic is definitely a hidden gem in the podcasting world. It can't do the editing and snipping and splicing that Audition or Audacity can, but in terms of filtering and post-processing, its pretty much magic.
Plus, it's totally free for 2 hours of audio processing a month, and you can pay for more as you need it.
2. Zencastr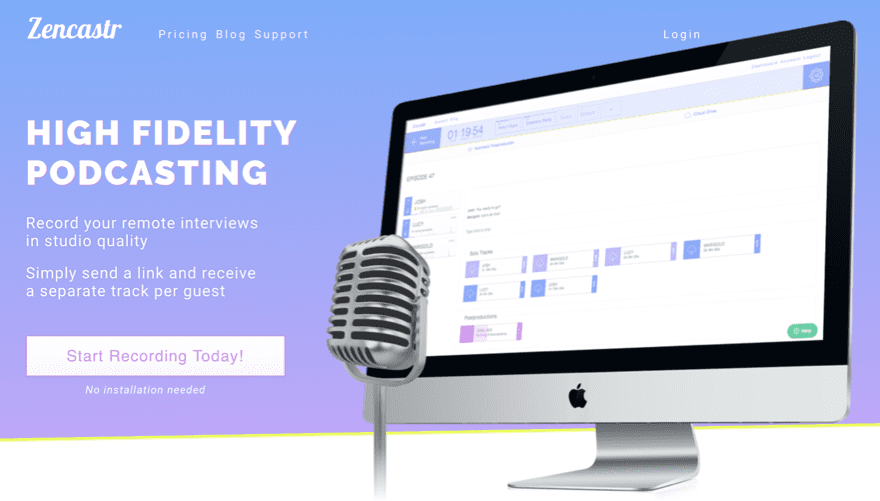 If you ever have guests on your show, you can't afford not to know about Zencastr. Like Hangouts or Skype, Zencastr is a remote VOIP service. But this one stands out because it records local audio through the browser for each guest and uploads them for the host to download. More than that, you get the option to download the audio as isolated tracks for each speaker, or you can get a single file of the combined local recordings.
Zencastr also offers an automatic post-processing feature, too, but if you're on the free plan, it's an upcharge. Additionally, recording in lossless .WAV is a premium feature. Free users get high-quality MP3, which actually does sound okay if you're not a full-on audiophile.
Regardless, having to deal neither with VOIP-quality audio or teaching guests how to record and upload their own local files should be enough to put Zencastr on your radar.
3 – 5. Ecamm

Technically, Ecamm is a company, and there are three products they offer you should look into: Call Recorder for Skype, Call Recorder for FaceTime, and Ecamm Live for Facebook. First off, these apps aren't freemium like Auphonic or Zencastr, but you can totally use their free trials to see if you want to add any of them to the folder on your desktop labeled My Awesome Podcast. They're also Mac-only. So there's that, too.
The Call Recorder family is probably the easiest way for you to have guests on your show. While they don't record local audio from both sides, you get a video and audio recording of the call from your end on either Skype or FaceTime. The tradeoff versus Zencastr is that there is absolutely no setup required for your guest or co-host. You call them and hit record. Heck, the recorder even launches simultaneously with the app it connects to.
In much the same way that the Call Recorders are simple and intuitive, Ecamm Live is the same for live streaming. You sign in with Facebook, and you can go live pretty much immediately. This is incredibly powerful for podcasters for a number of reasons. It's one of a small number of no-fuss streaming programs, plus you can record every broadcast so you can extract the audio and push it to your main feed. And if you want, you can also push each stream automatically to YouTube when you're finished.
6. Open Broadcaster Software (OBS)

"Wait," you say. "Two video apps in a row? I thought this was about podcasting."
And to you, I say, "It is! Podcasts can come in video, too!"
Apple even has two tabs in the iPhone Podcasts app for either Audio or Video. Audio just happens to be the one most people opt into making. It takes less hosting space and equipment, but with the right tools, a video podcast can really be something special.
OBS has come a long way over the past few years, and it is finally stable and user-friendly enough to recommend to y'all. You should know, though, it's not as simple and straightforward as Ecamm's products are, but OBS is totally free (hooray for open-source software) and available for Mac, Windows, and Linux all. So if you liked the sound of what Ecamm Live could do for you, but didn't want to shell out for either it or a Mac, check out OBS.
You will, however, need to use a service like restream.io if you want to push to multiple platforms automatically, otherwise, you will need to set OBS to record broadcasts and upload them manually to your feeds and other platforms.
7. Hindenburg Journalist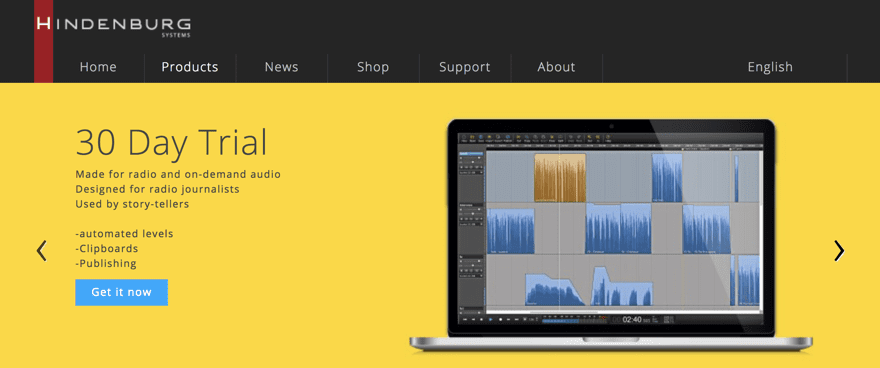 Hindenburg Journalist should be a household name to podcasters, but somehow it has flown under most people's radar. That's sad, so let me tell you about your new best friend: Divi Nation podcasters, meet Hindenburg. Your new best friend.
The folks over at Hindenburg take pretty much every feature that you'd want from all the other podcast software we've discussed, and they put wrapped it up nicely in this pretty little box. The only thing you can't do that we've talked about is record/stream video (though you can record Skype audio tracks right into the editor).
What's really cool is that this one isn't made for podcasters specifically, but radio broadcasters. So it is made to enhance your efficiency at creating your content and raising the quality of it. It even has automatic settings based on the standards that NPR follows, so your show can have that cool, calm, collected sound you've always wanted.
Hindenburg Journalist is not free and has version-based licensing (you pay $95 for updates and support up to v1.99, for example), but there is a trial. I think it's worth checking out, if you want an all-in-one solution. It has a bit of a learning curve at first — it's more complicated to jump into than Audacity, but nowhere near as intimidating as Audition or Pro Tools.
The Best Podcast Software, or The Best Podcast Software?
The best part about the recent surge in popularity for podcasts is that software developers have a whole industry's worth of new problems to solve. Podcasting is easily accessible, but it can also be intimidating. New and amazing tools are being released all the time to make it more accessible. It takes a while for some of them to make the rounds.
But now you know about them, and with these podcasting tools, you will be taking over the airwaves in no time.
What is your favorite podcast software that other people should know about?
Featured image by Evgeniy Belyaev / shutterstock.com