Last week we introduced Divi 2.4, the biggest upgrade in Divi history and a giant leap forward for our most popular WordPress theme. There are so many great features to explore in this update that it was hard to describe them all on the release post, which is why we have decided to do a 2-week series of informational blog posts that will aim to teach you how to take full advantage of Divi 2.4 and its new options. In part nine of this series, we explore an exciting way to use Divi's new Global Modules.
Creating A Unique Style And Making It Global
Today I will be showing you how to create a unique look for your blog, and how to unify that look using Global Modules. Why is this combo so important? Because once you have created your new blog look using the Global Post Title Module, the style can be changed across your entire blog without having to edit every single post! There are 3 important pieces to this puzzle:
The new Post Title Module that allows you to automatically pull post meta information, such as post title, author, date and featured image and display those items in a unique way.
Divi's new post-level features that allow you to use the Divi Builder on posts, as well as remove the post's sidebar and default post title.
The Divi Library and Divi's new Global Library Items that allow you to sync a single module, row or section across multiple posts or pages on your site.
Step One: Creating Your New Blog Post Design
To kick things off, we will be customizing our blog post layout to be completely different than the standard Divi blog. By default, blog posts in Divi take on a classic style. There is a sidebar on the right, blog post content on the left and a post title / featured on top. It's a format we all know and love, but it's also a format that looks just like every other blog on the internet. So why not try to mix things up a bit? Divi makes it possible.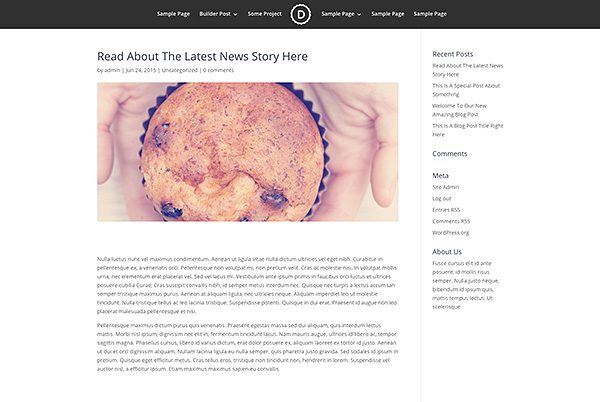 First things first, let's change up our overall structure a bit by removing the sidebar in favor of a full width layout. This can now be achieved using the Page Layout setting within the Divi Post Settings box. You will find this box either to the left of below the post editor when writing your post.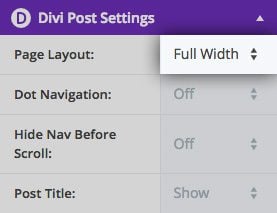 Once we select the "Fullwidth" layout and save, you will see that the sidebar has been removed from the post entirely. This gives us more room to work with. Since we will be using the Divi Builder to construct our post, this full width layout will give us the option to take advantage of Fullwidth Sections and Fullwidth Modules to create engaging posts in a style similar to Medium.com.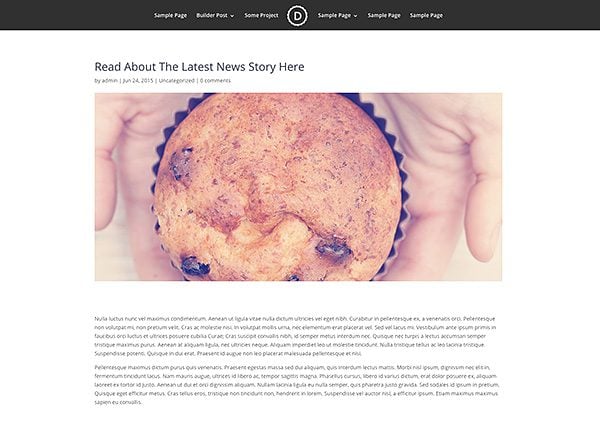 In particular, we will be using Divi's new Fullwidth Post Title module to give our blog post a more unique and enticing header. Before we can do that, however, we first need to remove the default title display that gets automatically added to the top of each blog post. This can also be achieved from within the Divi Post Settings box mentioned earlier.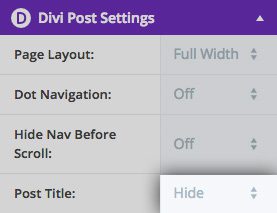 After selecting "Hide" for the Post Title option within the settings box, you will notice that the title, meta data and featured image that typically gets added to the top of the post has been removed.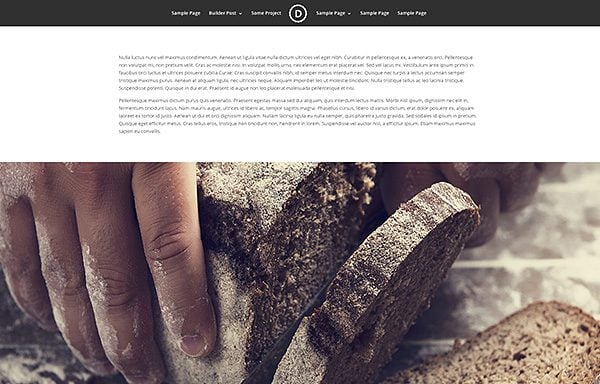 Now that the default post title has been removed, we can add our own customized version using the Fullwidth Post Title Module. To get started, make sure you are using the Divi Builder to builder your post by clicking the purple "Use The Divi Builder" button above the post editor. This will enable the builder and allow you to construct your post from top to bottom using builder elements.
To add our new customized title, add a new Fullwidth Section to the top of your post, and then add a Fullwidth Post Title Module within the section.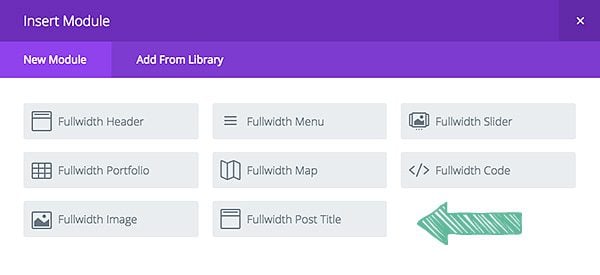 This will launch the settings box for the post title module where you can adjust the display of your custom post title. There are lots of options here, including:
Show Title – Inside each post title module, you can choose which pieces of information you would like to display. If you would like to disabled the title altogether, and only display your featured image and meta data, then this option can be disabled.
Show Meta – You can also choose to hide all of the meta information that typically gets added below the post title, such as post author, date, and categories. Disabling this option will hide all of the information at once. You can also disable individual pieces of meta information using the settings below.
Show Author – This will disable or enable the author name within the post meta box.
Show Date – This will disable or enable the post date within the post meta box.
Date Format – Here you can adjust the format used for your date display. For example, you could switch from 1/23/2015 to January 23, 2015, and so on.
Show Categories – This will disable or enable categories within the post meta box.
Show Comment Count – This will disable or enable the comment count within the post meta box.
Show Featured Image – Displaying the featured image is optional. If you would like to hide the featured image for the post, then it can be disabled here.
Featured Image Placement – If the featured image is enabled, you can choose from various display methods. You can place the image above the title, below the title, or even use it as a background image behind the post title.
Parallax Effect – If the featured image is being used as a background image, then you can enable parallax mode.
Text Orientation – In addition to controlling which text elements appear in your post title, you can also adjust their orientation, choosing between: left, right or centered text.
Text Background Color – Applying a background color to your text will place a colored box around your title.
Text Color – You can choose between light and dark text for your post title. If you have applied a dark text background color, consider making your post title text light to ensure that it's readable.
Utilizing these various settings, you can create various styles for your blog. As an example for this tutorial, I will be using the settings shown in the screenshot below. Most notably, I have chosen to place the featured image "above" the post title. I have also added a "text background color" and adjusted the post title font, style and size within the Advanced Design Settings.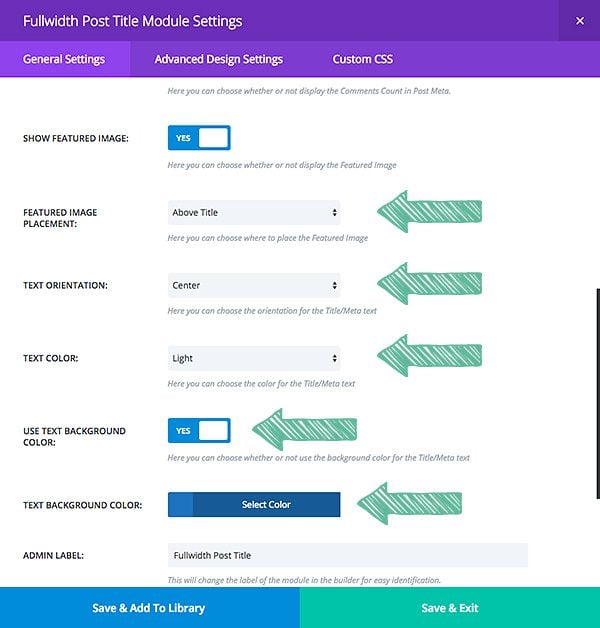 The end result is a completely different looking post when compared to the default Divi post layout! We have now created a unique style for our blog that is different from every other Divi blog and WordPress blog on the net! Experimenting with the various settings within the Post Title module can yield a multitude of results.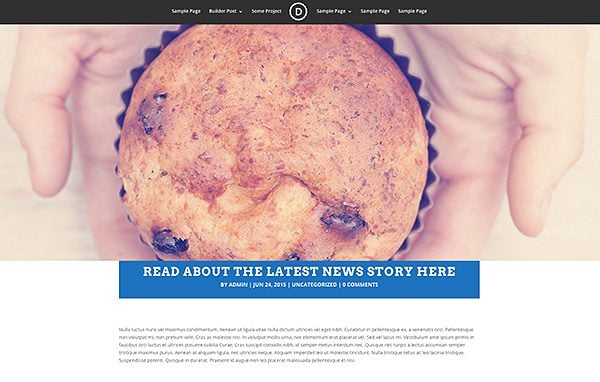 This new header style looks particular great when combined with Fullwidth Image Modules. Since we are using the Divi Builder to construct our post, there are many new layout options to take advantage of.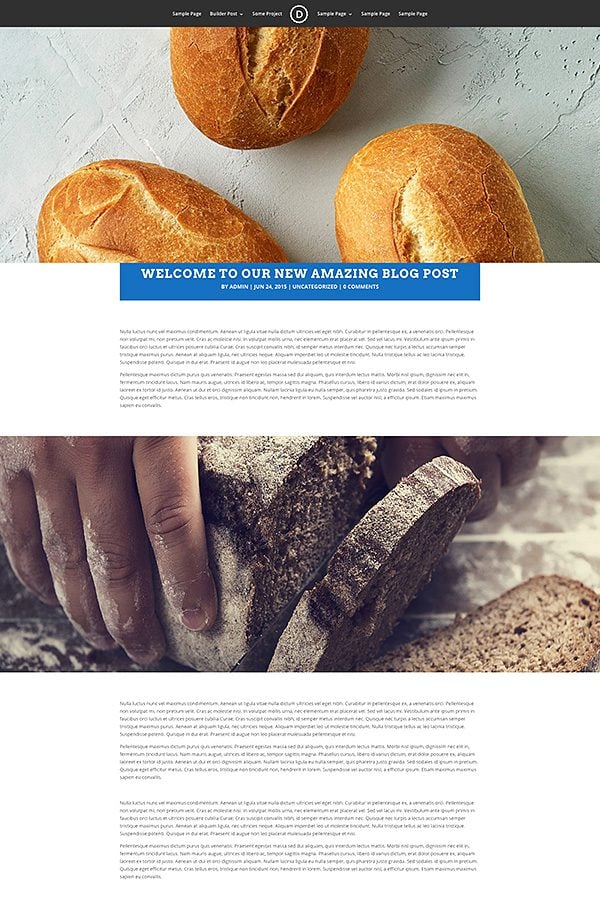 Step Two: Sync Your New Layout Using Global Modules
Now that we have created a unique look for our blog post, the next step is to unify our entire blog under the same style, and to make that style easy to manage. So what's the main problem we are solving here? Creating a new post title module with the exact same settings each time you write a new blog post takes time. Furthermore, if you have created 1,000 blog posts and used your new post title module at the top of each, what would happen if one day you want to adjust the layout? You would be forced to go through all 1,000 blog posts to adjust the post title module inside each one! That doesn't sound like much fun at all. Luckily we can avoid the hassle by saving our custom post title module to the Divi Library as a Global Module. I won't be going over everything to do with Global Module, since this has already been covered in our previous post. Be sure to check that out if you want to dig a little deeper.
To save this post title to the Divi Library, click the "Save & Add To Library" button when editing the module or the module's parent section. In this case, I saved the entire Fullwidth Section to the Divi Library. During the save process you will notice an option to "make this a global item."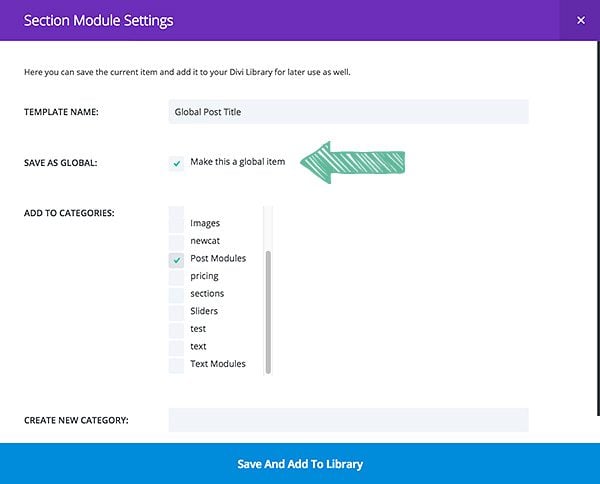 Once the item has been saved as global, you will notice that it turns green within the builder. Global items can be easily identified within the builder by their green color.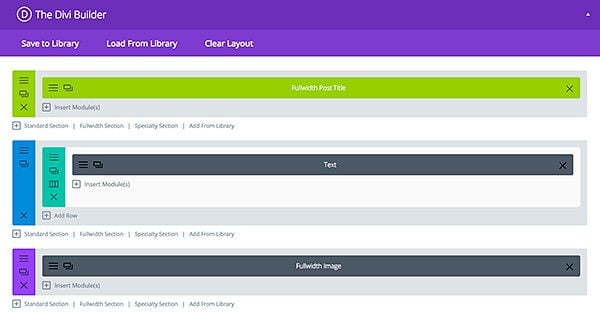 The next step is to add this same global section to the top of each new post your create! Since the post title automatically grabs the information from the current post, there is no need to edit the module when adding it to a new page. Your post title, meta data and featured image are grabbed by the module without additional instruction. The module only controls the organization of those elements, which will be shared by each instance of the global module.
Whenever you write a new blog post, click the "Add From Library" link when adding a new section, and locate your newly-saved global post title.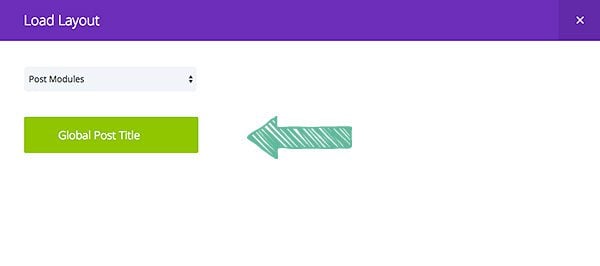 Once this post title has been added to each of your blog posts, they will all share the same exact header format! There is no need to do anything except add the global module to the post since the module automatically grabs the post information for the particular post it has been added to.
We have now unified the entire look and feel of our entire blog using the Divi Builder! What's even more important is that if we ever want to change the appearance of all of our blog posts, we only have to edit the global post title module once! Since this same mode has been added to each page, once you have edited the module in one location, the change will be pushed to all instance of the global module.
In just a few clicks, we can adjust our blog's design. For example, here I have changed the post title background color to red, and I have adjusted the featured image location to be used as a background image (instead of being placed below the post title).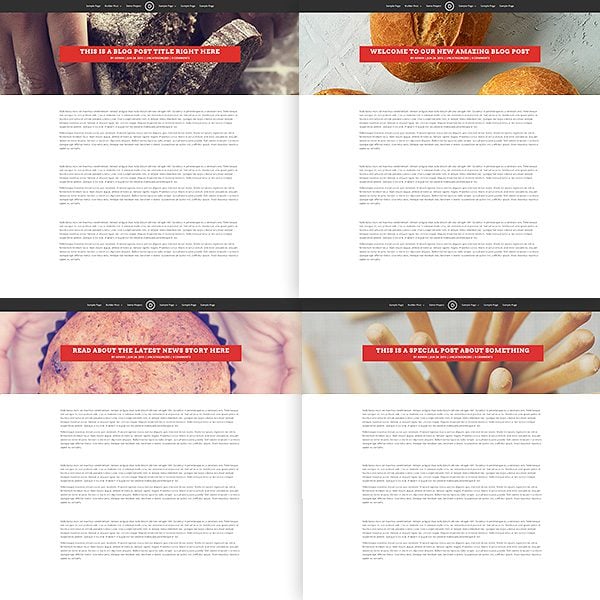 In just a few seconds, our entire blog style has been altered!
A Brand New Blog That's Easy To Manage
My goal here was to not only show you how to create a unique looking blog using the Divi Builder, but also how to do it in a way to makes it easy to manage. This is a perfect example of how powerful Divi's new Global Library Items can be (especially when used for modules that grab their content dynamically). I hope you are enjoying using the Divi Builder on your blog posts, and I look forwarding to seeing all the beautiful posts you create!