If you want to make a bold statement with your WordPress site, going full-screen is one of the best ways you can do it. Full-screen themes get up close and personal right away, immersing your readers in a manner that just isn't possible with boxed layouts. And while full-screen themes are especially suited to photographers and other creatives, they can be used for any niche.
So if you're looking to add some pop to your website, join me as I dig into the 30 best full-screen WordPress themes.
The 25+ Best Full-Screen WordPress Themes
The full-screen theme factories are booming, so there are a ton of options out there. To avoid making this a list of 500 different themes, I picked a few extra criteria beyond just "being full-screen":
Theme rating: Because many of these themes are listed on ThemeForest or other sites with public ratings, I tried to list only themes with a 4.5-star rating or higher. The absolute minimum I accepted was 4-stars.
Developer rating: I looked at the developer rating as well, ideally looking for Envato Elite Authors with good scores.
Sales: Not a deciding factor by itself, but I noticed when a theme maintains a good rating over a large number of sales.
Aesthetics: I believe a good full-screen design should be beautiful, so I tried to pick only themes with great aesthetics. I also tried to pick some themes that covered different uses and layout styles to give some variation.
With that out of the way, here's my full list of the best full-screen WordPress themes.
1. Mr. Tailor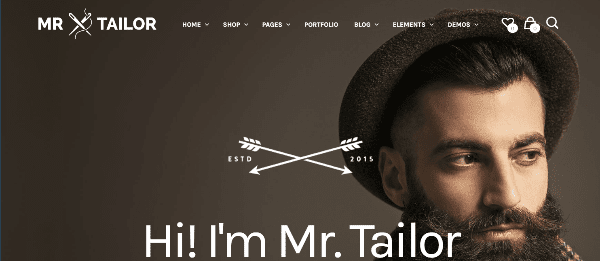 Mr. Tailor is an absolutely beautiful full-screen offering from Get Bowtied. While it's focused on WooCommerce, Mr. Tailor also includes a multi-purpose demo for those who aren't planning to sell products. All of Get Bowtied's themes feature gorgeous full-screen designs, but Mr. Tailor is my absolute favorite of the bunch.
Price: $59 | More Information
2. Monstroid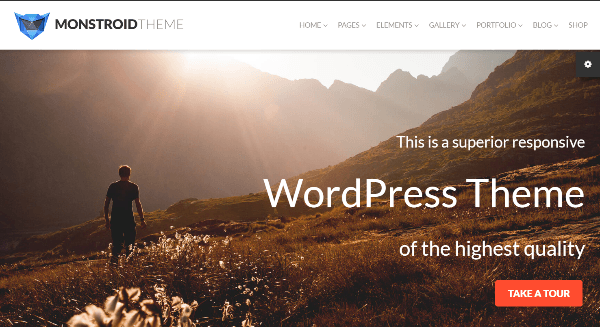 Monstroid is the number one selling theme at TemplateMonster. Amid its bevy of customization options is the ability to create beautiful full-screen parallax designs. Monstroid can also be used to create boxed designs, but the full-screen options are definitely attractive.
Price: $79 | More Information
3. Uncode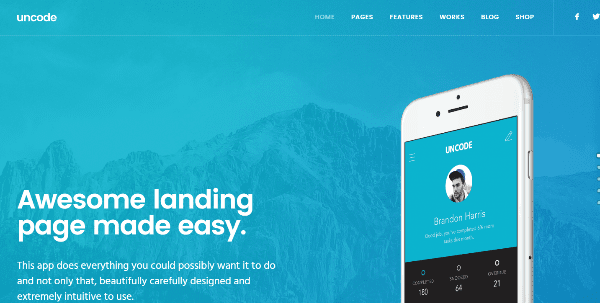 With its impressive 4.9-star rating on over 13,000 sales, Uncode is definitely a well-liked theme. I can certainly see why. Its full-screen demos are absolutely gorgeous. Uncode also includes 30 design concepts and Visual Composer to help you build your site faster.
Price: $59 | More Information
4. Parallax One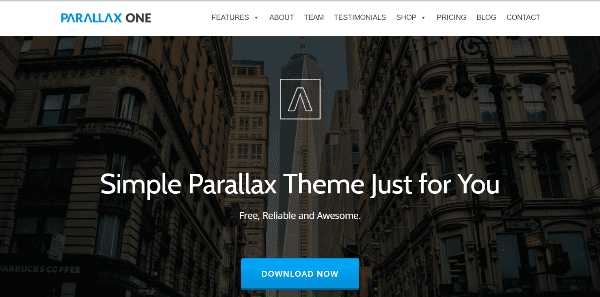 True to its name, Parallax One includes a beautiful full-screen design complete with an attention-grabbing parallax effect. You can customize this free theme with ThemeIsle's theme customizer or upgrade to the "Plus" version for even more options.
Price: Free. "Plus" version is $99 | More Information
5. Fullscreen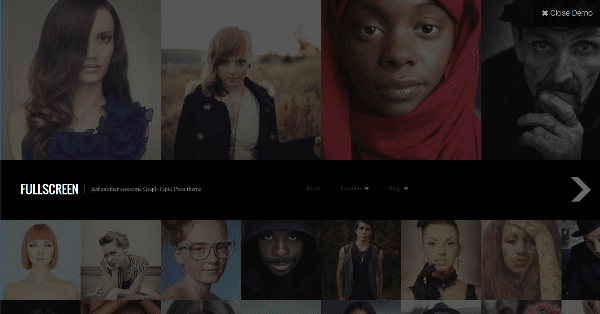 Fullscreen doesn't beat around the bush with its name. It offers a unique full-screen image grid perfect for visual creatives. And while Fullscreen likely won't work for businesses, if you're a photographer or visual artist you should definitely give it a look.
Price: Free | More Information
6. Stockholm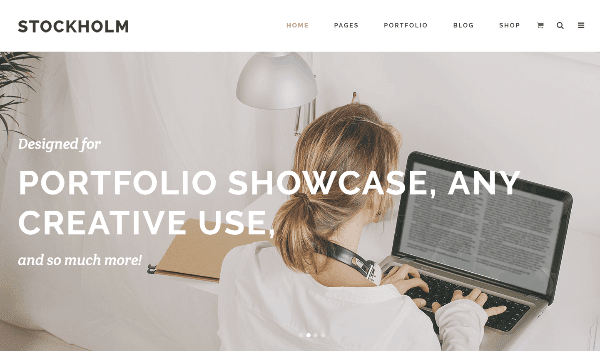 I like to think that Stockholm is the theme IKEA would create if it were a WordPress developer. Maybe it's just the name, but I love the minimalist full-screen design.
All of its 40+ concept demos also include suitably Swedish names and the theme ships with Visual Composer and Revolution Slider.
Price: $59 | More Information
7. Massive Dynamic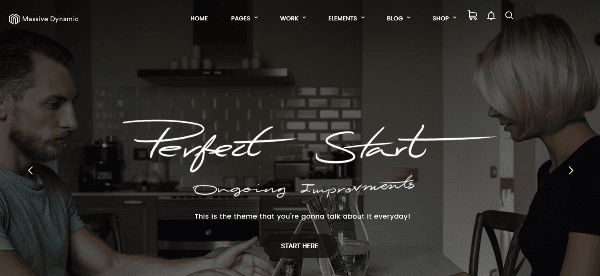 Massive Dynamic features its own website builder tool, beautiful full-screen designs, and an impressive number of pre-built demo layouts. It also comes bundled with Visual Composer to make page building easy.
Price: $59 | More Information
8. AppTheme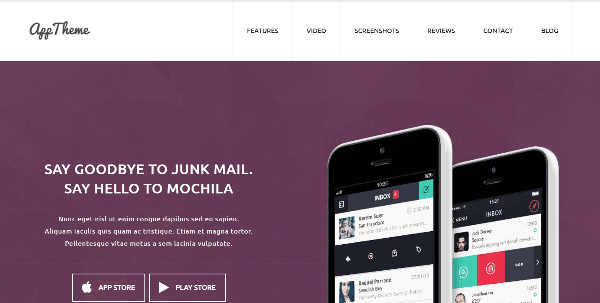 AppTheme is a functional full-screen theme from MyThemeShop. Like their other designs, AppTheme has great code cleanliness. The design is no slouch, either! AppTheme also comes with a nice parallax scrolling effect.
Price: $59 | More Information
9. Krypton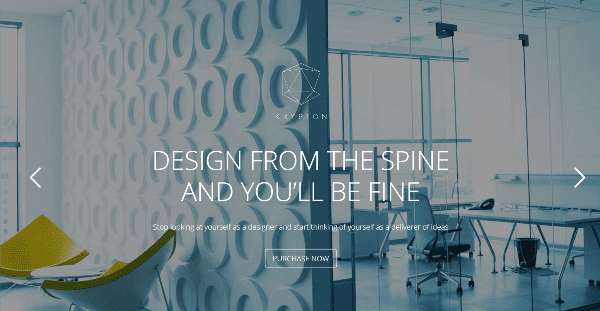 Krypton is a great looking full-screen theme with an emphasis on beautiful imagery. In its default configuration, the menu only appears when a user scrolls down the page, which puts all the emphasis on your full-screen background.
Krypton also ships with the DeTheme page builder.
Price: $59 | More Information
10. Screenr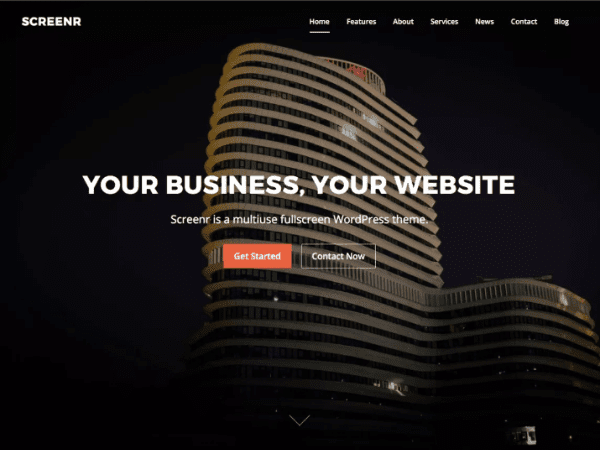 Screenr is one of the best looking free themes on this list. It features a simple full-screen layout which can be adapted for a variety of uses. It's also regularly updated, so it should be compatible with all the latest versions of WordPress.
Price: Free | More Information
11. Lara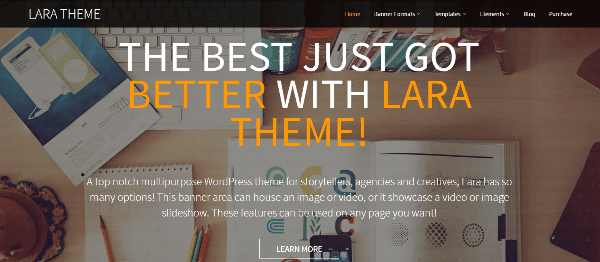 Lara is an affordable premium full-screen theme from Nimbus Themes. It features a one-page homepage design as well as six different blog layouts. Lara is multi-purpose, but targeted specifically towards agencies and freelancers.
Price: $39 | More Information
12. Jevelin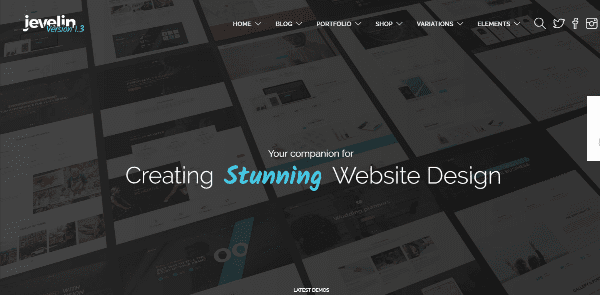 Jevelin is a multi-purpose full-screen theme with plenty of beautiful demos to help you get started with your site. Beyond the demo content, it comes with a variety of different headers and layouts to make theme customization simple.
Price: $59 | More Information
13. Sirius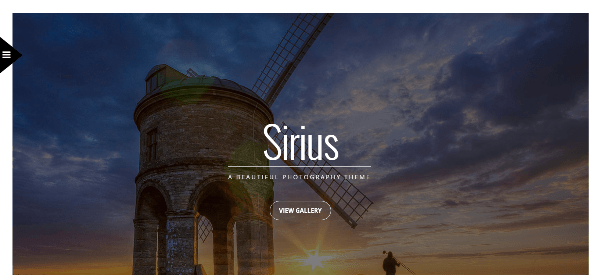 Sirius is a beautiful full-screen theme for anyone looking to showcase photography or other visual content. With its menu tucked inside a hamburger icon, Sirius is all about images. Built-in gallery and portfolio modules make it even easier to display your photos.
Price: $59 | More Information
14. Studio 8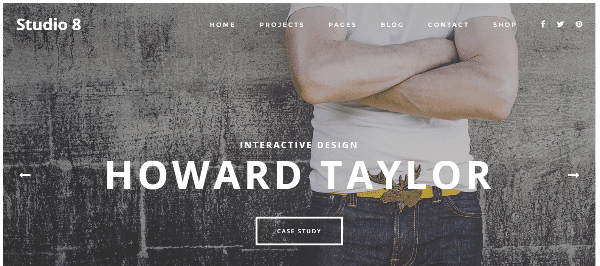 Studio 8 is a gorgeous full-screen theme from WPlook with built-in shortcodes and built-in support for a custom post type. It features a bold, full-screen slider and a variety of customization options.
Price: $99 | More Information
15. SOHO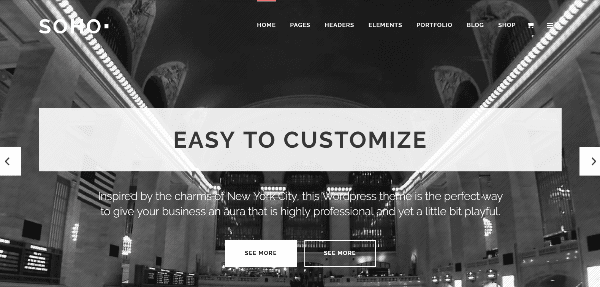 SOHO is a multi-purpose full-screen theme with a bold cover overlay title on a full-screen background. While you don't need to use this color overlay style, I think it makes for a beautiful layout. SOHO also includes parallax, AJAX scrolling, unlimited layout options, and lots more.
Price: $59 | More Information
16. Helix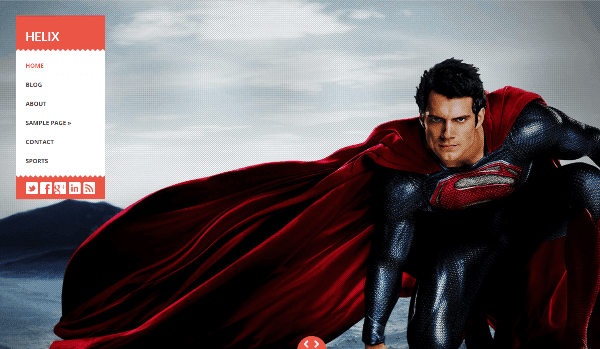 Helix has a unique layout when it comes to full-screen themes. Rather than including the menu at the top, Helix has the menu sit on the side of the page. I think it makes for a striking, visually focused design.
Price: Free | More Information
17. Zerif Pro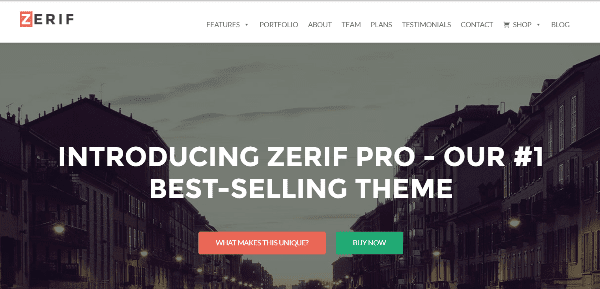 Previously, the lite version of Zerif was the most popular theme on WordPress.org until some controversy when it got removed. Despite that setback, both Zerif Pro and Zerif Lite still exist and offer beautiful full-screen designs with tons of functionality.
Price: $99 for Pro, Lite is free | More Information
18. Bridge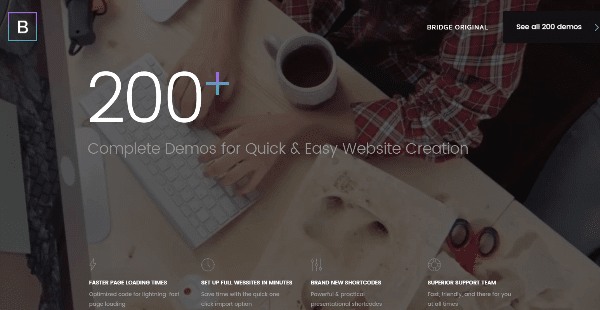 Bridge is a multi-purpose theme with a massive 200+ demos, which means you can probably find a demo that fits your site. My favorite is the Bridge Original featured above, though.
Bridge comes with 500+ shortcodes, Visual Composer, and WooCommerce support, among many other features.
Price: $59 | More Information
19. Elision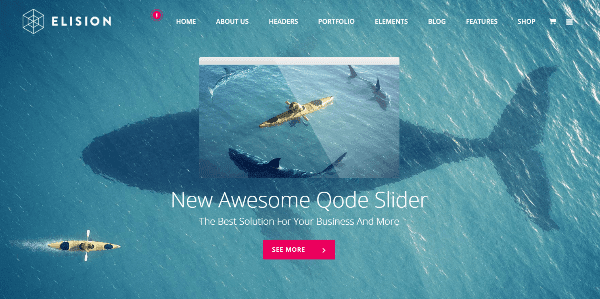 Elision comes bundled with the Qode slider, which allows you to include both images and videos in a full-screen slider. It also includes customizable headers, mega-menus, Visual Composer, and a whole lot more. Oh yeah, it's absolutely gorgeous, too!
Price: $59 | More Information
20. Vigor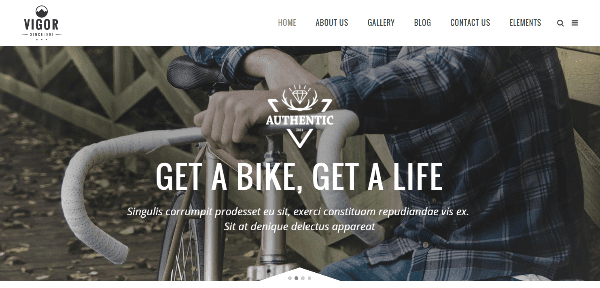 Vigor is a modern looking theme with a variety of demo layouts, including both full-screen and boxed options. It offers parallax, smooth scrolling, custom shortcodes, and a bevy of other options. I like the simple black and white color scheme of its demos.
Price: $59 | More Information
21. DIAMOND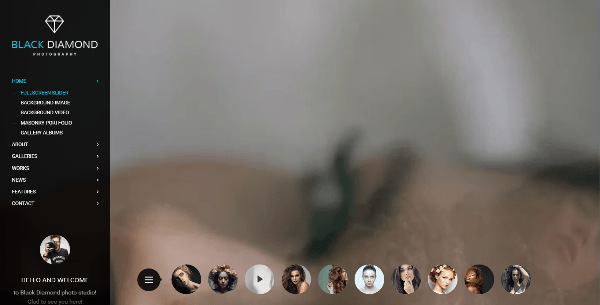 The thing that caught my eye with DIAMOND is its unique circular menu icons and sidebar navigation menu. DIAMOND definitely is not multi-purpose, but if you're any type of visual artist this is the perfect full-screen theme for you.
Price: $55 | More Information
22. Lensa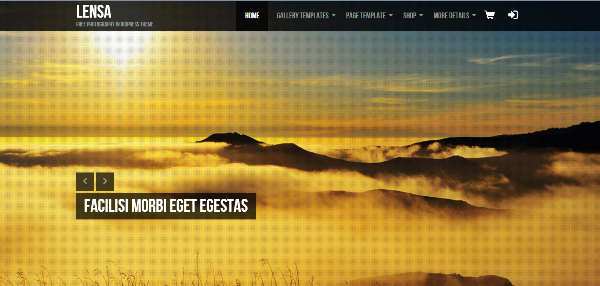 Lensa is a free full-screen theme for photographers or graphic designers. It's great for displaying a variety of galleries and sliders, but not much else. Photographers should check Lensa out, others will likely want to stay away.
Price: Free | More Information
23. Mountain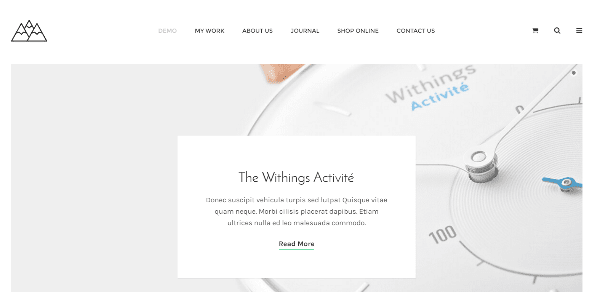 Mountain is a great full-screen option for people who love minimalism. Its simple layout and generous white space keep things very open and airy.
The theme includes multiple portfolio layouts and integrates with WooCommerce to create a great store for artists.
Price: $54 | More Information
24. Logan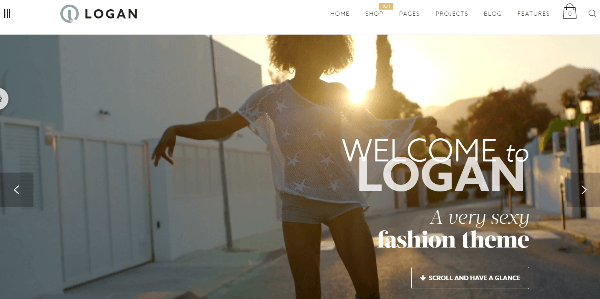 Logan is a great looking multi-purpose theme. It includes a variety of demos which can be easily added to your site with a one-click importer. Logan also supports mega-menus and ships with both Visual Composer and Go Pricing included.
Price: $59 | More Information
25. Invento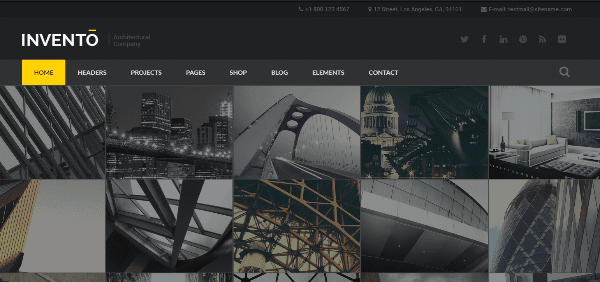 Invento markets itself as a theme for architecture firms, but I think it's also perfectly suited to photographers with its full-screen grid of images. This theme comes with Slider Revolution and Visual Composer and has a bevy of layout options.
Price: $59 | More Information
26. Tactile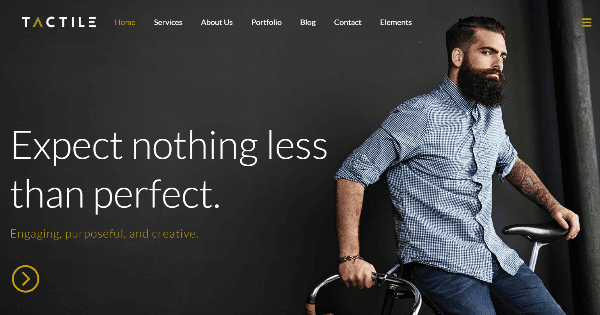 Tactile is a modern looking full-screen theme that ships with 14 different demos you can choose to base your site on. My favorite, which I've featured, is the original. But it also includes demos for bloggers, photographers, and portfolio sites.
Price: $64 | More Information
27. TheFox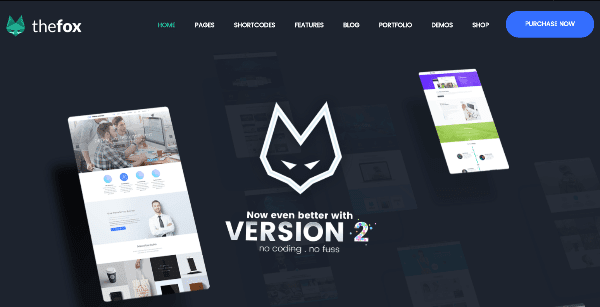 TheFox is the WordPress theme version of the best selling .PSD template on ThemeForest. It includes an eye-catching parallax effect in addition to its bold full-screen design. TheFox includes a whole heap of demos, as well as Visual Composer.
Price: $59 | More Information
28. TheGem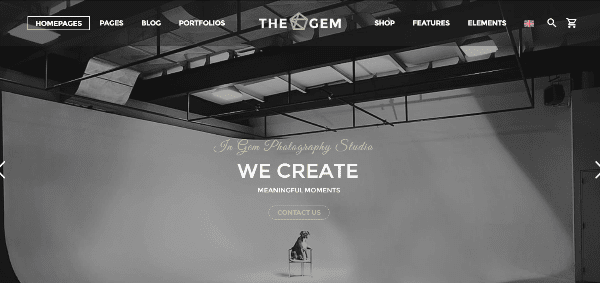 TheGem is a multi-purpose full-screen theme with a massive 40+ pre-designed concepts covering a variety of niches. You can bring in any of these concepts with a one-click importer. TheGem did well in Google PageSpeed Insights in my personal tests and comes with Visual Composer and Revolution Slider built-in.
Price: $59 | More Information
For Elegant Themes Members
If you're an Elegant Themes Member then you're in luck! We have two themes that fit this category of WordPress themes quite well.
Divi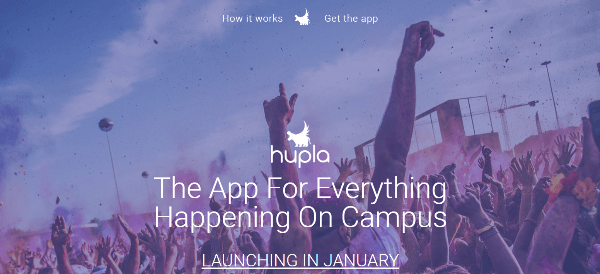 While there are certainly plenty of Divi sites using boxed designs, it's also super easy to make Divi full-screen. Take, for example, the beautiful full-screen Divi design from Hupla App that's showcased above.
You can create full screen sliders, hero images, and more to grab your visitors' attention.
Price: $69 for just themes. $89 for plugins AND themes | More Information
Extra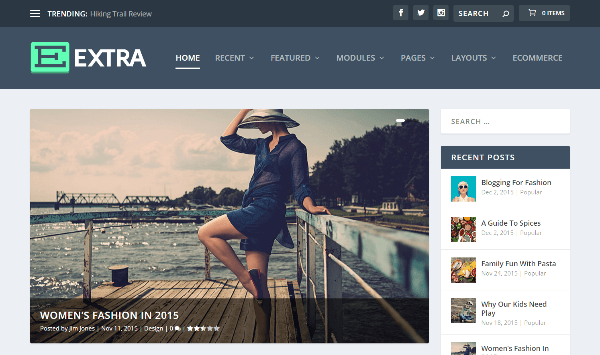 In addition to its full-screen menu, Extra includes a full-width template to let you take advantage of all the screen real estate available to you. Extra also includes the Divi Builder, so you can build beautiful full-screen designs without needing to know any code.
Price: $69 for just themes. $89 for plugins AND themes | More Information
Wrapping Up
Hopefully one of these beautiful themes caught your eye for your next full-screen website. Just remember to always make sure your site still loads quickly if you go with a full-screen theme – I've encountered some full-screen designs that take ages to load and glitch when trying to navigate them. I made sure none of those themes made it onto this list, though!
Have you used any of these full-screen WordPress themes? If so, what are your thoughts?
Article thumbnail image by gingerwisl / shutterstock.com