Spotify made a lot of waves in the podcasting industry during 2019. They bought Anchor, a podcast host, began producing original content, and launched their very own podcasting dashboard on the platform called Spotify for Podcasters. To top it all off, they just recently licensed the most popular podcast in the world, The Joe Rogan Experience, for a staggering $100 Million in exchange for exclusivity. You could say, they've gone all-in. For podcasters, that's a good thing. Which is why in this post, we want to show you how to use the Spotify for Podcasters dashboard and take a look at why you should at least give it a try, even if you like the dashboard that comes with your own podcast host.
What is Spotify for Podcasters?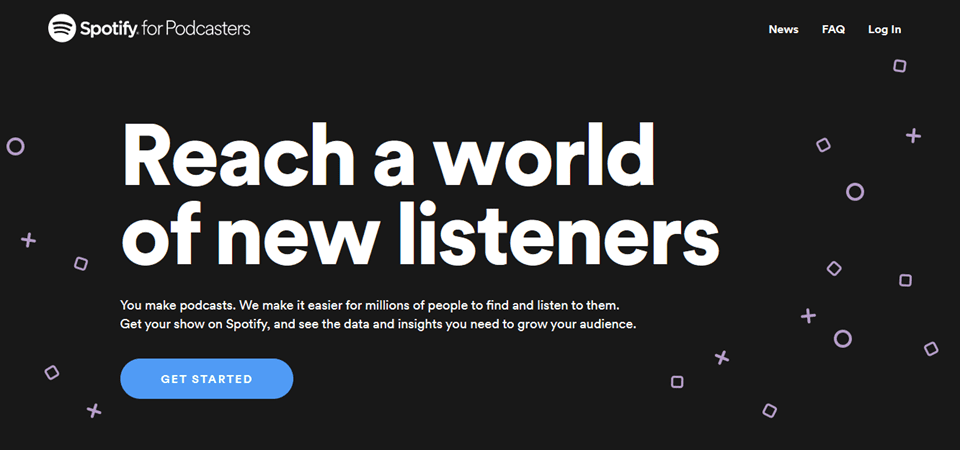 The first thing we want to clarify is that Spotify for Podcasters is not a podcast hosting platform. Spotify owns Anchor.fm, which is a free podcast host that very easily links to the audio platform itself. Spotify for Podcasters is an analytics and management dashboard. You can dig into your episode and audience data so that you can find out where more of your effort should be spent so that you can start raking in that Joe Rogan money.
How to Get Started
As we said, this isn't a podcasting host. So you will need to already have your show published and available via RSS before you start. Spotify for Podcasters does require that you have a Spotify account (they're free), so make sure that you sign up.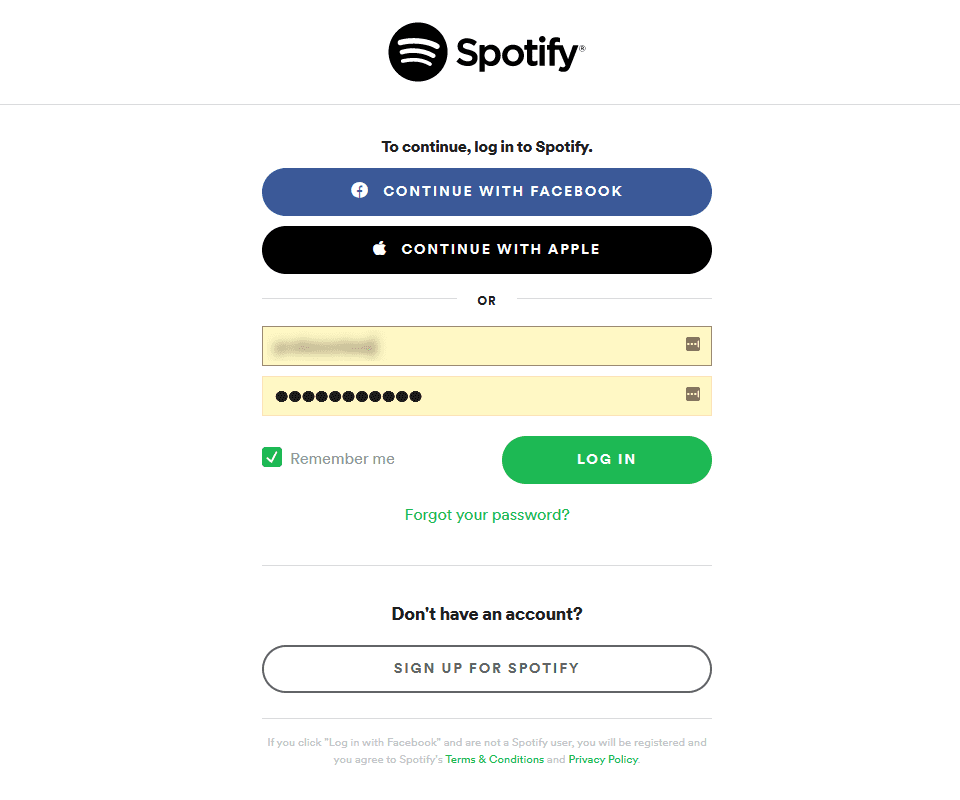 Once logged in, you'll see your dashboard. Spotify has a few blogs, articles, and guides for you regarding podcasting in the center. And in the upper left, when you click your name/profile picture, a slide-in menu will appear with a Add or Claim Your Podcast. Click it.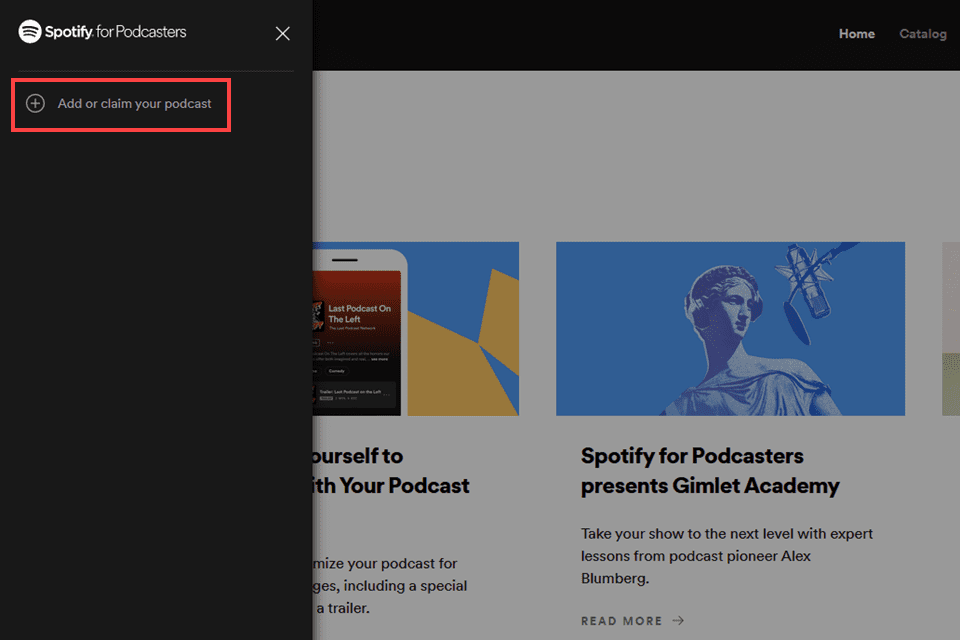 How to Adding Your Podcast to Spotify
There's a good chance that if your podcast is hosted somewhere like Libsyn or Anchor or another major host, it's already included in the Spotify directory. But then again, there's always a chance that it slipped through the cracks.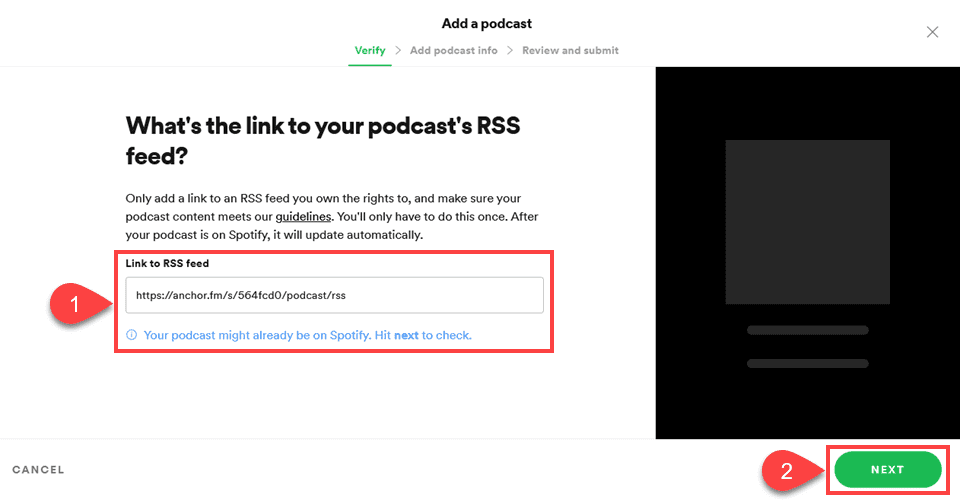 Either way, just paste in your show's RSS feed and click Next. Your feed should validate and the artwork, author, and description will appear in the section to the right of the screen.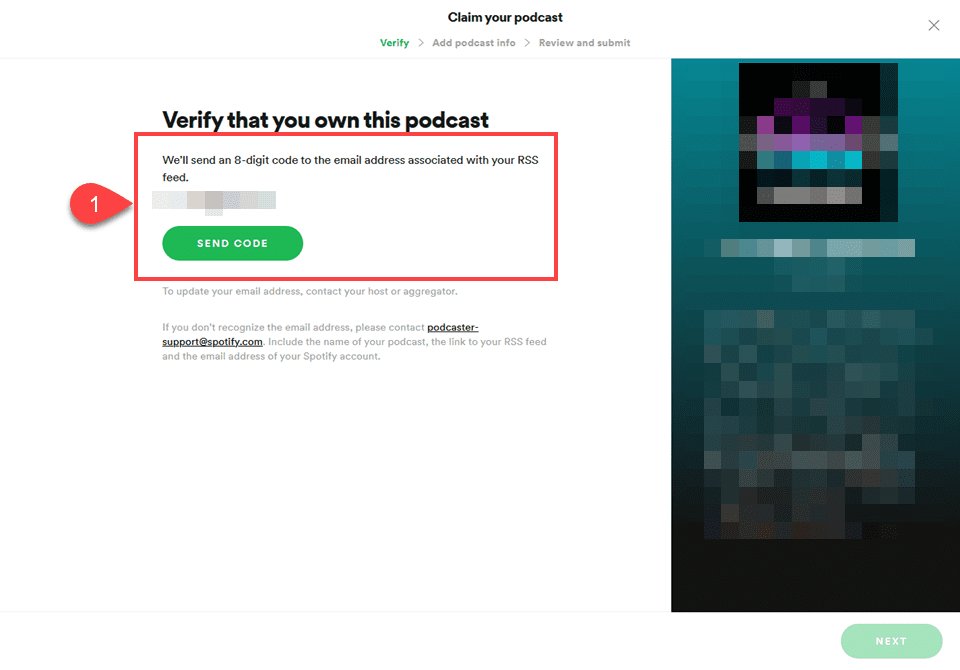 Spotify will also send an email to the address associated with your show, so be sure to check that next. You set this email address via your host, so if you need to change it, do it there.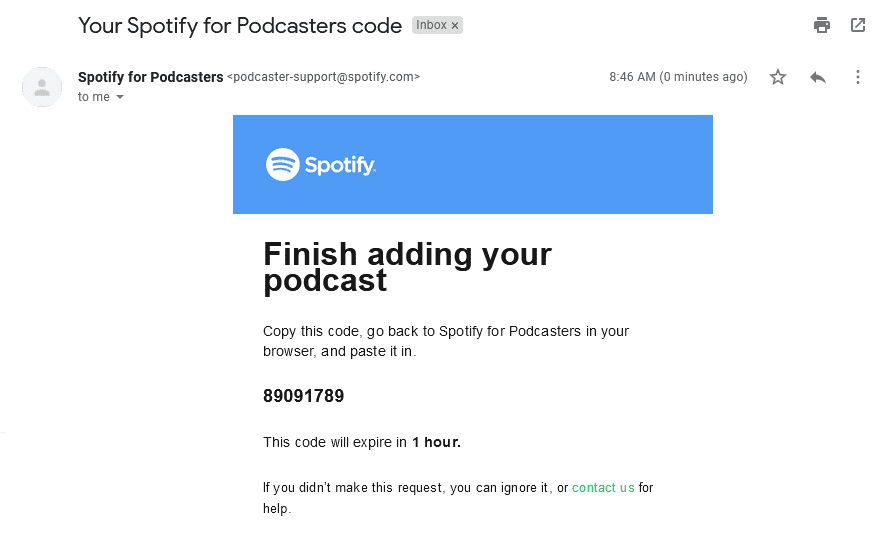 Just pasted that code in the field, and you then get to enter your podcast's information. This is incredibly important, so spend some time here.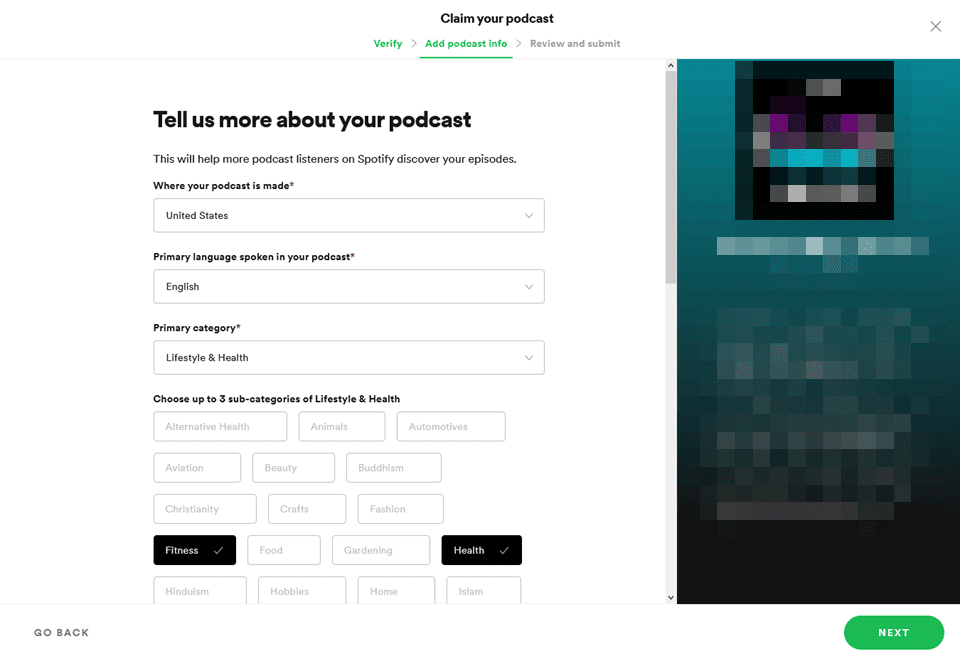 CHoose the primary language, country of production, and the primary category as well as 3 sub-categories within that. You can also add an additional category that can gain additional visibility for your podcast. We urge you to pick not only specific ones, but also appropriate categories. No one wants to be looking for "running" podcasts and discover your "running a business" show. Listeners absolutely use these to browse shows, so make sure you pick the right places for your podcast to live.
After that, you'll be asked to make sure that it's all correct.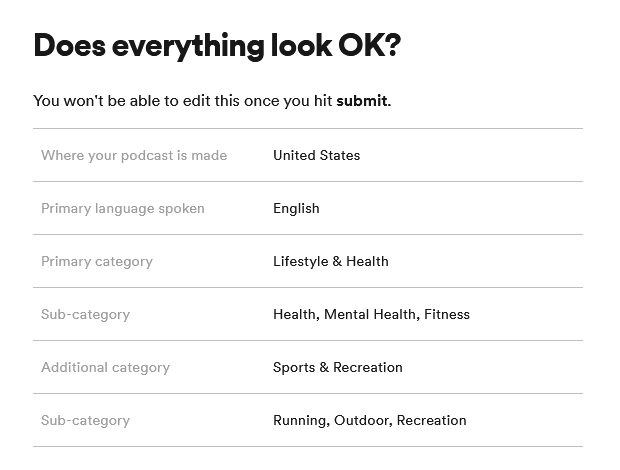 Then just click submit, and your show is now either listed on Spotify (if it wasn't already) and added to your particular Spotify for Podcasters account!
Your Podcast Dashboard
Under the Catalog tab at the top of the screen is your list of claimed podcasts. You can (as far as we are aware) have any number of podcasts here. So if you're in charge of a network or a collective, you can see the stats and manage them all from a single Spotify for Podcasters account.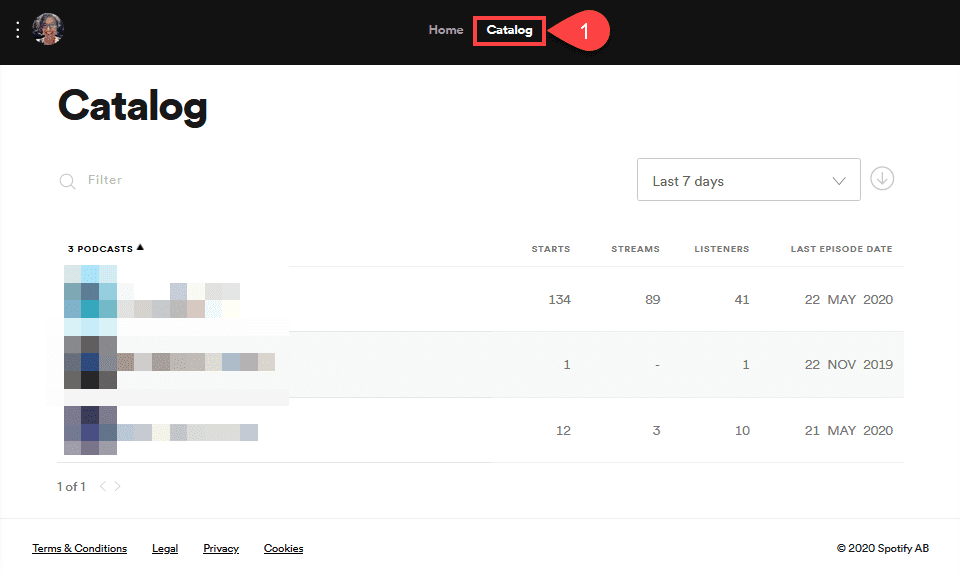 Click into the individual shows for a breakdown of the stats. Keep in mind that these stats are for the Spotify platform only. You do not get info on Apple Podcasts, Overcast, Pocket Casts, anything else. These are only for Spotify listeners. But it's becoming such a staple in the podcast world, those numbers are worth having.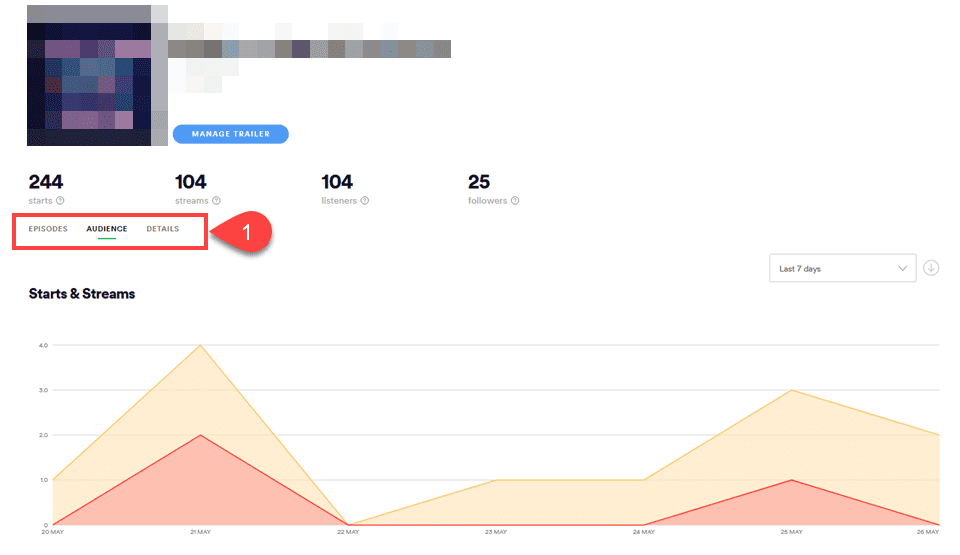 Whether you choose to look at the show as a whole (by clicking the Audience tab) or drilling down into a single episode under the Episodes tab, the information will be the same. You can select a date period to check how many podcast starts you have versus how many partial or complete streams of the episode. Spotify for Podcasters defines a stream as anyone who listens to 60 seconds of an episode, while a start is 0 seconds or more. Basically, people who listen under 60 seconds are just considered starts.
This brings us to a good place for unsolicited podcast advice: make sure the beginning of your podcast grabs the listener. Make sure that you don't have filler or rambling. If you're working on picking up new listeners, they want to know what this show is about. And Spotify is a platform for browsing. If you're looking to make the most of it, keep the intro (the first 60 seconds) of your show crisp, clean, and interesting. Because that's all the time you really have to turn a browser into a listener.
Spotify for Podcasters also provides a lot of other metrics for either a single episode or for the overall show:
Starts and Streams
Listeners
Followers (just on Spotify)
Gender
Age
Country
Artists They're Listening To
By themselves, this data may not mean much to you (especially if you've never done data analysis before). But if you take a look at them on the whole, you get a pretty good idea of who your ideal listener is. That may not match up with who you thought. By knowing for sure who is listening to your podcast, you can tailor the content to them (which is why the Artists They're Listening To list is so intriguing), and also tailor your ad pitches to sponsors because you can tell them specifically who among their target demos are listening to your show, how often, and how long.
All of which is necessary if you're looking to create a monetized platform from your podcast. That's really where Spotify for Podcasters shines.
Wrapping Up
If you're podcasting, there's no reason you shouldn't have a Spotify for Podcasters account. You will get not only audience information that can help you bring in sponsorships, but you can specify categories and keywords under which your show will appear. Spotify is a browser's platform. You need to make sure to take advantage of that. While your host's information does carry over, by having their own platform for podcasters, Spotify gives you that much more control over how your content is released and distributed. That's never a bad thing. Nor is having more data. We think Spotify for Podcasters is a win-win in that regard and look forward to seeing what features get added in the future.
What do you think about the Spotify for Podcasters platform? Let us know in the comments!