Later is a powerful social media management platform that allows marketers to schedule social media posts across multiple platforms. It's packed with user-friendly features and at-a-glance insights to help you boost your reach and ROI. Later social media scheduling pairs detailed visuals with easy-to-use features that help to inform and streamline your social media marketing strategy. Want to know more about how Later works?
Let's jump right in!
How Later Works
Later social media integrates with Instagram, Facebook, Twitter, and Pinterest. Its drag-and-drop interface enables easy scheduling at a glance. Users have the option of scheduling to the main feed in Facebook, Twitter, and Pinterest. For Instagram scheduling, users can schedule to the feed for automatic posting or upload Stories for manual posting via the Later mobile app.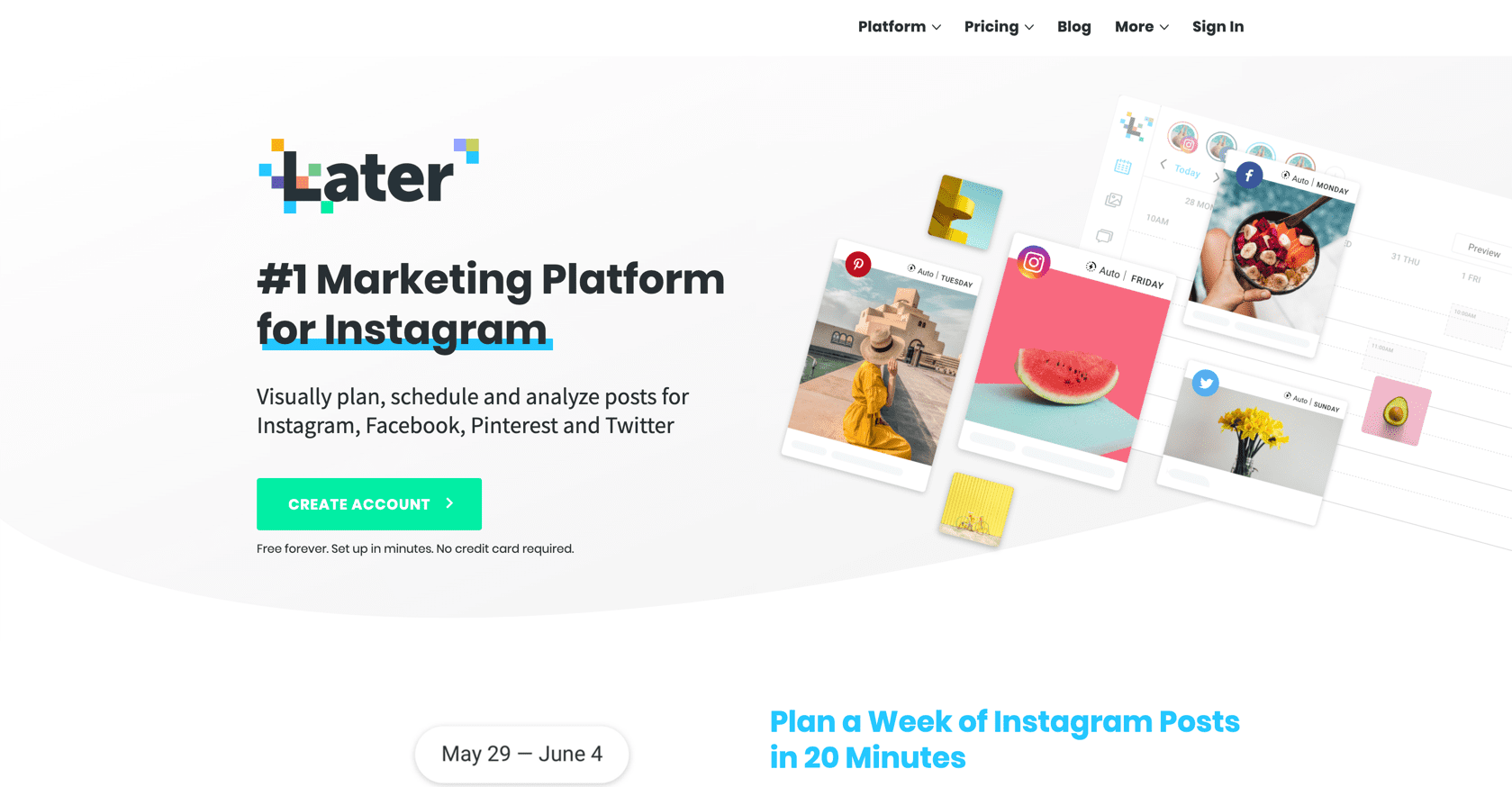 There are several options for uploading media to Later. You can drag and drop images and videos into the grid, upload directly from your computer, or upload from DropBox or Google Docs.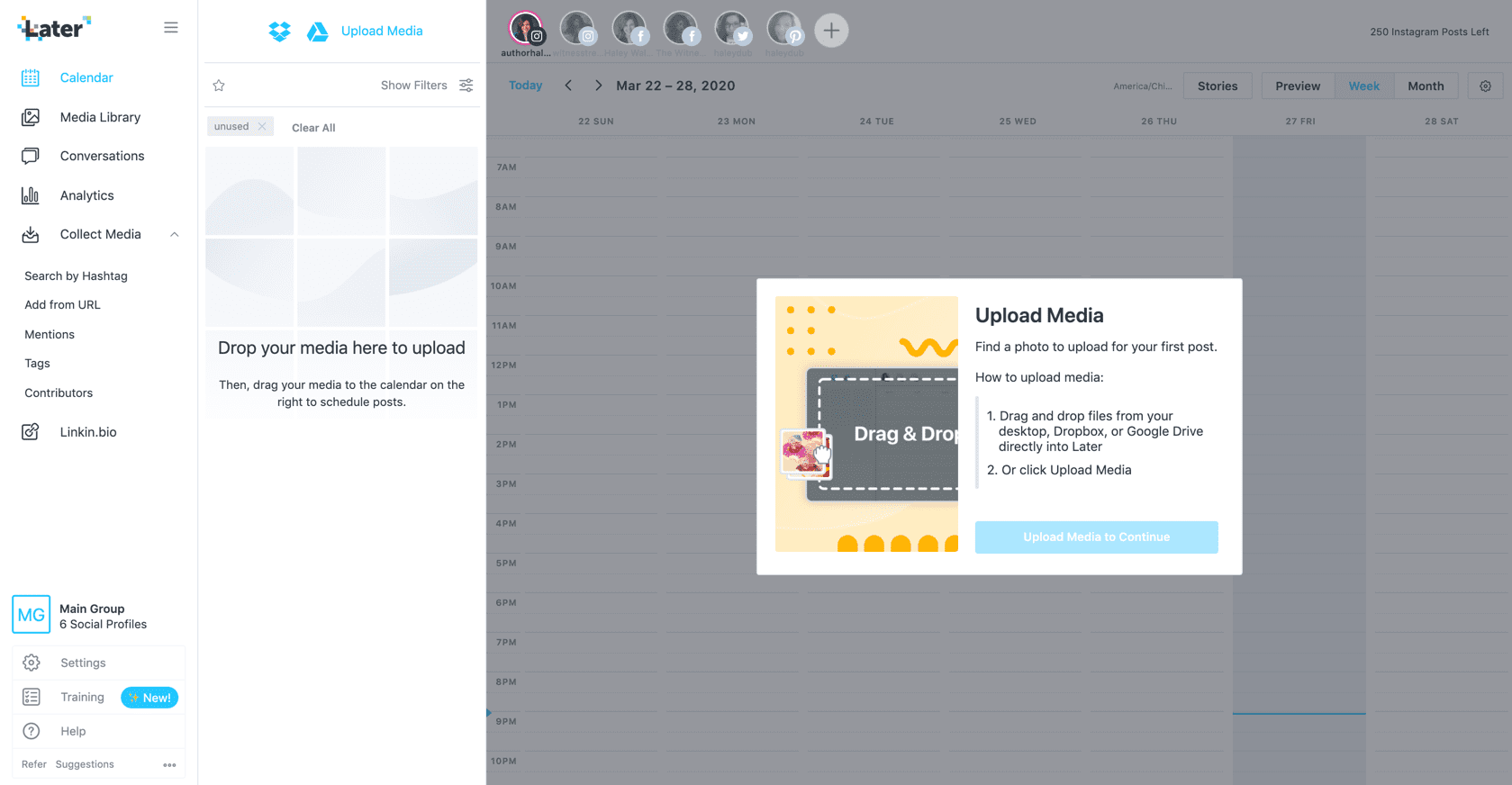 Drag an image over to the calendar panel and drop it on the date when you want to post it.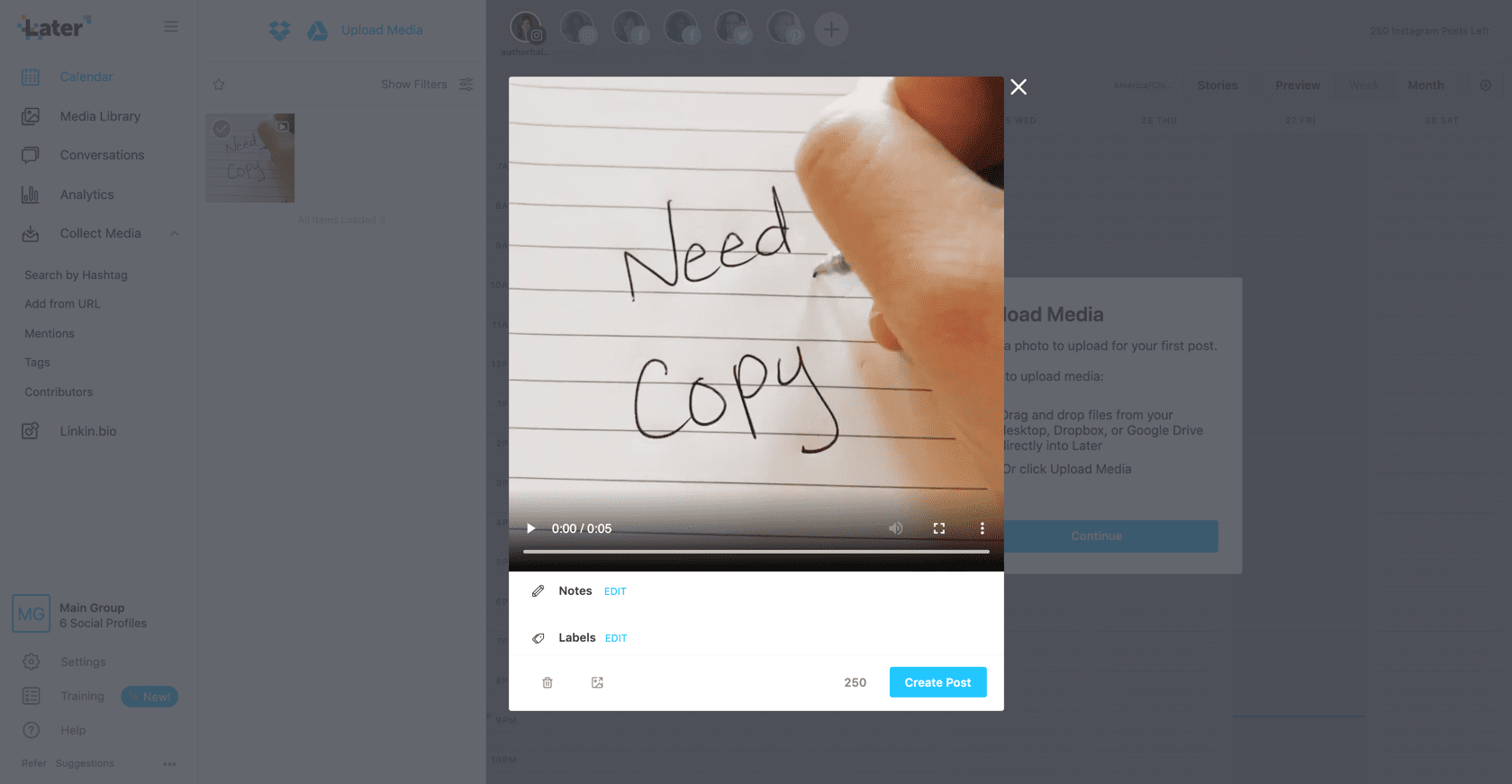 Next, use the Create Post option to start writing the copy for your post.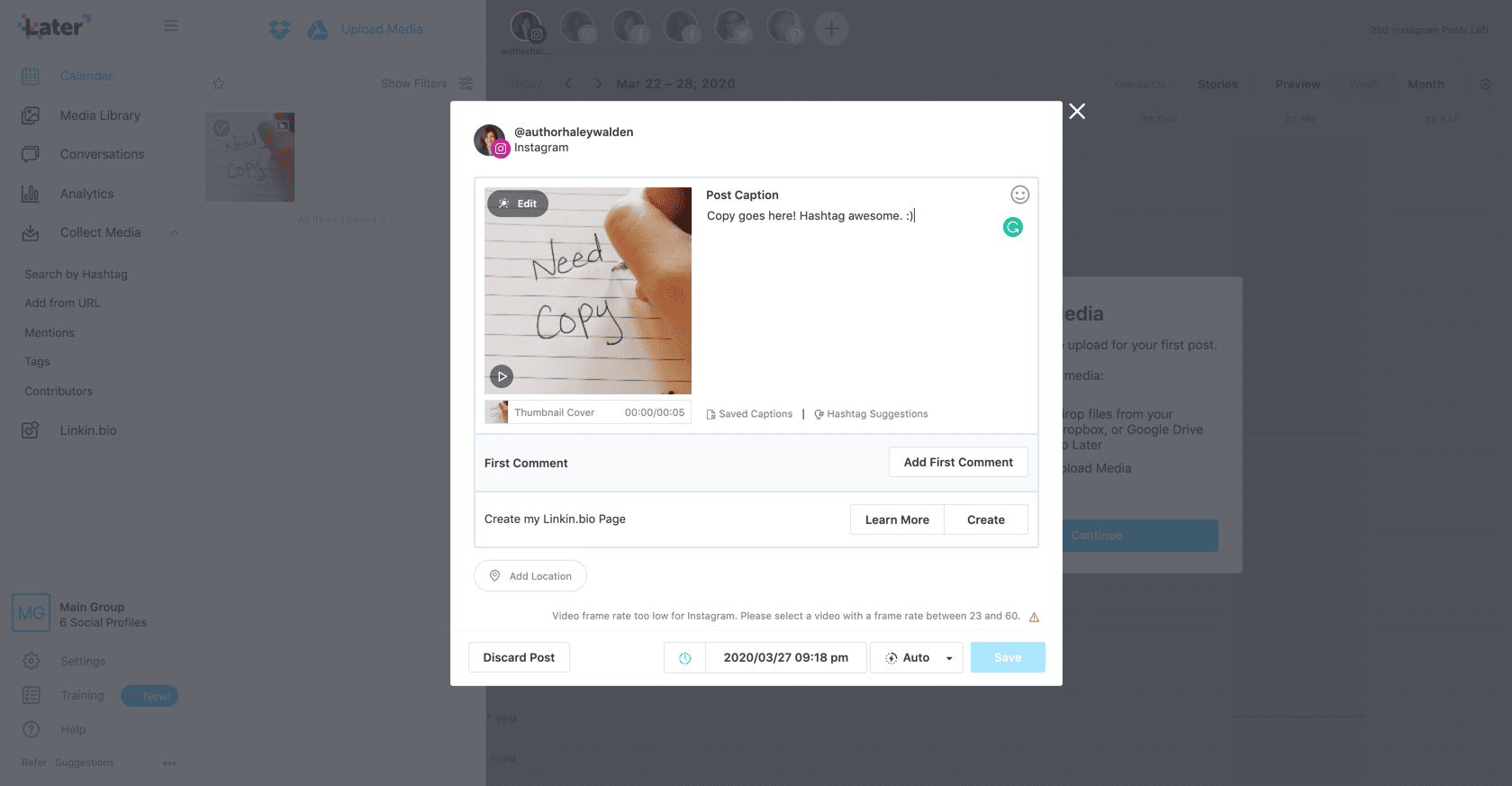 After that, you can search suggested hashtags to add to your post. Just type one example hashtag into the text box, then click Suggest. You'll get a list of related hashtags to choose from, sorted by relevance. Each suggested hashtag includes the number of related posts.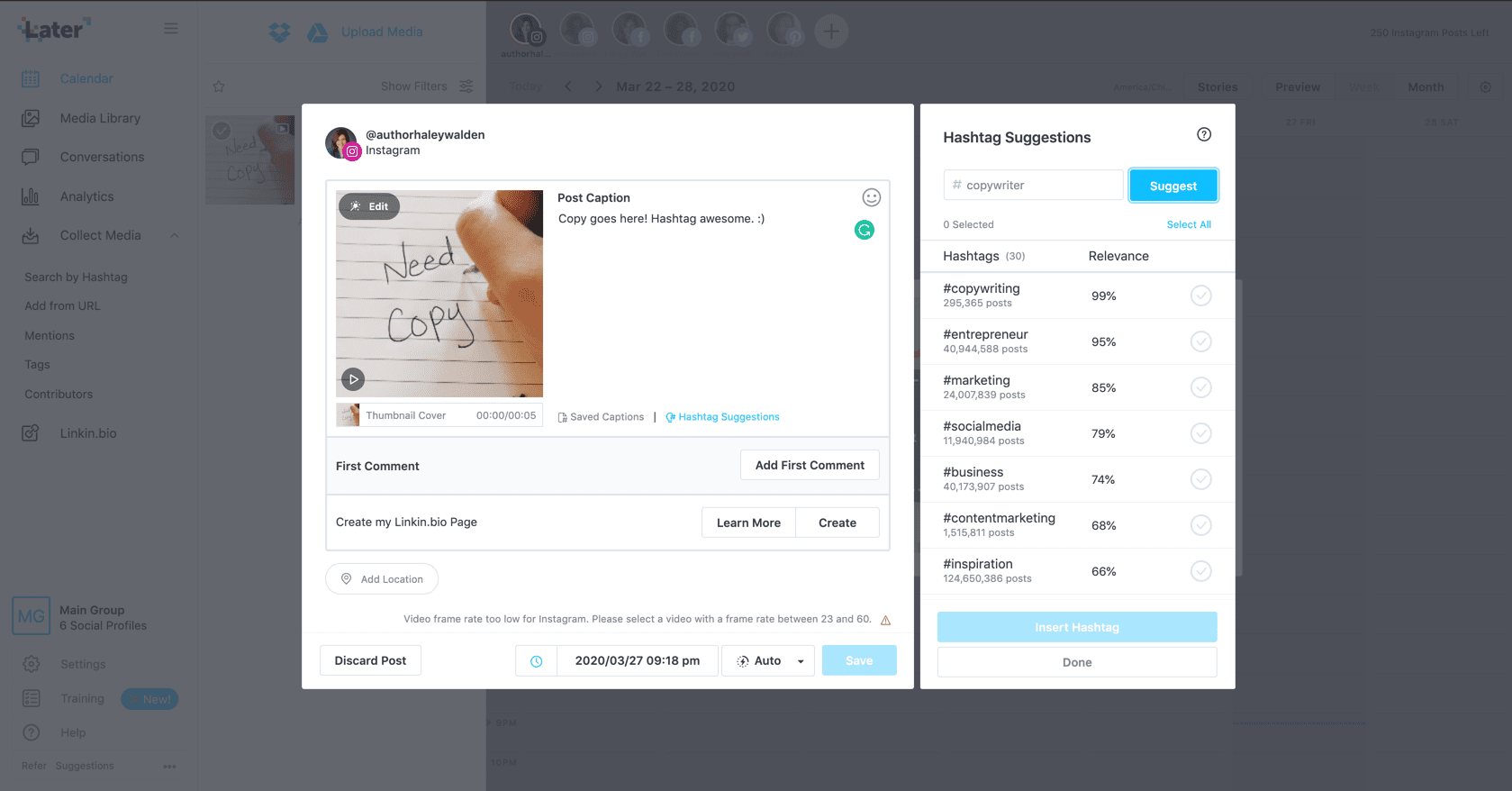 Finally, you can adjust the time when you want your post to go live. Once you've saved your scheduled post, you can see all upcoming posts displayed on your calendar view by day, week, or month.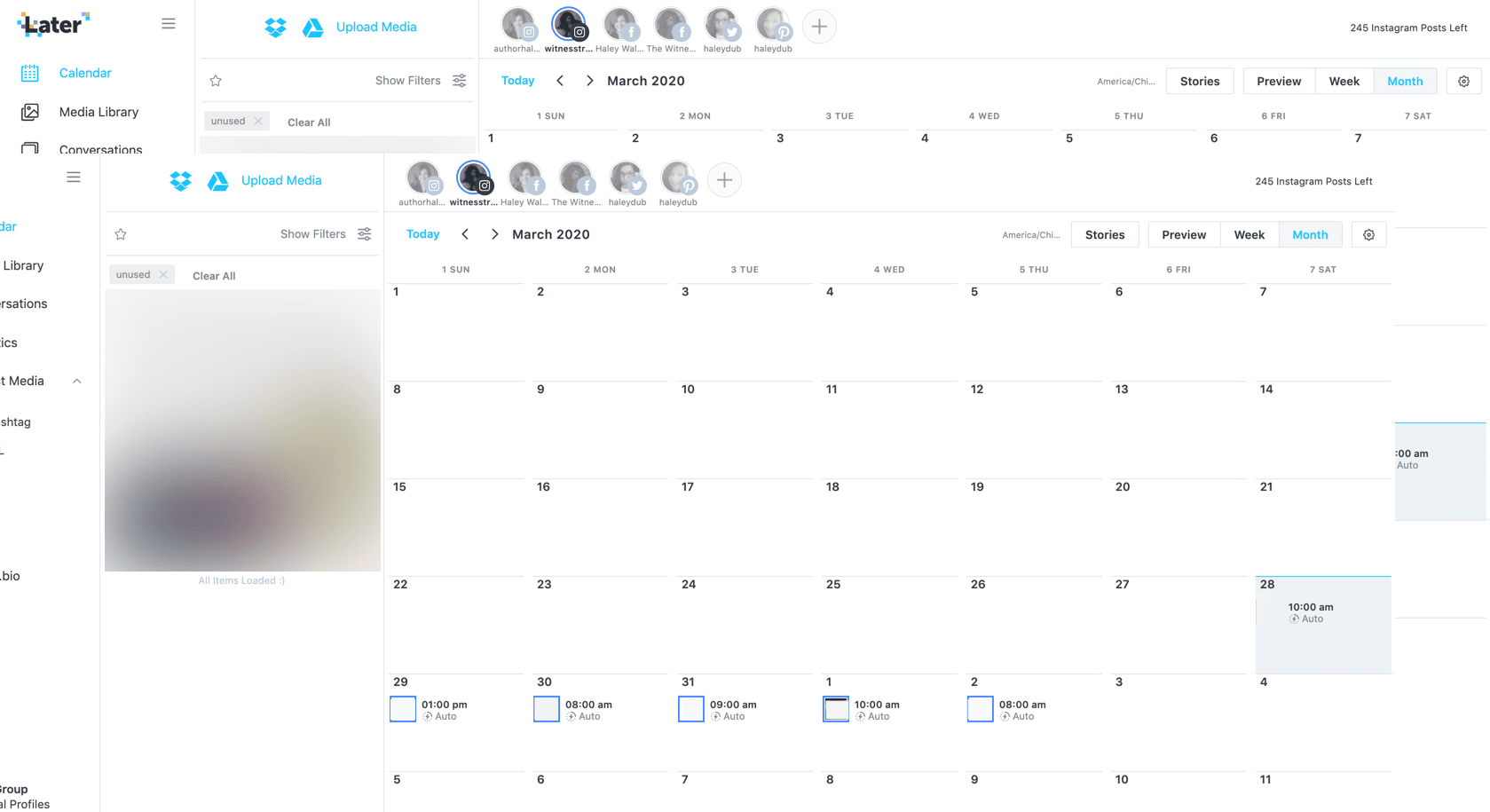 If you want to re-use a post or cross-post to a separate platform, you can visit your Media Library to grab the image again. Images may be sorted and labeled by platform, brand, campaign, or account.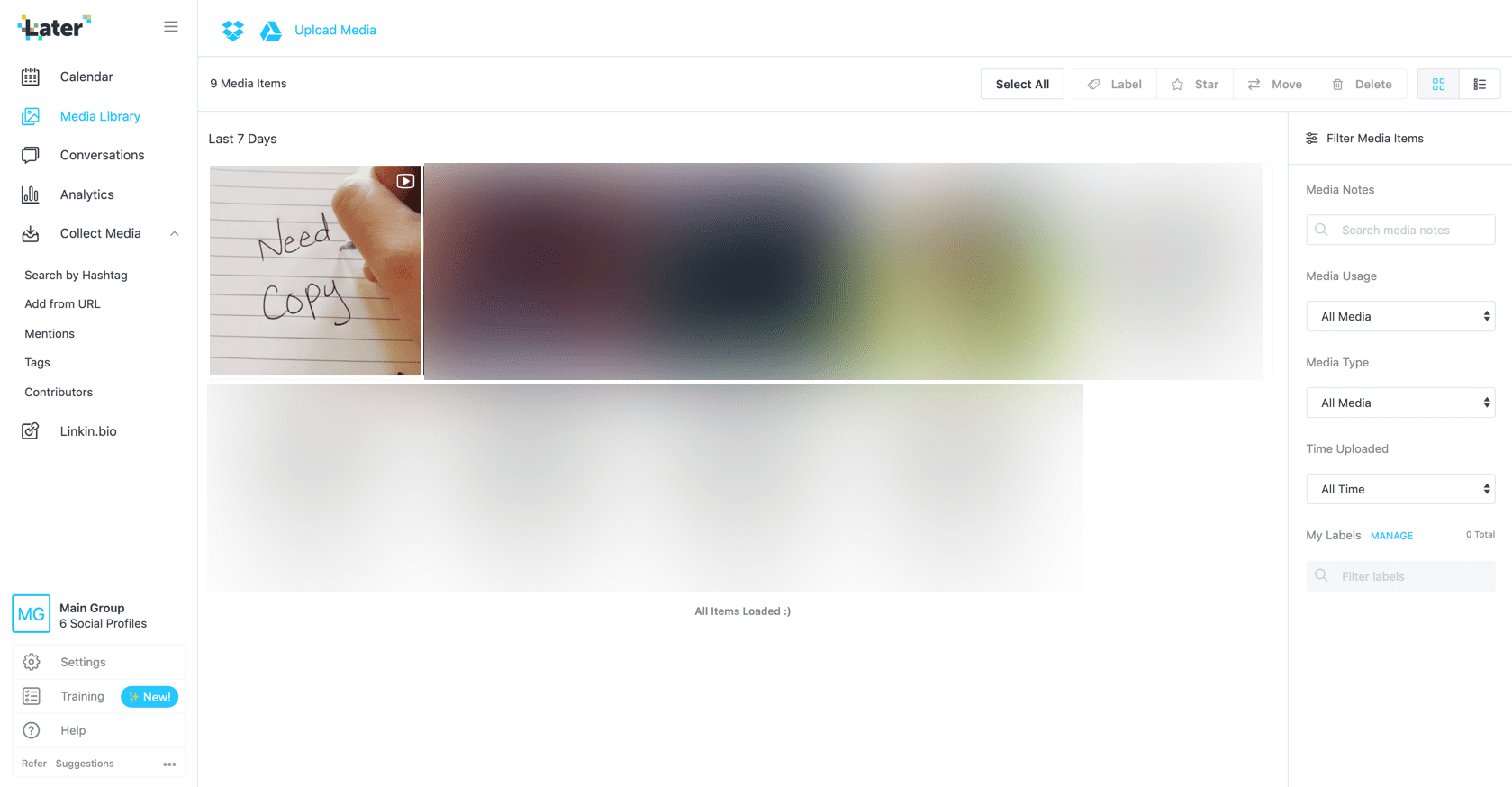 Later Tools
Later social media features a number of tools on its dashboard that make social media scheduling and strategy easier, including:
Drag-and-drop post scheduling
Calendar view
Media library for storing images and videos
Ability to review and reply to comments (Instagram only)
Hashtag suggestions tool
Library of saved captions for re-use
Detailed platform analytics
Performance reports for posts and Stories
Curation tool for sharing posts created by others
Noteworthy Later Features
Let's dig a little deeper into some noteworthy Later social media scheduling features.
Conversations
Later's Conversations feature is available only for integrated Instagram accounts. The tool allows users to review and reply to comments. There are several ways to sort the Conversations tab, including Inbox View, Post View, and User View.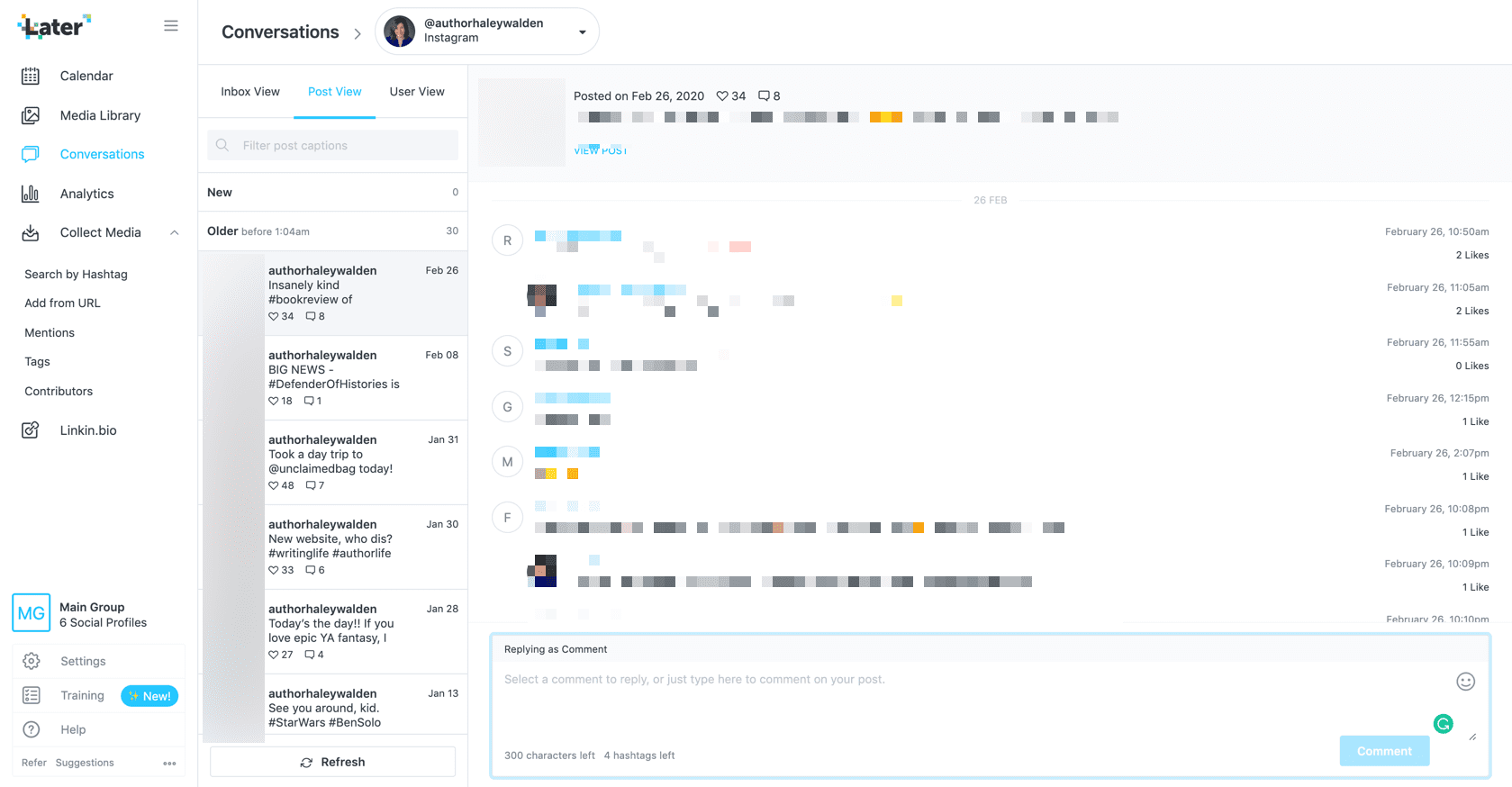 Analytics
Later features a detailed analytics dashboard that features a wide variety of insights from the platforms you integrate with the software. Available analytics include:
A broad overview of your account performance, where you can view your number of followers (including new followers), impressions, interactions, and your growth rate percentage
Audience analytics, which covers engagement, demographics, location, and primary written language
Post performance, where you can view detailed, per-post insights with information about likes, comments, impressions, reach, and more
A visual breakdown of how your hashtags are performing, including likes, comments, impressions, and more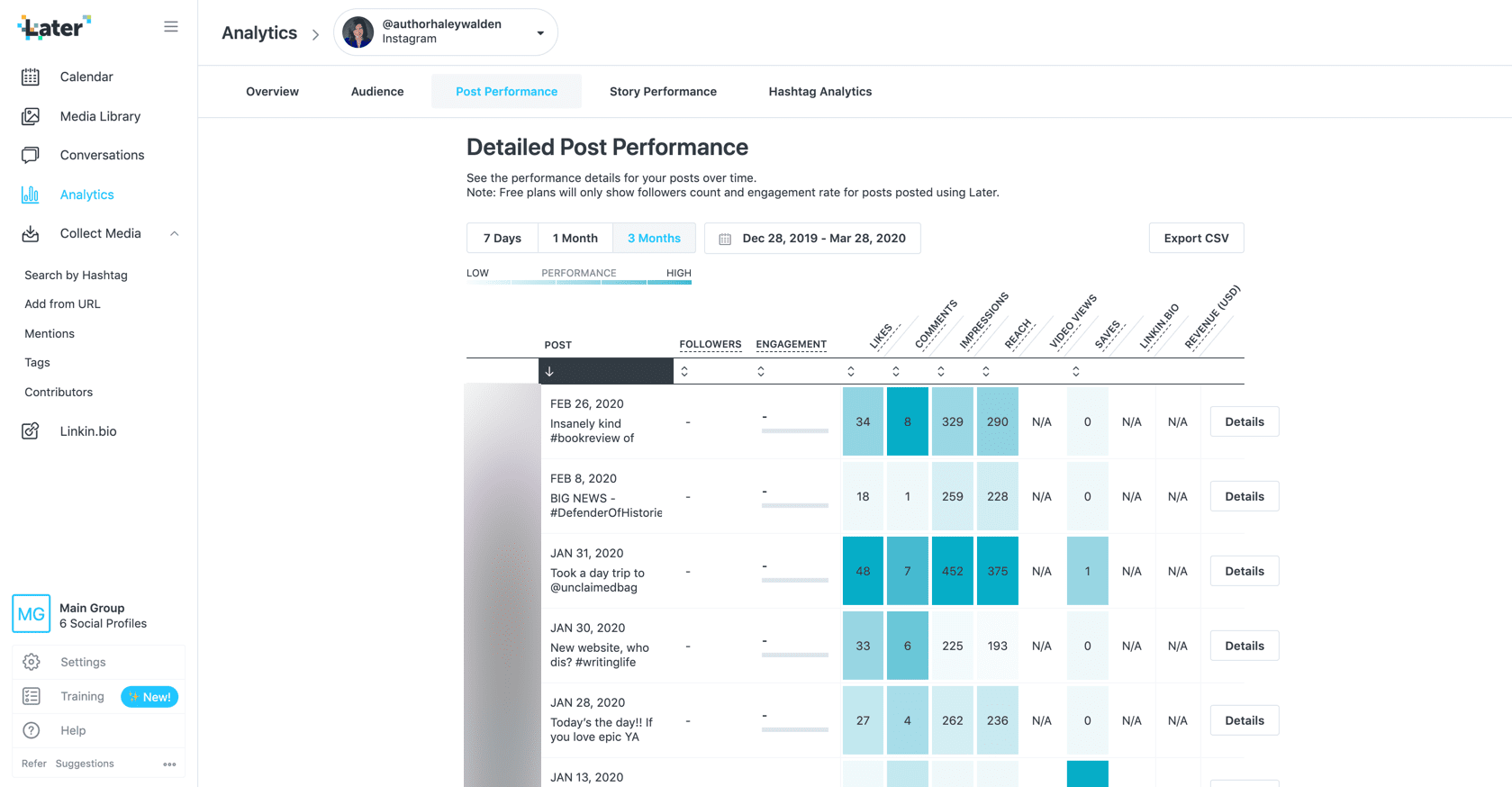 Collect Media
Later's Collect Media tab allows you to populate and save content from other Instagram users for later re-sharing (with the original poster's permission, of course). You can search Instagram by hashtag, URL, mentions, and tags. It's even possible to invite content creators to contribute to your feed.
You always want to make sure you ask for permission from another user before you post their content to your feed. Additionally, be sure to tag the original poster if you get permission to share their content.
Collect Media is a useful tool to have in your dashboard if your content strategy depends heavily on you sharing user-generated content (UGC). The hashtag search in Collect Media is limited to 30 hashtags per seven-day period.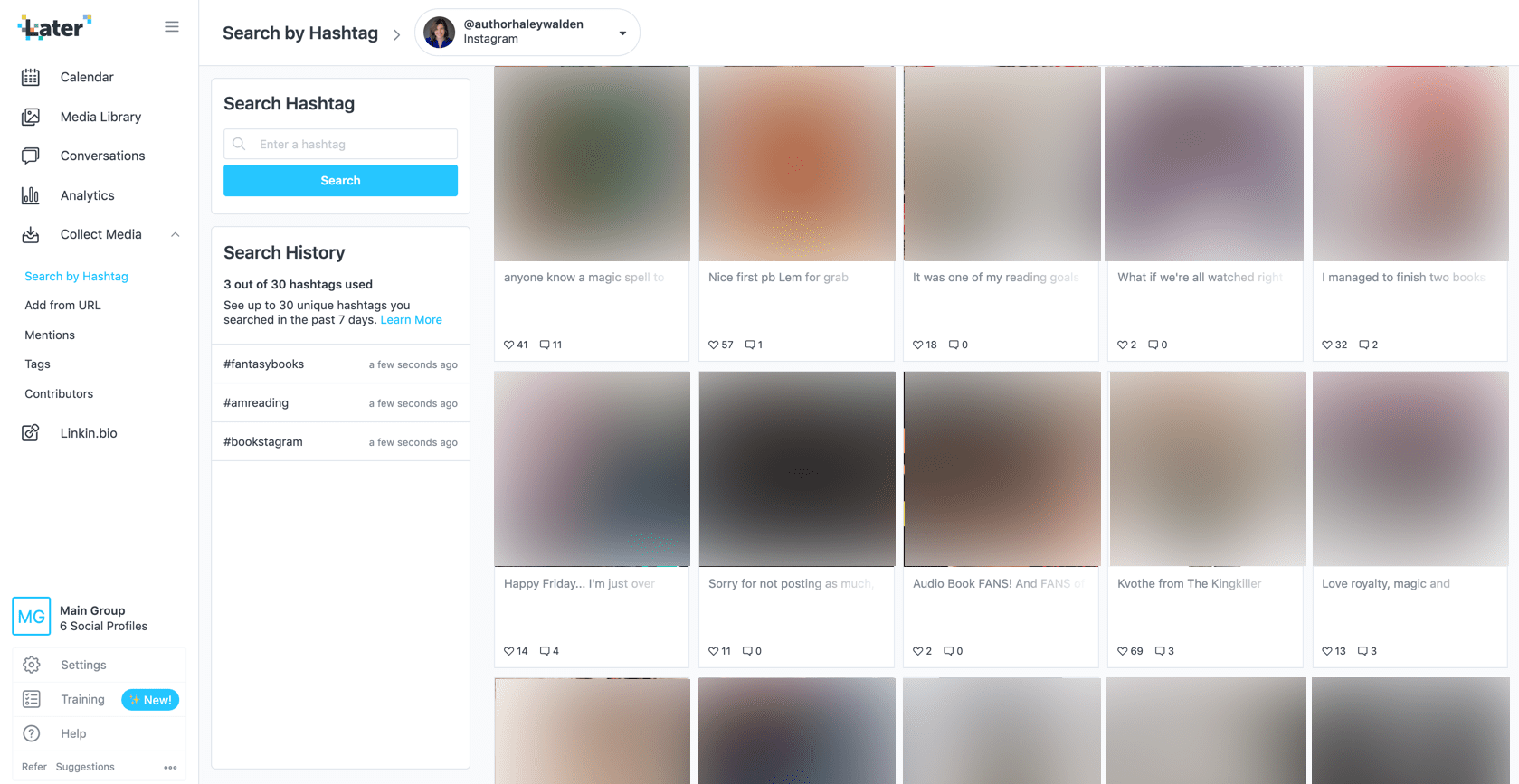 Linkin.bio
Later's Linkin.bio feature allows you to create a clickable landing page–shared via your bio link–that looks similar to your regular feed. Each image in your Linkin.bio may be connected to a URL. If you have a Shopify site, you can integrate that, as well.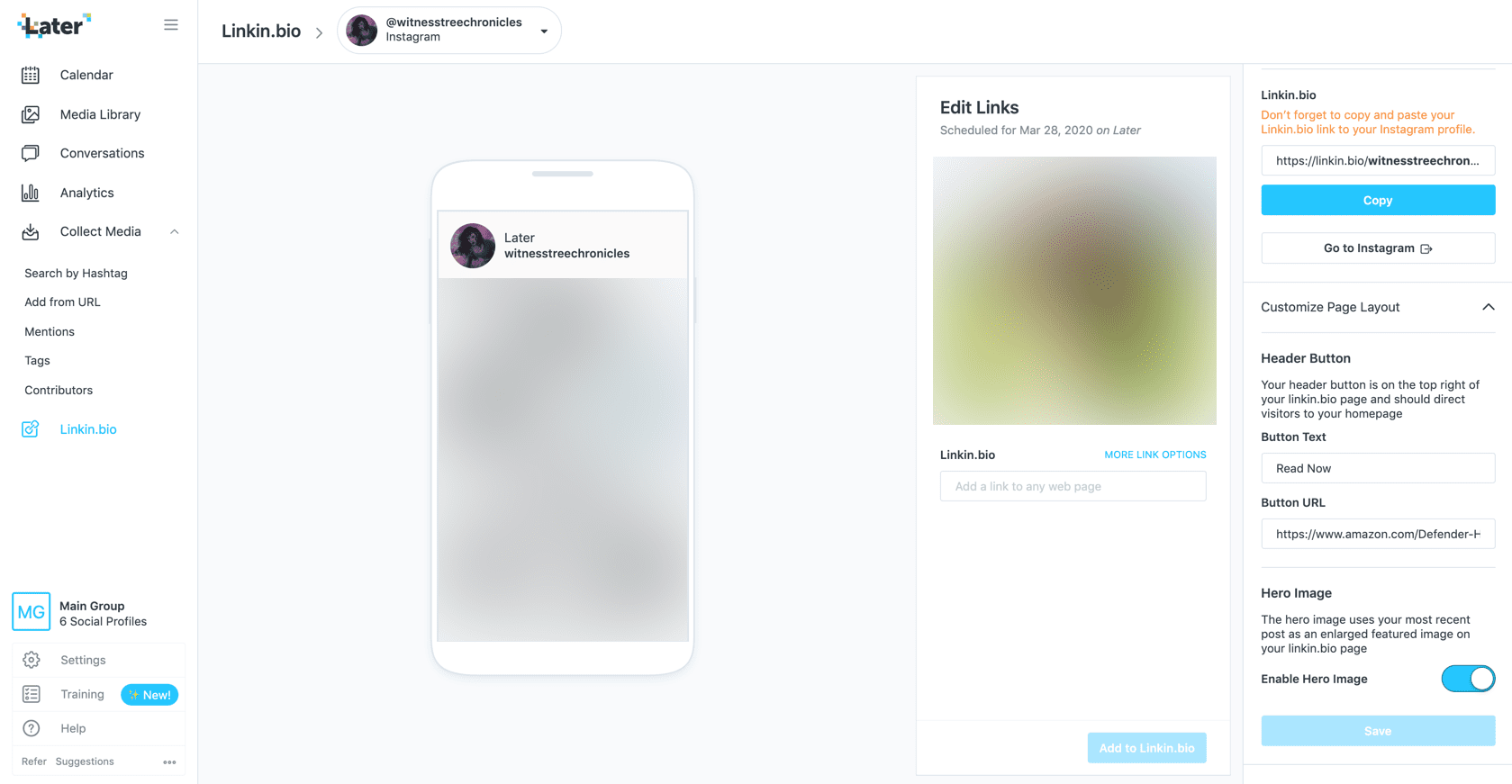 Linkin.bio populates with your existing Instagram posts in the Later social media scheduling dashboard. You can choose which images you want to display and connect them to the links you want your users to follow. When you've finished creating your landing page, you can link it from your Instagram feed.
Later Benefits
In addition to providing powerful tools to get your social media posts out into the world, Later social media benefits include:
The ability to schedule and comment on your social media posts without leaving your dashboard
A wide variety of detailed, at-a-glance analytics at your fingertips
A visual calendar to help you keep track of your scheduled posts
Curation and hashtag research tools integrated into the app
Thoughtful Integration in One Dashboard
The biggest strength of Later social media scheduling is its full integration of so many necessary social media marketing tools inside its interface. It has the ability to significantly streamline the content creation, content curation, and data analysis processes required to market successfully via social media channels.
If you tend to get lost among open tabs–or if you often forget to venture into your marketing analytics–Later makes it easy to keep track of everything. Its user-friendly interface is simple to learn, navigate, and understand.
Later Pricing
Later is free for 30 posts per month on one social media profile. Its pricing structure goes up from there. Rates range from $7.50 to $41.00 per month (billed annually), depending on the number of social profiles you need to post to. Alternatively, you can pay month-to-month for a slightly higher price.
Over to You
It's crucial to leverage tools that make your marketing efforts more efficient–especially since there are so many moving parts involved in a solid digital marketing strategy. Services like Later offer a variety of powerful tools that can save you time and money, while helping you schedule and analyze your social media content more effectively.
Overall, Later social media scheduling is a strong tool with open accessibility to nearly everyone who wants to leverage its power somewhere in their business. Whether you're a solopreneur on a tight budget or an agency marketer with a wide client base, you can incorporate Later into your content marketing workflow to trim down on the time involved in your processes.
Do you use social media management tools to boost your efficiency? Tell us about your favorites in the comments!
Featured Image via AlisaRut / shutterstock.com