The podcasting boom isn't slowing down anytime soon, and almost everyone behind the microphone wants to make the big bucks through their podcast. With podcasting being a billion-dollar industry, why not? Enter: Podcorn. A podcast sponsorship marketplace where advertisers can post listings with campaign details for podcasters to browse and send proposals.
Starting Out with Podcorn.com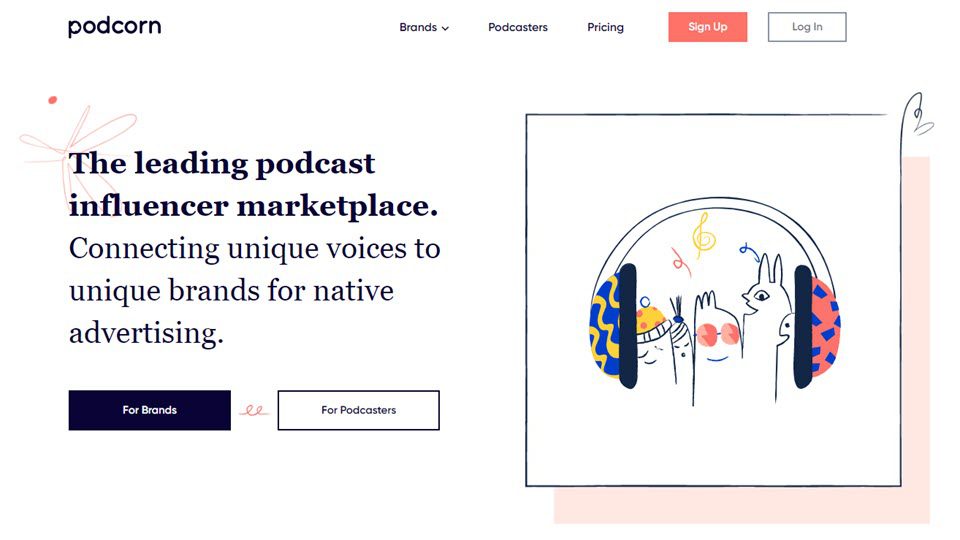 The first choice you have to make is simple: podcaster or brand? Since you're looking to get sponsorships, click on For Podcasters. On the next screen click View Sponsorships.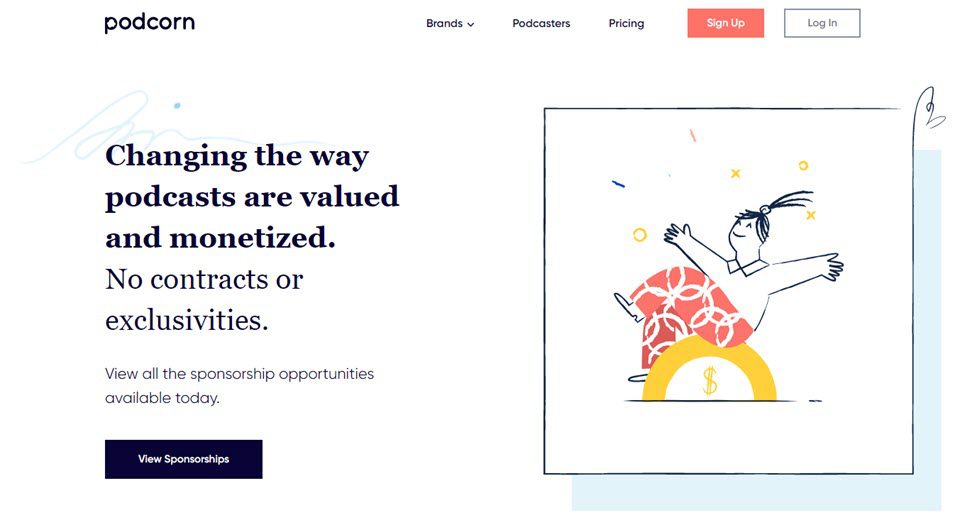 Then you just need to create your account. You will be asked to select your podcast from a dropdown list as you start typing, so make sure you've started your podcast already. Podcorn is not for pre-launch sponsorships.
Setting Up Your Podcast
Once you've done that, you'll get an email asking you to verify your podcast. Podcorn will send this email to whatever email address is registered in your RSS feed. Find it. Click it. Then tab back over to Podcorn.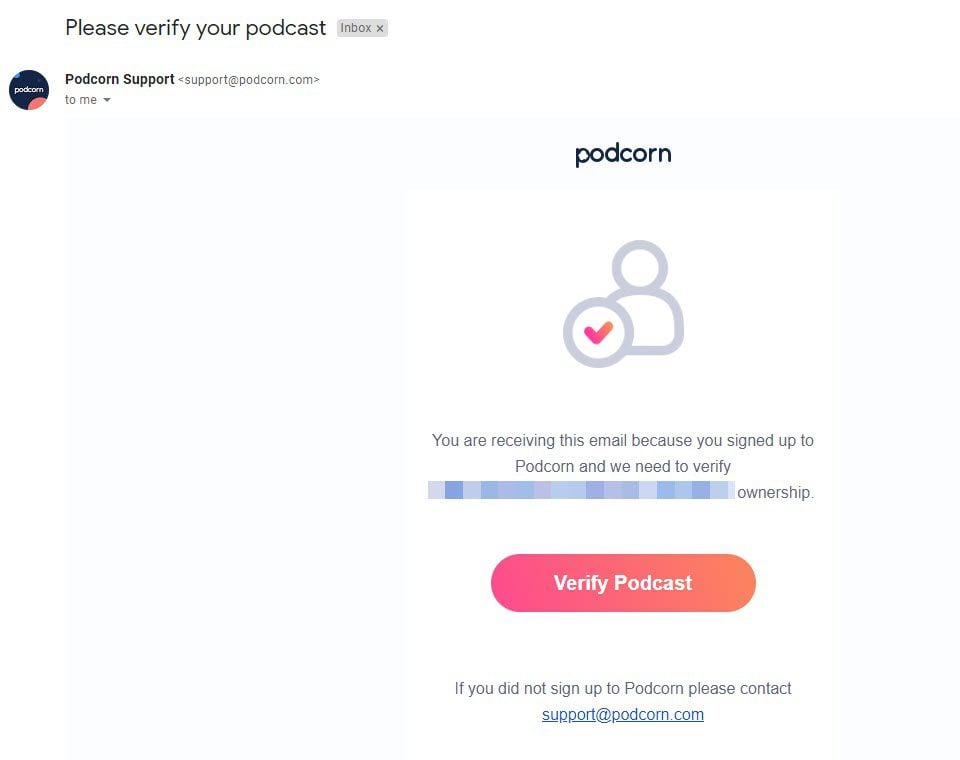 Step 2 is choosing your category and country. Your choosing the right category in this step is especially important. Not only will the brands see it and make judgments, but also Podcorn will be able to suggest better sponsors for you. Some sponsorships will not be available in all countries, either.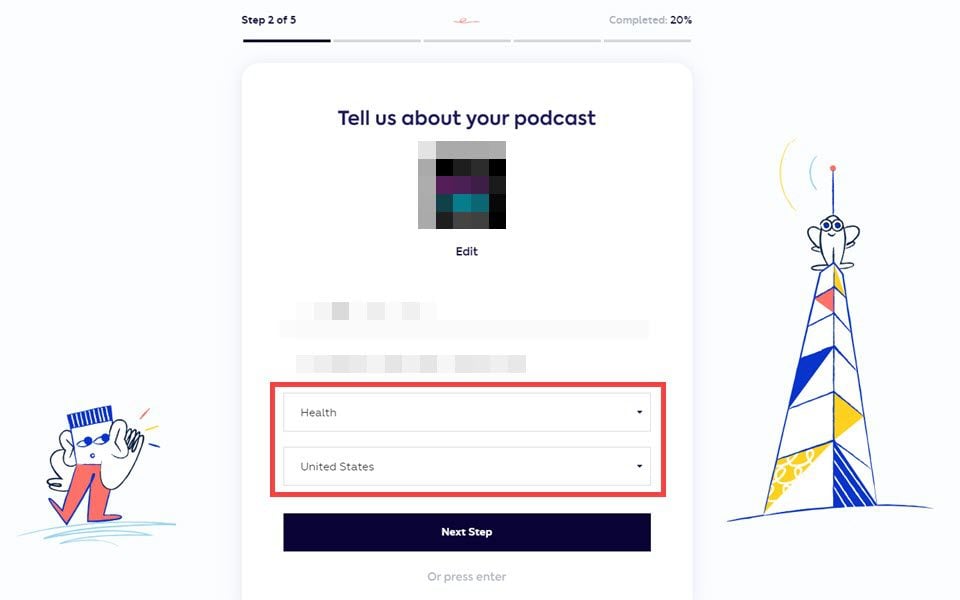 Step 3 is your posting frequency. Brands can see this, and you will base proposals on specific dates for specific tasks. Be honest. If you only post once-per-month, don't put once-per-week.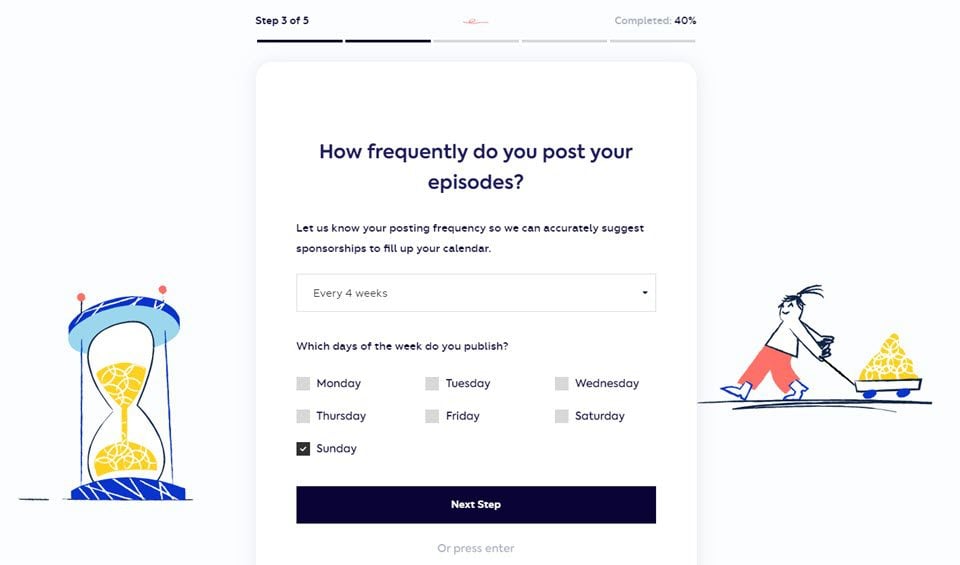 Step 4 is the verification process. So make sure you check your email and click that link. Step 5 is connecting your podcast analytics to Podcorn. This step can be tricky. Because you will choose your host, and each host has a different way of setting up analytics sharing. Just select where you're from in the dropdown.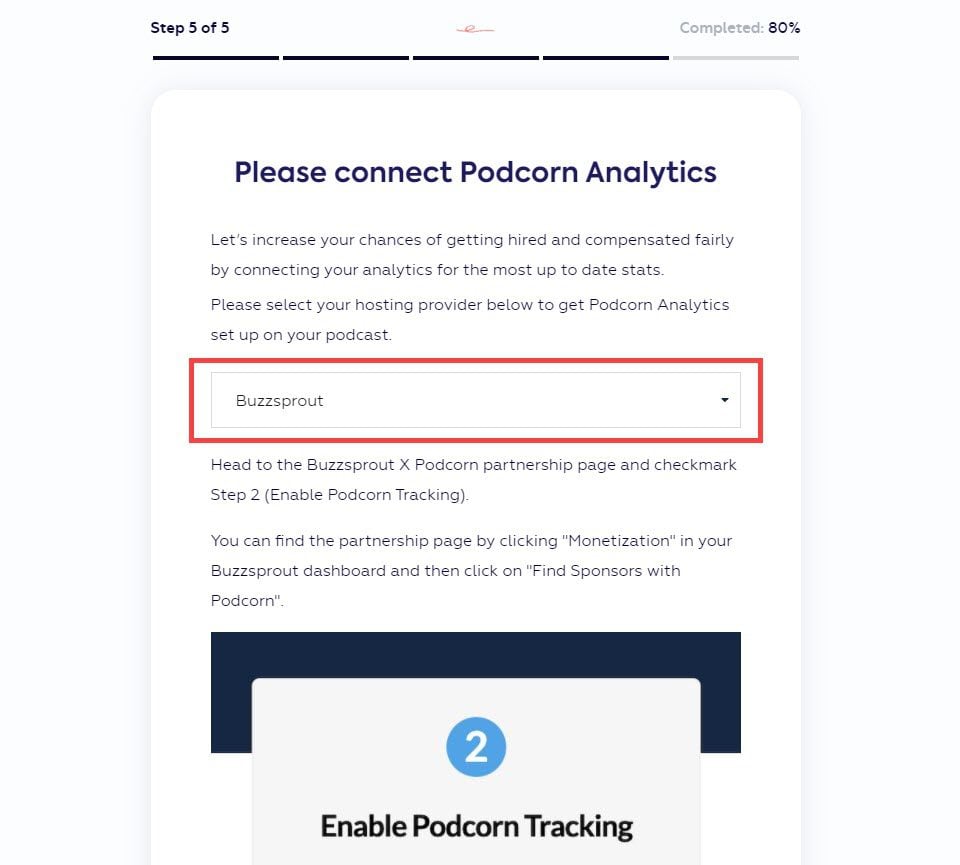 Word of caution, though. Currently, Anchor.fm doesn't support RSS prefixes that Podcorn needs. Since statistics are required to submit a proposal, you will need to take screenshots of your current numbers in your dashboard. We'll show you how to do that below.
After you either enable or bypass this step, you're ready to go into your dashboard and start looking for a campaign to join.
How to Find Podcast Sponsorships with Podcorn
Logging in, your dashboard looks something like this.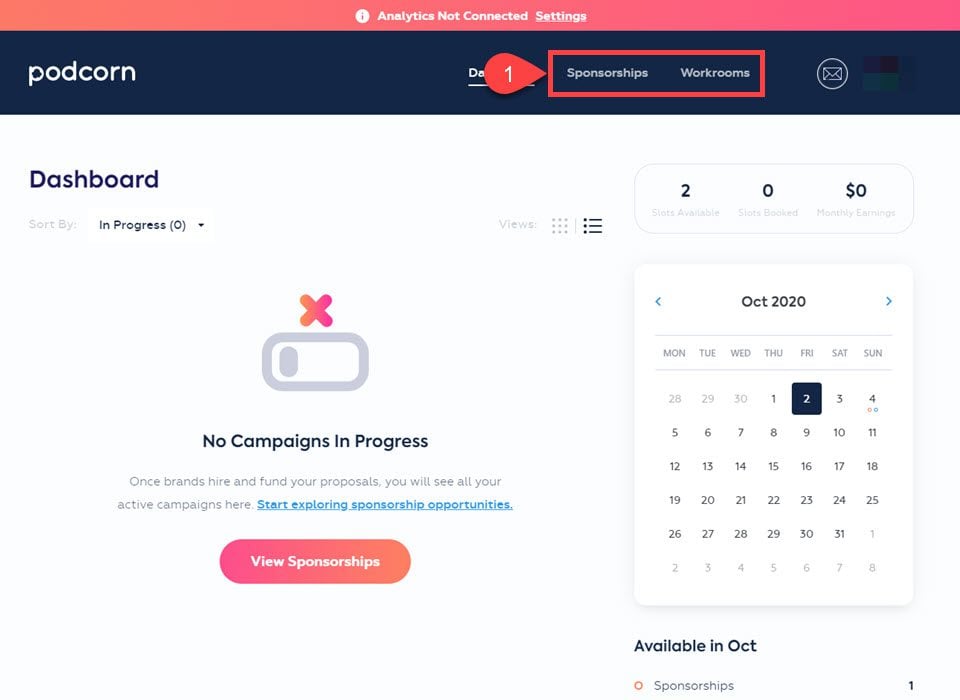 The two main priorities here are the Sponsorships tab in the header menu and the Workrooms tab. Under Sponsorships, you find all the available campaigns that you can apply to be a part of. Workrooms, however, only populates when you've been accepted by a sponsor. That's where you will communicate with them and submit your ads and content and so on.
Clicking on Sponsorships, then, takes you to a list of all available sponsorship campaigns. You can scroll through them to see at a glance which ones fit you.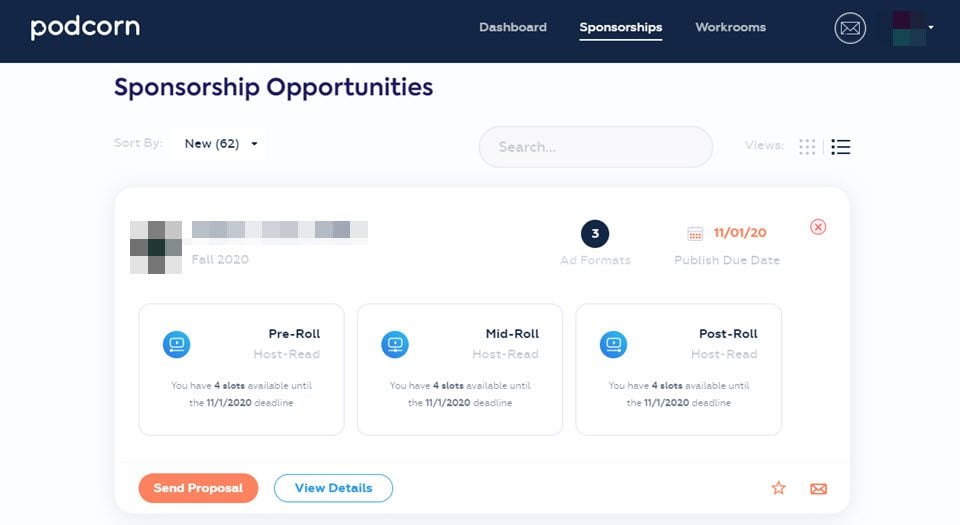 Most of the time, you will see Pre-Roll, Mid-Roll, and Post-Roll podcast sponsorships. These are traditional ads that you hear in most shows. Most are labeled host-read, which means the hosts will read the ad, either from copy provided by the brand or winging it to fit their audience. Sometimes, the sponsor provides a pre-recorded ad, and that will be inserted in the same spot.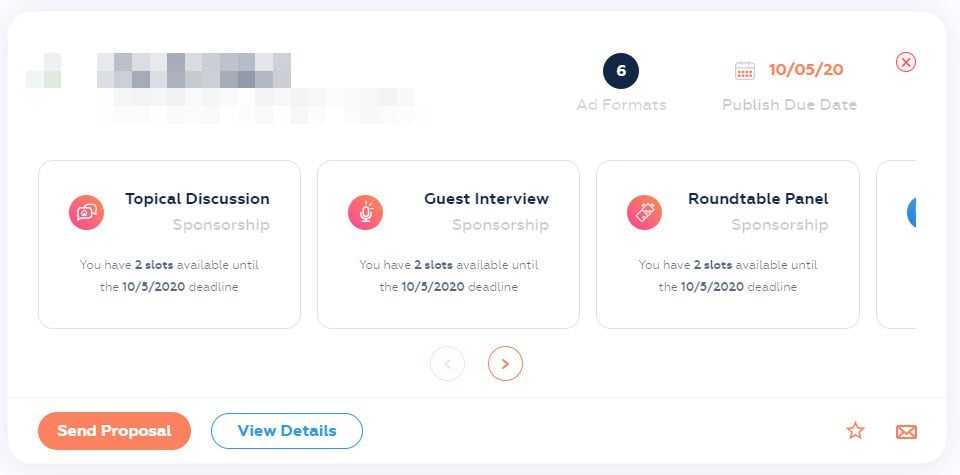 You may also see other kinds of sponsorships like Topical Discussions (whole episodes or segments based on the brand's campaign), Guest Interviews, Roundtable Panels, Reviews, Creative Integrations, Contests and Giveaways and more. In most cases, these kinds of campaign elements draw a higher price than pre/mid/post-roll ads, but require a significantly higher level of work on both the podcaster's and brand's parts.
Details and Proposals
Click the View Details button to see a brief description of what the campaign is about. Podcorn itself runs regular campaigns for pre/mid-roll ads, and theirs looks like this.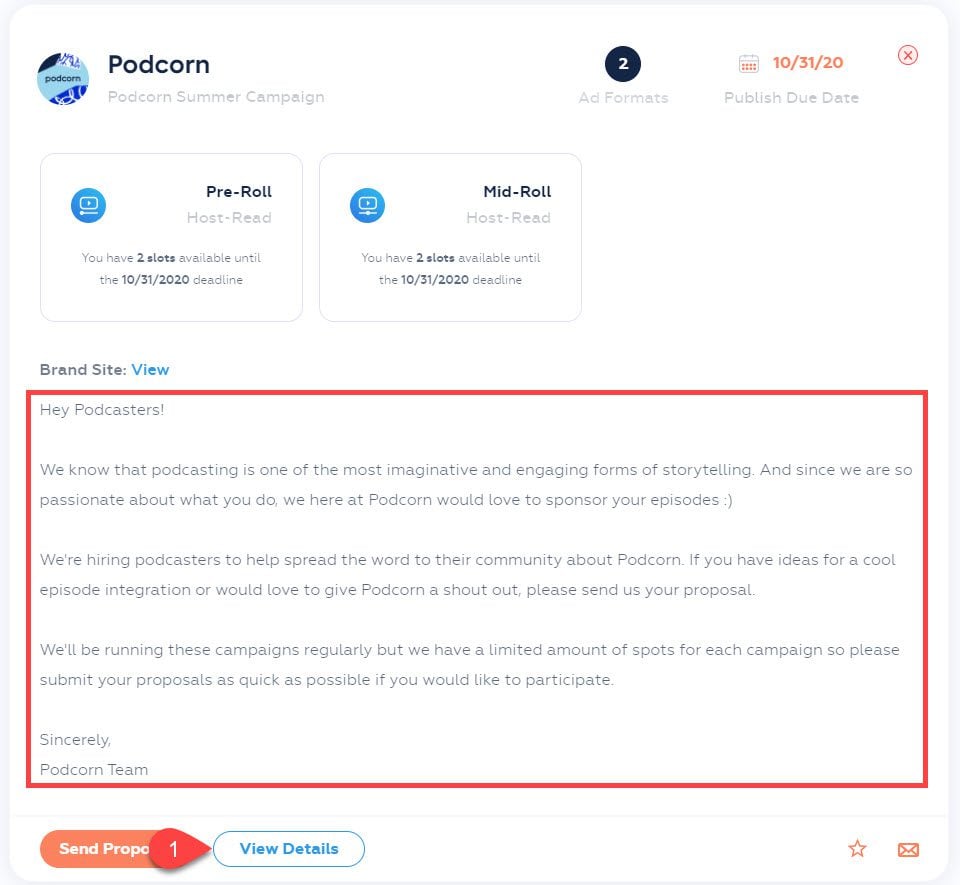 When you click Send Proposal, a new window will open that gives you the full details rather than a brief. You can see their full campaign budget (ranging from under $1k to over $25k), as well as the various kinds of ads and numbers of them that you want to commit to.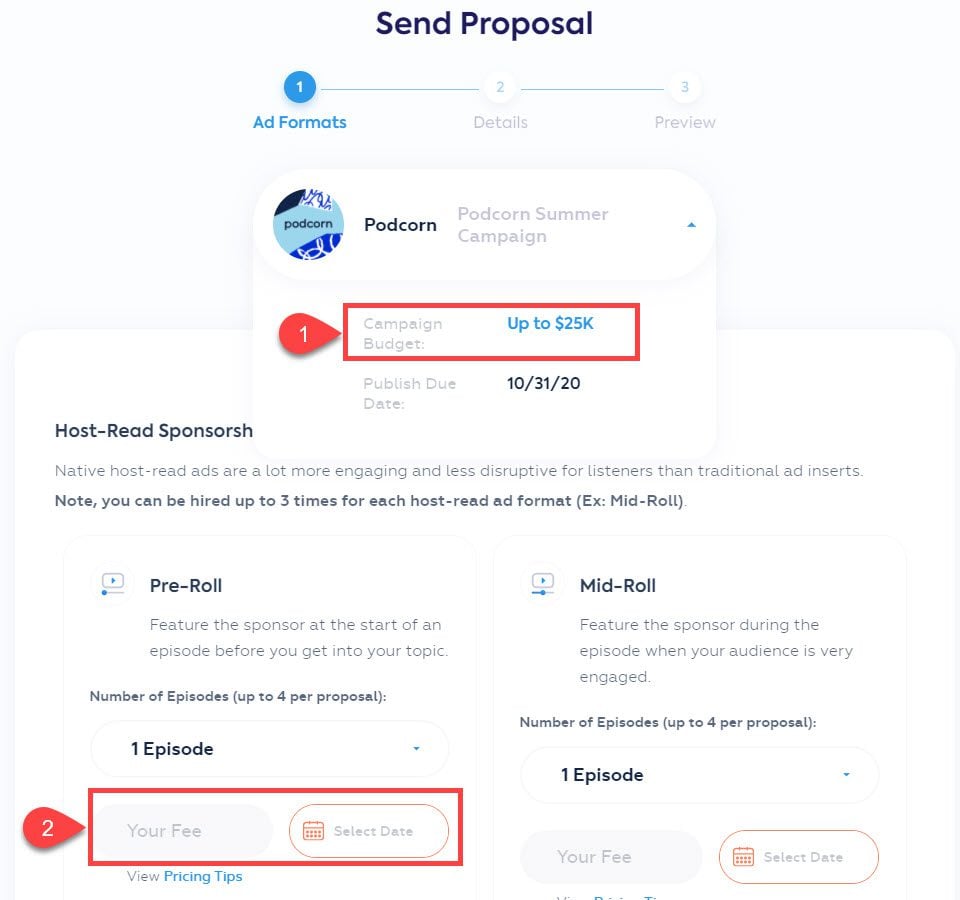 You do set your own prices here, and that's because podcast sponsorships are based on a CPM model, or X amount per 1,000 listens. And that's why you need your analytics connected. Once you choose what to commit to, you need to actually write or record your proposal.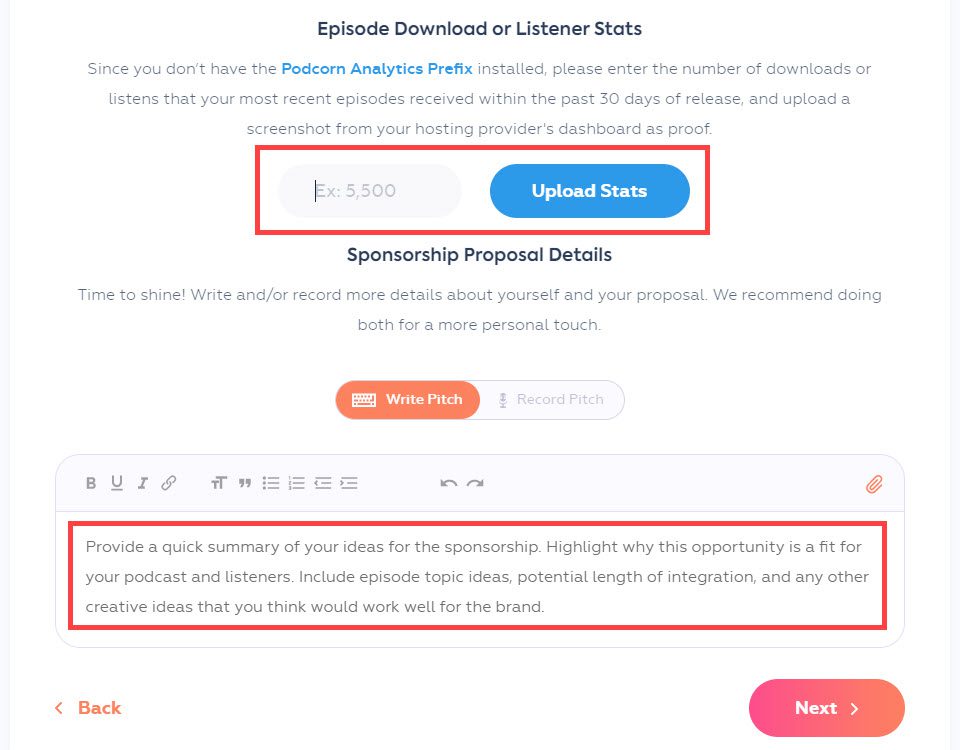 This is where either you have the host automatically connect your stats, or you upload them yourself. It's not complicated, and you don't need lots of different statistics. For example, here's an actual screenshot from my main Anchor.fm dashboard that I used to land a sponsorship using Podcorn earlier this fall.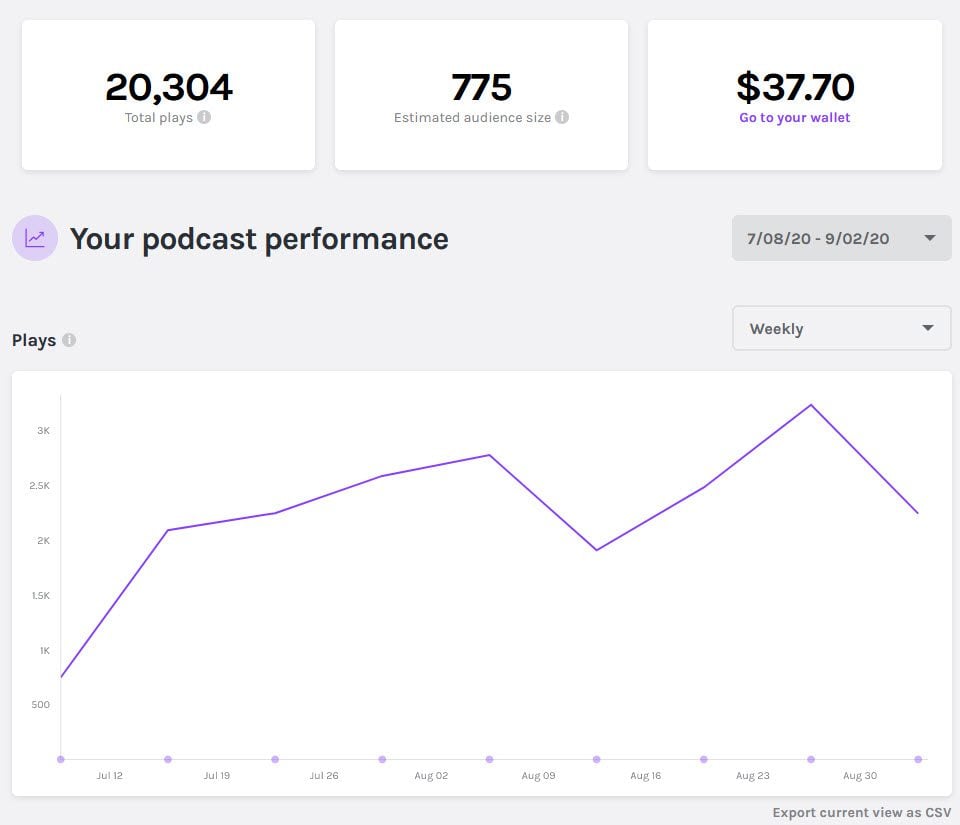 That's all there is to it. After that, you need to make a professional, but personal proposal for what you want to do for the company and why your podcast should get one of their sponsorships. The more detailed you can be, the better. Again, here's the real proposal that I sent to the brand using the above statistics.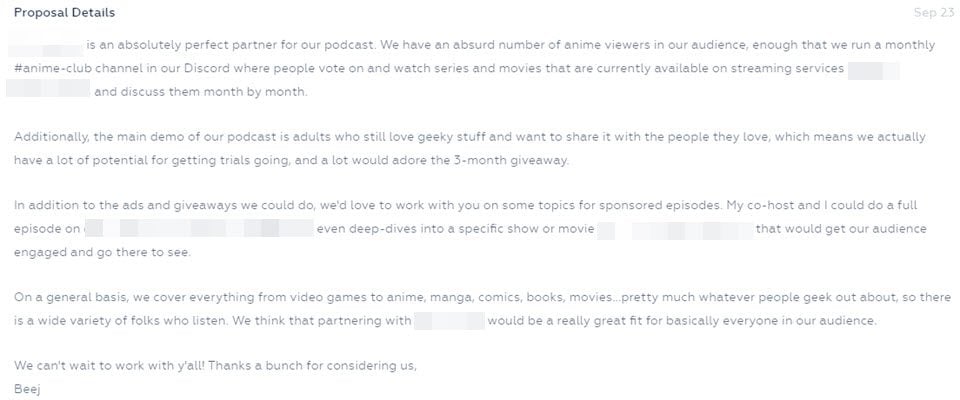 After that, it's a matter of communicating with the brand in the Workrooms tab up top. You have a chat where you can send each other messages, and as you complete tasks, they each have a toggle and a button labeled Submit Ad. It's very straightforward, simple, and easy to use.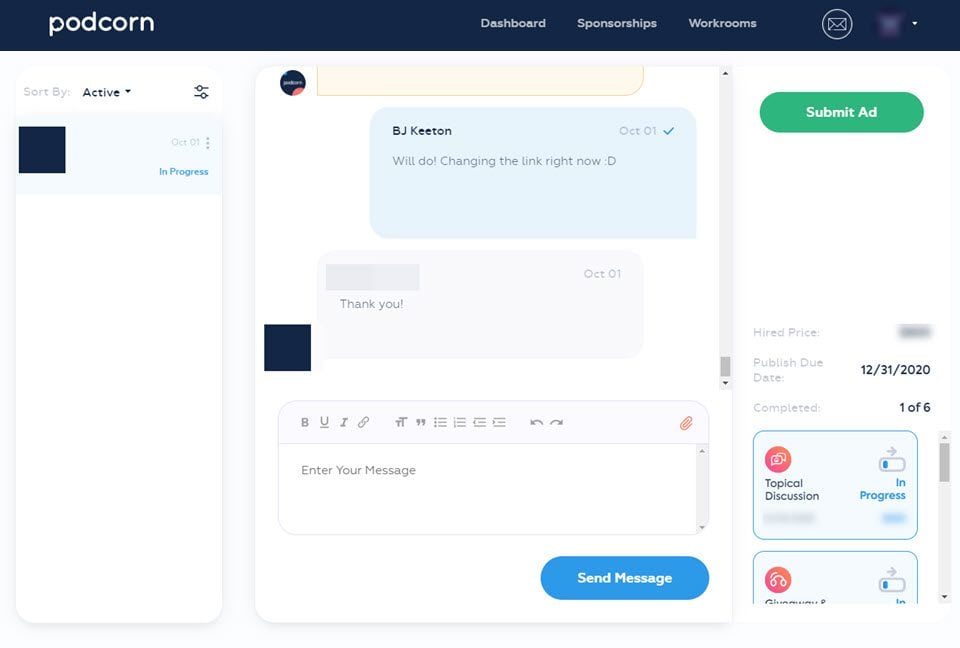 When you press the submit button, you upload your ad, and eventually, the brand will approve or deny it.

Once approved, the payment will be on its way to your account. And that's it! That's all there is to it. You've gone through the whole process of using Podcorn to get some podcast sponsorships.
Wrapping Up
Podcorn is a fantastic place for podcasts of all sizes to get sponsorships. You can find every kind of sponsor there, from other podcasts, major brands, and small businesses looking to get their name out. All it takes is a well-prepared proposal and a podcast that you can prove has listeners. Good luck!
Want other podcast tech recommendations? Check out these top podcast plugins.
Have you had any experiences with Podcorn getting podcast sponsorships? Let us know any tips you have in the comments!