Have you ever taken advantage of a brand's seasonal marketing offer? Many of us look forward to annual Black Friday sales, Christmas in July, or the natural changing of seasons, for example. Brands often leverage a seasonal marketing plan to promote their products and services throughout the year, not only during the holidays, but as one season moves into the next.
If you're a business owner or marketer, creating and executing a seasonal marketing plan could help you boost brand awareness and sales at intervals throughout the year. Want to know more? Let's jump right in.
What Is A Seasonal Marketing Plan?
A seasonal marketing plan is a marketing strategy that deviates from your general marketing plan during a holiday season or time of year. This strategy leans on seasonal or traditional holiday elements to market your products and services. You can focus on the changing of the seasons or on a specific holiday to promote your brand.
Why Update Your Marketing Plan Seasonally?
Creating seasonal campaigns for your brand keeps your marketing plan fresh, allowing you to maximize opportunities to promote your products and services throughout the year. Customers get excited about special seasonal offers and chances to save on the products they love. Updating your marketing plan to fit a season allows you to take advantage of the novelty of certain times of year.
Your seasonal marketing plan doesn't have to always reflect a holiday. Instead, your brand can run promotions for winter, spring, summer, and fall. Depending on your brand, you might also be able to get some great mileage out of promotions centered around annual seasons such as back to school, hunting, or fishing seasons.
Tips for Building Your Seasonal Marketing Plan
Wondering how you might be able to build a seasonal marketing plan for your business? Here are a few tips to get you started.
1. Put A Creative Seasonal Spin On Products, Services, And Other Offerings
For a seasonal marketing plan, you can add a little fun to what your business already offers. Which of your product or service offerings can you liven up with a little seasonal flair? How can you angle your marketing to fit a certain holiday or time of year?
For example, an outdoor supply company could market their cold-weather gear to travelers planning a winter getaway in the great outdoors. A company that makes scented candles and bath products could ramp up a Mother's Day marketing campaign. Alternatively, a business that sells grooming products for men might do well with a marketing plan geared toward Father's Day.
Take a look at how this shop in South Yorkshire, England, angled its existing products toward the back to school season.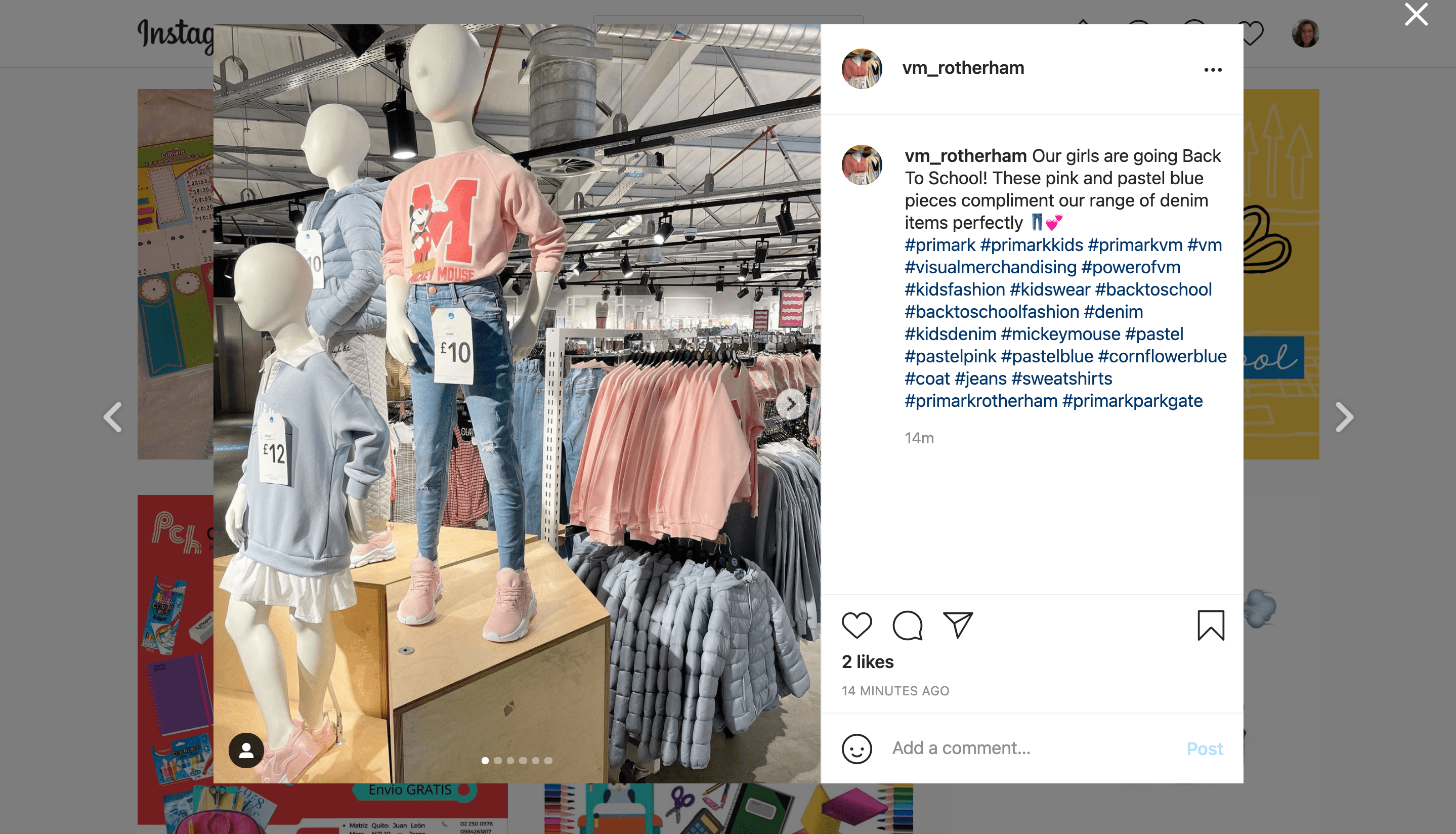 This Instagram post contains copy and a hashtag that directs app users to the post and its purpose. It's a great example of keeping content simple for a specialized marketing initiative.
2. Bring Back Successful Marketing Campaigns From Previous Years
Repeating a successful seasonal marketing plan from a past year could help excite your followers and bring them back to make a purchase. Some brands run the same seasonal promotions year over year, building brand loyalty and drawing in new customers who want to get in on the offer.
Black Friday, for example, is a seasonal marketing campaign that many businesses run, year over year. It's successful, recognizable, and a familiar promotion that consumers actively search for and look forward to.
Alternatively, consider a new spin on a familiar seasonal marketing theme. Accessory company MT Wild Rags held a Black Friday in July promotion in 2021. Because Black Friday is a theme consumers associate with great deals, this was an exceptionally attention-grabbing campaign.
Your social media presence should reflect your seasonal marketing plan. Whatever you're offering on your other channels–whether your brand has a website, email list, or is even featured in print or other media–your social accounts should reflect the overall marketing campaign.
Here's what your social media content should do when you run a seasonal marketing plan:
Drive users to your email list to subscribe
Send followers to your website or Instagram shop to purchase products
Engage your followers through special opportunities such as giveaways and user-generated content
Boost awareness of your brand
Create an atmosphere of excitement around the special offers you're promoting
The Hallmark Channel is an excellent example of how to drive traffic to your primary channel via social. Their Christmas in July series featured some of their most popular Christmas movies throughout July 2021. But their social media accounts backed up the information they shared on TV and via their streaming service. Followers who ran across social posts advertising the films would know exactly what was playing, when to tune in.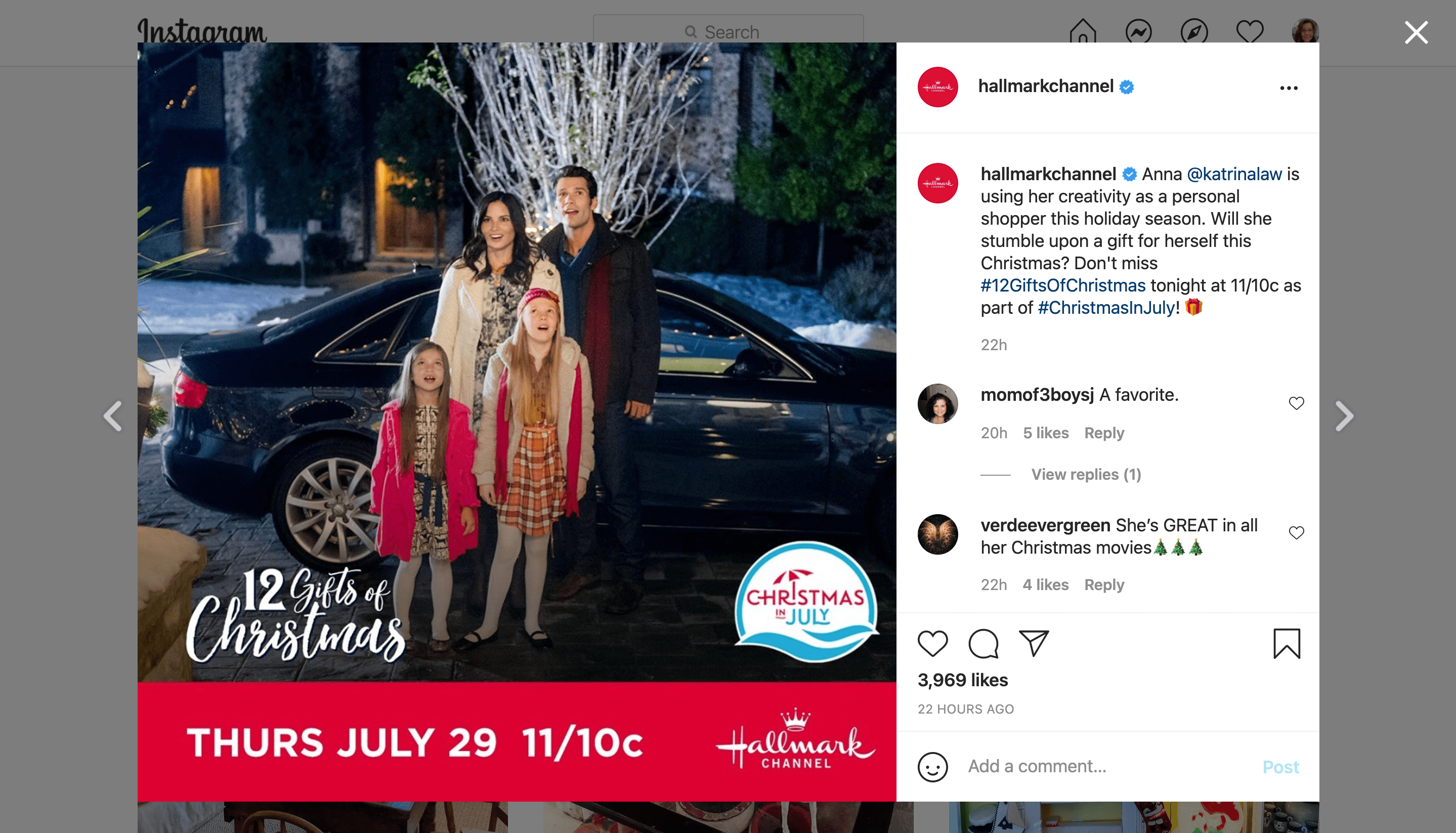 4. Leverage User-Generated Content In Your Seasonal Marketing Plan
User-generated content (UGC) is a great method for filling out your marketing content, particularly social media, by letting your followers create content for you. Build a fun social media campaign that incentivizes your audience to take a photo or create a post that features your brand. You can have them tag you, tag their friends in the comments, and use a custom hashtag in their posts so you can easily find them. Then, repost the content they create as part of your campaign (with permission and credit to them, of course!). This is a great way to keep your queue full while you're running a seasonal campaign.
5. Host A Season-Centric Giveaway
Giveaways can help you grow your following, in addition to spreading brand awareness. They're effective any time of year, but seasonal giveaways are a unique opportunity. Customers are looking for specific deals to pair with the season, so create opportunities for them to find you.
For example, Vera Bradley hosted a back to school giveaway in summer 2021 featuring essential school supplies, plus an Amazon gift card. Users who searched #backtoschool on Instagram could see the post and enter to win.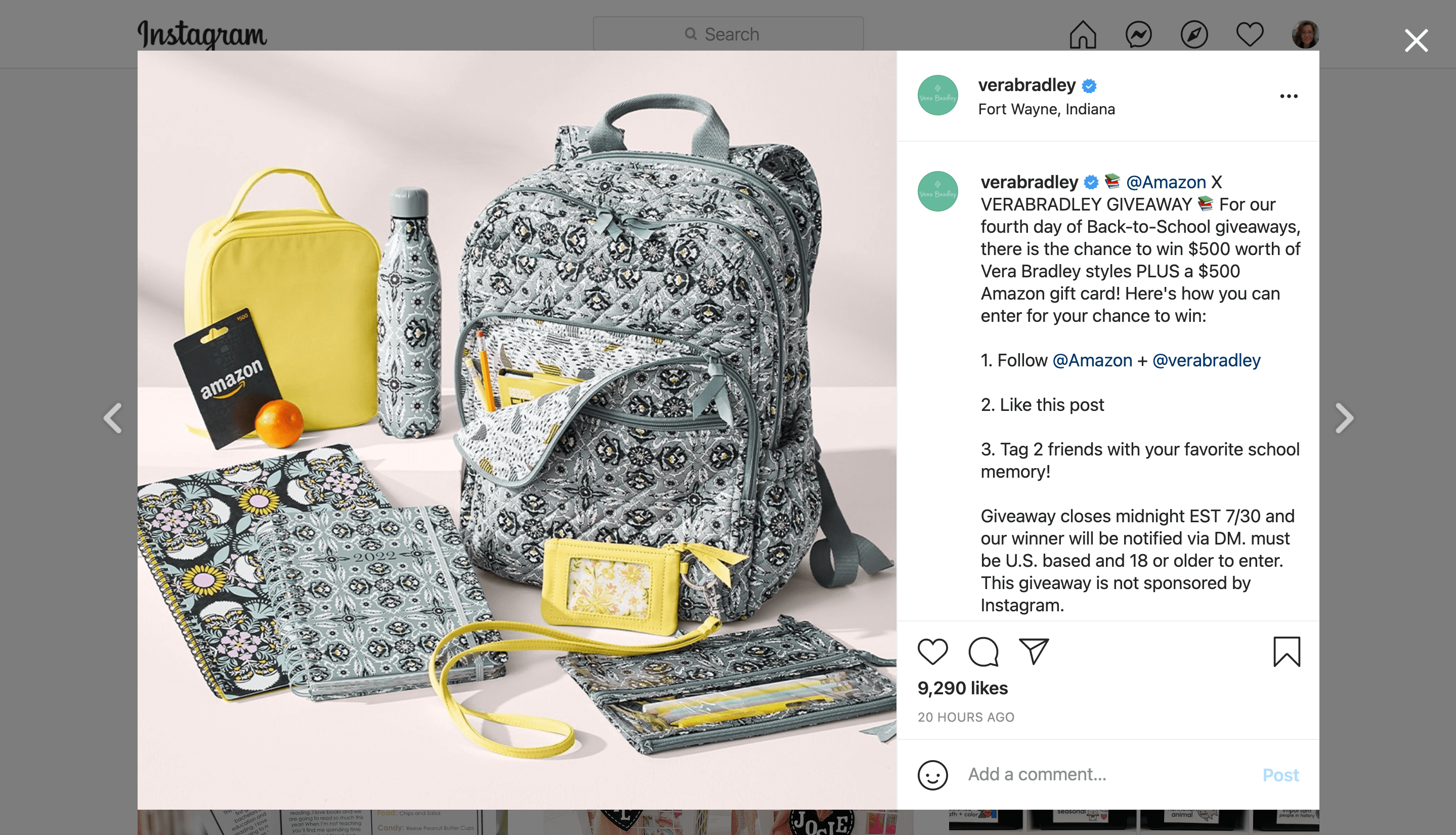 6. Create Tailored Email Outreach For Your Seasonal Marketing Plan
When you build your seasonal marketing plan, don't neglect your email list. Get your email subscribers in on special offers before everyone else, and consider creating additional offers just for them. In turn, advertise these special opportunities to draw other subscribers to your list.
Create a series of emails that feature your seasonal offer. You can tease out the offer before a big reveal, or provide your subscribers with a series of special deals just for them. If you sell a physical product or service, you might consider including a discount code just for subscribers.
Wrapping Up
A seasonal marketing plan can be an excellent way for many businesses to boost profits during key times of year, as well as to grow their platform through gaining new followers. Here's a quick recap of some of the ways you can create your own seasonal marketing plan:
Consider ways you can give current offerings a seasonal flair
Repeat successful campaigns year over year
Make sure your social media presence is in line with your seasonal marketing campaign
Retarget past customers and warm leads when you launch your campaign
Use UGC to help you flesh out your social media content
Get your email list in on the act with tailored outreach
Do you plan to create a seasonal marketing plan this year? Have you leveraged them in the past? Feel free to drop us a comment and let us know.
Featured image via VectorDoc / shutterstock.com