It's a curious thing: the relationship we humans have with stories. From before the dawn of civilization we have evidence that humans, in caves, on mountain walls and within the confines of their tribes, told stories to each other. From those ancient cave paintings, to the oldest oral traditions, to the written word and into the current internet age, an undeniable pattern has emerged: every medium we've ever invented for communication is eventually used as a means to tell each other stories.
It should come as no surprise then, that this is precisely the case with WordPress. What began as a means of "public journaling" (blogging) and news or news style entertainment (see: Mashable, Buzzfeed, etc.), has now begun to make the shift into more complex and diverting forms of storytelling. It's an exciting time!
That's why in today's post I want to provide you all with a lay of the land so to speak, of this fascinating new niche in the WordPress market.
A Spark of Snow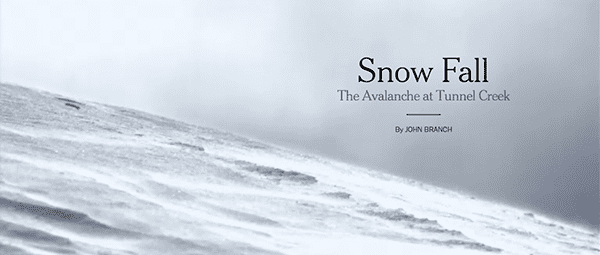 While my own journey with WordPress and storytelling goes all the way back to 2007, it took the publication of The New York Times' epic Snow Fall, in 2012, to ignite the collective imagination of developers, web designers and storytellers the world over. Their unique and clever coverage of the avalanche at Tunnel Creek is nothing short of breathtaking. If you haven't read it, do that today!
Since that story was published, scores of similar long-form stories from individuals and companies alike have flooded the web. You can see a whole slew of them here.
A Product Vacuum
Unfortunately, the reality for the average human being–and therefore the average storyteller–was that even though many tech savvy designers and developers were now empowered to tell new kinds of stories online, no simple, free (or at least affordable) tools existed that made the same thing possible for everyone else. But there was WordPress; free, open source, and full of innovative community members.
That's why I wrote Storytelling With WordPress: 3 Unique and Innovative Ideas, back in the spring of 2013. My hope was that other like-minded individuals within the larger WordPress community would see that post and begin a movement to empower the average human being with the ability to collectively create a whole new era of storytelling.
Which is how I met Nick Haskins.
The Aesop Story Engine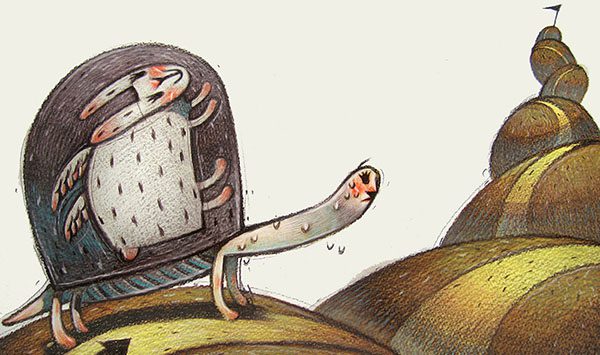 Nick is the creator of a new open-source WordPress plugin called Aesop, named after the ancient storyteller known to us via Aesop's Fables. You may have seen this new plugin making the WordPress blogosphere rounds lately or even helped to fund it.
Nick commented on my post (linked above) in November and dropped a link to his new tool, which was an even earlier beta than is featured in most of the promotional posts since. Of course I immediately reached out to him and we began talking about how we could collaborate to make Aesop even better.
Ultimately, though we shared a lot of ideas back and forth, we are not currently official partners–though it's not entirely out of the question. I mention this in the name of full disclosure, just in case we do end up working more closely in the future. But enough personal details. Let's talk about how Aesop works and how it has the potential to bust open a whole new niche market for WordPress!
The Aesop Story Engine contains two files: a CSS file (4.8kb) and a JS file (29kb). The CSS contains the basic styling needed to display the plugins 12 storytelling components. Here are the descriptions of each, as listed on the official Aesop website.
Audio: Display an audio player with support for MP3. This is great for showcasing audio interviews.
Video: Showcase a fullscreen video with support for Kickstarter, Viddler, YouTube, Vimeo, Daily Motion, and Blip.TV.
Content: The content component is a multi-purpose component that can display a background image, background color, or can split the content into multiple magazine type columns.
Character: Display a character avatar, title, and small bio to help readers be reminded of key story characters.
Galleries: The ASE Gallery component allows you to create and manage unlimited story galleries. Each gallery can be displayed as a grid, a thumbnail gallery, or a stacked type gallery, all with caption support.
Locations: This component allows you to create a map for your story. You can add markers to the map with custom messages. This is a great component for showcasing a characters travels.
Image: The image component displays an image and caption, with optional lightbox. Also allows you to align the image, as well as offset the image so it hangs outside of the content column.
Parallax: A fullwidth image component with caption and lightbox. As you scroll, the image moves slightly to provide a parallax effect.
Quote: Show a fullwidth quote with large text. Control the color and background of the quote component.
Timeline: Create a story with a timeline that sticks to the bottom. The timeline works a bit like chapters.
Document: This component allows you to upload a PDF or image, that is shown to the user once they click the component.
Collections: This component is meant to be used on a page of your site, and allows you to display stories from a specific collection (category).
The beauty of this approach is that it will provide massive value at the free level (anyone will be able to get the Aesop engine from the official WordPress.org plugin repository) and at the same time open up all kinds of new possibilities for ALL theme developers interested in servicing this niche.
Endless Possibilities
The potential for new premium storytelling themes and other complementary story plugins is vast. A fact not lost on many of WordPress' biggest movers and shakers, including: Pippins Plugins, WooThemes, Envato, and WPEngine–all of which helped to crowd fund Aesop.
While I'm sure all of these companies have big ideas for Aesop compatible themes, one of my first thoughts since its explosion in popularity is how perfectly positioned Elegant Themes is for this new trend. Armed with the Elegant Page Builder (and especially new themes like Divi), it's already possible to tell great stories with Elegant Themes–in a drag and drop environment no less!
I for one, am looking forward to seeing what comes next. Who will provide the best tools? Which users will rise up to become the next Alfred Hitchcock of interactive storytelling? What does the business end (for theme companies and storytellers alike) actually look like. These are all questions I'm excited to explore and speculate on in 2014. Let's talk about it in the comments below!