Welcome to Day 27 of our Divi 100 Marathon. Keep tuning in for 100 days in a row of awesome Divi resources as we count down to the amazing release of Divi 3.0 on the final day of the series!
---
Divi is a versatile WordPress theme, but can you use it to build a business? These Divi agencies seem to think so, and judging by their portfolios and testimonials, their clients seem to think so, too.
We've already seen that creating premium child themes for Divi is one viable way to monetize your Divi skills, and by the end of this collection of Divi agencies, you'll see that WordPress and Divi are more than enough to deliver professional websites for clients both large and small.
The purpose of this article is to share how Divi is being used by web design professionals to help their clients, while also providing you with some inspiration for your own WordPress projects. If you want to get a better idea of what Divi can do out in the real world, these web design agencies powered by Divi are a great place to start.
14 Divi Agencies and Divi-powered Web Design Freelancers
There are more Divi-powered web design freelancers and studios out there than could possibility fit into one article. However, this collection of Divi agencies should act as a good starting point in your research into the potential of this feature-packed WordPress theme.
It really is true that no two Divi websites have to look the same, and if you check out some of these portfolios, you'll see for yourself that this is the case.
1. Divi Dojo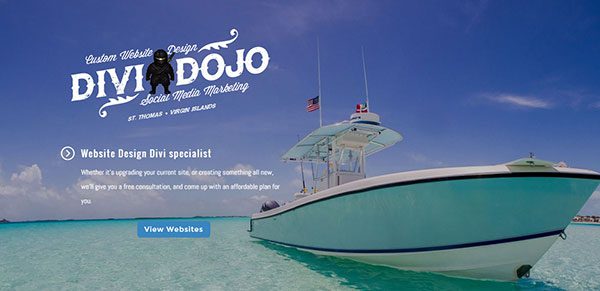 After 15 years of working in design, Mark Richmond went all in with Divi and rebranded his studio as the Divi Dojo. With an impressive portfolio, the websites created by the Divi Dojo are a great example of what this theme can do.
Over the years, Divi has helped Mark build highly usable and mobile-responsive websites, thanks to the theme's ability to turn off specific sections for mobile users. Hopefully, his wish for the ability to create layouts with more than four columns will be granted soon.
2. Tim Strifler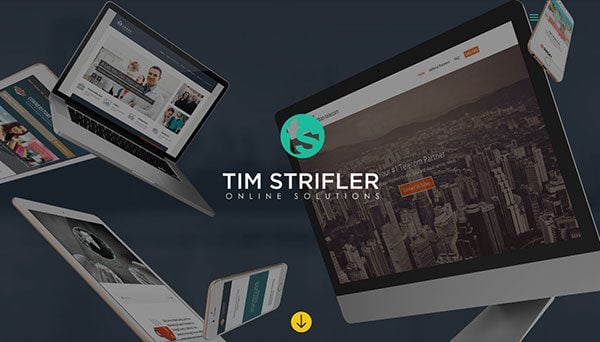 You might remember Tim Strifler from the Divi Nation podcast episode 15, but if you haven't checked out his portfolio yet, you should definitely do so.
In Tim's portfolio, you'll find some impressive examples of the types of websites that can be created with Divi, including sites for weddings, farms, cafés, dental studios, and payment systems. These websites all make great use of the different modules of the Divi Builder and show that no two Divi-powered websites need look the same. As you might expect, Tim's own portfolio website has been created with Divi, too.
3. Hog Studio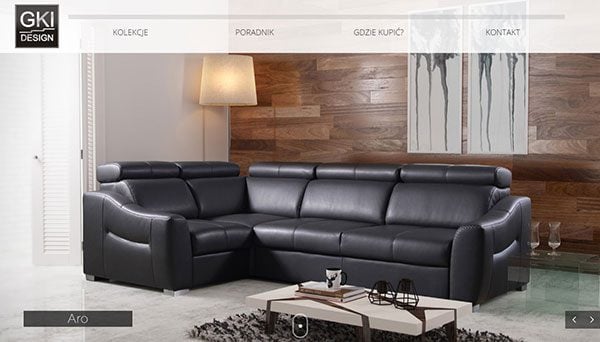 Kris Hoja runs Hog Studio out of Poland and now uses Divi almost exclusively for his client projects. After making the switch from previous Elegant Themes templates and products from ThemeForest, Kris has found that the ability to create multiple libraries of reusable content in Divi has really helped speed up his website creation process.
Where necessary, Kris still uses third-party plugins like Slider Revolution to add advanced slideshows to his client projects, so he's hoping to see a more advanced slider module added to Divi in the future. Overall, however, Divi remains a key component of his web design toolkit, thanks to the ease with which it can be used to build a range of different WordPress websites.
4. Endure Web Studios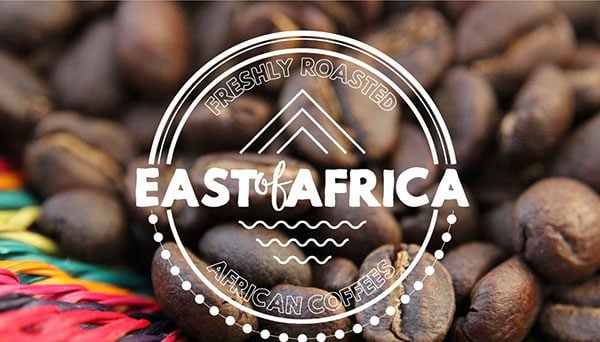 Based in the Australian capital of Canberra, Endure Web Studios has a full portfolio that covers a wide range of different types of sites, from blogs to ecommerce stores. This helps to give Endure Web Studios one of the most varied portfolios in our collection of Divi agencies so far.
The testimonials section of this Divi-powered agency website demonstrates that clients have been pleased with that they've received. Endure Web Studios has also found that their clients really appreciate how easy Divi makes updating their sites themselves, whether that's adding new content or making tweaks to the design.
Sarah Oates from Endure Web Studios occasionally has to work with other themes but always comes back to Divi. The ability to assemble different pieces of this theme — Lego-style — and come up with unique designs every time, is one of the main draws of Divi. As part of their workflow, Endure Web Studios is another one of these Divi agencies that use the Library feature and Global Modules for increased efficiency.
5. Aspen Grove Studios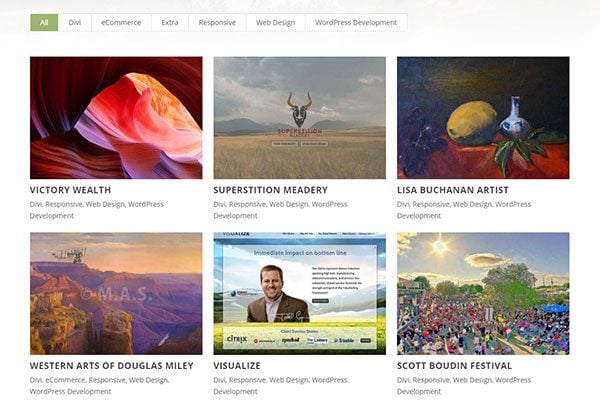 The Aspen Grove Studios web design portfolio contains some great looking projects that have been built with the Divi theme. These websites cover a range of types and styles, but one thing they all have in common is that they've all been created using the power of Divi and its drag-and-drop page builder tool.
Aspen Grove Studios has also produced a range of stylish commercial child themes for Divi. This is in addition to a number of demo layouts that can be used to quickly turn a fresh installation of Divi into something much more exciting.
6. A Girl and Her Mac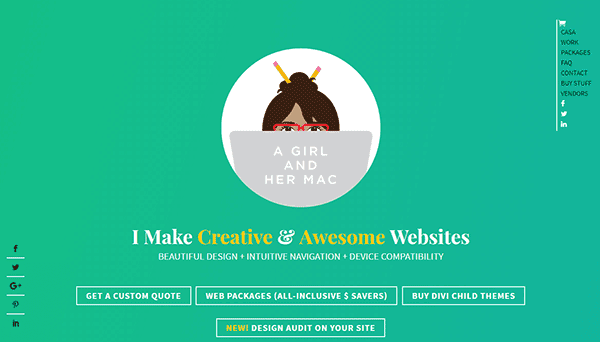 A Girl and Her Mac offers a selection of affordable Divi-powered all-inclusive web design packages, as well as a number of commercial Divi child themes. Fully custom web design jobs are an option, too. With projects completed for individuals and small-to-medium-sized businesses, the varied selection of websites in the A Girl and Her Mac portfolio really shows off what can be done with Divi.
Leslie Bernal, the creative force behind A Girl and Her Mac, was an early adopter of Divi and has used it ever since its initial release. Leslie has stuck with this theme over the years as her clients find Divi easy to understand, while Leslie appreciates the intuitive interface of the Divi Builder.
7. Leumesin Design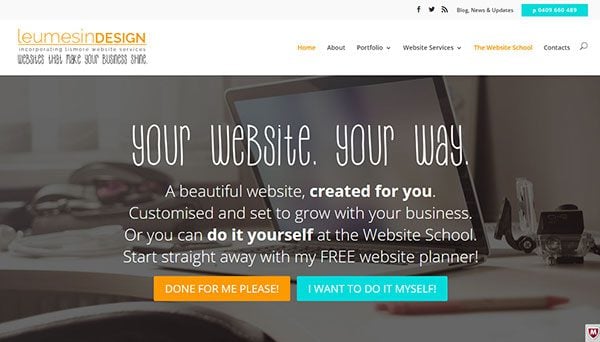 Ellen Kronen has been working in the field of design since 1998 so she knows a thing or two about web design and delivering solutions for clients. Through her agency, Leumesin Design, Ellen offers a number of web-related services, including fixed price website packages, site reviews and refreshes, and branding and logo services. Not surprisingly, Divi plays a prominent role in her website production toolkit.
The types of sites that Ellen has created with WordPress and Divi cover ecommerce stores, membership sites, and a whole host of others. If you want to see what can be done with Divi and a healthy dose of creativity, be sure to check out the Leumesin Design portfolio.
8. Fig Tree Design Studio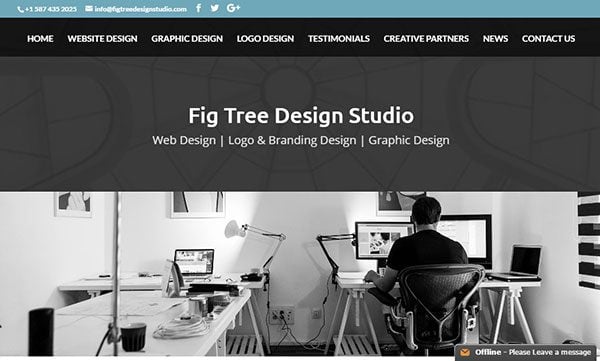 Fig Tree Design Studio is a full-service agency in Calgary, Canada, that uses Divi and WordPress as their tools of choice. Check out the Fig Tree Design Studio portfolio to see some great examples of what happens when their eye for design is combined with the power of Divi.
Wendy Alessi of Fig Tree Design Studio was already a fan of Elegant Themes before Divi came along. However, after the release of this multi-purpose theme, Wendy was hooked and now uses Divi exclusively for all of her web design projects. With a great looking portfolio and many glowing client testimonials, this approach certainly seems to be working.
9. Monterey Premier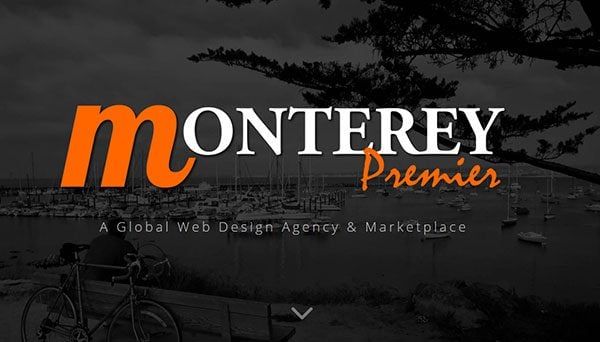 Monterey Premier is another of the increasing number of Divi agencies that also runs a theme and plugin marketplace that sells items created for use with Divi. This includes a selection of commercial Divi child themes that can easily turn your fresh Divi installation into a range of different websites.
On the Monterey Premier website, you'll also find premium Divi plugins that add new features to this already feature-packed theme. This includes a plugin to quickly white label your Divi installation, as well as a plugin that will make the Divi Builder easier to use on mobile devices – something that might come in handy if you ever need to make changes to a Divi-powered site on the go.
10. The Design Space Co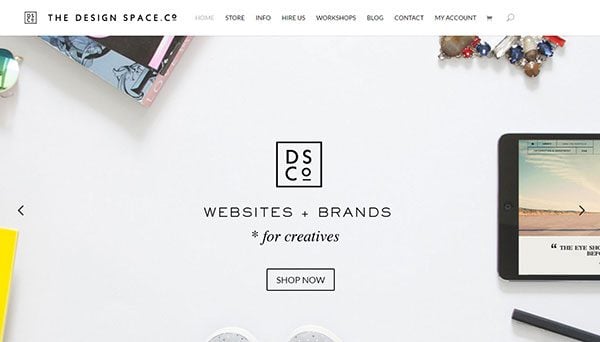 The Design Space Co is proudly powered by Divi and even uses this fact to land more clients. The user-friendliness of Divi makes it easy for clients to take control of their site after handover, and this is used as a key selling point when discussing new projects with leads.
Out of all the Divi features, Melissa Love of The Design Space Co has really embraced the Code module, which makes it easy to add HTML or shortcodes to any Divi page. She puts this module to good use, helping her create unique website designs for her clients. Although Melissa does admit that the responsiveness of Divi could be improved to handle the gray area between small laptop screens and iPads in landscape mode, she also acknowledges that the portability and time-saving abilities of Divi are hard to beat.
As well as using Divi to dramatically reduce project turnaround times and deliver websites within days, The Design Space Co also offers a number of premium Divi child themes  for DIY website owners. The Design Space Co blog is also worth checking out.
11. Viva Design Studio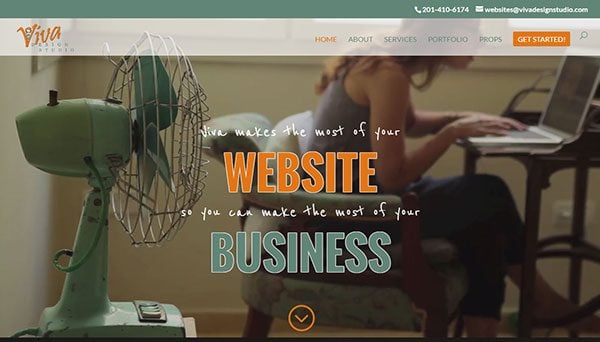 Based in New Jersey but serving the world, Viva Design Studio uses Divi to create websites for clients across a range of industries.
Since deciding to become a Divi-exclusive shop back in 2014, Kathy Kroll Romana of Viva Design Studio hasn't looked back. Although Kathy has a programming background, Divi allows her to skip past most of the coding stages of a new project and really focus on the design and user experience of her clients' websites.
The websites in the Viva Design Studio portfolio have all been created with Divi and make use of a wide range this theme's features. This includes the popular full-screen module, buttons, calls to action, the Divi Library, and even some of the new Divi 100 features.
12. Sunflower Creatives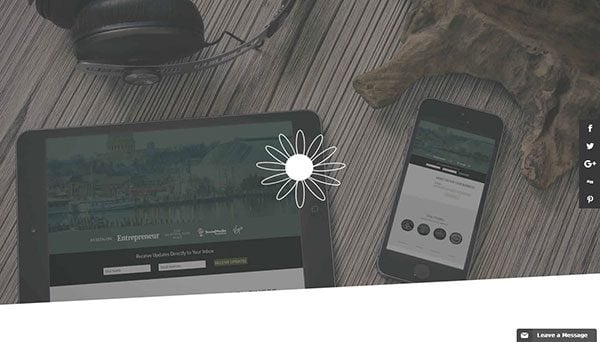 Sunflower Creatives produces websites for clients that help them get the attention and leads they deserve. All projects are completed using the Divi theme, and in addition to custom web design services, there are a number of commercial Divi child themes available at the Sunflower Child Themes website.
Tammy Grant at Sunflower Creatives has really embraced Divi and its many features. This means she now works smarter, not harder, and can deliver better projects for her clients. As part of her workflow, Tammy uses the Divi Library to save elements and pages for reuse throughout projects.
Divi also makes it easier for clients to choose which design option they prefer from a range of choices. The drag-and-drop interface of Divi Builder now makes fulfilling client requests, such as changing the order of sections on a page, a breeze.
Sunflower Creatives is a great example of a diversified online business built around Divi, with both bespoke services and off-the-shelf products available to their clients.
13. Rebecca Lutz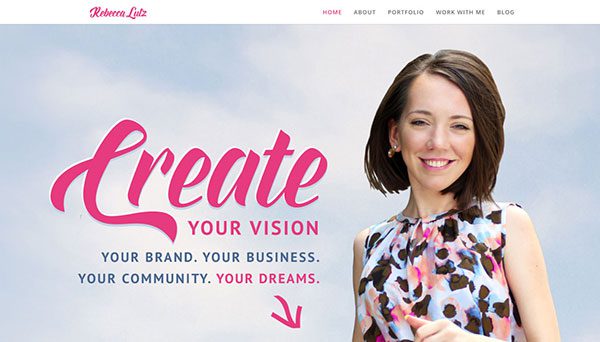 Rebecca Lutz has found her niche in the world of web design and has created some impressive websites for coaches across a range of disciplines. Divi helps Rebecca create effective websites for her clients in just one week, and judging by the feedback she's received from her clients, that is plenty of time to deliver a successful project.
Rebecca is all about helping her clients attract more clients, whether that's through her Website in a Week Workshop, her bespoke website design services, or simply with the content on her blog — and Divi plays a key part in making that happen.
14. GruffyGoat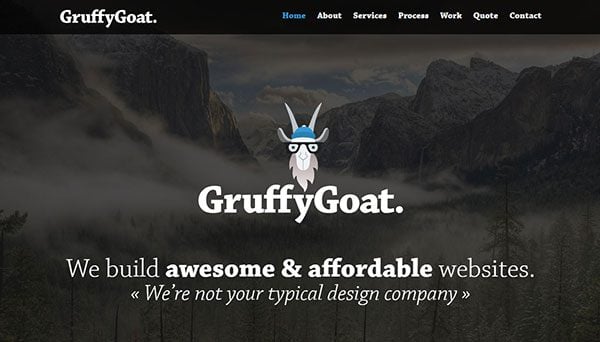 Through his agency GruffyGoat, Nathan Duvall offers everything needed to get a website online, from design and development to hosting and ongoing support. Nathan started using Divi for client projects about two years ago and has been using it ever since.
The ease with which any design or layout can be created has kept him loyal to Divi, moving away from working with an assortment of different themes for different types of projects. Being able to save layouts and elements to the library for later use has helped speed up the GruffyGoat workflow considerably, making GruffyGoat one of the most productive Divi agencies around. Nathan reports that clients are extra happy with the finished projects, thanks to the ease with which they can use Divi to update their websites themselves.
Further demonstrating the potential of Divi, Nathan has also been busy creating premium child themes through his Elegant Child Themes business. This all helps to make this another one of the Divi agencies that are helping to empower Divi users with off-the-shelf designs.
Final Thoughts
Compiling this article of Divi agencies has been a real revelation. I've always found it fascinating to learn how other freelancers work, and even within one sub-niche of the web design industry, this collection of Divi agencies has demonstrated that there's great variety on display, in terms of both workflows and the finished projects.
Once I started looking for web design agencies and freelancers that only or mainly used Divi to promote their business and create sites for clients, I kept finding more and more. This collection of Divi agencies could have included many more great portfolios but I had to stop somewhere. However, if I missed you, please share your work in the comments below. Special thanks to all of the Divi agencies who shared their work and responded to my emails!
Do you create websites for clients with Divi or know of someone who does? Please share your portfolio or links to other Divi agencies in the comments below.
Also, be sure to subscribe to our email newsletter and YouTube channel so that you never miss a big announcement, useful tip, or Divi freebie!

Divi 100 Day 27
The Countdown To Divi 3.0
This post is part of our Divi 100 marathon. Follow along as we post free Divi resources for 100 days in a row! This 100-day countdown will end with the game-changing release of Divi 3.0, including our brand new visual editor built from the ground up using React. Divi 3.0 will change the way you build websites with the Divi Builder forever!
Let the countdown begin.