As a web designer, your online portfolio is just as important as your Linkedin profile or your CV. It must show your work in a way that makes it look good, with the right amount of context and an interesting backstory. That way clients become interested in your process and creativity as much as the final product. The best way is to use an online portfolio. In this post, we show you why it's important to showcase your web design projects on Dribbble and Behance. The two biggest online portfolios.
Below, you'll find a section on how to get started with each platform and best practices to get your work noticed by both your peers and potential clients. It's important to note that Behance and Dribbble are quite different from each other and each has their own way of doing things.
Both Dribbble and Behance can be used without any cost to you. But both have paid options with many more features at your disposal.
Why Is It Important To Have An Online Portfolio Like Dribbble and Behance?
There are many ways in which your professional career as a web designer or developer can benefit from having an online portfolio. Of course, an online portfolio can be achieved in many ways. Your website, for example, is already a sort of portfolio. But it's quite common for busy web designers and developers to not have a website of their own. There's just no time! Most of the work comes through word of mouth or through an agency that already knows your work.
Creating an online portfolio on a platforms like Dribbble and Behance is much faster than building an entire website. It also gets your work seen faster by more potential clients. Not only that, both Dribbble and Behance have job boards to find work that fits your skills. Dribbble and Behance are the Linkedin for creatives. It's like the difference between writing for a new blog with hardly any domain authority and writing on Medium.
Moving on, Let's take a look at the most influential factors of showcasing your web design projects on Dribbble and Behance.
Show Your Work to Clients in The Best Light
The first and foremost reason why you should have an online portfolio is so that your work is showcased in a good light for your clients. Using tags and categories, you can organize the work by style or tool used. This helps separate the work you need to show according to the job you are applying for. It's easy to send a link to a client and have them browse at their leisure. As long as you provide enough information on each project's page, they will get a glimpse of what it's like to work with you.
As long as you take care to edit your images nicely and use mockups to show your designs in action, your Behance and Dribbble portfolios will look great.
Find Work
Continuing from the previous benefit, you can also find work directly through Dribble and Behance. Both have job boards where you can search for work that fits your skills. When it's time to apply, sending your portfolio is easy and seamless. There are messaging features inside both platforms so you can communicate with prospective clients about the work they need. In both cases, messaging is limited when you are only using a free version. When you have a paid version, you have more messaging options.
Not only can you find work in these places, but clients can also more easily find you. They search for professionals with the skills they need and then contact you about the job.
Take Part in The Community
When you have an online portfolio or your web design projects on Dribble and Behance, you are instantly part of the community. Of course, to really take part in a community, you have to be active. Here are a few things you can do to start getting noticed in the communities:
Share your best work in well-designed layouts.
Like and appreciate other people's work.
Leave comments of praise but don't criticize.
Share other people's work.
Bookmark your favorites.
Take part in the challenges both platforms organize.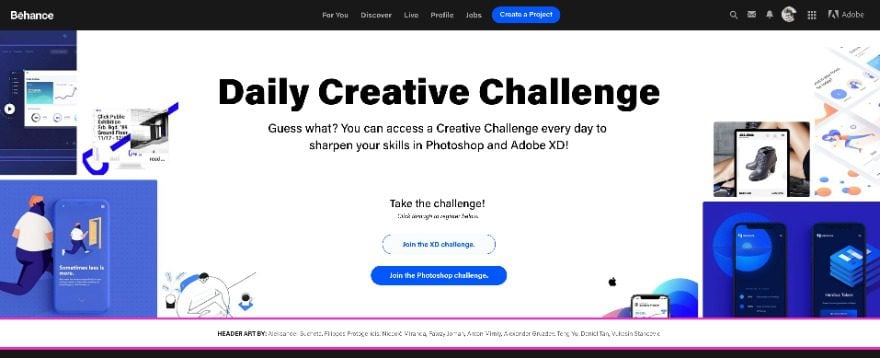 The community aspect is more important in Dribbble than in Behance. This is because in Dribbble you need to be invited by another designer to be able to showcase your work to the community. The only way around that is to pay for a premium subscription. Even if you do go that route, you should still do the things above and interact with the community. Otherwise, you won't get the full experience from being on these sites in the first place.
Get Inspiration for Future Projects
As you know, finding inspiration for your work is a constant exercise. Many of you are probably already using Dribbble or Behance to do that. If not, you should be. It's a great place to get a feel of current trends and also timeless designs with new approaches. By going deep into other people's projects, you can also learn the steps they took to achieve their final result. When you follow well-established designers you can even see their work in progress which you don't get to see very often.
How to Upload Your Work to Behance
Now, let's take a look at how you can start uploading your work to Behance.  To get started with Behance portfolio you need to have an Adobe ID. It's highly probably you already have one but if not, you can create one easily on the Behance site. It's completely free to use Behance and you have no limit to the number of projects you can upload.
To create a new project in Behance, simply click on the blue 'create a project' button. Inside your project, you can add images, video, and text. You can also embed content from a lot of different sites. The Behance Help Center offers lots of advice on how to best upload your images and media to a project. Some designers create a customized infographic style design on Illustrator or Photoshop and then upload that. This gives them a higher level of control of how they showcase their work.
The main difference between how you can upload work to Behance and Dribbble is the amount of media you can include. On Behance, you can add a lot of content and then choose a cover image for the main page.
If you use Photoshop or Adobe XD, take part in the daily creative challenges. This is a great way to get involved in the community, and also brush up on skills you wouldn't otherwise.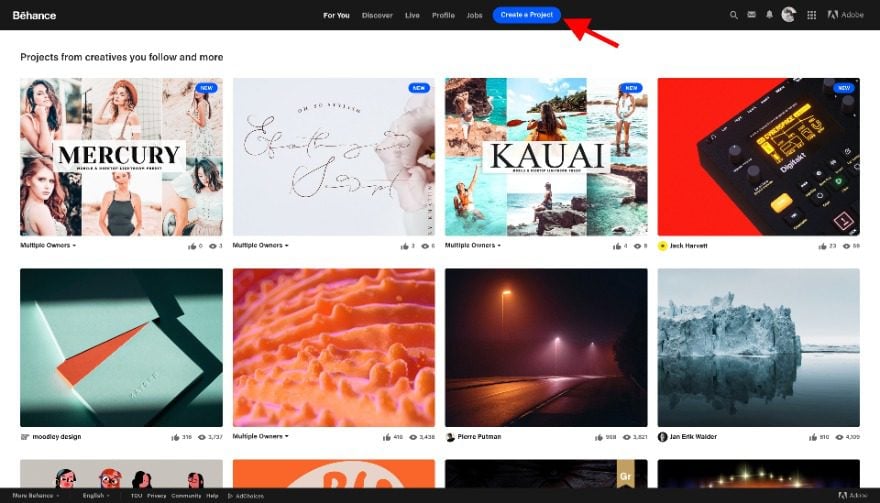 How to Upload Your Work to Dribbble
Dribbble has a system of 'players' and 'prospects'. The players are the designers who can show their uploaded work to the community. The prospects are the designers who can upload design work but it will not show to the community until a player invites them in.
As a prospect, you can upload work to your account but it will stay as a draft until you are invited. Players are regularly checking on prospects' work to see if they are worth inviting.  For that reason, even if what you are uploading will stay as a draft, it needs to be top-notch. The only way around this system is to pay for a Dribbble Pro membership. It's the only way to bypass the prospects and players system.
When you add work to Dribbble, it allows one image. That's why it needs to be the best version of your work. There are plenty of blog posts online that outline how to best choose that one image. Also, you can add a sentence directing viewers to an in-depth look at the project in your Behance portfolio.
Finding Work For Web Design Projects on Dribbble and Behance
Finding work on both platforms is straightforward. Both have a job board where you can search by keyword or field. The applying process will depend on the company. In some cases, you can apply with your portfolio of each site and in others, you are directed to the company website or another hiring system. Needless to say, the competition is tough and to get the job, your portfolio on each of the sites will need to look professional with your best designs.
Is It Better To Use Both Dribble and Behance Or Only One?
Any professional designer will tell you that if you do work in web design, web development, UX / UI design, then you should be using both platforms. Until recently, Dribbble was more about web and UX/UI but they have added illustration and graphic design categories. So in the end, you are better off using both.
In fact, when you set up both profiles, the URL of each should be shared on the other. This way, your profile on Behance will have a link to your Dribbble and vice versa. And like we mentioned above, you can share one image on Dribbble and direct people to Behance to see more.
Finally, it's definitely better to have your web design projects on Dribble and Behance at the same time.
Wrapping Up
An important thing to remember when uploading your web design projects on Dribbble and Behance: Take your time to put together the best images of your work. Choose the best angles and the best screenshots. Use mockups for your web design on different screen sizes. Make GIFs for your animations and interactions. Get on Photoshop and create beautiful composites. This is not the time to be doing things on the fly.
Are you already using Behance and Dribbble to showcase your work? If not, why not? Leave a comment with your thoughts about showcasing your web design projects on Dribbble and Behance.
Featured Image via Gor Grigoryan / shutterstock.com