Sometimes a project just needs a little extra magic. That's why we've put together a round-up of the top free Harry Potter-inspired fonts that we could find. From elegant and enchanting to scribbled and scrawly, these Harry Potter fonts will elevate your design more than if you cast wingardium leviosa.
1. Wizard World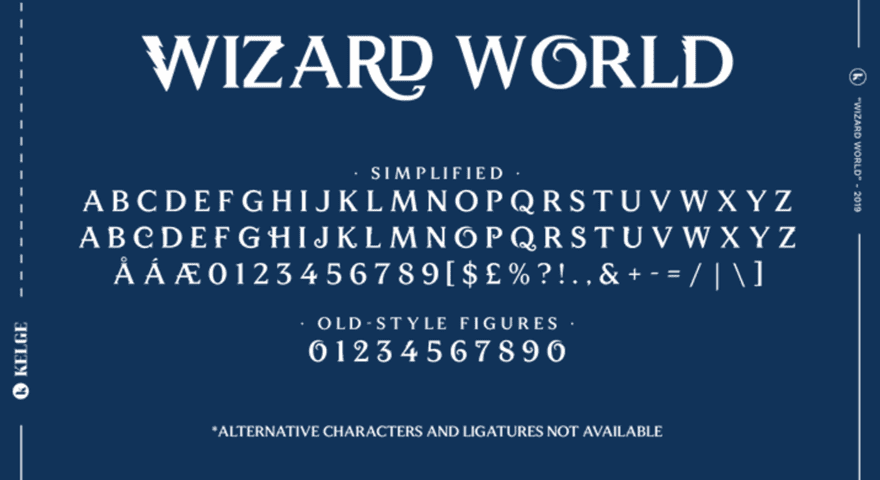 Starting the list off strong, Wizard World is what a lot of people want in a Harry Potter font. It's elegant, legible, and made for headings and sections. The download includes old-style figures with more flourishes and a simplified version that you can mix into it for a less flashy style. If you are in need of a fairly traditional Harry Potter font, this isn't a bad place to start.
2. Romance Fatal Prima

Your project might not need something that's specifically full of that Harry Potter magic, but instead, you want it to only evoke the feeling of the wizarding world, Romance Fatal Prima might be what you're after. With a handwritten feel with slightly irreverent and whimsical kerning and tracking, this font is not your typical choice. Available for free for personal use, but with commercial licensing, you have a full set of characters to perform whatever magic you need them to.
3. Parseltongue

Not quite as curvy and slithery as one might expect from the snake-language its named after, Parseltongue nonetheless provides the right feeling for anyone wanting to add a bit of pizzazz to their work. Sharp edges and accents, and just enough curves to evoke its namesake. The spacing is delightfully even, despite having so many offshoots. That lets the script look elegant and magical, while still obviously not being totally part of the mundane Muggle world.
4. Xéfora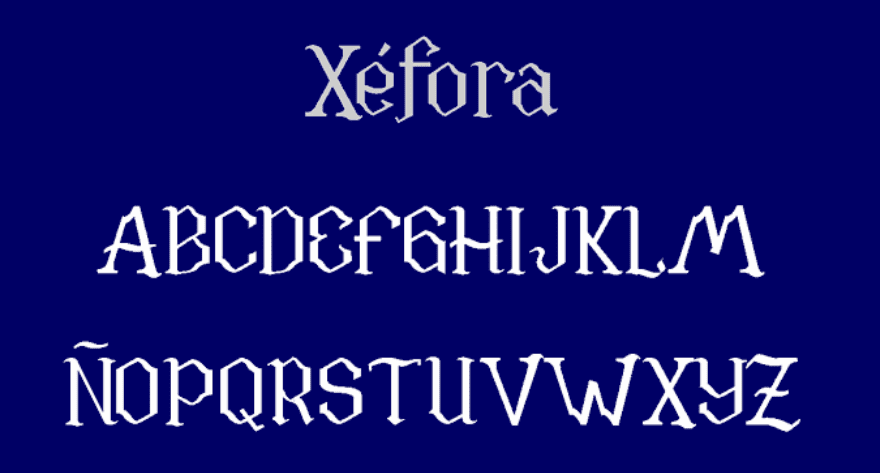 Xéfora is an exotic name for an exotic font. And one that you will want to add to your library immediately. Free for personal use, and requiring a donation for commercial projects, the font comes in upper- and lower-case variants and would be right at home in a spellbook as it would be on a party flier or wedding invitation. Regardless of your end use, Xéfora is worth a download for anyone looking for a Harry Potter font or two.
I Love a Ginger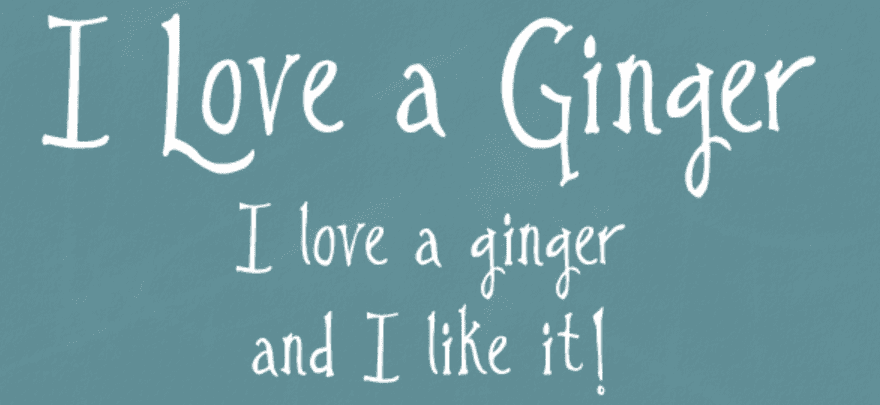 Perhaps our favorite font on the list simply because of the name, I Love a Ginger is delightful and worth falling in love with in its own right. Like Hermione and Ron or Harry and Ginny, some things just go together. And this font's characters and glyphs are no different. They will spice up your designs, adding whimsy and a hand-written feel, on top of giving the entire project a little warmth. Just looking at this warm and inviting font wishes we were curled up in the Burrow with our favorite family of gingers.
Harry Potter and the Dingbats

Dingbats (and wingdings) are fonts that use images as characters instead of normal letters, numbers, and symbols. These images are used as fonts for scaling purposes, keeping the image or logo clear at all sizes. That's what this font is for. If you need a logo or quick image of something from the Potterverse, check out these dingbats.
Parry Hotter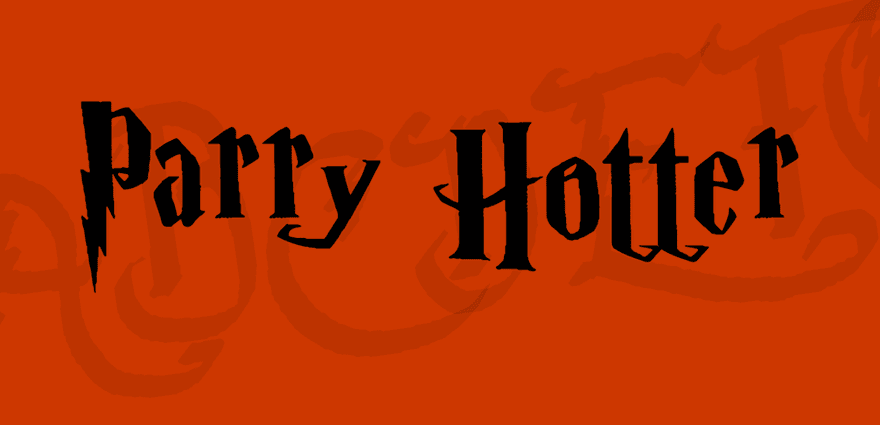 Maybe the most traditional of the Harry Potter fonts on our list, Parry Hotter is released as shareware for everyone's enjoyment. Mimicking the HP movie post font incredibly well, Parry Hotter has a lot going for it. We do offer the advice, though, of using it for headings and titles and that sort of thing only. When this font is used over multiple lines, sentences, and paragraphs, it is incredibly hard to read.
Magic School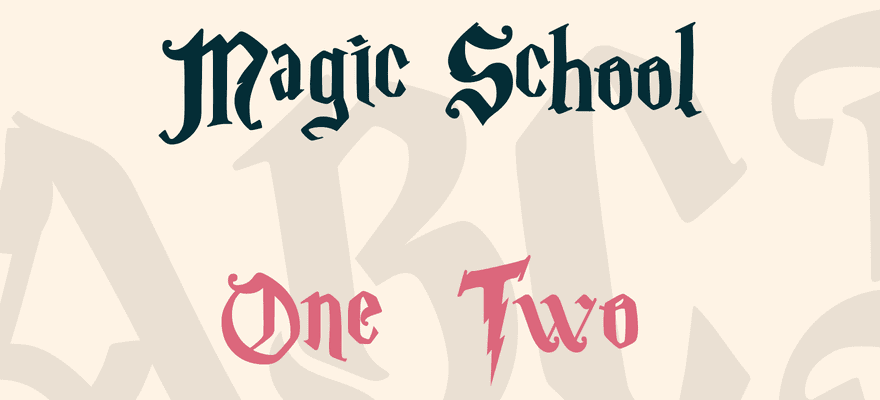 What font round-up about a series of books that takes place at a magic school would be complete without a font titled Magic School? Certainly not this one. Magic School is probably what you think of when you hear the phrase Harry Potter font, and that alone makes it worth checking out. What makes it worth downloading is that it's not technically just one font, but two. You get a more elegant and medieval-style of script with the Magic School One font, and the Magic School Two gives you the more magically styled characters, complete with lightning and much more pronounced accents and flourishes on the characters.
Kingthings Willowless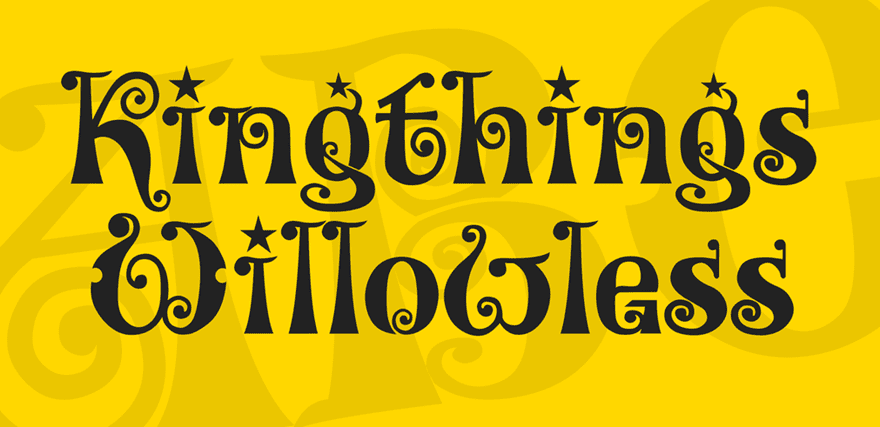 Kingthings Willowless is both beautiful and hard to say. Decorated with stars and swirls and flourishes that will bring joy to your viewers for sure, Kingthings Willowless is just a beautiful font. Again, this one begins to look cluttered as its used across lots of space, so keep your work short and sweet, and you'll have your audience spellbound.
Animales Fantastic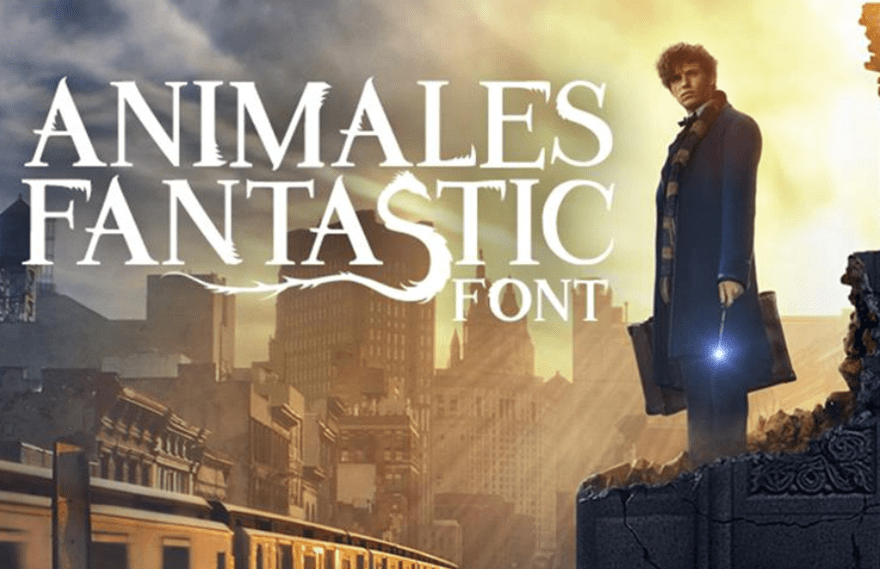 Technically a Harry Potter font, Animales Fantastic has been designed to emulate the American-side of the Potterverse. With fangs and fur and slithering (or is that Slytherin?) tails, the glyphs in this set are just fantastic enough to earn the font its name. Generally a tame and ordinary font, the decorative flourishes on certain (but not all) characters makes this font a little more subtle than some, but still exuding the magic you're looking for.
Conclusion
Muggles and wizards and witches can all agree on the magical nature of these fonts. From the silly to the elegant, the Harry Potter fonts we've put together here will bring any of your designs to life. Take a few minutes to download your favorites, and we're sure inspiration will strike before you know it.
How do you plan on using the Harry Potter font you found today?
Article featured image by anoossarajj / shutterstock.com