The Apple Pencil is not just a stylus. It's a tool that helps artists create works of art their fingers just can't, and it's a device that gives non-artists a more nuanced way of interacting with their tablet and phone. No matter which side of the artistic line you're on, we have some Apple Pencil apps that you can download to take full advantage of the capabilities of your new gadget.
1. Pigment

First off, let's talk about an Apple Pencil art app that isn't for drawing. Pigment is a coloring book app. Adult coloring books are still popular, and for good reason: they're relaxing, and you can really work on your creativity even if you can't quite draw a straight line. One of the big differences that Pigment has over some of the other apps on the market is that it's not a touch-to-color app. You don't default to a paint bucket tool and fill an entire space with a single color because you actually color with brushstrokes. You can use your finger, too, but the Apple Pencil makes the whole app take off.
Price: Free | More Information
2. Adobe Comp CC

The Apple Pencil is a match made in heaven for Adobe Comp CC. If you have never tried any of the Adobe iOS apps, this is where you should start. Especially if you have an Apple Pencil. Comp CC is a wireframing and mockup tool that can definitely make a designer's life simpler. Completely compatible with the Creative Cloud suite of apps for iOS and for PC/Mac, Adobe Comp CC will give you a chance to pretty much take advantage of the Apple Pencil like few apps will. Plus, like all the Adobe mobile apps, it's free, even without a CC subscription.
Price: Free | More information
3. PDF Expert

Sometimes you need to sign something important on a deadline. Sometimes you may need to make notes on a document for work to send back. PDF Expert is one of those Apple Pencil apps that lets you take full advantage of why you bought it in the first place. More than just signing and annotating, PDF Expert gives you full control of editing the PDF files, so you won't have to worry about getting back to your computer to do it in Acrobat. And with the Apple Pencil, it's just like writing in a notepad — only it's way cooler.
Price: $9.99 with in-app offers for additional features | More information
4. Pixelmator

Sure, there is a free Adobe Photoshop CC app on the App Store, and it's very good. Of course. But when you're talking about Apple Pencil apps, you really should look at Pixelmator instead. The app is optimized for use with the Apple Pencil, and it's very highly reviewed on the App Store. You can do so much with it, that even if you're not an artist or photographer, you're going to be able to figure out how to beautify your photos in no time.
Price: $4.99 | More information
5. LiquidText

LiquidText does a lot in a very unassuming package. While at its heart, it's a PDF editor and notes app, you shouldn't look at it as simply that. It's more of a suite of tools that you can use to keep yourself productive no matter what you're doing. From mind-mapping and "ink links" as the developers call them, to full search across multiple documents (which isn't that common among mobile apps), the Apple Pencil in your hand will absolutely get a workout. Just be sure to stretch your fingers every once in a while from all the fun you and your pencil are having.
Price: Free | More information
6. uMake

Not just for mockups, uMake is a CAD app that lets you unleash your Apple Pencil. Using the stylus (and yes, we've established it's more than that), you can 3D model almost anything you can think of. One of the most useful aspects of uMake is that while it's mobile and powerful, you can export your files so they can be 3D printed or edited further on desktop apps. You don't have to worry about the mobile version being any less powerful or incapable of accomplishing your tasks. And with the Apple Pencil, you can do it on your lap from anywhere.
Price: Free with in-app purchases | More information
7. Affinity Designer

Affinity Designer is a vector graphics editor, and if you want to load up on top-notch Apple Pencil apps, then you can't go wrong with this one from Serif Labs. It has a $19.99 price tag, which some folks balk at for an iPad app, but the comparable desktop software is far more expensive. And that's the thing: there is comparable desktop software. Affinity Designer is every bit as functional as the majority of vector design apps out there. It is absolutely a premium product, but if you're willing to pay for it, your Apple Pencil will thank you.
Price: $19.99 | More information
8. DocuSign

The name gives this one away. It lets you sign documents. Your Apple Pencil actually lets you give a real signature, where you can't quite get it with your finger. For business purposes, being able to send and receive electronic signatures within the app is essential when it matters. It's not fancy, and it's not flashy, but DocuSign is worth a download if you've got an Apple Pencil. And even if you don't, too.
Price: Free | More information
9. Notability

Notes apps are the bread to design apps' butter with the Apple Pencil. And Notability truly stands out in the field. While it doesn't offer the PDF manipulation of various other apps, it does what it does well. It takes notes. It lets you annotate things. And the Apple Pencil should feel like a natural extension of the app. You do get basic document and photo manipulation, but that is really a nod back to the note-taking ability you get. Crops and sketches and different pens and markers just make this one a sure thing if you're willing to shell out a tenner.
Price: $9.99 |  More information
10. Apple Notes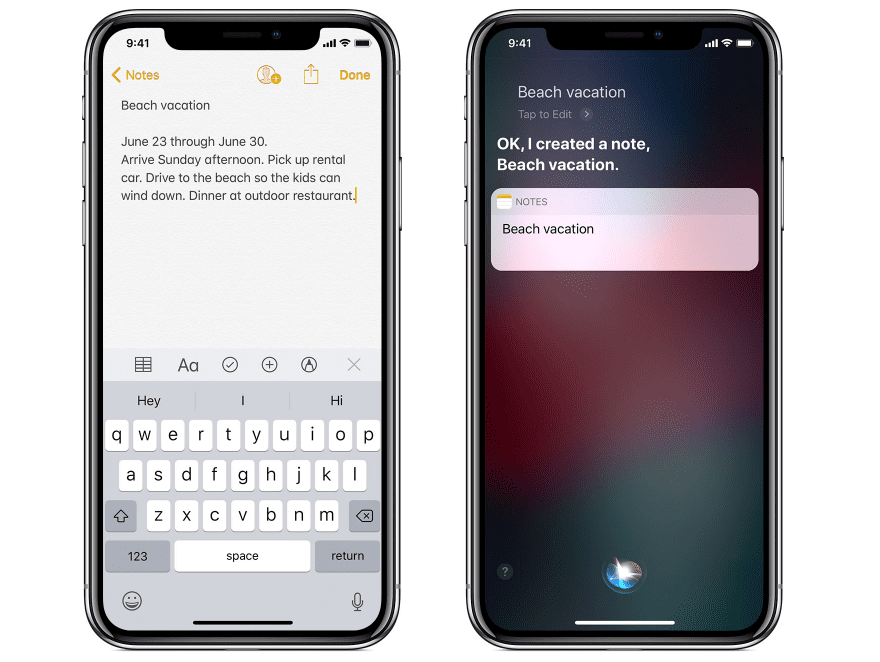 We can't talk about Apple Pencil apps without mentioning the default Notes app that comes with iOS. If one app were made with the Apple Pencil in mind, it's this one. While it doesn't have quite the power of Notability, it's pretty darn close. Like everything else Apple does, it's polished and clean and easy to use. You won't feel like you must spend money on a premium app, and if you're not a power note-taker, you probably won't have to. Give it a shot to see what you think before opening up Apple Pay.
Price: Free | More information
11. Concepts

From the moment you boot it up, you are unable to deny how beautiful Concepts is. As a sketch app, you cannot do any better. Your Apple Pencil will let you create when, how, and wherever you want. While sketching and drawing is absolutely its primary task, you shouldn't consider that a simple feat. The features that accompany the app are top tier, too. You will appreciate SVG exports directly from Concepts, unlimited layering, and an infinite canvas so that you won't feel confined, even though you're working on an app. The download is free, but there are in-app purchases that you can opt into for when you realize you need a specific feature or tool.
Price: Free with in-app purchases | More information
Wrapping Up
The App Store is updated constantly. New apps push the boundaries every day, but these Apple Pencil apps have established themselves as the staples that those newcomers should look toward beating. But they're so good, that may not always be possible. That works out well for you, though, because if you download even a couple of these, you'll take the already-powerful Apple Pencil and make it learn a new trick or two.
What is your favorite app to use with your Apple Pencil?
Article featured image  by Hanphayak / shutterstock.com