If you are an illustrator or graphic designer, chances are you have used an Adobe product at least once. Maybe you've been using them for years. Unfortunately, not every designer and illustrator has the funds to pay the Adobe subscription every month. Thankfully there are other options out there. From free apps like Inkscape to one time purchase apps like Affinity Designer. In this Affinity Designer Review, we'll take a look at Affinity Designer from the workspace to the tools. We'll look at the pros and cons so you can make a decision for yourself if you want to try it out.
A Little Background on Affinity Designer
Affinity Designer was created by Serif, a software company in the UK. They created a large number of software for Windows in the span of 20 years. What they learned during that time is that software with a heavy load of legacy code was bloated and slow. They decided to create a new suite of desig software that would have little bloat and be faster to use.
Their first project in 2014 was Affinity Designer, intended as an alternative to Adobe Illustrator. Now the suite consists of three software programs, Designer, Photo and Publisher. Both Affinity Designer and Affinity Photo are available for Mac and Windows, as well as iPad apps.
Let's take a look at Affinity Designer for desktop and iPad. I will give you an overview of the software and some pros and cons towards the end.
Affinity Designer Personas
The most loved aspect of Affinity Designer (apart from the one-time-pay system) is the Personas toggle. Designers can use Affinity Designer in three different personas; Designer Persona, Pixel Persona and Export Persona. The value in this toggle is that designers can switch from a vector workspace to a pixel workspace with one click. It's like Illustrator and Photoshop together in one place.
Designer Persona is the default workspace to create vector graphics. The workspace for the designer persona has tools for drawing shapes and curves, vector brushes, fill and stroke options, transparency controls, and place and crop tools for images. The Designer Persona is the most similar to Adobe Illustrator. A significant tool in both personas is the Pixel Preview button. This viewing tools instantly shows you how a vector graphic would look as a raster graphic in both normal and retina screens.
Pixel Persona is a raster workspace with tools that resemble Photoshop tools. There are different shape marquee tools, a freehand selection tool, artistic pixel brushes, an eraser, a pixel tool which set solitary pixels on the canvas. Apart from those, there are also photo manipulation tools like dodge, burn, smudge, blur, and sharpen. The brush tool in the Pixel Persona comes with many artistic brush options. This feature on its own has made Affinity Designer a favorite with digital painters and artists.
Export Persona is a space where designers can select areas of their canvas and export as new graphics.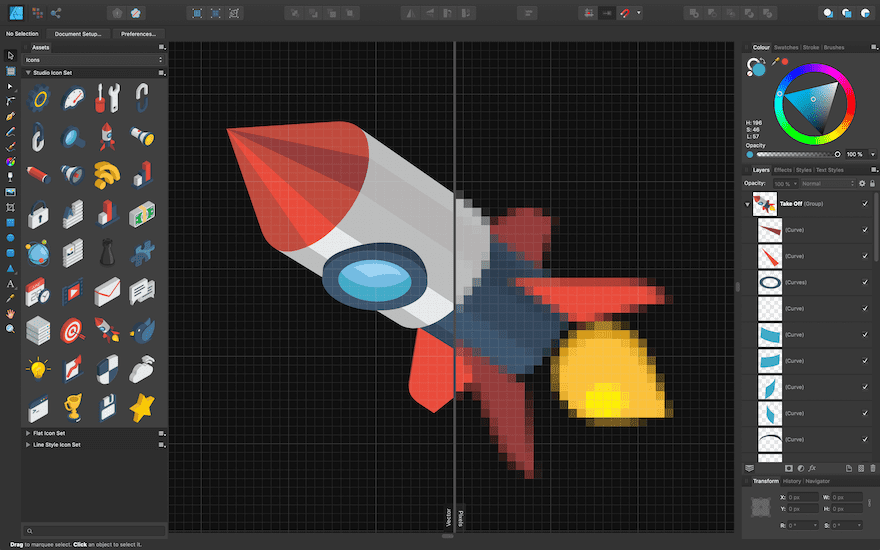 The Affinity Designer Ipad Advantage
Affinity Designer has a powerful iPad version with almost the same tools as the desktop version. In fact, the Affinity Designer iPad App is one of the best iPad design apps on the market. The Apple pencil works seamlessly with both the Designer Persona and Pixel Persona tools. In Affinity Designer, points are called "nodes" and they are infinitely customizable on their own.
The Affinity Designer iPad has to be purchased separately from the desktop App. Once both are set up and you are logged in, the platforms communicate with each other so projects are updated seamlessly on desktop and iPad.
When comparing the Affinity Designer iPad App to the Adobe Illustrator Draw App, the Affinity Designer App is definitely better. If on the other hand, if we compare the Affinity Designer iPad App to Procreate for iPad, each has their own strengths and weaknesses. Both are amazing for illustrators and digital artists and it really comes down to a personal preference.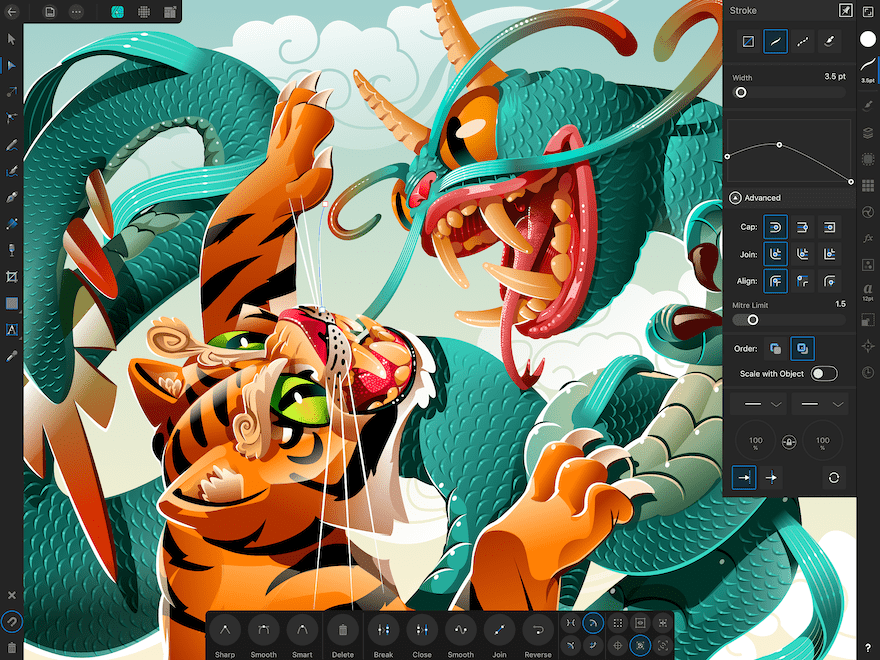 Affinity Designer Pros and Cons
All in all, Affinity Designer is a rockstar alternative to Adobe Illustrator. When designers switch from Adobe to Affinity, it's usually due to the economic factor, but then they end up loving the features and the workspace. Nevertheless, Affinity designer has a few cons in comparison to Adobe Illustrator. Thankfully though, it's not enough to say that Affinity Designer is way behind Adobe Illustrator.
As part of our Affinity Designer review, here is a list of the pros and cons for Affinity Designer for Desktop and iPad.
The Pros
The undo button can be pressed up to 8000 times. Meaning that there is pretty much no limit to how far back you can go in the design history. Added on to that, when a project is closed and openend again, the design history is still available. It doesn't reset.
Designs can have more than one stroke or fill. Numerous strokes and fills can be applied to single objects. This permits the designer to create many layers of depth in their art.
When you click on a tool, the bottom bar showcases all the ways in which to use that tool. When to click, drag or use click + keyboard shortcuts.
The pen tool and strokes have a customizable arrow ending.
The Affinity Designer iPad App is a huge pro for the software.
There is no legacy code bloat in the software, making Affinity Designer faster and lighter to work with.
Affinity Designer doesn't have a subscription based system. It's a one time pay software.
The ability to toggle between vector and pixel workspaces with the different personas.
The zoom function is off the charts at 1000000%.
The isometric grid helps designers create isometric and 2D designs seamlessly.
On both desktop and iPad, the nodes can be personalized for curvature and angle. This is a huge plus for illustrators.
The Cons
The multiple strokes and fills option works for only one object at a time and not on text or groups of objects.
You can't export files as AI, which some clients are insistent on having.
There is no natural perspective grid. Not all designer use this, but for those who do it's a big con.
The Designer Persona doesn't have a vector eraser which makes editing small vector errors a bit messy.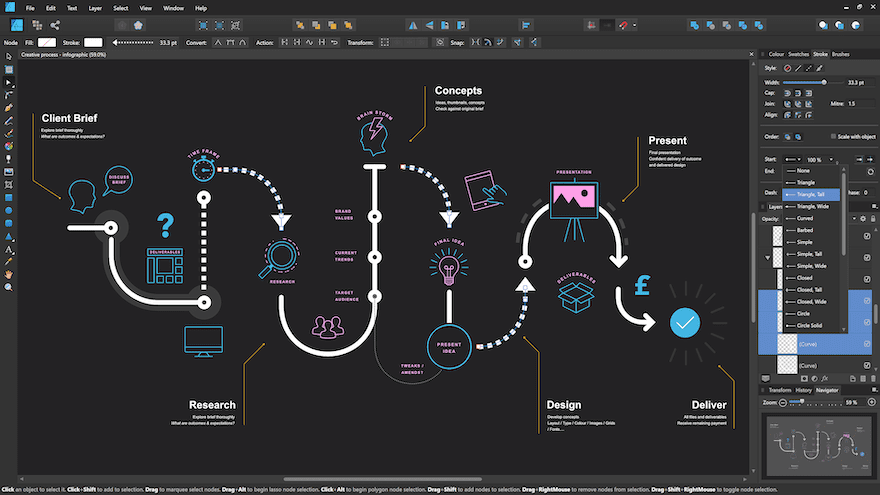 Who is Affinity Designer For
Affinity Designer is perfect for illustrators and graphic designers who regularly work with vector graphics and raster images at the same time. Due to how the workspace can toggle back and forth from vector to pixel, it's also a favorite with digital painters. There are lots of interestings effects which can be achieved by using both personas at the same time.
If as a designer, you work with clients that are always asking for Adoibe Illustrator source files, then Affinity Designer will not be of great help. If you can send PDFs of your designs, then Affinity Designer can give you everything you need.
Conclusion
In this Affinity Designer review we showed you the basic ins and outs of the software to give you an idea of what the program can do.
In conclusion, Affinity Designer is a great software for designers, illustrators and digital artists. Not only as an alternative to Adobe Illustrator, but also on its own. Since the software has a one-time-pay, it is much more accessible. Especially for students or freelancers at a moment where they can't afford to pay the monthly subscriptions of Adobe products
Along with Affinity Photo and Affinity Publisher, the Serif owned design suite can easily replace Adobe Photoshop and Adobe InDesign. All Affinity software have a one week free trial if you want to try them out for yourself before committing to the purchase.
Featured image via PROKOPEVA IRINA / shutterstock.com | Affinity Designer Screenshots courtesy of the Affinity Designer Press Kit