Successful businesses require strong guidance from the people at the helm. Some say leadership is an innate quality only a few possess, but we're of the mindset that it's a skill you can hone just like any other. One of the best ways to do so is by listening to podcasts from the greatest business minds in the world.
There's a broad range of business and leadership podcasts you can tap for advice on entrepreneurship, team management, and more. In this article, we'll introduce you to ten of our favorites you may want to subscribe to.
Let's get to it!
1. How I Built This

People starting their own businesses is nothing new, but nowadays, many are fascinated with the concept of startups. If you're one of those people, then you'll likely appreciate How I Built This.
For his podcast, Guy Raz interviews founders and innovators and gets them to talk about why and how their businesses came to be. Raz focuses particularly on ideas that led to new startups. If you've ever had an idea for a product or a service but didn't think it was viable, listening to some of the guests on this show and the risks they've taken can be inspiring.
Every episode focuses on a different business and the people who made it possible. They tend to last about an hour each, so there's plenty of meat to sink your teeth into.
2. The Tim Ferriss Show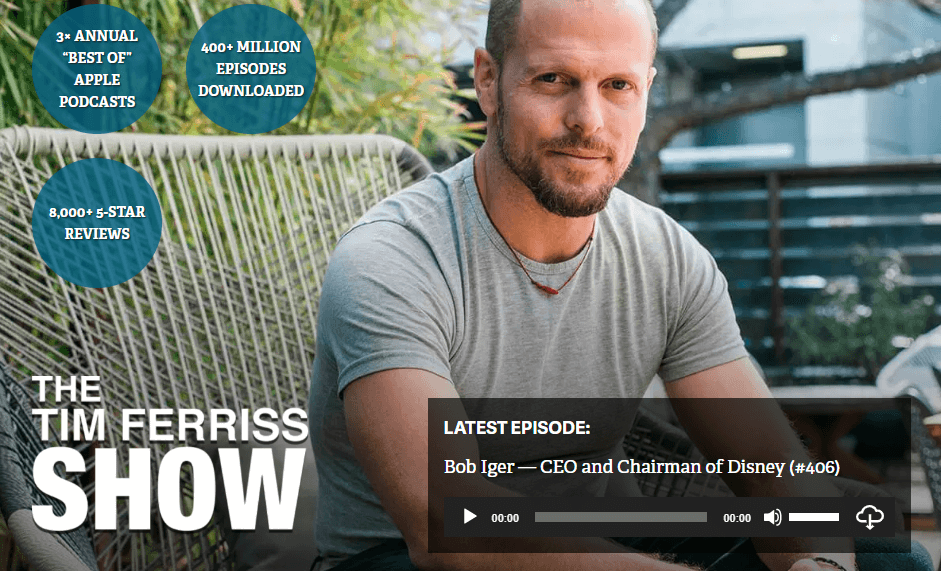 The Tim Ferriss Show is one of the most popular business podcasts in the world, and it's easy to see (or hear) why. For each episode, Ferriss interviews a guest who's at the top of their field and breaks down the tactics and routines they've used to climb there.
Some of the shows' past guests include world-renowned figures such as Arnold Schwarzenegger, LeBron James, Peter Thiel, Malcolm Gladwell, Bob Iger, and many more. Ferriss pulls from every field for his guests and in the course of an hour and a half, he dives deep into what drives each of them to excellence.
In between long-form interviews, Ferriss also releases shorter pieces on the books he's been reading lately. His taste in literature is eclectic, so those episodes may also be worth your time.
3. Behind the Brilliance

Lisa Nicole Bell describes herself as an entrepreneur, artist, and lover of snacks. When she's not trying out fruity treats, she's interviewing other innovators and creatives on Behind the Brilliance.
Although Bell's roster of guests isn't as impressive as, say, Ferriss', that sometimes adds to the value of the podcast. Her episodes that feature writers tend to be particularly interesting, and when she's not conducting interviews, she answers listeners' questions during in-depth solo recordings.
All in all, few business or leadership podcasts offer better representation for people of all walks of life, not just celebrities or CEOs.
4. HBR IdeaCast

The Harvard Business Review (HBR) is a magazine produced by a subsidiary of the university. It's a renowned publication that comes out six times a year, and it covers all sorts of topics including management, strategy, finance, and more.
IdeaCast is one of several podcasts that fall under the HBR umbrella. Its focus is on interviewing leaders in business, and each episode takes a deep dive into a different aspect of what makes the current guest a success.
Whereas other leadership podcasts tend to put all the focus on interviewing their guests, IdeaCast leans more towards tackling broader concepts. It has episodes on everything from rethinking poverty to improving meetings in the workplace. Each only lasts around 30 minutes, which means it's fairly easy to stay up to date with the latest releases.
5. Entrepreneurial Thought Leaders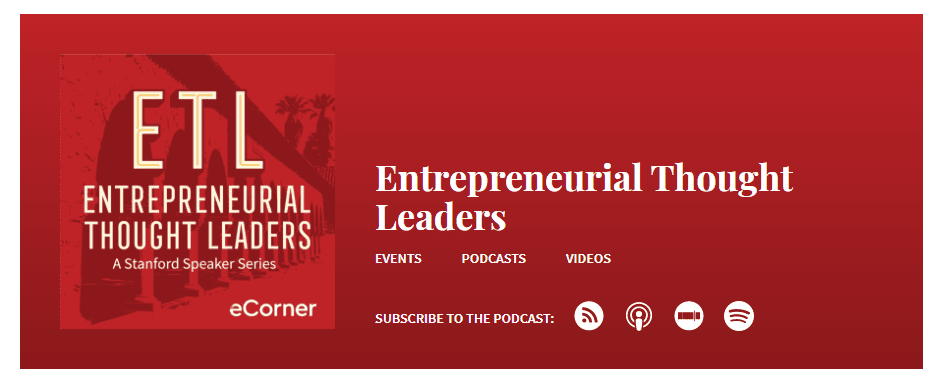 A name like Entrepreneurial Thought Leaders sets expectations pretty high. Fortunately, this podcast delivers. Much like the previous item on this list, this source for business leadership knowledge is also produced by one of the top universities in the country – in this case, Stanford.
Every episode focuses on a different speaker who goes over their path to business success. Some of the topics it's tackled include how to survive the startup grind, what you can learn from 'unicorns', and how to succeed as a woman in tech.
The only downside to Entrepreneurial Thought Leaders is that new content doesn't come out as often as we'd like. For every 40-minute episode, however, you also get bite-sized segments from some of the best Stanford speakers talking about business, so there's plenty to listen to.
6. Eat Sleep Work Repeat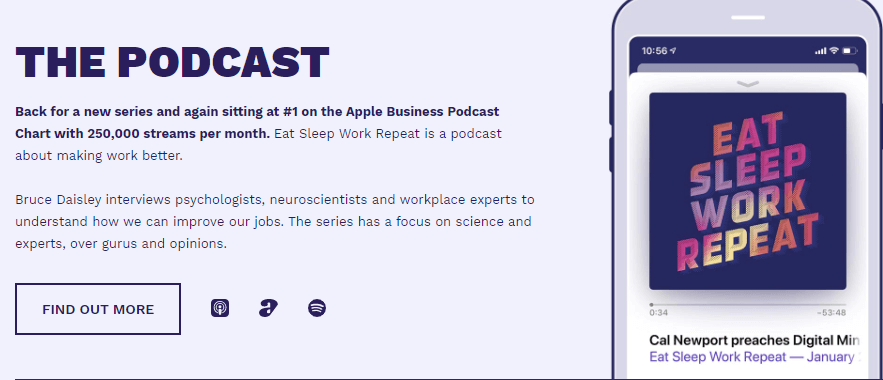 First off, don't let this podcast's name scare you. Eat Sleep Work Repeat is not a celebration of devoting yourself exclusively to your career. Instead, it focuses on how you can improve your time spent on the job and balance it with your personal life.
Host Bruce Daisley interviews a lot of interesting guests, including psychologists, entrepreneurs, and 'workplace experts'. They cover a range of topics from how to improve meetings to the gig economy.
It's a fantastic listen if you're an employee, but even more valuable one if you're a business owner. Learning about how others have made their business practices better can be a goldmine of ideas on how to boost your own leadership skills.
7. The Nice Guys on Business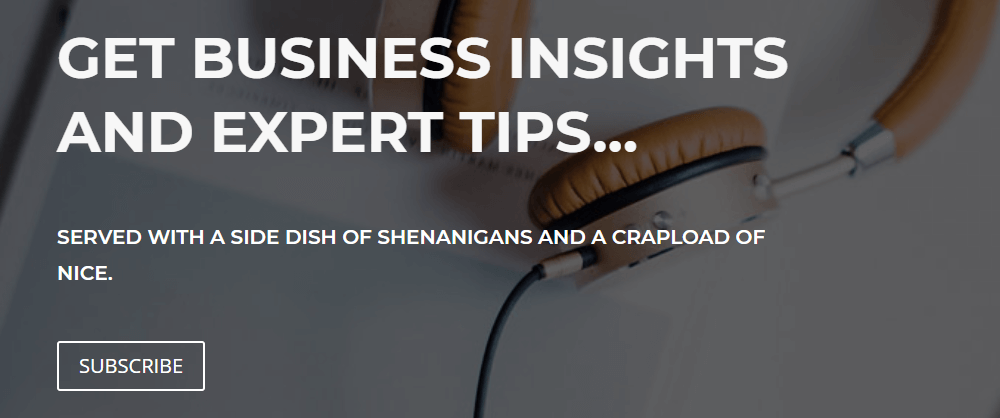 The idea that you have to be cutthroat to succeed in business isn't a novel one. The Nice Guys on Business, however, would disagree with that assessment.
Each episode, the Nice Guys interview a startup founder, entrepreneur, best-selling author, or other successful, self-made figure. Every single guest on their roster is impressive, but even more so is the fact that they publish five new episodes per week.
It's rare to find a business or leadership podcast that can keep up such a breakneck publication schedule. Every episode focuses on a different aspect of business or management that you can improve, which should make The Nice Guys on Business a central fixture in your library.
8. StartUp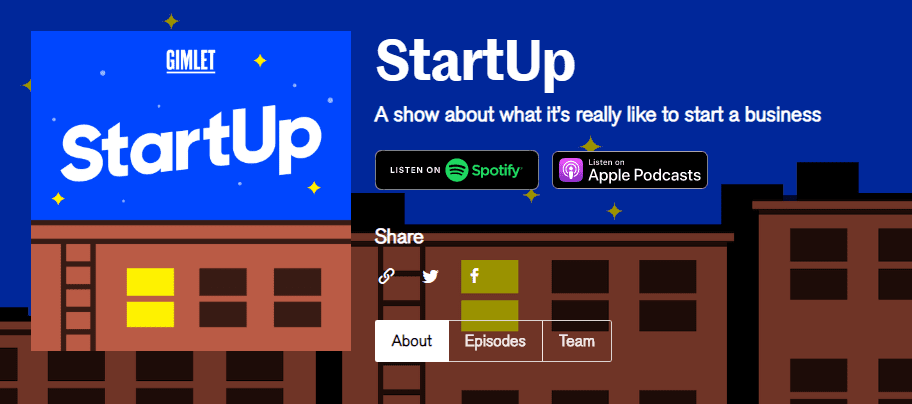 StartUp is by far the most unique podcast on this list. Instead of interviewing founders and businessmen, it follows more of a documentary approach.
The podcast looks back through history to some of the most interesting time periods in the business world. For example, it's done a multi-episode series on buying and selling domains, and another one on Friendster.
In between documentary episodes, the hosts also find the time to interview celebrities, famous athletes, and the occasional CEO. If you're interested in podcasts with fun formats, StartUp is probably right up your alley.
9. Business Wars

Every company is in competition with another. Some of those rivalries are legendary, and Business Wars is all about chronicling the most vicious fights in the arena.
Business Wars has done episodes on Boeing vs Airbus, Ford vs Chevrolet, Facebook vs Snapchat, and many other household names. Instead of devoting a single episode to each rivalry, they often create three-to-six-part series.
One common criticism of this podcast is its dramatizations of historical events. However, depending on your personal preferences, Business Wars could make for a fantastic listen if you want to learn about how to win over your competition.
10. Masters of Scale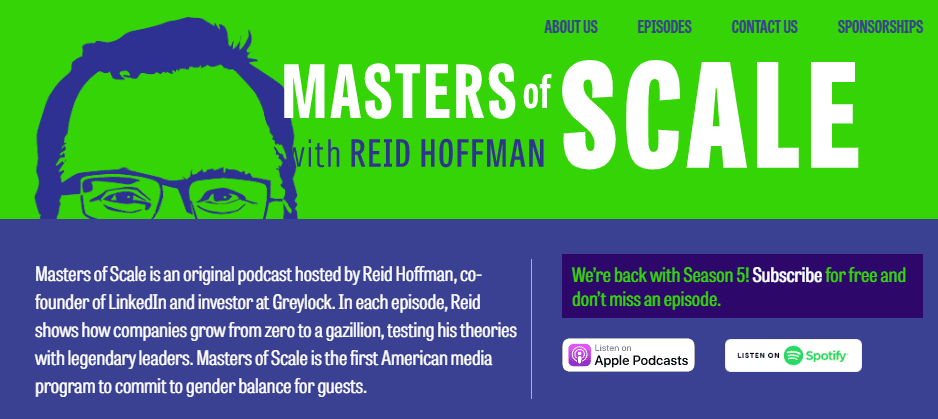 The only thing harder than starting a business is growing one. Masters of Scale is a podcast all about the journey from startup to dominating in your field.
Reif Hoffman, the host, is a co-founder of LinkedIn, and his guests are often of a similar caliber. Some of the most notable names on the podcast include Ariana Huffington, Marissa Mayer, and Brian Chesky – all, in their own right, leaders of business empires.
If you're looking for high-level advice on how to lead your team to success, Masters of Scale is a masterclass. Most episodes are just 40 minutes, making this podcast the perfect companion for the average daily commute.
Conclusion
There are a lot of moving parts to consider when running a successful business. It's your job to grow your knowledge so you can support your brand and its employees. Leadership podcasts provide the opportunity to listen to some of the best entrepreneurial minds in the world, even when you're on the go.
If you want to hear from big-name CEOs, you can't go wrong with Masters of Scale or The Tim Ferriss Show. Plus, How I Built This and StartUp have plenty of inspiration as well as cautionary tales for new entrepreneurs.
Do you have any thoughts on the best leadership podcasts? Share them with us in the comments section below!
Article thumbnail image by Zenzen / shutterstock.com