Starting and maintaining a business is no small task. With all the work you've poured into your company, the last thing you want is for it all to go up in smoke. Whether you're facing a natural disaster, a cyberattack, or some other unforeseen emergency, having a business continuity plan in place can be crucial for the survival of your company.
In this post, we'll explain what a business continuity plan is and why it's vital for you to have one. Then we'll share six steps you can take to create yours, and be prepared for whatever comes your way.
Let's get started!
An Introduction to Business Continuity Plans
A business continuity plan describes how your company will continue to function during and after a disaster or crisis. Strong plans include provisions for a range of possible events that could impact your business' ability to function.
This might include:
Natural disasters such as floods, fires, hurricanes, tornadoes, or other severe storms
Cyberattacks that cause your or clients' websites to become compromised
Loss of your server(s), data, power, or third-party services
Unexpected unavailability of a large number of employees, due to widespread illness or other causes
Regardless of what difficulties your business is facing, clients will still need your products, services, and support. Having a plan in place gives your company its best chance to endure a disaster gracefully, and continue supporting both your clients' needs and your livelihood.
Your continuity plan will need to include several elements in order to successfully prepare you and your employees for whatever may come. It should note the actions you'll take ahead of time to protect vital aspects of your business, and provide clear steps you'll need to follow during various possible disasters. Below, we'll show you what this process might look like in action.
How to Create a Business Continuity Plan (In 6 Steps)
It can be difficult to account for so many different possible crises. To help ensure that your plan is comprehensive, we recommend consulting additional resources as well as looking into business continuity plan checklists and templates: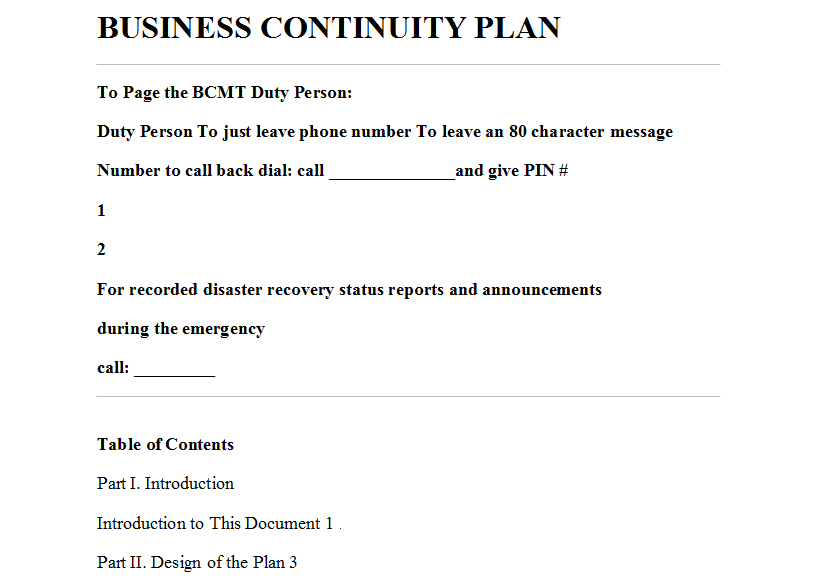 In addition, the following six steps will help you get your plan off the ground!
Step 1: Gather Your Business Continuity Team
The first thing you'll need to do is determine who will be involved in creating your business continuity plan. Having additional perspectives available can help you account for the greatest number of possible issues your business might face in an emergency.
Generally speaking, a well-rounded business continuity team will consist of members from your company's various departments. If your business is very small, this might mean that your entire company is on the team. Larger businesses can recruit representatives from each department.
This way, each member of the business continuity team can make the needs of their particular specialty known. You'll have more complete coverage of your business, and will hopefully avoid situations where sectors of the company are unprepared for a particular type of disaster.
Step 2: Evaluate Your Risks and Potential Disaster Impacts
Before you can plan for what you'll do in the event of a crisis, you'll need to determine your business' vulnerabilities and assess how various scenarios might impact them. Some common considerations include:
What technology or resources will become unavailable in the event that your brick-and-mortar location is impacted by a natural disaster? Do you have insurance, and what does it cover?
Do you have cybersecurity measures in place? What are their weaknesses? What client data do you have stored that needs to be protected?
Will your business be able to continue operating if a third-party service or software it relies upon becomes suddenly unavailable?
If a significant portion of your employees are unable to work at the same time, what key procedures need to be maintained? Who is capable of maintaining them?
These questions are by no means comprehensive, but they should provide a good starting point. This process will likely take quite some time, and you'll want to do research into each potential risk. Look to determine how pressing each issue is, and what impact it would have on your business. This will help you decide what measures and procedures to prioritize.
Step 3: Put Backups and Other Preventative Measures in Place
The best plan of action when it comes to business continuity is one that solves problems before they start. In other words, once you've evaluated your potential risks and their impacts, your first plan should be to prevent a crisis, rather than to recover from one.
One of the key measures you should have in place is a method for creating and storing backups of all your business' files. You should be backing up your websites using a WordPress backup plugin. You should also be backing up your project files, documentation, contracts and other legal agreements, financial information, and just about any other files your company uses.
Remember to follow best practices when it comes to creating backups, and save them in multiple places. Ideally, you'll want digital and hard copies of everything. Using cloud storage and automatic backup services can help with this process.
You'll also want to make sure you have solid cybersecurity tools in place, as well as regular security monitoring. Implementing a Web Application Firewall (WAF) in addition to regular security scans and an activity log can help you prevent attacks. At the least, you should be able catch them early enough to stop significant damage from occurring.
If you have a brick-and-mortar location, you'll likely want to look into insurance to cover you in the event of a natural disaster. You might also consider insuring any equipment or machinery you use. This will help you replace or repair any physical resources you can't function without.
Step 4: Develop Emergency Response Strategies and Procedures
Even when your business is experiencing a crisis, you'll likely need to continue supporting your clients. Part of your business continuity plan should lay out how you'll do this. For starters, you'll need a plan for protecting your employees' physical safety.
While you should have evacuation and safety procedures compiled elsewhere, you can reference them in your continuity plan. You can also include procedures for stabilizing your facility and equipment, but remember that employee safety always comes first.
You'll also need a plan for providing ongoing customer support. This may mean rerouting calls, emails, and support requests to a secondary location. You could also look into setting up automatic responses for situations such as server failures or security breaches.
If you'll require assistance from outside sources (e.g., when a third-party service fails), make sure you have all your contacts compiled and organized so you know who to call. It's also wise to look into ways you can protect client data from cyberattacks and other possible crises.
Additionally, you'll want to have a communication plan in place. Your usual method of reaching your team members and/or clients may not be available during an emergency, so having several options is ideal. Make sure to alert clients when you're experiencing a crisis, and keep them informed as you work to fix it.
Step 5: Lay Out Steps for Recovery
Once the immediate threat has passed, you'll likely need to do some damage control. Getting through a crisis can be overwhelming. Outlining the steps you'll take to recover can give you a clear path forward, when you might otherwise not know where to start.
Your recovery process might include:
Restoring your website, databases, and files from your backups
Repairing or replacing damaged facilities and equipment
Patching vulnerabilities in your cybersecurity plan
Moving to new third-party service providers, temporarily or permanently
Remember to prioritize your recovery tasks. Depending on the situation, it may not be possible to return everything to the way it was immediately. Tackle the most important tasks first, focusing on addressing your clients' most pressing needs.
Step 6: Test and Practice Your Plan
Once your team has written out a thorough business continuity plan, you'll need to share it with the rest of your employees. It's also a good idea to hold a meeting to discuss the plan, and provide an opportunity for team members to ask questions about what it contains.
Additionally, testing and practicing your plan on a regular basis is key. This has two purposes. First, practice will help your employees react more calmly under pressure in the event of a disaster, making it more likely that your plan will be enacted successfully.
Plus, running through your plan can illuminate any gaps or inconsistencies that might prevent it from succeeding. Spotting these problems ahead of time gives you the chance to fix them before you need to use your plan for real. Annual audits can help to keep your plan in top shape as well.
Conclusion
A business continuity plan is key for preventing major losses in the event of a disaster. With all the time and effort you've put into your business, it only makes sense to do whatever you can to protect it should an emergency arise.
In this article, we laid out six steps for getting started with your business continuity plan:
Gather your business continuity team.
Evaluate your risks and potential disaster impacts.
Put backups and other preventative measures in place.
Develop emergency response strategies and procedures.
Lay out steps for recovery.
Test and practice your plan.
Do you have any questions about putting together a strong business continuity plan? Leave them in the comments section below!
Article Thumbnail Image Bakhtiar Zein / shutterstock.com