In today's competitive digital world, having a website for your business is a must. With online sales surpassing one trillion dollars in 2022, selecting the right ecommerce website builder can be challenging. However, a website builder suited for online sales makes the process easier, with easy setup, order management, and scalability at your fingertips. In this post, we'll explore our picks for the best ecommerce website builders and compare their features and pricing.
Let's dive in.
What is an Ecommerce Website Builder?
An ecommerce website builder is a web-based platform that allows users to easily create an online store, add products, and sell them through various payment gateways. Most options offer a code-free, visual page builder with a drag-and-drop interface and, in most cases, pre-designed templates and layouts you can easily customize. Good e-commerce website builders offer several other benefits, including SEO optimization, marketing tools, excellent security, and mobile responsiveness.
11 Best Ecommerce Website Builders in 2023

Subscribe To Our Youtube Channel
We scoured all corners of the internet to find the best options for ecommerce website builders based on a few factors. These include budget, features, and ease of use. After all, an ecommerce website builder should be simple enough to use so you can focus on the task at hand – making money. We also considered the level of customer support, user reviews, and how mobile-ready each platform is. Without a mobile-first design, your site will likely get buried in the depths of Google's search results. So, without further delay, let's get on our list.
The Best Ecommerce Website Builders Listed In Order
Expand List
1. WordPress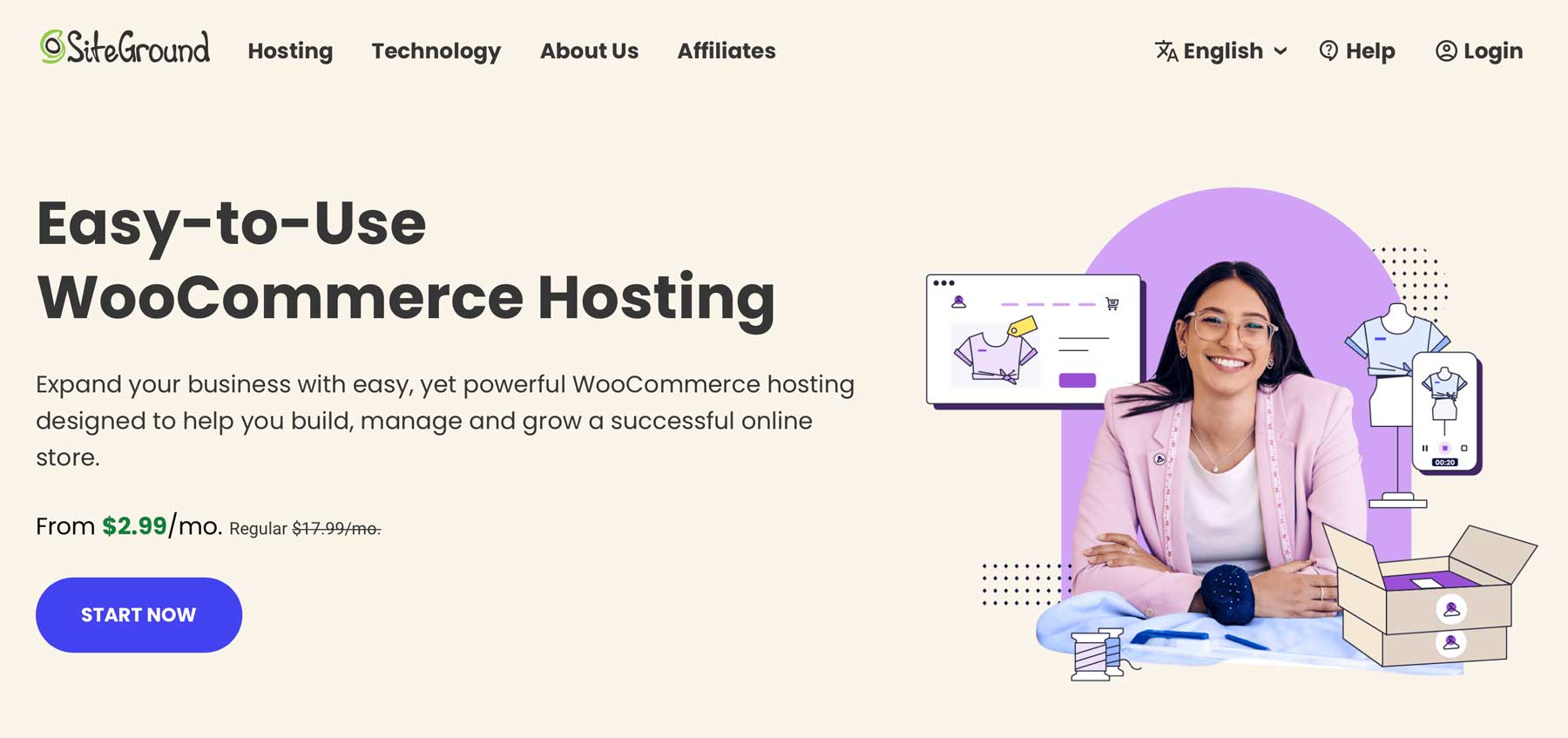 Up first on our list of best ecommerce website builders is WordPress. With direct integration with WooCommerce, you can easily create a fully functional ecommerce website in a short amount of time. WordPress has many benefits, including countless plugins and themes, such as Rank Math and Divi, that can help you take your ecommerce website to the next level.
Key Features of WordPress:
Direct integration with WooCommerce
Nearly endless ecommerce plugins and themes
Extensive customization options
Multiple payment gateway options
Self-hosted platform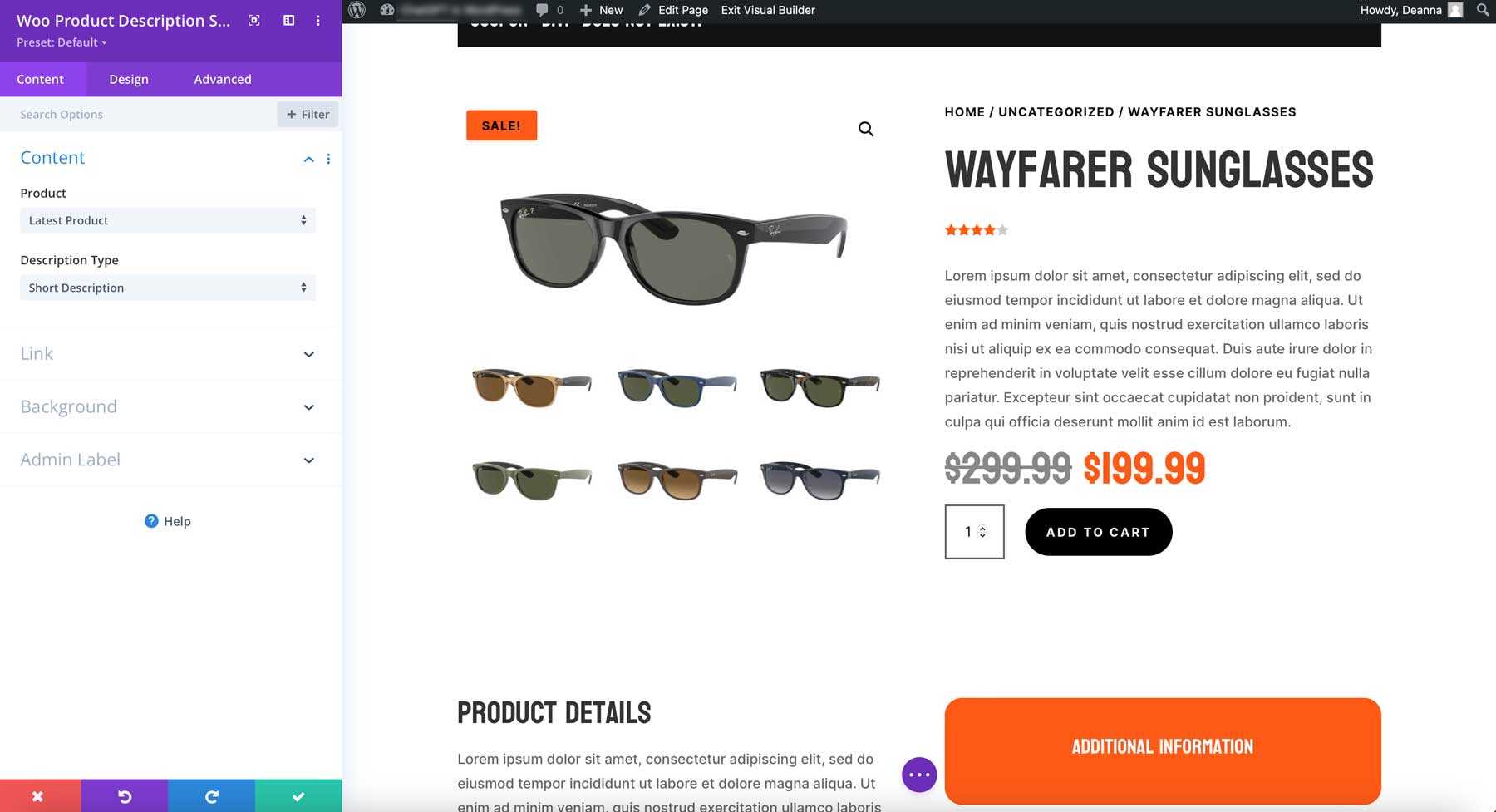 One of the best features of WordPress is the customization options. With WordPress, you can quickly start an online store, create a blog for supporting content, and rank well in search results. With ecommerce WordPress themes like Divi, you can design every aspect of your site, including custom product and shop pages, cart and checkout pages, and more, using the Theme Builder. Plenty of payment gateway options exist, such as PayPal, Stripe, Square, and Apple Pay, so you can give your users plenty of ways to purchase.
Best For:
WordPress is a powerful CMS that allows you to create an online store with ease. While WordPress can take a little time to learn, plenty of excellent starter layouts are available, especially if you're a Divi user. WordPress is free but self-hosted, meaning you'll need to secure a good hosting provider to use it. Our top recommendation is SiteGround, where you can get quality, fast ecommerce hosting for as little as $2.99 per month.
Pricing: Free, with SiteGround hosting plans starting at $2.99 monthly.
2. Hostinger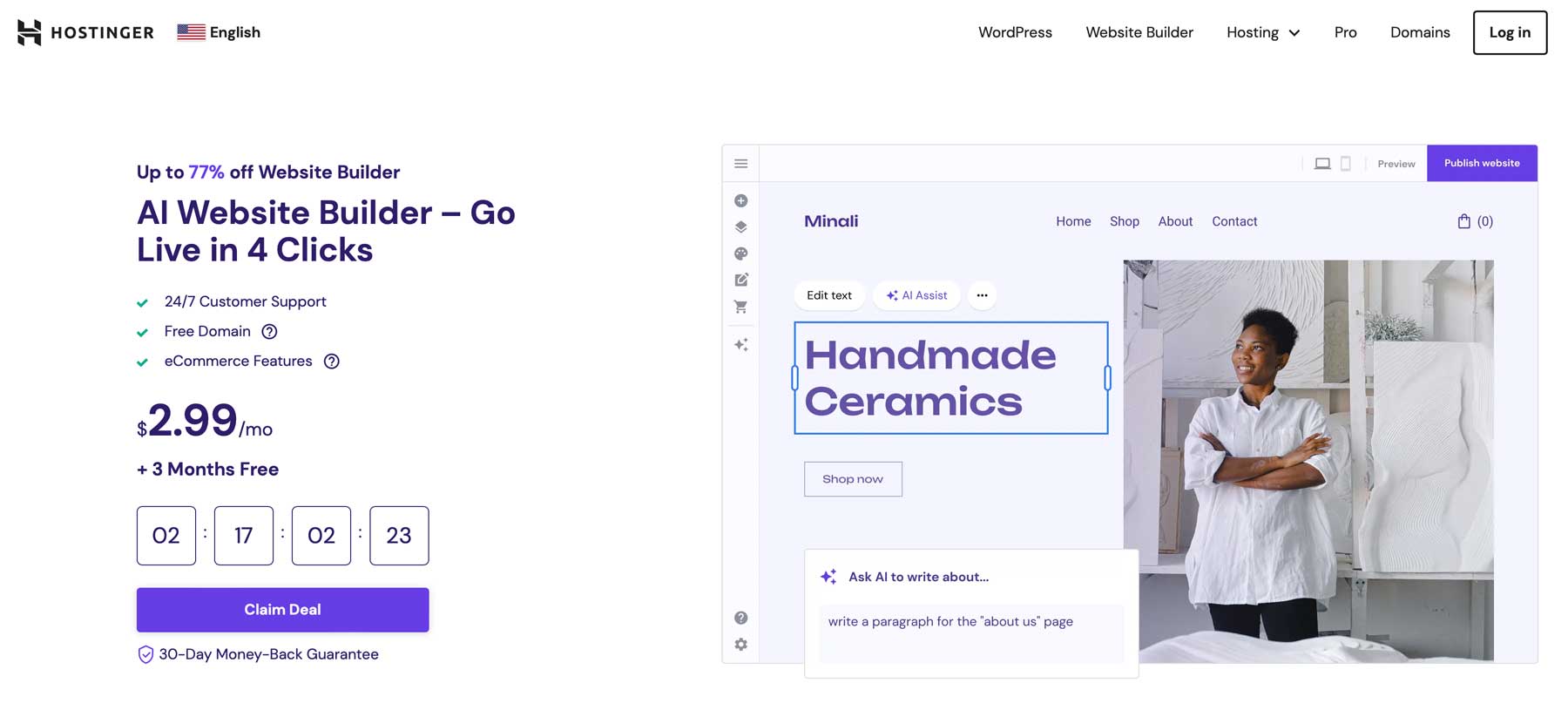 Our next ecommerce website builder, Hostinger, is our only AI-powered builder on the list. With Hostinger, you answer questions about your business and preferences and then sit back and watch AI create a website for you. Every plan comes with a free domain, 24/7 customer support, and the ability to add up to 500 products for an attractive price of $2.99 per month.
Key Features of Hostinger:
Add up to 500 products
24/7 customer support
Free SSL certificate, domain, and professional email
20+ payment gateways

Hostinger offers excellent features for your online store, including 0% transaction fees, so you don't have to pay extra to sell your products. Additional features include order management through tax collection, shipping, and inventory. There's also AISEO onboard, so prepping your website for search engines is a breeze. It also integrates seamlessly with marketing tools like Google Analytics, Facebook Pixel, and Adsense, so you can easily market on social media and track the results.
Best For:
Hostinger is a top choice for those looking to launch an online business without web development skills. It offers free SSL, supports up to 500 products without added costs, and provides an AI-driven website builder.
Pricing: Starting at $2.99 per month.
3. Wix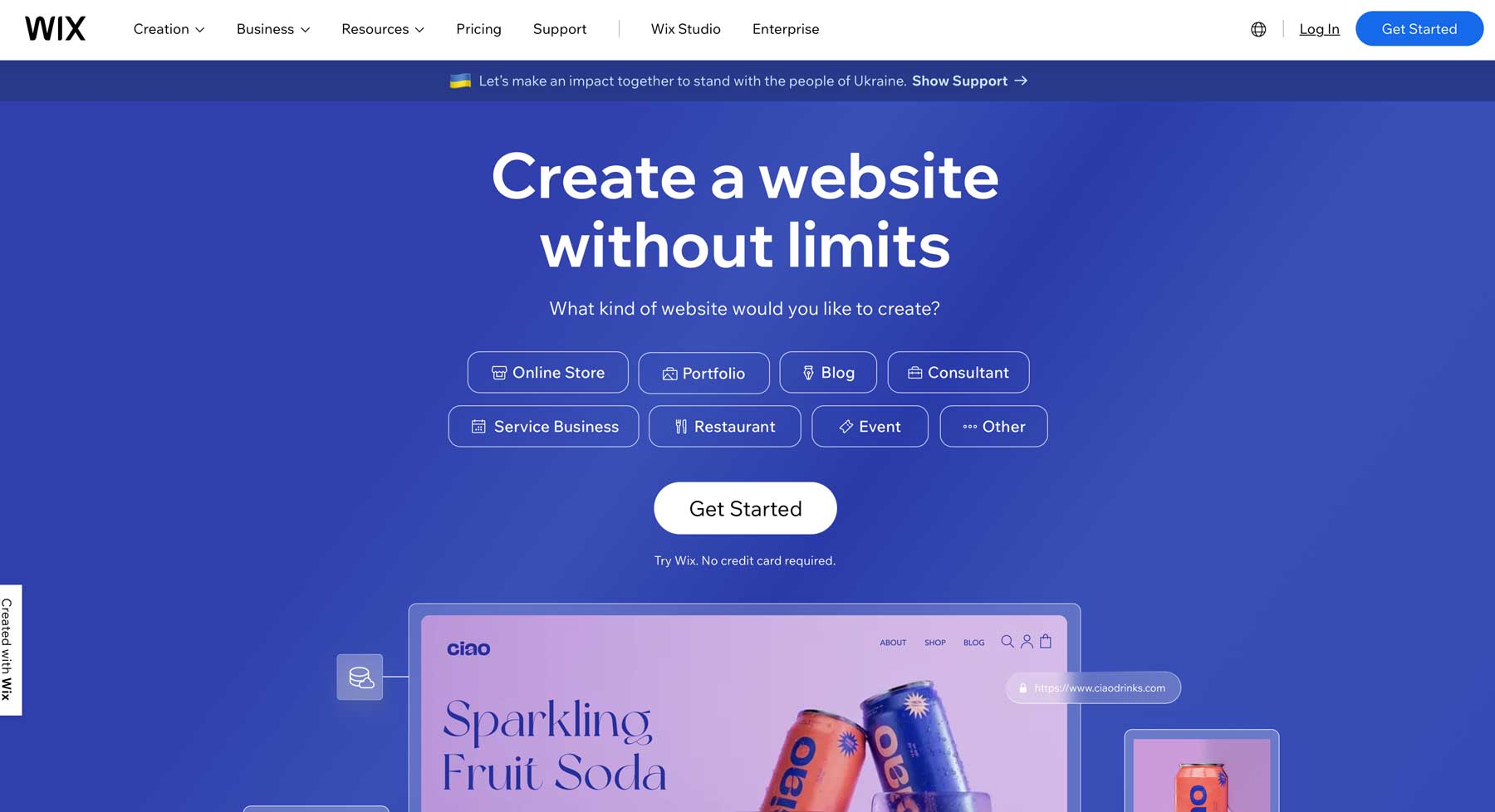 Our next ecommerce website builder, Wix, is a fully hosted website platform known for its ease of use and drag-and-drop builder. They offer an online shop that's built-in to the interface, so there's no plugin or extra software to install. Unlike platforms like WordPress, adding products is quick and easy. You can also add coupon codes, configure a payment method, and send emails to customers, all in the same dashboard.
Key Features of Wix:
Drag-and-drop visual builder
Site analytics, inventory management, and marketing tools
Fully hosted (domain, hosting, and site included)
Large selection of templates
Multi-channel selling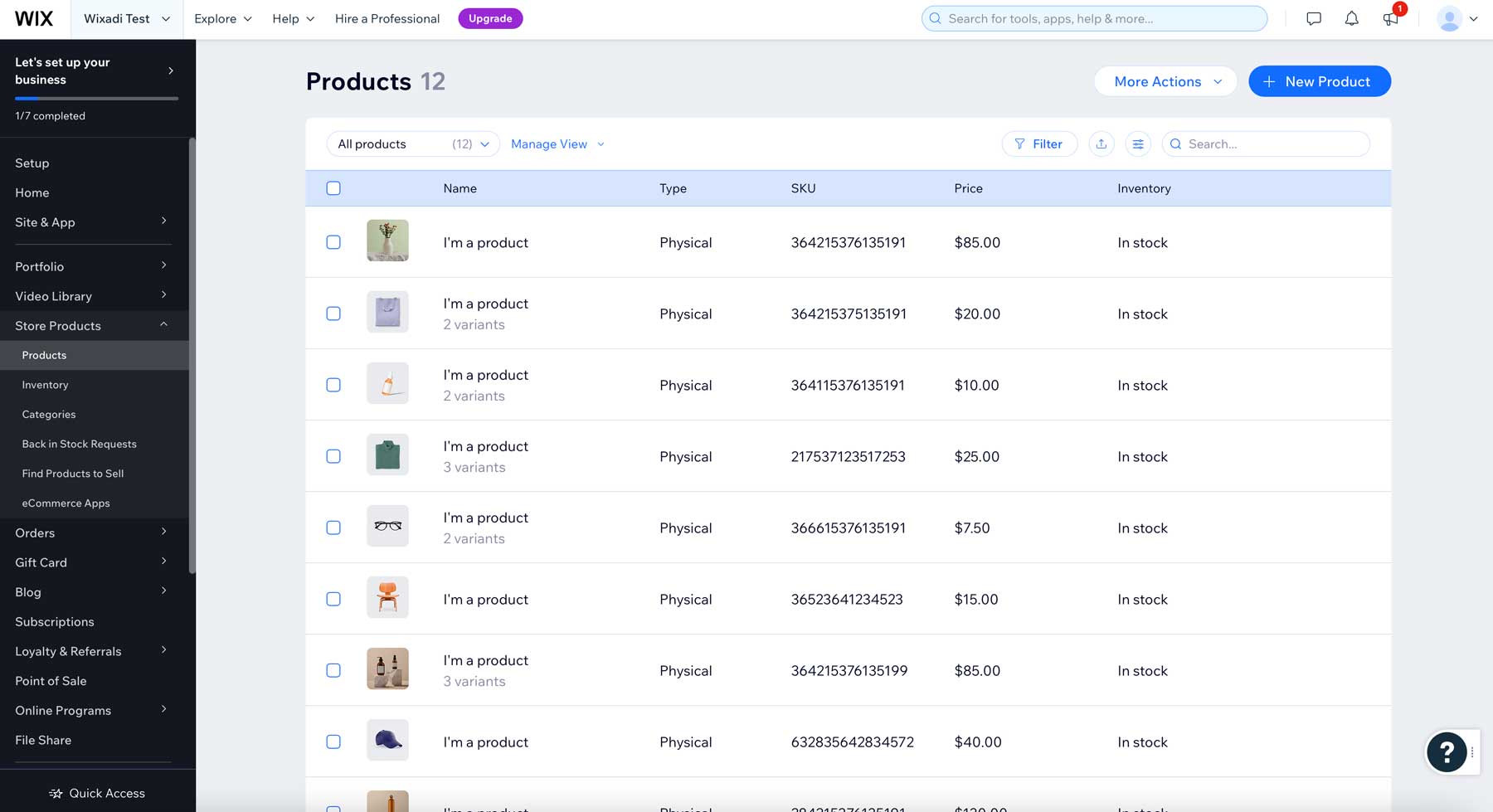 Wix gives you plenty of options for product types and ways to display them. Whether you want to sell physical or virtual products, Wix has you covered. In addition to product types, Wix has an online booking system, should you need to showcase services. There are also over 250 apps you can connect to your online store to streamline stock management, shipping, and tax collection. For example, Wix users can choose between over 50 payment methods, mass import products from a CSV file, track product SKUs, and automatically mark items as out of stock when the last item sells. Plus, you'll get onboard abandoned cart recovery, emailing users who didn't complete a purchase.
Best For:
If you're looking for an all-in-one ecommerce website builder, Wix is a great choice. With a vast selection of templates and apps, you can rest assured Wix can handle whatever type of store you want to create. Pricing is affordable, too, with plans starting at $16 per month. However, to accept payments, you'll have to sign up for the Core Plan, which costs a bit more at $27 monthly.
Pricing: Free, with ecommerce plans starting at $27 monthly.
4. Shopify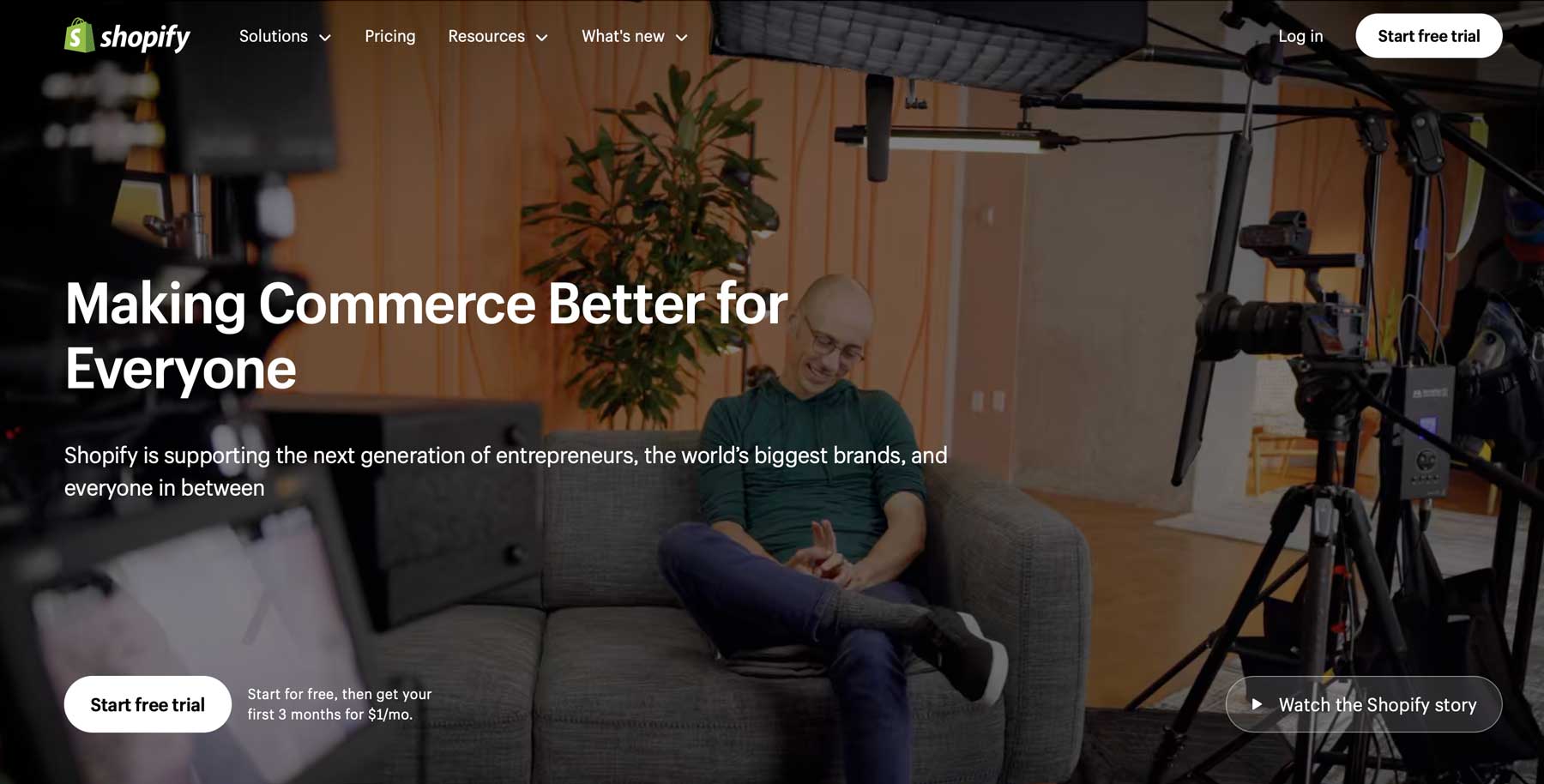 Shopify is one of the most renowned ecommerce website builders in the business. The platform offers extensive shop management tools, built-in payment processing, and discounts on shipping physical products. They also provide an easy multi-channel selling solution where you can submit your products on your store to social media platforms like Instagram.
Key Features of Shopify:
Cross-selling capabilities
Inventory and store management tools
Site analytics and performance reports
Discounts on shipping
Drag-and-drop builder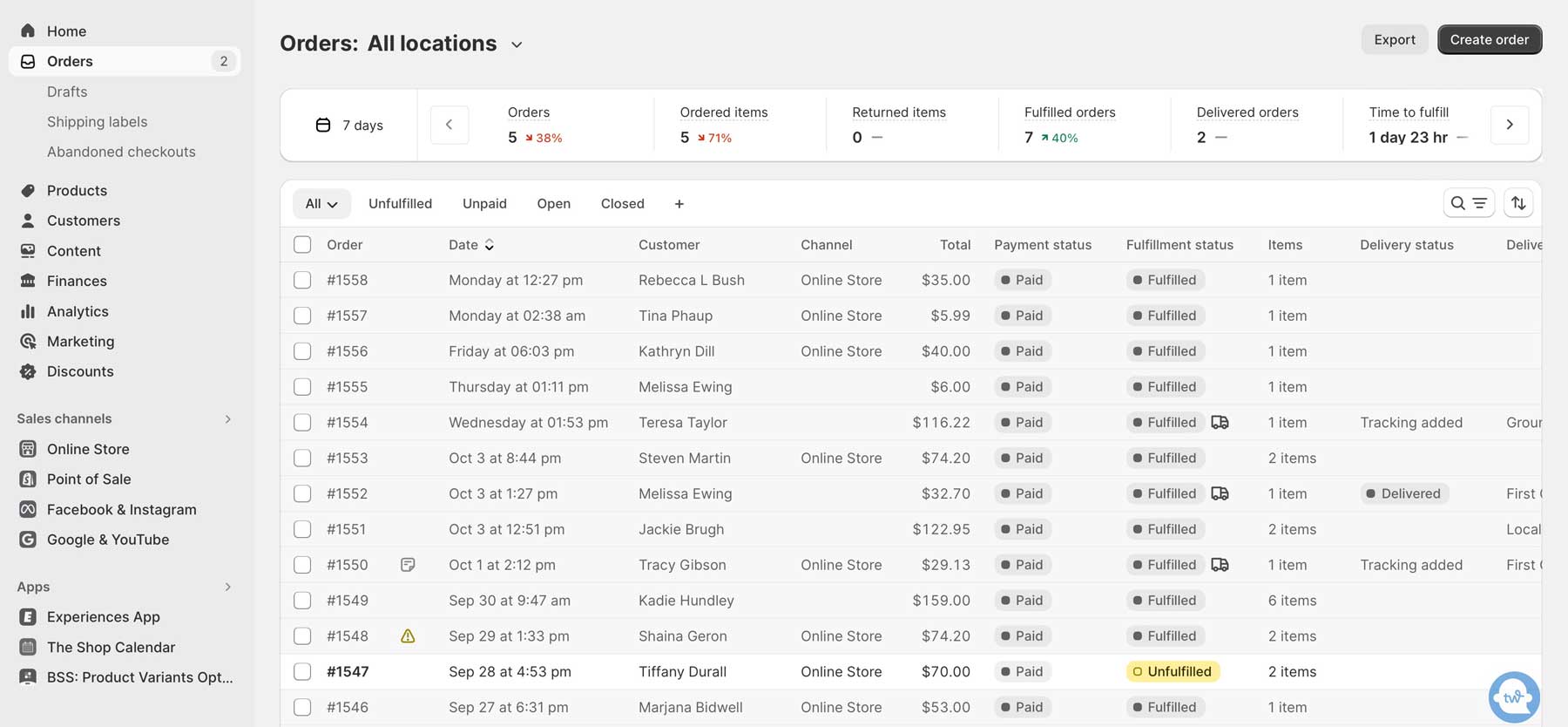 The best feature of Shopify is its inventory and order management. Users can easily move products in or out of stock, manage orders, and sort them according to fulfillment method or delivery location. There's also an easy way to make edits before proceeding to shipping. Additionally, shop owners can notify customers through SMS messages when their order ships.
Best For:
Shopify is an excellent platform for selling products in multiple arenas, offering plenty of themes. They offer an intuitive drag-and-drop ecommerce website builder that's easy to use. However, there are downsides. It requires extensive coding knowledge if you need to change the code or elements of the theme. Therefore, Shopify may not be the best choice for beginners.
Pricing: Starting at $39 per month.
5. Squarespace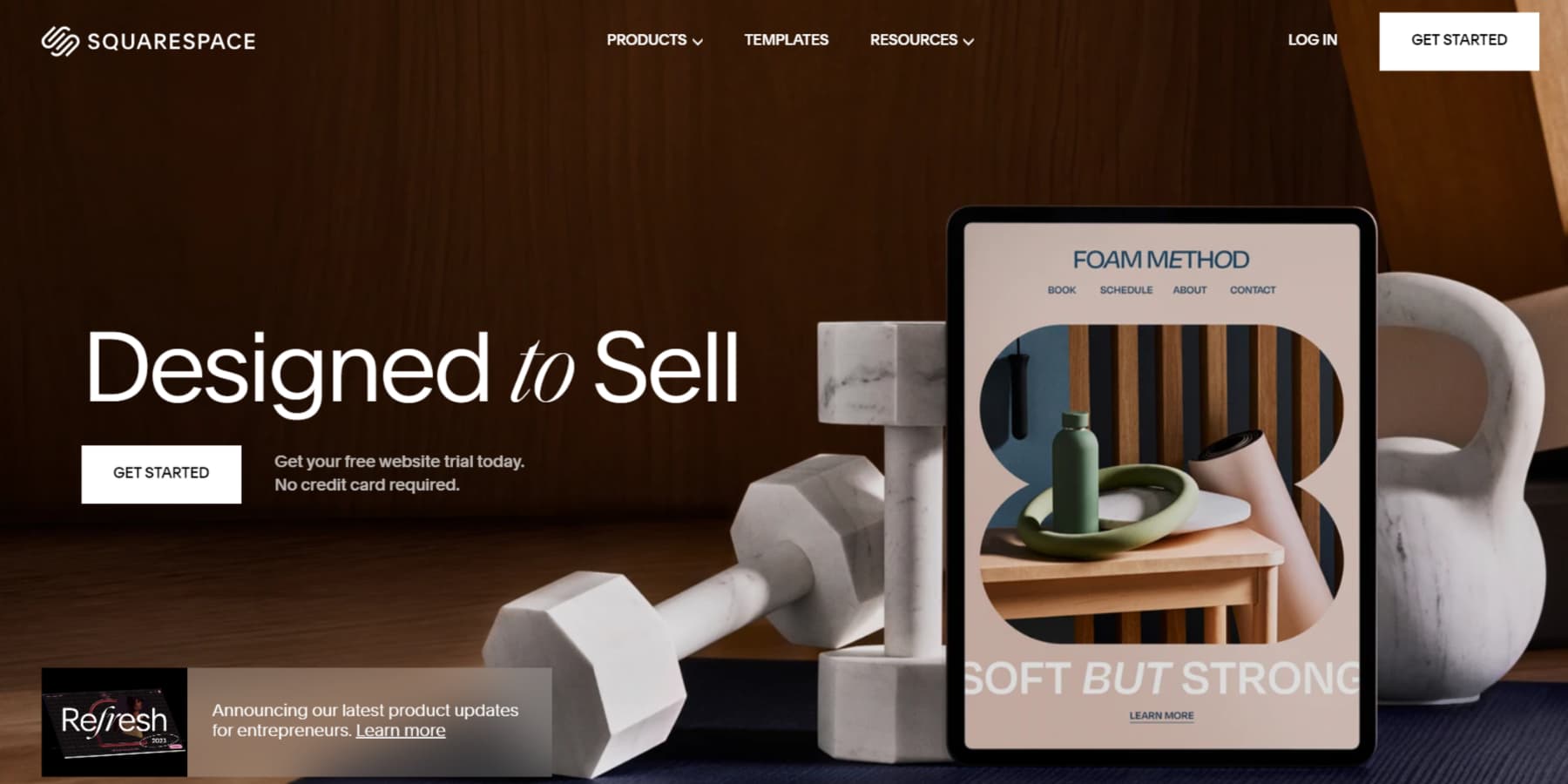 Squarespace is another all-in-one ecommerce website builder to consider. A subscription includes everything you need to launch an online store, including a domain name, hosting, a drag-and-drop builder, and built-in ecommerce features. It also provides many security features, including an SSL certificate, 2FA (two-factor authentication), DDoS attack protection, password-protected pages, and a login activity dashboard.
Key Features of Squarespace:
14-day free trial
Easy product management
Automatically post new products to social media
Custom checkout forms
Robust security features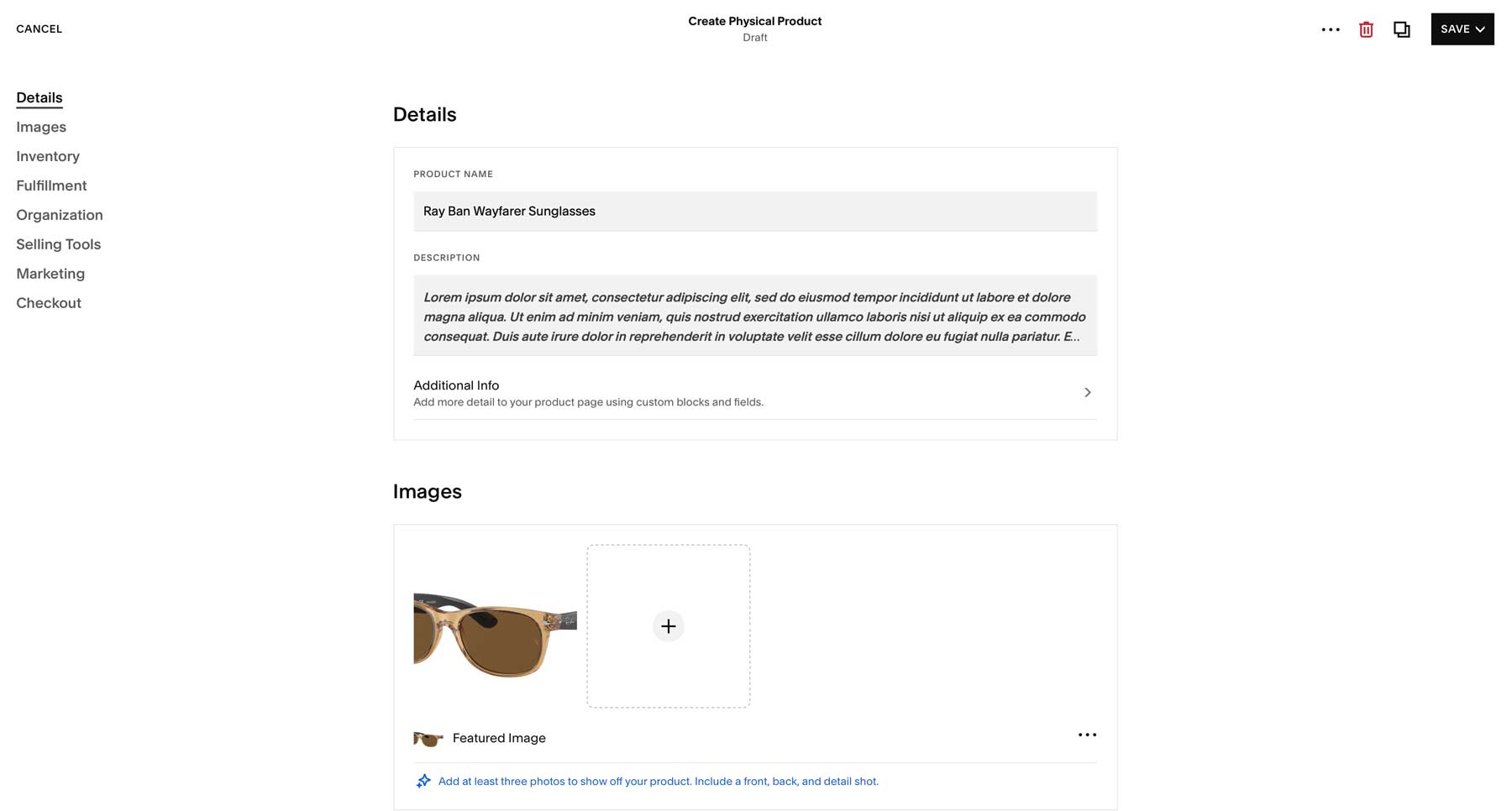 One of the best features of Squarespace is how easy it is to set up products. The product creation page includes a simple interface to add details about your product, along with categories, tags, images, inventory levels, shipping fulfillment, customer reviews, and more. You can also cross-promote on social media by notifying followers whenever you launch a new product. Users can create custom payment forms to capture the most essential information during checkout.
Best For:
Squarespace is built for beginners with its simple interface and drag-and-drop editor. Plenty of templates exist, so finding the right look for your site is a breeze. However, you won't get the same level of customization as you would with WordPress or Wix, so those looking to start with a template and tweak it to suit their style preferences will want to look elsewhere.
Pricing: Starting at $16 per month.
6. Weebly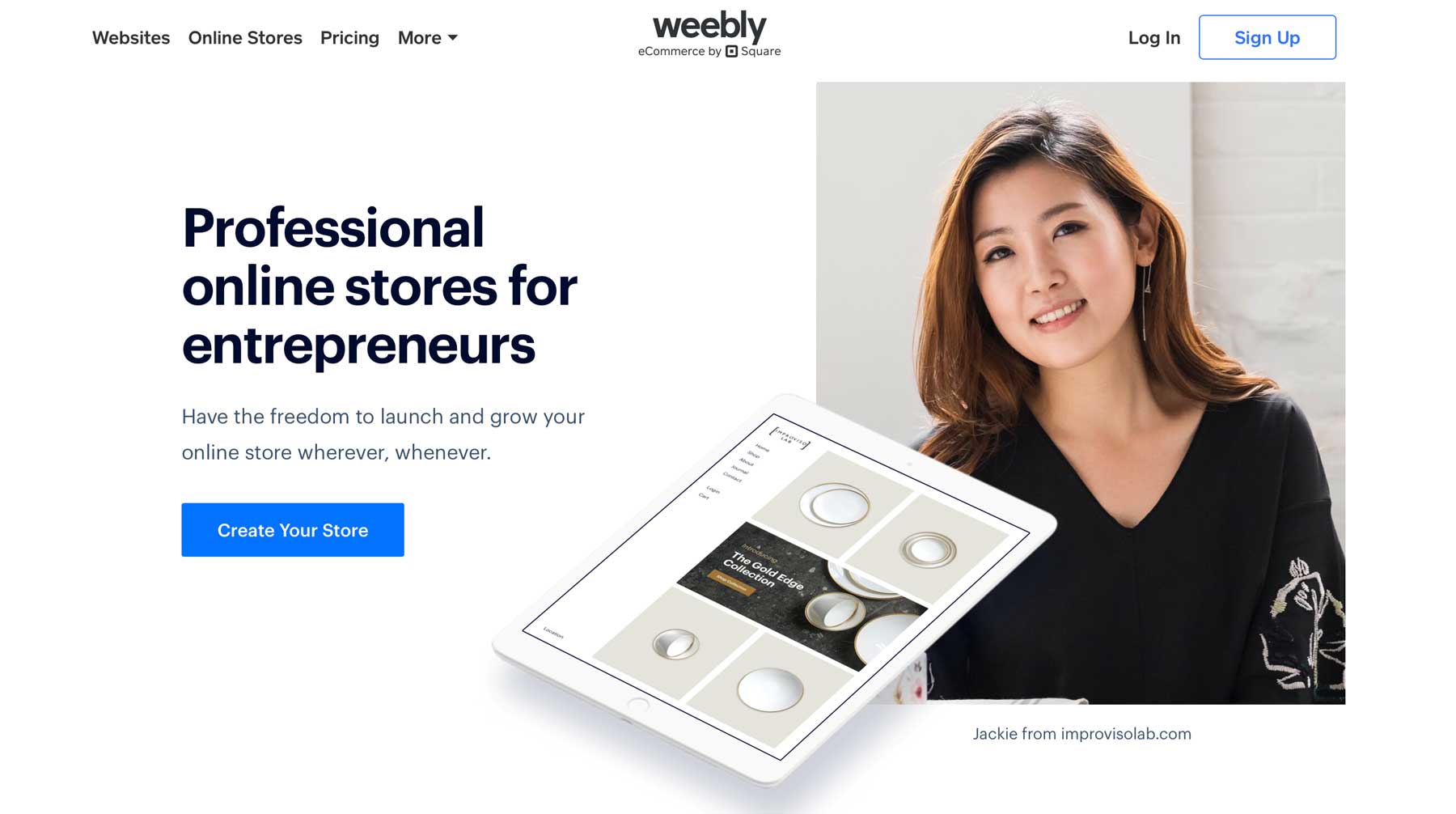 Up next on our list of best ecommerce website builders is Weebly. It offers two drag-and-drop builders, one for non-commerce websites and another powered by Square Online. They provide over 50 mobile-friendly themes to help get you started and an app center with over 350 apps for ecommerce, marketing, communication, social media, and site feature enhancements.
Key Features of Weebly:
20+ ecommerce themes
Weebly app center
Drag-and-drop ecommerce builder powered by Square Online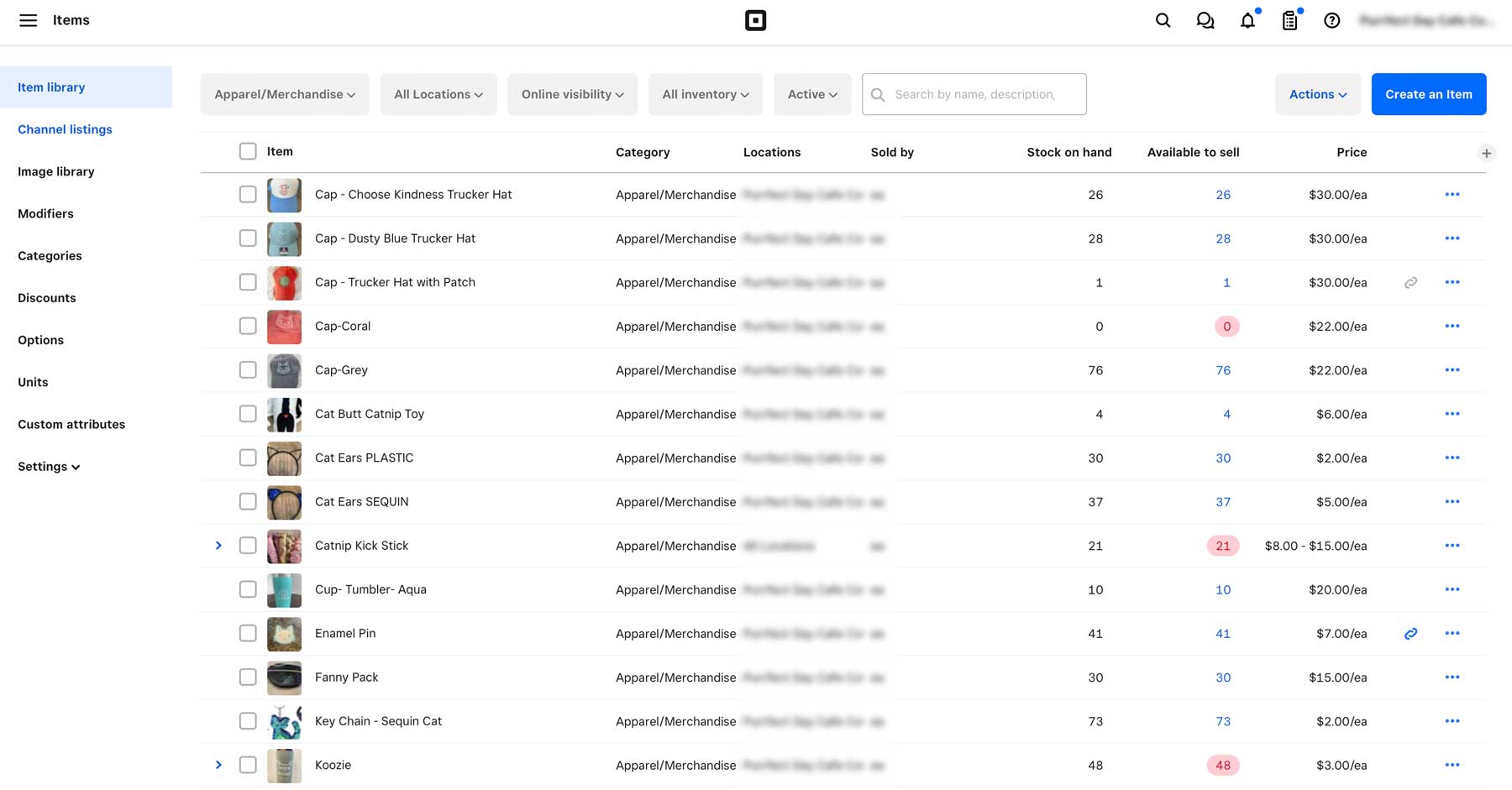 Weebly's ecommerce features include inventory management, product options, secure checkout, and the ability to sell both physical and digital products. That said, it has other essential features, such as built-in marketing tools. For example, you can use Weekly's drag-and-drop editor to craft email campaigns and track their performance by viewing click-through and open rates. Users can also build and segment email lists based on demographics such as location or profession.
Best For:
If you're looking for an all-in-one ecommerce website builder that won't break the bank, Weebly could be a good option. With plenty of ecommerce features, such as inventory management, segmented email lists, and an intuitive drag-and-drop builder for creating products, Weebly is a viable, affordable option for beginners.
Pricing: Free, with plans starting at $10 per month (billed annually).
7. Duda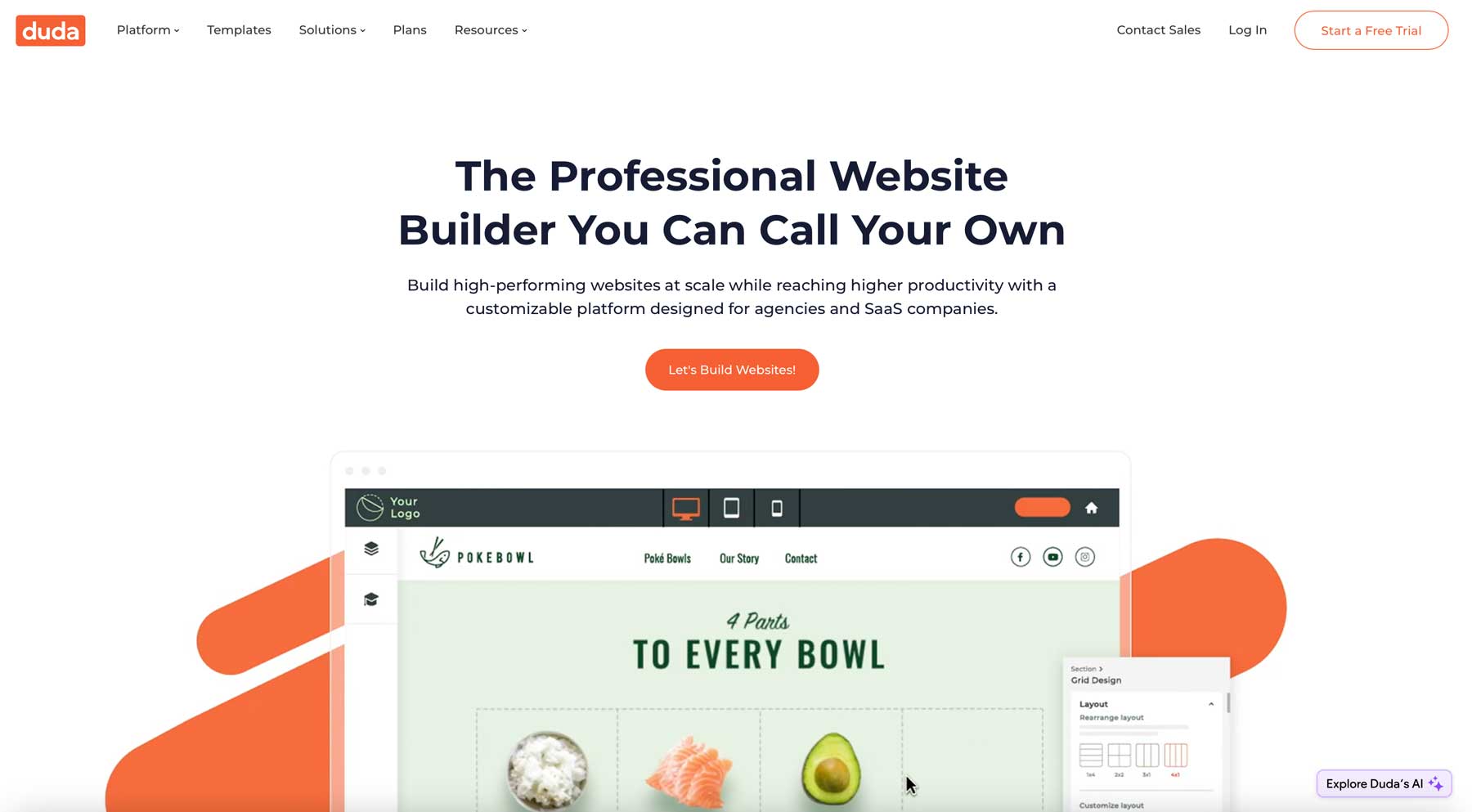 Our next ecommerce website builder, Duda, is often compared to WordPress. As a content management system, Duda is quite powerful. It offers a drag-and-drop page builder, the ability to add custom code for customization, and blazing-fast speeds thanks to its AWS hosting backbone.
Key Features of Duda:
Client management, white-label branding, and marketing tools
100's of design widgets and pre-made sections
150+ themes, with 20+ specifically for online stores
AI-powered SEO tags
14-day free trial (no credit card required)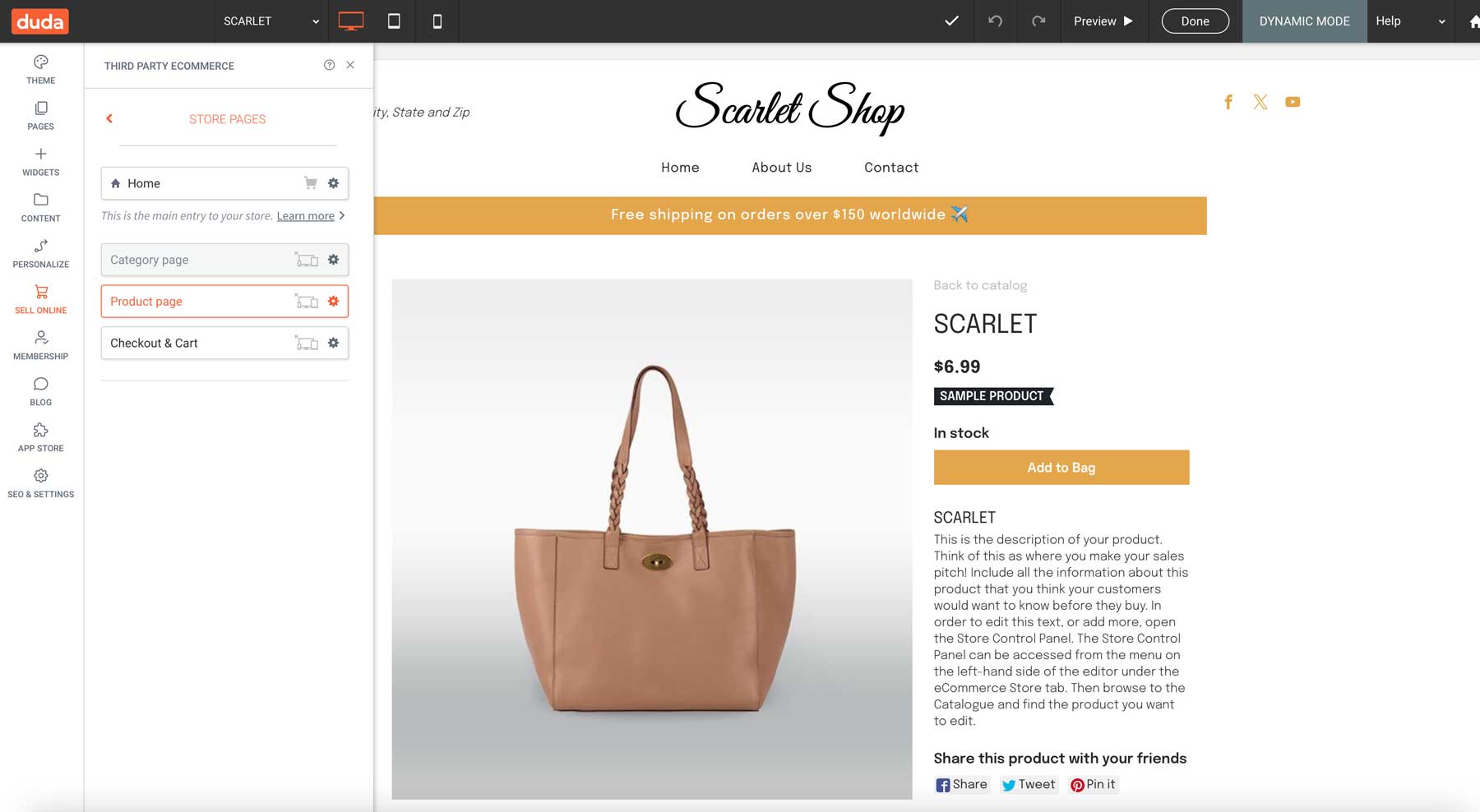 Duda's ecommerce offerings are pretty impressive. It provides three store options: Standard, Advanced, and Unlimited. The Standard store provides 30+ payment gateways and the ability to sell up to 100 products, which is likely enough for small businesses. However, Duda can handle ecommerce mega-sites, too, with unlimited products and a point-of-sale (POS) system powered by Square. Users can design every aspect of their store, from the shop page down to individual product pages, with a drag-and-drop editor, hundreds of design widgets and sections, and up their SEO game with AI-powered SEO tag generation.
Best For:
Duda is an excellent option for those looking for ultimate control over the look and feel of their online store. With a drag-and-drop ecommerce website builder, the ability to sell unlimited products, and an all-in-one SaaS platform, even the bigger players will find features they love. The downside to Duda is that to sell products; you have to sign up for hosting and pay an extra fee to sell online.
Pricing: Starting at $19 monthly (billed annually) for the builder and hosting. Ecommerce capability starts at an additional $7.25 per month.
8. BigCommerce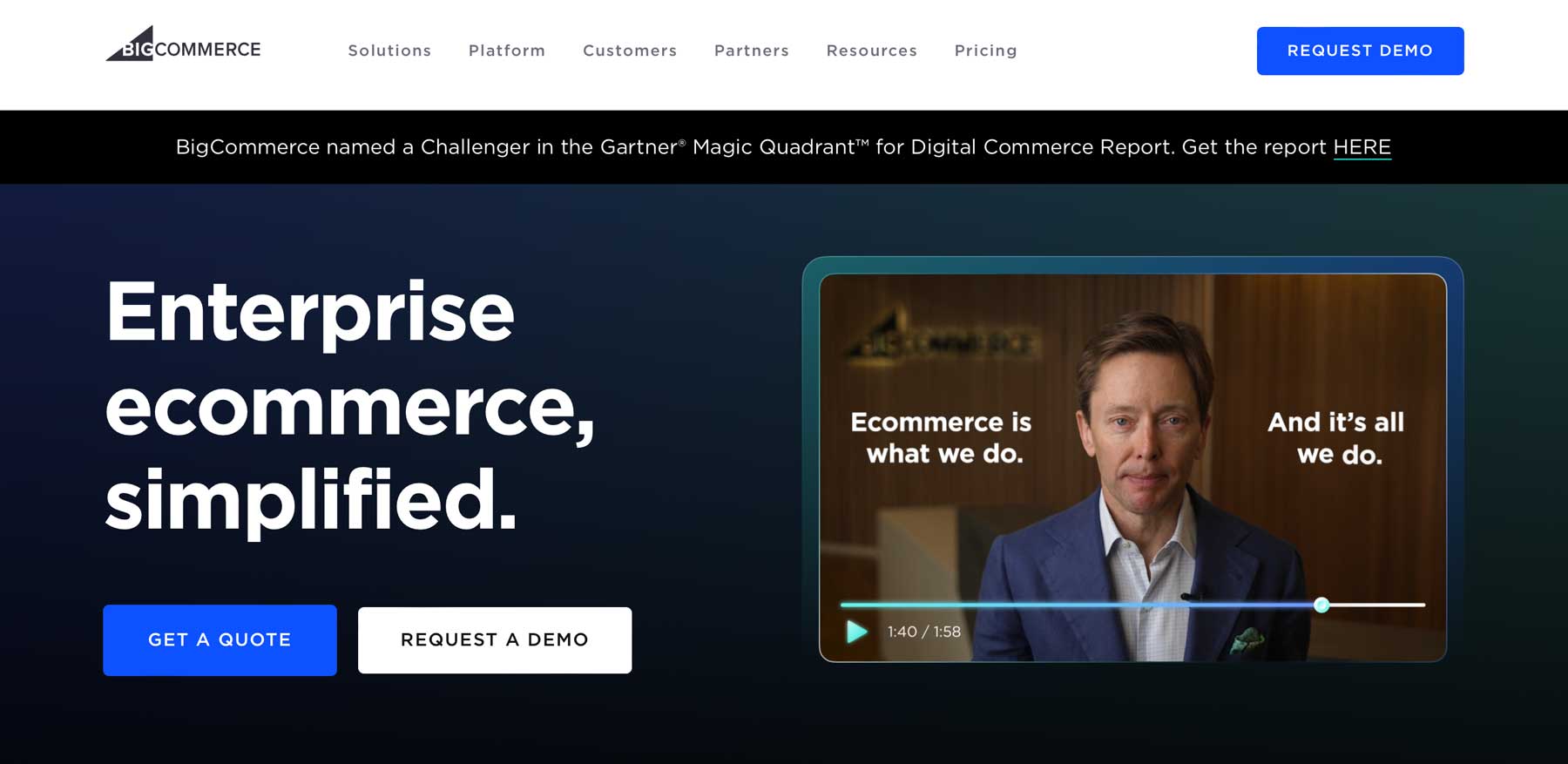 BigCommerce is another ecommerce website builder worth considering. It offers features such as multi-channel selling so that you can sell products on Amazon, eBay, Walmart.com, and social media platforms like Instagram. BigCommerce also allows for multiple storefronts to sell different products for different applications. If you're a WordPress user, BigCommerce can easily be integrated with a plugin, making it a versatile platform for almost any business.
Key Features of BigCommerce:
Sell on multiple platforms, including Walmart, Amazon, and social media
Unlimited products
multi-storefront
BigCommerce mobile app
Shipping calculator
15-day free trial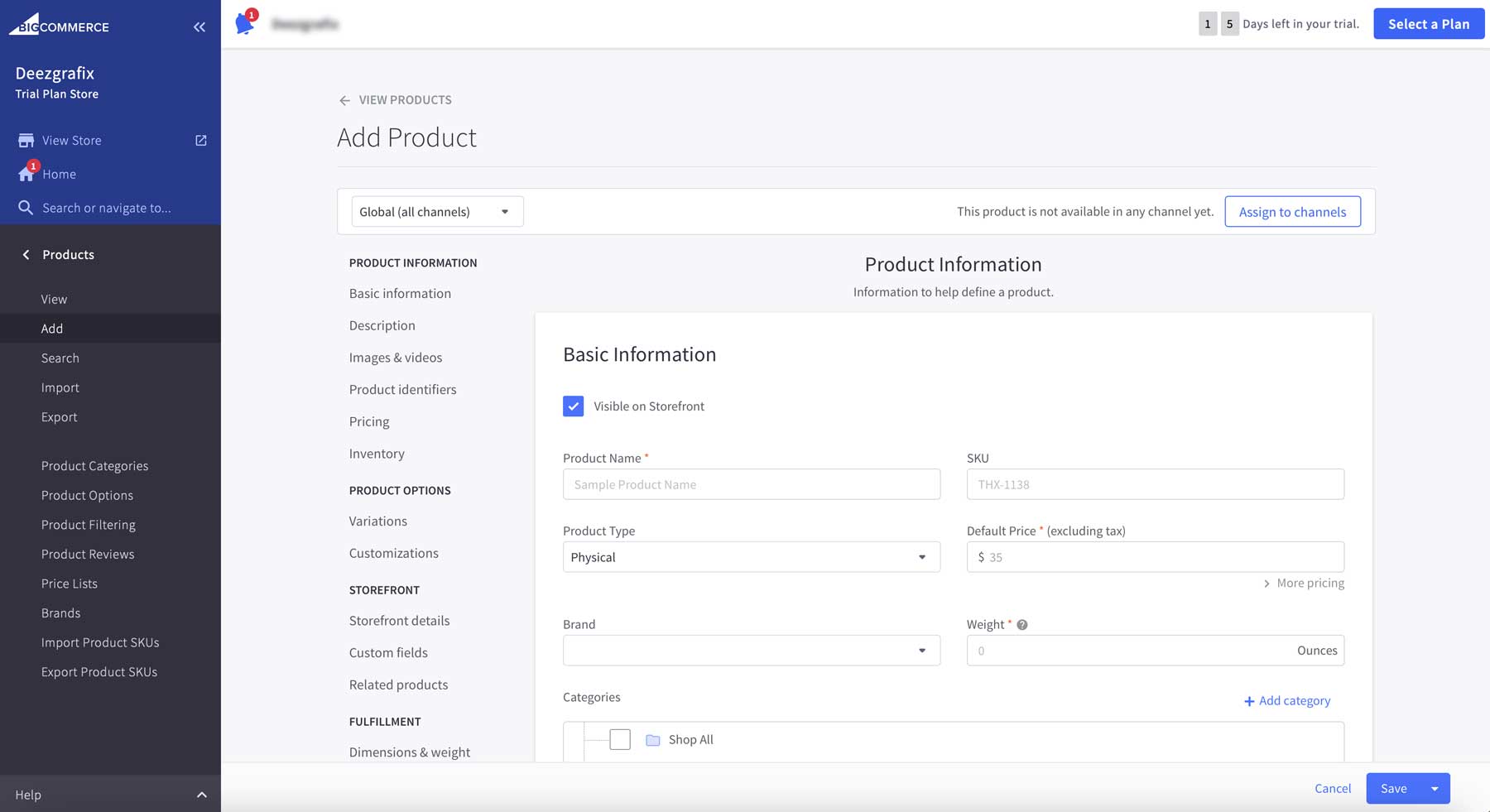 BigCommerce has a drag-and-drop builder with 12 free ecommerce templates, but the design modules could be better. The real star of the show is the individual product options. Aside from adding basic information like product type and description, the product editor can add variations, images and videos, shipping calculations, and gift-wrapping options. Users can add product modifiers through custom fields to include customer note sections and forms as a bonus.
Best For:
BigCommerce is a powerful ecommerce solution for any business. With plans catering to individuals and enterprise clients alike, those seeking a custom solution will find it appealing. Companies can list products on big box retailers like Walmart, Amazon, or social media, making it a perfect multi-channel ecommerce solution. Plus, integration with WordPress provides customization lacking in BigCommerce's drag-and-drop builder.
Pricing: Plans start at $29 per month (billed annually).
9. Shift4Shop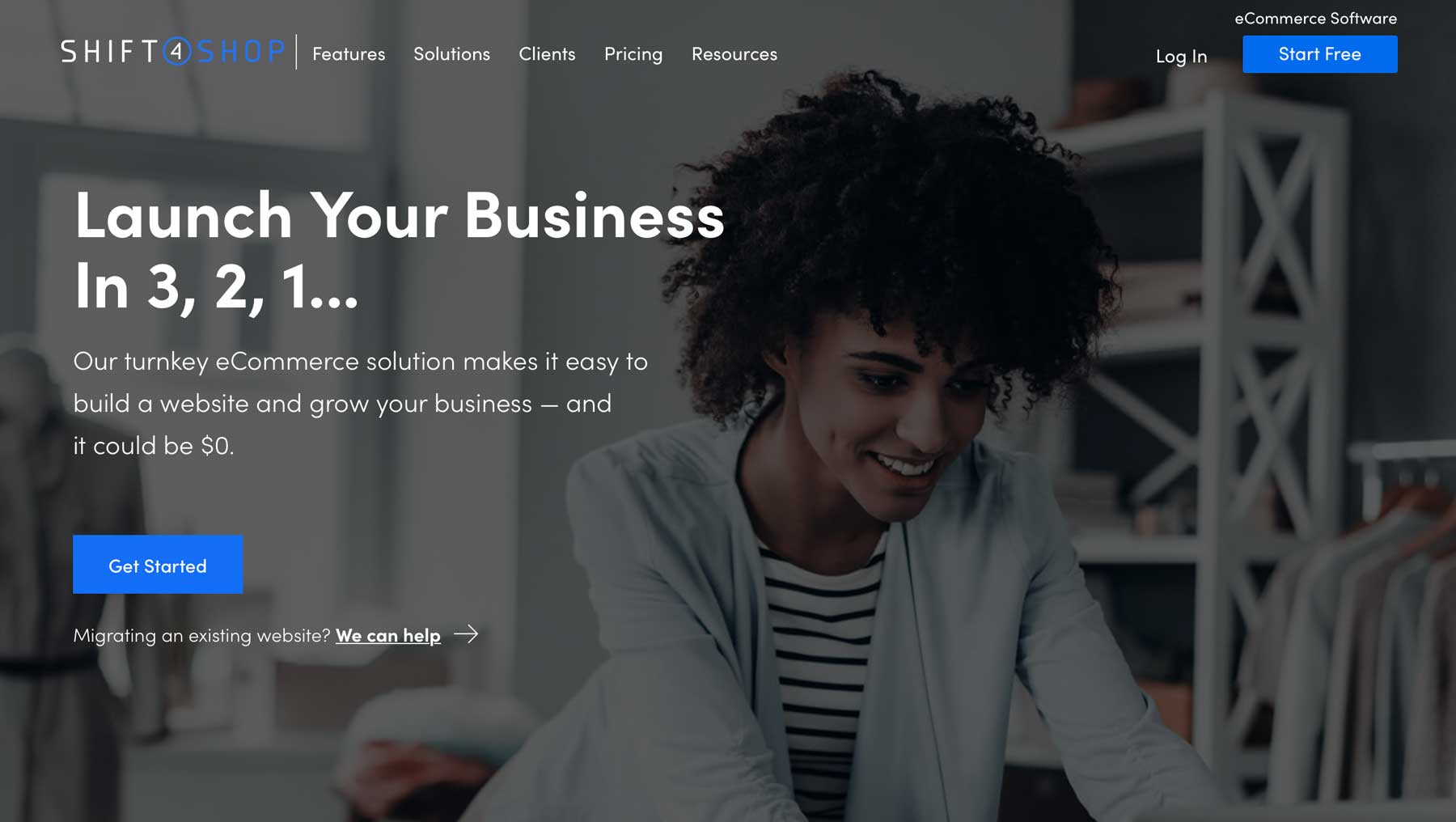 Up next on our list of best ecommerce website builders is Shift4Shop. It offers a wealth of features for free as long as your online store generates at least $500 in monthly sales. As an all-in-one platform, you'll have access to over 100 premium ecommerce themes, a free domain, SSL certificate, migration, and AI-powered fraud detection courtesy of Kount.
Key Features of Shift4Shop:
100+ free themes
Free tier (for customers who sell more than $500 in a month)
AI-powered fraud detection
Free migration
Extensive App Store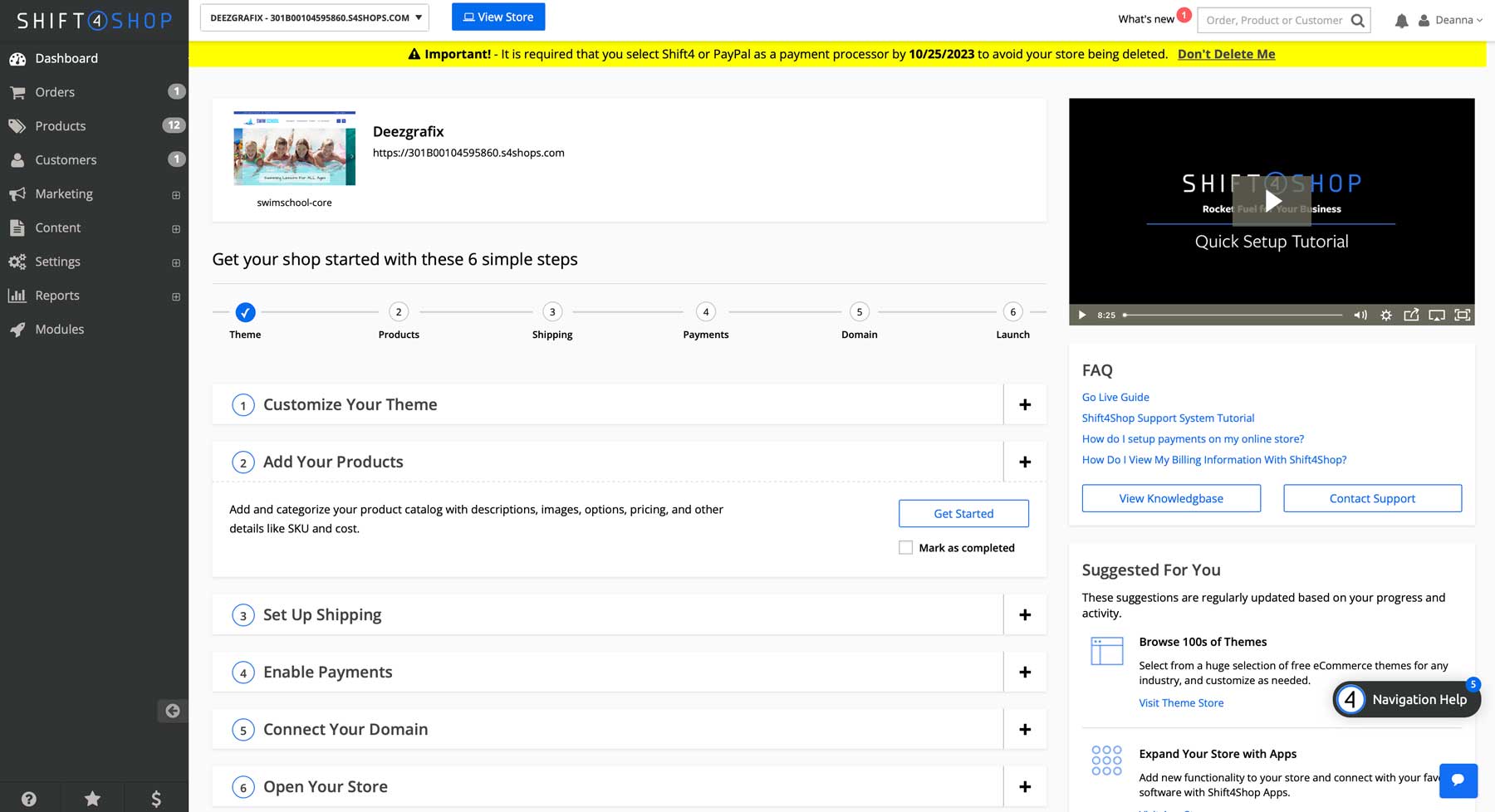 Shift4Shop includes all the necessary features to get your site up and running, including shipping and tax calculation, single-page checkout, order editing, product reviews, upsell & cross-sell features, gift wrapping, and returns. Additional notable features include shipping label creation, product image zoom, and advanced reporting. There's also an extensive App Store for adding more functionality. However, Shift4Shop's best feature is its drop shipping capability, so you can set up shipping through a third-party solution.
Best For:
Shift4Shop is a good choice for those with a limited budget but want extensive ecommerce features. They provide a free tier for those who have more than $500 monthly sales. However, they only offer two payment gateways, including PayPal and Shift4, which charge 2.9% + .30¢ per transaction, so their "free" plan is a bit misleading.
Pricing: Free, with unlimited plans starting at $29 monthly.
10. Volusion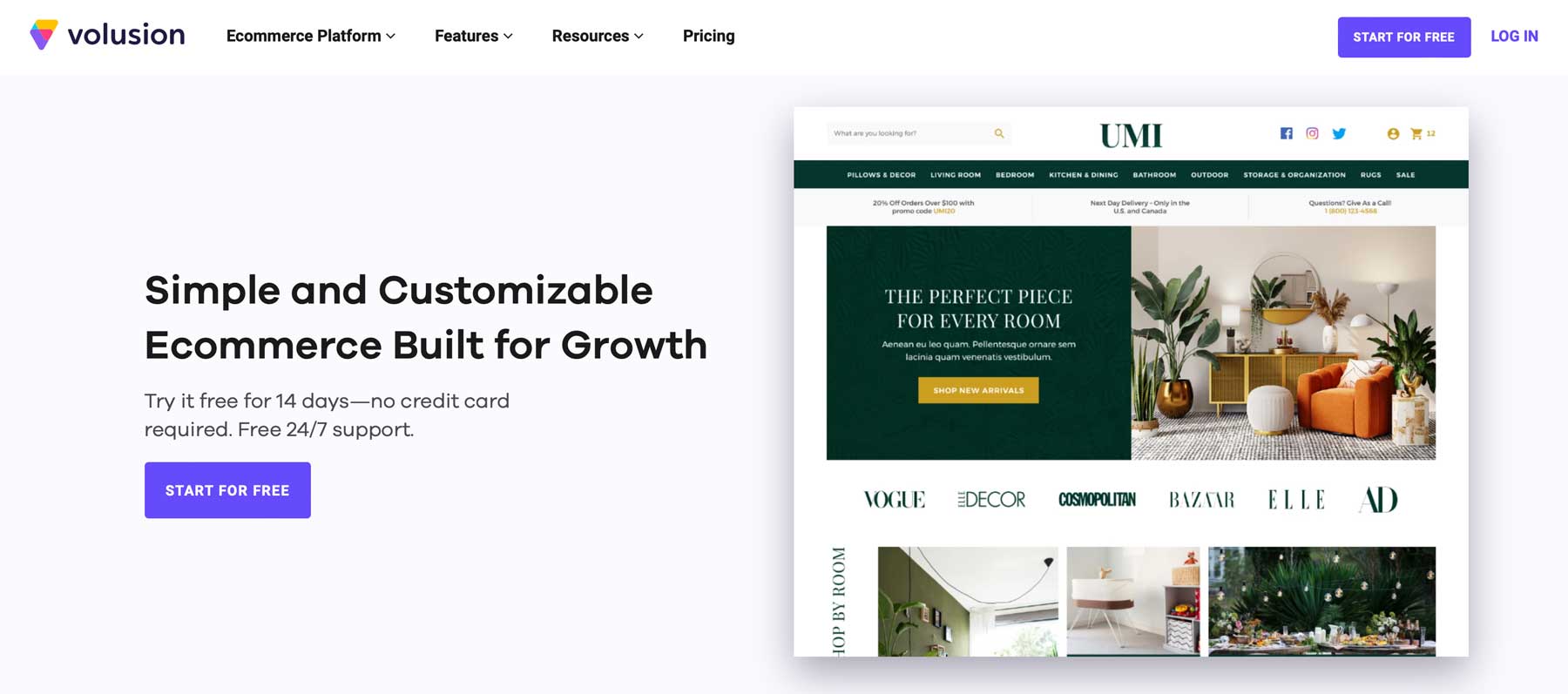 Our next ecommerce website builder, Volusion, is packed full of features to get your new ecommerce website up and running. Order processing is streamlined with an intuitive interface, allowing you to manage all orders on one screen easily. The same can be said about the product tab, where you can view low-inventory items, manage stock, and add new products. Volusion also provides selling options for Google and eBay. You can also create custom coupon and discount codes and add Facebook and X (formerly Twitter).
Key Features of Volusion:
Integrated CRM
Cross-selling capable
Subscription-based products
Seamless integration with third-party vendors
14-day free trial (no credit card required)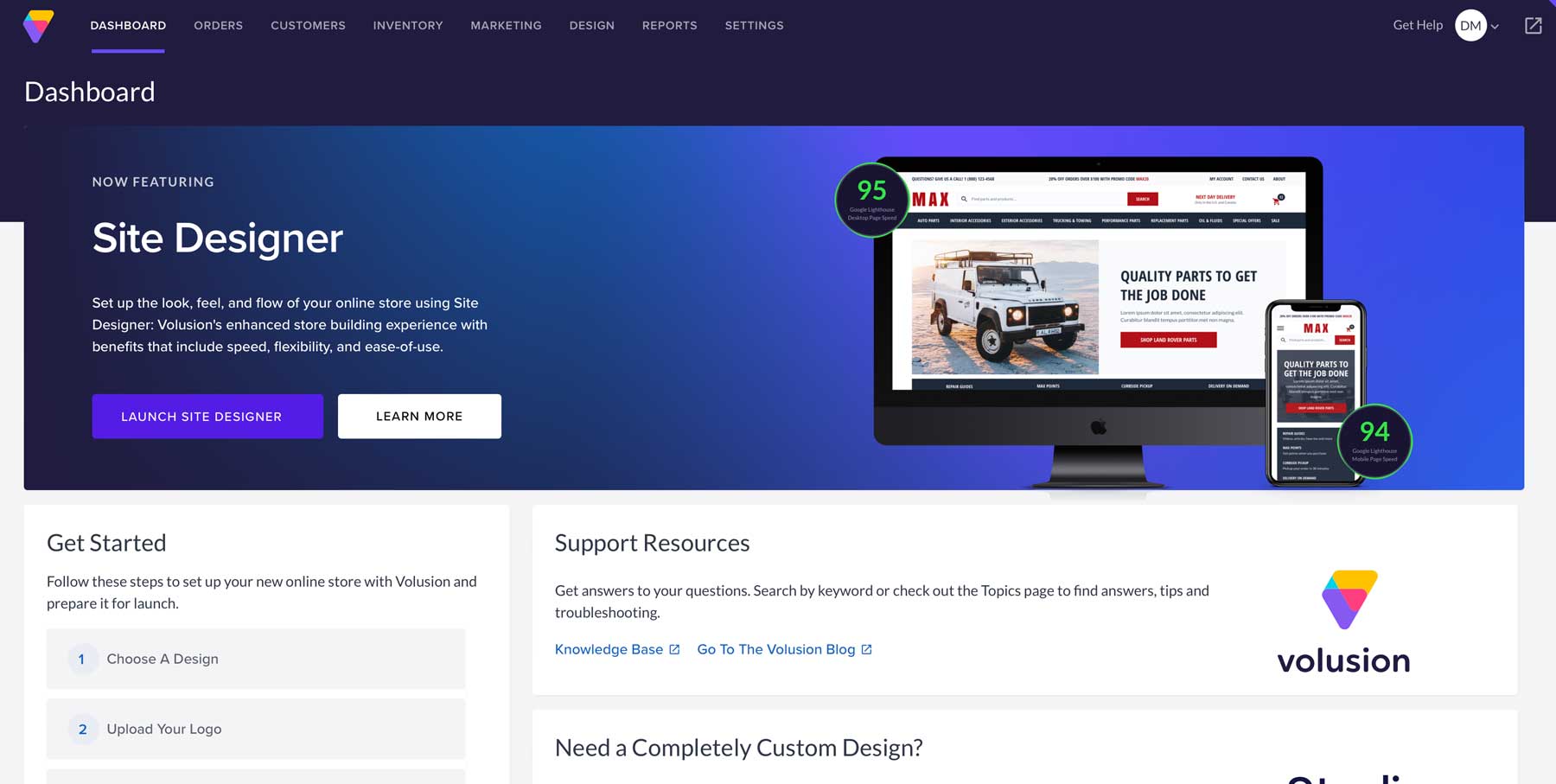 Volition's dashboard is the most intuitive on our list. You can easily access your site design, orders, customer list, inventory, and marketing tools with a click. There's also a reports section so you can keep track of how your site is performing. Under the design tab, you can change your site's design and content and generate a custom logo for your brand, thanks to integration with the Looka logo maker.
Best For:
If you're looking for an ecommerce website builder with many features at your fingertips, Volusion is worth a look. They offer a 14-day free trial so you can test out the platform without the hassle of having to cancel a plan. Those with little design and store management experience will appreciate the simplicity of the dashboard, where all tools are easily accessible.
Pricing: Plans start at $35 per month.
11. Big Cartel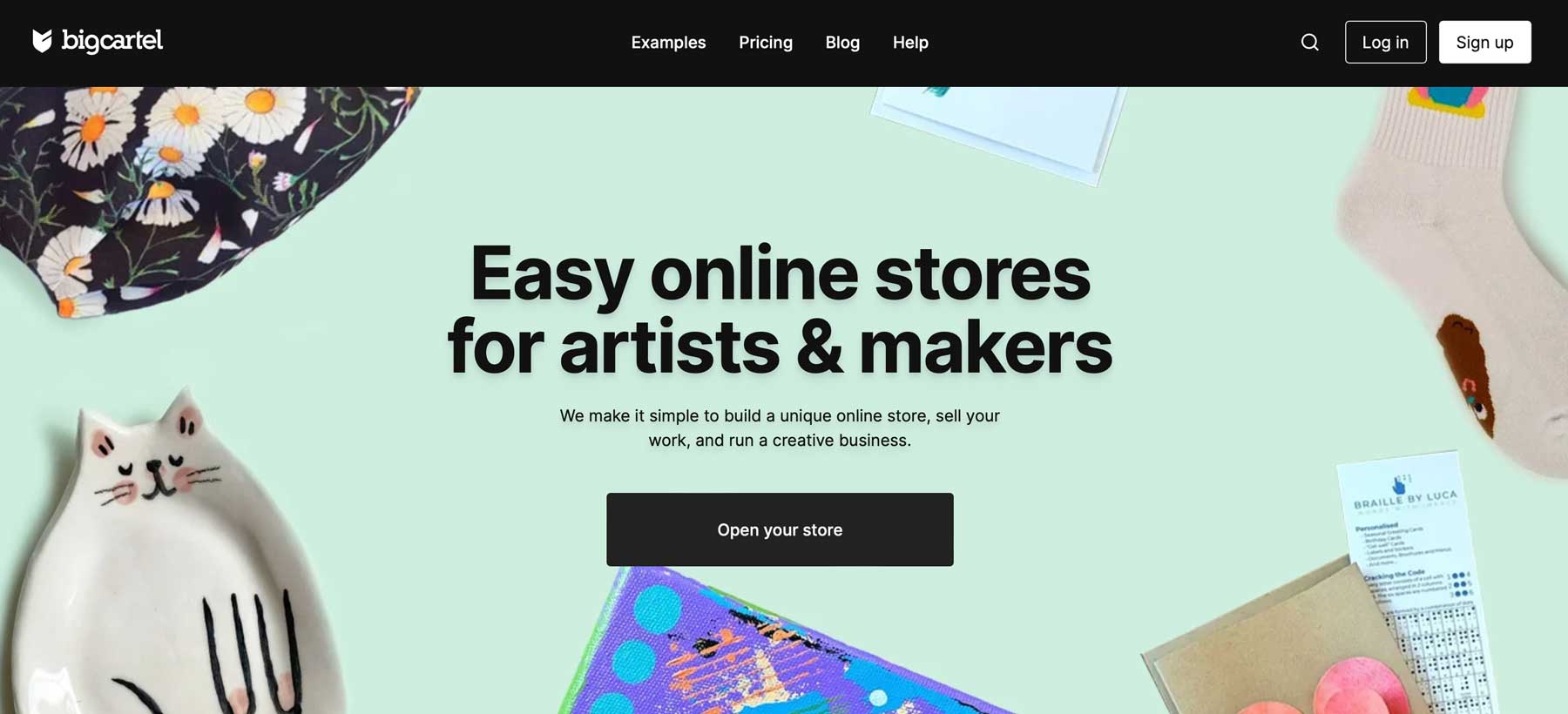 Last but not least is Big Cartel, the most user-friendly option on our list. Advertised as the go-to solution for artists, it's a fully hosted solution for beginners looking to open an online business. Designed in 2005 by a musician looking to sell his music online, Big Cartel mainly caters to creative types. However, the platform is suitable for any small business due to its affordable pricing model. The downside is that there's no drag-and-drop editor, so theme customization is limited.
Key Features of Big Cartel:
Sell up to 5 products for free
Free customizable themes
Offer discounts & promos
Automatic tax calculation
Site analytics reports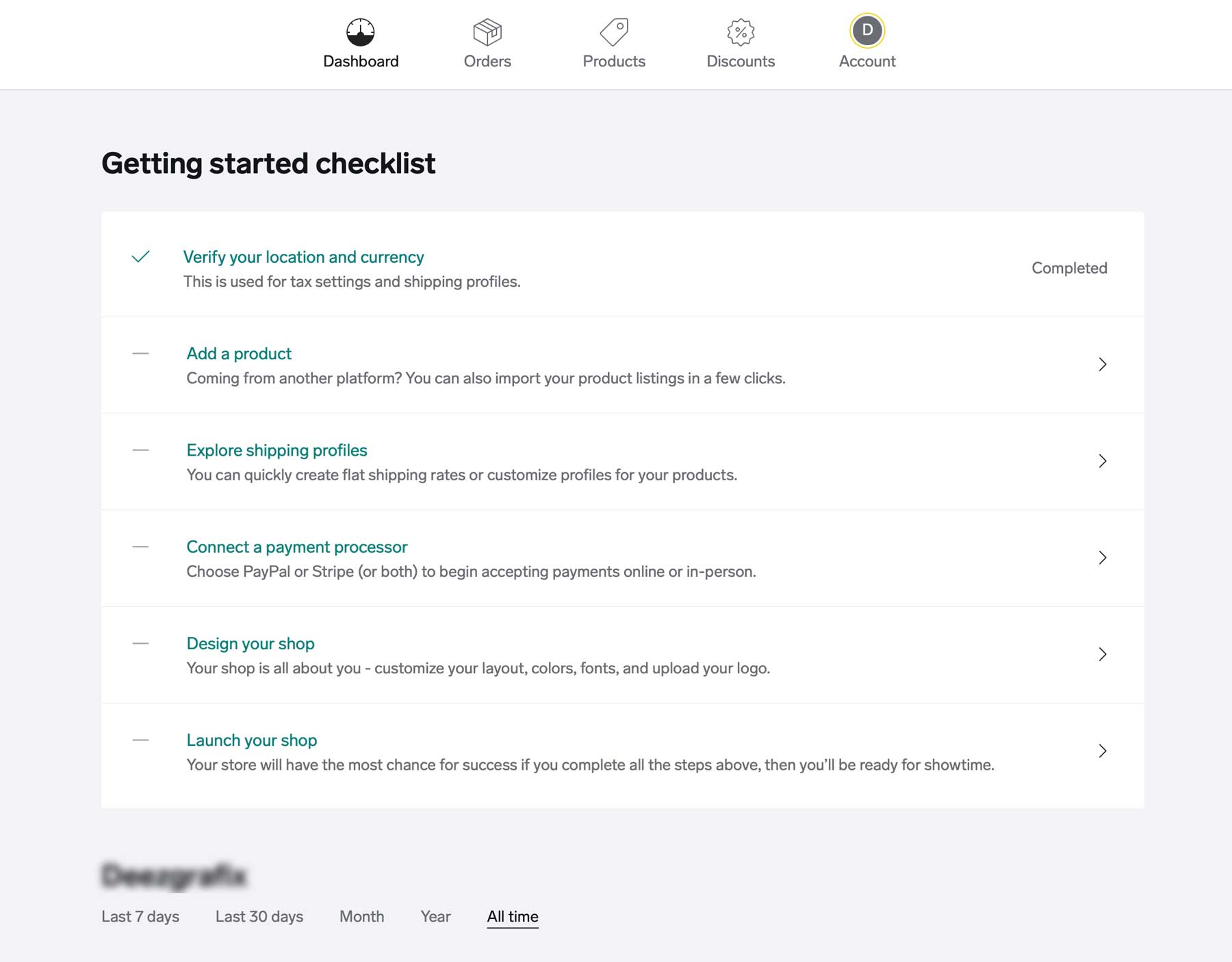 By far, the best feature of Big Cartel is its ease of use. Upon your first login, you're met with a handy setup wizard that walks you through each step in setting up your online store. As you walk through the steps, you'll understand why it's perfect for beginners. Big Cartel makes things easy, from adding products to setting up shipping locations. Payment gateways are limited, with only two options: PayPal and Stripe. However, simplicity doesn't negate features. You can still set up shipping options, discount codes, and taxes. As a bonus, Big Cartel takes the guesswork out of tax calculation by automatically setting that up based on your store's location.
Best For:
If you're starting or own a small business, Big Cartel could be a good fit. They offer a free solution where you can list up to 5 products without a monthly fee. That said, store owners are confined to a maximum of 500 products, so if you aim to be the next Amazon, it's best to look elsewhere.
Pricing: Free, with monthly plans starting at $10.
Comparing the Best Ecommerce Website Builders
When deciding which ecommerce website builder is the right fit, it's important to consider price, features, and ease of use. Each entry on our list is relatively affordable for most. Generally speaking, they all share similar features: a page editor, free themes, and order management. So, ultimately, the choice will come down to what's most important to you.
Best Ecommerce Website Builder Price Comparison
To help you choose, we elected to include a side-by-side comparison so you could see each builder's pricing and whether there's a free version.
What is the Best Ecommerce Website Builder?
We have included some incredible options for the best ecommerce website builders available. However, two offer everything an online store would need to get started at an affordable price. WordPress and Wix offer great customization options, many theme options, and a complete online checkout process.
WordPress has the edge over Wix in a few areas. With WordPress, you have control over the ecommerce solution, the payment methods, and cart options, so you have more choices. Plus, the amount of plugin and theme choices can't be beat. Finally, WordPress is free, so you can control costs. There are budget-friendly options for hosting, buying a domain, and the software you choose to install.
That said, Wix is an excellent option for those who want to create an online store without adding other things to make it work. Out of the box, Wix gives you all the necessary tools to launch your store – hassle-free. You can easily add a theme, products, and content with a fully built site ready to launch in a few hours.
[faq shortcode]
Need WordPress plugins? Check out all our articles featuring the best plugins to use in WordPress.
Featured Image via SkyPics Studio / shutterstock.com