Metrilo for WooCommerce is a growth tool for ecommerce brands that combines in-depth data with customer retention strategies. Analytics tell you all about your marketing and sales efforts, and customer engagement tools maximize the customer experience and encourage repeat sales. Instead of doing just one or the other – gathering insights vs. taking action – Metrilo lets you do everything from one platform.
Getting Started with Metrilo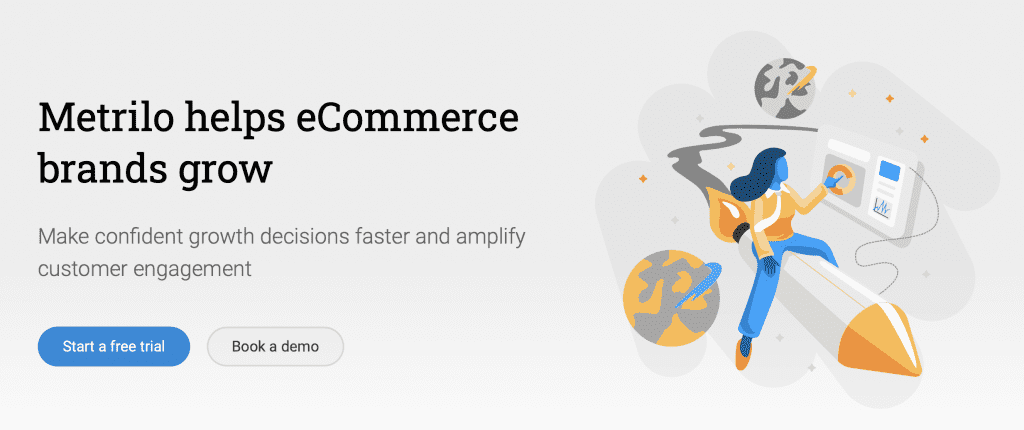 You can connect Metrilo with a few different ecommerce platforms, including WooCommerce. After choosing WooCommerce, you'll go to a page with directions for getting it set up. Setup is super easy – you just install the plugin and then enter a couple API codes (provided by Metrilo) in your WooCommerce settings. (This should go without saying, but you'll need the WooCommerce plugin installed and activated to use Metrilo.)
There are a few more settings to play with, too. You can turn off tracking for people with certain roles, like administrators or contributors. That way, the behaviors of those WordPress users won't get mixed in with your customer insights. You can also opt to not track certain events, like viewing articles, categories or products, or starting the checkout process.
Once Metrilo is set up, it'll automatically add info for any new customers or orders you get. The dashboard will give you a snapshot of what's happening in your shop, including revenue, live visitors, successful orders, conversion rate and most popular products. If you've already made some sales, you can sync the info to Metrilo, too. In the left sidebar, go to "Tools" and click on "Export to Metrilo" underneath.

Metrilo Features
Metrilo's features fall into three categories: marketing optimization, growth and customer retention. Let's go over each one.
Marketing Optimization
Metrilo gives you accurate, real-time data about your marketing efforts and sales. Through the dashboard, you'll be able to tell things like:
If your marketing is leading to enough sales
Marketing channels you should put more money into
Device-specific conversion rates
Issues with website conversions
How many new customers you have
Best-selling products and product bundles
You can get even more detailed information by breaking down revenue in different ways. For example, you can see revenue breakdown by coupon, digital campaign, referrals or social channels. For your products, you can see how many times each one is viewed, how many have sold and the abandon rate.
There's also a funnel report that shows you conversion rates as customers move through the sales funnel. You don't have to set this up – Metrilo automatically adds the conversion steps you have on your site. This report helps you spot opportunities for improvement. In the example below, you might want to close the gap between people who add their product to their cart and people who begin the checkout process. Placing live chat on the checkout page could help people get answers to their questions at a crucial decision-making moment, which could improve that percentage.
Pinpointing Growth Problems
Metrilo helps brands figure out what they can do to sell more and how to retain customers after their first purchase. Its CRM system tracks and stores customer information, including:
The products they browse
Abandoned products and carts
How much time is between orders
Email interactions
Revenue goals
Miscellaneous customer notes
In each customer profile, you can see their shopping history and habits, their personal customer journey and every time they've communicated with your company. Customers can also be tagged and/or segmented for better organization and then filtered to find what you're looking for. By creating target groups, you can use the demographics to create audiences for ads.
With Retention Analysis, you can monitor how loyal your customers are through retention rate and customer lifetime value. For individual customers, you can see how often each one buys and when they usually place a new order. You can then send them targeted messages when that time is approaching, like a coupon code or an email about products they may be interested in.
Improving Customer Retention
Figuring out your growth problems is one step toward improving customer retention, but Metrilo has features that help you act on all that information you gathered. Automated emails, customer feedback forms and real-time sales data let you connect with customers when it's most important.
By segmenting your customers based on characteristics and behaviors, you can create and send targeted email campaigns directly from Metrilo. You can also have emails automatically triggered based on behavior or thresholds. You can upload an HTML email or create a new one, or use the drag-and-drop visual editor to design an email. There are auto emails for the following scenarios:
Welcome series to nurture a new subscriber
Drip campaigns to continue engaging customers
Coupons and promos customized to the customer
Cross- and up-sells to show customers other relevant products
Abandoned cart emails that show the products remaining in the cart
Metrilo will also automatically send customer feedback forms so you can find out about their experiences with your brand. Furthermore, real-time tracking means that your marketing or sales team can connect with customers right when you're about to lose a sale.
Metrilo Pricing
Experiment with Metrilo during the 14-day free trial, no credit card needed. You'll have to choose your plan before you can start the trial, though. There are three options: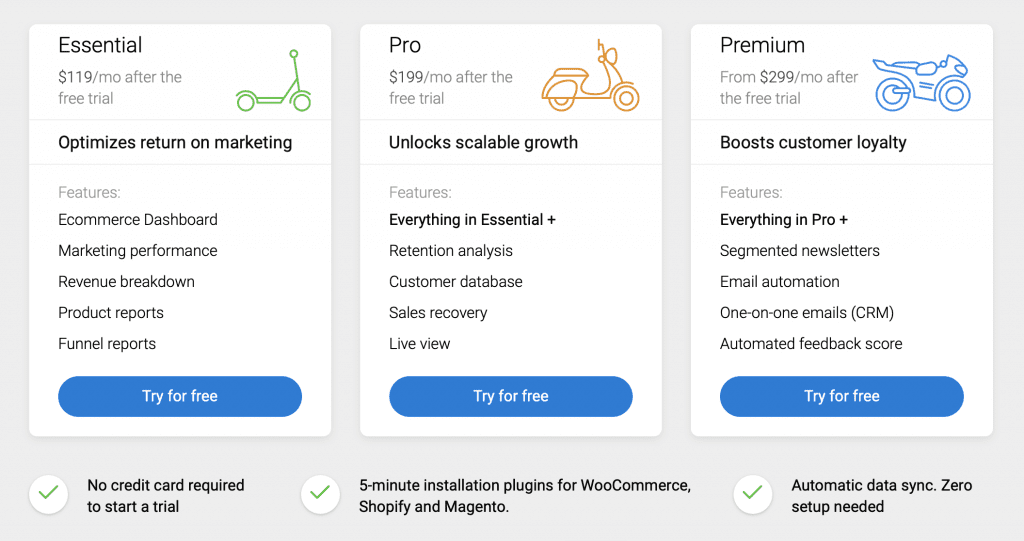 Wrapping Up
Metrilo has a spectrum of analytics, CRM and marketing campaign features that help you get a handle on your customers so you can meet their needs to grow your brand. The tool's strongest components are:
View top-performing marketing channels to better allocate your budget
See how well you're retaining customers and find gaps where you can do better
Find out exactly what customers do before making or abandoning a purchase
Create targeted messages and send automatic and manual emails right from Metrilo, no third party tool needed
To get all of this, you'll need the Premium, i.e., the most expensive, plan – that's how you'll be able to access email marketing and customer feedback tools, among other upgraded features. Metrilo is definitely on the pricey side at almost $300 per month for a Premium account, but if it can help you close more sales, you may quickly see a ROI. Also, if you have an established store and can quickly add customer data to Metrilo, the 14-day free trial will be able to show you a lot of data that you can act on immediately.
Figuring out how to use Metrilo goes hand-in-hand with knowing your brand and understanding your customers. Marketing and sales software is only as strong as your company. If you don't know what you're looking for or what all the results you gather mean, you won't be able to reap the benefits of any tool. The DTC Academy from Metrilo gives you a crash course and walks you through how to create and grow a brand. You may also want to check out this article about how to create and use a customer journey map or our podcast episode about creating winning customer journeys.
Featured Image via SkyPics Studio / shutterstock.com