Discourse is one of the most popular community forums software platforms available today. Unlike a lot of its WordPress-based competitors, Discourse doesn't run off of WordPress architecture. It has to be contained on its own server. That shouldn't scare you, though. The developers understand that 1/3 of the internet can't be ignored (WordPress' market share), so they made it exceptionally easy to make these two powerhouse platforms play nice with each other. With the official Discourse WordPress plugin, you can make these two platforms interact like they were made with the other in mind.
Integrating WordPress and Discourse
We are going to do this by using the WP Discourse plugin. It's the official release by the devs, and it will let you do two primary things.
Simultaneously publish to Discourse any posts you create in WordPress, starting a new thread on the forum
Publish any replies within that Discourse thread to the WordPress post as a comment.
By doing this, you will essentially have a Disqus-like comment system that's under your own control. You will also
Unfortunately, Discourse doesn't support embedding an entire Category (what Discourse calls the individual forums) into a WordPress post or page content area. You can turn off WordPress-specific comments to only have Discourse as your method of discussion. To comment, someone must be registered through your Discourse community forum.
Why Requiring Discourse Registration is Good
Adding that extra level of friction to leaving a comment might seem like a bad idea at first. But if you're set on building up your Discourse community, it's not. Doing so accomplishes three things:
It directs people to your forums so they see more of your content and how engaged your community is. This is not the case with a traditional commenting system, even an integrated one such as Disqus.
You gain members of your community, not simply one-off commentors. These people tend to be more engaged and more likely to stick around. They additionally become a part of your marketing campaigns and lists.
Spam comments slow down. Brute-force WordPress attacks and spam campaigns target the traditional comment system. With the registration required, a much more sophisticated level of spambot has to be employed. Most likely, you won't run into many — if any — of these.
While having discussions and a number of comments on a post is a good thing (great even), having an engaged community made up of regulars who become fans of your content and a dedicated audience is even better.
With That In Mind…SSO
SSO, or Single Sign On, is a kind of middle-ground for that. Setting it up within the WP Discourse plugin settings will allow you to keep your existing WordPress users and allow them use of the Discourse community. The devs don't necessarily recommend this for a few reasons (including the ones above). The primary one being that Discourse has a strong login flow and database structure, and using SSO breaks that flow.
That said, if you already have a steady community of WordPress user accounts, but want a Discourse forum without requiring an all new membership drive, SSO may be the best way for you to accomplish that.
WP Discourse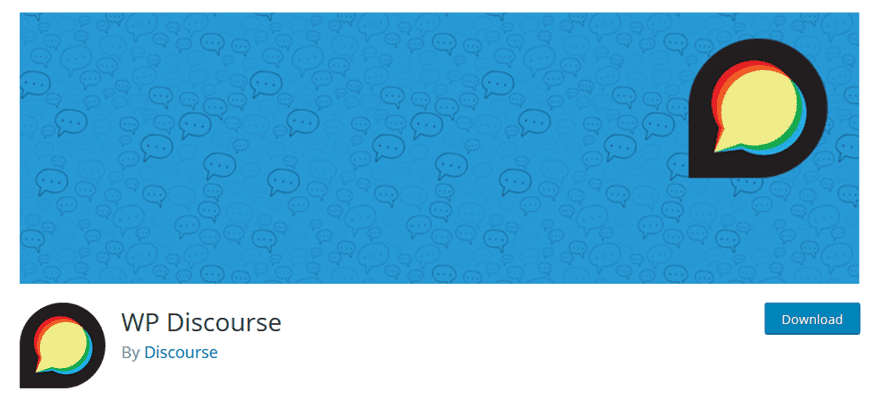 To begin the process of using Discourse with WordPress, you need to have a separate installation of Discourse set up. You can follow our guide to set your community forum up on a Digital Ocean Droplet to get started. Once that is finished, you should head over to the WP.org plugin repository to install WP Discourse.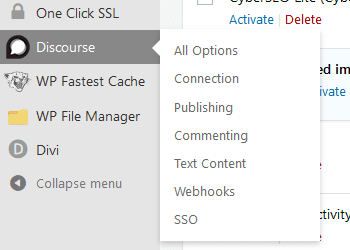 When activated, a new menu option will appear in your WordPress admin panel called Discourse. You see a number of sub-menus that will help ease the integration of a Discourse forum on WordPress.
Connecting Discourse to WordPress
Click on the primary link, and it takes you to the options page where you do the connecting to your Discourse installation.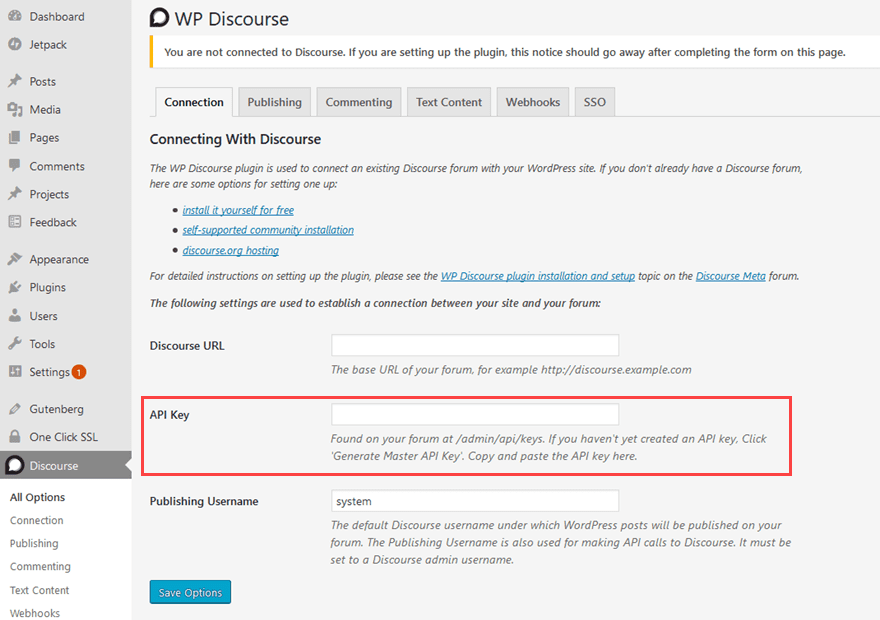 The URL of your Discourse installation is important. It's not the IP address of your Digital Ocean Droplet, but instead the actual domain name that you set up during the installation. The username should probably be changed from system to whatever you used as your primary admin user.
The real key here (heh heh, pun intended) is to make sure that your Discourse community has an API Key created. If this wasn't part of your installation process and set up, you can go to discourse.example.com/admin/api/keys as your admin user and create one with a single click.

You can also navigate to the page via the tabs at the top of your account dashboard. Simply copy the API Key and paste it back into the dashboard of your Discourse plugin options. With that done, navigate to the WordPress user profile that you want to associate with that Discourse admin account. You will see a new field when you select Edit User asking for a Discourse user name.

Publishing and Commenting Options
Then there's just fine-tuning how you want the comments and posts to appear on each platform. You can choose whether to publish full posts to Discourse, to use those as excerpts to bring people to your main website, and tweak categories, tags, and even the CSS for how the comments appear.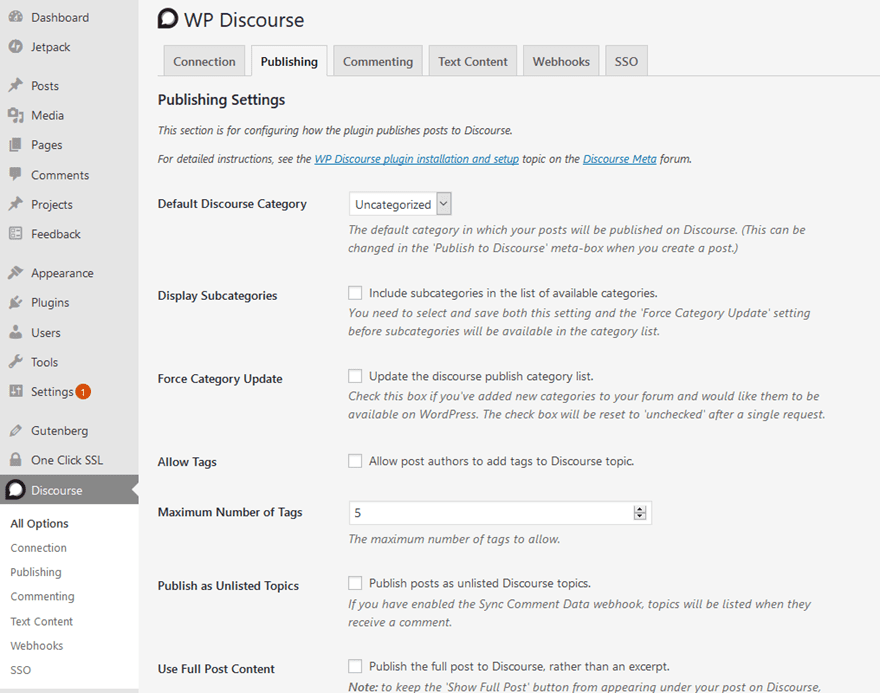 And with Discourse's built-in trust system, you can set trust levels for people to even be able to comment and access the content so you don't get inundated with spam or trolls.
Finishing Up
Because it's not built directly into the WordPress CMS, Discourse might not be the first choice for forum software. However, if you take the time to learn the app and set up a Discourse WordPress integration, you might find your community engagement rise. The initial setup for the community forums might be a little more taxing than one of the WP-based plugins, but when you combine that with the official WP Discourse plugin, opportunities for community growth and engagement are just as easy as anything native in WP.
How do you integrate your forums into WordPress?
If you're looking for a WordPress-powered forum solution, check out our list of the best WordPress forum plugins.
Article featured image by magic pictures / shutterstock.com