Accounting and bookkeeping are two of the most intimidating words that come to mind for any business owner. With them come taxes and invoices and payroll and…much more. That's why so many online bookkeeping systems have sprung up over the years, from Wave to QuickBooks to Mint, and now WordPress. The CMS isn't simply for blogging anymore, and if you're running your business and website through WP anyway, it might be worth looking into integrating your bookkeping system into your existing workflows and software.
WP ERP – Enterprise Resource Planning
The WP ERP plugin (which stands for enterprise resource planning) lets you set up an online bookkeeping system within WordPress and handle all of your invoicing, payroll, and other accounting needs within your dashboard.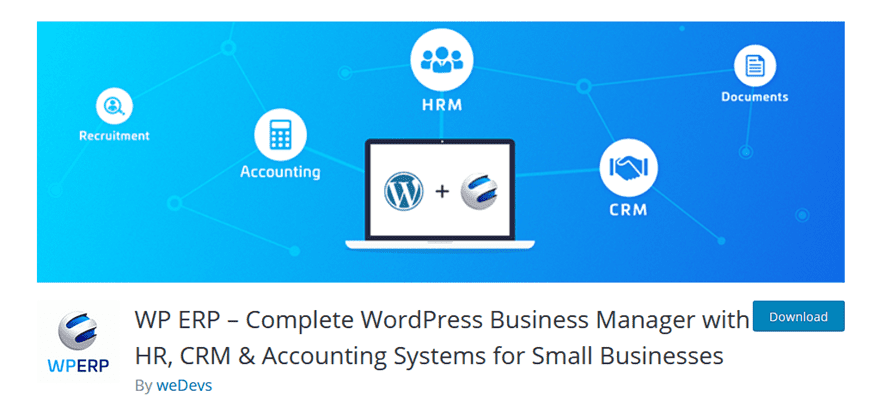 When you install and activate WP ERP, the plugin offers a quick setup wizard that we highly recommend you take advantage of. While all of the settings are available individually, these are the ones essential for function. So taking the few minutes to follow along is a solid use of your time.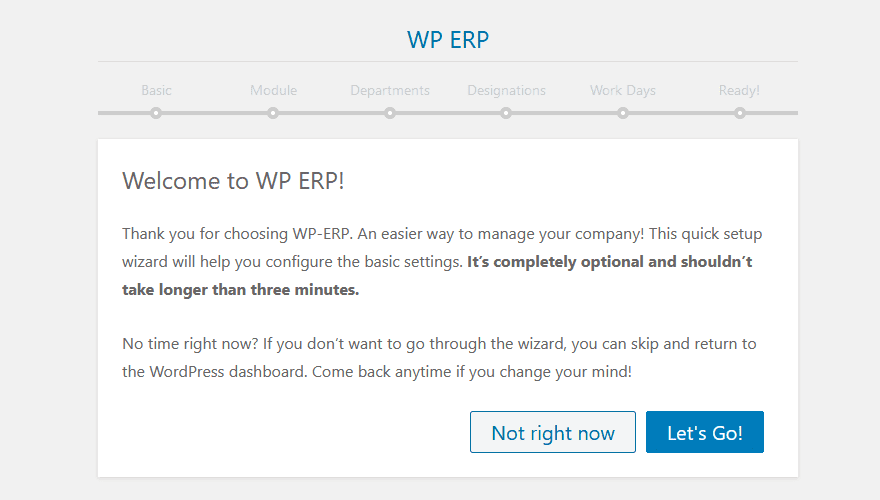 For the most part, you won't have any hard decisions to make. The first page will be setting up what kind of business you are, the company name, important dates, and what currency you're going to deal in.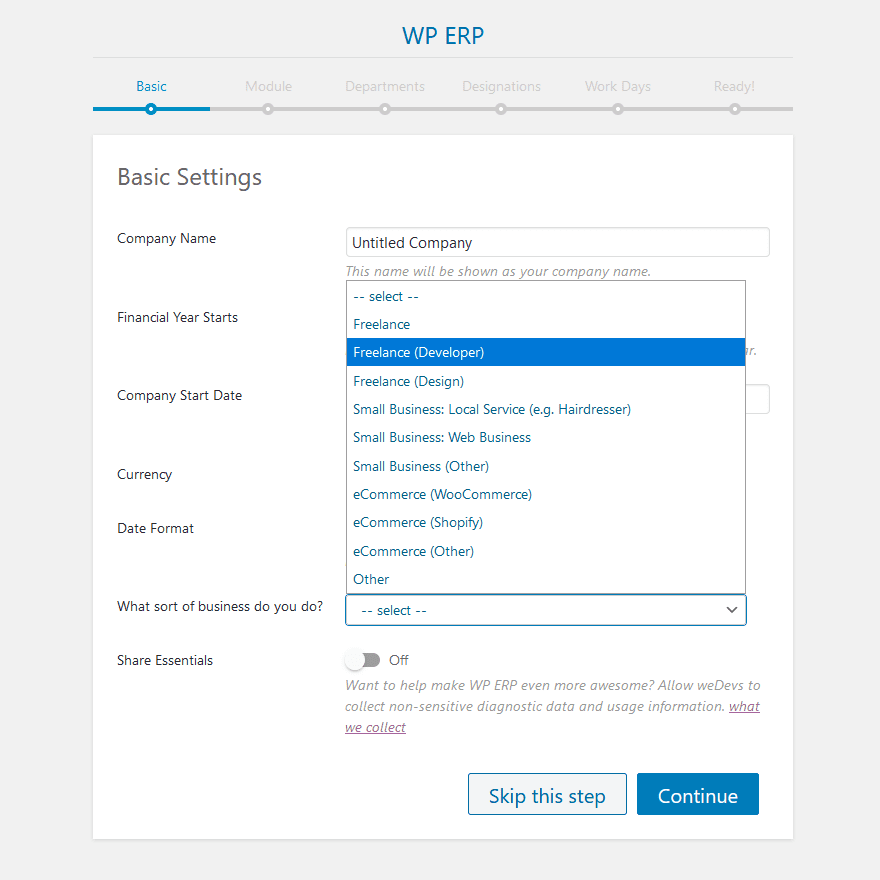 As you move through the setup, you can set up different departments and titles (designations) for members of your team. You can have a Marketing department with a Director of Marketing, and within each of these, you have permissions to set up later on. You can add anything you don't include here later, don't worry.
Your Online Bookkeeping Dashboard
At the top of your left-hand sidebar, you will now see a WP ERP menu. Clicking it will take you to your dashboard where you will see the various overviews you'll need to successfully integrate the software.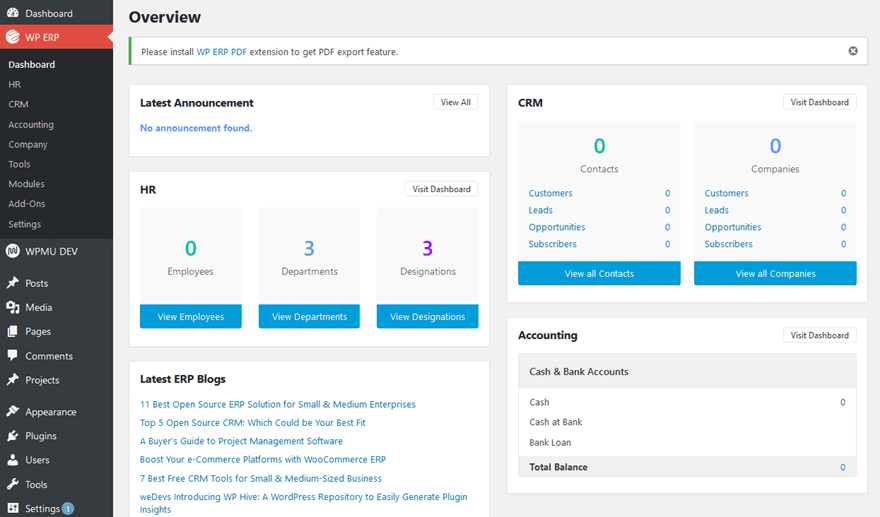 Probably the most important for online bookkeeping is going to be Accounting in the lower-right of the screen.
The Accounting Dashboard
Inside the Accounting Dashboard, you will see the power of the plugin and how you can manage your bookkeeping from within WP.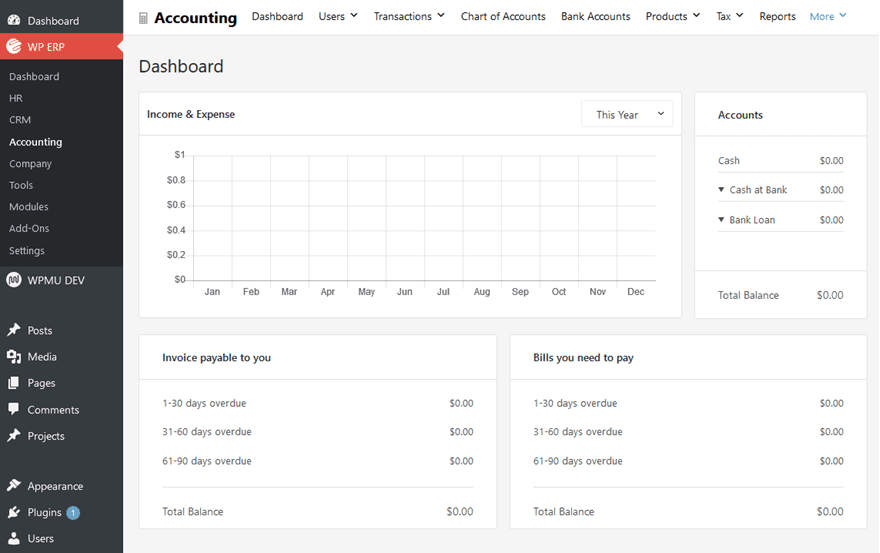 If you have ever used any bookkeeping system, this one will absolutely feel similar. You have dropdowns for transactions, accounts, various products, your taxes, and different reports to check in with how your finances are being handled.
The first thing we suggest doing is getting your accounts set up within the dashboard. So you can go into your Chart of Accounts tab near the top and click into it to add a new account.

It couldn't be simpler to add the account. Select what type of account you need from the dropdown, give it a nickname, and put in any codes or account numbers you need to keep up with it internally. This software doesn't automatically track funds via banking login, so you may not need to include the full account number for security purposes here.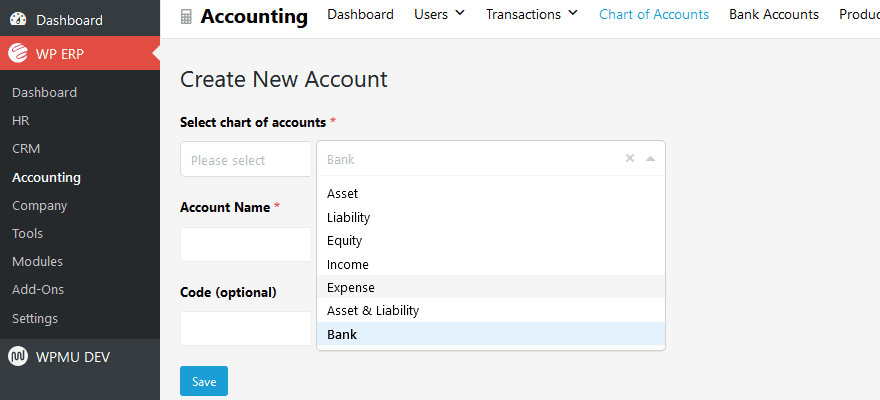 You can then see your newly created account under the Bank Accounts tab.

Only accounts labeled as Bank will appear here. You can separate them out where they appear under Product or Sales (and so on), and they will each appear under their respective tab. To see an overview of all your accounts, simply return to Chart of Accounts.
Context-Sensitive Transactions
The primary way that you will interact with your online bookkeeping system will be via Transactions, but each page will have only the transactions they can perform. For instance, the Bank Accounts tab will only let you perform transfers from account to account. (Remember that you also must perform this at your bank, too. This is bookkeeping software, not online banking.)

Rather than force you to navigate through each account type individually as you're working through your books, you can add any kind of transaction from the admin bar in your WordPress dashboard. You have a New Transaction dropdown in the top-right of the screen next to your user profile, and when clicked, it presents you with a list of every kind of transaction that you would want to make. From invoicing to purchase orders to tax payments.
Tools
A major misgiving of starting a new bookkeeping system or swapping from a previous one is the data entry. It's overwhelming and honestly kind of terrifying. WP ERP has that covered, too. If you navigate to the Tools menu in your left-hand sidebar, you will see a list of customization options.

We like the option presented here under the General tab in which you can remove any entries from the admin bar menu and the admin sidebar. If you want this to be solely an online bookkeeping system, you can remove users' ability to access the default WordPress features. Features such as posts, media, pages, comments, plugins, and so on will disappear (if you choose), and the backend of the site will only have the bookkeeping system available.
Invoicing with WP ERP Online Bookkeeping
One of the most important aspects of any bookkeeping system is being able to manage invoices. WP ERP is set up for that, too, sending your documents to any customers you've added to the database via your default WordPress email service. You can have it go through other services, too, with premium addons.

To send an invoice, just hit the dropdown in the admin bar and select Invoice. The screen will change to a standard invoice template where you can put in any kind of information and changes you require.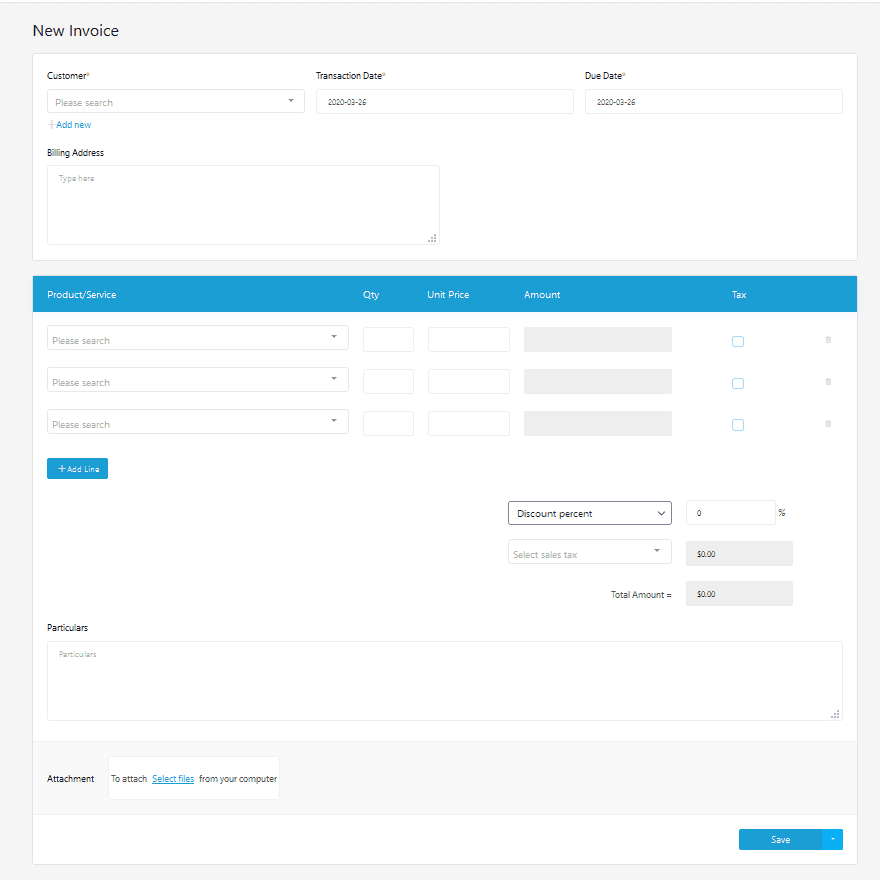 When you click Save, the invoice will be sent. to the customer (via the email that you included in their profile). It's odd that it doesn't have Save and Send or anything like that. So be careful if you think it will simply save. There's a Save as Draft under the dropdown arrow to the right of the button if you're not ready to send just yet.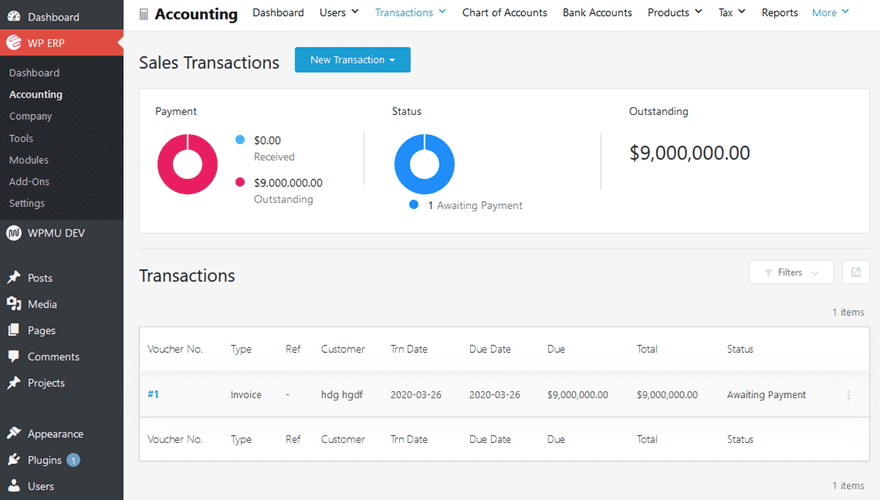 You will also be able to find the invoice details and status in your Sales Transactions page.
Wrapping Up with Online Bookkeeping
For people who want their invoicing and bookkeeping to be kept together, WP ERP is absolutely an option that will work for them. Like any data system, there will be input and data manipulation, but it's not overwhelming or complicated. If you need additional features, you can purchase addons and extensions that make the already-powerful free version much more so. They also offer annual plans. Most people would get the most use out of those, we think.
What do you think about using WordPress for your online bookkeeping system?
Article featured image by dealita / shutterstock.com