Believe it or not, directories are still found on the web. People look for products and services daily on popular directory sites like Yelp, Yellow Pages, and even Google My Business. Building your own directory website is an excellent way to drive traffic to your website and establish brand awareness. In this post, we'll review the best directory WordPress themes to help you get the directory website you've always wanted without all the effort.
What Features Do the Best Directory WordPress Themes Have?
While everyone's needs are different, there are some basics that your directory theme should cover. Firstly, it needs to be searchable. There is no use in having a directory without some form of search feature or plugin. Secondly, your theme should allow you to organize your listings into categories. This will help people navigate your site better. You should be able to edit your site with your branding and colors. That's a third feature to look out for, customization. Lastly, SEO and extendability should also be considered in your quest for the best WordPress directory theme for your project.
The 8 Best Directory WordPress Themes
In our list, we've compared some of the best themes for building your own directory website. Look through our list and see if any of these products satisfy your project needs.
1. GeoDirectory Themes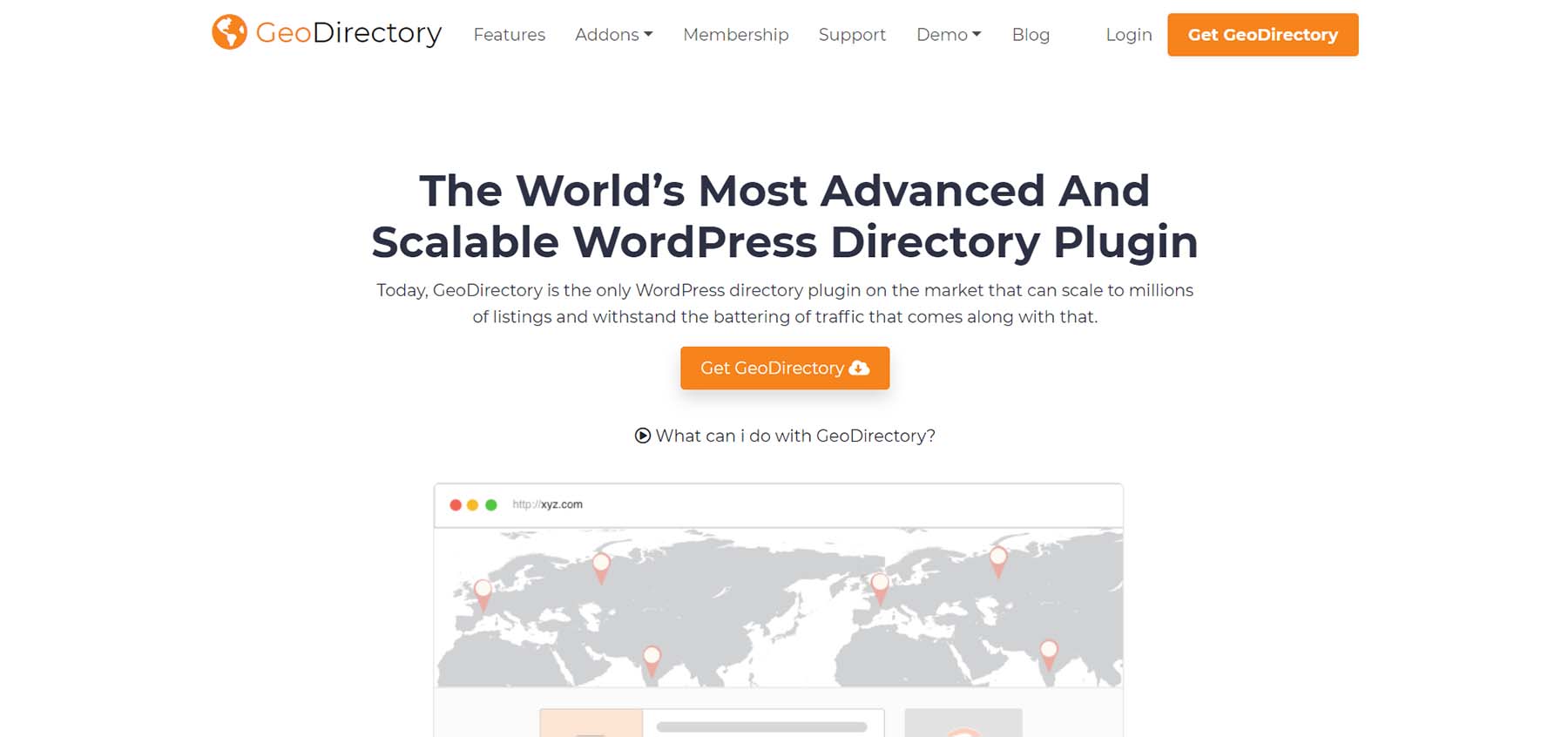 GeoDirectory is one of the best directory plugins for WordPress. The plugin also has dedicated GeoDirectory Themes that allow you to get a powerful directory site up and running with ease. While there is a free version of the plugin and some themes, you'll get the full experience with the paid version. Firstly, you can access the paid Custom Post Types addon if you want to manage multiple listing types. With this addon, each listing type gets its own set of custom fields, layouts, and more. The Pricing Manager add-on makes it simple to monetize your directory. Give free trials, send payment reminders, and collect funds with over 30 payment processors.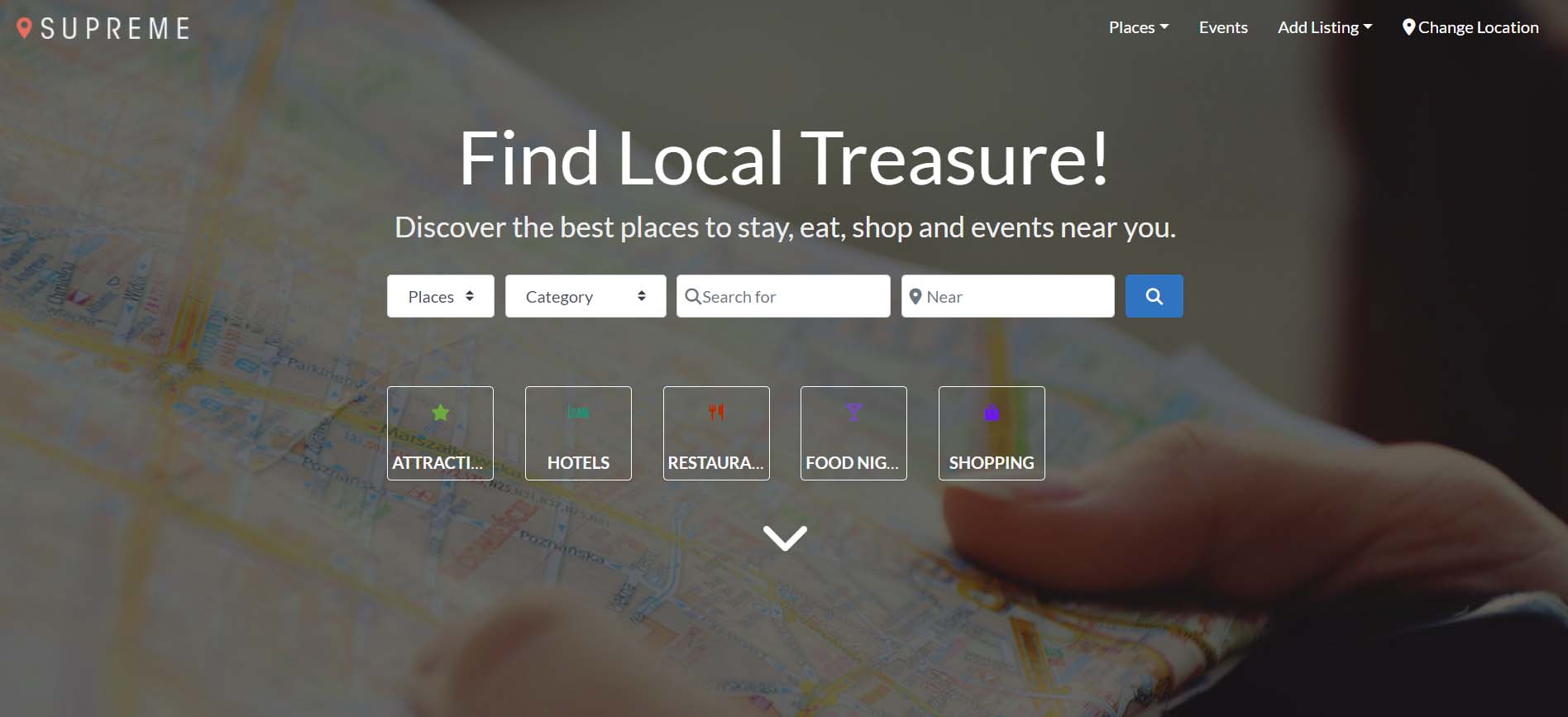 Some GeoDirectory Themes are based on the Genesis framework (by StudioPress) to help those already familiar with the framework get a directory site underway. Furthermore, users of our very own Divi will be thrilled to know that Geo Directory integrates well with our theme and our powerful Theme Builder. This further expands the plugin's features by giving you a powerful tool to create your custom online directory entirely.
Key Features of Geo Directory Themes:
40+ widgets, shortcodes & blocks
Works with any page builder like, Gutenberg, Divi or Elementor
Drag and drop listings tab builder and custom fields
Advanced sorting and filtering options
Unique custom badge system to show listing identifiers
Integrations with Ninja Forms, Yoast SEO, RankMath, BuddyPress, and more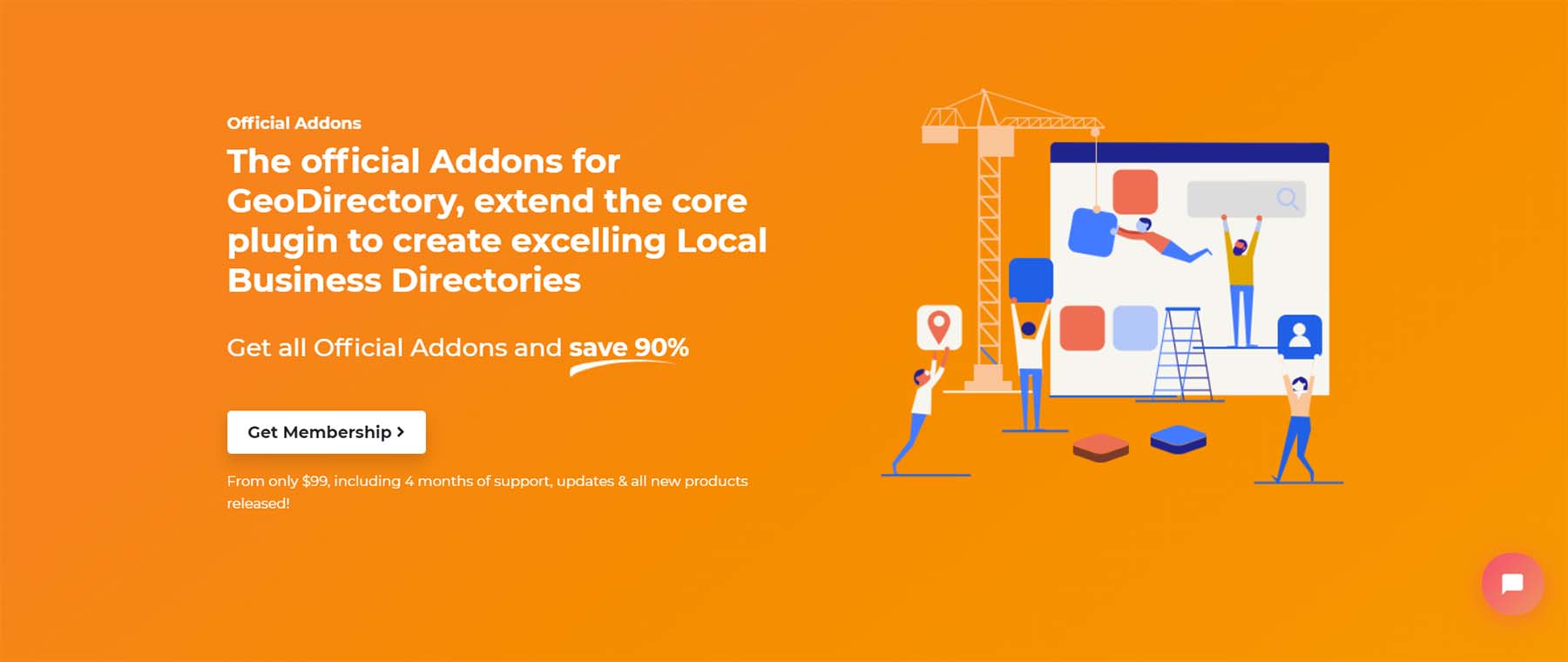 While the Geo Directory plugin and theme are free, you can amp up the power of your directory theme with the paid add-ons that GeoDirectory has available. The add-ons that GeoDirectory provides make it one of the best WordPress directory themes for users with grand plans for their websites. Extend the core theme by adding extras like a dedicated pricing manager, BuddyPress integration, and event management, to name a few.
Learn how to create a directory in WordPress with GeoDirectory.
Best For:
GeoDirectory is the ecosystem to plug into for an all-around good theme and plugin combo. With a powerful plugin at its foundation and a range of themes to make customization a breeze, the GeoDirectory family is a great starting point for building a directory on WordPress.
Pricing: Free core plugin and themes available. Paid add-ons and themes start at $19—memberships with all themes and add-ons for $199.
2. Directory Theme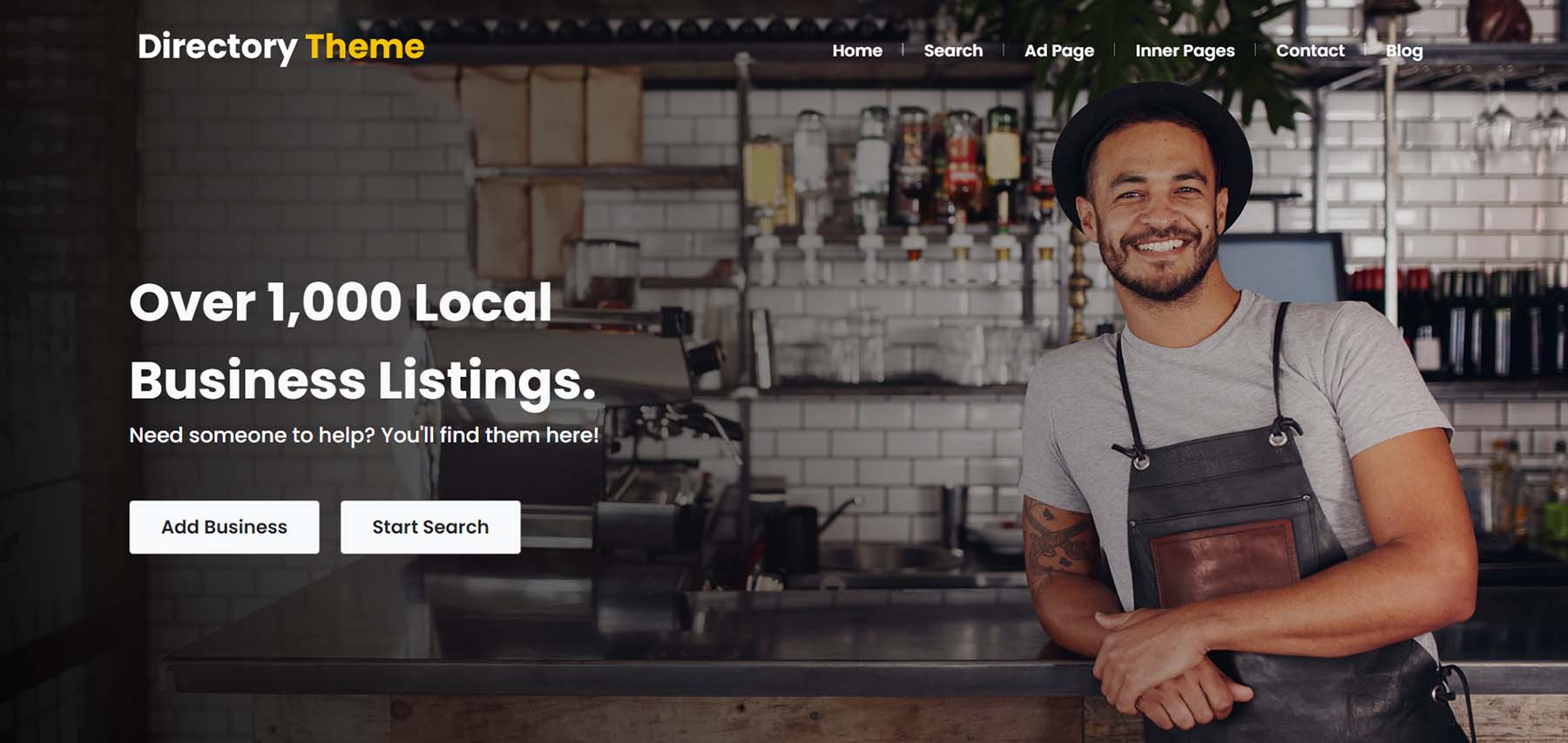 Directory Theme by PremiumPress is a theme that helps you build a site like Yelp or Yellow Pages on WordPress. It is a feature-rich theme that works effortlessly with Elementor. This means you have the power of its theme builder and modules to build a stellar directory site. Directory Theme lets you create categories to organize your listings. You can also add custom fields to each category, making it possible to have unique fields and content types per category.
Directory Theme is integrated with Google Maps, allowing users to share their location on their listings. This also allows for its powerful geolocation settings so that searchers can find listings via zip code and the distance from their current location. Users can create listings with YouTube videos, image galleries, music, and many more content types.
Key Features of Directory Theme:
150+ design blocks
Supports the free version of Elementor
Sell listings, membership, and more to monetize your site
Advanced Ajax filters and search functionality
Dedicated members portal complete with analytics and listing management
Advanced user feedback, comments, and review system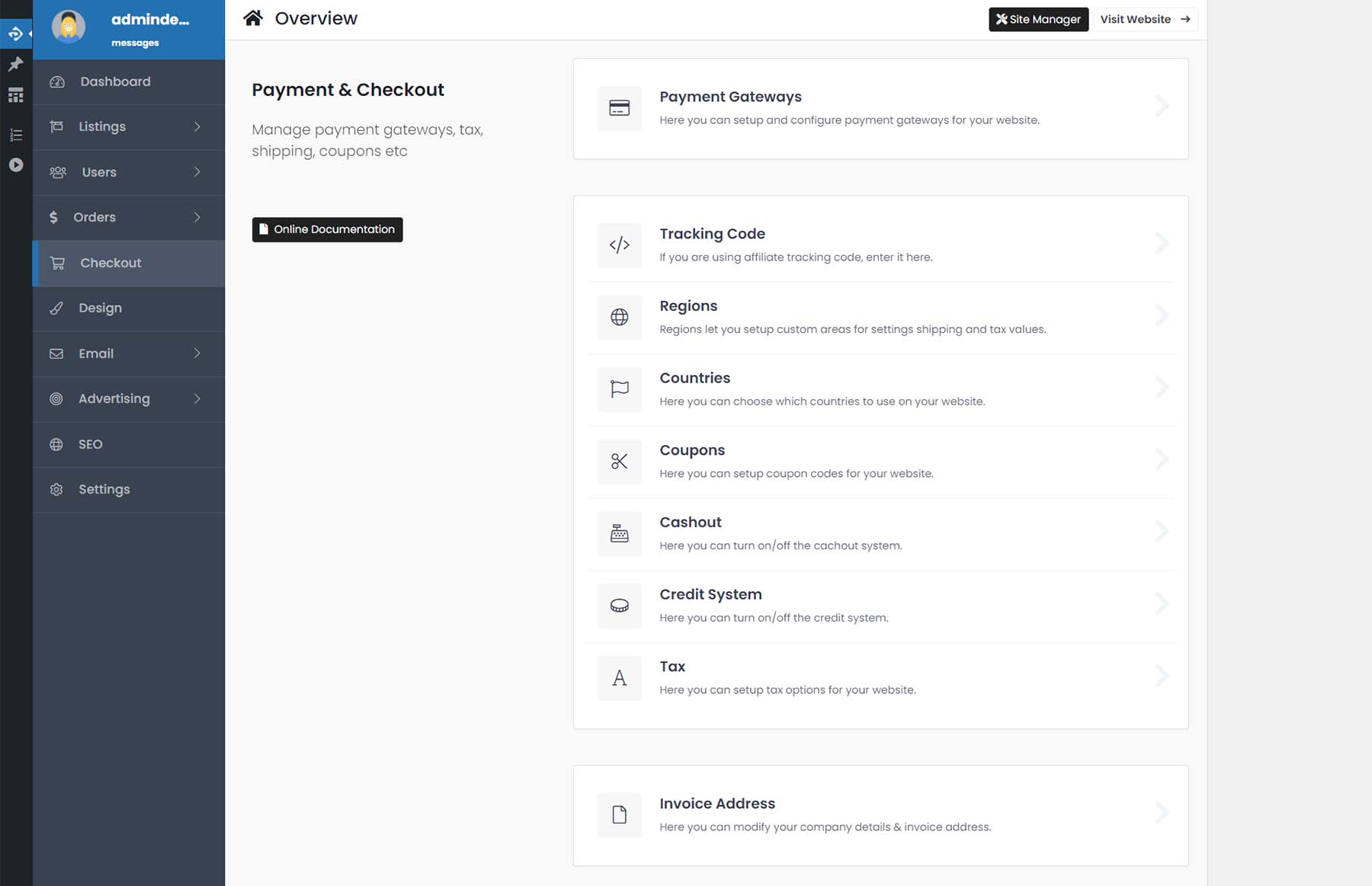 Directory Theme impressively handles monetization with flair. You can sell memberships to certain countries. You have customization options for invoices. The theme also integrates with over 30 payment processors, ensuring you can get paid. Handle shipping, store credit, payouts, and more.
Best For:
Directory Theme is the best WordPress directory theme for owners who want to build a sleek, clean directory that doesn't sacrifice functionality. Also, builders who want the most flexibility in making money with their directory will benefit from using this theme.
Pricing: Paid plans start at $198 per year
3. Listable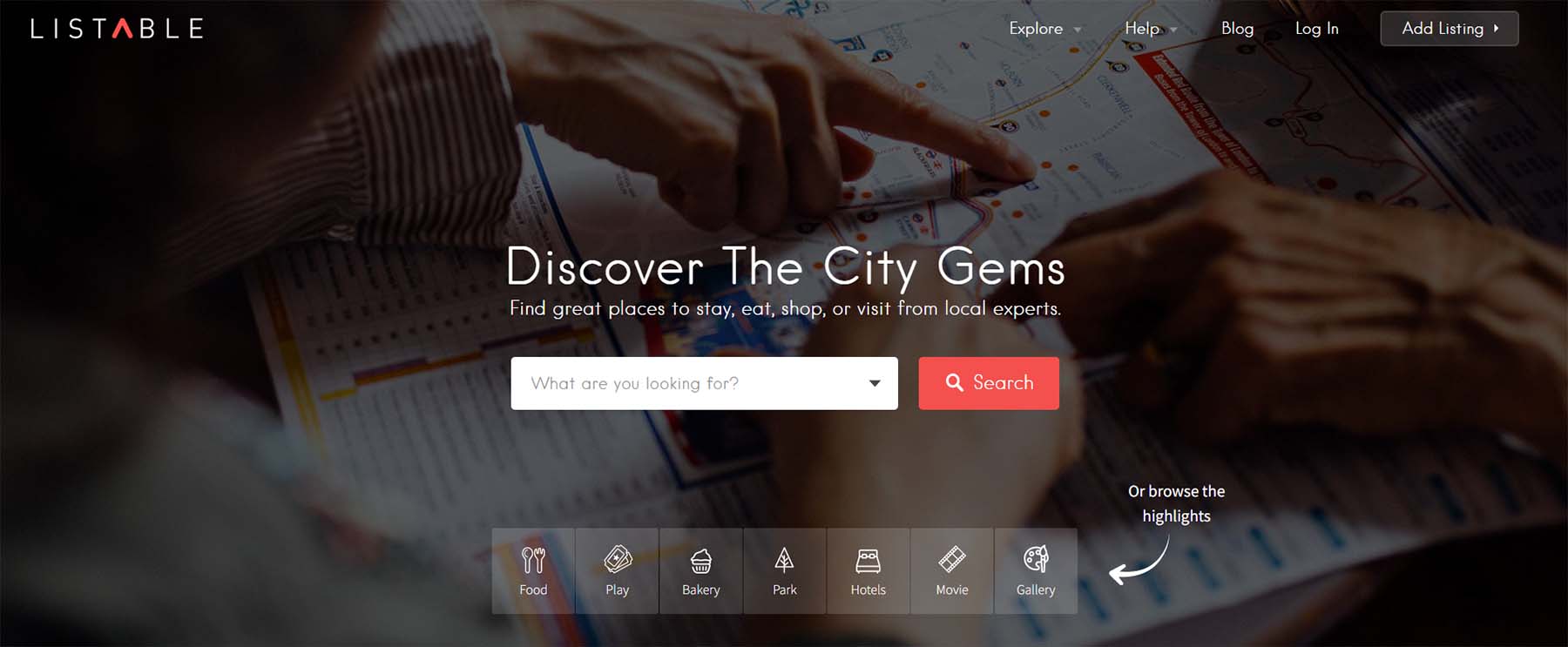 Listable is a WordPress directory theme for those who want to build a beautiful directory. The theme gives you an expansive range of customization options that will have you designing an attractive directory in minutes, with not a single line of code required! Apart from its design options, Listable has a vast range of features. For starters, its search and filtering system allows users to search by tag, category, region, or any other field that they choose.
Secondly, you can use its easy drag-and-drop builder to create custom single-listing page templates. You can do this easily if you want a different layout for different listings in various categories. You can also have a beautiful blog on your site and static pages like a contact page, shop page, and much more.
Key Features of Listable
Beautiful style and font presets that can be thoroughly customized
Powerful listing cards system for creating engaging listing grids
Monetize listings with a fee or revenue sharing
Multiple filtering options, including interactive filtering
 Drag and drop builder for custom post types like listings, categories, etc.
Compatible with WPML, WPForms, WooCommerce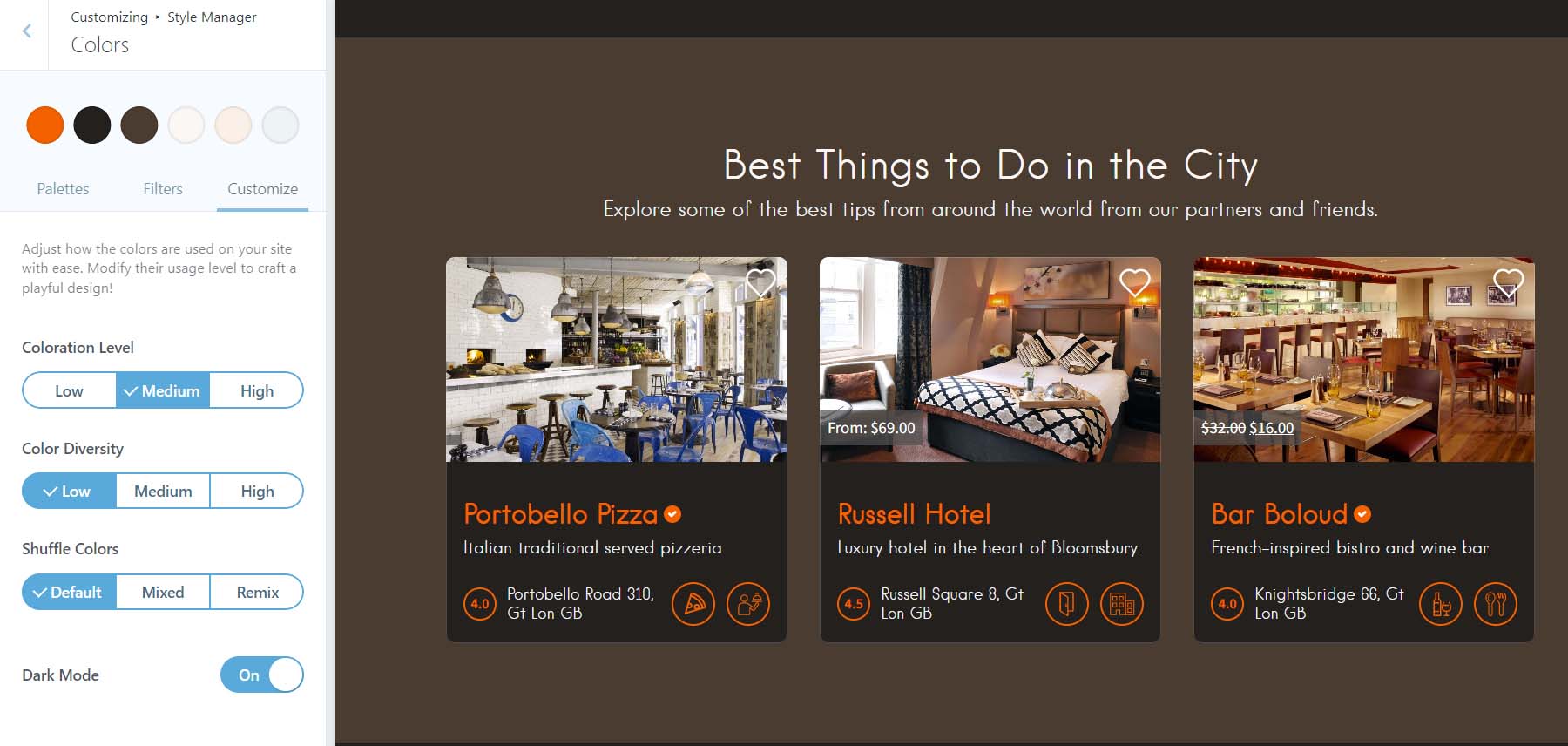 Listable's style manager makes creating tailor-made color stories for your site painless. With color adjustment tools like color diversity, shuffle, and more, designing and changing the colors across your site is a breeze. Backgrounds, buttons, titles, and icons can all be instantly changed with a simple click of a button. No code or extra effort to make sitewide edits is necessary. Plus, the simple dark mode toggle adds a nice touch!
Best For:
For the most aesthetically pleasing directory, use Listable. Its modern design options make it one of the best-looking directory themes on our list. Additionally, you can easily customize the design of your site with its color swatches, making it uncomplicated to build a beautiful directory.
Pricing: Paid plans start at $85 per year
4. Listee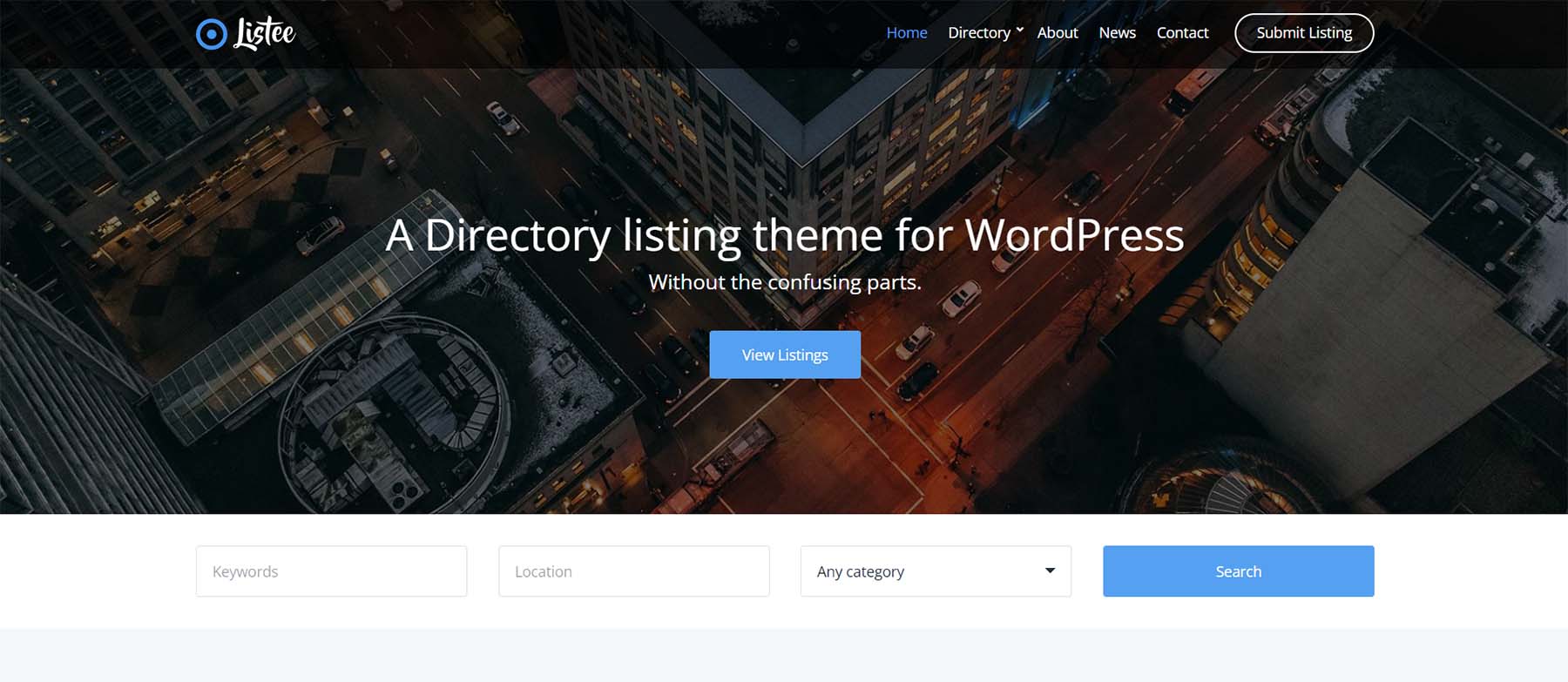 Listee is an uncomplicated directory theme that works well with the block editor and Elementor. Given that it is a simple theme, it has the standard functionality expected from a directory theme. For example, Listee uses Ajax to power its search and filtering system. You can search by keywords, location, or categories within your directory.
As Listee is compatible with both Elementor and the block editor, it comes with several blocks and custom modules that you can use to build custom layouts for the various pages of your directory. Listee is also translation ready and works with WPML, Polylang, and Weglot for translations. Finally, you can use the WordPress Customizer to edit page template layouts, colors, fonts, and more for your new directory.
Key Features of Listee
Easily create landing pages with Elementor or Gutenberg
Flexible search functions
Frontend user submissions
Create custom color schemes
Build and global sections with Elementor or Gutenberg
SEO and mobile optimized
Listee has a simple frontend interface allowing users to submit listings without logging into the WordPress backend. The form will enable you to create your account and submit your listing simultaneously. The user backend interface also lets you see when a post has been approved. You can also edit your listing or delete it from the site quickly.
Best For:
Use Listee if you want to build a directory but don't want it to be a complex process. The theme does not have as many eye-catching features as others on our list, but to build a stable site, this would be the best directory WordPress theme next project.
Pricing: Paid plans start at $49 per year
5. ExpertHive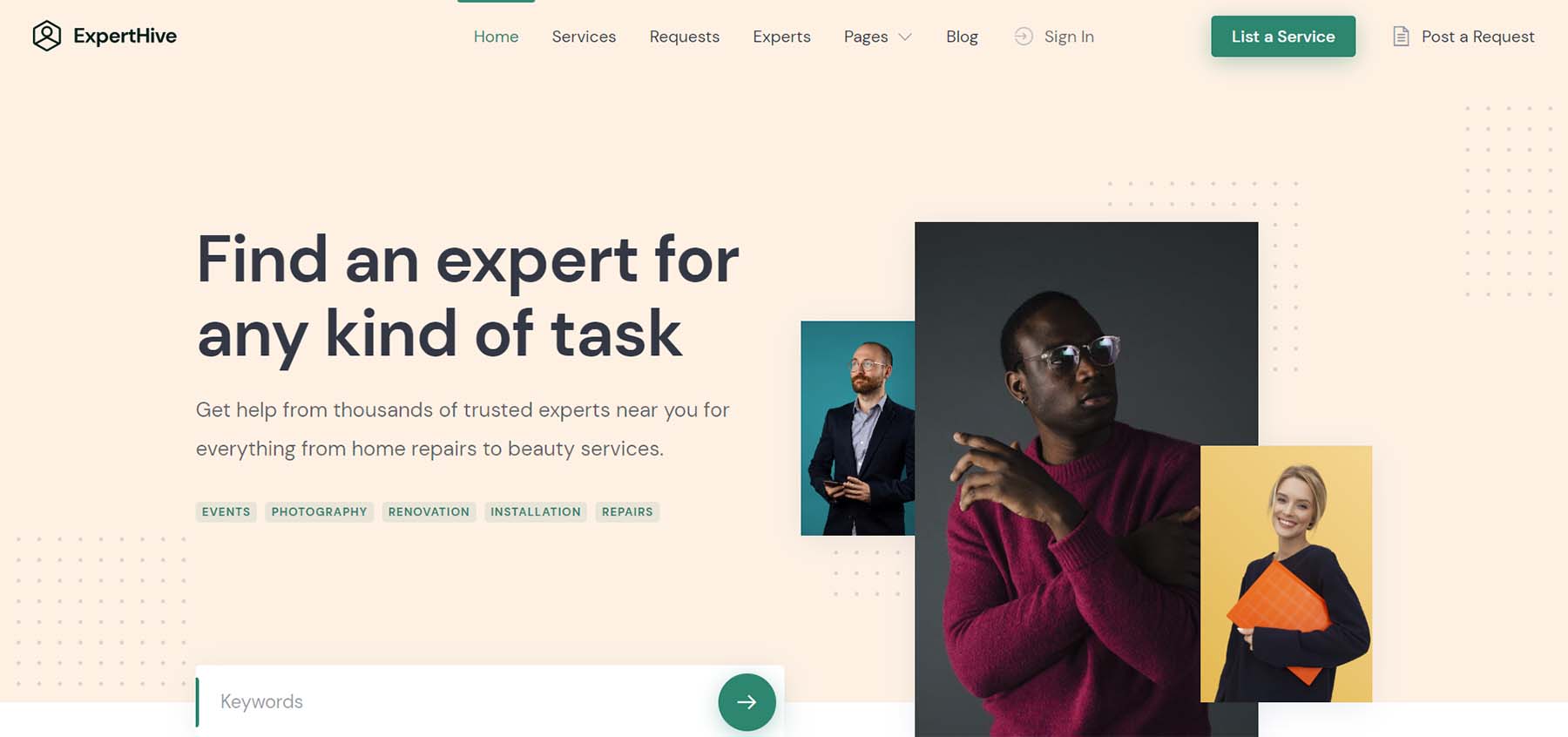 ExpertHive is a unique directory WordPress theme by HivePress geared toward service providers. If you want to build a service marketplace, the ExpertHive theme is for you. Powered by HivePress, experts on your site can create a profile, list their services and communicate with potential leads through the in-built messaging system.
ExpertHive allows you to set custom criteria for each profile or listing type. Because of its deep integration with WooCommerce, payments are a breeze. The ExpertHive expert dashboard allows site users and experts to manage their listings accurately, track orders, and more. And seeing as ExpertHive is powered by HivePress, you can continue to extend your marketplace with its library of add-ons that connect well with each other.
Key Features of ExpertHive
Manage profile and service listings with a private frontend dashboard
Powerful private messaging system
Project bidding system
Accept payments and payouts for successful projects via WooCommerce
Monetize through percentage, a flat fee, or featured listings
Custom fields and search filters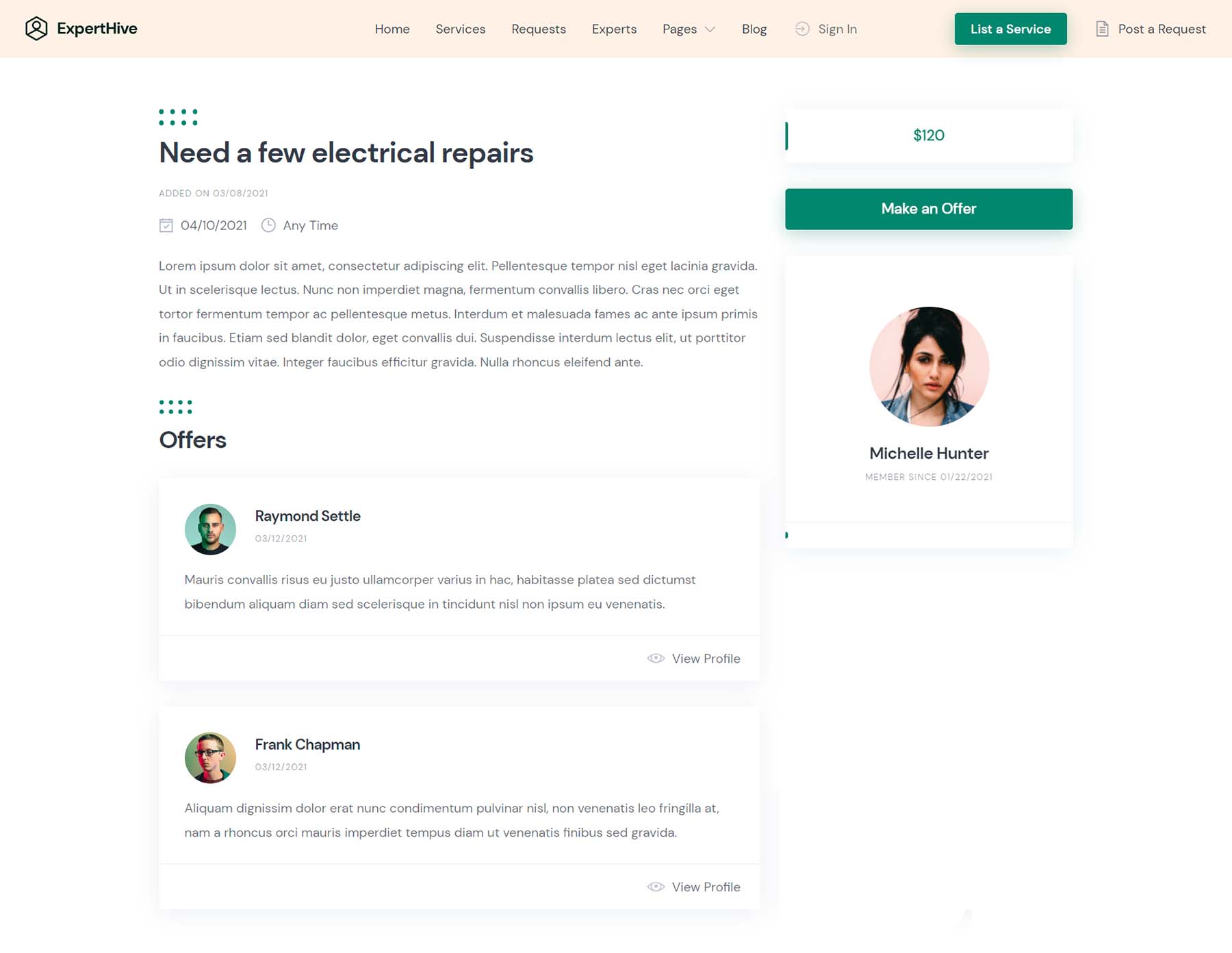 A unique feature of the ExpertHive directory theme is its bidding system. In addition to people being able to reach out to expert listings, site users can create services and receive offers from site experts. Like an auction or marketplace like Upwork, experts can bid on projects, users can accept offers, and a new order is created, which can be paid before work begins.
Best For:
ExpertHive is the best WordPress directory theme for those building an expert marketplace. If creating a site like Fiverr or Upwork is your goal, use ExpertPress to get your project off the ground.
Pricing: $89 per year
6. Classipress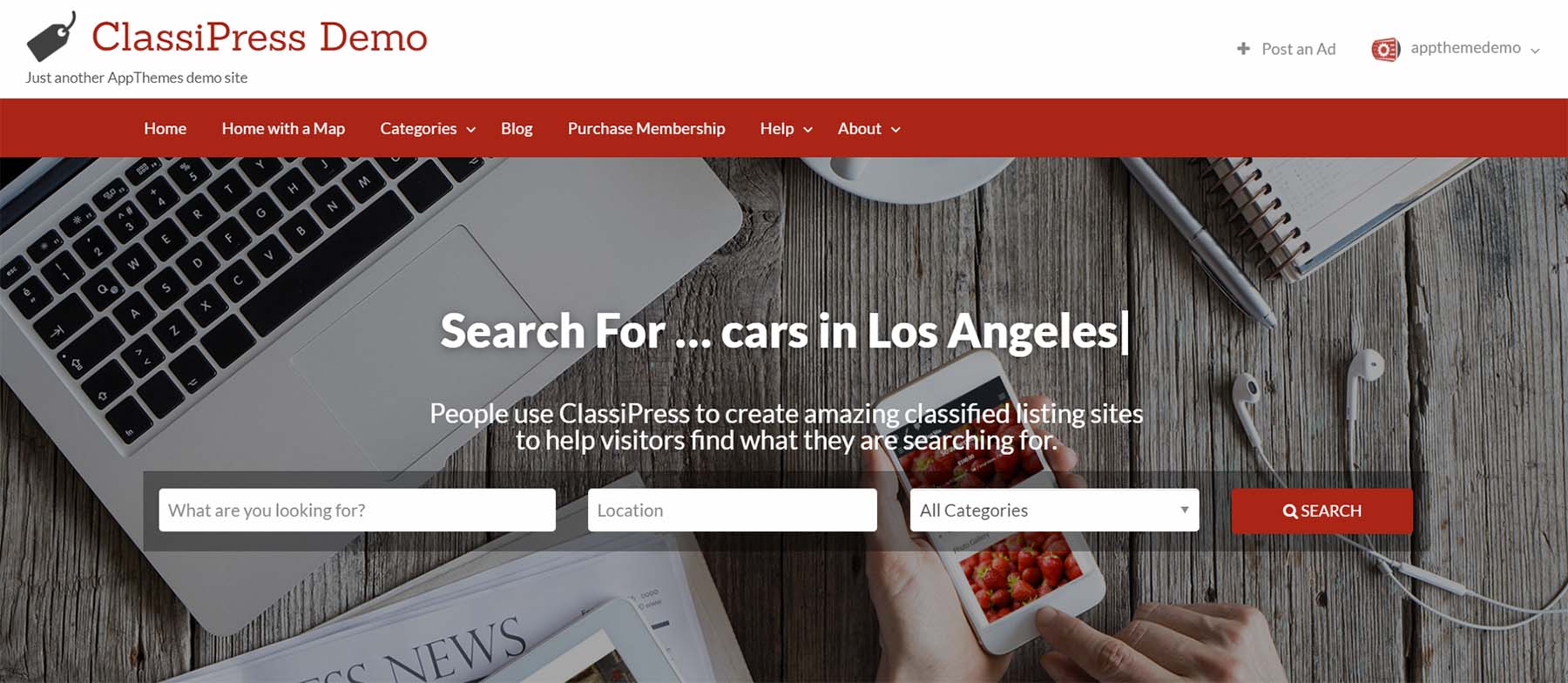 Classipress is a directory theme that covers all your bases for creating a WordPress website for listing classified ads. It has advanced search features making it easy for your site users to find what they're looking for. It has various widgets, like its latest ads listing grid, for you to show the most recent listings on your site. Furthermore, Classipress also allows you to create a featured listings section for premium ad spots, which you can charge a premium for and create revenue for your directory.
Your customers can manage their listings from a dashboard where they can update their profiles and view their invoices. As an admin, you can also see which listings are performing the best on your site without relying on external analytics plugins like the popular MonsterInsights plugin. All in all, the Classipress directory theme gets you a directory website on WordPress with little hassle.
Key Features of Classipress
Multiple pricing models like fixed fees, a percentage of sales, or price per category listing.
Create and sell membership packages and bundles
Create custom forms with an in-built form builder
Choose and edit colors and fonts from the Theme Customizer
Email notification system for admins and users
Auto-complete & suggest search functionality
A cool feature of the Classipress theme is its homepage map. The map shows live listings from the site that can be clicked through. Showcase local listings to your site users as they search through your website. Additionally, you could also promote this as a package feature to listings owners.
Best For:
Those who want to get a classified listing website up and running quickly will like the ease of use that ClassiPress employs. Easily make your directory website with little fuss but lots of features and functionality.
Pricing: Paid plans start at $69 per year
7. ListingPro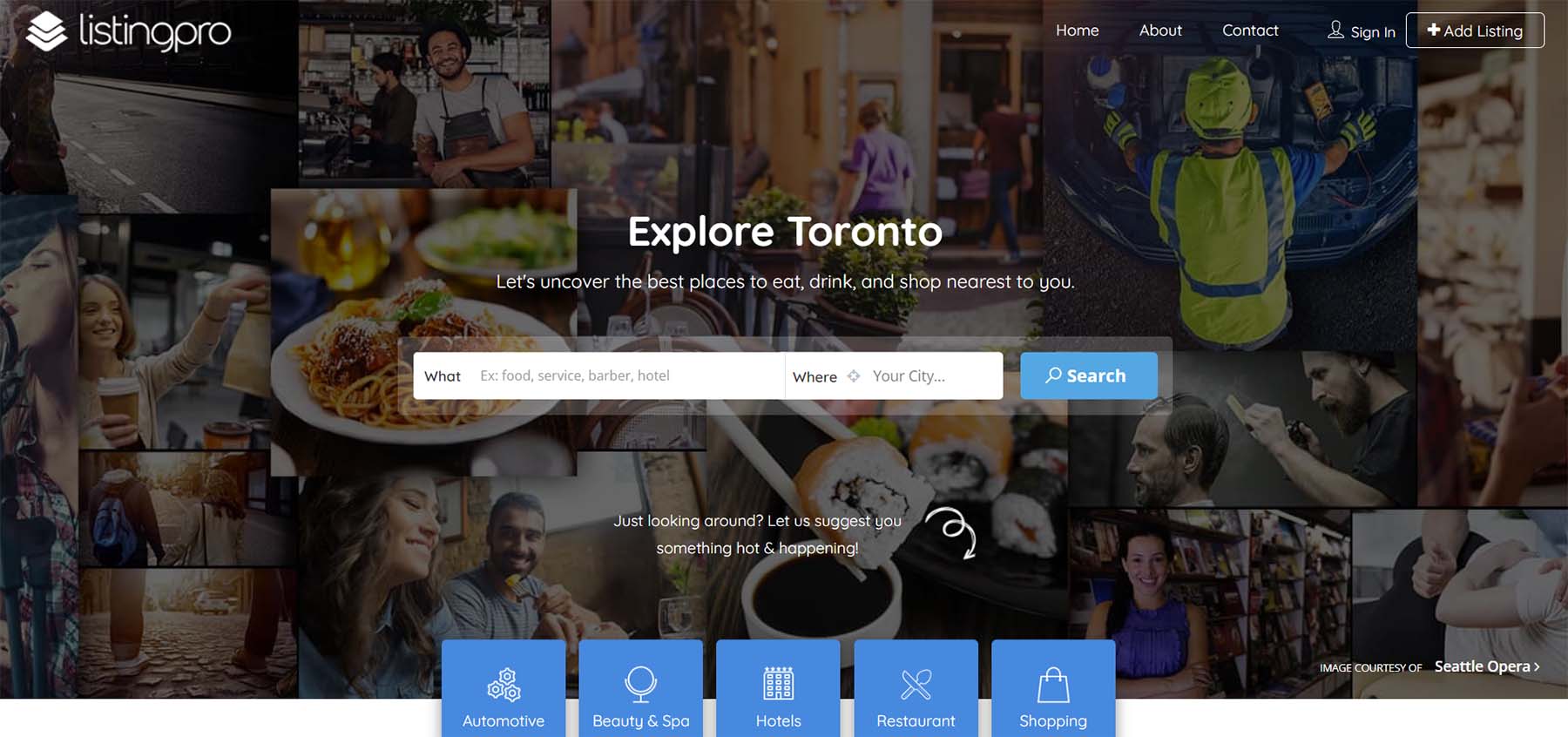 ListingPro is an impressive directory theme for those who want to build the ultimate directory. The search functionality of this theme is head and shoulders above the rest. It provides autosuggestions, can auto-locate via IP or location, and you can determine whether the search match is broad or precise.
ListingPro takes filtering seriously. Users can filter listings by myriad options, including opening hours, distance, custom amenities, etc. Thirdly, this is one of the best WordPress directory themes for those wanting genuinely custom listings. The native drag-and-drop form builder gives you a library of fields that you can use to build forms for your users and admins to submit and manage their listings.
Key Features of ListingPro
Expansive library of niche directory child themes
Powerful Ajax search and filtering with autocomplete
Powerful admin and user dashboards
Monetize with free and paid plans, one-time or monthly recurring services, and more.
Native drag-and-drop form builder
Internal messaging system for leads to connect with listing owners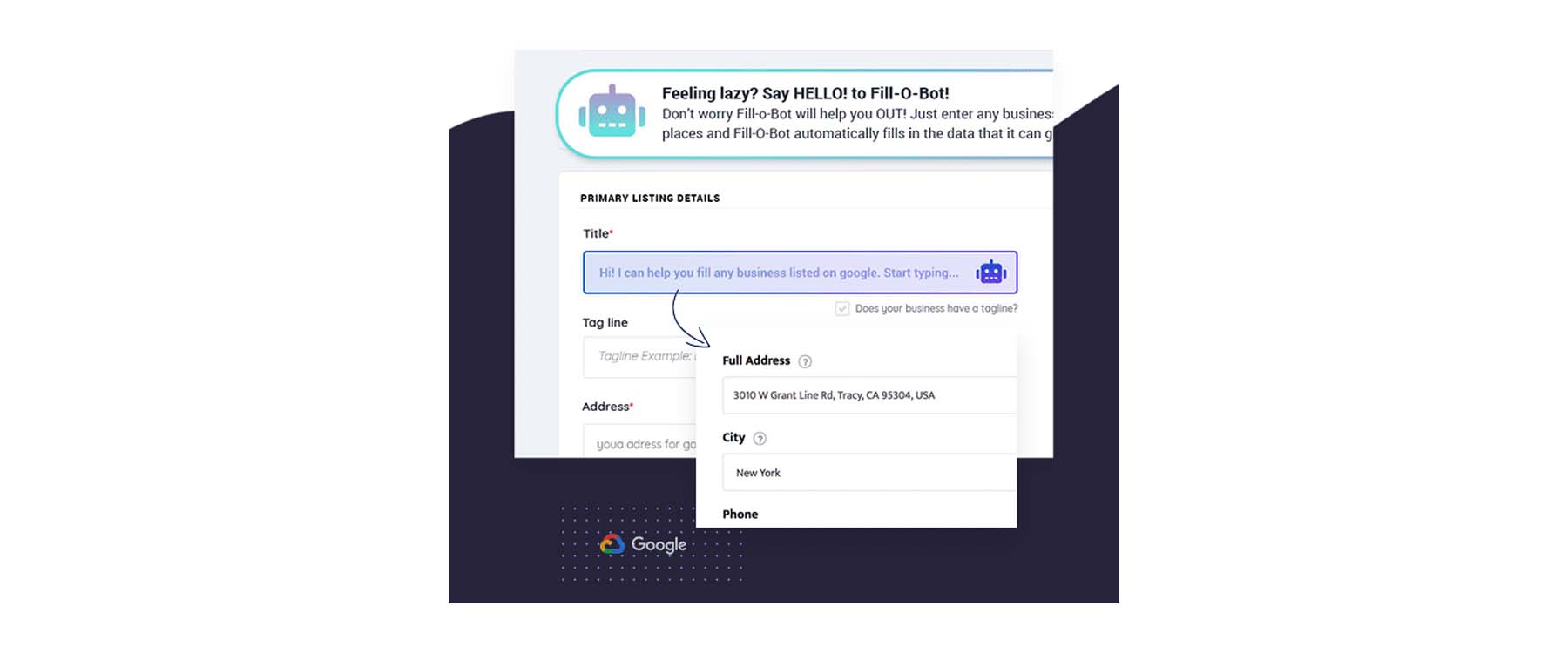 Fill-O-Bot is a feature of ListingPro that allows your users to pull their Google My Business details to their listing. The Search by Google feature will match their Google listing fields with the signup form. This will provide a better user experience for posters, saving time and energy when creating their profile on your directory.
Best For:
To be a powerful, feature-rich, modern directory, choose to use ListingPro. It takes customizations seriously when it comes to the crucial features of a directory: monetization, search, filtering, and user interaction.
Pricing: One-time payment of $69
8. Listify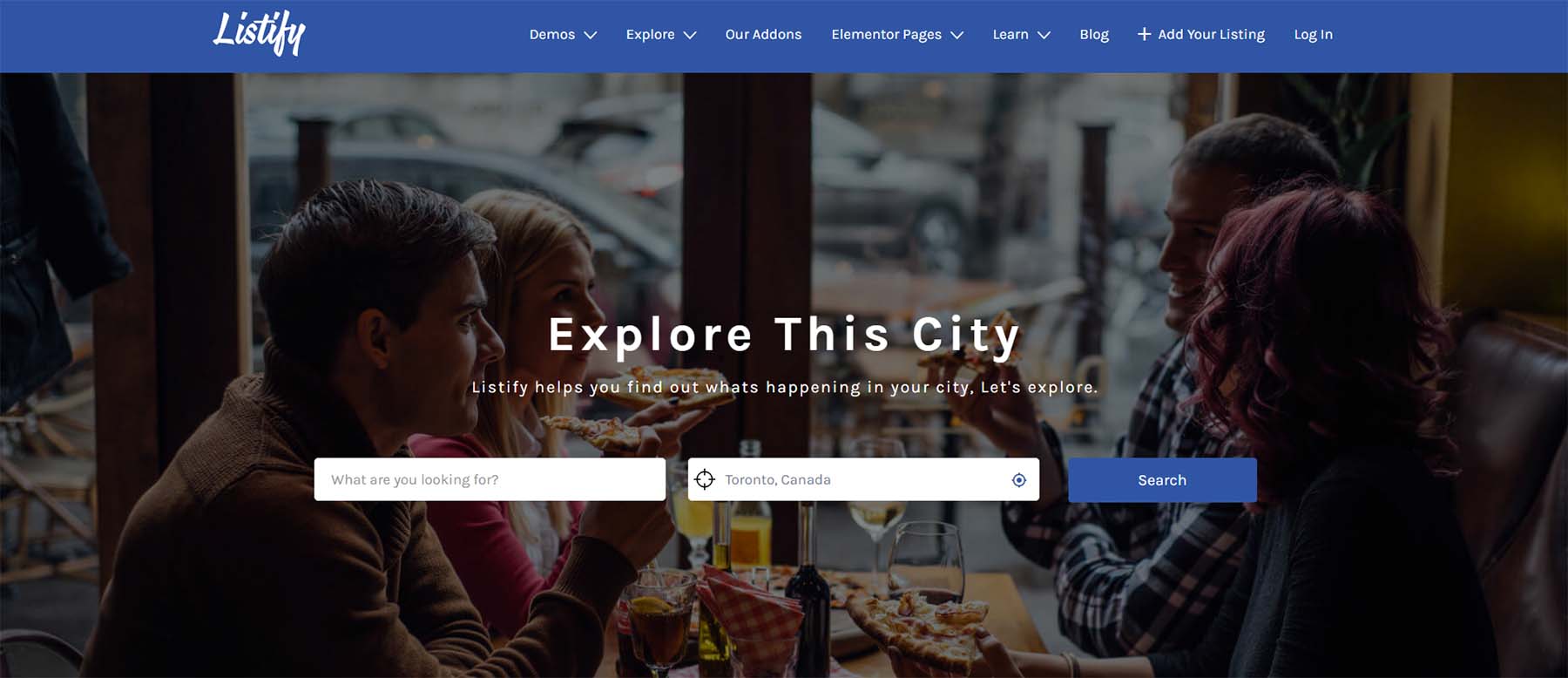 Listify provides a directory theme that is deeply integrated with Elementor. If you're a fan of this page builder, you'll like building your directory with Listify. Listify provides you with various ways to monetize your website's features. The theme makes it easy to earn ad revenue from PPC with dedicated ad spaces across the site. You can also charge for access to the site, access to view listings, or access to features like appointment booking and reservations, amongst other monetization features.
Users of your site can bookmark their favorite listings and contact listings owners. Listing owners can then reply and manage these messages in their private inboxes. Users can also leave reviews, search your site by region and labels (set by you), and use social login to create their account easily on your site.
Key Features of Listify
Custom homepage and listings page with a native drag-and-drop builder
Extensive library of style kits for quick brand implementation
Message dashboard and system
Geolocation informed only to show relevant, nearby listings
SEO-friendly and optimized
Charge monthly fees for listings via WooCommerce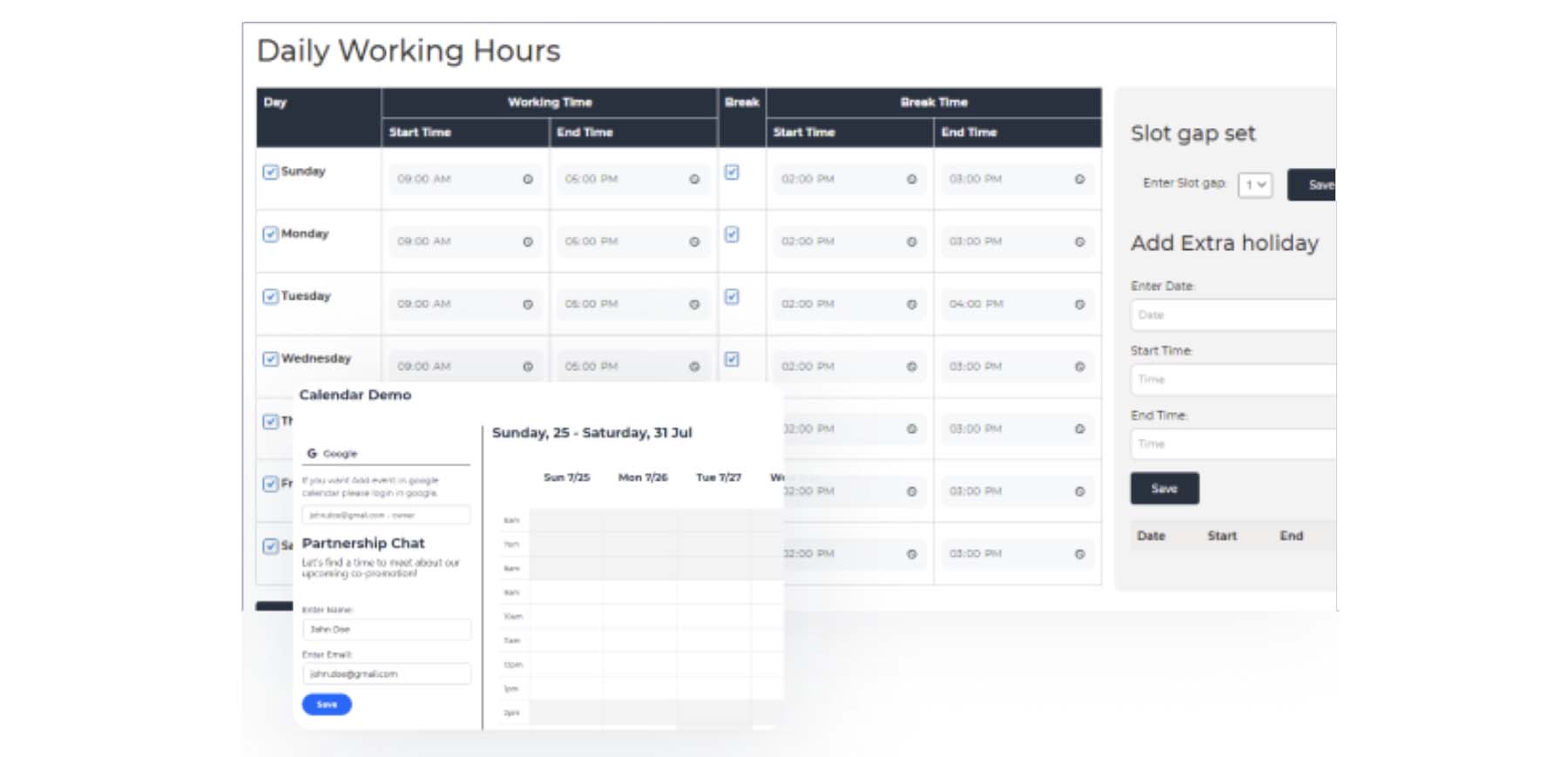 One of the unique features that you can offer users of your directory is the Appointify addon. Now, listing owners can set and book appointments through your website. They can rapidly create appointments, save events to their calendars, and preview upcoming meetings through a tooltip. Furthermore, all this can then be added to their Google Calendar!
Best For:
If you have plans to scale your website, Listify is the best directory WordPress theme for you. With its diverse collection of free add-ons, growing and adding features to your directory doesn't need to be expensive. With Listify, you don't need to worry about plugins potentially breaking your site. You can rely on their library of addons you can pull from as your directory expands.
Pricing: Paid plans start at $138 per year
What are the Best Directory WordPress Themes?
In conclusion, we know that there is a WordPress directory theme out there for you. Geo Directory Themes are the best choice for the one who wants to have the most control over their site. A large feature set supports it and sits at the top of our list. PremiumPress' Directory Theme comes in second. With its library of 100+ design blocks, you can build your custom directory website with this theme.
Lastly, Listable's editing options set it in our top three. Your branding will shine through with this directory theme, from filters to colorization, color palettes, and its dark mode. Ultimately, the best WordPress directory theme is the one you choose to use and make your own. Which one will you choose for your next directory website? Was there a theme that you think we missed? Share it below in the comments section!
Frequently Asked Questions (FAQs)
Before we wrap up, let's answer some of your most common questions regarding the best directory WordPress themes. Did we miss one? Leave a question below and we will respond!
What is the best directory theme for WordPress?
GeoDirectory Themes
stand out as they boast many impressive features to enhance your WordPress directory, like seamlessly integrating with
Divi
and Elementor, and offering a user-friendly drag-and-drop listing builder and flexible search functions. The abundance of add-ons and built-in SEO optimization further elevate this theme to the top of our list as the best directory theme for WordPress.
What is the best free directory theme for WordPress?
When it comes to free directory themes, the
GeoDirectory Themes
are again our pick. Their one-city directory, drag-and-drop listings builder, review engine, and search functions are all valuable features for anyone starting out with a listing website for free. GeoDirectory integrates well with popular builders like
Divi
, making it an even more attractive option. And, if your website grows, you can quickly scale it up with paid add-ons.
What features should I look for in a WordPress directory theme?
When choosing a directory theme for your website, ensure it has certain essential features. You need a search function so visitors can find what they need quickly. The theme should allow you to categorize your listings in an easy-to-understand way. You also need customization options to make the site match your branding. Lastly, don't forget about SEO and extendability, which can impact your website's success in the future.
What is better, a directory plugin or a WordPress directory theme?
A directory plugin may offer more flexibility and customization options for creating a directory on a WordPress site. In contrast, a directory theme may offer a more streamlined and integrated solution with pre-designed templates and features. Ultimately, choosing between a directory plugin or a WordPress directory theme depends on your specific requirements and goals.
Which WordPress directory themes are SEO friendly?
The WordPress directory themes, including
GeoDirectory Themes
,
Listable
,
Listee
, and
Listify
, are designed with SEO in mind and equipped with built-in SEO settings and compatibility with popular SEO plugins and tools. By incorporating effective Search Engine Optimization (SEO) strategies, your website can attract and engage a targeted audience, leading to increased success and profitability.
Which WordPress directory themes integrate with WooCommerce?
Themes such as
Listable
,
ExpertHive
, or
Listify
seamlessly integrate with WooCommerce. By using WooCommerce, you'll be able to sell memberships, products, and services with ease.
Are directory websites profitable?
Directory websites can be profitable because they provide a centralized platform for businesses to list their services or products, making it easier for customers to find them. These websites require relatively low overhead costs and can be monetized and scaled quickly, making them an attractive business model.
How can I monetize my WordPress directory website?
You can monetize your WordPress directory website in several ways, such as charging for premium listings, displaying ads through Google AdSense or other ad networks, offering sponsored content or sponsored listings, selling affiliate products or services, and creating and selling your products or services like templates and ebooks related to your directory's niche.
How can I promote my WordPress directory website?
You can promote your WordPress directory website by utilizing social media platforms, creating engaging content, optimizing your website for search engines, partnering with relevant websites and blogs, and offering incentives for users to submit their listings and reviews. Additionally, you can attend relevant events and conferences to network and promote your website to potential users and partners.
How can I improve the speed of my WordPress directory website?
To improve the speed of your WordPress directory website, you can optimize your images, use caching plugins, compress your code, minimize HTTP requests, and choose a reliable hosting provider. Additionally, consider using a content delivery network (CDN), removing unnecessary plugins and widgets, and reducing the size of your database.
Are you looking for more theme reviews? Check out our top choices for the best WordPress themes.