You've done it.
After a lot of decisions, time and effort, you've managed to launch a new website, and you're ready for the world to see it.
It's exciting, isn't it? The world seems a little brighter and full of possibilities.
But as I'm sure you've already figured out, this isn't the end of the line.
One of the most important steps after having a site live on the web is making sure that it gets indexed by Google.
Without indexing, Google will never show your content in its search results for keywords you that should get you found.
And that can send your high hopes plummeting faster than you can crack a whip at.
Even though Google has made a lot of changes to SEO, getting your website indexed isn't altogether difficult. While some have the best of luck getting their site indexed in a few hours, others may find that it can take longer.
No matter the case, the steps to get you there work well. So let's cut the chit-chat.
Here are our tips for getting your site quickly indexed by Google.
How To Check If Your Site Is Indexed by Google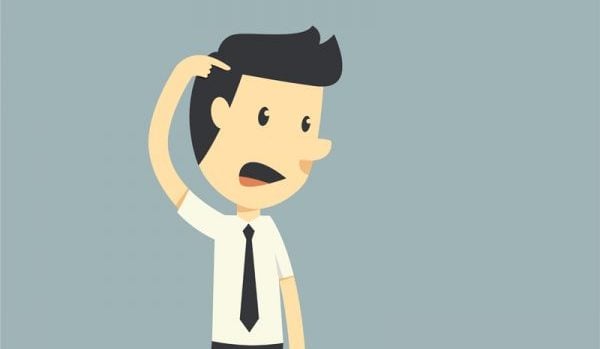 Before you go through the hassle of indexing your site, you should double check to make sure that Google hasn't already done its job for you.
Here's a quick little search hack to check and see if you're already in the system:
site:yourURL.com
Doing this will pull up what content and pages Google has already indexed. If Google has already added your site, then your site will appear in the page results along with the pages and posts that Google has cataloged. (See image below)

If your site doesn't show up, then that means it's time to go to work getting Google's attention.
Have Your Website Ready With Content
To get Google to notice your site, you need to understand what it's looking for.
In a lot of ways, Google is an online library that houses the most information in the world.
Like any library, it has to categorize the information it receives to keep everything in order and easy to find.
With that in mind, consider this:
What if a library receives a book with a great title and cover design only to open it and find that it was completely blank. What would they do?
Probably set it aside and keep it off the shelves because the book is utterly useless.
The same applies to Google.
If it comes to a website that has no content like pages or blog posts, then it's not going to want to "put it on the shelves" so to speak. That's why having content on your website should be your first step.
All of your pages and blog content should have unique, useful content available.
That way, when Google does crawl your site to index it, it will have a much better chance of sticking.
Create and Submit a Sitemap
Once you have content worth crawling and indexing, it's time to get Google's attention. One of the best and fastest ways to do this is to submit a sitemap to Google.
Now don't worry, even though it sounds super technical, creating and submitting your sitemap is quite simple.
The easiest way to create an XML sitemap is to use a plugin, and chances are you're already using one that can do the job in a snap.
Some of the top plugins that allow you to create this are Yoast, Squirrly SEO, and even Jetpack.
If you're using Yoast, you can follow this tutorial to on WPBeginner to learn how to use the plugin to generate a sitemap.
As for creating your new sitemap, there are a few things you'll want to do before you can do that.
Verify Your Site on Google Search Console
You likely already have a Google Analytics account, but a lot of people forget about setting up an account on Google Search Console (previously known at Google Webmasters).
If you're submitting your sitemap to Google, this is the first step to actually doing that.
If you haven't done this just yet, here is a great and easy to follow tutorial on the Yoast blog.
Submit Your Sitemap To Google
After you've connected your site to Google Search Console, now it's time to submit your sitemap. Thankfully, this part is easy.
Login to Search Console and scroll down to the menu option "Crawl."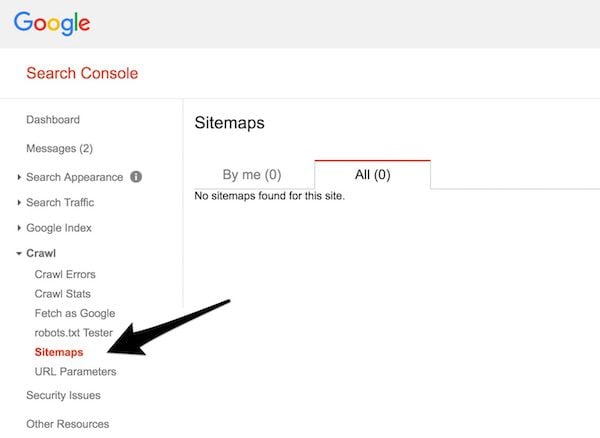 Select "Sitemap." In the top right corner, click on the button that says, "Add/Text Sitemap."

Clicking that will open the option to add the URL to your XML Sitemap.

Add your URL (which should look something like myurl.com/sitemap.XML) and submit it.
That's it. Now Google has what it needs to take a good long look at your site so that it can start categorizing it.
Now, you could stop here, but the point of this article is to help you index your site quickly.
Let's cover a few more tips that can help Google to pay attention.
Start Sending Traffic To Your Website
Even though your website is not yet indexed by Google, it's still a live site that people can go to. As a search engine, Google is getting smarter and it's looking at more than just your sitemap to see what it should index.
Sending traffic to your blog is a great way to help Google see your site as something it should index because people are already coming to it and (hopefully) finding useful information there.
Here are some ways to start getting traffic to your blog so that you can quickly get your blog indexed.
It might seem a bit outdated, but using Social Bookmarking sites can be a great way to start sending traffic and social signals to your website.
This is part of the reason why I mentioned that having content on your site should be the first step since you'll want something to send traffic and to draw attention to.
Tools and sites like Digg, Delicious, and StumbleUpon are some great places to start. If you want a few more to look at, read this article over at Brandwatch.
Blog Commenting
Using Blog Commenting for backlinks is dead. That is to say, even though this can give you a bit of link juice still, it is NOT a solid SEO strategy.
However, leaving really helpful and informative comments on top blogs in your site niche is a great way to send targeted traffic to your new site.
Harsh Agrawal used this practice on a new site to help get it index in 24 hours, so it's certainly worth trying. Just don't go super over the top here.
Too many blog comments in a single sitting may be viewed as a linking scheme and do some damage rather than good.
There is no shortage of social media groups you can join. Facebook, LinkedIn, and Google Plus have plenty to choose from no matter what sort of site you run.
Do a search in these platforms and join a few that look promising. When the moment presents itself, add a link to your site within the group to funnel a bit of traffic right to you.
It's a bit time-intensive but can pay off with time.
Start Building Your Own Links
Guest posting and outreach is a great way to land high-quality links on your site, even if it's not indexed yet.
If you're not very good at writing, you have a couple of options:
Practice writing blog content on your blog until you're comfortable enough to pitch ideas to blogs in your niche that take guest posts.
Find a freelance writer or content marketer and build a relationship with them. Many writers will not take payment for links placed on blogs. But by building a relationship with them you have a better chance of earning high-quality links. (Either way, you should totally try this!)
Also keep in mind that Brand Mentions can be just as powerful as an actual link.
I knew it! RT @CyrusShepard: This Google patent defines non-linking citations as "implied links" http://t.co/cOxv0irklk

— Rand Fishkin (@randfish) March 26, 2014
Google is getting smarter all the time, and its recent updates make it so that mentions of your brand are viewed as implied links.
Therefore, landing both links and brand mentions will send some much-needed signals to Google showing that you mean business, and you should get indexed sooner rather than later.
Wrapping It Up
Now that you've been sending traffic to your site, and you submitted your sitemap, go back to Google Search and try searching your URL again.
If your site is indexed by Google, then you're good to go. If not, just keep at it and checking on it.
Have you ever had to get a site indexed? What worked for you? Let us know in the comments below.
Article Thumbnail Image by Author Alex Hliv / Shutterstock.com