Divi 1.0 shipped with a total of 2 section types, 11 row structures, 6 column widths, and 17 modules. In 2.0 we are setting our sights on increasing these numbers and delivering an even more robust Divi. At the end of the day, the content of your website matters the most, so we are working hard on improving the quality and quantity of modules that ship with the Divi Theme. Below are some sneak peeks at new modules and various module enhancements we have in the works. For more info on Divi 2.0 check out our earlier sneak peak.




Tools To Connect With Your Visitors
In 2.0 we are working on taking social media to the next level with modules that allow your users to share content, learn more about you, and interact with your social networks. This will make it easy to add social sharing buttons that actually match the look and feel of your website.
People should be able to connect with your business in the real world too, which is why we are exploring ways to integrate Google Maps within our intuitive builder interface.
Modules That Highlight Your Humanity
We are working on updates that allow you to highlight your clients, customers and the team members that help make your company "real."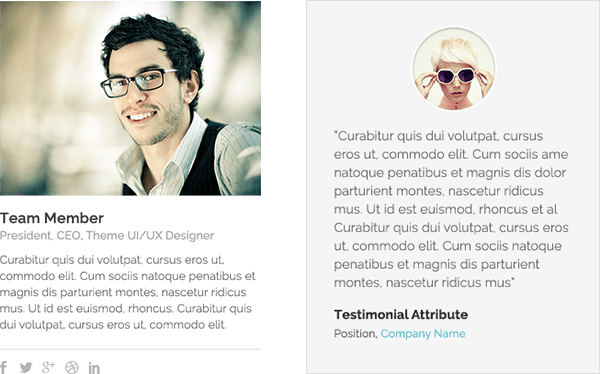 New Ways To Display Beautiful Imagery
In the second release of Divi we are developing even more ways you can display images and portfolio items.
In addition to imagining new and beautiful portfolio layouts, we have also been working on new pagination and categorization features for our existing modules.
Not only are we updating and improving our Portfolio modules, we are also looking at ways to bring normal WordPress image galleries to the next level.
We Are On A Mission To Build The Best Theme Ever
We believe that Divi will be the best theme you can buy, period. This is because we will be constantly evolving and expanding on its feature set. Divi 2.0 will bring the theme to the next level, but that's just the beginning. I hope that you are excited for the new release. We are working hard to finish 2.0 as soon as possible, but we are also taking care not to rush. Stay tuned!