New & Improved
The New ElegantThemes.com Re-focuses Our Membership Value And Improves The Experience For Current Customers
Today we are launching the brand new ElegantThemes.com. This is a complete website redesign that reframes our membership's value, brings to the forefront our core products, digs deep into Divi and all of its amazing features, and most importantly, greatly improves the membership experience for our current customers. This is something we have been working on for a long time and we are really excited to finally show it to you.
A Better Customer Experience
Current Customers Will Enjoy Some Great Improvements To The Members Area And Overall Website Structure
If you are an Elegant Themes customer, you will be happy to find some great improvements to the website structure and some new additions to the members area. We want to make sure that the entire Elegant Themes customer experience is as smooth as possible.
Easier Login And Contextual Account Menu
First off, we added an easily accessible login form to the navigation bar. No matter where you are on the website, you can quickly log in to manage your account and access your downloads. We also made the menu contextual. When you are logged in you get new menu items and quick access to all account pages and the ability to log out. We also remove the Pricing button and give you a clearer call to action for finding and downloading our products.
Better API Key Management
We greatly improved API Key management. Unlike before, you can now delete keys in addition to deactivating them. You can add labels to each key so that it's easy to remember which keys are being used on which websites. We also made it easier to click and copy keys and your username when setting up new websites.
Consolidated Account Pages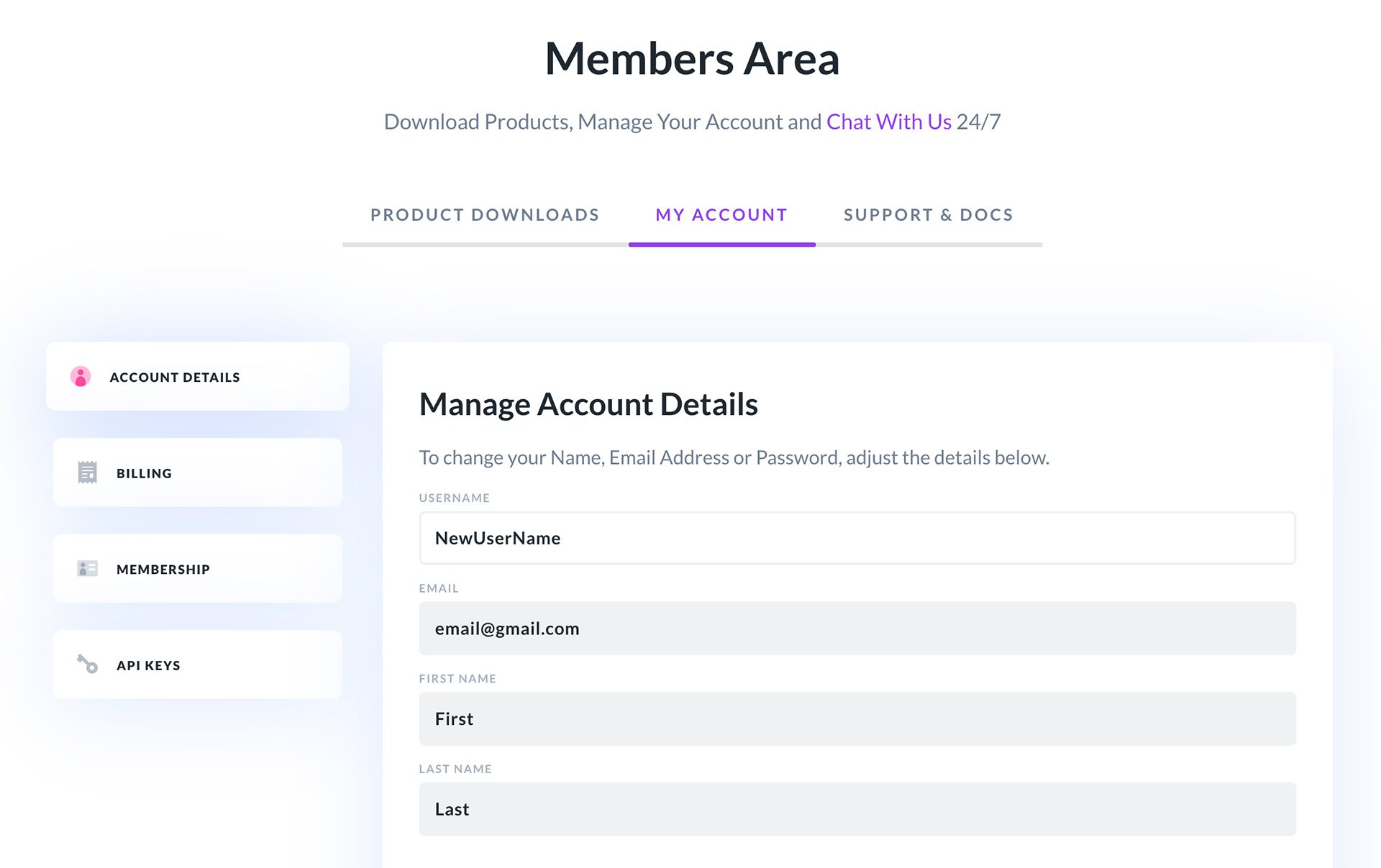 Our new design has consolidated various account areas into new pages that are better labeled and easier to navigate. You're able to manage your billing profile, download invoices and edit your invoice information in the Billing tab. Upgrade, cancel and manage your membership in the Membership tab. Edit your profile information and view your username in the Account tab. Add, delete, label, activate and deactivate API keys in the API Keys tab. All of this is wrapped in a cleaner design that's not only easier to use, it's a lot nicer to look at too.
Refined And Refocused
We Restructured The Entire Website And Reframed Our Core Values. What Elegant Themes Offers Has Changed, And Our Website Should Reflect That
Elegant Themes used to be a place where you got a ton of great themes for one low price. While that's still true, it's not really our true selling point. With the introduction of Divi, Extra, Bloom and Monarch, a smaller set of core products has eclipsed our legacy theme collection and transformed the way our customers build websites.
Re-Focusing On Our Core Products
Outside the members area we re-focused the website on our core products. Divi, Extra, Bloom and Monarch have dedicated links in the new navigation menu and our old themes have been de-emphasized. Instead of featuring a generic list of themes and plugins, the new website focuses on the unique value that each of our core products bring to the table. Together, these products create the ultimate WordPress toolkit.
Bringing Divi To The Forefront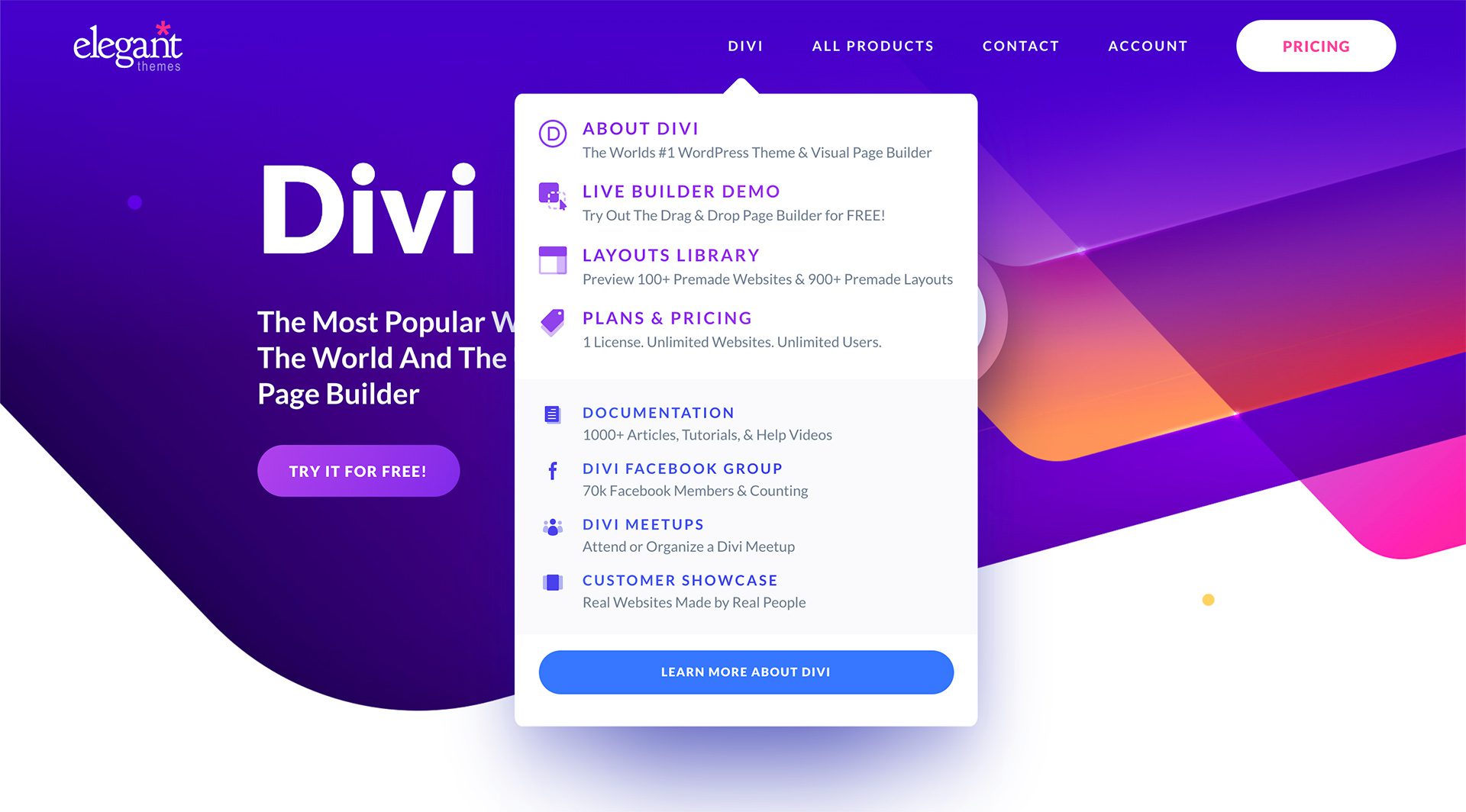 Divi now has a top level navigation spot and within its menu are links to everything you need to know about what Divi has to offer. The new Divi landing page has been greatly expanded, digging deep into every single one of its features. Even if you are an avid Divi user, browsing this new page might surprise you with a few features you didn't even know about.
We hope you like the new design, so let us know what you think in the comments and don't forget to check back next week for even more great Divi updates coming your way.