Introducing WireFrame View
Wireframe View transforms the Visual Builder into a block-based application similar to the standard Divi Builder, allowing you to make quick updates to your page and switch back and forth between different view modes instantly!
Today we are introducing a brand new View Mode in the Visual Builder called Wireframe View. Enabling Wireframe View transforms the Visual Builder into a block-based application similar to the classic Divi Builder. For those who still prefer to use this type of simple, streamlined interface when making certain changes to your page, this new mode will allow you to switch back and forth between Visual View and Wireframe View instantly. No need to bounce back and forth between two entirely different builders because The Visual Builder now gives you the best of both worlds!
For long, complicated pages, switching to Wireframe View allows savvy users to make super-quick updates to their page by easily locating, moving and modifying blocks of content. Now the Visual Builder can accommodate different users with different building styles, allowing you to choose the mode that best suits you or your current project. This is the first of many different view modes that we plan to release to help enable the Visual Builder to adapt to people's varying preferences, editing styles and experience levels. We have a bunch of really cool ideas in this area, and we can't wait to share them with you. There are so many amazing things we can do with the Visual Builder, and we are just getting started!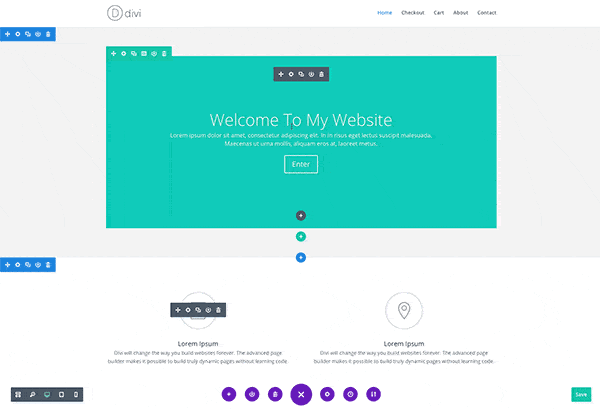 Unlike the standard Divi Builder, Wireframe View lives inside of the all new Divi 3.0 Visual Builder. This means seamless transitions between Visual View, Desktop View, Tablet View, Smartphone View and Wireframe View while editing your page on the front-end of your website. Using Wireframe View is a lot like using the standard Divi Builder, except it's faster and it has some added perks, like the ability to edit labels right on the page and with the huge added benefit of living inside of a modern WYSIWYG application.

Wireframe View is available today, so update Divi and let us know what you think! Also, stay tuned for more great Divi features coming your way soon. We are really excited to keep pushing Divi forward, and we hope you are too.

The First Of Many New Features
Coming Your Way Every Week
We are on a mission to bring you killer new Divi features every single week for the next few months while we work up to Divi 3.1. Stay tuned!
We have a lot of amazing features planned for Divi, and we are releasing them one at a time over the next few months as we work our way towards Divi 3.1, the developer update. What new feature is coming next? You will just have to stay tuned to find out! Don't forget to subscribe to our newsletter and follow us on Facebook so you never miss a beat.