There are many good reasons to translate your WordPress website. It opens up new markets and brings in additional customers.
After all, while a little more than a quarter of the Internet speaks English as a primary language, the other three quarters do not. For that reason, if your site is only in one language, you are missing out on a ton of people.
In addition to that, the online access in English-speaking countries is already relatively high and will bring less people online. At the same time, other languages, especially Chinese and Arabic but also Spanish, Portuguese and other languages are constantly adding new Internet users.
Apart from that, being able to get product information in their mother tongue is a huge factor in purchasing decisions for consumers.
If that isn't enough to add additional languages to your site, I don't know what is.
WordPress already offers several translation solutions, which we talked about here and here. However, a new player recently joined the arena. Weglot, a freemium translation plugin for WordPress and other website solutions is making waves.
Unlike most other solutions, Weglot is Software as a Service approach to translating websites. Reason enough for us to take a detailed look. In our following Weglot review, we will tell you how the service works and talk about its strengths and weaknesses.
Weglot – Setup and Configuration
Weglot automatically translates your content into more than 60 languages and gives you the possibility to edit and refine the translations manually. To give you a better impression of how this works in practice, let's go over a the whole process once.
Install the Plugin
The first step is to install the free plugin from the WordPress directory. You can do this as usual under Plugins > Add New or by downloading and installing it manually.
Set up a Weglot Account
Next up, you need a Weglot account. You can create one on the Weglot website. Just click on red button in the middle of the screen.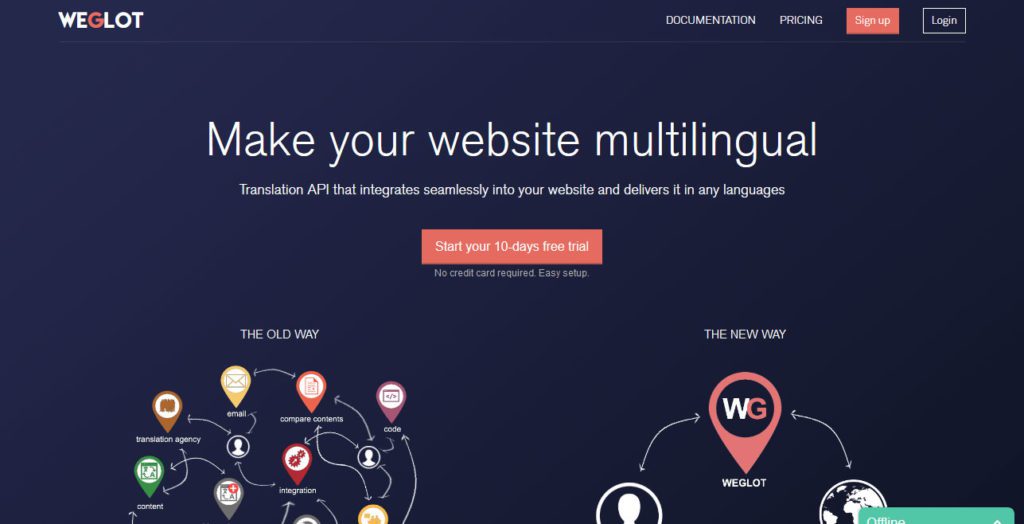 In the next screen, enter a valid email address and a password of your choice twice. After that, check your emails and click on the confirmation link. Boom, you're done.
Configure Your Languages
Confirming your account also gives you the API key that needs to be input in the Weglot settings. This is our next stop anyway and you can find them under Weglot in the WordPress sidebar.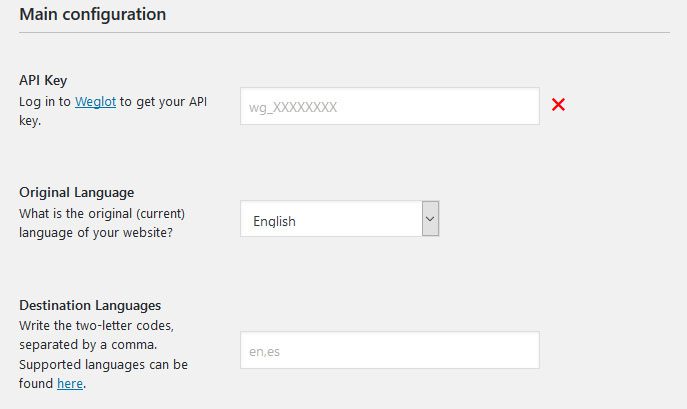 Copy the API key to the appropriate field. This will connect your site to the Weglot service.
After that, pick the original language of your site and the target language of your translation. Target languages are input as two-letter codes that you can find here. You can add several languages divided by commas. However, note that this is only available for paid accounts, not the free trial.
Set Up the Language Switcher
Now it's time to configure the way users will switch between translations. You have the following configuration options: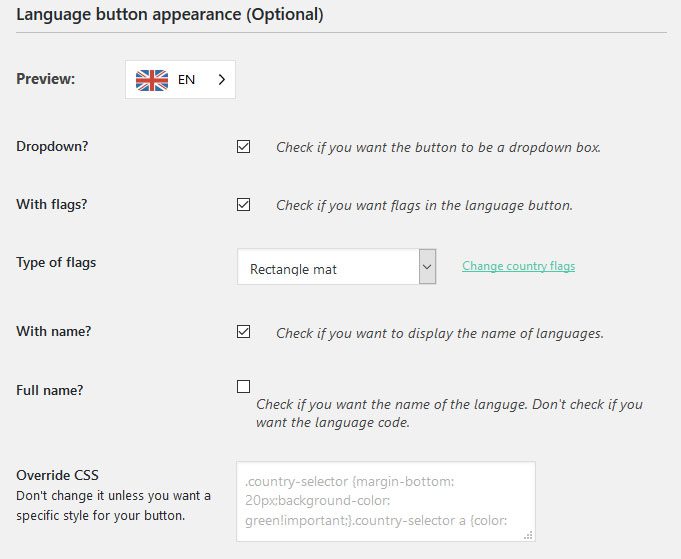 Pretty clear, right? If you are not entirely satisfied, you can even use custom CSS.
After that, you need to configure where you want the switcher to appear. For that, you have the following options:
Place it in the navigation menu
Add it to any widgetized area
Place it via shortcode
Add it via a HTML snippet
If you don't choose any option, the language switcher will automatically be displayed at the bottom right of the page.
Besides that, it's also possible to exclude URLs and CSS selectors (for example .footer) from being translated. That way, you can keep information that doesn't need to be transferred into another language as is.
That's it for configuration, now let's see how things work on the frontend.
How to Translate Your Website With Weglot
Now we will come to the actual translation. For that, we need to turn to your site.
Test the Automatic Translation
Here's my example site with some English test content.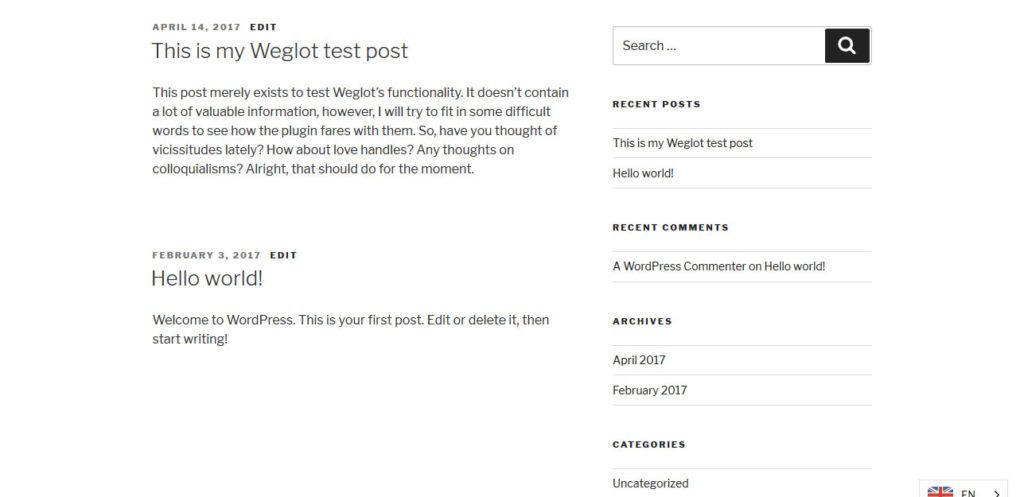 You will also notice the language switcher in the corner. When I now switch to my target language German, we get this.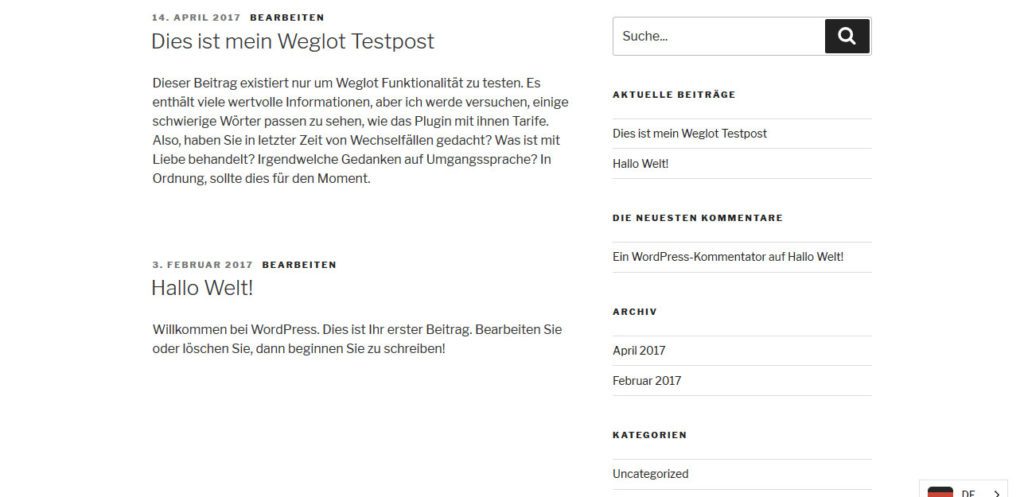 As you can see, all the content, including the strings in my sidebar and the date format, have been translated. Pretty neat, right? The best part: the page also got its own URL including a language prefix.
That means, it went from http://mysite.com/ to http://mysite.com/de. The advantage: it can now be indexed as a standalone page which greatly benefits your SEO. For Google, you now have an localized version of your page online. And it only took a minute or so to achieve this.
However, German speakers (such as myself) will notice that the machine-translated version of my content leaves much to be desired. So, let's turn to making corrections now.
Managing Translations
Weglot gives you the options to improve and fine tune your copy inside the dashboard of your account. Here, you also see the status of your translations, how many words you are using, the amount of human translation and number of languages.

Further below, you have to option to change translations, either using a visual editor to change text directly on your website or by editing an index of your translated text.
Let's start with the visual editor. When you click on this option, you get taken to a live version of your site.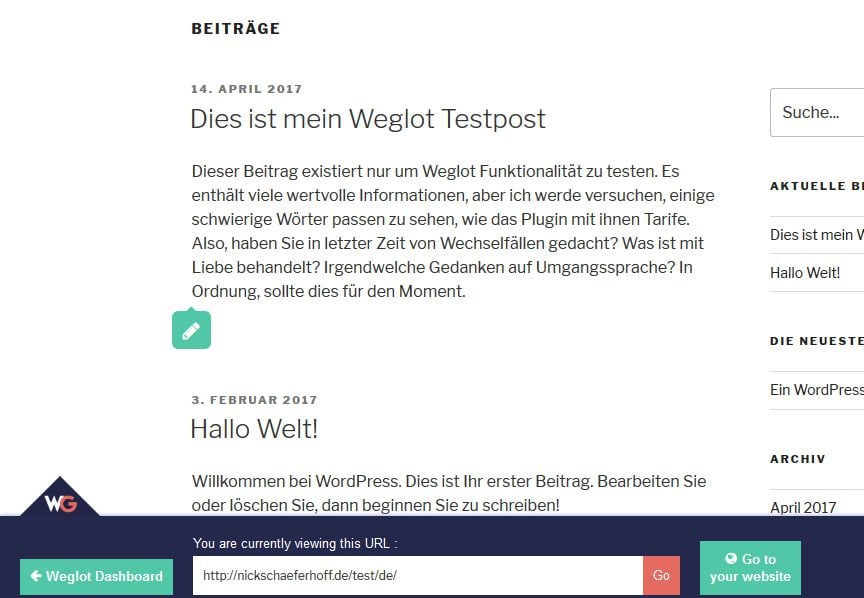 To edit any of the text, just click on it. Doing so will take you to this window.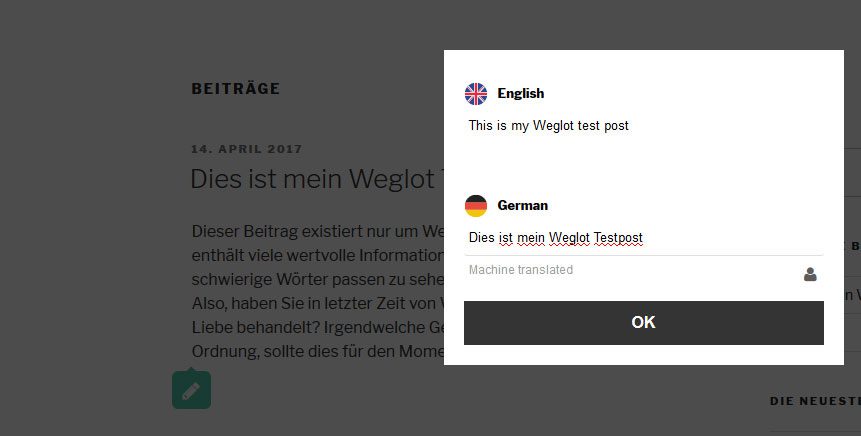 Here, you can make edits or even order a professional translation right from the interface. Easy peasy.
In contrast to that, the list of translations looks like this: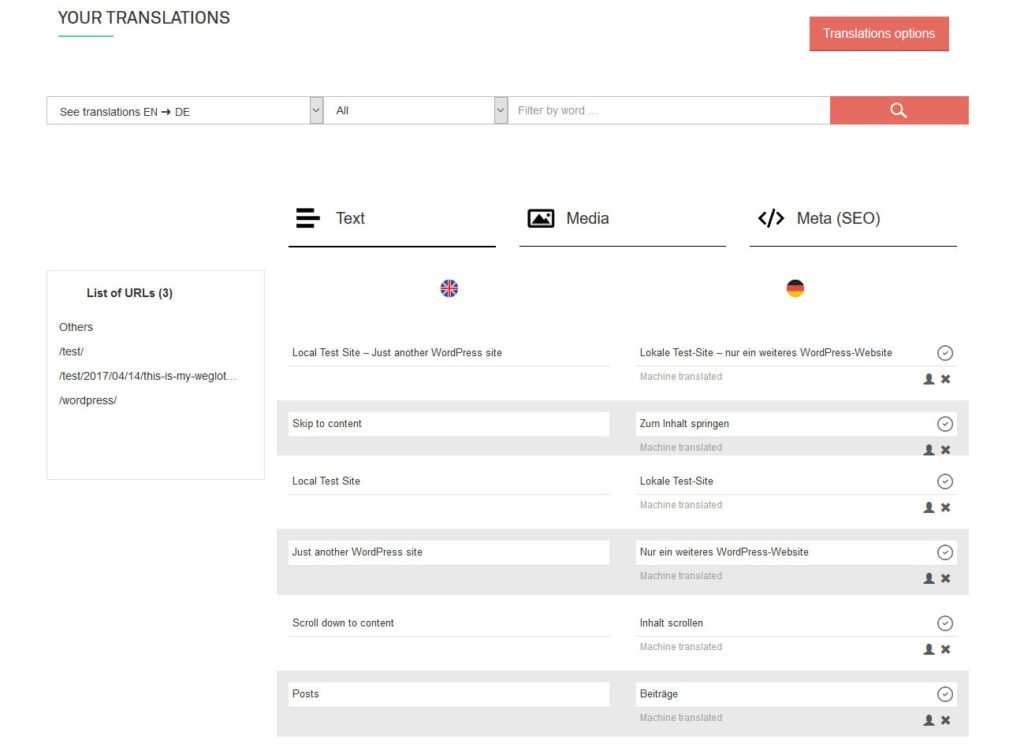 Not only can you search it for certain words but also edit content as well as media names and meta information. The index will also tell you which parts are machine translated, which by humans.
You can also mark accurate translations as reviewed so you don't lose track of what is already up to snuff. Finally, search and replace makes quick work out of multiple edits.
All the changes you make either way will automatically be applied to your site. Very comfortable.
How Much Does it Cost?
Of course, features like that don't come for free. Weglot offers several plans to its customers:
Free – Up to 2,000 words in one additional language
Starter – 9.90€/month, translate up to 10,000 words into one language
Business – 19€/month, up to 500,000 words, as many languages as you want
Pro – 49€/month, up to 2,000,000 words into as many languages as needed
You also have the option to pay yearly, which gives you two months of free service. In addition to that, every plan also gives you access to professional translators at 0.08€/word.
Weglot – Pros and Cons
So far so easy. So should you get Weglot? Let's discuss some pros and cons.
Super Easy to Use
As we have seen from the above, setting up Weglot literally takes a few minutes. I could hardly imagine an easier system. Plus, while the automatic translations are not one hundred percent correct, they give you a good basis to start from and a head start in contrast to a fully-manual approach.
SEO Friendly
Weglot follows Google's best practices when it comes to multi-language websites and SEO. You don't need additional plugins to get your content indexed, everything is done pretty much automatically. What more can you want?
Doesn't Sacrifice Speed
Other translation plugins out there are often criticized for slowing down websites. This is not the case with Weglot. Everything is generated quickly and dynamically.
Well Documented and Supported
Support is very important, especially for first timers. Weglot comes detailed instructions on how to get started. They also offer live chat support within business hours or otherwise the possibility to email them or use the WordPress support forums. I personally would have also liked an FAQ section.
Ownership Unclear
The reason why FAQs would be useful is because I was looking for an answer as to the ownership of the translations. Since everything is happening on their website, do you lose all the translations with the end of your subscription? Or is there a way to export them? Information on this part would be useful.
Relatively Pricey
Of course, the price can also be a hindrance as Weglot is not cheap. Sure, you get a lot out of it but you need to have the budget. For example, $195 gets you a lifetime license for WPML that you can use on unlimited sites and for unlimited languages. In contrast to that, the same money only gives you a year on the Business plan which is basically for one website.
Weglot Review – Final Thoughts
Weglot is an interesting new contender on the market for multilingual WordPress plugins. Its ease of use is phenomenal. The service makes quick work out of translating websites and is much more comfortable than other solutions out there. Plus, it is SEO friendly and doesn't slow down your site.
One of the downsides, however, is that pure machine translations are rarely reliable. For that reason, especially for important part of your site such as sales pages, putting in additional effort is mandatory. If you don't speak the target language yourself, that might also mean getting additional (paid) help. At the same time, the automatic translations are an awesome place to start from.
The biggest deterrent, however, is the price. As mentioned above, Weglot a bit on the pricier side. While the comfort is worth it, especially for large sites with a lot of translation needs, it is a serious consideration. Yet, if you have the budget, Weglot is definitely worth a serious look.
What is your favorite WordPress translation tool? How does it compare to Weglot? Let us know in the comments section below!