You don't have to be an elderly veteran of the online business world to want an email marketing software with all the features and amenities. Let's admit it: What better way to communicate with your contacts and prospects than through email?
Compared to young and green marketing tools, email marketing has stood the test of time when it comes to generating leads, building customer relationships and increasing conversions. Also, you can reach a wider audience at a fraction of the cost compared to the former.
Here are some eye-opening stats about email marketing:
Businesses using email to nurture leads enjoy 50 percent more sales-ready leads, which on average, result in a 20 percent increase in sales opportunities than non-nurtured leads. (source)
Marketers have consistently termed email as the most effective tactic for acquisition, awareness, retention and conversion. (source)
Using email marketing automation can lead to an uptick in conversion rates by 50 percent. (source)
As email is a tried-and-true marketing tool, there is no shortage of software options that enable you to create custom email lists, send messages to thousands of contacts, and use pre-designed templates. These are some of the standard features we expect in an email marketing software.
But if you're looking to do more with the software you have to dig deeper. A software that is more sophisticated than standard options can offer different functionalities without sacrificing quality and nuance.
So what is the best option? Unfortunately, there isn't one perfect email marketing software. Companies and individuals can choose from a variety of solutions – but all software is not created equal. That said, selecting the appropriate software doesn't have to be daunting.
Picking the right email marketing solution is simpler when you know exactly which functionality to look for. Here are the top features to consider:
Visual Editor
The first impression counts when you are looking to have your contacts read the content inside an email. So when choosing an email marketing software, look for certain aspects in terms of visual styling. The most important of these aspects are Drag-and-Drop functionality, built-in-photo editing, pre-designed templates, responsive design, and the ability to incorporate your own HTML or CSS form.
These features will remove the need to redesign your newsletter or pitches every time. Previous designs can be copied and re-used with just a few clicks, which also serve as a starting point for new templates. As a result, the software takes the hard work out of desktop and mobile-optimized campaigns. Later, you can perform a split test and use the winning email design for your campaign.
MailerLite's Drag-and-Drop editor is one of the examples. It enables you to create great-looking email newsletters that can be optimized for all email clients (Yahoo, Gmail, etc.).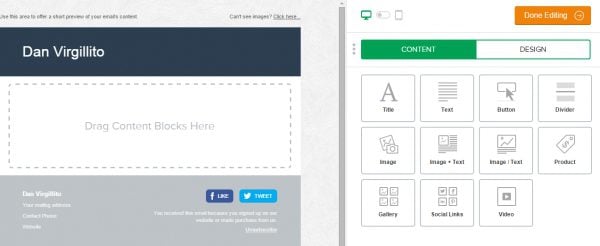 Did you know that personalized emails deliver double the transaction rates, 29 percent more unique open rates, and 41 percent more unique click rates than non-personalized emails? Food for thought.
CRM Integration
Email marketing software is a fantastic option to help you automate marketing processes. But if you want to take your email marketing experience to the next level, you must integrate the software with your CRM (customer relationship management) system. That should allow for better alignment between sales and marketing, and in turn result in more effective campaigns, thereby providing a stronger return on your investments.
Also, when you interact with customers, you discover additional data such as demographic, competitive information and pain points. By integrating your CRM system with the email software, you can update data in real-time, ensuring that records are up-to-date for the next campaign. For instance, you would be able to create email content based on CRM data such as previous purchases and profession to serve your contacts with relevant content.
AWeber, for example, can be connected to Zendesk, Zoho CRM, and more.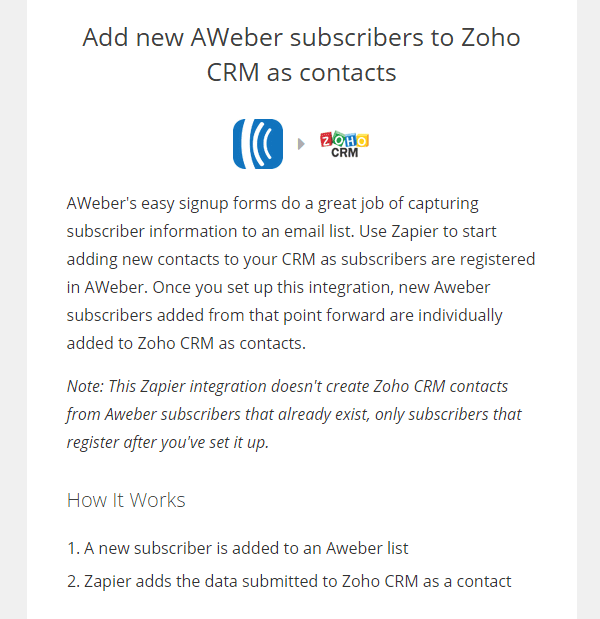 The integration will be done through the email marketing software's API (Application Programming Interface). It enables an external system to connect and make use of the services of the email software.
Analytics & Reports
Cutting through the clutter is the goal of most email marketers. To achieve this goal, data should be at the center of your campaigns, so your email marketing software should provide a detailed overview of how your campaign is performing with special emphasis on metrics that are delivering positive results.
In most software, you will be able to access analytics via a dashboard. In the dashboard, you can see the following insights:
Are subscribers using mobile/desktop to read your emails?
Do they print, delete, forward your emails?
How long are they staying on the email page to read content?
What contents of the email are they clicking (heat maps)?
Is it the male demographic or the female demographic that has a greater engagement in your target demographic?
The software may also provide insights on deliverability rates based on interactivity as which links or buttons have been clicked inside the body of the email. All of that information helps you optimize your campaigns and improve your results overtime.
MailChimp is an example of an email marketing solution that offers advanced analytics and detailed reports for every account. Users can refer to the interactive graphs to see how many people opened the email, click-through, deliverability rate, and more. They can also monitor trends to find out which emails bounced, and print reports for coworkers and clients.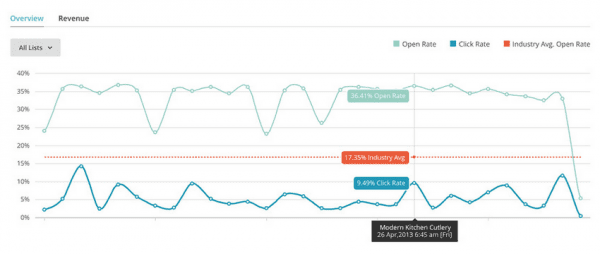 Some of these metrics can also be combined to calculate the churn rate, which many email marketers tend to neglect. To calculate the churn rate, divide the number of subscribers who bounce/remain unresponsive/leave by the total number of email contacts. If the average churn rate is about 30 percent a year, you are losing 30 percent of subscribers every year. It means you would have to add 30 percent to your list by coming up with a new strategy, just to maintain the size of your email list.
Autoresponders
Automation is one of the main reasons why businesses invest in email marketing solutions. Look for a software that features autoresponders; they can help you save money and time by automating several tasks for you. For instance, they can be set up to respond to every email with a reply that you have received the message and would respond at a relayed time.
Autoresponders are also a great tool for increasing conversions. A business may be offering a discount on a product/service when someone signs up on its website. The autoresponder can be used to send an email to customers with a message offering the opportunity to buy the product at the discounted price. If the offer proves to entice the customer the autoresponder becomes an effective tactic to draw the customer to make a purchase.
Likewise, follow ups will help nurture relationships with people who are new to your mailing list by letting you address their queries about your business right away. Look at what happens when you sign up for a service like Zapier; an autoresponder sends an email directly to your inbox explaining what the company offers and even mentions the 14-day free trial. The content has been addressed by the company's CEO.

A software with autoresponders as one of the features will help you streamline the way you reach out to new customers by automating lead-capture and email follow up.
CAN-SPAM Compliance
It has been a while since the US introduced legislation to prevent the spread of spam emails to inboxes of individuals. Make sure that your email marketing software complies to CAN-SPAM rules to maintain the reputation of your company as well as optimize email deliverability. Some software will analyze your email content and give insight on:
Whether or not the message will be blocked by spam filters given the subject line and content
Whether or not the email will appear as intended in all email readers
The presence of broken links
If the HTML looks legit or otherwise
A solution may also review the content of your message to discover if anything may cause it to be classified as spam by ISPs, ranking it on a scale of 0-10/ 0-100.
This kind of a feature may be supported by a third-party company rather than the company that created the email marketing software. For example, GetResponse offers a spam checker that analyzes number of links, types of links, form fields, headers, disclaimers and spam words to ensure that your email passes the strictest anti-spam tests.
The feature of GetResponse however is supported by an external application powered by a security firm. The security firm provides the highest level of protection through the experience of anti-spam specialists and frequent control of network tests.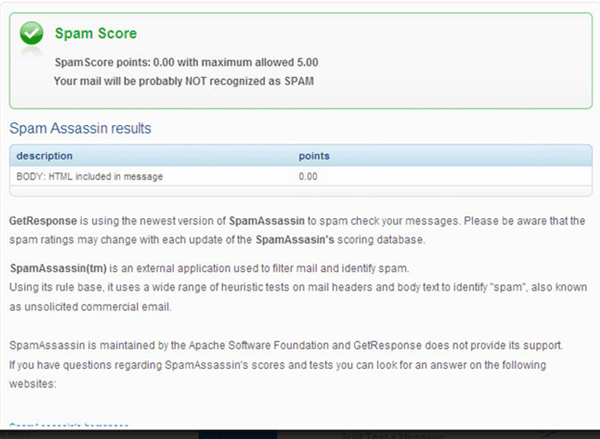 If your choice of email marketing software doesn't offer a similar feature, ask if it has CAN-SPAM compliance functionality for reassurance.
Contact segmentation
Getting it right with segmentation is one of the most important aspects of email marketing. Adopting the one size fits all approach isn't applicable to email campaigns. Therefore, you need to divide your subscribers into overlapping or separate segments or groups. You can select contacts by multiple fields in your email list to identify ideal sub-sections, and further narrow your segment focus.
Even if you haven't segmented lists before, an advanced email marketing tool will allow you to create groups based on different conditions such as:
Geolocation
Autoresponder engagement
Click-through
Purchase behavior
Browser used
Subscription message data
The number of conditions you can create groups on is limitless.
A study by Marketing Sherpa revealed that marketers using targeted emails over untargeted email campaigns enjoy a 208 percent higher conversion rate. Also, 40 percent of marketers who segment their lists enjoy higher open rates, and email list segmentation also results in higher revenue and better email deliverability.
eMarketer highlighted that key metrics (conversions, open rates, etc.) should increase with proper list segmentation. Subscribers are less likely to opt out if they're not bombarded with messages during the time they're not actively looking to buy, but can be included into your sales funnel once they go into purchase mode again, provided, for example, you created a segment by links shoppers click on.
Hubspot is one of the solutions offering list segmentation.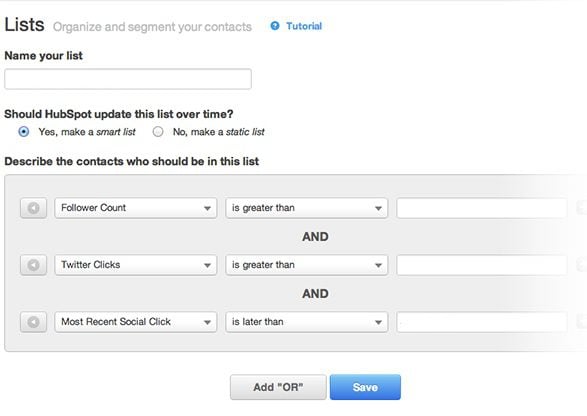 The company's own research found that segmented and targeted lead nurturing emails generate a higher click-through rate than general emails, implying that recipients of the segmented emails engage with the content and are more likely to perform the actions the sender wants them to take.
Conclusion
We all choose an email marketing software with the aim of getting real business value through all of our marketing efforts. But as mentioned above, there are different features that work in combination to determine success. Select a software that can grow with your business needs in the future.
What features of email marketing software are your favorite? Know of other important ones not listed here? Give us the feedback in the comments section.
Article thumbnail image by: vasabii / shutterstock.com