Whether you're a small business owner, professional blogger, or marketing agency, it's highly likely that you've considered email marketing as a way of engaging with your audience and driving conversions. The problem is that email marketing can be extremely time consuming, especially if you're trying to manage it all by yourself.
The good news is that there are some fantastic pieces of email marketing software out there, including GetResponse; the platform I am going to review here today.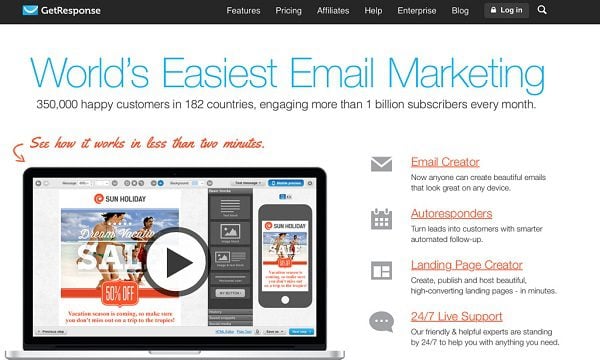 About GetResponse
GetResponse is an intuitive platform that is designed to make email marketing easy for beginners. The Company / Software was first launched in 1999 by Internet marketing pioneer and entrepreneur Simon Grabowski and has gone from strength to strength from its humble origins. The aim of GetResponse is simple; it wants to help its clients improve marketing efficiency, reduce costs, and increase the profitability of their businesses.
GetResponse was originally run from a small office in Gdynia, Poland. However over the years, the company gradually expanded into bigger office spaces in other cities and countries. Today it operates on a worldwide scale, with offices in the US, Poland, Canada, and Russia. The software is now available internationally in fourteen different languages and has over 350,000 clients to its name.
GetResponse Features
Now that you know a little bit about the company, it's time to look at some of the features provided by its email marketing software.
Email Creator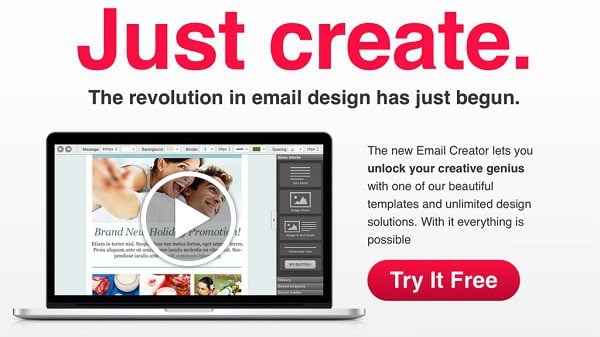 GetResponse's Email Creator makes it easy for users to create attractive and professional-looking emails with minimal effort. There are plenty of great templates to choose from, all of which can be edited to allow for unlimited design solutions.
GetResponse users also have access to an image editor, as well as thousands of iStock images that can be used to add visual elements to their marketing emails.
Emails can be customized using a drag-and-drop process and scheduled for delivery using GetResponse's Time Travel settings. These ensure that emails reach recipients at the same local time all over the world.
Autoresponders
GetResponse's powerful marketing automation tool makes it easier for users to send out effective emails based on their subscribers' needs and interests. Whether you're sending out daily deals or tips and advice to your subscribers, you'll find the Autoresponders feature very useful.
With the option to time emails according to a user's opening habits to sending action-based emails for a customer's completed transactions and even birthdays, the possibilities for email automation are endless with GetResponse.
Email Analytics
There's little point in creating an email marketing campaign if you've got no way of measuring it; you'd have no idea if it was a success or not. Thankfully GetResponse offers a powerful email analytics feature that offers user smart reporting.
You can set up automated reports to be delivered on a regular basis and decide what you'd like to be included e.g. opens and clicks, bounces, or reasons for unsubscribing. GetResponse's email analytics feature also allows you to find out what hour of the day or day of the week your subscribers take action on reading your emails. This allows you to segment your audience by this time of day and day of the week so you can send your emails out at the point they are most likely to convert.
As a GetResponse user, you can find out the ROI of your email marketing campaigns by installing tracking codes on your landing pages and website. When recipients click through from their email to your website, GetResponse will make a record of it. You will then be able to see how many site visits, sales, or sign ups you get as a result of your email marketing campaign; thus making it easier for you to determine its ROI.
Advanced Segmentation
When it comes to email marketing, it's no good trying to go for a one size fits all solution. You need to segment your contacts into similar groups in order to send them relevant emails that are likely to generate a response.
GetResponse provides users with advanced segmentation tools that enable them to divide their contacts into separate subgroups and segments. It also provides you with all the data you need to ensure you can tailor your emails to your subscribers' needs and make them feel important.
Spam Checker
GetResponse helps its users to create spam-free emails with the use of its content filtering tool SpamAssassin. Using this tool, you will be able to create email content that meets even the strictest anti-spam criteria to ensure that your emails end up in your subscribers' inboxes and not their junk folders.
SpamAssassin will review the content of your message and then give it a spam ranking from 0-5. In addition to your ranking, you will also receive tips on how you can improve your content or the formatting of your email in order to improve its quality and chances of it being flagged. The tool is integrated with the Message Editor, so you can quickly make the changes before scheduling your emails.
Inbox Preview
A tiny mistake in your email design's HTML has the potential to ruin your entire email campaign. This is why it's important that you check your emails before sending them off to your subscribers. The trouble is that checking emails can be very time-consuming, especially if you have to send them to test addresses and view them on different devices. Thankfully, GetResponse provides a great solution in the form of its inbox preview tool.
The GetResponse inbox preview tool will allow you to preview your emails and test them against major email clients including Gmail, Outlook, and Yahoo. You will also be able to generate instant mobile previews so you can see what your emails and newsletters look like on various different smartphones. The inbox preview tool comes free as part of your price plan, so you won't have to worry about forking out for expensive email testing software.
GetResponse is integrated with social media, allowing users to import your contacts, generate sign up forms, and expand your audiences automatically. You also have the option to add social share buttons to your marketing emails, so subscribers can help spread the word on Facebook, Twitter, and LinkedIn.
Other Key Features
In addition to the features discussed above, GetResponse boasts a whole host of other features that can be used to create effective marketing email campaigns. From testing to sharing and list building, you'll have the tools to carry out every email marketing action you can think of!
Newsletter directory – a chance to add your newsletter to the GetResponse directory to add a few more customers to your list
Video email marketing – embed video contact into your e-mails for extra click-throughs
Online surveys – invite customers to complete valuable surveys with this easy to use module
A/B testing – test and gauge which campaigns work the best through the A/B testing module
RSS to email – announce blog posts and other news with 30 customizable RSS to email templates
Form generator – 500+ ways to create sign up forms to give your sales an injection
QR code builder – a powerful easy to use QR code generation tool
List booster building program – 16 ways to boost the number of contacts on your e-mail list
Benefits Of Using GetResponse
99% Delivery
GetResponse claims to offer users 99% email deliverability. It has achieved great results so far by creating an anti-spam culture, which encourages users to conduct permission-based email marketing. In addition to educating users on email etiquette and best practice, GetResponse also closely monitors accounts and takes action if it sees spam activity. It sends warnings out to spam accounts and will even close accounts that do not follow its guidelines, ensuring its clients remain on the white lists of the majority of top email providers, including Outlook, AOL, and Yahoo. 
24/7 Support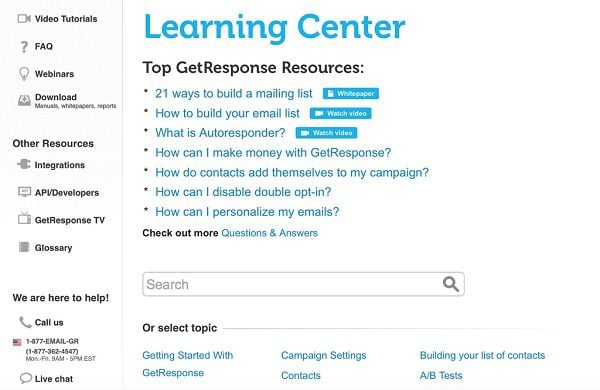 When choosing any software, it's good to know that the people behind it offer around-the-clock support. GetResponse offers its clients phone, email, and live chat support. In addition to this, it has also created a learning center full of useful articles that answer users' questions and help you get the most out of the email marketing software. There are also video tutorials for you to watch and regular webinars for you to participate in.
It's not just email marketing users that GetResponse has thought of but developers too. In the learning center, there is a whole category of resources on integrations and API for developers to make use of.
GetResponse App
GetResponse has created an app to help users collect leads when they're on the go. By allowing you to create a simple sign-up form, the app ensures you have the means to get subscribers whether they're in-store, at a trade show, or at a meeting. The app is available for both Apple and Android devices.
Responsive Design
Since many people access their inboxes and visit websites from their smartphones and tablets, having responsively designed emails and landing pages is crucial. The great news is that GetResponse has a large selection of responsive templates for you to choose from. You'll be able to create emails and landing pages optimized for all devices within minutes – no IT skills are required. 
Free 30-Day Trial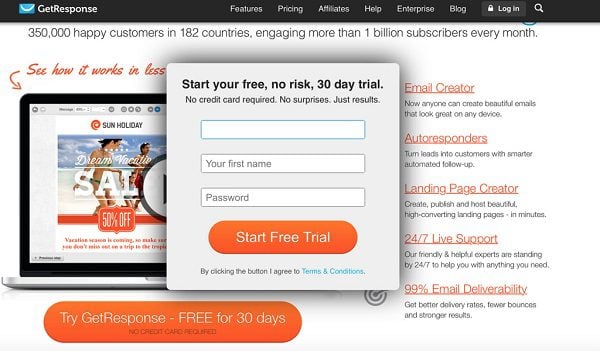 Another benefit of using GetResponse is that you'll be able to use the software free for thirty days. You won't have to enter your credit card details, so if you decide you don't want to use the software afterwards, there will be no direct debits to cancel. All you need to do is click the Try GetResponse button on the homepage and a box will pop up asking for your email address, first name, and password. Simply enter the information and you'll be able to start your 30 day free trial immediately.
Pricing
If once you have completed your 30 day trial, you wish to continue using GetResponse, you will need to sign up to one of its price plans. The great thing about GetResponse is that there are a number of different pricing plans to suit all businesses and budgets.
GetResponse's price plans increase with the size of your email list. All of its price plans include unlimited emailing. Its lowest price plan costs $15 per month for 1000 subscribers and its most expensive plan costs $450 per month for 100,000 subscribers. See a full list of its price plan options below:
$15 per month for 1000 subscribers
$25 per month for 2,500 subscribers
$45 per month for 5,000 subscribers
$65 per month for 10,000 subscribers
$145 per month for 25,000 subscribers
$250 per month for 50,000 subscribers
$450 per month for 100,000 subscribers
GetResponse users can save 18% by opting for an annual subscription instead. If you're looking for an enterprise / high volume solution, you'll need to get in touch with GetResponse for a quote. GetResponse also works with non-profit organizations and offers them a 50% discount (subject to verification) on its price plan.
Other Sources Of Info
If you are looking for email marketing software with a wide range of useful features that are suitable for both beginners and advanced users, then GetResponse will make an excellent choice. Find out more by visiting the GetResponse website or one of the company's social media and related pages listed below:
Wrapping Up
GetResponse is a valuable platform for establishing an email marketing campaign. While it doesn't have the most robust feature set, it does offer enough for any newbie to get started and see real, effective results.
Have you used GetResponse for email marketing? If so, what has your experience been like? I'd love to hear all about it in the comments.
Article thumbnail image by Alexander Ryabintsev / shutterstock.com