We live in a mobile world. That's no longer hyperbole, it's the simple truth. Our mobile devices are playing larger and larger roles in both our personal and professional lives as they increase in power, ease of use, app development, etc. So what does this mean for the many millions of WordPress users world-wide who are walking around with all of the hardware they need to run their websites, right in their pocket? Well I'd say it means we need to find the right software to compliment it. Namely, the right apps.
As you can no doubt tell from the title of today's post, I'm focusing exclusively on iOS apps. That's not because I don't have tons of love for Android but simply because I personally use iOS and as a result I'm much more aware of what's available for it, as opposed to what's available on Android. If you've got any good Android apps for WordPress, feel free to drop us a line about them in the comments section.
iOS Apps for WordPress Blog Management
Let's get things started with the basics: iOS apps meant to be a total WordPress site/blog management solution. While there are many, not all of them have great reviews (or any reviews at all) and when compared to these I felt that most either fell short or didn't have enough users to recommend. In my opinion, the three I've selected stood out from the rest in terms of quality, design, and features. With the possible exception of the first one, which, ironically enough, is the official WordPress app–but I think it's still better than any other free app out there. So there's that.
WordPress by Automattic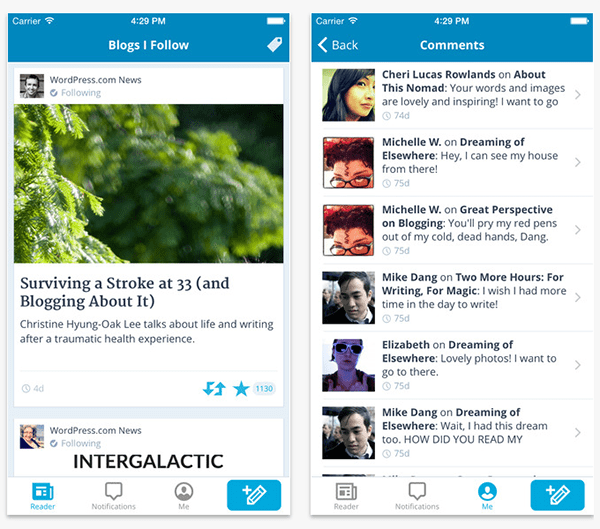 The official WordPress app by Automattic (and contributing community developers) has come a long way from its somewhat clunky and ugly beginnings. (A lot like the WordPress admin of years past.) Though many feel it still has a long way to come before it's considered ideal. That said: its free, open source, and actively being developed–so I feel confident it will continue to improve.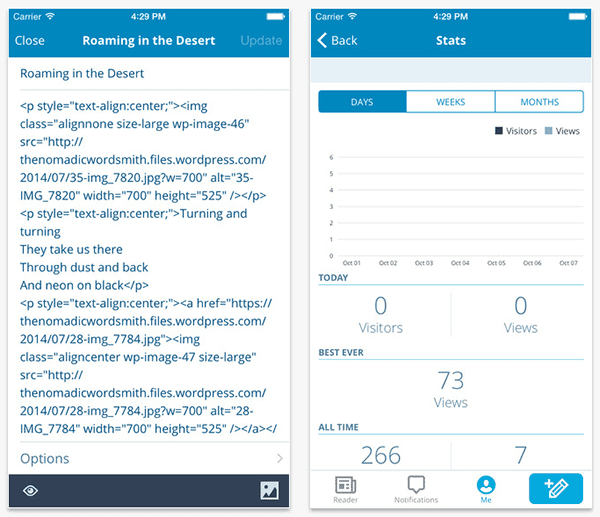 When you first open the app you're immediately brought into a feed of WordPress.com blog posts. If you're a WordPress.com blogger, that's awesome! But if you're like me, someone who blogs exclusively on WordPress.org blogs and doesn't follow any WordPress.com bloggers, it's kind of annoying.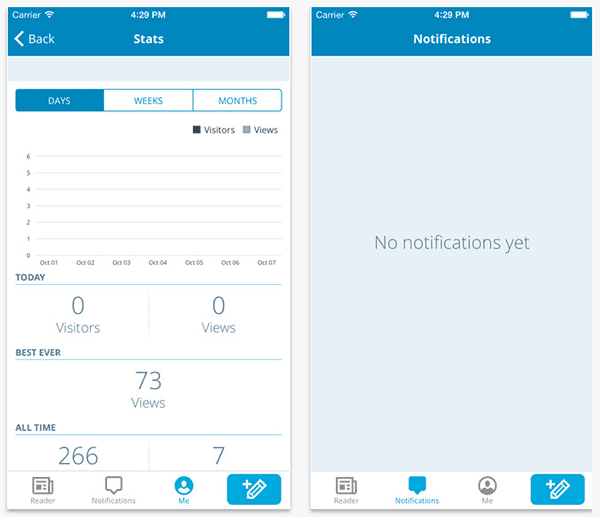 Aside from the reader there are three other main sections (with lots of subsections we don't have time to dissect in this post). They are: notifications, me, and compose. Notifications and compose are pretty straight forward–so what's "me" all about?
That's where you can choose from any number of WordPress (.com or .org) sites that you manage, dive into their respective posts, pages, comments, stats, and more all from one app. You can even access the admin sections of your various WordPress sites. It's pretty awesome!
However, if I'm honest, I have to admit that I don't personally use it too often because in places it feels like multiple apps thrown together (it's both an aggregate blog reader and a blogging app–for both WordPress .com and .org) and yet where it counts the most–being able to create awesome content and/or edit various aspects of my site–it seems a little light in either features, ease of use, or both. Additionally, some of its cooler features–like site stats and notifications–require the jetpack plugin to be installed, which has been known to hamper site performance.
I think this strategy is probably a result of Automattic feeling like their app needs to be able to servie both .com and .org users at once while also competing on aspects of community engagement and simplicity with other blogging platforms, like tumblr–and it doesn't succeed in every area. One big reason for this, in my opinion, is that tumblr really is a super simple blogging platform with a built in social feed. WordPress on the other hand, was never meant to be that and it comes off feeling kind of forced in the app; particularly for .org users. I'd almost rather they cut the feed out entirely and focus on making the mobile content creation process as easy and powerful as possible. Or make one app just for .com users and one just for .org users.
On the plus side though, the design is getting pretty slick!
Ok, ok. Enough critiquing. And in case you're wondering, no, I will not spend this much time on every single app in this post. I just though it worth while to focus a little extra attention on the official WordPress app since it's likely everyone will want to check it out AND it's probably the one we, as a community, have the most say in. So please, check it out for yourself and if you have feedback for the team creating it, go here.
Price: FREE | Go to App Store
BlogPad Pro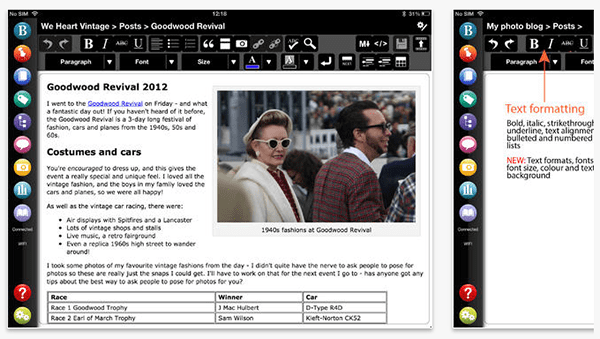 BlogPad Pro is an iPad only app for managing all of your WordPress blogs; even if you have different user accounts. It allows you to blog from anywhere whether you are online, in airplane mode, or simply don't have an internet connection. Once connected again you can quickly and easily sync any changes made offline with a single "click". Thanks to its autosave and conflict management features, you never have to worry about losing or unwittingly overwriting the work you've done.
Some Key Features Include:
Full WYSIWYG editor
Markdown mode
Dropbox integration
Content Syncing with conflict management
Autosave
WordPress.com reader included (by subscription and tag)
Full post/page editing functionality
Add & edit feature images
Preview posts and pages on or off line
and much more
BlogPress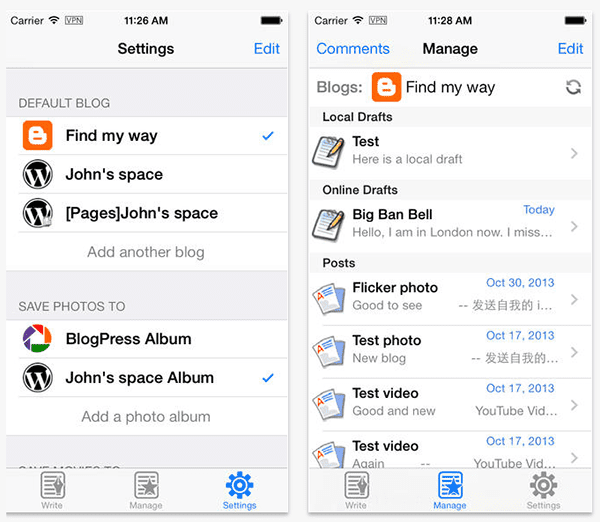 Similarly to BlogPad Pro, BlogPress is a multi-platform blogging app. Notably though, BlogPress works for both iPhone and iPad. It also syncs well with YouTube, Flickr, and a few other media hosting sites/services which makes populating your blog with different types of media just as easy on mobile as it is on desktop.
Some Key Features Include:
Full post/page editing ability
Local and online drafting
Local preview
Comments management
Landscape editing mode
Post scheduling
Video integration with YouTube
GEO Location tags
Facebook and Twitter Sharing
and much more
iOS Apps for Blog Planning
Now we're entering the specific use case section of this post. The apps above aim to do it all, but the apps below are all about doing one thing really well.
Evernote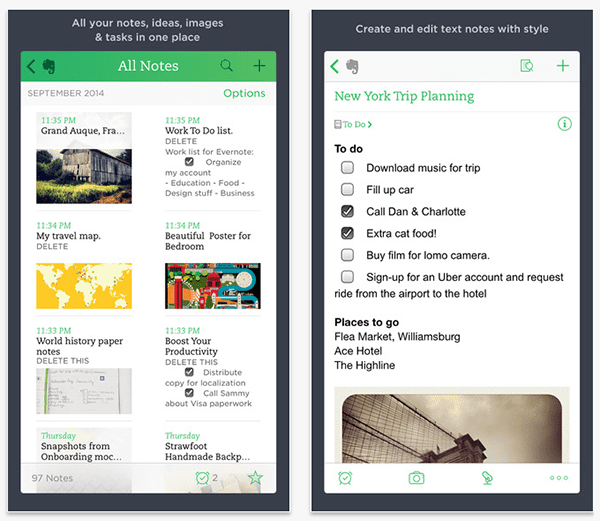 Evernote is one of the most popular apps on any device, across platforms. It's reputation speaks for itself, so I'll spare you my glowing praise for it. Bottom line: if you need an app to organize your brain into reminders, lists, projects, posts, or anything else then this app is a must have.
Some Key Features Include:
Take down notes in a clean, distraction free environment.
Make lists
Record audio
Save image notes
Save locations
Make notebooks (collections of individual notes).
Access one account on any device, seamlessly synced.
Work offline, sync automatically or with a single click.
and so much more.
Price: FREE | Go to App Store
Graphio – Diagrams & Ideas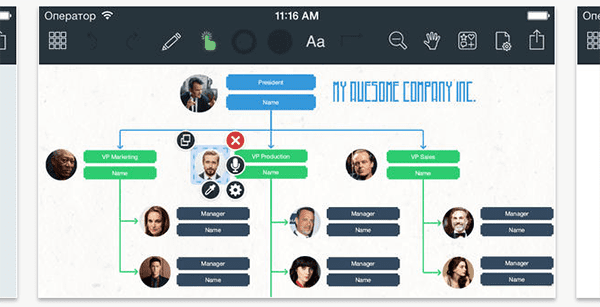 I'll be the first to admit that this one might seem like an odd-ball for a collection like this one. However, every blog needs a strategy and (almost) every blog post needs graphical elements. In both of those cases, Graphio is a slick tool for under $10. With this app you're able to make neat, clean diagrams/flow charts/mind maps/etc. by drawing, sketching, or dragging existing shapes on a digital canvas.
Some Key Features Include:
Shape recognition of hand-drawn shapes
Drag & Drop library of shapes
Insert/paste images
Grouping
Bring to front/back
Zoom and pan
Select, move, rotate and scale everything (even sketches)
Audio recording
Export as PDF or PNG
AirPrint support
Box.net support
DropBox support
and much more
Price: $8.99 | Go to App Store
Day One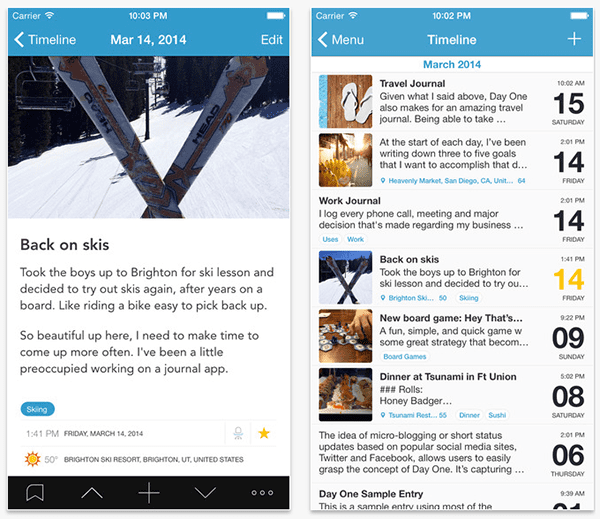 The Day One app is another app that some might consider an odd choice for this collection. However, as the years pass and I get more experience blogging I've realized that keeping a journal is one of the best ways to "stock up" on great blog post ideas or to develop my take on complex issues over time. And in an environment like Day One, you're also getting practice creating digital content (a mix of writing, video, audio, images, etc.) in a risk free environment. Then, if you like what you've created, you can simply re-create, re-draft or even export your content to WordPress. (Though at the moment, there is no plugin for making this process seamless.)
Some Key Features Include:
Distraction free interface
Multi-markdown text formatting
Full screen mode
Privacy passcode lock
Photographic entries
Auto tracking of: Photo EXIF data, temperature and weather, locations, time and date, activity data, music playing.
Custom writing reminders
Search by keyword
Categories and tags
Calendar, timeline, and map views
Sync and Backup
Sharing
and more
iOS Apps for WordPress Blog Post Composition
So we've been over the full fledge WordPress blog management apps, the idea capturing and planning apps, and now it's time to keep it simple by focusing purely on that one thing at the heart of blogging–writing. All of the apps below can either post directly to WordPress or sync with DropBox–which can be made to post directly to WordPress with plugins like post via dropbox. Regardless of publishing logistics, which is not excessive for any of these apps, the major benefit they provide is that they take something that is usually pretty cumbersome in an app environment–writing–and they make it enjoyable, even uniquely effective.
ByWord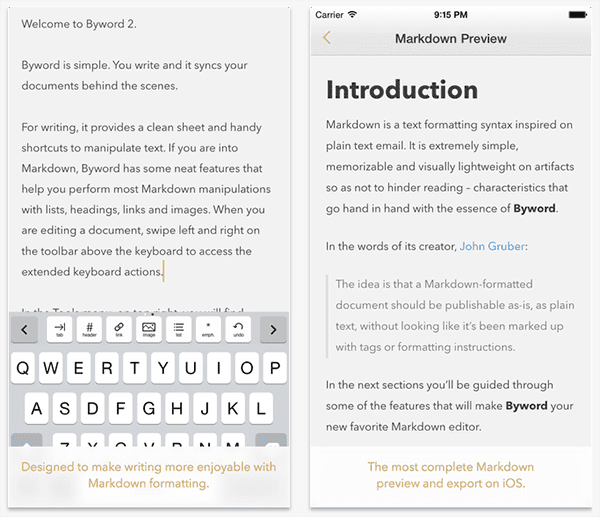 The goal of ByWord is to make writing on your iPhone or iPad a simple, elegant, seamless experience. In my opinion they accomplish this with flying colors. Their design and interface takes advantage of understated, pleasant colors, easy to read type faces, and a distraction free editing space to put the act of writing center stage.
Some Key Features Include:
Markdown formatting
Sync text documents across Mac, iPhone, and iPad
Work on or offline
Alternate between light or dark theme
Search for text inside all your documents
Export markdown documents to PDF and HTML
Post to WordPress, Tumblr, Blogger, Scriptogram, and Evernote (requires upgrade)
and more
Price: currently $2.99 (regularly $4.99) | Go to App Store
iA Writer
iA Writer is perhaps even more slimmed down than ByWord. It uses nothing but plain text and limited markdown in a distraction free writing environment. The message is clear. This app is for writing only. You can however export what you've written via iCloud or DropBox.
Some Key Features Include:
Syncs between Mac, iPhone, and iPad
No formatting to worry about
Supports .txt and .md (but not .doc or .docx)
Daedalus Touch – Text Editor for iCloud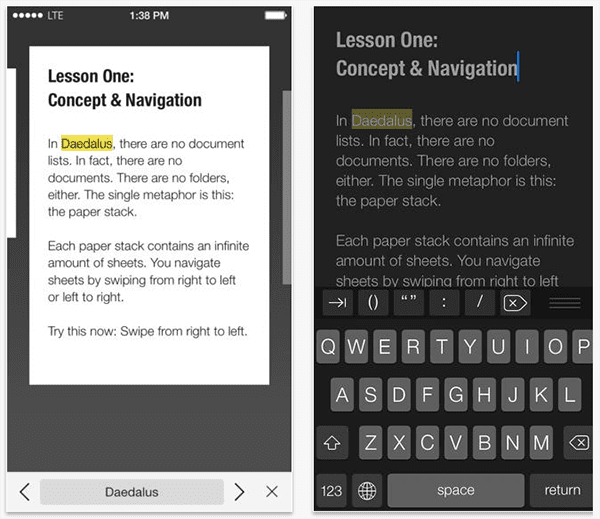 Daedalus is what you might call the "sister-app" of the popular desktop writing app Ulysses III (which is can sync with, by the way). Just as that app was meant to re-think writing on the desktop, Daedalus is meant to be a word processor that could exist on mobile devices; in this case, the iPhone or the iPad. Instead of traditional files and folders, Daedalus uses "paper stacks' and "an infinite amount of sheets". Navigation is all gestures and re-ordering stacks/sheets is as simple as drag and drop. You tap to open, pinch to close. Multiple taps make exporting possible. It really is a mobile first design.
Some Key Features Include:
Stacks and sheets instead of folders and files
Always-on global search
Responsive editor
Highly configurable extra keyboard row
Character and word count
and more
Editorial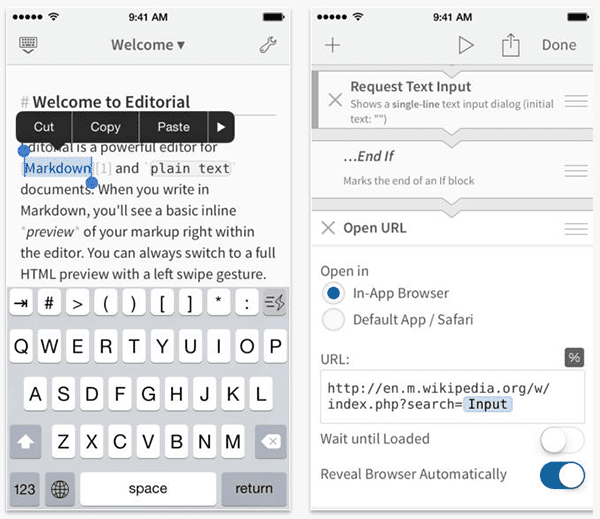 While the other apps on this list seem to be aiming at pure simplicity through a stripped down environment, Editorial seems to be headed the other direction. Not into over-complication, but power. This writing app uses automation, specialized keyboards, and customized workflows to empower the "humble" mobile word processor to do things you may have only thought possible in a desktop environment.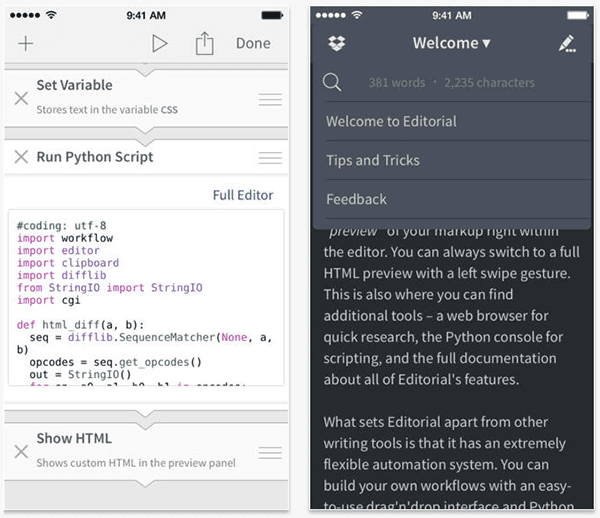 Some Key Features Include:
Inline markdown preview
Extensible with workflows
Syncs with DropBox
Scriptable with Python
Smart Keyboard
Snippets
In-App browser
and more
Price: $6.99 | Go to App Store
iOS Apps for WordPress Promotion
Finally we come to the last two apps in our collection of iOS apps for WordPress users. They should be pretty familiar, so I won't go into as much depth as with the other apps. These apps are incredibly empowering for anyone who wants to harness the potential of social media when distributing their blog posts. And who doesn't?!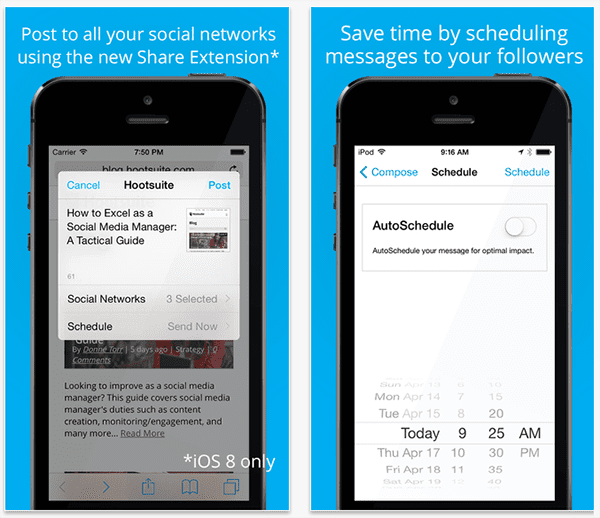 Hootsuite is a massively popular web app for posting to and managing multiple social networks, including: Twitter, Facebook, LinkedIn, Foursquare, Google+, and Tumblr. Now, all of that power comes to your iPhone or iPad. You can schedule posts, auto queue them throughout the day (like buffer), track link stats, manage social lists, and so much more.
Price: FREE | Go to App Store
Facebook Pages Manager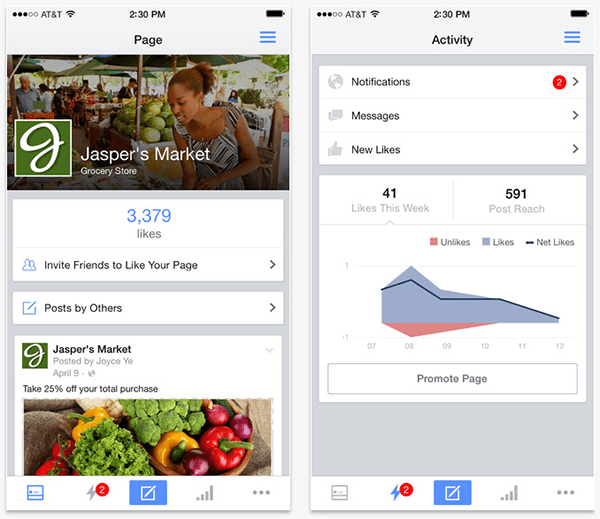 The name really says it all. If you have a Facebook page, this is an app you need to manage it on the go. You'll be able to: post updates/photos, respond to comments, view and reply to private messages, receive push notifications, and more.
Price: FREE | Go to App Store
Final Thoughts
Running a WordPress blog or website can be a consuming process. Because of the (potential) complexity of managing theme/plugin compatibility, link continuity, post creation, page creation, comment moderation, and more it can seem like our only option is to stay chained to our desk in front of our computer. Thankfully, apps like the ones I've featured today are empowering us not only to capture ideas and moments as they happen, but to accomplish the full range of tasks required of a site admin–on the go. Or at least from out behind our desktop. It's fun. It's refreshing. It's exciting to know that you can go anywhere and still not be far from your favorite craft, hobby, or passion.
Do you have any favorite iOS apps that WordPress users should know about? Tell us all about it in the comments below.
Feature Image Credit: Shutterstock.com / Puresolution