No longer a clunky, text-based interface, email has become a searchable filing cabinet, to-do list, CRM and project management tool all rolled into one. If you've ever tried a little productivity app called Rescue Time, you were probably shocked to discover exactly how much time you spend in your inbox. If you haven't tried it, give it a whirl. I think you're in for a surprise.
When you first started your WordPress business, you probably felt pretty organized; it's a natural feeling when starting out with inbox zero. Over time though, your client list grows and with it the questions increase, the support calls multiply and you begin struggling to keep up. Your virtual filing cabinet grows increasingly complex. But, there's a better way to do things.
Today, we're going to talk about the importance and benefits of help desk software, and review four potential options. These are solutions that will help you become more efficient, allow you to get more done and potentially remove yourself from the front lines of the support process.
When Should You Introduce Help Desk Software?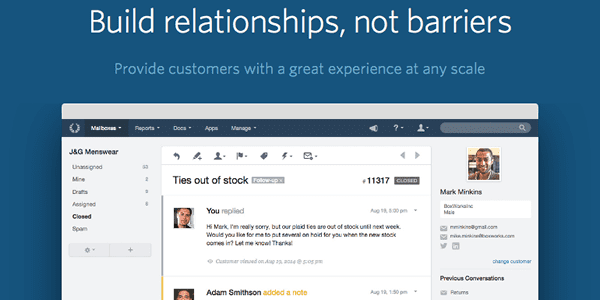 In general, the best time to introduce a client to your help desk software is after the client's site goes live. Depending on your business model, maybe you were responsible for developing your client's website or maybe you took over maintenance and optimization once the site was complete. Either way, this is a very different phase than development.
The need for regular communication typically decreases and the types of issues that need solving change. Your scope of services will vary, but you might find yourself dealing with small website tweaks, logo changes, setting up new email addresses, backups, posting content and more. Some are regularly scheduled tasks and some will be one-time client requests or unexpected problems.
How you deal with client support requests can have a dramatic impact on the efficiency of your business, and that's where the advantages of using help desk software just begin.
Three Advantages of Help Desk Software
1. Eliminate the Small Talk
A typical email from a client starts off with friendly banter because it's the more polite thing to do. How's your week going? How is the business? What's new with the family? All perfectly normal questions. And buried at the bottom of the email will be one or two lines describing the problem they would like you to take care of.
Friendly conversations are important when the timing is right. But wouldn't it be easier if they just cut to the chase? Emails that start out with a slew of personal questions leave you feeling obligated to respond. Imagine the chaos when you have 15-20 client websites to manage. Can you see how your inbox becomes capable of devouring time?
Eventually, the challenge of juggling multiple client support requests becomes unmanageable.
Using help desk software forces both you and your client to focus on the issue at hand. You no longer feel like you need to start and end every conversation with a personal story, as the information your client shares with you can be controlled via a contact form. You conversations become simplified, for example:
My email isn't working. Please can you look into it.
Our logo has been updated, can you change it on the website.
We added some new services, please add the following information to the site.
Overnight, the small talk is reduced and everyone feels more comfortable limiting the discussion to the issue at hand.
2. Focus on One Thing at a Time
How often do your clients send you a laundry list of things to do in an email? Some items are quickly solved while others take a day or even a week to resolve. This is how your inbox becomes a to-do list.
You'll find yourself frequently going back to reference the email, replying to the same client multiple times as you cross things off your list. Or maybe your system is more advanced – copying the to-do list into your task management software, checking them off as you go.
By using help desk software, you'll be able to limit support requests to one or two issues at a time. As soon as you stop allowing clients to send you endless to-do lists in giant emails, you'll become more organized.
3. Scale Your Business
You can keep your client communications in your inbox if you want – but what happens as you grow your business? What happens when you want to hire someone to help manage client support? Are you going to hand over the reins to your inbox? Probably not. And that's another reason why help desk software makes sense – if you have plans to grow your business.
The ability to have all of your client support tickets in a self-contained environment means you can hand off control to an employee or contractor at any point in time. No need to change email addresses, forward dozens of emails or notify clients of a contact change.
The Four Best Options for Managing Client Support Tickets
There are more than a few options when the time comes to choose a provider for your help desk software. We're going to explore four of the most popular options.

Groove has attracted as much attention for its outstanding blog as it has for its helpdesk software. Founder Alex Turnbull has done a great job documenting Groove's journey from startup to a standout contender. Reading their blog will actually give you a good idea about who they are as a company and what they stand for. Take note, content marketing naysayers.
If you're on the fence about help desk software in general, the good news is that Groove offers a free version for up to two users and one support mailbox. Great for a small development agency or a developer working solo. As your business grows, the full-featured version starts at $15/user per month – hardly enough to break the bank.
I look at Groove as the BaseCamp of help desk software. It has exactly what you need without too many bells or whistles. It's easy for your clients as well, as you can integrate both Gravity Forms and Ninja Forms (two of the best WordPress form plugins) with Groove, creating a seamless experience.
Speaking of client experience, Groove also keeps track of important customer service statistics. You'll be able to see exactly how quickly you responded to a new ticket, or your average response time for many tickets. Also, how long does it typically take to resolve issues? All these details will be at your fingertips.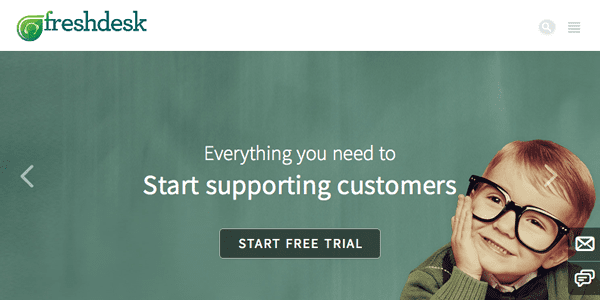 Compared to Groove's website, freshdesk feels more complicated right out of the gate. And with over 65 items in their feature list, it appears this holds true for their software as well. Some features like gaming mechanics are just not necessary for a typical WordPress development agency.
Pricing for up to three agents starts at $0/month for their toned-down "Sprout" account. A more full-featured "Blossom" version starts at $19/month per agent ($16 if billed annually). Depending on your needs, the price goes all the way up to $70/month per agent. With five plans to pick from, their pricing structure is a little more complicated than the competition.
Increased complexities aside, freshdesk still provides the same integration capabilities that Groove does. Using Zapier, you'll be able to integrate freshdesk with dozens of popular apps. If you offer paid support you'll be able to integrate with apps like Freshbooks and Harvest, creating automatic invoices.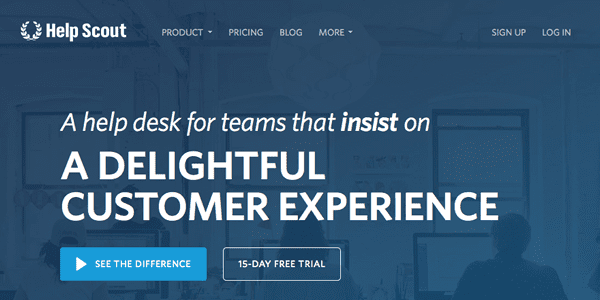 Sometimes it's the subtle differences that cause a company to stand out. When researching different help desk options, one of the first things you'll notice about Help Scout is that their about page has the founder profiles mixed among all the other employees. Everyone is described as a "Customer Champion". It really says something about Help Scout's overriding philosophy.
Like the other two options above, a scaled down free plan is available. It's limited to three users, one inbox, and no API access, as well as each email having Help Scout branding. Once you've decided that you're happy with the software, you'll probably want to upgrade to their $15/user per month plan. Access to their API should be seen as a critical feature, since integration with third party apps like Zapier allow for automation, saving you a lot of time in the long run.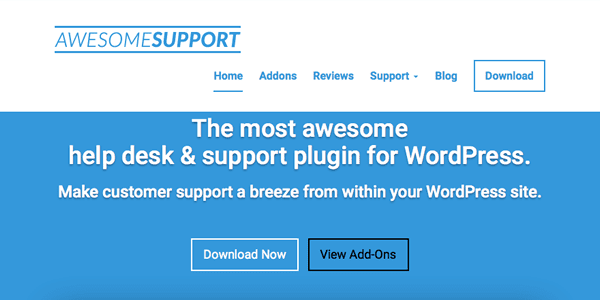 In case you're dead set against relying on a SaaS option, there just so happens to be a great plugin available that will enable you to use your WordPress site as a help desk. Installing the plugin on a subdomain also means you have your own help desk void of monthly fees.
Following a business model similar to Ninja Forms, the Awesome Support plugin has add-ons or extensions you can purchase based upon your functionality requirements. For around $200 you can add the top five extensions, making this a very different approach from the other choices. You'll have to think carefully about your long-term needs before settling on this option.
There are some things (such as the need to create an account) that make Awesome Support slightly less user-friendly, but there is no reason why you couldn't complete that step on behalf of your clients. Another area where this plugin falls short is in reporting. As your business grows, it's nice to be able to see how quickly you are responding to support requests overall. Although you might not get reporting without going for a paid subscription on the SaaS options, it's not available at all with Awesome Support.
Wrapping Up
I can sense the resistance – you're still feeling attached to your inbox. It's like having all of your customers in one place. A giant, searchable database of every client conversation you've ever had and email threads a mile long.
Help desk software is as much for your clients as it is for you. Sure, it will help you become more organized, more productive and enable you to scale your business more easily. But those improvements also benefit your clients.
Their problems will be solved faster, and you're both less likely to scan over an important item within a lengthy email. As your business grows, so to do your support issues – the growth of your business should never impact your clients.
If you're still on the fence, consider this: All four options we covered in this article provide a free version. If your WordPress business is small, that might be all you need. If your business is growing, you might find yourself able to spend less time on support issues and more time building your business further.
If you've recently made the transition from email to help desk or are considering a change in the near future, please share the benefits and any issues you've encountered in the comments below.
Image Credit: Vector Goddess/Shutterstock