Upscale web designs are made up of a union of many small elements – the right color palette, an attractive layout, high-quality images, and of course, the perfect professional fonts for the job.
Whether you're designing a new website for a luxury brand, or simply renovating a client's image, these 30 professional fonts will serve you well. Let's check them out!
30 Professional Fonts for Upscale Web Designs
When creating upscale designs, you no longer have to look towards stuffy, classic old fonts. As far as we're concerned, the beauty of modern web designs lies in its diversity, which is why we've decided to feature fonts of all shapes and sizes that share one common trait: they would all look right at home on an upscale website, regardless of its field.
Note: To use these fonts on your WordPress website you will likely need to use the free Use Any Font plugin.


Oswald is a modern take on Alternate Gothic, a typeface first released in 1903 and now immortalized on the web through the YouTube logo. This font was created by redrawing all of the classic characters for modern digital screens.
Aside from its pedigree, this font stands out due to its no-nonsense style – perfect for strong headers and logos.
Price: FREE ǀ More Information


Raleway is an upscale sans-serif typeface designed for use in large sizes such as website headings. Its career on the web started with a single lightweight font – not at all suitable for headers – which was then expanded into a family of nine by multiple designers.
We're particularly fond of this font's Black Italic style (seen above), due to its robustness and elegance – we can easily imagine it as part of the logo of a luxury men's brand.
Price: FREE ǀ More Information


Roboto Slab features a surprising mix of rigid skeletons and whimsical curves. This unique typeface was designed to enable readers to achieve a good reading pace, thanks to the natural width of its characters.
Price: FREE ǀ More Information


Noto Sans is a font with grand ambitions. It intends to make the web a more usable and friendly place by eliminating instances where characters can't be displayed. Noto covers over 30 scripts and plans to expand until it covers the entire character set.
As far as style goes, Noto is a classy font that doesn't overpower its surroundings, but can shine alongside the right design.
Price: FREE ǀ More Information


Fjalla One is one of our favorite professional fonts. It's simple, with clean lines and uniform character widths, that makes for a pleasant reading experience at all sizes. This typeface has been carefully crafted for modern displays.
Price: FREE ǀ More Information


Dosis is a modern sans-serif typeface with soft curves, imposing stems, and an overall friendly look. It's an excellent choice for professional sites that want to inject a little mischief into their designs, without losing their exclusive feel.
Price: FREE ǀ More Information


Poiret One offers a fresh, geometric design that's easily recognizable thanks to its slanted crossbars. According to its creator, it was inspired by a mix of art deco and constructivism.
In any case, it's an obvious choice for logos, titles, and headlines – anywhere you can shine a spotlight on its sleek lines is a good start.
Price: FREE ǀ More Information


Catamaran is a font designed expressly for the digital age, thanks to its Unicode compliance with Latin and Tamil text types. This versatile font includes nine weights, and was designed to strike a delicate balance between classic typographic conventions and a dose of the unorthodox (such as its asymmetrical legs). We think it succeeded!
Price: FREE ǀ More Information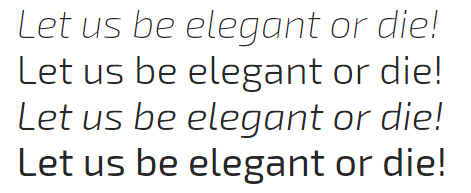 Exo 2 is a take on a futuristic typographic design that looks to achieve an attractive mix of high-tech and elegance. It's been painstakingly optimized to display well even at small sizes, which makes it an excellent option for mobile displays.
This unique font would make a great addition to a tech website with upscale aspirations.
Price: FREE ǀ More Information


Signika is a gentle sans-serif font suitable where readability is paramount. It features a striking x-height to improve readability over long distances – which also makes it a viable option for non-digital designs.
Price: FREE ǀ More Information

Patua One is a slab typeface with high contrasts and a sturdy feel to it. It would make for an exceptional addition to your roster of header fonts. You could even go old-school and introduce drop caps into your post designs if you're using WordPress.
Price: FREE ǀ More Information


Unlike our last entry, Hammersmith One is a low contrast font with softer lines. It takes its inspiration from brush-written letters, which is noticeable in the ample character width of the letters "e" and "s". This font adapts particularly well to lower resolutions, which makes it a perfect choice for web designs.
Price: FREE ǀ More Information


Argent CF is a dashing typeface with elegant curves and nearly uniform x-heights that gives it a compact look. This aspect makes it a perfect alternative to all caps in your designs, as it offers similar results while remaining much classier.
Price: $25 ǀ More Information


Oregon is a simple font featuring an attractive vintage style. Its smooth edges are intended to imitate the style of old printing presses. Despite its retro leanings, Oregon looks decidedly modern – it wouldn't look out of place when used for the logo of a high-end exercise equipment store. However, if you decide to incorporate it into your own designs, we must warn you that it works best when paired with small amounts of text.
Price: $12 ǀ More Information

The light version of this typeface is not unlike that used in the classic board game Monopoly – hence its name. However, this font doesn't just rely on nostalgia to catch your eye. It also offers two very attractive bold and inline styles – the second in particular would be fantastic if paired with a vintage, elegant design.
Price: $15 ǀ More Information

Manifold is a strong font that lives up to its name. According to its author, the font's style is meant to emulate the cold precision of a terminal, which is spot on if we're referring to futuristic movie user interfaces. It features ample kerning and strong clean lines, so it's not particularly well suited for long texts, but it does perform admirably well on headers and logos.
Price: $25 ǀ More Information


The first word that comes to mind when you see this font is "classy". This slender all caps typeface has an understated elegance that would suit luxury lifestyle blogs particularly well. We feel the font's base weight is just right, but its pleasant proportions fall apart a bit if you try its light and bold presentations.
Price: $12 ǀ More Information


Greycliff is a good alternative for designers who favor rugged professional fonts. This ruggedness is achieved thanks to a combination of factors including its strong capitals, steep shoulders, and clipped tails. Overall, this font projects a classic durability with a dash of geometric design.
Price: $29 ǀ More Information


This elegant font was inspired by the classic 1927 science fiction masterpiece that shares its name – but it comes with a modern twist. Gone are the slanted, jagged letters that were prominently featured in the movie's original poster, and instead we find pleasing geometric shapes. This timeless style is complemented by short curves and long serifs.
Price: $19 ǀ More Information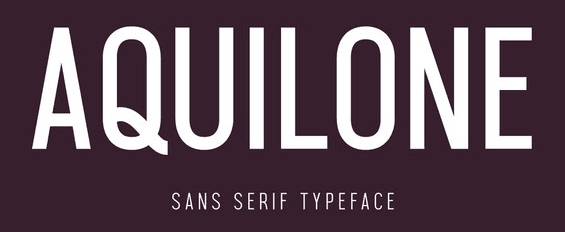 AQUILONE is a professional font made up of condensed, geometric shapes. It's a timeless design that wouldn't look out of place on any upscale website. Although its all caps nature somewhat limits its potential, we consider it to be a worthwhile addition to your font book.
Price: $20 ǀ More Information


Trasandina is a stern font with a unique personality. On the one hand, it's easy to read thanks to its humanistic design roots – on the other, its geometric sensibilities make it a good candidate for logos and other types of in-your-face designs.
Price: $199 ǀ More Information


Gothvetica is the bold offspring of an unlikely union between the famous Gotham and Helvetica typefaces. This particular combination was achieved through a mix of the most outstanding features of both parents, resulting in a vigorous font. For the time being, it's only available in all caps, although its creators are working on more weights.
Price: FREE ǀ More Information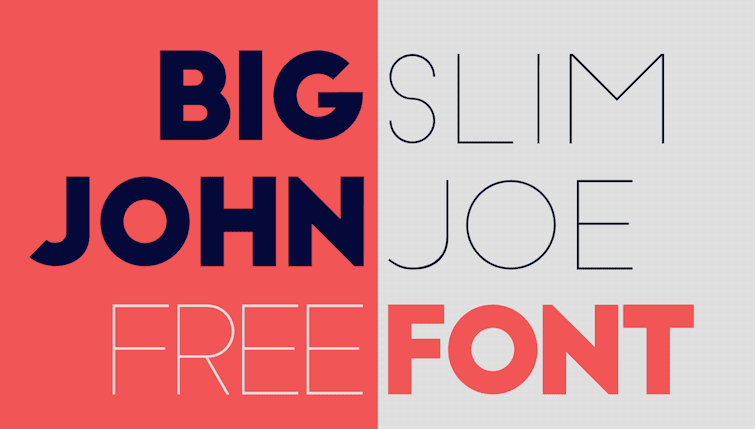 Number 23 in our roundup packs a double punch – it's two fonts in one. Big John and Slim Joe are part of the same family of fonts, and they're designed to play off each other thanks to their stark contrast. Both typefaces feature uniform x-heights, short ears, and an overall hardy design.
Price: FREE ǀ More Information


Cornerstone is an efficient, modular font that would be right at home on the homepage of a building supplies company – it's that manly! It attains this look thanks to a low x-height, sharp corners, and ample kerning.
Price: FREE ǀ More Information


Quincy is a classic font with flowing letterforms, soft corners, and playful tails. It would be right at home as the font for a perfume ad or an extravagant fashion magazine.
Price: $19 ǀ More Information


SIMPLIFICA is an all caps typeface with thin character widths, softly curved tails, and a wide kerning. The combination of these design choices results in a sleek – but still readable – font that feels appropriate for elegant web designs.
Price: FREE ǀ More Information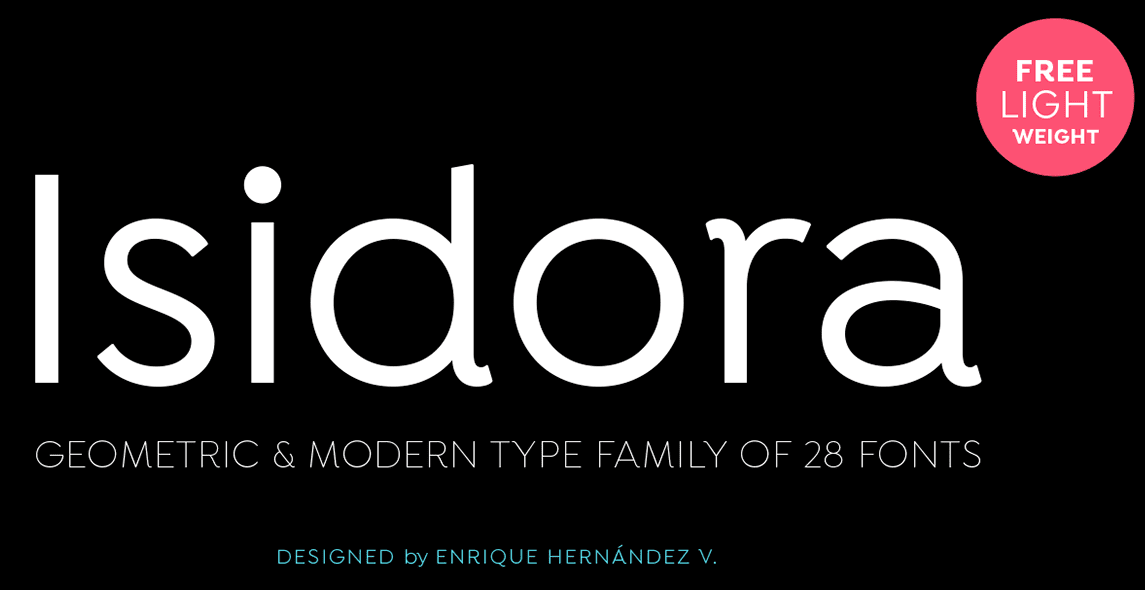 Isidora is a modern design that takes its cues from geometric sans-serif fonts that were widely popular in the 20s and 30s. It adopts their clean, simple lines but adds a few modern twists such as rounded terminals and diagonal cuts.
Price: FREE ǀ More Information


Corbert Regular is a precise font that takes its cues from the German Bauhaus art school and early modernist tendencies. This typeface combines clear-cut circles with slight curves to achieve a very pleasant effect. Furthermore, it combines high readability with enough personality to also double as a centerpiece, in either a logo or your titles.
Price: FREE ǀ More Information


Bosko is a thick slab font that features classic proportions and contemporary sensibilities. The first thing that sprung to mind for us was its resemblance to the fonts used on old-fashioned book covers – it's a classic design if ever we saw one.
Price: $14.50 ǀ More Information


The last entry in our roundup of professional fonts for upscale designs is different from any of the others we've featured so far. DraftWerk was inspired by architectural drawings, which is evident from its precise radius corners. This font would feel perfectly at home on the cover of an architectural coffee table book, or even on the web design of a high-end firm.
Price: $24 approximately ǀ More Information
Conclusion
These 30 professional fonts are ideal if you're looking to inject an air of elegance into your designs. They come in all shapes and sizes, so you should have no problem finding one (or more) to suit your tastes.
If you're still on the hunt for something different, check out some of our past roundups of high-quality fonts:
What do you look for in a font for your own web designs? Share your opinion with us in the comments section below, and subscribe to follow the conversation!
Article thumbnail image by SKARIDA / shutterstock.com