Minimalist web designs used in conjunction with plain font styles create stunning designs through simplicity. However, some designs call for a more witty approach, and those same plain font styles just wouldn't do the trick. These light-hearted, witty designs work best with "fun" font styles.
Fun fonts are a lot less serious than the average sans or script fonts. They may not be something you'd use in a design for a high-end fashion site or a photographer's site, but they're perfect for businesses and blogs that have huge personalities built on light-hearted or even comical marketing styles.
Fun fonts also tend to have a more striking appeal than typical fonts, grabbing a reader or social media user's attention as soon as he sees it. This makes them ideal for logos and image ads where the right font can really grab a company's target market's attention.
How to Incorporate Fun Fonts into Web Designs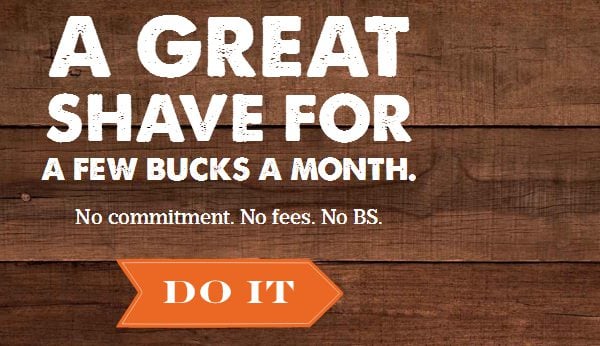 Check out this screenshot from Dollar Shave Club's home page. The company took off after its founder published a low-budget, comedy-filled viral video on YouTube in 2012. As you can see from the screenshot above, it uses non-traditional font styles to get its message across in the same straightforward approach its initial video used.
You can incorporate these types of fonts with marketing tactics inside of Divi. This theme comes with the highly-rated Divi Builder plugin that allows you to create custom email forms, blurb modules, and sliders. Using these types of fonts within one of these modules would make for a great way to grab a reader's attention and get him to convert as she browses your site.
Take it from the Slides That Rock slideshow on Slideshare – eye-catching fonts, especially when used with comical images, are great ways for companies with unprofessional personas to create bold slideshow presentations with messages that stick and convert.
Plus, there's no easier way to insert a stunning slideshow that works with your design, as opposed to embedding one through Slideshare, on your site than to use the slider module built right into Divi!
Developing various designs for the various marketing styles that exist in the business and blogging world are challenges all web designers struggle with. Allow us to simplify those challenges by giving you a list of examples of fun fonts you can incorporate into your next web design project.
Some of these fonts have premium versions while others are available free of charge. We'll also give you a heads up on whether or not these fonts can be used in end products in case you or your clients intend to sell what you create. Let's get started!
Free Fun Fonts


GoodDog is a hand-drawn font produced by Fonthead Design. It has over 1.8 million downloads on Font Squirrel. It's a simple font, but it's a simplicity that differs from sans or serif fonts. The font appears jagged and uneven, but this is what gives it its fun and lighthearted appeal that would work best for a casual lifestyle brand or blog. The font is licensed under the standard End User License Agreement version 1.00 that grants the user permission to use the font in an end product so long as the font is not used as the main marketing aspect of the product, such as a slogan on a t-shirt.


Amatic is a hand-drawn font designed by Vernon Adams. The font has over 1.7 million downloads on Font Squirrel. It's fairly similar to GoodDog, but uses all uppercase lettering. This font comes with a medium-sized set of glyphs, but a webfont version must be generated through Font Squirrel's Webfont Generator. The font is licensed under the SIL Open Font License version 1.1, which allows it to be used personally and commercially for most uses so long as the font is not sold by itself. Like GoodDog, this font would complement the look and feel of a casual lifestyle brand or blog quite well.


This is a "grunge" style font by Fontfabric. It has over 145,000 downloads on Font Squirrel. It uses all uppercase lettering, and each letter features a rusted appearance. This gives it a bold look that would catch the eye of any site visitor, especially when used to create a simple sales copy phrase similar to the phrase on Dollar Shave Club's home page, as depicted above. The font comes with typical glyphs. It's licensed under the Fontspring Desktop/Webfont License version 1.30, which grants the user permission to use it in most end products. The font's EULA is quite long and descriptive, so I suggest reading through it carefully if you wish to use it for permission purposes.


Snickles is a hand-drawn font that looks as though it was drawn using a permanent marker or felt pen. The font has over 104,000 downloads on FontSpace. The designer states the font "looks like the kind of font a shopkeeper would make with a marker to sell stinky fish and stale bread."  It's available for commercial use, but keep in mind it's licensed under the Creative Commons (by) Attribution license.

Michael is a dingbat, script font by mysunday. The font has the look and feel of a connected script font but features curly tails and "flowy" letters that give it a spirited yet striking appearance, perfect for lifestyle brands, food brands, and even writer websites. The font is available for $12 at Fontspring with a Fontspring Desktop Font EULA version 1.6.0. This grants you permission to use it for multiple commercial uses, though it cannot be used to create an end product shaped like letters, such as stickers. It cannot be used by anyone other than the person listed on the receipt. The font comes with typical glyphs and webfont versions.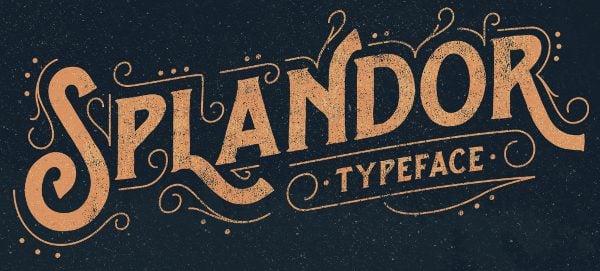 Splandor is a vintage, hand-drawn font by ilhamherry. The fonts feature playful designs with plenty of bends and waves, giving them a vintage look and feel that would work best as a logo or title image. The font can be purchased for $15 at Creative Market, which grants the user permission to use it for commercial purposes. However, you'll need to purchase the Extended License for $75 to be able to use it in end products. It comes with the font as well as an ornament pack available as .AI vector files in Adobe CS3.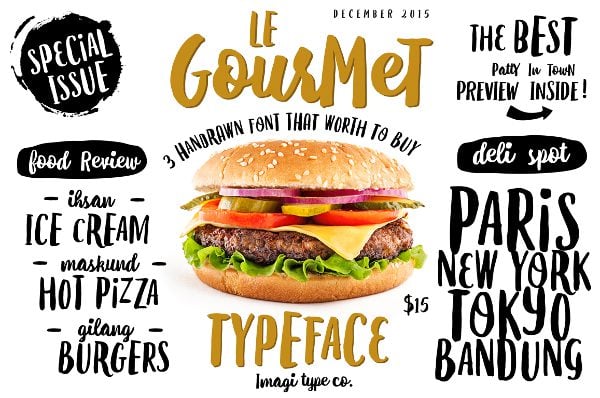 Le Gourmet is a "handmade font family consisting of 3 fonts made with ink and a brush." As suggested by its name and how the designer recommends using the font, this font works best when incorporated into a food menu given its casual yet bold and playful appearance. The Standard License is available for $15 at Creative Market, which grants permission for most commercial uses. The Extended License, or the end-product license, is a little steep at $150. All three font types can be considered "fun," and all three should be used with one another to create a spectacular menu, whether online or offline.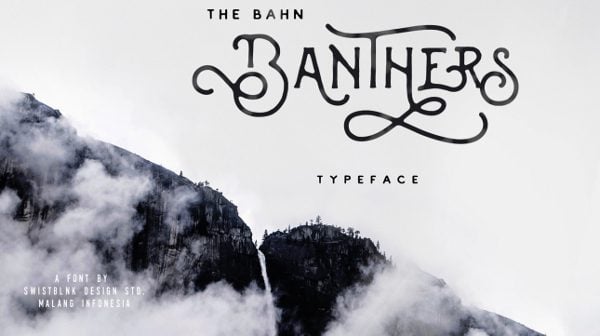 Banthers is a handmade, mono-line display font that features a playful design with an elegantly striking appeal. The design may not be fun in an obvious sense as many of the designer's examples look sleek, but the font's many stylistic and ligature options make it versatile enough to suit a number of different design styles. The Standard License is available for $17 while the Extended License is available for $27. You'll receive perhaps more options and design extras than any other font on this list. These include all of the typical glyphs you'd expect as well as OpenType features and alternate glyphs, which must be accessed inside of Adobe Illustrator CS and Adobe InDesign.


HMS Gilbert is a hand-drawn script font by Fenotype that features a bit of a "sloppy" design, giving it a more casual and playful effect than typical script fonts. Each base font can be purchased for $35 each, but the entire 13-font family (pictured above) can be purchased for $149, though discounts are available from time to time. The designer has developed their own license for these fonts, which grants personal and commercial use for most products, including branding and logos. There are also plenty of webfont options.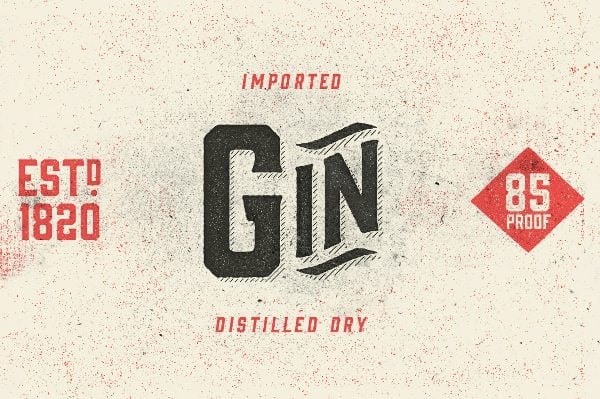 Gin by Fort Foundry features a stunning vintage design that's perfect for use in comical graphic designs meant to make messages stick with simple phrases. The Standard License is available for $45, but the Extended License gets pretty steep at $450. The font comes in four different styles, and stylistic alternates and ligatures can be accessed by enabling these options in the character panels of Adobe Photoshop, Illustrator, and InDesign.
Final Thoughts
There are plenty of fonts out there that let you create beautiful web designs, promotional images, and logos for professional customers, but those types of designs may not suit companies whose marketing strategies are built on bold, comical, and outspoken personas.
We hope these font suggestions have provided inspiration for your next web design project as well as a clearer understanding of how to create web designs tailored to your clients' varied personalities.
What are some of your favorite fun fonts? Let us know in the comments below, and be sure to share your own tips on how to use these types of fonts in web design.
Thumbnail via Nikolaeva / shutterstock.com