Much of what makes the modern web such a great place is the extent to which the information we interact with becomes more personal and more interesting to engage with. Facebook learns the kind of content you are most likely to interact with and places it within your feed. Netflix learns your taste in movies and creates customized micro-genres that suite your viewing desires. Financial planning sites/apps such as Catch.co learn your spending habits and automatically suggest ways for you to save and spend more wisely.
And that's just the tip of the iceberg.
In a previous post about the future of web design, I showed how even in the relatively near future (5-10 years) the web will become hyper contextualized. Possibly to the extent that websites will look completely different to each person who views them, depending on the amount of data that site has available to them about that visitor; automatically creating experiences almost guaranteed to convert.
We're not there yet, but some of the baby steps at the beginning of the process are starting to trickle down from highly complex and highly priced custom websites into turnkey tools that almost anyone can use on popular platforms like WordPress. That's why in today's post I'm going to highlight over fifteen different plugins that are making the WordPress powered web more fun and personal.
15+ WordPress Plugins for Adding Interactivity & Content Personalization
The plugins I've gathered below are in no particular order and do a wide variety of things. Most are free but a few have premium price tags that, I think, are worth the cost. That said though, I am not an affiliate for any of these plugins and get no compensation for mentioning them.
Hard as I try when compiling one of these lists, I'm sure to have missed some plugins that belong here. If you know of a great interactivity or content personalization plugin that we should all be aware of, I hope you'll share it with us in the comments section below.
As for my finds, let's get started with a plugin I've used on several projects and keep finding interesting uses for. Including, but not limited to: family trees, story development maps, hidden clue games, art detail highlighting, and more.
1. Image Hotspotter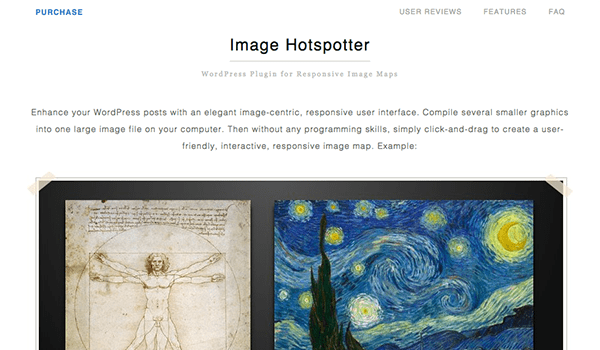 Image Hotspotter allows its users to create hover hotspots on images that trigger various types of content to pop up next to the cursor. It could be a detail shot, help text, a separate image altogether, or even custom html. All of which is fully responsive and requires no coding skills.
Price: $29.95 More Information
2. Draw Attention
Similar to the above plugin, Draw Attention is all about highlighting various parts of an image with colorful hotspots that reveal more information. This version is free and especially good for schematics, maps, or anything else where you actually want the hotspot itself to be highlighted and not simply a trigger for other content.
Price: FREE More Information
3. H5P

H5P is an interesting plugin designed to allow WordPress users to create and share "rich HTML5 content" including: interactive videos, interactive presentations, quizzes, image hotspots, games, and more. Like many of the plugins on this list, H5P has a lot of potential uses and the biggest limitation is your imagination.
Price: FREE More Information
4. inSite
inSite is a really simple way to add previously complex content personalization to your WordPress website. This plugin uses trigger points (such as time, location, scrolling, and more) to initiate a change in content (such as a welcome bar, an opt-in form, a video, and more).
This kind of personalization opens up a lot of possibilities; especially for non-coders looking for powerful solutions. There are a lot of beautiful controls on the backend for making significant edits and customizations to pre-made inSites that are a lot like creating modules in Divi.
As impressive as this plugin appears right now, its actually still just in beta. When I spoke to the creators, they had some big ideas about its future that have got me excited too.
Price: FREE More Information
5. Password Protect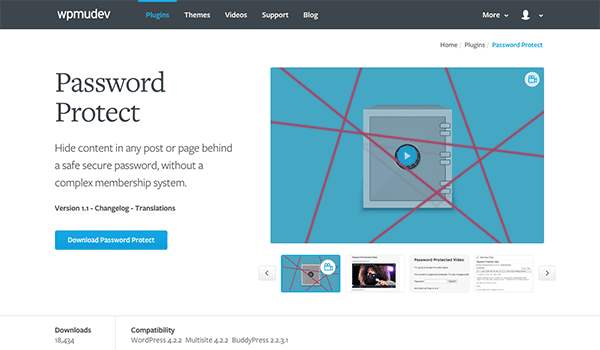 Password Protect has been around for a while but still serves a valuable function–hiding defined bits of content behind a password. This is especially convenient for those who want to share a page or post with a select group or individual without having to deal with a full membership or content restriction system.
Price: $19 More Information
6. Social Marketing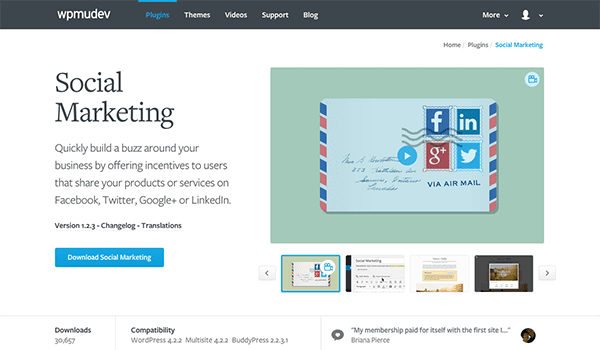 Social Marketing is similar. It allows you to hide content behind a "social paywall" where a like or share unlocks it. Or if you don't want to force the issue, you can simply make sharing an incentive by having it attached to a freebie or discount.
Price: $19 More Information
7. OnePress Social Locker

OnePress Social Locker is precisely the same concept as the plugin above, only free and with a different design aesthetic. In the right circumstances it can be extremely useful for building buzz around a post, product, or page.
Price: FREE  More Information
8. WP-ShowHide

WP-ShowHide allows you to embed content within a post or page via WordPress Shortcode API and then toggle its visibility through a link, such as "show content".
Price: FREE More Information
9. Show/Hide Content at Set Time

You can use Show/Hide Content at a Set Time to do the exact same thing as the plugin above. However, this plugin takes advantage of a time trigger to indicate when content should appear or disappear; once, or on a recurring basis.
Price: FREE More Information
10. Keywords ToolTip Generator
Keywords ToolTip Generator is exactly what it sounds like. It allows you to highlight keywords in your posts or pages and show a descriptive tooltip when those words are hovered over.
Price: FREE More Information
11. Aesop Story Engine

Aesop Story Engine is another plugin I've covered on this blog before. At the moment it remains one of the best ways to create compelling longform content on WordPress. Some of its story modules (such as audio and video) can be set to a scrolling trigger. Hopefully even more trigger actions will follow in the future!
Price: FREE More Information
12. WP-Polls

One of the easiest ways to engage your audience is by asking them to respond to a poll. WP-Polls is a simple yet customizable plugin for adding polls to WordPress posts and pages.
Price: FREE More Information
13. Interactive Map Builder for WordPress
Another part of any page that begs to be interacted with is a map. With Interactive map Builder for WordPress you can choose from a selection of over 300 maps to customize and build interactive experiences on.
Price: $20 More Information
14. Interactive World Maps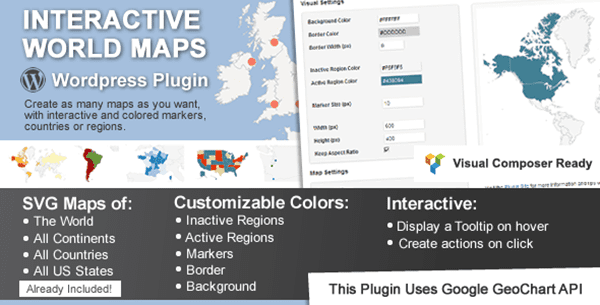 Interactive Word Maps is essentially the same offering by another plugin author (though its actually more popular). Choose from hundreds of maps, customize colors and markers, display tooltips on hover, and create actions on clicks.
Price: $20 More Information
15. BadgeOS

BadgeOS is a great way to bring achievements to your WordPress site. You can use existing badges or design your own. You can decide which actions result in unlocking an achievement and set things up so that your site user is rewarded automatically. Great for forums or other incentive based communities.
Price: FREE More Information
16. Bloom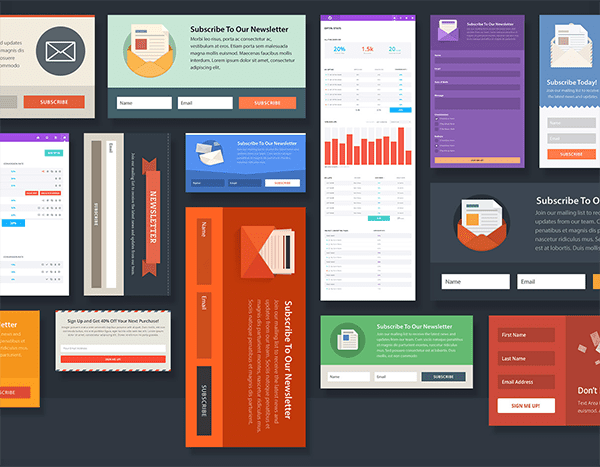 I would be remiss if I didn't mention that Elegant Theme's own Bloom plugin takes advantage of an amazing set of trigger based actions to improve email opt-in rates.
Price: FREE (with subscription) More Information
17. Monarch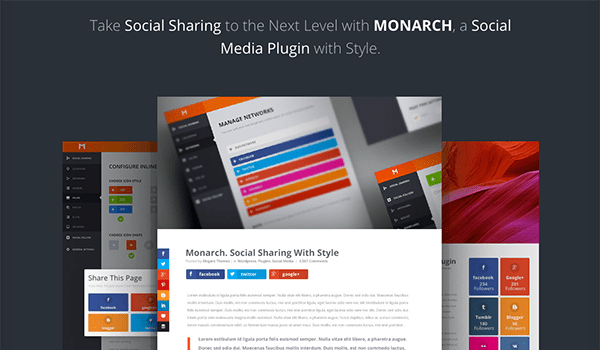 The same is true for Monarch, Elegant Themes beautiful social sharing plugin. You can create pop-ups and fly-ins based on the same six triggers as Bloom: time delay, bottom of post, after commenting, upon % scroll, after purchasing, after inactivity.
Price: FREE (with subscription) More Information
In Conclusion
For me, the writing appears to be on the wall in terms of content personalization. Interactivity is fun, but needs to be both useful and delightful. Both are tricky, even complex to pull off, but new tools are making it easier than ever before.
Are you excited by this trend and the current tools available? Have you used any of the plugins above? Share your thoughts and experiences with us below!
Article Thumbnail via ratch // shutterstock.com