You've got a masterpiece inside you. Did you know that? It might be a beautifully composed instrumental piece, a songbird quality aria, or maybe the next big podcast. Regardless, that masterpiece will never bounce down the ear canals of adoring fans if you don't let it out. And even once you've let it out, you've got to master it, edit it, and go through the whole post-production process. Thankfully, there's a slew of options out there. Whether you're a total beginner, an old pro, need a freebie, or can spend a good chunk of change, the best audio editing software for you is probably on this list.
Best Audio Editing Software – Free Options
Audio editing software doesn't have to cost a fortune. Some of it does, but you can find some very functional and high-powered DAWs (digital audio workstations) that are either totally free or freemium. They may not have all the bells and whistles of the most hardcore of premium suites, but these are some of the best audio editing software money can't buy.
1. Audacity

We might as well start with most people's go-to free product. Honestly, there's a reason for that. Audacity does almost everything you want from a DAW, and it's open-source. Beside recording and editing, the post-processing you can do in the software rivals pretty much anything but the absolutely highest-end professional suites. Effects, leveling, noise reduction, all the primary stuff you'll need is there within just a few clicks. It's available on Mac, Windows, and Linux — and in my experience, it's by far the best option on Linux, hands down, since the premium suites aren't available there. You can even use their chains feature to batch process and set up basic automations.
In a lot of ways, Audacity is the GIMP or Paint.NET of the audio editing sphere. It lacks a lot of the quality-of-life tools you'll find in Adobe Audition or Pro Tools, but in terms of getting the job done…Audacity will. The only real issue with Audacity is that it has a minor learning curve, but 20-30 minutes and a little Google Fu, and you'll be a pro.
2. Apple Garage Band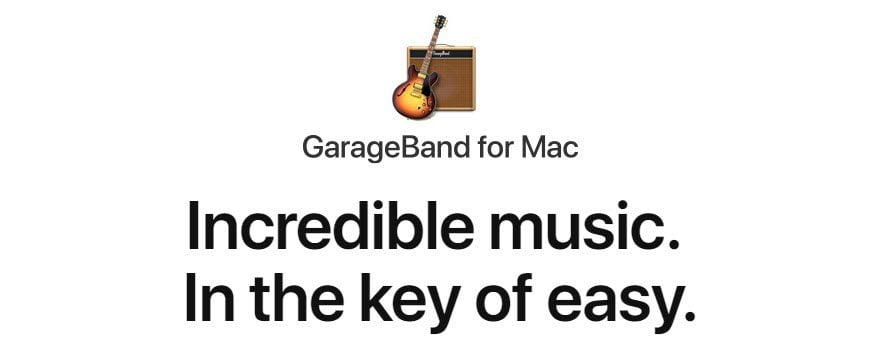 For Mac users, your computer already comes equipped with one of the best options you can get. Apple has done amazing stuff with Garage Band over the years, and you can't really find a simpler, more user-friendly audio editor. Designed for total newbies, but powerful enough to really handle some major products, Garage Band deserves your attention. Many podcasters and musicians use Garage Band as their editor because it's free and highly-polished. It integrates with its companion iOS app, which isn't as feature-rich as the desktop app, but still can do some pretty spiffy stuff.
The only two downsides to Garage Band are that it's Mac-only, so no Windows or Linux love here, and sometimes the interface tries to be a little too intuitive, making drag-and-drop or touch be the only method of interaction — that's really awkward for keyboard shortcutters and menu lovers. Other than that, if you've got a Mac, check it out. It's on your computer already.
3. WavePad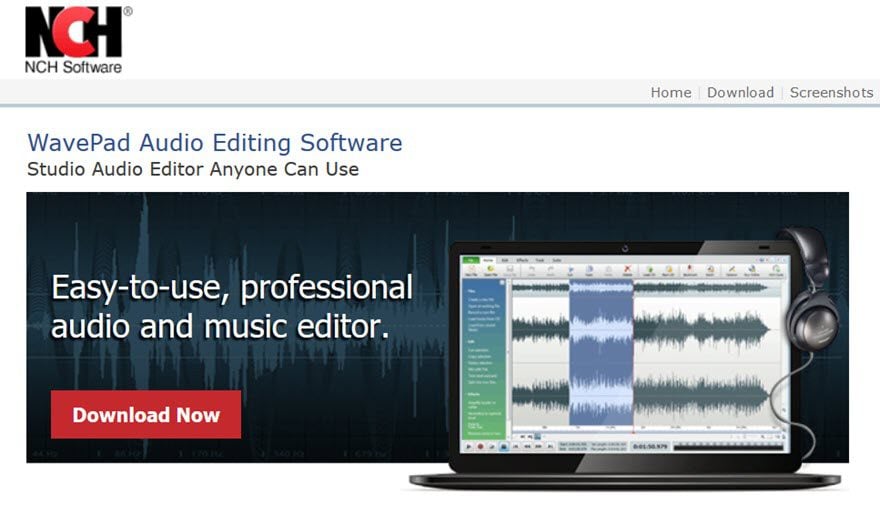 As my mom used to say, easy peasy pumpkin pie. That's pretty much WavePad in a nutshell. From the moment you boot the software, you know what to do. There are two panes: the primary one is where you can see all your tracks and waveforms, and the second one is a list of tutorials with videos and interactive wizards that teach you how to use the software. Like Garage Band, there are mobile apps that integrate with it, but only for Android and Amazon Kindle — not iOS. But there is a Mac version, so there's that.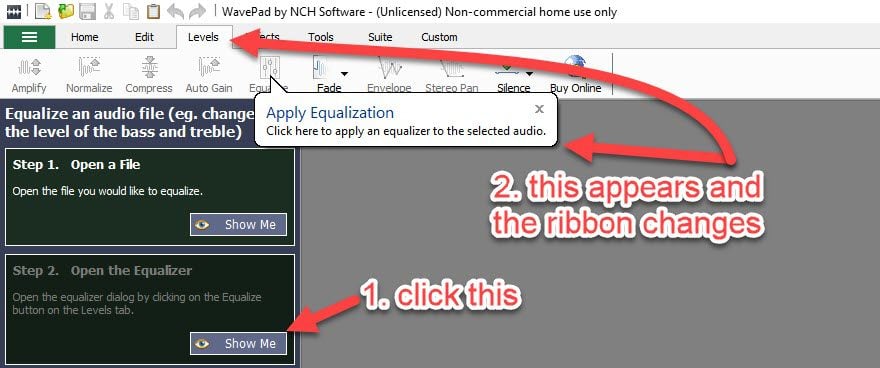 While WavePad is free and full-featured, there is a single limitation to that: the unlicensed version is for non-commercial use only. So editing your Tuesday night podcast with your buddies is fine, but cutting your next LP is not. If you do shell out for the commercial license, it's only $30 if you don't want their SFX library and $50 if you do.
4. PreSonus Studio One Prime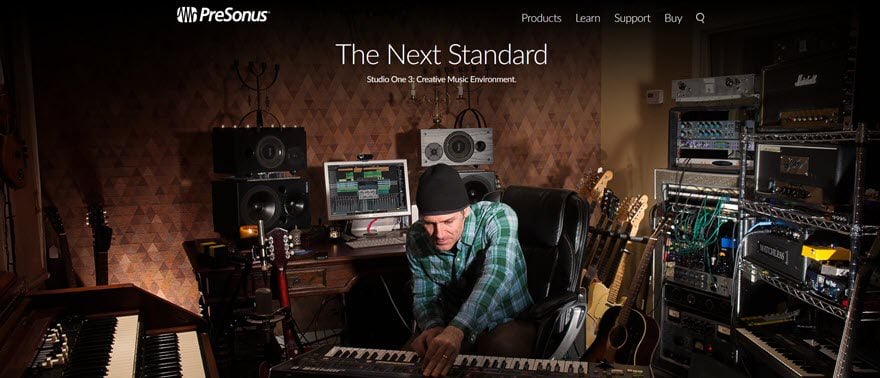 The PreSonus Studio One software is divided between three difference versions. The Prime edition is free, but feature-limited, and it's available for both Mac and Windows. While the Artist and Professional versions have more features depending on what you need. If you are not looking for anything too fancy, Studio One Prime will likely be feature-rich enough for you. Its feature set rivals Audacity and Garage Band, really. There's not a lot that it's missing, but you won't find quite the rich library of effects that come with others. Prime can do almost anything you want, unless you're getting into some pretty heavy-duty mixing and setting up automations and macros/scripts.
The interface can be daunting, though. It is much busier than any of the entries before it on the list, but that's because it's a premium DAW that just has some locked features. It is definitely worth giving a shot and trying to learn how to use it. If you do like the interface and how things work, it will be fantastic training for moving into another premium DAW — or upgrading Studio One.
5. ocenaudio

Rounding out the free offerings is ocenaudio, which runs on Mac, Windows, and (like Audacity) Linux. Unlike some cross-platform software, ocenaudio brags about keeping the same UI between Linux, Mac, and Windows. Most of the time there are some platform-specific concessions that are made. The software itself is incredibly efficient and doesn't bog down easily, so when their features page says the program handles large files well, they aren't kidding. I've added gigabytes of tracks into it, and it's smooth sailing. And there's support for VST plugins! So if this doesn't do what you need out of the box, you can drum up your own.
On top of that, the usability of the interface is incredibly clean and easy. It feels in a lot of ways as though Garage Band and Audacity had a baby and named it ocenaudio. While there aren't the built-in tutorials to make sure you learn how to use it, that may just be because you probably won't not need them.
For those of you who need a bit more power behind your punches, there are a lot of premium options for audio mixing. It's really hard to say what the best audio editing software is because the competition is so tight near the top. It's basically a photo finish every time, and if you choose any of these 5 options, your sound is in good hands.
1. Apple Logic Pro X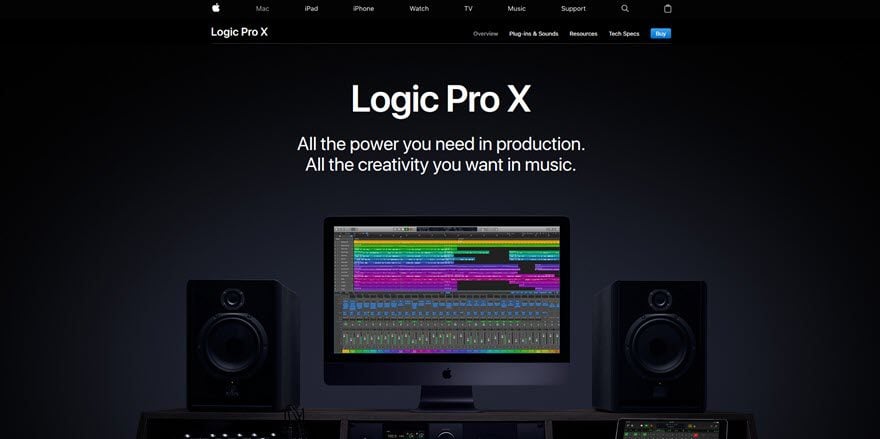 Logic Pro is Garage Band's really successful older sibling. While Garage Band stayed at home, wearing sweats, being chill, and playing in a — you guessed it — garage band, Logic Pro went out into the world and became a venture capitalist who bought a record label.
The difference is apparent from the moment you load it up and activate the "advanced features". That's not a knock at Garage Band. It's that Logic Pro is so powerful. With the advanced features, you get a UI that can handle anything you throw at it. You can stack tracks that later merge into one or keep various mixes and projects separated but ready to go when you need them. You can even use your iPhone or iPad as virtual mixing boards to do almost anything.
The real draw of Logic Pro is how it walks a very fine line of being accessible without being overwhelming. The UI is complex but intuitive because it was designed by Apple. You may have less of a sense of intimidation getting started with and using Logic Pro than other premium sound editors.
It's a bit pricey at $199.99, but that's not nearly as high as some other tools.
2. Adobe Audition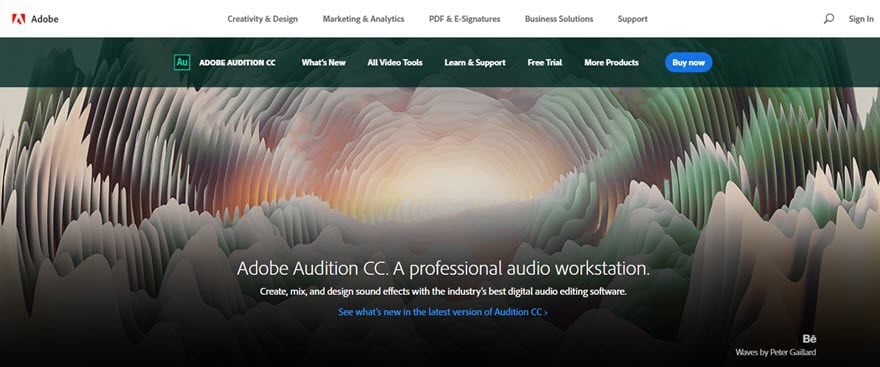 Audition used to be ridiculously expensive. Since the release of Creative Cloud, however, Adobe Audition became a much more viable and accessible option than before. Instead of hundreds of dollars upfront, you have the option of paying as little as $19.99 per month for access to the software. It does pretty much everything that Logic Pro does, which is great — because Logic Pro does a lot. You do multitrack editing, post-processing and effect layering, and various levels and hum reduction. Recent updates have made ducking more intuitive through the use of templates and their Essential Sound feature. (Ducking is when you lower the volume of one track when another plays simultaneously — like background music lowering when a podcast host starts to speak). You can also save templates of effects and post-processes so that you can run them automatically as scripts upon import. The scripting and templating in Audition is amazing.
A major concern for folks is that Adobe products are not user-friendly. Unfortunately, Audition is no different. It's designed to be a professional tool, and it works like a professional tool. There is a lot of polish here, but that's in the workflow and functionality more than the UI and UX. However, if you already use Premiere for video editing, or even Photoshop, or use any Adobe keystrokes from other apps, you will feel at home. Audition definitely does things the Adobe Way. That may be good or bad for you. It doesn't mean it's not some of the best audio editing software out there, though.
While Creative Cloud subscriptions can add up over time, the entry price of $19.99 is low enough you can see if this level of DAW is for you, and you can go from there. If it doesn't work after a month, you're out twenty bucks and now you know. If it does, you can start and stop the subscription as you need the features it offers and use one of the free options above to handle the everyday tasks.
3. Avid Pro Tools

Here's a true story: when I started podcasting, I talked to a lot of my sound engineer friends. I kept hearing about Logic Pro and Audition, yes. But Pro Tools came up way more often and was recommended way more highly to me. (And I live in Muscle Shoals, a kind of recording Mecca. When they say what the best audio editing software is, you listen.)
So I looked into my options, I settled back on Audacity. I was a new, baby podcaster, and when I saw Pro Tools, I was terrified. It was like looking into the sun. There was just too much power there. Nowadays, there's a newbie-friendly version called Pro Tools First that's totally free. It's basically the same as the differences with Garage Band and Logic Pro, and it's fantastic for beginners.
Now Pro Tools and Pro Tools HD…these are beastly pieces of software. The difference between HD and regular Pro Tools is basically the quantity of work you're doing. Pro Tools HD gives you twice as many tracks (up to 256) as regular, more inputs, and oodles more plugins. If you're a newbie, you will be overwhelmed by either if someone isn't there to give you a walkthrough and a few tutorials. But if you're aim is to work with audio professionally, there's a reason this one is called Pro Tools.
Cost-wise, however, it's a mixed bag. You can get the regular version of Pro Tools for a $24.95 per month subscription, but that must be on an annual contract which makes it $299 overall. You just pay for it monthly, but that does make the cost easier to digest. And Pro Tools HD subscription is $999 for a year, $2,499 for a perpetual license that includes an annual upgrade. Finally, you can purchase an $1,899 upgrade from regular. Then you own the software forever, but only get 1 year of upgrades.
4. Reaper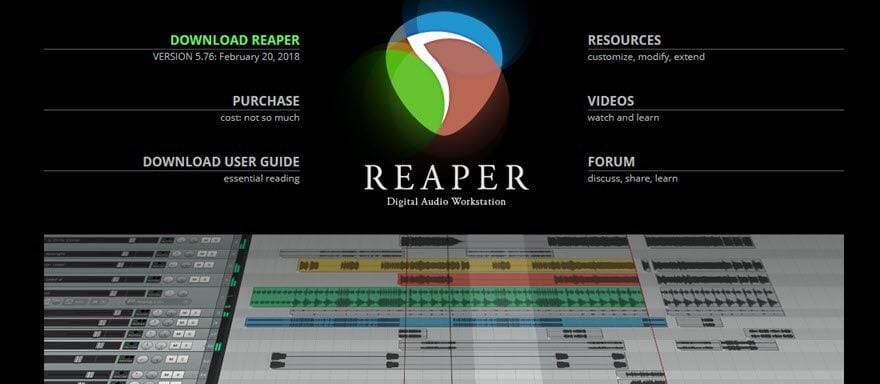 Reaper is not Pro Tools. But it's not trying to be. What it is trying to be, though, is a full-featured DAW that can do anything that pretty much everyone but the top-level pros would need. And for that, it massively succeeds. When using it to cut and splice audio tracks, it just works. (And isn't that what you'd want from the best audio editing software?) There are a ton of advanced features packed into Reaper, too, like spectral editing and entire, in-app scripting support for making macros and complex automations using Python, Lua, or EEL. And best of all? The developers care about their codebase, and they want it to be clean and lean. Reaper is known for being stable, and that means a lot when you're working on a major project. You do not want your client's 7-hour recording session to be lost because of a memory leak.
Also, there's a massive amount of documentation and community around Reaper. People love it. Because the devs love them. There's a discounted license for $60, and a commercial license is $225. Plus, you get a 60-day free download evaluation period that each and every one of you should grab and give a shot. If you're a user of Sublime Text, it uses the same licensing model.
5. Izotope RX6

And finally, there's Izotope's RX Post Production Suite 2. If there ever was a truly top-of-the-line audio editing suite, this is it. Selling for $1,499 (with its own payment plan!), Izotope has made a name for themselves for putting out software that really and truly performs. While yes, you can absolutely do the basic cutting, snipping, pasting, and equalizing, this RX suite really focuses on making your job easier. There's automatic dialogue enhancement and algorithms that adjust your levels to the delivery specs of your particular industry (radio broadcasting in the UK, for example, has different standards than the US). The insanely detailed visual tools make mastering your tracks a lot quicker and efficient than in other audio editors. They even export reports for you so you can study up on how you can better comply with loudness standards and so on.
This particular suite is actually a lot of different pieces of software. You get all of their specialized flagship productS: RX6 Advanced repair kit, Neutron 2 Advanced mixer, RX Loudness Control, Insight for in-depth visualization, as well as training tutorials (that even include courses on Pro Tools and Logic Pro) and a SFX library.
While they don't have a free suite, many podcasters rely on their RX Elements app that sells for $129. If $1,499 is a bit out of your price range, RX Elements will let you know if the Izotope suite is the best audio editing software for your projects.
Did You Find The Best Audio Editing Software For You?
Honestly, if the best audio editing software out there isn't on this list, I can't even fathom what that program would look like. You have super-simple freebies like Garage Band. And on the other end, mega-pro suites like Izotope and Pro Tools. On that spectrum, there should definitely be an app that suits your needs on this list. If you like touch controls and app integration, clean codebases and stability, scripts and automation, or even absurd amounts of plugins to handle every possible problem that might come up, one of these companies has made something for you.
Sound off in the comments and let us know what you think the best audio editing software is!
Article featured image by Vectomart / shutterstock.com