Every blog needs images. It's (nearly) 2015 and perhaps the only successful blog I know of that doesn't use images is about minimalism. The rest of us are doomed to "the search". That terrible time spent after completing a blog post in which finding the right image for the content you've created, let alone images that are legal for you to use (with or without attribution) can be maddeningly elusive and confusing. Usually resulting in frustration and wasted time.
That's where Creative Commons comes in.
What is Creative Commons?

Creative Commons is a non-profit organization that provides free licenses to anyone who wants a safe way to share their creativity and knowledge with the world. A Creative Commons license is not designed to replace a creator's copyright, but to help them quickly, easily, and legally change the terms and conditions of their copyright so that others can safely use their content under approved conditions.
For instance, lets say that you just created a photo. By default that photo is a copyrighted piece of content that you own. According to standard copyright laws, no one is allowed to use that content without your express permission. You can even require (and many do) anyone who wants to use your content to pay for the privilege on a case by case basis.
Obviously this type of setup is there to protect content creators and copyright owners. So in that sense its great, but for many it goes too far or is simply not flexible enough. A lot of content creators don't mind others using and/or sharing their content. What they mind is someone, especially a big company or media group who could afford to pay, snatching up their content for free and using it to make themselves money while not providing compensation or even credit to those whose work they used along the way.
That's where a Creative Commons license for your photo we mentioned earlier would come in real handy. By using this license you can, among many other things, make your photo freely available to anyone who wants to use it in a non-commercial way while still requiring anyone who wants to profit from the use of your work to pay you for it.
It's this type of middle ground that has made the Creative Commons licenses so popular on the web. It has allowed creativity to blossom–with artists swapping sources and creative elements freely–while still protecting them from those who would take commercial advantage without attribution or compensation.
What Are Creative Commons Image Plugins & How Do They Work?
Creative Commons Image Plugins are plugins created to help WordPress users find and insert free images into their blog posts or pages with proper attribution. They work by scanning massive photo sources like Flickr, Pixabay, and more for images that are using the Creative Commons license.
Those images are then used as the database by which your searches within the plugin return results. Not only getting you the image you want, but one that is legal to use too. And not to sound like a cheesy infomercial person, but, it gets better. From there these plugins are also designed to make getting the image from the source into your blog post or page easier too–often in just a few clicks.
Why Use a Creative Commons Image Plugin?
Anyone who has spent a decent amount of time blogging knows that finding images for each and every post–legal images, of course–can be a real pain and a major time sink. I've lost hours and hours to this task above and beyond the time it took to actually write the post I've been assigned.
To get around this issue many larger blogs will simply buy a subscription to an image service like Getty or Shutterstock. But not everyone has that kind of budget. Especially your average blogger with nothing to sell but who nevertheless wants some decent images to accompany their blog posts.
It is in these cases when having a Creative Commons Image plugin installed on your WordPress website can save you a lot of time and money. If that sounds like a dream come true, you're not alone! I absolutely love the idea of these plugins and I've compiled a small list below to get anyone interested started.
FREE Creative Commons Image Plugins to Try Out
As the subtitle above states, the plugins I chose to include in this short list are 100% free. However, there are other plugins out there you can choose from. Some of them are premium or require the use of premium services.
I didn't include those plugins for one simple reason: it felt a bit like going against the primary reason for these plugins in the first place: free (or at least royalty-free) images.
My thought was that if you're interested in spending money on your blog's images then it's probably less of a hassle to simply subscribe to a premium image/content service like the ones I mentioned earlier. But just in case that thought process does not line up with yours, I thought I'd mention that some decent premium plugins/services exist and you can easily find them with a quick search.
For everyone else, here are some FREE Creative Commons image plugins that you can try out today!
ImageInject

ImageInject, previously WPInject (as in the graphic and url), allows you to search Flickr, Pixabay, and more for Creative Commons images and include them in your posts and pages in just a few clicks. Out of the three plugin options, this one provides the widest range of photos under the Creative Commons license.
Key Features:
Search thousands of photos across multiple platforms without leaving your WordPress dashboard
Insert images with 3 clicks
Set featured images with 1 click
Insert multiple images to create a gallery
Quickly and easily choose between various image sizes
Modify the plugin templates to change how images are displayed in posts
Can be configured to automatically insert keywords for SEO
And more…
Flickr – Pick a Picture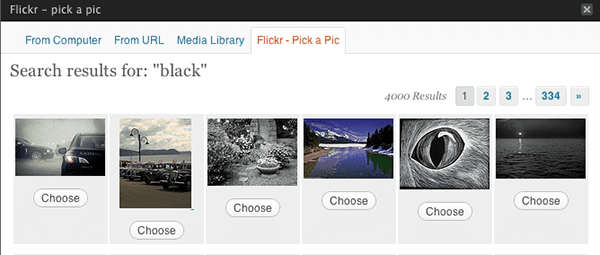 Pick a Picture limits its search of Creative Commons images to just Flickr, but like the other plugins does it all from the WordPress dashboard. It also throws in a few cool features all its own, such as searching by Flickr tag and image editing!
Key Features:
Search Flickr by tag
Refine searches
Preview image results
Automatically add captions with credit
Works with the native WordPress image editing tools to allow image alignment, cropping, rotating, flipping, and resizing.
Pixabay Images

Pixabay, like Pick a Picture, also limits itself to just one source for its Creative Commons images. Instead of Flickr though, Pixabay uses its namesake. This gives users a single click image solution that provides safe/legal images with attribution to their WordPress sites.
Key Features:
Search Pixabay via the "Add Media" button
Filter search results by multiple conditions
Preview images
Direct image uploads to WordPress Media Library
Use of standard WordPress media editing tools
In Conclusion
I'm sure you can guess by this point in the post that I'm a huge fan of this idea and the plugins listed. They may not be perfect in every way, but they do what they say they do and save us users a lot of time and headaches in the process. I think using these tools is a great way to encourage their further development, which is exactly what I plan to do on my sites.
What about you? Do you like this concept and the plugins above? I'd love to hear your thoughts in the comments below. Especially if you have found a better tool for doing the same thing or you have ideas on how to make these plugins better.
Article thumbnail by rlmf / Shutterstock.com