Journalists get asked the same question over and over: "How do I get a story in the news?" The answer is: you can't. Or, you can't force a media outlet to cover your story. Usually, the process includes pitching a journalist, ideally one you already have a relationship with, hoping they find interest in your story, and then waiting to see if the media outlet will pick it up and when it'll be published. There's a lot of thumb-twiddling and finger-crossing, and brands don't have much control over when, what or if their story gets picked up. Journalists also get inundated with pitches and queries for what are essentially boring, non-newsworthy stories. This is where HARO – Help a Reporter Out comes in, acting as a voice for journalists who know their angle and a tool for brands that have quality input.
What is HARO – Help a Reporter Out?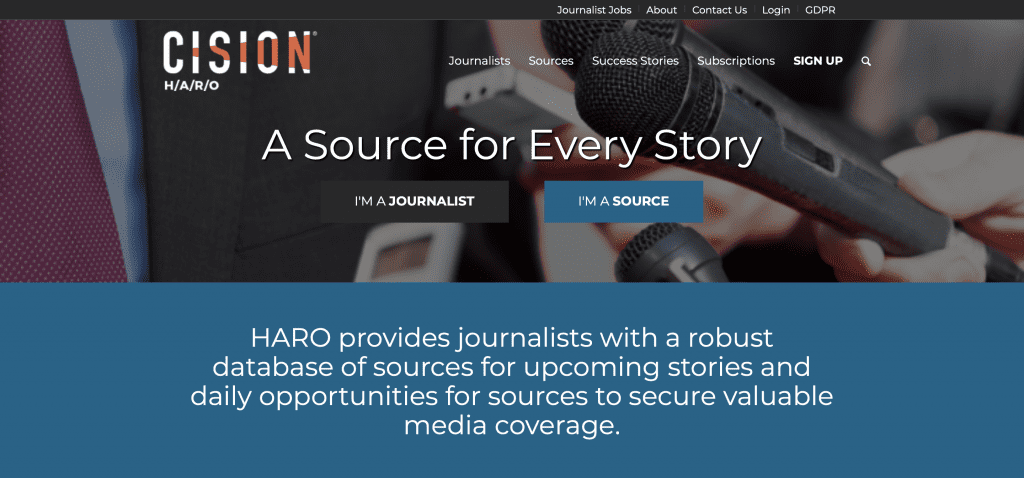 HARO started as a Facebook group and has grown into a massive database where journalists can search for information and sources. Journalists post about what they're looking for and ask for what they need – contributions, interviews or quotes. Sources reply back to discuss their expertise and how they can help. Many news sources are big and well-known, the type of publications most brands dream of being featured in.
This is an excellent way for brands and content creators to get PR coverage. Journalists can find what they're after and contributors with the right expertise have a good chance of being featured or included in a story. PR firms can cost thousands of dollars as they work to get you placement. HARO is an alternative for companies that don't have that budget, prefer to communicate with journalists directly or haven't had luck with PR in the past. You can be your own PR rep.
HARO Pricing
You can get a lot out of HARO – Help a Reporter Out with their free account, which includes the email alerts you sign up for delivered to your inbox three times a day. Their upgraded plans start at $19 per month and have some extra features, like keyword alerts for advanced filtering, profile creation to auto-insert into your pitches and early-bird access for just-added alerts. Read more about their accounts here.
How to Use HARO to Promote Your Brand
HARO is a legitimate service for brands, content creators and other sources to connect with journalists. It's a self-service site where brands can take some control over what type of coverage they receive (instead of waiting for a journalist to get in touch with them). Brands don't have to guess if their story is interesting because journalists are already listing what they're looking for. You'll also get used to pitching stories, and you'll develop an idea of which ones get picked and which ones don't. You can hone your skills to use when you're cold pitching other journalists you find outside of HARO.
Signing Up for HARO – Help a Reporter Out
During signup, you'll provide contact information and your annual revenue. You'll then get an email with your login credentials and confirmation. You can't sign in to HARO without activating your account through that email. Once you click the link to activate your account, you'll subscribe to the topics that matter most to you.

How to Manage HARO Emails
There are two types of HARO emails: master emails and topic-specific emails. You can subscribe to both types if you'd like. Master emails won't be as targeted, but selecting topics will create more daily emails. Plus, by opting in to master emails, you may get relevant queries you'd otherwise miss, especially under the "general" category. Master emails have category breakdowns in them for easy scanning. They're sent daily at 5:35 a.m., 12:35 p.m. and 5:35 p.m. ET in this format:

You'll get several emails from HARO, which can overwhelm your inbox, so it's worth it to set up a filter. Check your HARO emails regularly, at least once a day. Journalists work on a short turnaround schedule a lot of the time, and if you don't respond quickly, you could miss the opportunity. If it's easier for you to keep up with, you can monitor urgent HARO requests by following their Twitter and the hashtag #URGHARO.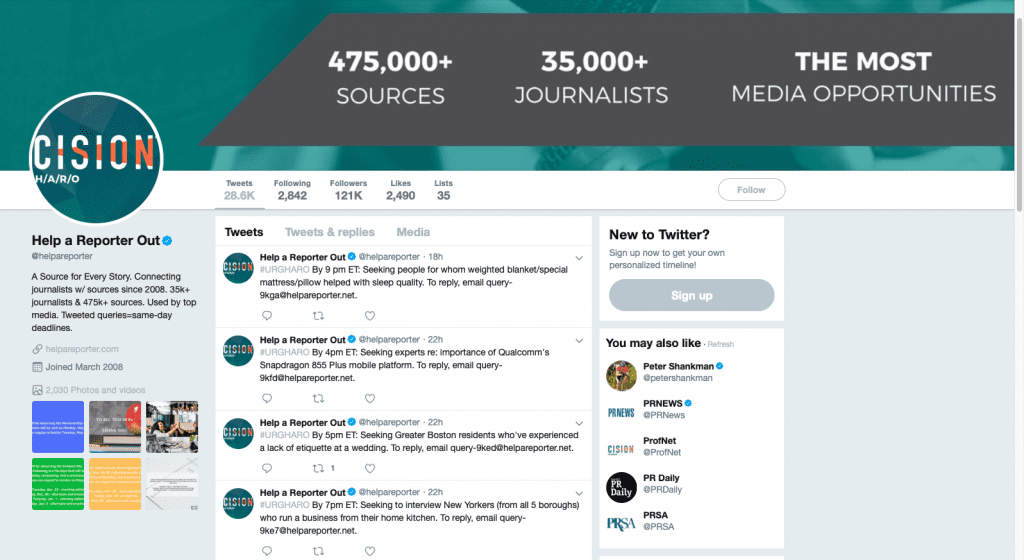 Choosing a Journalist to Respond To
When you see a query you're interested in, you can respond to it. If you're unfamiliar with a news outlet, check it out before responding. You want to make sure it aligns with your brand culture and values, and that it's one your audience will see. To increase your chance of being featured, only reply to the requests that you have experience or expertise in, not just an interest in or an opinion about.
Being discerning isn't just for the journalist's and readers' sakes, it's also for you. Your brand matters, and taking every single opportunity can dilute your impact. Aim for quality over quantity. Great coverage can lead to more great coverage, so HARO isn't your one and only chance. Ask yourself if this story aligns with your brand and if it's something you want your company to be known for.
How to Present Your Experience
When you're sure you're a good match for a request, pay attention to how you present yourself. The journalist needs to see how your experience will appeal to readers' emotions. Focus on the "why" more than the "what." Get to the root of why your experience matters. Put it into context, too. The journalist needs to see how your story is relevant to what they need. Here's a template you can use when crafting your response:
Subject Line Option 1: Your HARO Request – [Brief description/teaser of experience]
Subject Line Option 2: [Credential] for [Topic]
Hi [Name],
I'm a [credential] with [1 line about experience; can include duration].
Regarding your HARO query about [1-3 words describing topic], I can [1-3 lines about how you can help].
If you think this is a good fit for your story, I'm happy to talk more or provide details.
Thanks so much,
[Your Name]
[Title or Credential Descriptor (ex. Freelance Writer or Frequent Moviegoer)]
[Brand with link]
[Email | Phone]
If the journalist is looking for something brief, like short-form personal anecdotes, you can include all of it in your pitch. If they need something longer, highlight the most interesting points of your story – the journalist will follow up if they want to hear more.
Visuals Can Help You Gain Exposure
Let the journalist know if you have visuals to provide. Most stories need some sort of visual, whether it's a photo, explanatory chart, video, etc. They're not always easy for journalists to come by, so if you have one, make it known. This could mean the difference between being chosen or not – visuals are worth a lot. However, don't attach it to your response – HARO automatically strips emails of attachments for safety reasons. You can use something like Dropbox or Google Drive to send the journalist links to your supplemental files, though.
Seeking Out Your Coverage
You won't necessarily be contacted if your response was used. It's a good idea to create a Google Alert or subscribe to the publication's feed. Also, sometimes reporters don't know when their story will go live, so even if they say they'll let you know when it's published, creating your own alerts could inform you early.
If you are included in a story, show that you're grateful. Share the post on your own social media, call out and thank the reporter by name, link to the story from your website… Throw a mini digital celebration.
HARO – Help a Reporter Out Best Practices
There's an art to connecting with journalists and pitching stories. Being pushy or having an ego will get you nowhere. Keep these best practices in mind when using HARO.
Give the journalist what he asks for.
I can't stress this enough: provide all of the details the journalist asks for, and don't offer information they specifically say they don't want. If there are several replies to their request and yours doesn't include what they need, it'll be skipped right over. Journalists don't want to work with a source who seems to be difficult or inattentive to detail.
Don't be vague.
Your input may be unique, relevant and interesting, but if you contact the journalist with a vague, "Get in touch to talk more about this," you'll never hear back. Journalists tend to be inundated with pitches; they don't generally scramble for sources unless their topic is super-niche. Your job is to make the journalist's job easier, not to give them more work.
Copyedit your pitch.
If what you write is published verbatim, you want it to sound educated and professional, so it should be free of errors. Journalists, even those who work for world-class publications, are fallible – errors are found in all sorts of renowned publications.
Don't follow-up.
Half a reporter's job is managing emails and communication, and you don't want to make more work for them, especially if they could use you for a future article. If you want to catch their eye after sending your pitch, engage with them on social media by commenting on or sharing one of their posts (just don't reiterate what you've already emailed them).
Using HARO as a Jumping-Off Point
Media coverage doesn't begin and end with HARO. You can use it as a starting point for building relationships with journalists. This goes a long way. A source who has a relationship with a journalist may get more coverage by default, especially if you're easy to get in touch with, responsive and always grateful. However, keep this in mind: no matter how long you've worked with a journalist, your story won't be covered if it's not interesting for the readers. Familiarity alone won't secure coverage, but it's a great start.
Also, HARO guidelines state that you can't harvest reporter information for any reason. I'm not suggesting that you save the reporter's personal information and bug them about covering your next great story. Instead, go into every dialogue assuming it's a building block in your professional relationship. The reporter may contact you again in the future or you may see another request from him that you're also a good fit for.
Wrapping Up
Everyone thinks they're interesting. Journalists hear, "You should write a story about me!" all the time. The truth is, though, that it takes a lot for a story to be engaging, interesting and worth a journalist's efforts. The fact that your company exists isn't newsworthy. HARO gives you the chance to go the extra step to think of a great, unique angle and then pair up with a journalist who is already searching for what you have to offer. You'll make both of your jobs easier and more rewarding that way.
Inspired to make more connections but wondering how to cold email someone? Check out our article The Art of the Introduction Email.
Featured Image via Golden Sikorka / shutterstock.com