First of all, Elegant Themes customers will be happy to hear that we have already been testing our themes on the 4.1 beta and release candidates, and we have not found any compatibility issues. Feel free to upgrade, and if you experience any problems please open a ticket in the forums so that we can fix them ASAP.
4.1 introduces a few nice features, most of which focus on user-interface improvements to the dashboard. A new distraction free writing mode, inline media editing options and customizer improvements are just a few of the things you can expect. Without further adieu, let's take a closer look at what 4.1 has to offer.
Distraction Free Editing Gets A Refresher
WordPress has had a Distraction-Free editing mode for quite some time. This mode, when enabled, frees the post editor from the surrounding WordPress Dashboard links and settings, making for a cleaner and more peaceful writing experience. The new version of the Distraction-Free mode makes some big changes to the editor, allowing you to more quickly switch between Normal and Distraction-Free modes.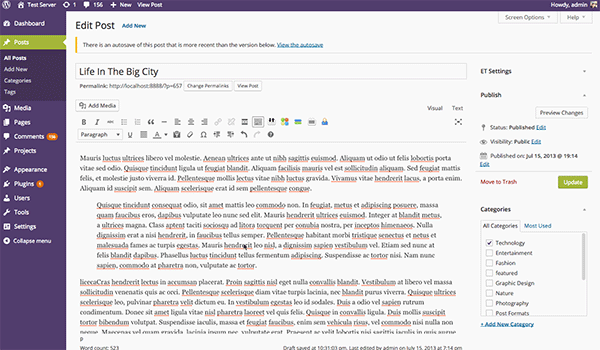 New Language Selection Options
Matt Mullenweg made it clear at WordCamp SF this year that language support should be a big focus for WordPress in the future as it seeks to democratize publishing around the world. WordPress 4.1 follows his advice with some updates to the WordPress language settings that make it easier to select your language during the installation process or post-installation from within the WordPress Dashboard. That's only half the battle, however, as Themes & Plugins should also seek to localize and translate their words to accommodate for language selection. Recently, the WordPress.org repository created a new rule for all new theme submissions, requiring that new themes be localized. This is something we already do at ElegantThemes, and we have some more exciting translation plans that you will be hearing about soon 🙂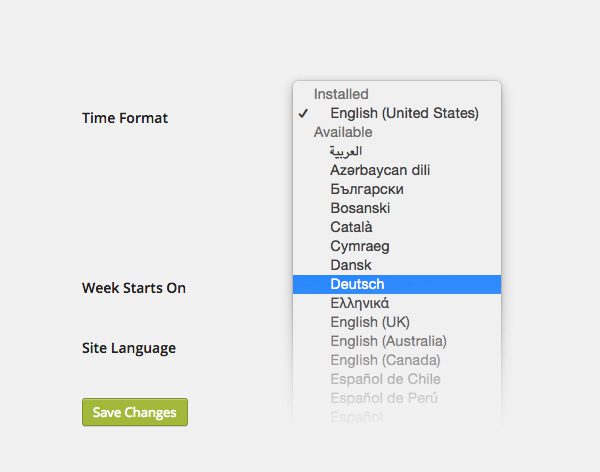 A Beautiful New Default Theme
WordPress 4.1 ships with a new default theme, Twenty Fifteen. I think the authors did a fantastic job with this theme, and I must say it's my favorite WordPress default theme to date. The typography is beautiful, the full-bleed featured images looks sleek and modern, and the side navigation works well for a personal blog. The theme also boasts some great Customizer settings, so be sure to play around with those and add your own personal flare to your site! For those looking to jump into WordPress and start a blog, Twenty Fifteen is sure to serve them well.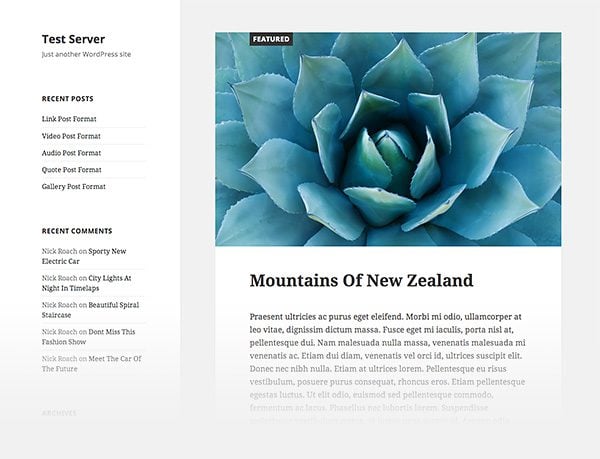 New In-line Media Editing Options
Media editing within the WordPress editor has been improved with some new in-line options that allow you to adjust an image's alignment on the fly without opening up the modal settings window. This will obviously save users a lot of time, and I am sure we are going to see more of these visual-editing improvements in the future.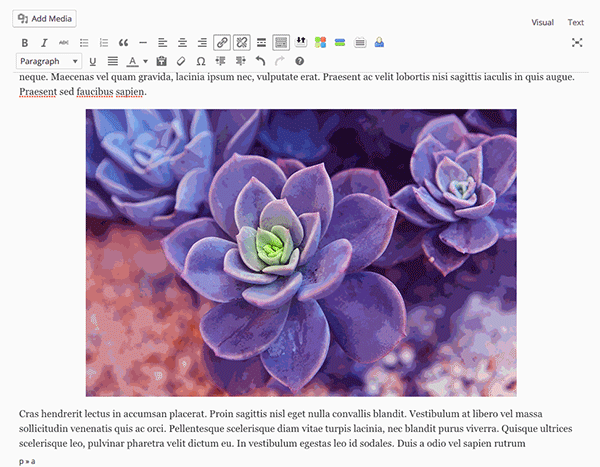 A New Recommended Plugins Tab
For those looking for new plugins within the Add New Plugins section in the WordPress Dashboard, they will now be greeted with a new list of "Recommended Plugins." This list uses an algorithm to display "recommended" plugins, which differs slightly from the Featured and Most Popular lists. Perhaps this new category will eventually replace the human-curated Featured tab.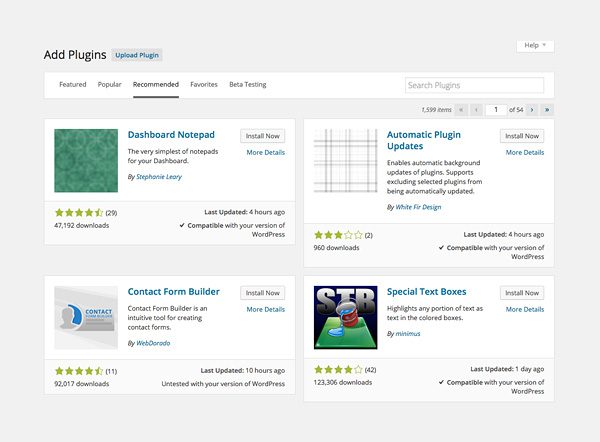 Additional Core Changes
4.1 also comes with various changes hidden behind the scenes. Improvements have been made to taxonomy, date, meta and comment queries. A new function was introduced to help theme authors edit document title tags in a more streamlined way. The Customizer also saw some improvements, making it easier for theme authors to add contextual panels. Of course, there is a ton more to be excited about, and I suggest you swing by the the Make WordPress Core blog to get more details about what has been worked on for 4.1.
The features mentioned above are just a few of the biggest additions, but there were many more improvements made as well. Be sure to check out their release post for more info, and don't forget to give us your thoughts and opinions in the comments!