Our Flexible Theme is a great solution for designers and artists who want to display their work online. Much like our other themes, the homepage includes a beautiful full-width slider that can be used to feature your work. The beauty of this slider, however, is completely dependent on the quality of the images you use. To help make it simple to create the perfect images for your homepage slider, we have developed 8 pre-formatted PSD templates that you can use with ease. Simply pop in your own work into the template and then export the image!
Download The PSD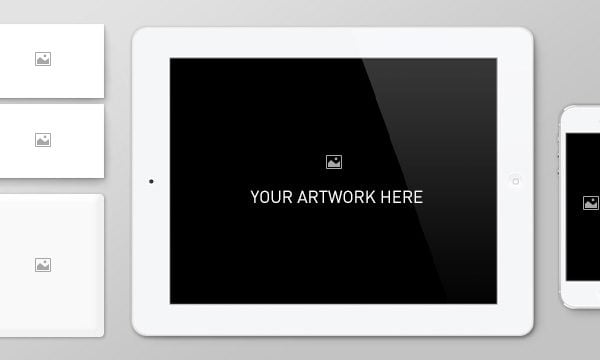 Using the PSD template to create slider images is simple. Each slider variation is grouped into layer groups. Inside each layer group is a smart object where you can input your own photo (just double click it and past in your photo). The image you input will automatically be added within the appropriate area in the slider image. Once you have added your imagery, simply choose File > Save For Web.
Desktop
This is a really fun way of presenting some of your brand elements as if they were skattered neatly across your desktop. It even comes with a warm cup of morning coffee!

Corporate Identity
The corporate template is a beautiful grid of printed elements to showcase your brand identity, featureing items from a brand image to a magazine spread.

Corporate Identity + Mobile Devices
This is a great template for displaying your companies brand elements. This a nice mixture of print and web elements to show the full extent of your identity.

Letterhead
This template is a little more specific in what it illustrates, but it is a bold and up-close display of your business cards and letter head designs.

Browser Window
The Browswer Window Template is a great way to give a little teaser to a full webpage design. If you're wanting to show off a little more of your website, check out some of the full computer templates below.
Desktop Monitor
This template is a clean and simple desktop monitor to show off that shiny new website design of yours.

The Gallery
The Gallery Template is a really nice way to showoff a series of photos or posters as if they were featured in their very own gallery.

Laptops
Want to showcase a set of webpage designs? This template features an elegantly arranged row of three laptop devices at both pure-front and perspective angles.