2015 has been a big year in the world of WordPress. We've seen notable acquisitions, a series of stable core releases, high-profile hissy fits, and the continuing emergence of high-quality plugins offering site owners solutions for everything from podcasting to membership sites.
Thanks to developments like the WordPress REST API, plugins are a part of the platform set for explosive changes in the near future and their very nature may be about to fundamentally change.
In this article, we'll break out the crystal ball and step through five predictions for the future of free and premium WordPress plugins in 2016 and beyond.
Let's get cracking!
Premium themes continue to be the larger commercial WordPress market, but there is now a very healthy community of premium plugin developers making significant money from their efforts.
Scott Bolinger has performed sterling work in tracking down some of the specific figures in his piece on the current revenue of several leading WordPress-based businesses. Cast your eyes down the list and you'll see several prominent premium plugin makers featured.
Standout performers here include Gravity Forms and Yoast, both of which are genuinely multi-million dollar businesses. Smaller outfits such as WP Rocket are also providing behind-the-scenes breakdowns of current earnings with regular monthly revenue reports.
The whole subject of commercial plugins has been a surprisingly fractious one over the years inside the WordPress community. We're still waiting to see true premium plugins offered via WordPress.org and it's been clear for some time that Matt Mullenweg is not the biggest fan of commercial plugins as a general idea.
As we move into 2016, though, the toothpaste is very much out of the tube with commercial plugins. The clear market demand for professional paid solutions suggests that we could be at the beginning of something of a gold rush for plugin developers that's likely to continue for many years to come.
2. The WP REST API Will Fundamentally Change the Plugin Landscape
The WP REST API is slowly creeping into core and is set to completely change WordPress as a platform and potentially revolutionize our understanding of what a plugin can be.
We've covered the technical background of the REST API here on the blog previously, so we won't dwell too much on matters under the hood. The implications of WordPress being a fully-fledged application framework are pretty enormous, though, and suggest several specific changes coming down the line for plugins:
Plugins and mobile apps are about to get very friendly indeed: The introduction of the REST API finally gives WordPress a route into the previously walled garden of mobile apps. Considering that apps are where users spend the majority of their time, the scale of opportunity here is huge.
There will be a large increase in third-party integrations: The combination of an available API and tools such as Zapier opens a lot of doors for developers to integrate with third-party applications. Expect to see a slew of plugins arrive over the next 12 to 18 months that aim to connect WordPress with business-facing applications in particular.
Plugins could move outside of WordPress entirely: The arrival of the WP REST API means that developers are no longer limited to PHP and the current WordPress plugin framework to interact with the platform – they're free to use a language of their choosing, from anywhere. It won't happen overnight, but this has the potential to fundamentally alter our perception of what a plugin even is. As recent blockbuster projects like Calypso have shown, the REST API opens the door to moving outside of WordPress and PHP entirely.
It's worth remembering that we're right at the very beginning of the REST API era, but it's already clear that the long-term future of the platform revolves around it.
From the consumer point of view, it's likely to be a huge win. As WordPress opens itself up to a wider programmatic world, and experienced developers from other languages start bringing their skills and expertise to bear in the context of plugins, we can expect to see whole new classes of plugins emerge.
3. Leading Plugins Will Look to Become Mini-Platforms
Just as WordPress itself is becoming a much wider and more robust platform, you can also expect to see individual plugins carve out their own mini-platform plays by encouraging other developers to build on their underlying technology.
This is a trend that Chris Lema foreshadowed as long ago as late 2013, but the accuracy of his prediction is only increasing as the years go by. Once again, established plugin giants such as Gravity Forms, Easy Digital Downloads, and WooCommerce have led the way here by offering their own stable APIs for others to build on.
It's an approach that makes an enormous amount of sense for plugin makers, whether they're tackling broad areas such as e-commerce and form management, or drilling down into niche markets.
The runaway success of WooCommerce shows the potential rewards on offer when pursuing this strategy, and it's one you can expect to see increasing numbers of plugin makers adopt.
4. The Emergence of a True App Store Could Be on the Cards
As alluded to earlier, we're still waiting to see WordPress.org offer an official commercial plugin directory. There are various historical factors behind this, but it's not a scenario that looks likely to change anytime soon – Matt Mullenweg is on record as saying it will never offer a premium plugin marketplace.
The situation in recent years has been that premium plugins were available in basically two places: via the plugin developer's own website or through the dominant commercial plugin directory Code Canyon.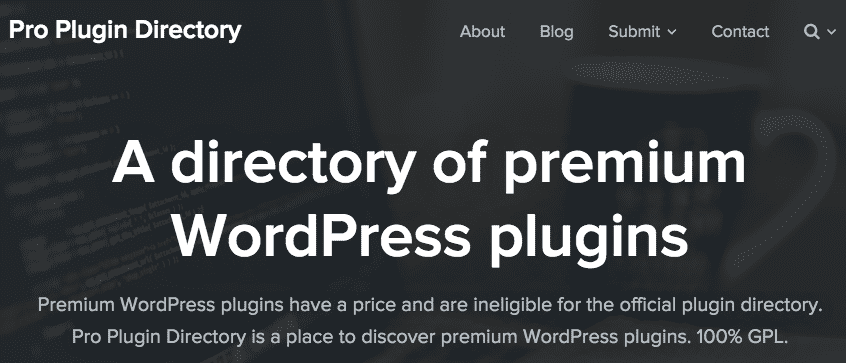 The launch of the Pro Plugin Directory earlier in 2015 was an attempt to provide a bit more variety to users in terms of tracking down quality premium plugins and brought some handy search and filtering options to the table. The site got off to a strong start but is currently up for sale which doesn't suggest it got quite the initial traction hoped for.
With the overall plugin market continuing to grow, and a potentially explosive amount of new types of development about to kick off on the back of the REST API, it seems unlikely Code Canyon is going to remain the only game in town forever. This prediction is something of a speculative one, but there seems to be a big gap in the market for a brand new option along the lines of existing app markets for other platforms.
Looking around at likely candidates for making that happen, the obvious front-runner has to be Automattic. Mullenweg has insisted WordPress.org won't be used for that purpose for years but there's nothing stopping something similar happening in the context of WordPress.com. It's admittedly a long-shot, but the purchase of WooCommerce shows that commercial plugin makers are on Automattic's radar.
5. Plugins Will Finally Be Truly International
A big part of WordPress moving beyond its current 25% share of the overall market will be continuing its strides into the non-English speaking world. It's easy to overlook from within the Anglosphere, but English is slowly losing its grip as the language of the internet.
WordPress has long had one eye on internationalization and localization and Matt Mullenweg's Q&A with an international live audience at WordCamp Europe showed that it's still near the top of the platform's agenda.
Following solid work on the core platform itself, themes have been added to the WordPress translation project and plugins are next on the list. An official announcement in September made clear that language packs will soon be offered to all plugins.
Existing active plugins (those that have been updated in the last two years) will be imported into WordPress.org and made available for translation over the coming months, though there is no fixed timetable for completion. This process will give developers the option of both using existing translations and actively soliciting new ones.
The true internationalization of plugins is a project that isn't going to happen overnight but the payoff for both users and developers will be huge as non-English speaking audiences are finally put on an equal footing.
Conclusion
Over the years, plugins have played a huge role in helping WordPress make the leap from small-scale blogging solution to all-purpose CMS – the next few years promise to bring even more game-changing developments from that quarter.
Prognostication is a risky business at the best of times, but we think there are five distinct scenarios that are very likely to occur. Let's review our five predictions for the record:
Premium plugins will become ever more popular.
The WP REST API will change our conception of plugins forever.
Leading plugins will look to establish themselves as mini-platforms.
The door is open for an App Store-style plugin marketplace to emerge.
Plugins will be truly international in the near future.
We'd love to hear what you think of our take on the future of WordPress plugins. Are there future possibilities we've missed? Get in touch via the comments and let us know!
Article thumbnail image by totallyPic.com / shutterstock.com