Welcome to Day 12 of our Divi 100 Marathon. Keep tuning in for 100 days in a row of awesome Divi resources as we count down to the amazing release of Divi 3.0 on the final day of the series!
---
With its drag-and-drop page builder tool and growing library of pre-built layouts, our Divi WordPress theme can be used to create almost any type of website, all without any coding or development experience required.
However, as we'll see in this collection of premium Divi child themes, if you want to buy a ready-made design for your website, while retaining access to the features and functionality of this powerful theme, there are plenty of options to choose from.
In fact, despite still being in its infancy, the growing Divi child theme ecosystem is starting to look like it might be set to rival the selection available for other popular WordPress frameworks. Along with the flexibility of Divi, these premium child themes are another good reason to choose our flagship WordPress template as the foundation for your website.
So whether you're looking for a design you can use as is, or get a head start on your next project by using a child theme that you can tweak with the Divi Builder, this collection of the best premium Divi child themes will show you what's available in the growing third-party Divi ecosystem.
Before we get to the top 10 best premium Divi child themes for creating a one page website with WordPress, there are a few points we need to cover.
First up, to use one of these child themes, the Divi theme will also need to be present on your WordPress website. The child theme is then uploaded to your WordPress website and activated, with Divi becoming the parent theme. These child themes use Divi as their foundation, and then add their own designs and styling to the features and functionality of Divi.
If you want to know more about how child themes work in WordPress and how to create them, be sure to read our guide to WordPress theme customization.
Secondly, none of these child themes have been created by the Elegant Themes team and are third-party products that have been built to run alongside Divi.
So, whether you want a new design for your website or you're looking for inspiration for your next Divi powered project, here are some of the best premium Divi child themes for one page websites.
1) Wave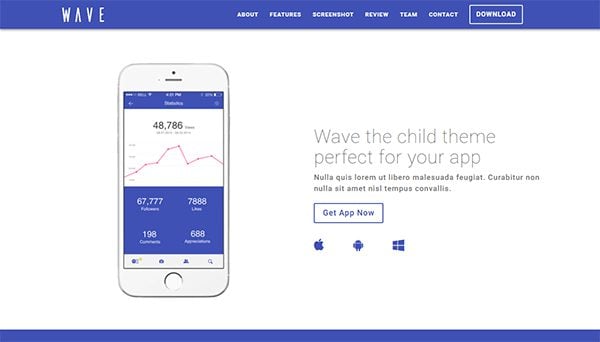 Wave is a Divi child theme that, in its default configuration, is ideal for promoting a mobile app or software service online. However, with a bit of light customizing, it can easily be adapted to promote a wide range of offers.
After displaying a screenshot from your project, the long form, homepage layout gives you a great opportunity to promote the features, benefits, and other reasons why your visitors should choose your solution. The Wave child theme makes good use of other key Divi features. This includes advanced content layouts, call to action buttons, testimonials slideshows, team member profiles, and a selection of different forms.
Wave has a visually impressive clean and clean design while still including all the important features you'll need to promote your app or service effectively with WordPress.
Price: $94 $80 | More Info
2) Josefin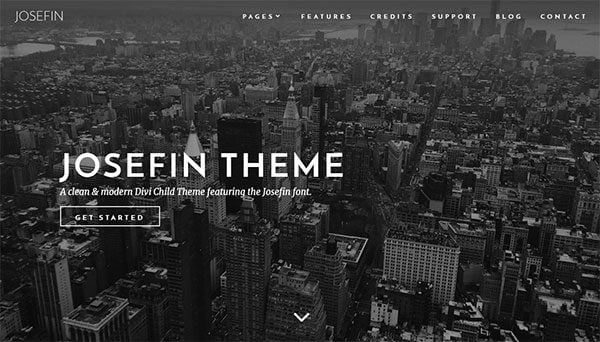 Josefin is a perfect example of the type of feature-rich one page website designs you can create with Divi.
Whether you're in the market for a premium child theme or not, Josefin should be able to provide you with plenty of inspiration when it comes to getting the most from Divi Builder. Putting the full-width header module to great use, the Josefin child theme leads with a large full-screen background image and hero quote, before inviting the user to scroll down and check out more of what you have to offer.
Other Divi modules used by this one page theme include contact forms, testimonial sliders, Google Maps, video backgrounds, and expandable text areas. The range of different modules are all tied together by the fresh and modern design of the Josefin Divi child theme for a consistent look and feel throughout your site.
Josefin might look like an advanced WordPress child theme, but thanks to the included walkthrough videos, setting up your new website shouldn't be a problem at all.
Price: $75 | More Info
3) Fashion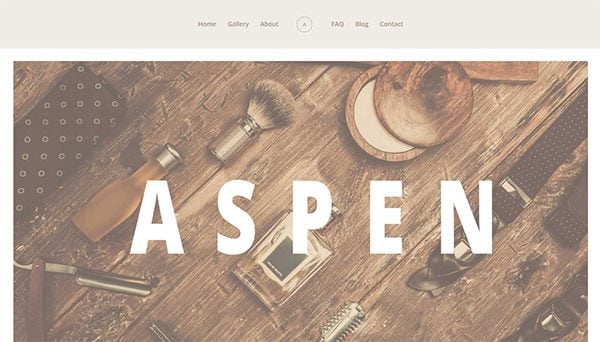 If the Fashion premium child theme looks familiar, that's because it's based on one of the demos used to promote Divi. The team behind Fashion has reversed engineered that demo to give you a quick and easy way to create a stylish fashion themed website.
Fashion isn't just a clone of a Divi demo, though. This is one of those premium Divi child themes that includes some handy features to help your website become a success. This includes a great selection of different page designs, an integrated footer header tool, and excellent ecommerce support.
Although Fashion has been designed for a specific type of website, there's no reason why you can't use the Divi Builder to adjust this child theme to better suit another industry or niche.
Price: $50 | More Info
4) Sprint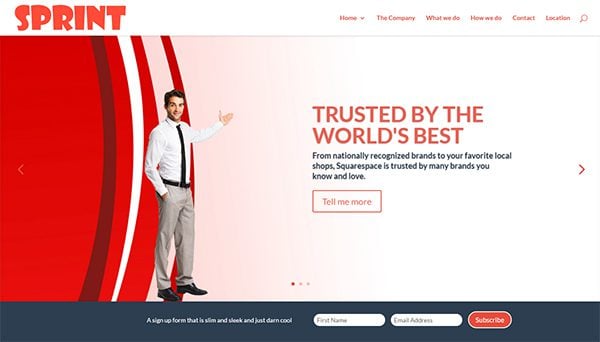 Sprint is a Divi child theme that's a great choice for creating a one page website to promote a service, product, or another of your ventures online.
With a full-width homepage slider, animated counters, and Google Maps homepage modules, your one page website will have all the best features that are usually found in themes of this type. Plus, you'll also have access to all of the other useful Divi Builder modules.
Sprint uses many of the best features of the Divi Builder to deliver a professional one page child theme. This should help you to promote your business better, online.
Price: $50 $19 | More Info
5) Hello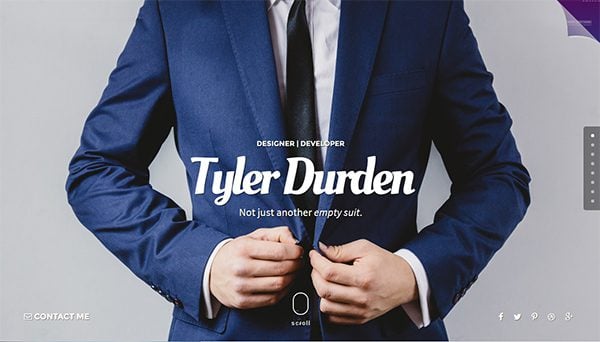 If you need to publish your online resume as quickly as possible, then this affordable premium Divi child theme is a good choice.
Hello gives you a great opportunity to promote yourself online, whether you're seeking a traditional appointment, or you want to land more clients for your freelance business. The one page layout of the homepage makes it easy to highlight your best attributes, including previous employment, qualifications, your skill set, and portfolio.
If your visitors like what they see, they can easily get in touch through the homepage contact form or social media links.
Price: $20 | More Info
6) Big Sur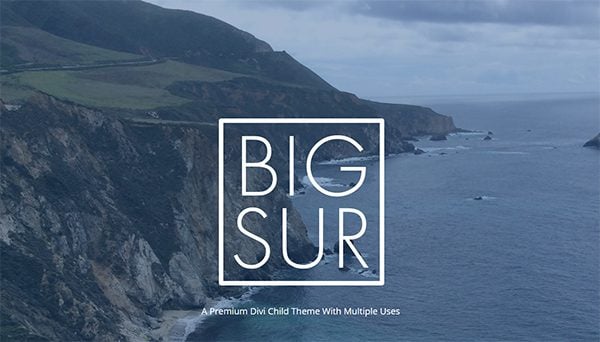 Big Sur is one of the boldest Premium Divi child themes for one page websites that you can purchase today.
The demo of Big Sur features plenty of different sections, including a large header image, featured icon sets, animated counters, a newsletter optin form, and the latest content from your blog. As this theme has been created with the Divi Builder, you can easily add, remove, or rearrange the modules that are on display.
Although this child theme is described as being perfect for everyone, those with a product or service to promote, or message to share, will get the most from Big Sur.
Price: $175 | More Info
7) Analog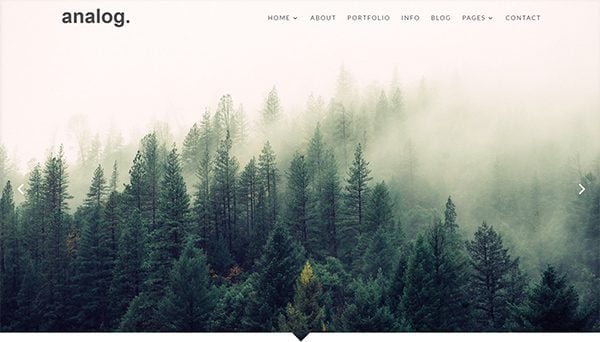 Analog is a high-quality premium Divi child theme from the Design Space Co. team.
With plenty of opportunities to display full-screen images, this theme would be a great choice for photographers and other visual artists with lots of photos and other images to show off. By using the Divi Builder user interface, you can easily edit any of the sections on the one page layout of the homepage and drop in your own content, whether that's text, images, videos, or whatever else your project demands.
This theme definitely has a minimalistic appeal to it, making Analog a great choice for those who are looking for a neutral design for their Divi-powered website.
Price: $138 | More Info
8) Startmetric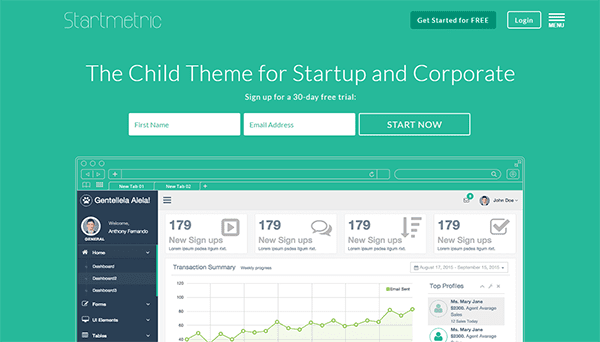 Startmetric features one of those classic long form, one page homepage designs that includes just about every useful Divi module you can think of.
With a sign-up form, a client logo display area, tabbed sections, and feature lists, testimonials, and pricing tables, to name just a few, you should have no trouble promoting your new app or service with the Startmetric premium Divi child theme.
The flat design of Startmetric will help ensure that your website looks up to date, and if you need to make any changes, you'll find all the PSD files included in the theme package.
Price: $97 | More Info
9) One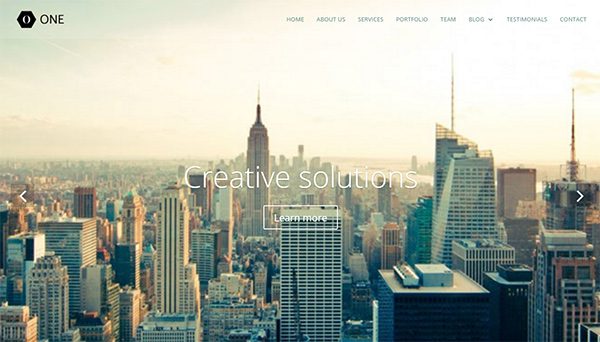 The One features a traditional single page homepage layout that can be fully customized with the Divi Builder tool that was used to create this child theme.
If you choose this theme for your WordPress website, you'll be able to populate the full-width homepage slider module with your best content, add your mission statement to the about us section, and use the multi-column icon grid to showcase your best assets. This one page design then finishes off with a contact form, allowing your visitors to quickly send you a message about your services.
Candy Themes have done a nice job with the One Divi child theme and thanks to the additional services they provide, you can let them take care of everything for you when it comes to getting your website online.
Price: $29 | More Info
10) Skye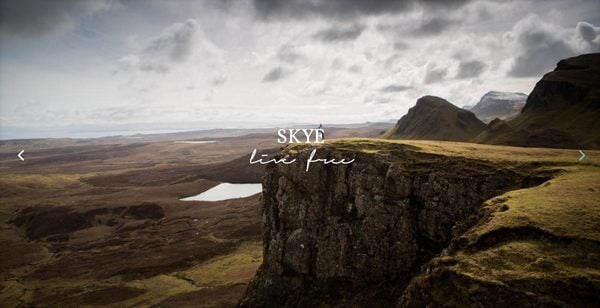 Skye is a premium Divi child theme that's perfect for freelance photographers and photography studios that would like a website with a design that matches the quality of their work.
Created by the Design Space team, the Skye one page Divi child theme features multiple full-width image slideshows as part of the default homepage layout. These two sliders are combined with an about us area, portfolio content, a collapsible FAQ section, the latest posts from the blog, and a contact form. However, this can all be changed easily enough, through the drag-and-drop interface of the Divi Builder.
The Skye WordPress photography child theme for Divi includes an easy-to-use, one-click installation process and all the demo content needed to help you get your website online as quickly as possible.
Price: $138 | More Info
If you're looking for more free and premium Divi child themes, these websites can provide you with additional options:
If you know of any other good Divi child theme resources, please share them in the comments below.
The existence of these child themes doesn't mean that Divi and its drag-and-drop builder tool are difficult to use. Thanks to the pre-built layouts that you get access to with Divi, not to mention all of the customization options and settings, creating your own bespoke website with this theme is relatively straightforward.
However, as time is money and not everyone has the eye for design that is necessary for creating professional websites, these premium Divi child themes serve a great purpose. By spending a bit extra, you can get a design that is ready to go, or an advanced foundation for your website, without investing hours of your time in pushing pixels and getting to grips with the latest web design trends.
If the idea of purchasing a premium Divi child theme doesn't appeal, they can still provide excellent inspiration for your next self-built Divi-powered project. After all, with Divi Builder, everyone has access to the tools needed to create a custom WordPress website design.
Furthermore, if you're looking for a way to monetize your Divi or web design skills, this collection of premium Divi child themes should demonstrate that there is an opportunity to sell your own custom designs online.
What do you think of the growing Divi child theme market? Please share your thoughts in the comments below.
Article thumbnail image by Kit8.net / shutterstock.com

Divi 100 Day 12
The Countdown To Divi 3.0
This post is part of our Divi 100 marathon. Follow along as we post free Divi resources for 100 days in a row! This 100-day countdown will end with the game-changing release of Divi 3.0, including our brand new visual editor built from the ground up using React. Divi 3.0 will change the way you build websites with the Divi Builder forever!
Let the countdown begin.