Today I want to do something a little different. We talk a lot here at Elegant Themes about how to use Divi and what the theme can do, but today I want to take a look at how real people are using it.
Now, when it comes to assessing a theme like Divi's design and performance, I usually look no further than the theme demo. This will give you a good idea of layout possibilities, customizations, and the built-in functionality on offer.
However, a versatile, multi-purpose theme like Divi is capable of so much more than we could possibly showcase using a few purpose-built demos. To demonstrate this – and to show off Divi's full potential – we need to look out into the wild, to see real world, live websites built using Divi.
And that's exactly what we're going to do today! In this post, I'll be presenting a collection of 25 stunning Divi sites that you can use for inspiration – and at the bottom of the page, I'll give you the opportunity to share your own Divi-built website.
With the introduction out of the way, here is a small collection of my favorite websites built using Divi. This collection is presented in no particular order.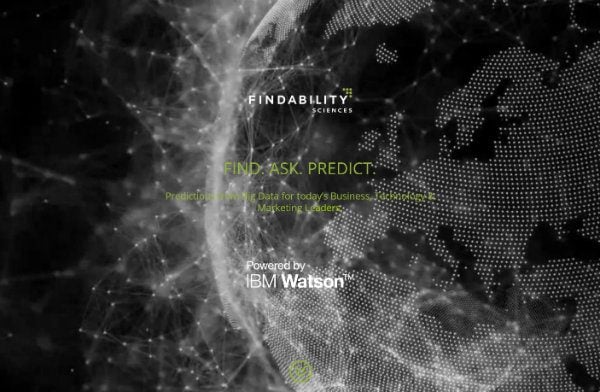 With a full-screen background video greeting visitors, the Findability Science website certainly makes a memorable first impression. It also uses parallax effects with eye-catching results. Primarily a consulting firm, Findability Science specializes in "findability" – giving its customers real world metrics they can leverage to grow their business.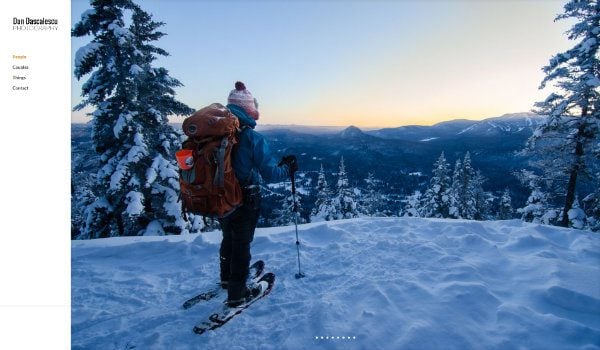 Dan Dascalescu has put together a gorgeous photography website using the Divi theme. With a clean and tidy left-side navigation menu, his stunning photos are given center stage.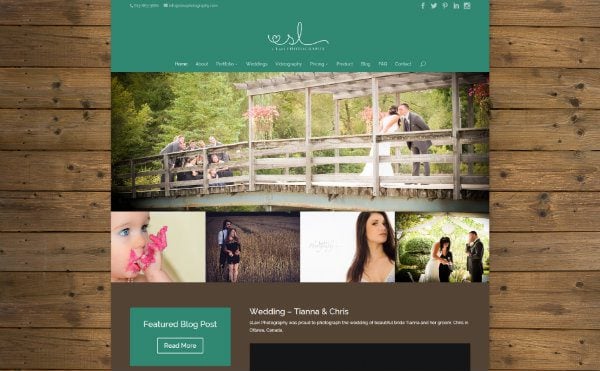 Continuing with the photography websites, next up we have Ottawa-based Stacey Lavi's stunning site. Stacey takes a different approach, adding a beautiful custom background image that really complements the site's elegant color scheme. Again, her photography work remains the site's focal point, as you'd expect.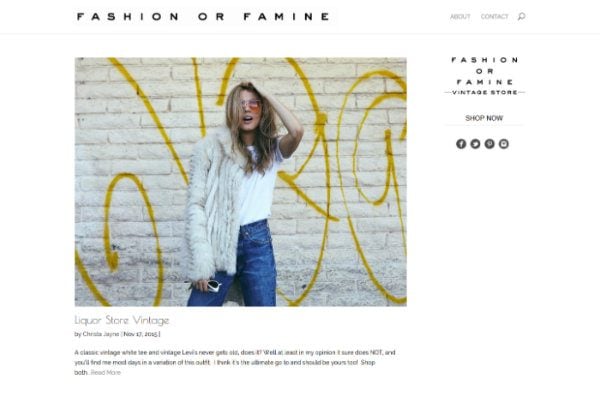 Want to see how Divi looks when kitted out with a more minimalist design? Then check out the blog for vintage clothing store, Fashion or Famine. With large featured images and stylish typography, this website shows that you don't have to use Divi's many advanced design modules to build a beautiful website!
Another of my favorites here. This time it's the website for M for Montreal, a music festival for up-and-coming local musicians. Compared to many other sites featured in this collection, M for Montreal has a lot going on. However, thanks to a clever design, it still feels uncluttered and organized.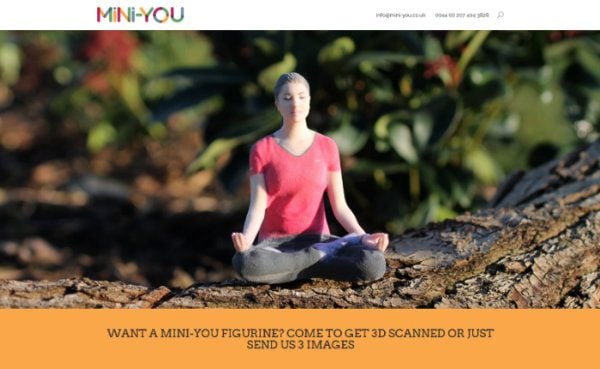 Next up, the rather innovative and quirky Mini-You website. Mini-You promises to make realistic mini figurines or busts of you, requiring just a quick body scan or three photos to work from. Their website reflects their brand well, with lots of fun images showcasing their unusual products.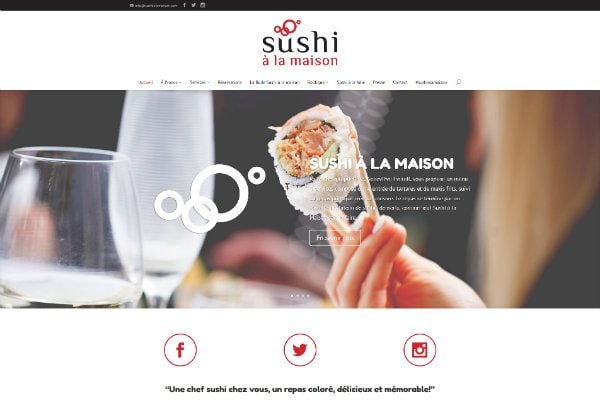 You can also use Divi to build impressive restaurant themes, too, as demonstrated by this awesome French sushi restaurant, Sushi à la maison. The website looks simply stunning, with bold image slider, distinct social media icons, and links to the restaurant's in-house product range. Sushi à la maison also integrates a table booking solution – an important practicality of running a restaurant.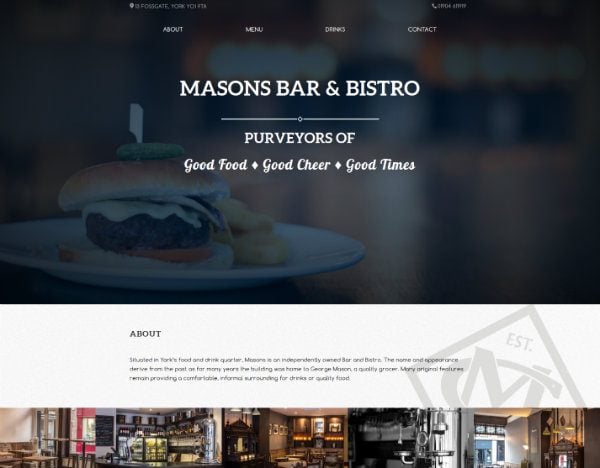 Back to back restaurant websites then, with Masons Bar and Bistro featured next. The website uses images prominently, with a full-width homepage image accompanying stylish image grids, and beautiful parallax effects defining the headers of each section. To provide all the information a visitor could need, the website also features a map, plus menu and contact form functionalities.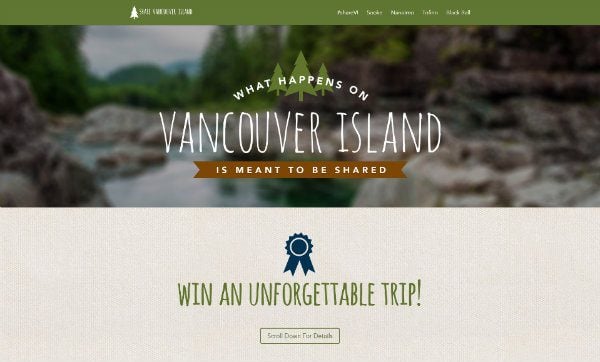 Next, we have a site built to spread word of the stunning Vancouver Island. As you might expect, this site is heavy on images, showcasing the area's natural beauty. The site is clean and well organized, presenting everything a tourist needs to know about the place – including some gorgeous gallery images.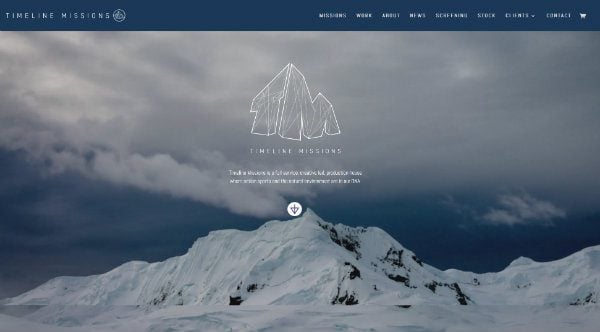 In my opinion, the Timeline Missions website demonstrates just how jaw-dropping a Divi website can be. With its full-screen background image and stunning parallax effects, the website is the perfect showcase for the team's "missions." In case you're wondering, they specialize in incredible snow-based action films, as seen on their must-see Vimeo page.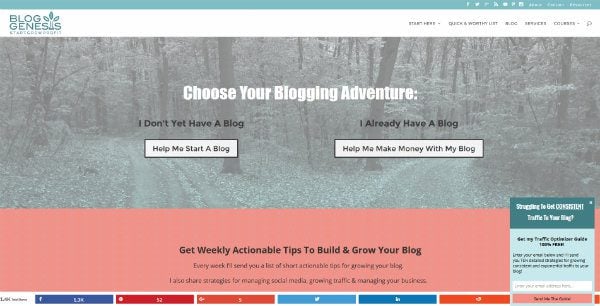 Next, we have a great example of how Divi can be used as a blogging theme – the design of the homepage even doubles up as a landing page. However, of particular interest to me was the site's blog section. Site owner Ashley Rader uses beautiful branded thumbnail images on her blog, alongside a simple sidebar with lots of white space. There's also a well-designed footer area, complete with stylish opt-in form.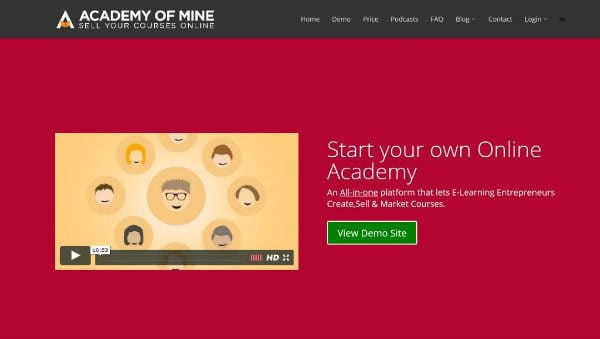 Academy of Mine uses a bright and colorful, flat design with great effect. The homepage features an introductory video, plus it clearly lays out the benefits of using its services. Head over to the pricing page and you can also see the Divi pricing table module in action!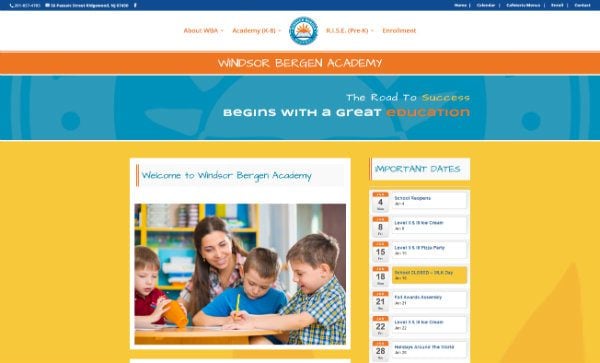 The Windsor Bergen Academy is a private school for children with learning, behavioral, and attention disorders. The website reflects the academy's mission well, with a fun and colorful design, plus a playful font.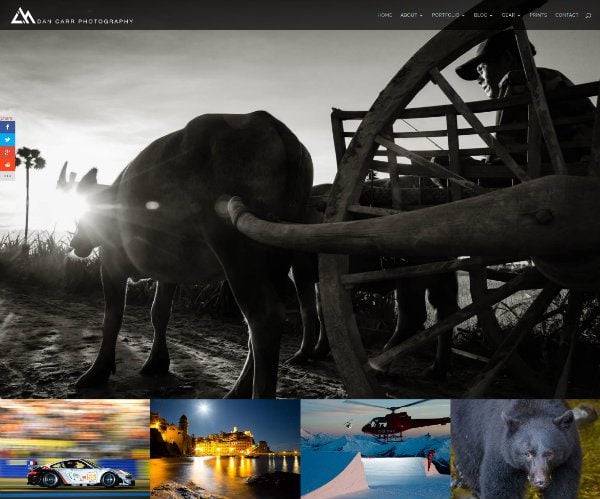 Another visually stunning photography website, and this time, it's the turn of Dan Carr. So far we've featured three photography websites, with each looking completely different, proving Divi can be used in many different ways. Dan Carr opts for an impressive full-screen photo, with additional images displayed in an organized grid further down the page. This website also uses several of Divi's more advanced modules – it features parallax effects, gridded blog posts, and a stunning image gallery. Definitely one of my favorites!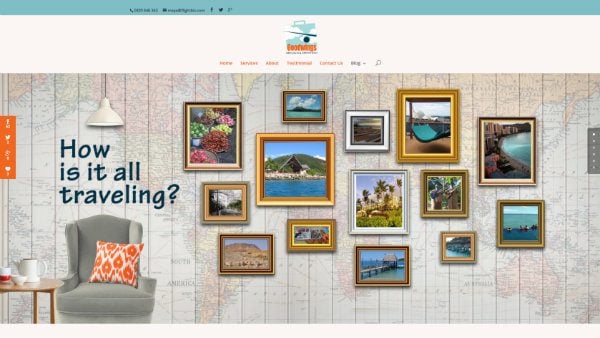 Goodwings is a fantastic travel agency service, allowing you to book tailor-made trips all over the world. The homepage features a stylish full-width image, plus customer testimonials, and a convenient contact form. The website also features a blog with clean, organized, boxed blog posts.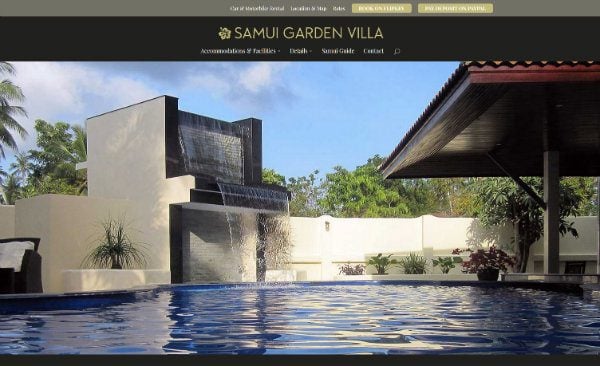 Luxury accommodation requires a sophisticated, elegant website to match. The Samui Garden Villa website gets the requirements spot on, with its beautiful choice of images, parallax effects, and a timeless color scheme. Of course, practicality is a website's primary purpose, and Samui Garden Villa integrates a fully functional booking solution via Flipkey.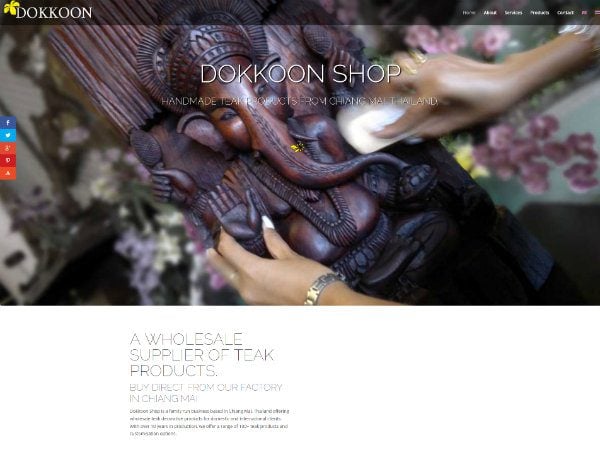 Another quirky eCommerce store up next: Dokkoon Shop, makers of beautiful, hand-crafted teak products, such as sculptures, clocks, and candle holders. As you'd expect, product images are displayed prominently on the homepage, with a dedicated section linking to some of their latest products further down the page. Be sure to check out the store section of the site, giving you a better idea as to how a Divi-built eCommerce store looks and behaves.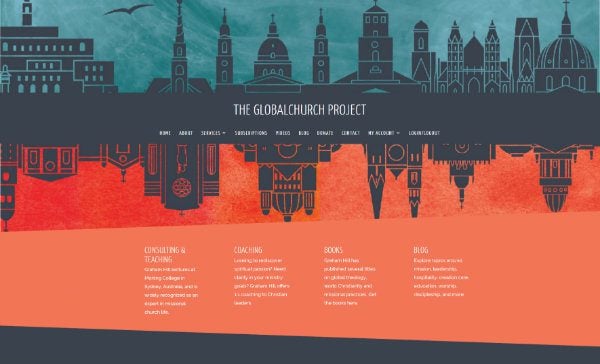 Wow is all I can say about the stunning GlobalChurch Project website, with its beautifully contrasting color scheme. The homepage links to subscription options, latest videos, and also displays its partner logos. The blog section is equally impressive, despite going a completely different direction with the design – it keeps things clean and simple, using a distinct font and displaying a non-intrusive email opt-in form.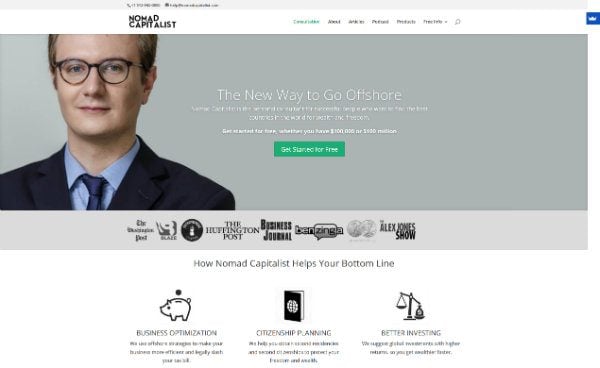 Next we have Nomad Capitalist, a beautiful example of Divi being used as a corporate theme. The website uses strongly defined sections, testimonials, plus pop-up functionality when a visitor shows exit intent. Andrew Henderson is the site owner, and his website helps online entrepreneurs and digital nomads stay on top of (and improve) their financial situation.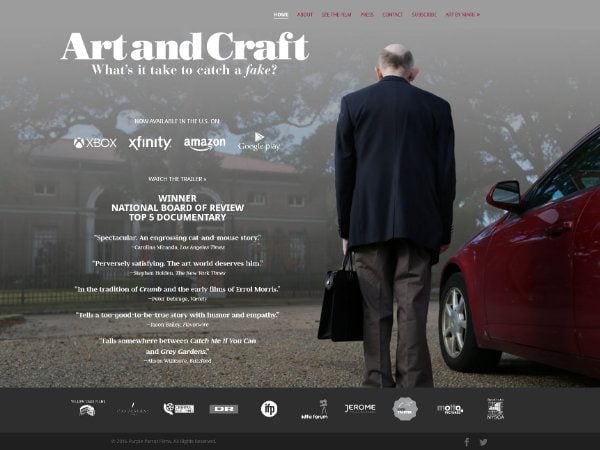 This website was designed to promote the documentary film, Art and Craft. It uses a relatively simple design, with a large full-screen image, plus a carousel linking to all the places you can watch the film. At the bottom of the page, there's another carousel, this time linking to the partners. This is another prime example of Divi's versatility, demonstrating that the theme can be used in just about any industry.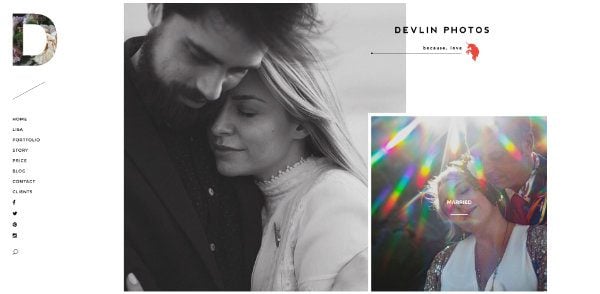 Another photography website, and another example of how a creative mind can put Divi to work in an impressively eye-catching way. This time the site owner is Lisa Devlin, a wedding photographer from the UK. The design is exceptional, with images of different sizes slotting together to create stunning results. There's also embedded video and image sliders on the homepage, making the whole site feel sophisticated, stylish, and dynamic.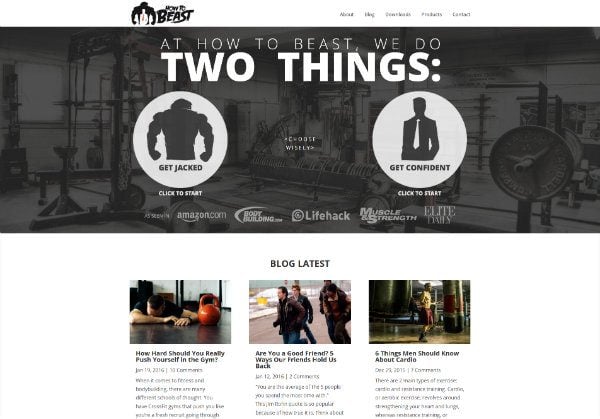 With its choice of bold title font and simple design, How to Beast screams masculinity. Unsurprisingly, the website is aimed at men who want bulk up and become more confident. The blog looks professional with its clean design, small thumbnails, and organized sidebar. It also features a simple email opt-in form at the top of the page, which is perfectly in keeping with the rest of the site's aesthetics.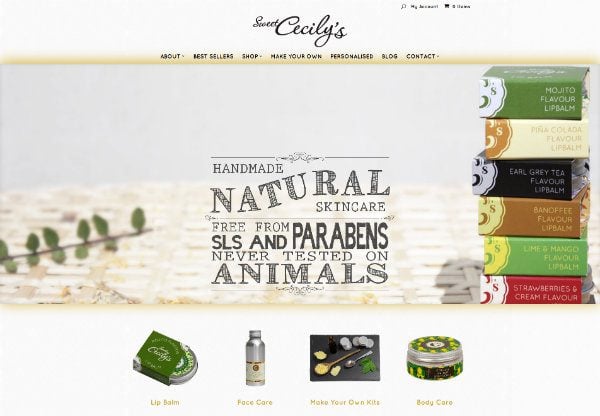 Sweet Cecily's is a gorgeous, Divi-WooCommerce combo selling natural skincare products. The site uses a branded custom background image and also utilizes a beautiful black-white-gold color scheme. The store section is beautiful and easy to navigate, making it super-easy to browse their products. The website also features a masonry-style blog which looks simply stunning!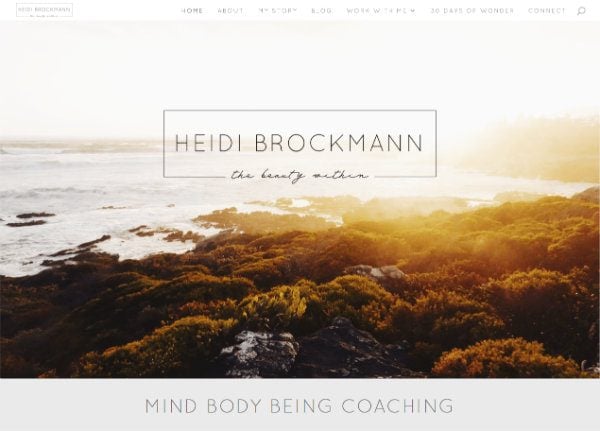 The final theme in today's collection is also the most elegant: Heidi Brockmann's, a mind-body nourishment coach. The website uses soft colors, elegant fonts, and natural images that really suit the brand down to a tee. There's also a stylish blog section featuring large, boxed thumbnails. All in all, a really beautiful website.
Final Thoughts
Restaurants, blogs, photography, eCommerce, business – you name it, Divi can do it. Hopefully, this collection of websites has given you an idea of the quality of design you can achieve with Divi. With flexible layouts courtesy of page builder functionality, almost unlimited customization options, and 40+ powerful content modules, Divi gives you an ideal platform for building your perfect website.
Of course, we could never cover every single deserving Divi site out there in one post. So if you have a Divi site that you'd like showcased in the future you can email a link to our editor at nathan at elegantthemes.com with the subject line: DIVI SITE SUBMISSION.
Editors Note: Due to the high likelihood of spam, we will not be allowing links in the comments to Divi websites. If you'd like the opportunity to be featured in a showcase like this one in the future please submit your designs via the instructions above. Thanks!
Article thumbnail image by Dooder / shutterstock.com.