Welcome to Day 15 of our Divi 100 Marathon. Keep tuning in for 100 days in a row of awesome Divi resources as we count down to the amazing release of Divi 3.0 on the final day of the series!
---
In today's post we are excited to give away the free Divi Custom Login Page Extension. This extension, in the form of a plugin, provides you with brand new controls for customizing your WordPress login page with a combination of pre-made designs and personal customizations.
Once installed, this new extension will allow you to provide a seamlessly branded (or simply more beautiful) login experience for yourself, site visitors, and of course your clients.
Downloading & Using The Divi Custom Login Page Extension
To use this free extension on your own Divi website, first you'll need to download the zipped folder using the download button below. Once you've downloaded the zipped folder, navigate in your WordPress admin to Plugins > Add New > Upload Plugin and upload the zipped folder you just downloaded called divi-100-login-page.zip.
After activating the plugin you will now notice a new option in your WP Admin sidebar called Divi 100. This is the menu under which all of our Divi 100 Marathon extension sub-menus are housed. If you have other Divi 100 extensions installed it will look like the image below. If you do not, then simply clicking the Divi 100 option will bring you to the settings panel for the login page extension.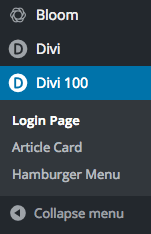 Within the Divi Custom Login Page Extension's settings panel you have a number of powerful settings you can configure. First, you will want to choose a style. After you have chosen a style you will have the option to change the background color, add a background image, select a new logo image, modify the logo url, select the button background color, and select the button text color.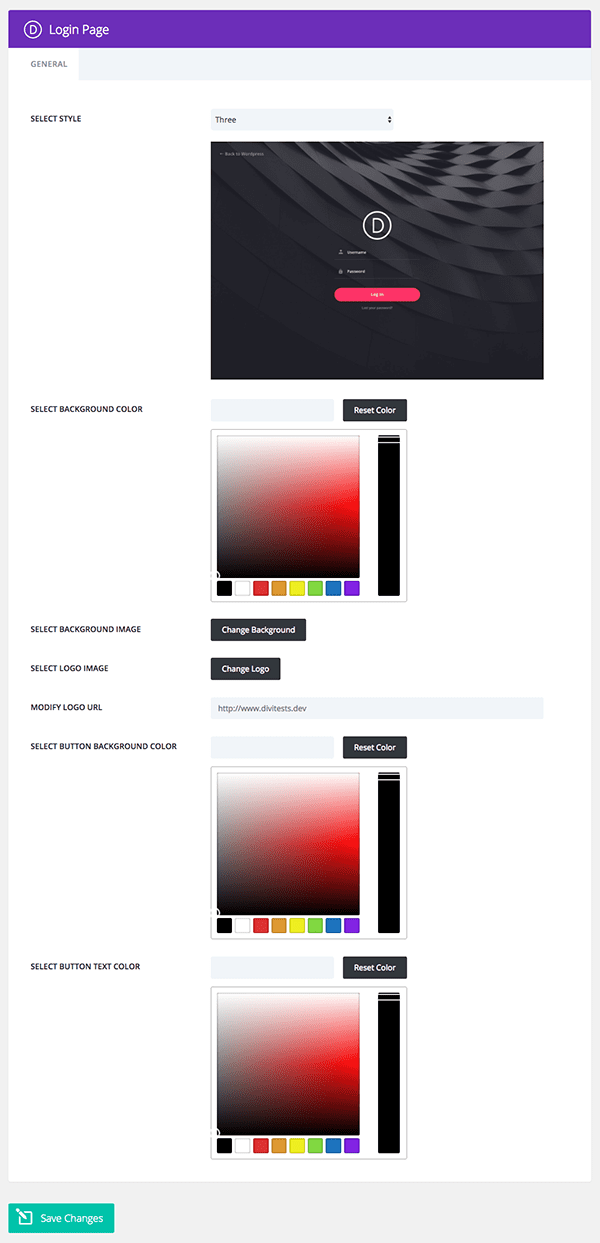 When your desired customizations have been made, all you will need to do for them to take effect is click the "Save Changes" button and then check out your new login screen.
Download The Divi Custom Login Page Extension
All photos courtesy of the generous authors on Unsplash.com via the Unsplash License. Divi Extensions are released under the GPL, which means you can use them for free in both personal and commercial projects! By using ElegantThemes.com and our products you agree to our Terms of Service.
Divi Login Page Extension Styles
The Divi Custom Login Page Extension comes with seven pre-designed styles for you to use as starting points for your own design variations. After installing the plugin, simply select one of them from the styles dropdown menu under Divi 100 > Login Page and begin customizing from there.
Plugin Updates & Bug Reporting
As will be the case with all of our Divi 100 extensions, bug reporting and updates have been made available via their respective github repositories. This is the best place for both us and you to track bugs, make fixes, and download new releases. You're even able to clone, fork, or otherwise edit the code to your heart's content.
We hope you have enjoyed this Divi 100 freebie and we look forward to providing new extensions and code snippets every week for the remainder of the series. So be sure to subscribe to our email newsletter for notifications when new free resources are made available.

Divi 100 Day 15
The Countdown To Divi 3.0
This post is part of our Divi 100 marathon. Follow along as we post free Divi resources for 100 days in a row! This 100-day countdown will end with the game-changing release of Divi 3.0, including our brand new visual editor built from the ground up using React. Divi 3.0 will change the way you build websites with the Divi Builder forever!
Let the countdown begin.