Welcome to Day 83 of our Divi 100 Marathon. Keep tuning in for 100 days in a row of awesome Divi resources as we count down to the amazing release of Divi 3.0 on the final day of the series!
---
I think you'll agree that Divi is an amazing WordPress theme. Even amazing themes can be expanded through plugins. While any theme can make use of plugins, Divi is special in that there are lots of plugins made specifically for it.
The Divi community has enhanced and expanded Divi in a lot of interesting ways. Many of those enhancements are available as third-party plugins. In this article I take a look at 10 of the best plugins that were made specifically for the Divi platform.
I've included a bonus plugin at the end that, although not specifically for Divi, adds a feature to Bloom that I can't live without. So, here are 10 awesome third-party plugins for Divi in no particular order plus a bonus plugin for Bloom.
1. Divi Booster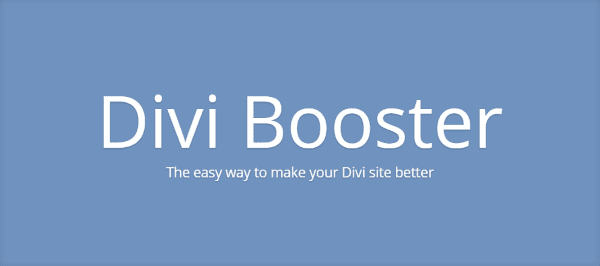 Divi Booster adds more than 50 configurable options to Divi. All of the tips and tricks from the Divi Booster website come together to create this plugin. Features are added on a regular basis.
Options allow you to change the look of just a single page while leaving the others untouched, keep the header from shrinking on scroll, change the height of a slider, change the logo link, make a slider image a clickable link, and lots more. Layout customizations allow you to place image above the header, add a sticky widget area, and make the main content overlap the header when using the box layout.
Footer customizations allow you to replace the footer text with your own text or HTML and center the theme info links. It also includes a CSS manager, developer tools, and it even enables the Divi Builder on custom post types.
Key features:
Adds over 50 configurable options
Free updates
Author takes requests for features
Pre-compiles and minifies its own CSS and JavaScript code
Features are easy to enable or disable as desired
Use on unlimited sites including clients
60 day money back guarantee
Price: $19 | More Information
2. Divi Switch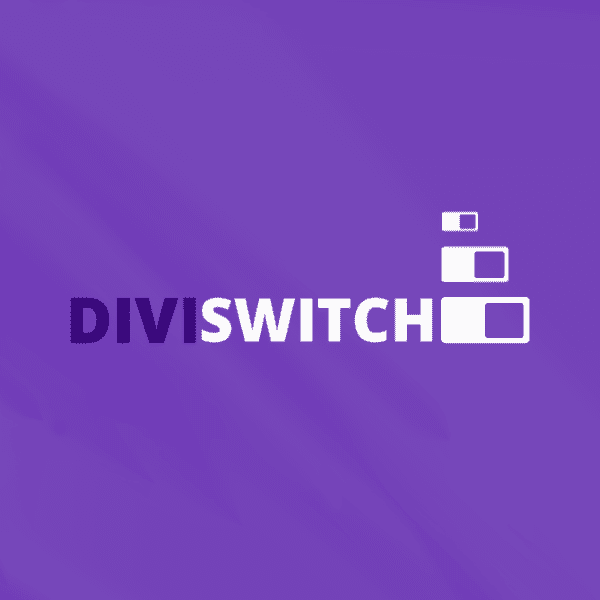 Divi Switch from WP Zone adds features to Divi in the form of toggles. It adds over 50 toggles to your dashboard which gives you around 100 visual customizations and thousands of combinations. Customizations include filters, animations, breakpoints, mobile menus, transitions, section separators, multiple image aspect ratios, custom buttons, and lots more.
You can hide the footer, center your top menu items, add animations to blurb icons, enlarge your header info, remove a counter when it hits zero, stop the lightbox activity, and lots more. It includes special code box styles and styles for Contact Form 7.
Key features:
50 toggles
100 customizations
Animations
Mobile menus on desktop
App style menu
Remove menu and sidebar lines and drop shadow
Unlimited sites for your own use
Price: $22 | More Information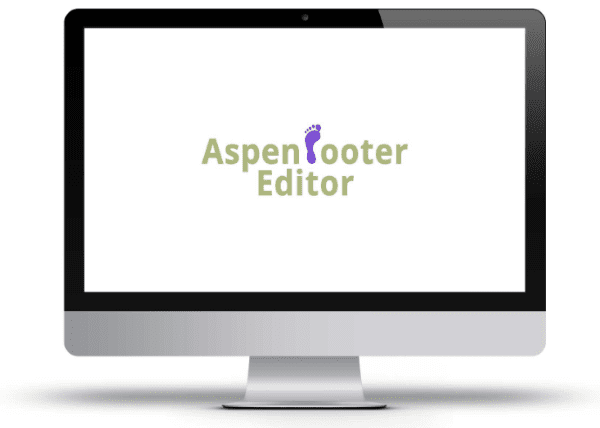 Aspen Footer Editor is a Divi and Extra WYSIWYG editor from Aspen Grove Studios that makes it easy to modify the global footer. You can modify text, add media such as images and video, links, and other content using the TinyMCE editor just like the regular visual editor for creating posts or pages. It includes the text tab so you can add HTML and CSS styling so you can change the background color, font style, font color, size, text, etc.
They've included a few examples of styling that you can modify to help get you started. You can also add third-party shortcodes just like you would in the standard editor. Once you create a footer you don't have to select it. It's automatically used globally across your website.
Key features:
WYSIWYG editor
Date auto-updates
Insert links
Add media
Social media icons and links
Add hyperlinks on videos
Link to documentation on screen
Works with Divi and Extra
Unlimited websites
Price: $13 | More Information
4. Custom Fullwidth Header Extended Module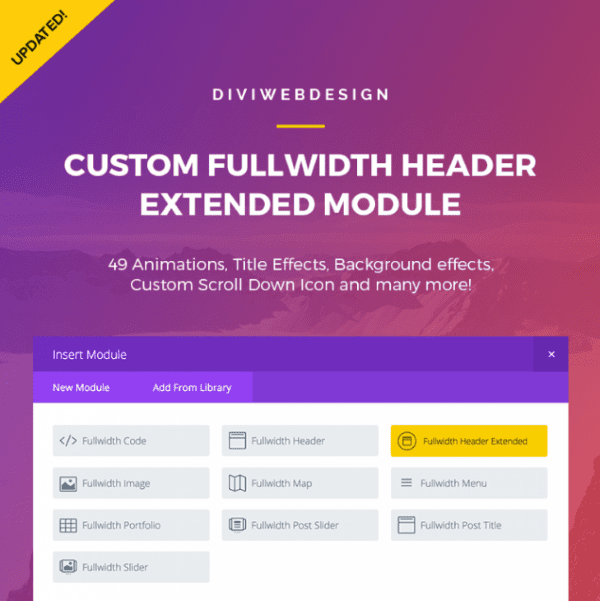 Fullwidth Header Extended adds lots of customizations to the header including animations and effects. It adds a module to the Divi Builder with dozens of customizations within the standard Divi Builder module tabs that we're already use to.
You can have solid or transparent backgrounds with various effects for each including gradients and particles, multiple text effects running at the same time, subheading location options, and lots more. Style the title, subheading, and content to your liking. Even the individual buttons can have their own animation and styling effects.
The header has a full-screen feature that's toggled with a single button click which simplifies using full screen images or videos. Choose to have a scroll down button and select an included icon or upload an image of your own for the icon.
Key features:
3 title effects
3 background effects
Typing effect
49 Animations
Rotator effects
Textillate effect
Subheading before or after title
Custom image or icon for scroll
Use on unlimited sites for you and clients
1 year updates
6 months support
Price: $12 | More Information
5. Page Builder Everywhere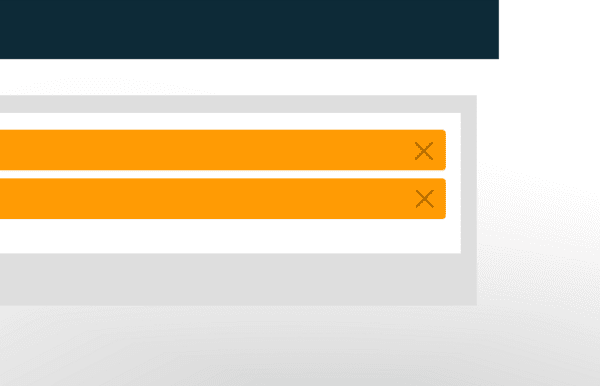 Page Builder Everywhere from WP Zone adds new Page Builder sections to the standard Divi Builder. You can place sections above or below the menu, above or below the footer, and in the sidebar. It integrates into Divi Builder and includes the same customizations, and it works exactly like the Divi Builder so no extra training is needed.
Anything that can be placed into a normal section can be placed into the header, footer, or sidebars, giving you more locations to place module content such as maps, images, galleries, counters, contact forms, comments, blog, testimonial, code, shop, and more. This is a great way to place forms, notifications, CTA's, and more in locations we don't normally have access to.
Key features:
Adds 5 Page Builder sections
Works the same as Divi Page Builder
Includes standard customizer settings
Works with pages, posts, and projects
Responsive
Use on unlimited sites including clients
Price: $10 | More Information
6. Migrate Divi Theme Settings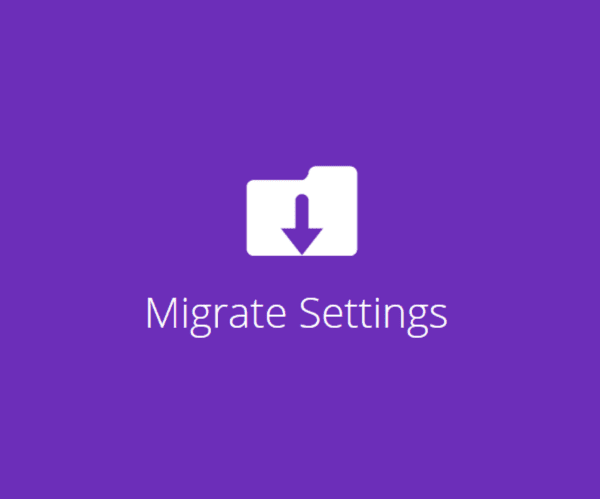 Migrate Divi Theme Settings is a free plugin from WP Zone that simplifies saving and moving theme settings. This is great tool for developers and child theme designers as it makes it easier for them to package their work. You can even create multiple options and allow users to choose which options they want to install.
It adds a link in the Divi menu and gives you two choices:
Upload File
Download Data
Even if you don't want to migrate your website's settings, Migrate Divi Theme Settings provides a great way backup your settings in case you need it. It's better to have it and not need it than need it and not have it.
Key features:
One click backup and restore
Move settings from one site to another
Create multiple options for users to choose from
Saves all theme data
Price: Free | More Information
7. Divi Ghoster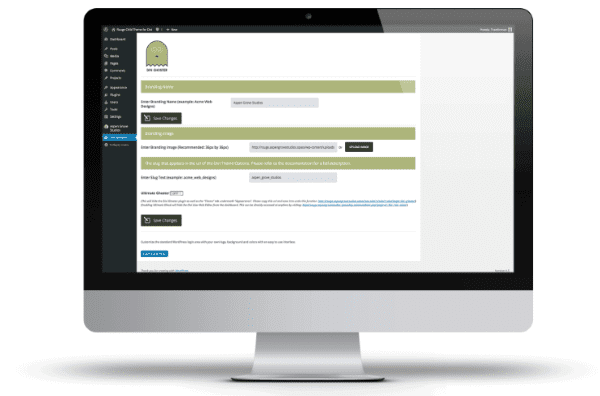 Divi Ghoster from Aspen Grove Studios is a white labeling plugin that allows you to replace Divi and Elegant Themes' branding with your own brand on the backend of WordPress. This even includes the Page Builder and theme options. You can replace the logo, favicon, colors, and more.
Everything to do with Divi will be completely hidden including all Divi-specific plugins. It even hides Divi from theme detectors. It not only hides Divi from clients but also from others that want to know what tools you're using.
The plugin's admin panel will also be hidden. The documentation includes instructions to get back to the Divi Ghoster admin panel if you need to. It's easy to access and you can turn this feature off if you want.
Edit the login screen using the extensive login screen editor. Customization are done through a new tab that's added to the Theme Customizer called Login Customizer. From here you can use a background image, choose the form alignment, choose a logo, and adjust the colors of the background, links, form, button, and more.
Key features:
Add your own branding
Hide Divi source code from theme detectors
Rename Divi
Customize the WordPress login screen
Hide the Divi Ghoster plugin
Hide Divi specific plugins
Automatic updates
Use on unlimited websites
Price: $15 | More Information
8. Divi and Extra Layout Injector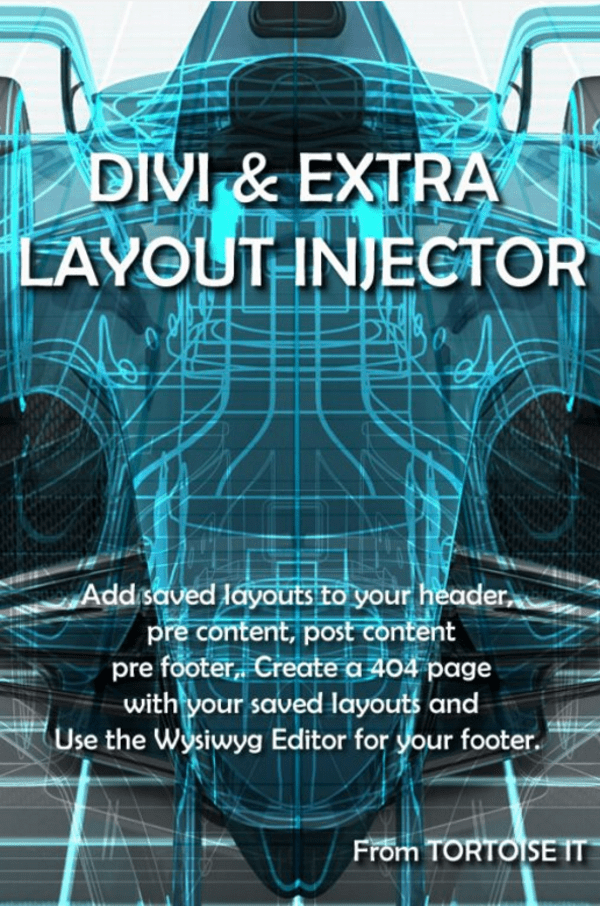 Divi and Extra Layout Injector from Tortious IT allows you to inject layouts with modules in many locations on your website. The layouts are global so you can have the same header and footer on every page, but you can also exclude pages if you want. You can place layouts above or below the header, above or below the footer, and under posts. The layouts can be anything you've created or downloaded from Elegant Themes or other websites.
It includes a WYSIWYG footer editor. Shortcodes are included to provide the date and name of your website. You can also add media such as images and video, CSS for your own styling, third party shortodes, and enable advanced markup which lets you add complex layouts via HTML.
It also has a 404 page injector. You can create the page separately and choose it from a list, or you can select a premade Divi layout that you've added to the Divi library. Either method allows you to build the 404 page with the Divi Builder.
Key features:
Place global layouts into multiple locations
Choose layouts from drop-down boxes
Exclude pages
404 Layout Injector
WYSIWYG footer editor
Works with Divi and Extra
Price: $11 | More Information
9. Divi Dashboard Welcome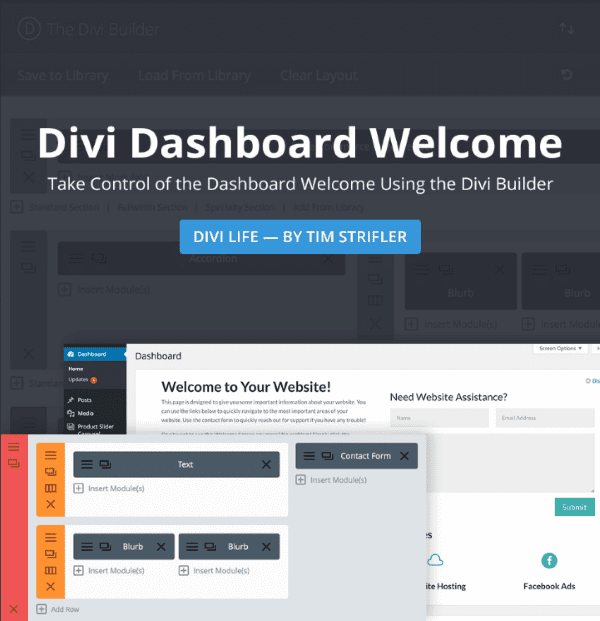 Divi Dashboard Welcome from Divi Life gives you control over the WordPress dashboard welcome screen, allowing you to create your own page. Being able to customize this screen means you can brand the dashboard for you or your clients. You can use this space to upsell your services, provide links and videos, create a support area, and lots more.
Anything you can create with the Divi Builder can be displayed on the dashboard. 5 layouts are included to help you get started.
Even though the dashboard screen is created as a page it can't be deleted like a regular page can. It can only be deleted after the plugin is uninstalled. This keeps you or your clients from accidently deleting the dashboard page. The page itself is kept private so visitors or Google don't have access to it.
Clients can dismiss the welcome screen if they want. It doesn't overwrite the original layout. Instead, your home screen is placed above the original content. Links in your content can be opened within the dashboard or as a normal link.
Another interesting feature is it can use Divi Leads' a/b split testing. You can enable it on your own site if you have a team and see which elements they respond to the best, and you can enable it on your clients' websites for support and sales info, and to test offers, styles, etc.
Key features:
Develop your own dashboard using the Divi Builder
Add modules
Add your own branding
While label
5 layouts included
Works with Divi and Extra
Price: $22 | More Information
10. A Mobile Friendly Divi/Extra Page Builder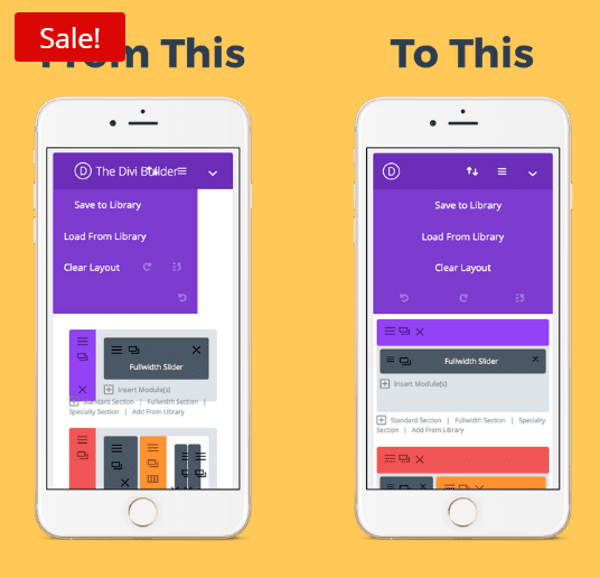 A Mobile Friendly Divi/Extra Page Builder from Noou organizes both Divi and Extra to make the Builder more usable on mobile devices. The reason this is needed is the Divi Builder doesn't fit mobile screens that well. The elements of the Divi Page Builder overlap on mobile screen, making it difficult to arrange pages and layouts easily.
This plugin solves that problem by rearranging the layout and placing the sections, rows, and modules in the best layout possible for small screens. If you use Divi or Extra on a mobile device this plugin is a must-have if you want to work more efficiently (and I know you do).
Key features:
Arranges the layout to fit mobile screens
Works on Divi and Extra
Manual updates
Price: $14 | More Information
BONUS – Bloom Redirect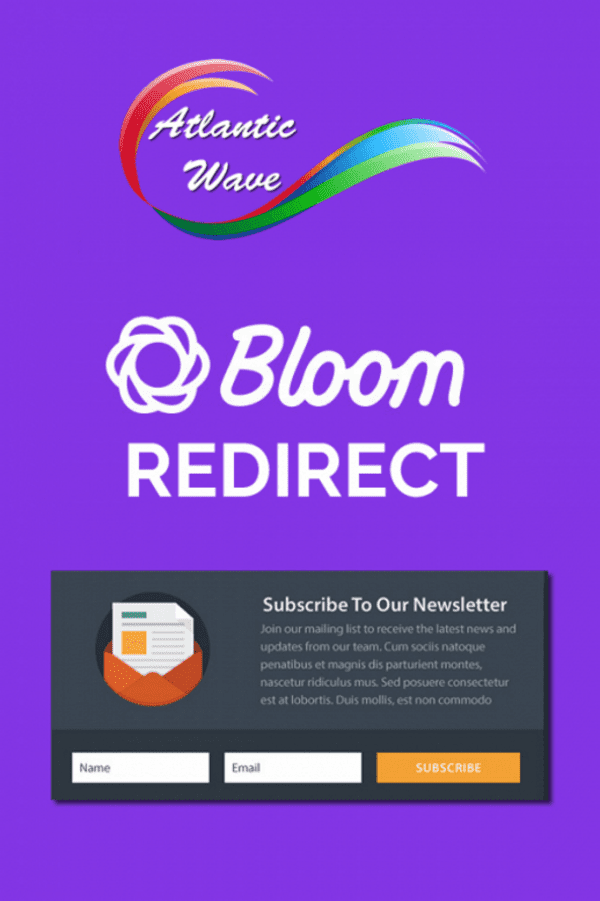 Bloom Redirect of course isn't a Divi plugin, but it's so useful that I didn't want to leave it off the list. It allows you to set up redirection URL's for your Bloom forms. Using it is simple – just enter in the URL you want you users to be redirected to. This way you can send them to any page you want. This is useful is you're giving them a free download or a thank you page.
Key features:
Setup redirects for Bloom forms
Can be used on all client sites
6 months support
Price: $18 | More Information
Final Thoughts
Well that's 10 awesome plugins that add amazing features to Divi. Some are simple and provide only a single feature while others are more complex and offer a lot more features. All are reasonably priced and I've found them easy to use. Sometimes they've added features I didn't even know I needed. I'd like to say a special thank you to those developers that made these plugins possible.
Be sure to subscribe to our email newsletter and YouTube channel so that you never miss a big announcement, useful tip, or Divi freebie!

Divi 100 Day 83
The Countdown To Divi 3.0
This post is part of our Divi 100 marathon. Follow along as we post free Divi resources for 100 days in a row! This 100-day countdown will end with the game-changing release of Divi 3.0, including our brand new visual editor built from the ground up using React. Divi 3.0 will change the way you build websites with the Divi Builder forever!
Let the countdown begin.