This post is part of our Customer Spotlight series. If you have an interesting story to tell and would like to share your experience with WordPress and Elegant Themes on our blog, please contact us!
Discovering The Power Of WordPress
I've been working with WordPress since just after graduating from college in 2005 — mostly using it as a full content management system as opposed to blogs. 
I had been building websites with various tools, including plain HTML pages, FrontPage, Joomla and Drupal, but never really found a system that worked well for how I work. 
WordPress immediately appealed to me, however, because of its straightforward approach to organizing pages and posts, flexible theme system and ability to add functionality through plugins. 
As a stickler for details, I also appreciate WordPress' straightforward approach to creating clean URL structure. 
It's also worth noting that working to modify existing WordPress themes was how I really was able to dig deep into learning CSS and seeing how it worked on an advanced level. 
WordPress quickly became my go-to Web publishing platform and I began authoring my own simple themes. Although I'm not a PHP programmer, I found WordPress' template tags to be straightforward enough for someone with a more creative mindset to easily understand and put to use.
Since then, I've developed a wide variety of sites that use both completely custom and heavily modified themes. I almost never use a theme "out of the box" and almost always end up modifying them extensively by changing the colors, background elements, typography and more — often to the point where only the theme's basic structure and advanced functionality remains. 
Because of this, shopping for themes was always focused more on finding a theme with a solid foundation for me to start rather than getting hung up on the aesthetics of a particular theme. For example, I might chose a theme for its unique homepage slider or animations, but end up changing almost everything else.
Although adding custom CSS can sometimes be challenging, I really enjoy the process of hunting out the specific CSS that controls a particular element and then determining the best way to modify it.
Of course, this approach only makes sense on certain projects — at some point it makes more sense to code a theme from the ground up. As mentioned, I've created themes myself but also have outsourced the development on more complex projects, such as the theme I used on the popular TV news industry website I help run, NewscastStudio.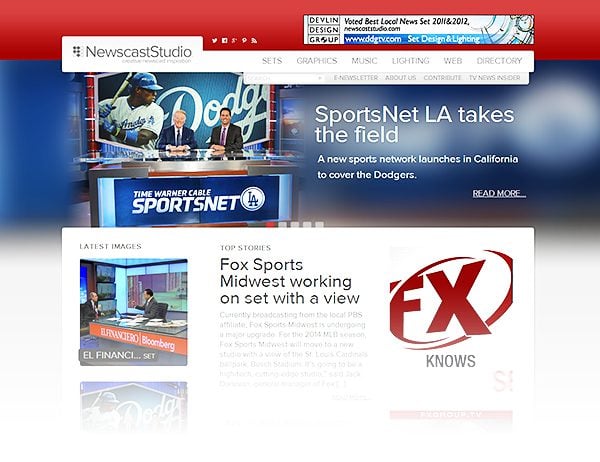 Finding The Right Theme
Custom themes are sometimes too expensive for a project or outside of its timeline, so I appreciate the ability to create sites that look unique but are simple to build using a flexible theme.
When I began searching for a new job in early 2014, I struggled for a while deciding how to create a website to help with that process. I struggled with trying to identify a theme that was flexible enough for what I wanted to do — feature in depth case studies of my work as well as an interactive version of my resume. At one point I even was considering abandoning my beloved WordPress and use plain HTML since I couldn't find anything that would work or that made sense to modify. 
Conveniently, however, Divi was released right around this time and I suspected it would be a good fit for what I wanted to do with my site. I recall having seen a social media post from Elegant Themes about the theme's release but almost forgot to investigate further. As it turns out, the theme ended up being a great fit for what I needed.
The modular nature of theme was very appealing and the theme's minimalist styling appealed to the part of me that likes to customize themes — since I will also knew I would want to customize it to my look and feel. 
The pre-built slider, blurb, box, column and other elements gave me plenty of unique ways to present my content. 
It also helped that, unlike some portfolio based themes, I wasn't locked into a traditional photo gallery style layout and could modify each project's layout and elements on a per page basis.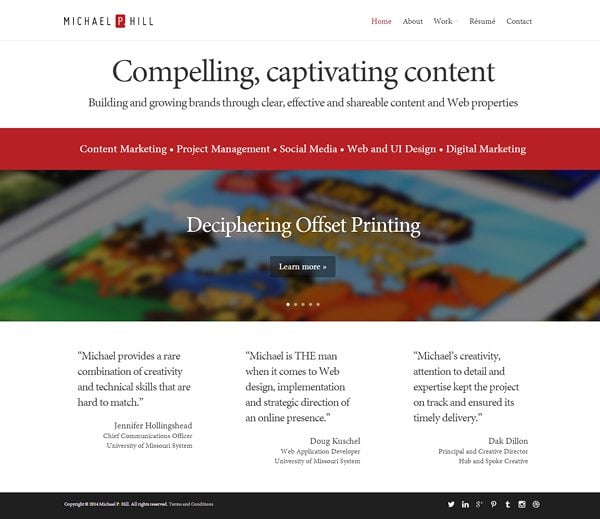 The result? I ended up with exactly the site I wanted that was easy to build and customize and gave me the flexibility to not be locked into a special layout for every portfolio pages, which really allowed my content to dictate the format as opposed to vice versa. 
I've since launched an additional website using Divi as its base and am working on several others.