If you've had to look for a job within the last few years, you probably don't need an introduction to LinkedIn. It's the biggest online professional network in the world, with hundreds of millions of users. However, to get the most out of it, you'll need to know how to optimize your LinkedIn homepage.
This feature enables you to find new networking opportunities, read content related to your field, and publish articles of your own. In this post, we'll show you how to improve your LinkedIn homepage so you see the latest, most relevant updates in your industry.
Let's get to it!
Why You Should Consider Being Active on LinkedIn
Most people change jobs an average of 12 times during their careers. Some of those switches might be moves away from entry-level roles that don't require much experience, but the bulk of them involve professionals taking new positions in their fields.
Unlike your grandparents, you're not likely to stick with the same company for all of your working life. It's not a matter of loyalty. The fact is, changing jobs is the best way to obtain a significant increase in wages. If you want access to a better, more comfortable lifestyle, being willing to leave your current position may be necessary.
However, that means you have to be aggressive about job hunting, which involves:
Networking within your field
Staying on the radar of people in charge of hiring
Keeping an eye out for job opportunities
Advancement used to be all about who you knew in real life. Now, platforms such as LinkedIn play a massive role in the job-hunting process for both potential employees and hiring managers.
To give you an idea of how powerful a tool LinkedIn can be, consider the fact that 50 percent of all college graduates in the United States use the platform. That's a massive professional network to connect with, and all you have to do is know how to pull the right levers to make sure you're seeing the most relevant content when you log in.
How to Create the Best LinkedIn Homepage for Your Account (4 Key Strategies)
When it comes to LinkedIn, most people focus on their profiles. That's a smart move, since it can help show off your qualifications. However, in many cases, it's your homepage that will introduce you to the most exciting networking opportunities. Here's how to get the most out of yours.
1. Follow People, Companies, and Topics to Feed Relevant Content to Your LinkedIn Homepage
LinkedIn homepages function similarly to other social media feeds. As soon as you log in, you can see popular posts from other users, updates from companies and people you follow, and more: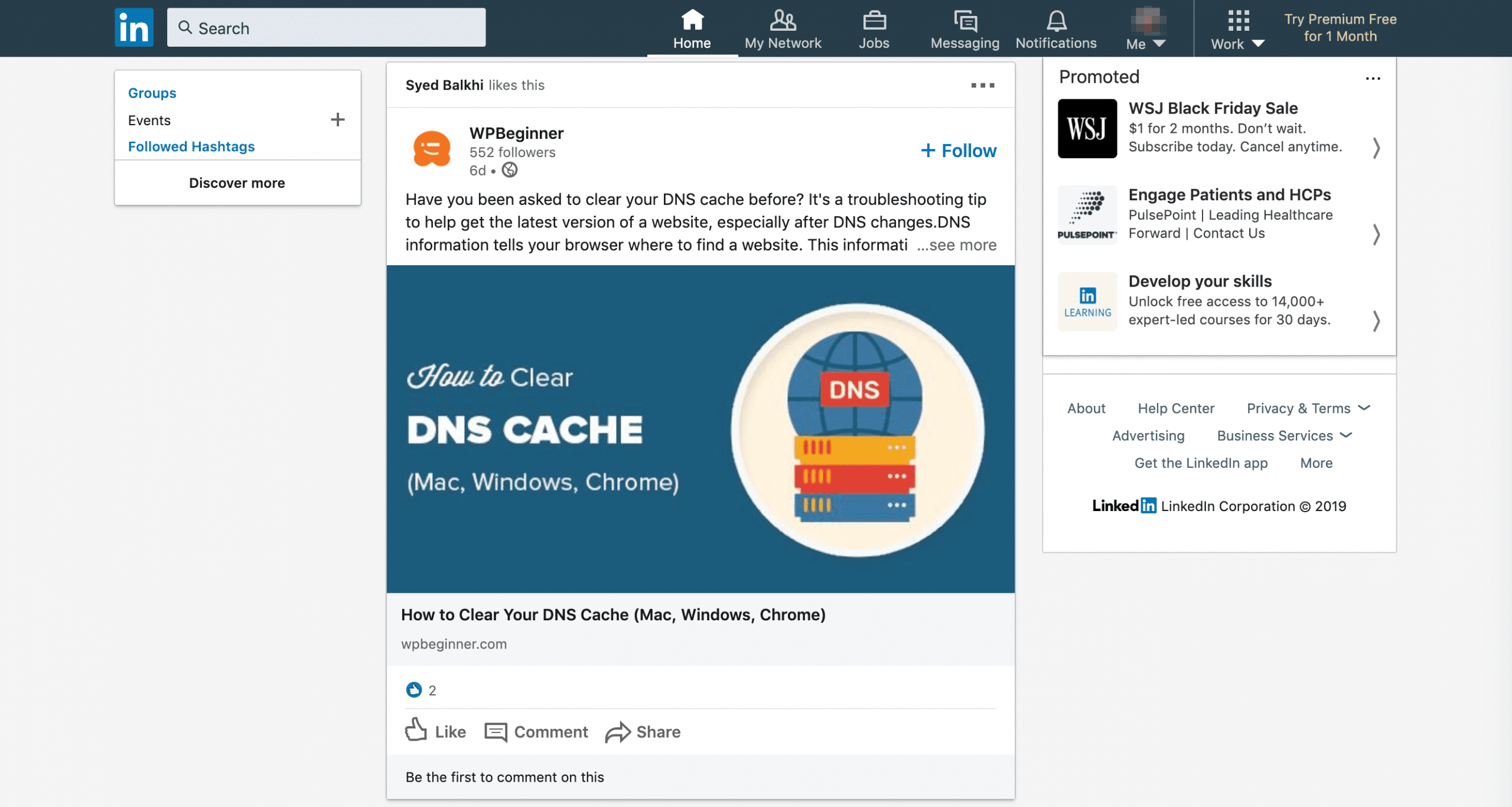 One key difference between LinkedIn and other platforms is that you'll also see job recommendations. An algorithm that considers location, experience, and your specified industry curates suggestions drawn from openings listed by businesses: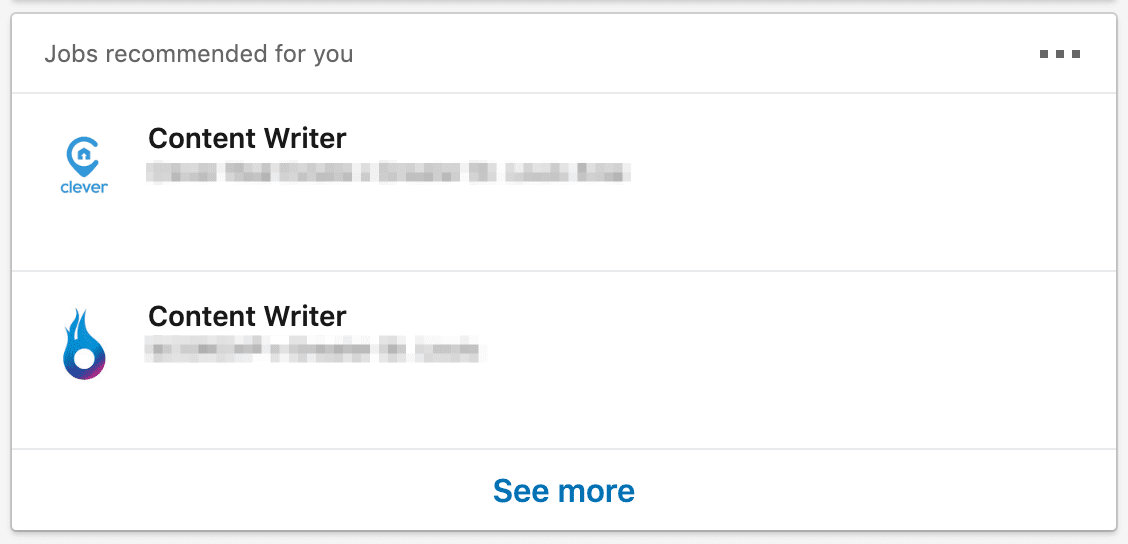 If you haven't taken the time to thoroughly fill out your profile and specify your interests, your LinkedIn homepage may not contain information you find all that relevant. You can fix this by tailoring the list of people, companies, and topics you follow.
To get started, click on the Followed Hashtags link under your profile widget on the left side of your homepage: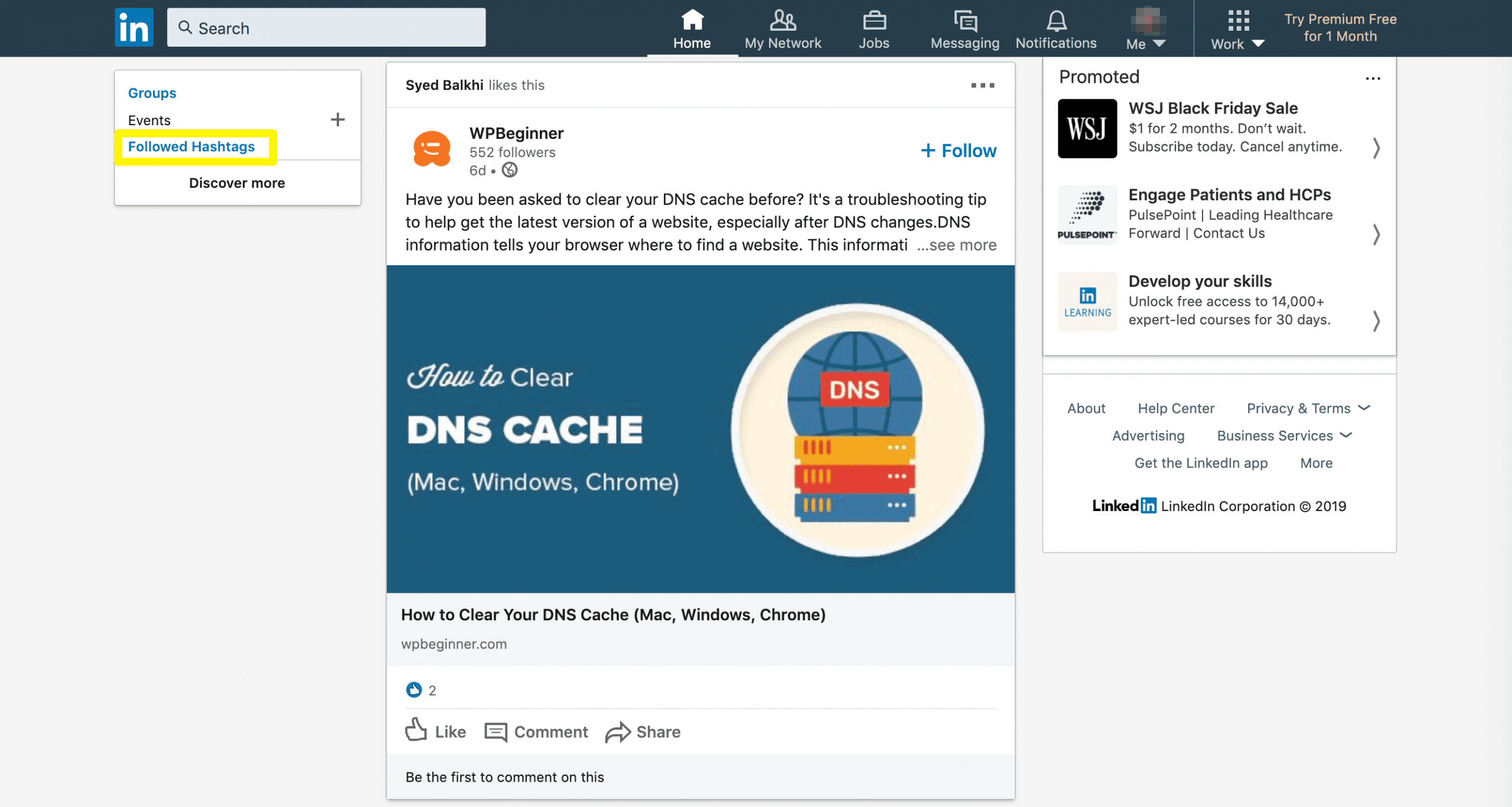 Then, click on the Follow fresh perspectives button: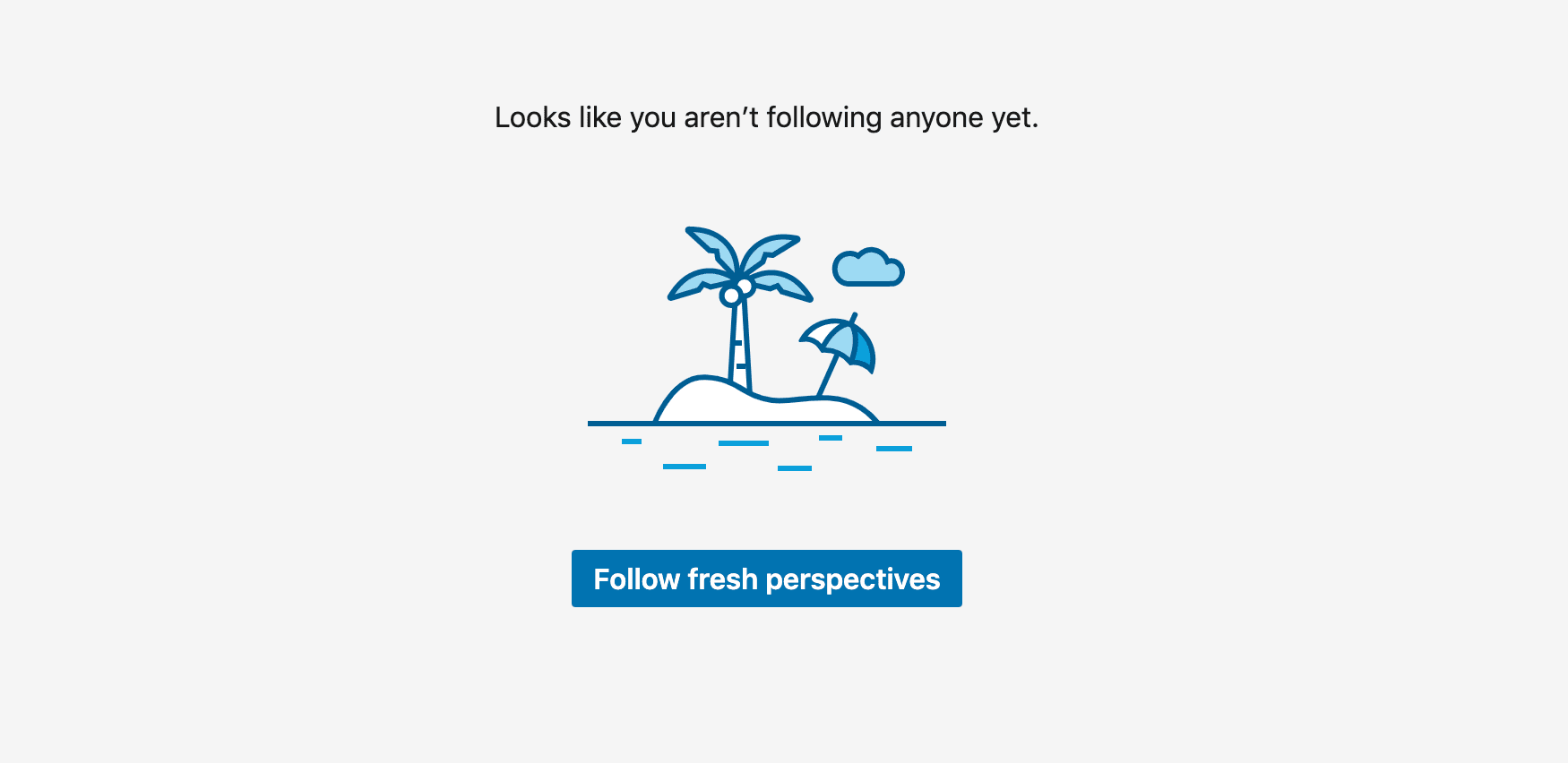 On the next page, you'll see a collection of businesses, hashtags, and users that LinkedIn thinks will be relevant to you: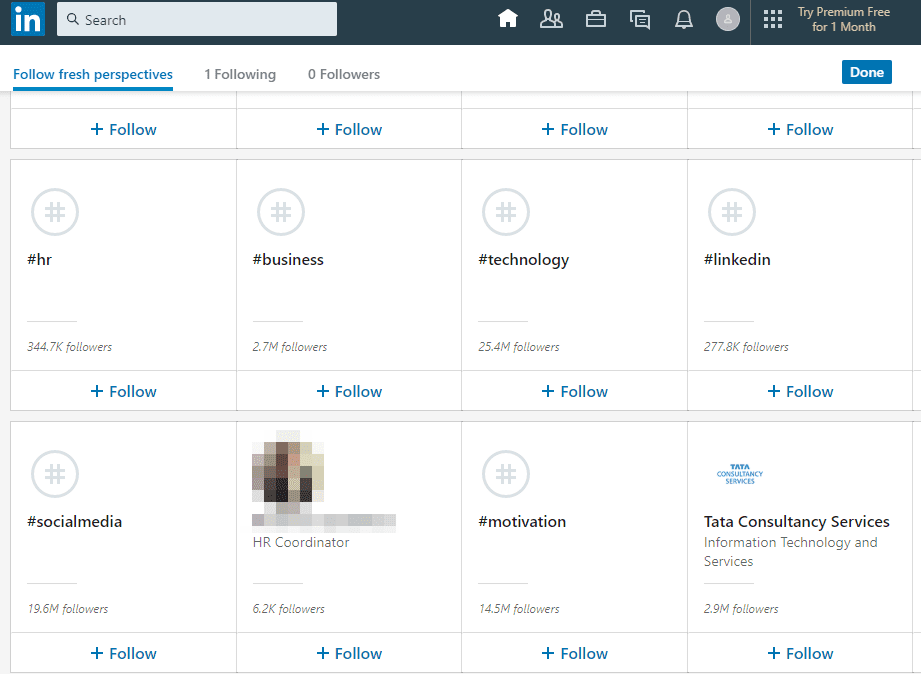 You can click on the + Follow button below any of these suggestions to start seeing updates from the correlating party on your homepage. The more accounts and topics you follow, the better LinkedIn's recommendations should become as it learns your interests.
You'll likely need to follow at least ten accounts to give LinkedIn enough information to start making quality suggestions. A smart place to start is by following your current employer and coworkers, as well as companies you may be interested in working with and hashtags that are relevant to your field.
2. Expand Your LinkedIn Network So Your Homepage Displays Content From Your Connections
Another way to tell LinkedIn what you're interested in seeing on your homepage is by connecting with other users you may know personally. It's important to note that this process is different from following someone as we described in the previous tip.
When you follow someone on LinkedIn, it simply means you'll see their posts and updates on your homepage. A connection, on the other hand, is a two-way endorsement. It means you're vouching for someone's skills as a professional.
As a rule of thumb, you connect with users you know but follow persons of interest in your field who you haven't met. You can start building your network by clicking on the My Network icon in the top bar menu, or searching for people by name:

You'll then see a list of potential connections based on your location, field, place of work, and other factors: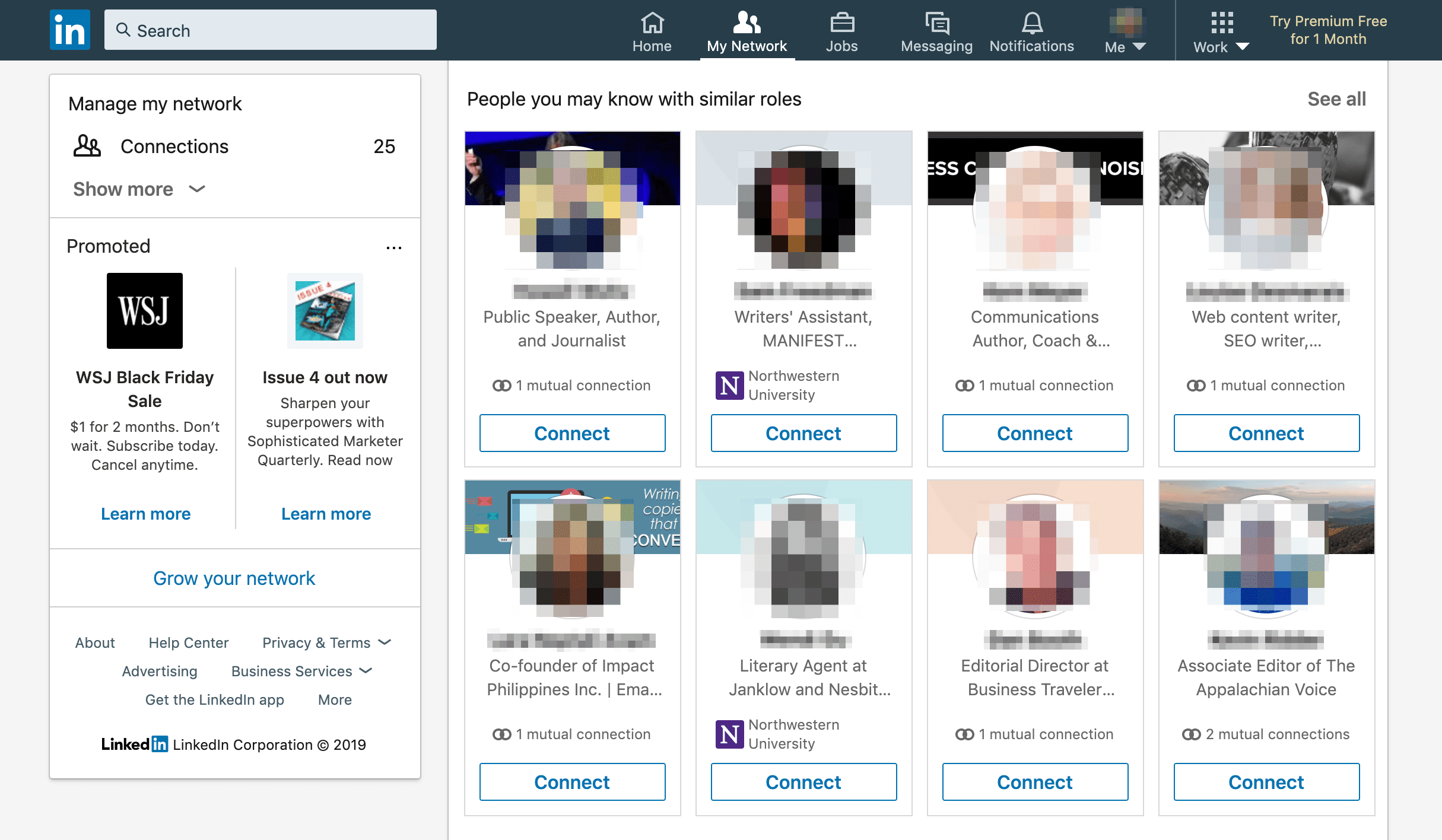 Simply click on the Connect button to send an invitation to another user. By default, you and each of your connections will follow each other, too, so you'll see their posts on your homepage. Building your network out also helps LinkedIn make more relevant suggestions down the line.
3. Interact With Publications and Persons of Interest on Your LinkedIn Homepage
Just through following other users and making connections alone, your homepage should start to fill up with relevant posts and updates. This will help you find new job opportunities and stay up-to-date with industry happenings.
However, showing potential employers that you're active and invested in your field may encourage them to reach out to you and invite you to apply for openings. One way to do this is by interacting with LinkedIn content, including:
Liking or sharing articles you find interesting
Adding valuable comments that share your unique insights
Directly replying to other users' comments
It's especially wise to engage with content from persons of interest who you think may open up job opportunities down the road. This may include hiring managers or people who work in leadership positions in companies you follow.
Just as with any social network, there's a lot of 'noise' within LinkedIn comments sections. Rather than contributing to it with one-word replies, focus on writing comments that can spark discussions. You may even be able to create a meaningful conversation with someone that puts you on their radar: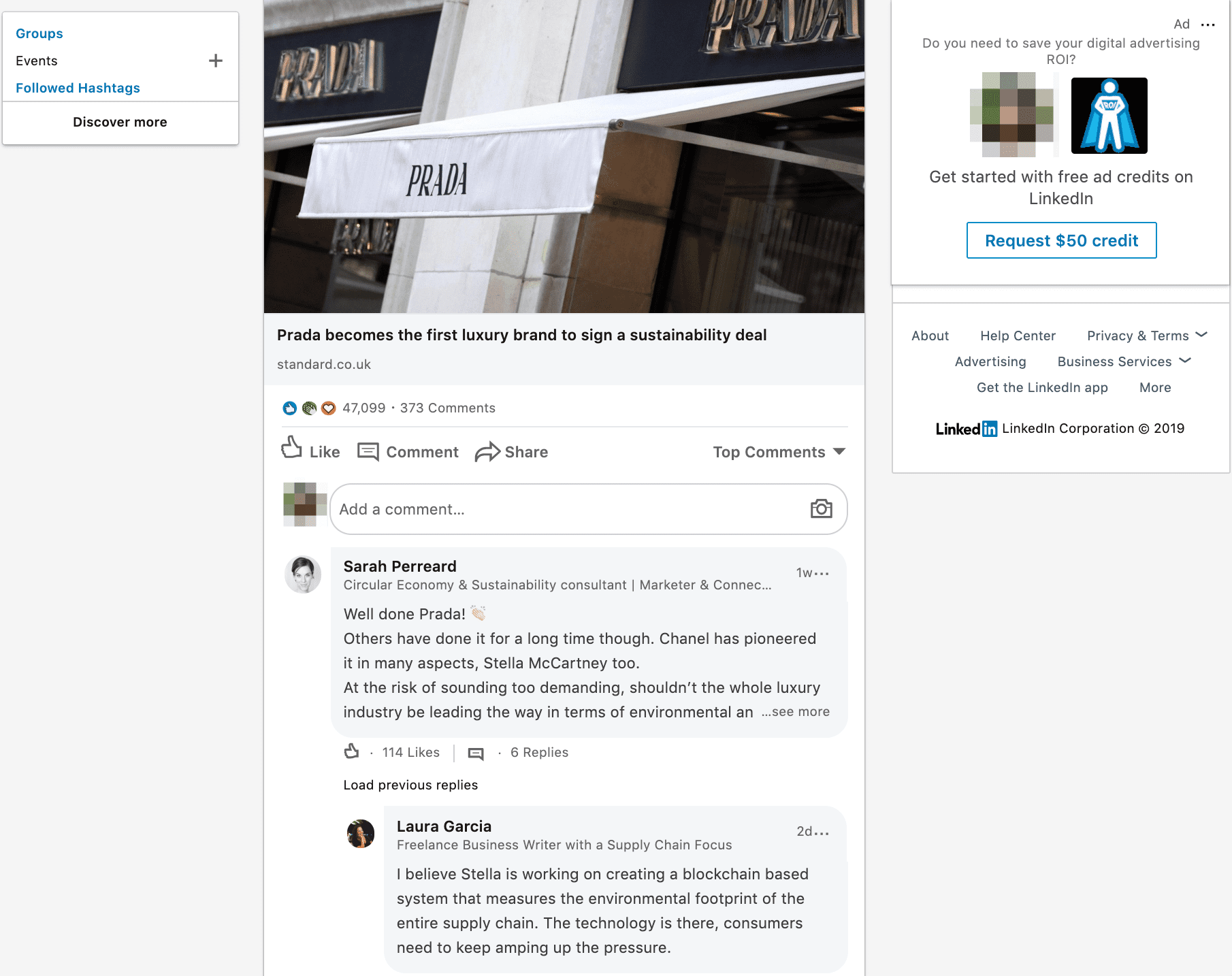 It may sound a little too calculating, but think about it this way. You probably already spend a lot of time interacting with content on social media. What you're doing here is precisely the same, only it may pay off in the long run, unlike posting cat memes on Facebook.
4. Publish Content Tailored to Your Desired Audience So Others See Your Work
By far the best way to take advantage of your LinkedIn homepage is to publish your own original content. Just like on other social networks, you can share basic status updates with your connections. For example, you may want to let people know when you're looking for new job opportunities:


However, LinkedIn also enables you to publish full-length articles to your network. For this, you can use the built-in content editor, which is pretty straightforward: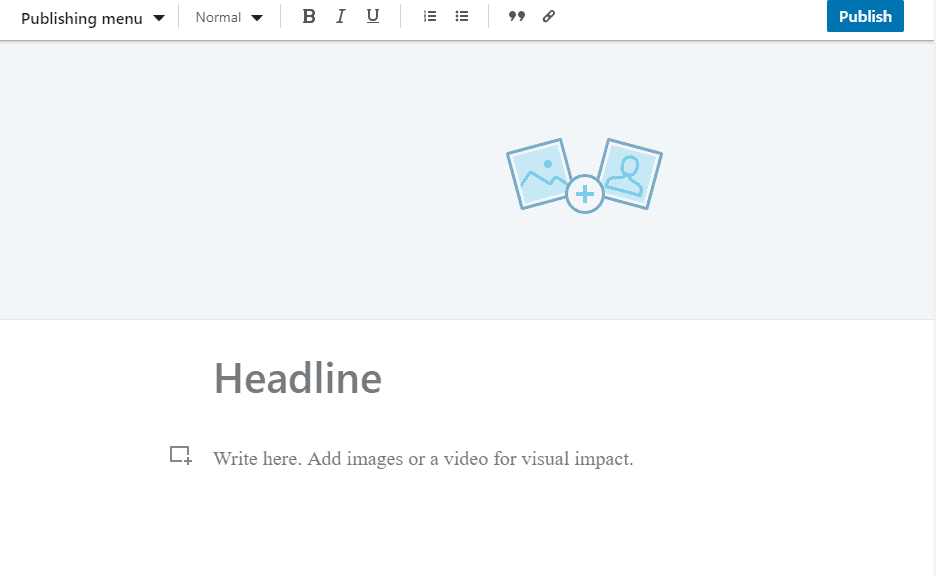 When you publish original content on LinkedIn, make sure to add relevant hashtags to your articles as well. You can do so by clicking on the Add hashtag option in the publishing window: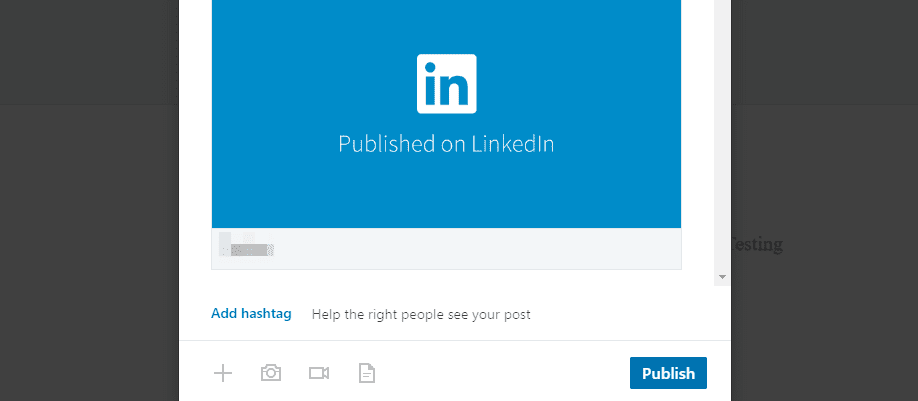 Earlier on, we suggested you follow hashtags relevant to your field. Other LinkedIn users do as well, so adding some to your articles will help people in your industry find your content on their own homepages.
Another option is to post links to external content you've written, which offers the advantage of enabling you to direct traffic to your website or other platforms. This may help potential employers get to know more about you and your qualifications.
Publishing relevant think-pieces can help establish yourself as someone to follow on LinkedIn. Succesful posts will enable you to grow your network, and if you do it enough, they might help you land the job offers you're looking for.
Conclusion
Optimizing your LinkedIn profile is a smart starting point when you first join the platform. However, your homepage can also be a powerful way to get attention from the people you want to network with. Your feed can help you find recruiters, top talent, and other connections you might not otherwise come across.
As for how to get the most out of your LinkedIn homepage, here are four quick tips:
Follow people, companies, and topics to feed relevant content to your LinkedIn homepage.
Expand your LinkedIn network so your homepage displays content from your connections.
Interact with publications from persons of interest on your LinkedIn homepage.
Publish content tailored to your desired audience so others see your work.
Do you have any questions about how to improve your LinkedIn homepage? Let's talk about them in the comments section below!
Article image thumbnail by gamegfx / shutterstock.com