Businesses of all sizes produce content daily. When it comes to content collaboration platforms for business, you've heard of the usual suspects like Dropbox and Google Drive. Many more exist, though, some even integrating with your other content tools, as well as a host of business tools.
Audiences are hungry for content, and brands work hard to meet those needs. There are all types of content your business may be producing:
Cross-promotional materials
Editorials
Infographics
Logos
Plans and proposals
Podcasts
Sales decks
Social media images and videos
Training materials
Where can you store, access, update and manage all of this content, though? And unless you're working on a team of one, what's the most efficient way for you and your team or clients to collaborate on a project? Content collaboration platforms are a popular solution, ranging from ones with limited, focused features to full-scale tools that can run almost every part of your business. Overall, the following platforms will make your content process more efficient.
Bitrix24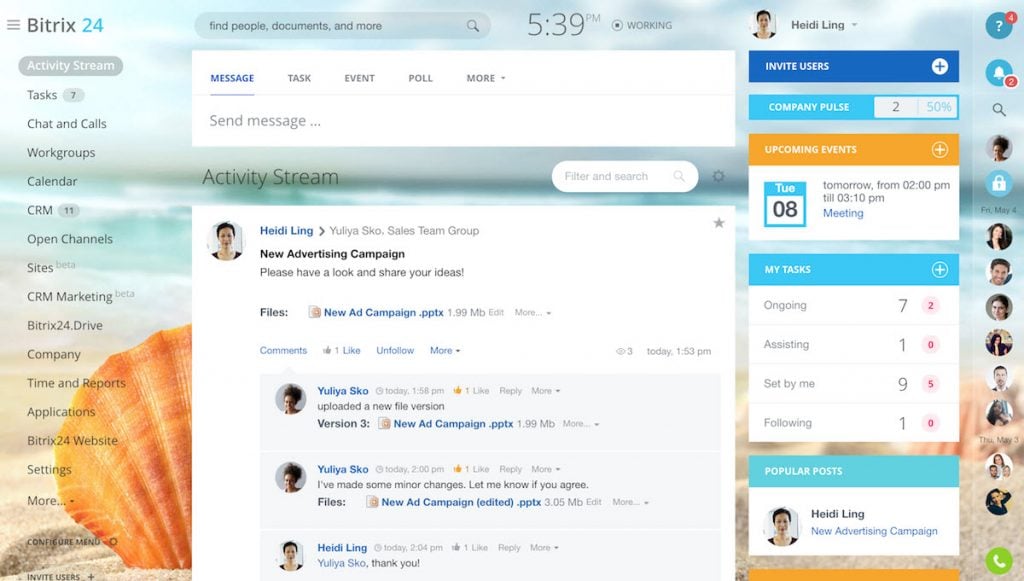 Bitrix24 is designed like a social networking platform, sort of like a beefed-up Slack. Users create profiles and can instant message one another. There's an activity stream, and you can share and like updates. Teams can also share content and comment on posts.
Document sharing and collaboration are just some of what Bitrix24 offers, though. It also has tools for:
CRM
Lead capture
Email automation
Task and project management
Workflow management
Time-tracking
Bitrix24 is best if you need a content collaboration tool — and pretty much everything else — to make your team and projects run. It's also great for remote teams, whether or not they have a lot of content to collaborate on (though every company has some type of content to manage). If you're not using any communication or collaboration tools yet, you may want to start with Bitrix24 to see if it meets your needs before adding other tools to the mix.
Bitrix24 Pricing
There are two business plans to choose from. The Standard plan is $99 per month for 50 users and comes with 100GB of storage. The Professional plan is $199 per month for unlimited users and comes with unlimited storage. There are a lot of features that both plans offer, but the Standard plan is limited in some areas — there's an in-depth comparison tool on their website that'll help you decide which plan is best for your company right now.
BoostHQ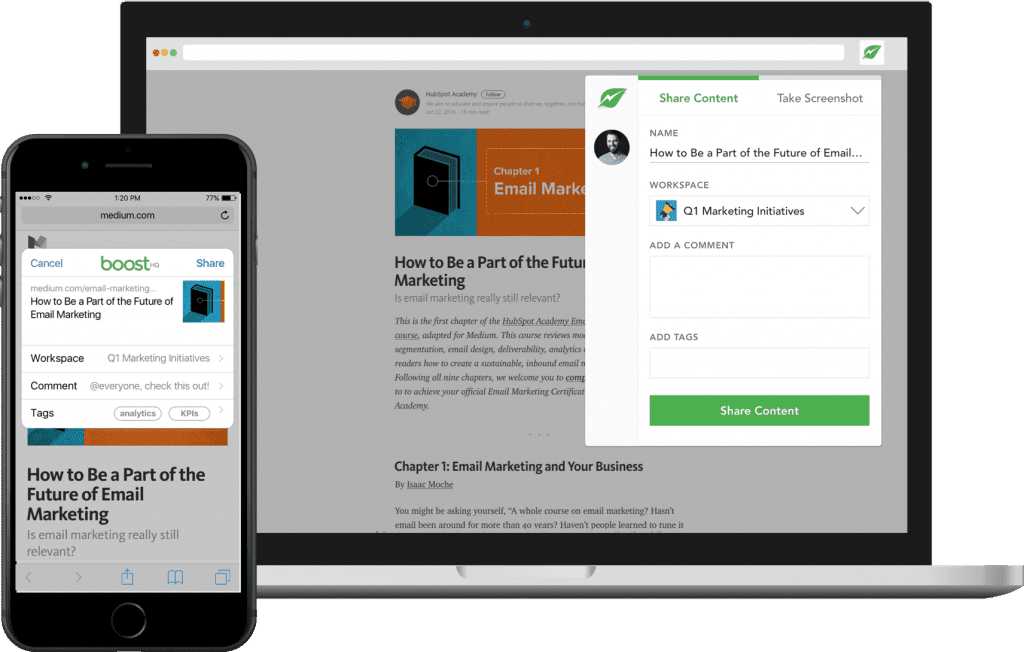 Organize all of your company's content and internal knowledge with BoostHQ. To make your content searchable and easy to retrieve, assign groups, categories and tags. With BoostHQ analytics, you can also see which content is the most popular and which members are the most active.
The employee discussions feature lets everyone share their thoughts and experiences, which you can then integrate into your internal knowledge base, workflows, etc. Ultimately, you can create and regularly update a centralized resource library that everyone can have access to. It can include rich media, too, like images, videos and PDFs, in addition to text-only documents.
BoostHQ is best for teams that deal with a lot of content every day, especially if they have to follow certain guidelines for creating, updating and polishing all of that content. For example, a news website that handles different types of content, like live reporting and evergreen articles, could use BoostHQ to manage best practices and stylebooks.
BoostHQ Pricing
BoostHQ is costly, but instead of paying per user per month, you pay one fee. The Starter plan is $299 per month for up to 100 users and 100GB of storage. The Advanced plan is $499 per month for up to 250 users and 250GB of storage. The Premium plan is $699 per month for up to 500 users and 500GB of storage. You can save money by paying annually instead of monthly. If you need more seats or storage, you can contact them to discuss a custom plan.
Box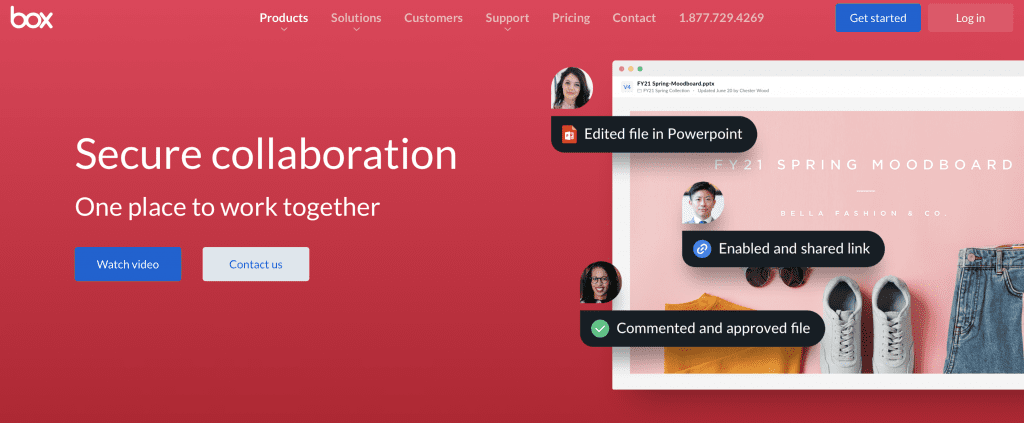 Box is a cloud-based content collaboration platform that lets your team edit and secure files. You can invite others to join a conversation or edit files, too. Plus, you have control over who is able to view, share, edit and upload files.
With the Box notes tool, you can collaborate off the main content, too. The note-taking feature lets you create and edit notes, add formatting and comment on them. So, if you and your team want to discuss a piece of content without making comments or changes directly on it, you can use notes to have a side conversation or try out an idea.
Box was designed for businesses in the IT industry, but it can be effectively used by all sorts of teams that need to collaborate. It's especially helpful for any company that needs to have side conversations and doesn't want to use yet another tool just for communication.
Box Pricing
Box has several plans broken down by type, like individual, business and enterprise plans. Their Business Plans category includes three main options. The Starter plan is $7 per user per month, with a minimum requirement of three users. You can add up to 10 users and you'll get 100GB of storage. Each file upload can only be a max of 2GB, though. The Business plan is $20 per user per month, with a minimum of three users. You can add an unlimited number of users and you'll get unlimited storage, too – but each file upload can only be a max of 5GB.
The Business Plus plan is probably the best one to go with. It costs $33 per user per month (minimum of three users) and has unlimited users and storage. The main benefit is that you can add external collaborators even if they don't have a paid account – a perk you don't get with the other plans. All three plans cost less if you pay annually.
Confluence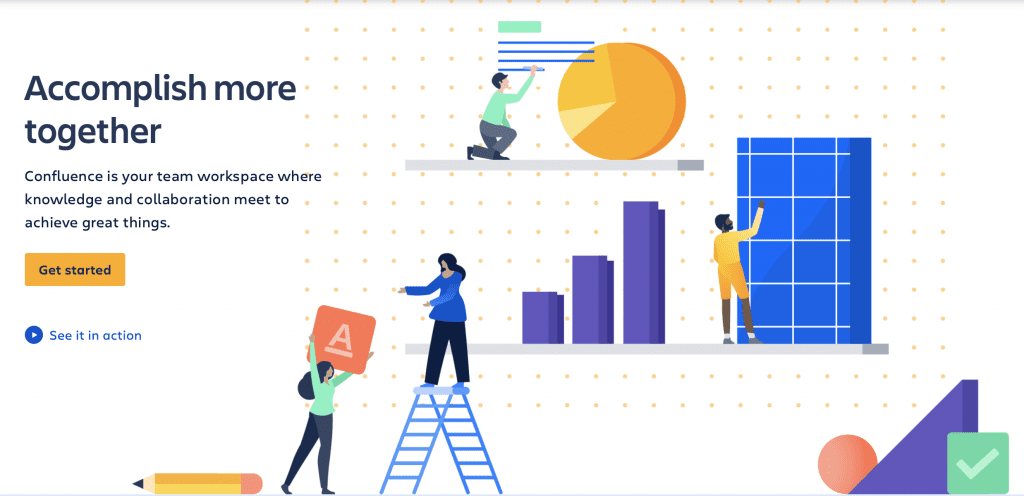 Store all sorts of content with Confluence, including documents, images and PDFs. You can track changes and versions, and collaborators can leave feedback on documents thanks to inline file and page commenting. You can connect Confluence to Jira, too, which is good news for development teams. Integrating the two tools allows for automatic linking, quick issue creation and detailed reports. While Confluence can be used to collaborate on any type of document, it's best suited for internal content, like announcements, meeting notes and project plans.
Confluence can really be used by pretty much any business of any size, but with the Jira integration, developers may find it especially useful. Since it's agile, it's ideal for teams that have to make fast decisions and that often respond to changes.
Confluence Pricing
Confluence is free for up to 10 users. The Standard plan is $5 per user per month and lets you add up to 5,000 users. That plan also lacks many must-have features, though, like analytics and setting certain permissions. If you want the full feature list, you'll have to get the Premium plan, which is $10 per user per month for up to 5,000 users.
Dropbox Business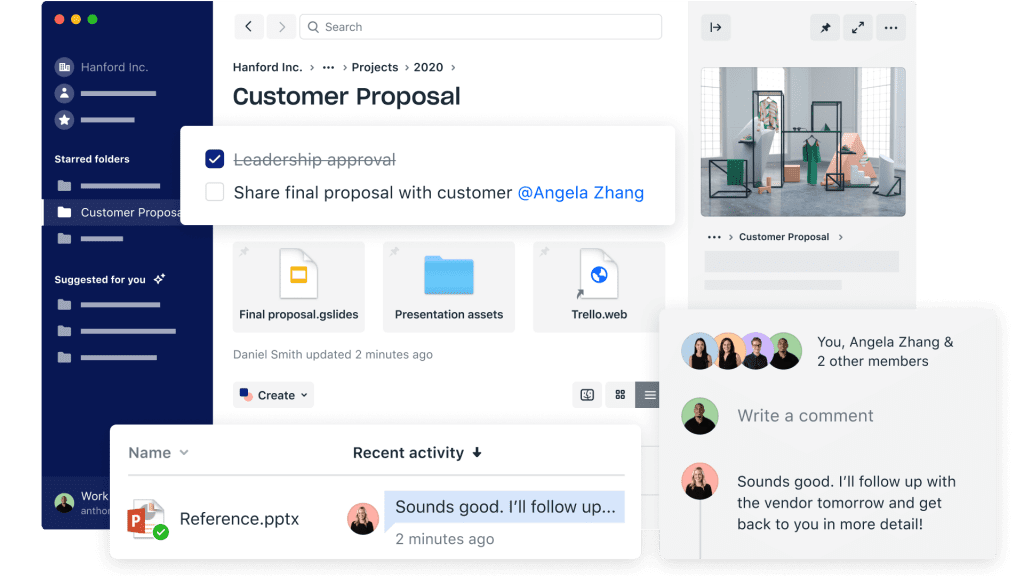 A lot of businesses and professionals use Dropbox for file storing and sharing, but the fact that you can use it for content collaboration is lesser-known. Also, on top of storing Dropbox files, you can also use Dropbox Business to organize and share your Google and Microsoft files. After sending shared links so everyone can access a file, you can gather feedback and edit together. There's also a badge that will tell you if someone else is editing a shared file, and the file will lock so that people can't make changes simultaneously.
Dropbox can be a little clunky to use, but it's a good addition to your already-existing work tools. It may not be a replacement for Google Drive or Microsoft OneDrive, but if you need a central location for all of your documents, consider Dropbox. It also integrates with communication tools like Slack.
Dropbox Business Pricing
Dropbox Business has two main plans. The Standard plan is $15 per user per month, has a minimum requirement of three users and includes 5TB of storage. The Advanced plan is $25 per user per month, has a minimum requirement of three users and offers unlimited space. You can save a bit if you opt for a yearly plan instead of monthly. If you need a larger, more customized plan, you can contact them.
Google Drive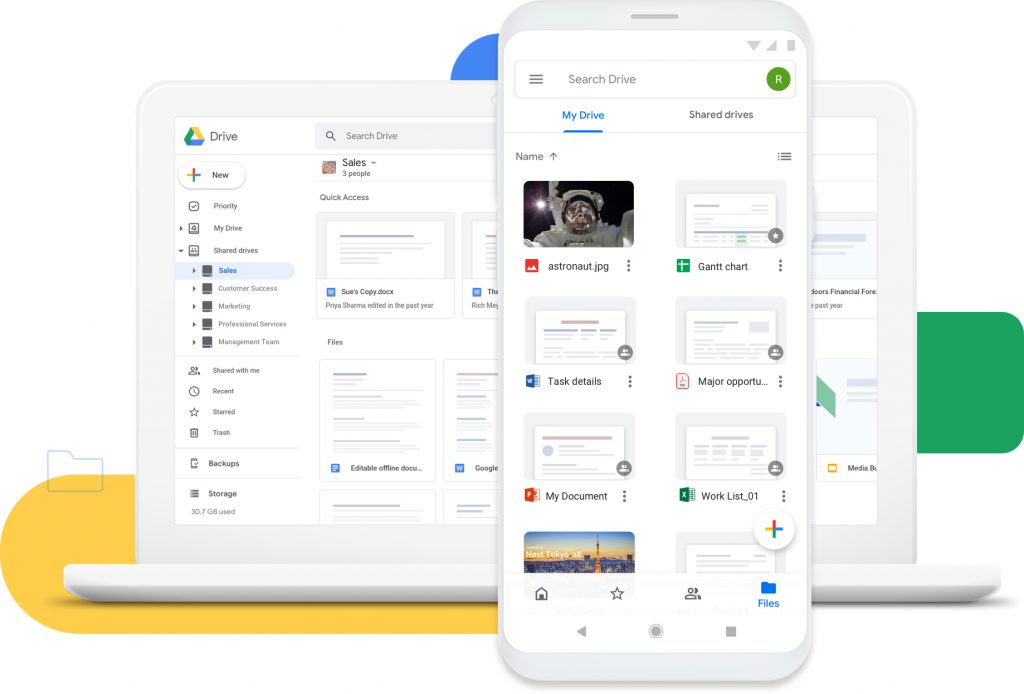 While you may already be familiar with Google Drive, we couldn't leave it off this list. Google Drive offers cloud storage for all sorts of files, including documents, media and spreadsheets. You can set access controls for documents to determine who can view, download and edit them. Collaborators are able to make changes, suggest changes (that then have to be approved) and leave comments. When commenting, you can tag a user so they get an alert. Drive has automatic version history, too, and you also have the option of naming specific versions to make them easier to find.
If you have a lot of text documents or spreadsheets to collaborate on with your team or clients, Google Drive is a great option. It also integrates with a lot of the business tools you may already use, like Asana, making it an easy addition to your workflow.
Google Drive Pricing
Google accounts come with 15GB of storage for free, but you'll want to upgrade if you'll be sharing content with your team. After that, pricing is based mostly on space (you can share links to documents and files with anyone). While there are less expensive plans, businesses may want to opt for the 2TB plan, which is only $99.99 a year. If you think you'll need more space, the 10TB plan is $99.99 per month.
Microsoft OneDrive

Microsoft OneDrive is their version of Google Drive, more or less. It's part of Microsoft 365, and its content collaboration features let your team co-author Office documents. You can even make edits offline, and changes will be uploaded next time you connect. (This feature is tricky if multiple people make offline changes, though. You may want to test how the changes are applied when back online.) To control who is able to access your content, you can set custom and group permissions. Furthermore, you can require users to reset their passwords after a certain number of days.
OneDrive can be used by businesses no matter what their file sharing needs. There are plans for businesses that just need storage and sharing capabilities, and there are also plans for companies that need other Office services and email.
Microsoft OneDrive for Business Pricing
OneDrive's business plans start with $5 per user per month. This is the plan to opt for if all you need is storage and sharing. The next plan is $10 per user per month, and it comes with compliance and security features. If you need everything Microsoft 365 offers, including all apps and services, you'll want the Standard plan for $12.50 per user per month. All three plans require an annual commitment.
Final Thoughts About Content Collaboration Platforms
Pretty much every content collaboration platform out there has cloud storage, version history and commenting ability. The main differences are in regards to price, user minimums and maximums, and additional features that go above and beyond basic sharing and collaborating. The platform you choose will be dependent on your budget, the size of your team, your security needs and whether or not you need other project management and marketing automation tools. Form an idea of what you need out of a content collaboration platform and then find one that fills in the gaps.
Want to make user-generated content part of your regular content strategy? Here's how to leverage it.
Featured Image via GoodStudio / shutterstock.com