Transcribing content from videos or audio files can be tedious without the right tools. However, artificial intelligence (AI) has revolutionized the transcription process, making it more efficient and accurate. Whether you're a content creator, researcher, journalist, or business owner, AI transcription tools can significantly boost your productivity. This post will introduce you to the best AI transcription tools changing the industry.
What is AI Transcription?
AI transcription converts spoken language into written text using machine learning algorithms. These tools analyze spoken language patterns, dialects, and accents and transform them into text.
Central to AI transcription software is natural language processing (NLP). This AI subfield focuses on enabling computers to understand human language. NLP incorporates techniques from various fields, including linguistics and computer science.
AI transcription tools and services are crucial for businesses in areas like product marketing. They help companies reach new customer segments, driving growth and increasing brand awareness.
The Best AI Transcription Tools

Subscribe To Our Youtube Channel
Choosing the best AI transcription tool requires some research. In this list, we'll discuss their features, pricing, and impact on the industry.
1. Otter.ai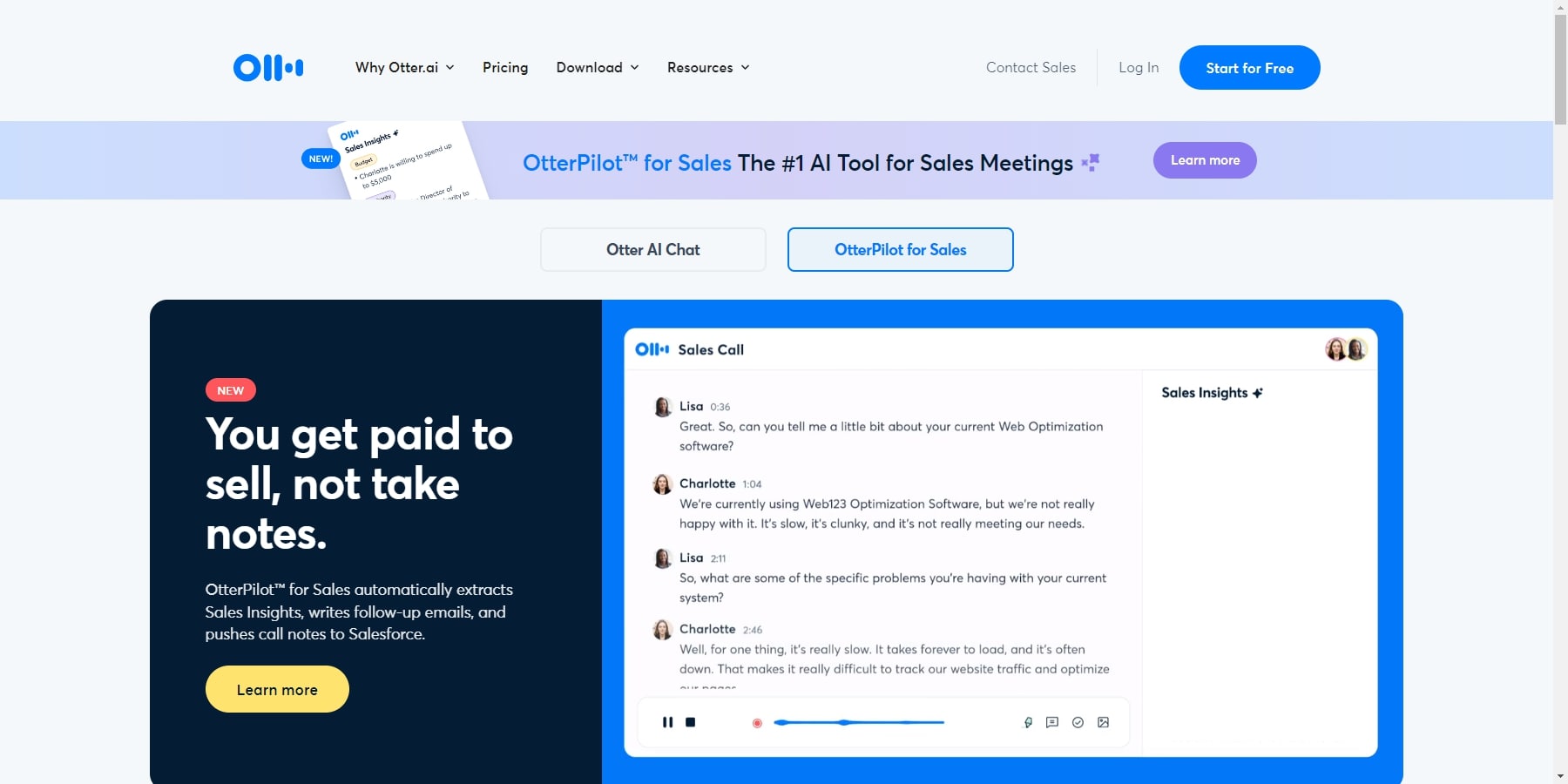 Otter.ai is a robust solution for converting speech into text. Unlike traditional transcription tools, Otter excels at creating high-quality notes and summaries from spoken conversations. It's accessible on Android and iOS, making it versatile for recording and transcribing various types of content.
Key Features of Otter.ai
Provides accurate transcriptions using advanced AI.
Converts speech to text in real-time during live meetings and events.
Identifies speakers in group conversations.
Features a search function to locate specific sections or keywords in transcripts.
Integrates with tools like Google Chrome for easy sharing and collaboration.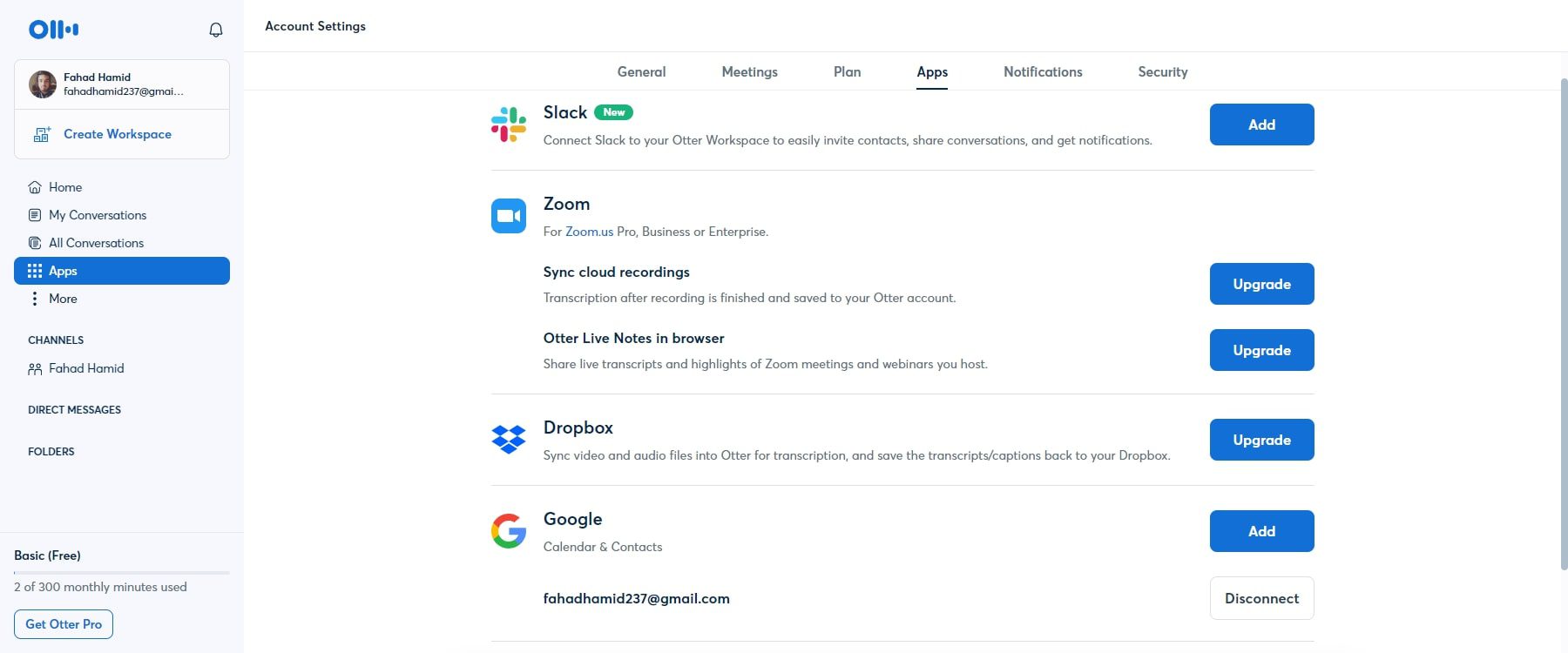 Otter.ai streamlines transcription management through its integrations. For example, it can automatically sync files from Dropbox and Zoom Cloud, keeping your transcriptions up-to-date and organized.
Best For: Otter.ai is perfect for businesses or teams looking for a real-time automated transcription solution for meeting notes to improve productivity. The software also benefits sales teams by providing insights, drafting follow-up emails, and integrating call notes with Salesforce.
Pricing: Offers a free plan, and paid plans start at $16.99/month.
2. Rev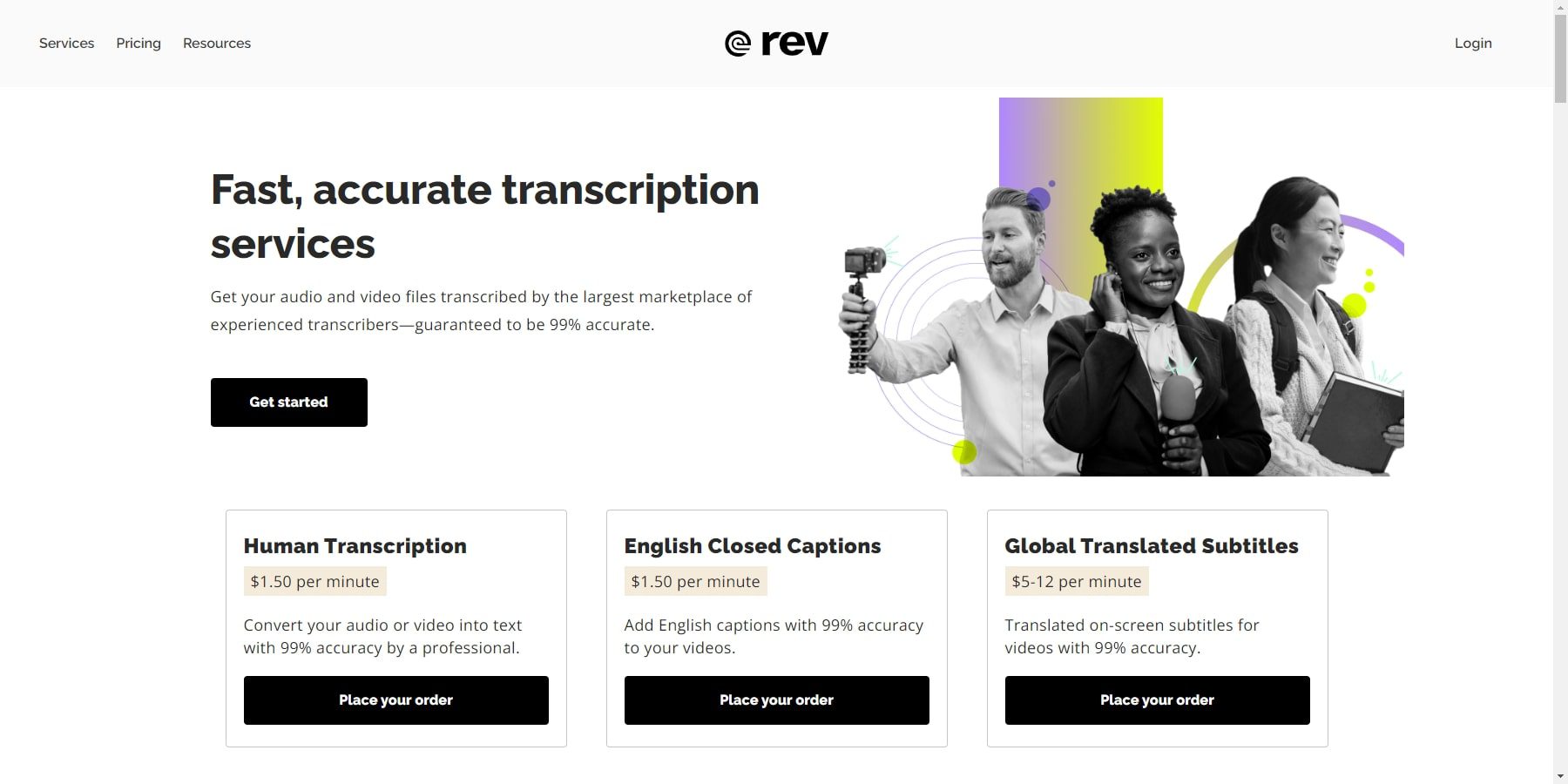 Rev is a transcription platform that offers robust services that make it easy to convert audio and video into text. Known for its speed and accuracy, Rev allows users to upload files and quickly receive high-quality transcriptions from AI or experienced transcribers (actual professionals). It offers various transcription styles, including general, verbatim, and timestamped. Rev also provides foreign language transcription and translation, making it a versatile choice for global users. Once your order is placed, the usual turnaround time is under 12 hours.
All Rev users have access to their web-based AI transcription editor. This tool enhances the transcription process by allowing real-time adjustments to captions while the video plays. The AI Transcript Assistant can also help you extract critical insights and summarize content with precision.
Key Features of Rev
Provides highly accurate text transcriptions by professionals.
Offers one of the most accurate AI-powered transcription services on the market.
Improves video accessibility with English subtitles.
Supports translated subtitles for international audiences.
Allows customization of transcription formatting to meet specific needs.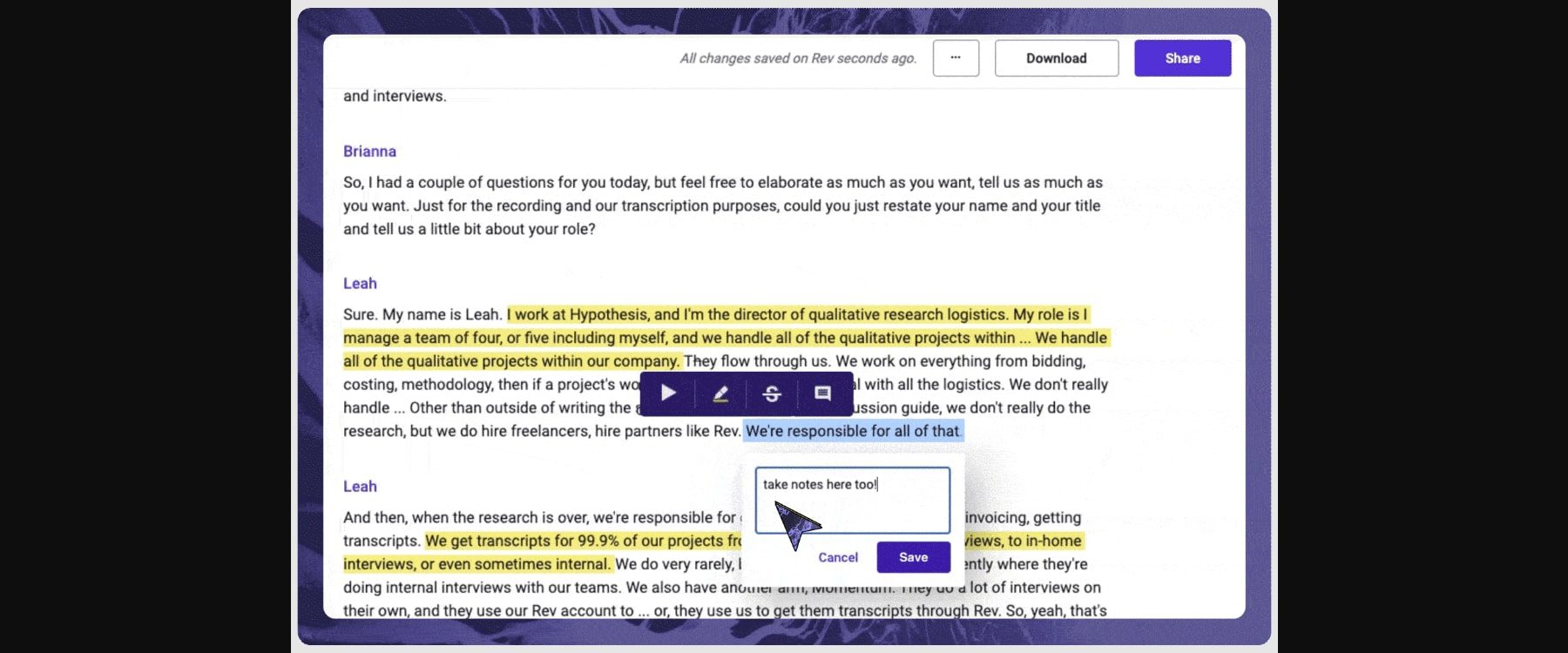 The platform also supports collaborative editing, enabling teams to work on transcripts in real-time. It offers features like synchronized audio playback, editing capabilities, and note-taking. Once editing is complete, the final transcript can be downloaded directly, making the workflow more efficient.
Best For: Rev is ideal for content creators aiming to reach a wider audience through video captions. It enhances accessibility, catering to those who are deaf or hard of hearing. Additionally, Rev is valuable for professionals who need to analyze audio content efficiently.
Pricing: Subscriptions start at $30/month. Pay-as-you-go plans start at $0.25/minute
3. Sonix

Sonix is a trusted AI transcription tool that offers a variety of features for a global audience. It specializes in transcribing, translating, and organizing audio and video files in over 40 languages. With a user base in the millions, Sonix has cemented its reputation as a reliable solution for transcription needs across diverse languages and sectors.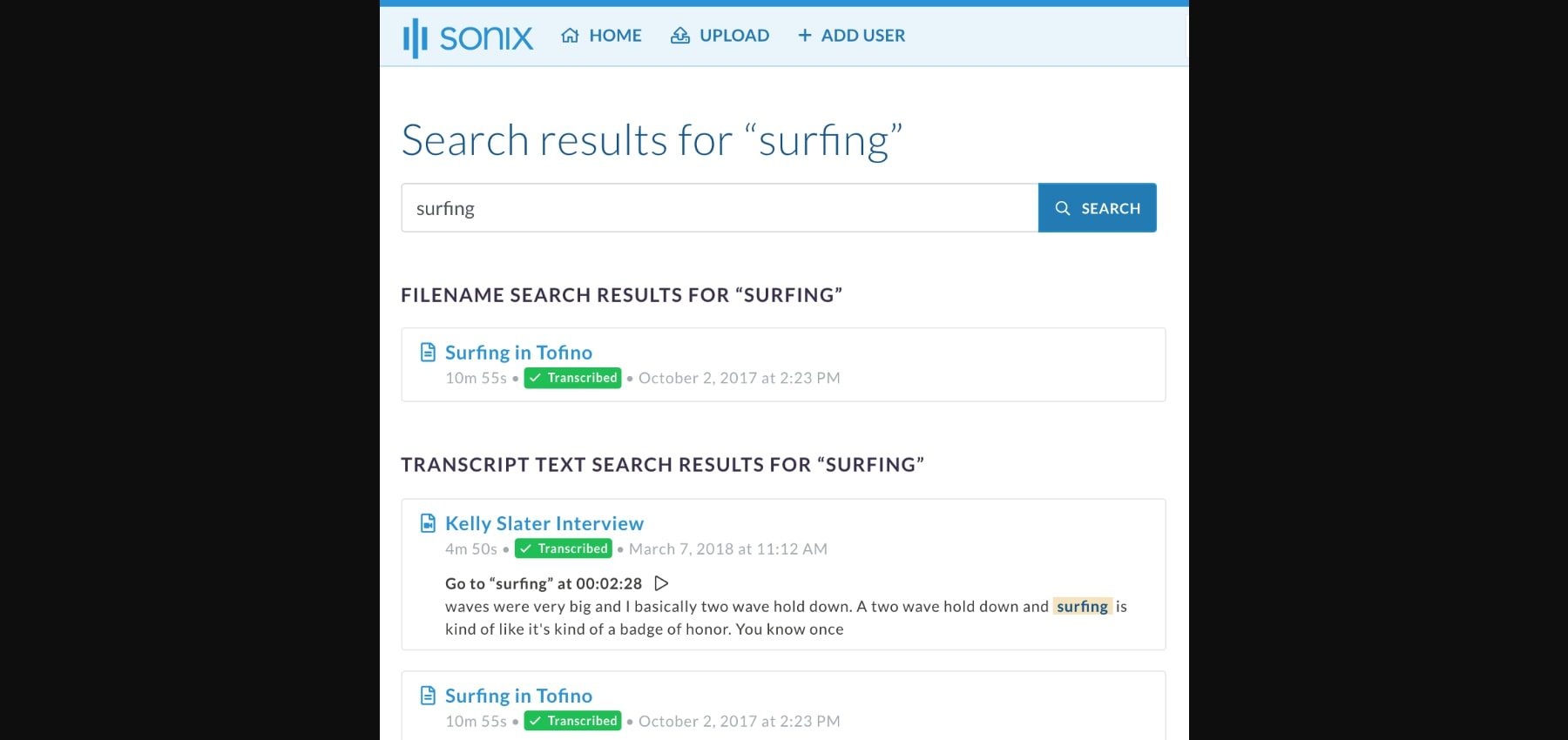 Sonix makes it easy to locate specific information within your transcripts. Its search functionality allows for quick and easy retrieval of relevant content from all transcripts. Whether researching or seeking key insights, this feature saves time and improves your ability to find valuable information.
Key Features of Sonix
Offers accurate speech-to-text conversion in more than 38 languages.
Allows for the editing, searching, organizing, and sharing transcripts from any device.
Translates transcripts into over 40 languages, catering to a global audience.
Equips users with tools to make videos more accessible and engaging.
Generates quick summaries of transcripts for easy reference.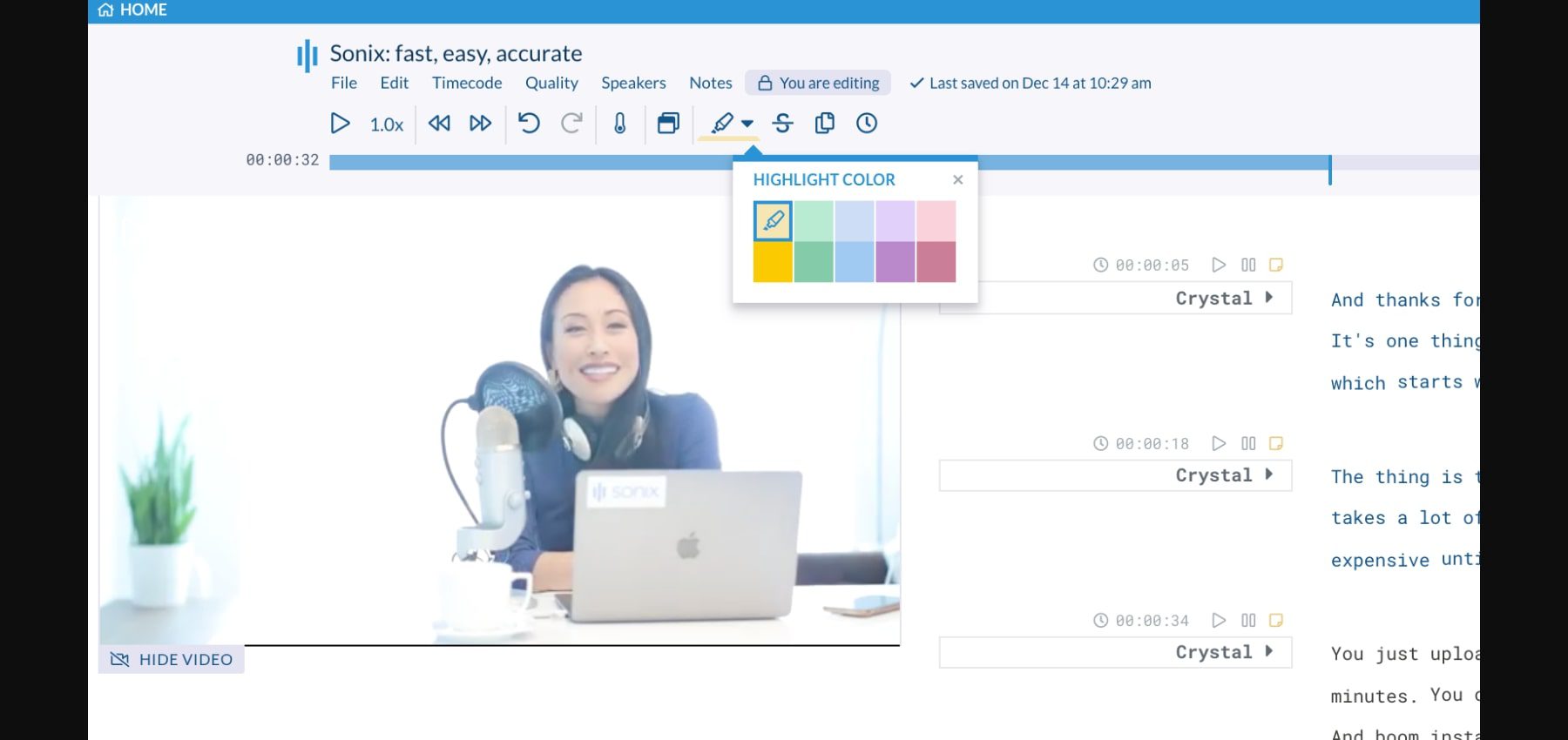 The platform also offers advanced features for data analysis and content creation. One such feature is its multi-color highlighting capability, which provides a versatile way to categorize and analyze data. Sonix also excels in enabling users to easily create subtitles and captions, offering flexibility in adapting text to video content. This feature ensures both accessibility and engagement for a broad audience.
Best For: Sonix is ideal for audio and video producers, researchers, journalists, podcasters, documentary filmmakers, and other professionals who require efficient and accurate transcription services. It also serves authors, content marketers, and legal professionals who must maintain detailed records.
Pricing: Subscriptions start at $22 per month (plus $5 per hour); Pay-as-you-go plan starts at $10 per hour.
4. Fireflies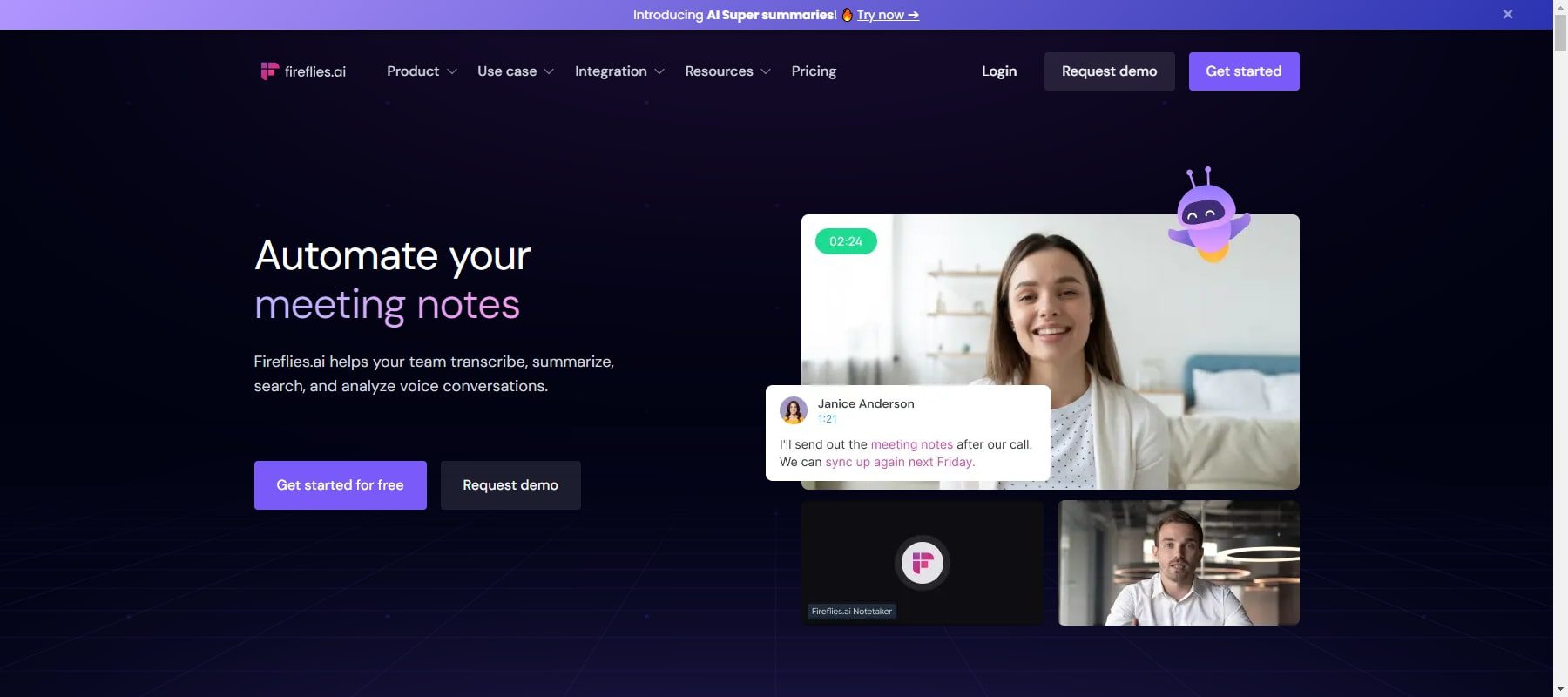 Fireflies.ai is a powerful AI transcription tool to streamline your meeting management process. Its standout feature is its ability to transcribe, summarize, and analyze meetings, unearthing actionable insights and critical summaries. This innovative tool automatically records and transcribes meetings across GMeet, Zoom, and MS Teams, allowing you to revisit and extract essential points at your convenience.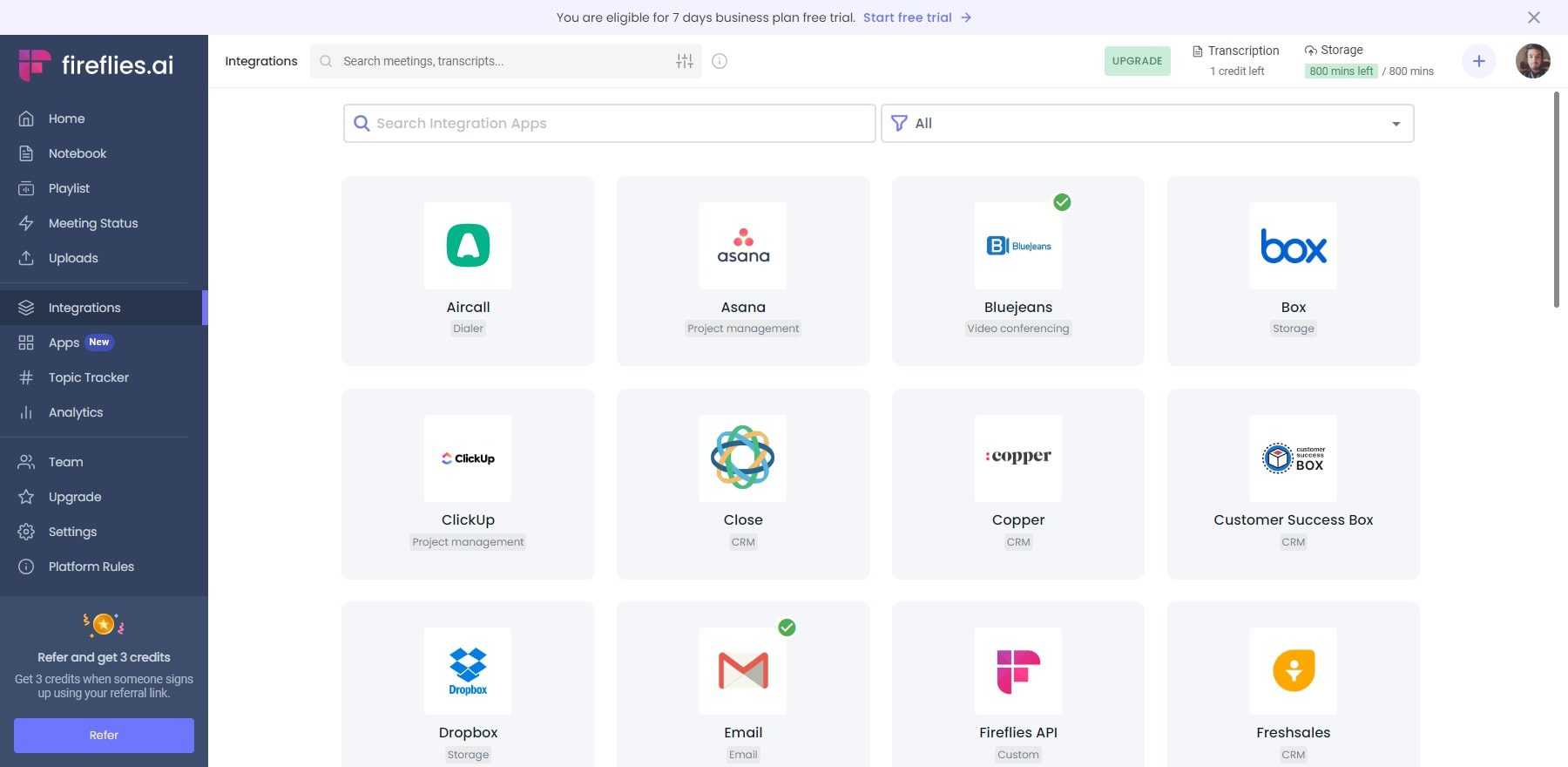 Fireflies.ai integrates with over 39 apps to streamline your workflows. Its ability to seamlessly integrate with the tools you're already familiar with sets it apart, providing automation capabilities to simplify complex tasks and make your work more efficient. Clickup, Slack, and Zoom are just a few of the popular applications you can integrate.
Key Features of Fireflies
Enjoy live transcription during meetings, making capturing and referencing meaningful discussions easy.
Connect Fireflies.ai to various video conferencing platforms, allowing it to join scheduled meetings seamlessly.
Easily upload audio files for transcription, making it convenient to transcribe recorded content.
Seamlessly integrate Fireflies.ai with other apps and tools using Zapier, expanding its functionality to suit your workflow.
Upload files from cloud storage platforms for transcription, streamlining the transcribing of stored recordings.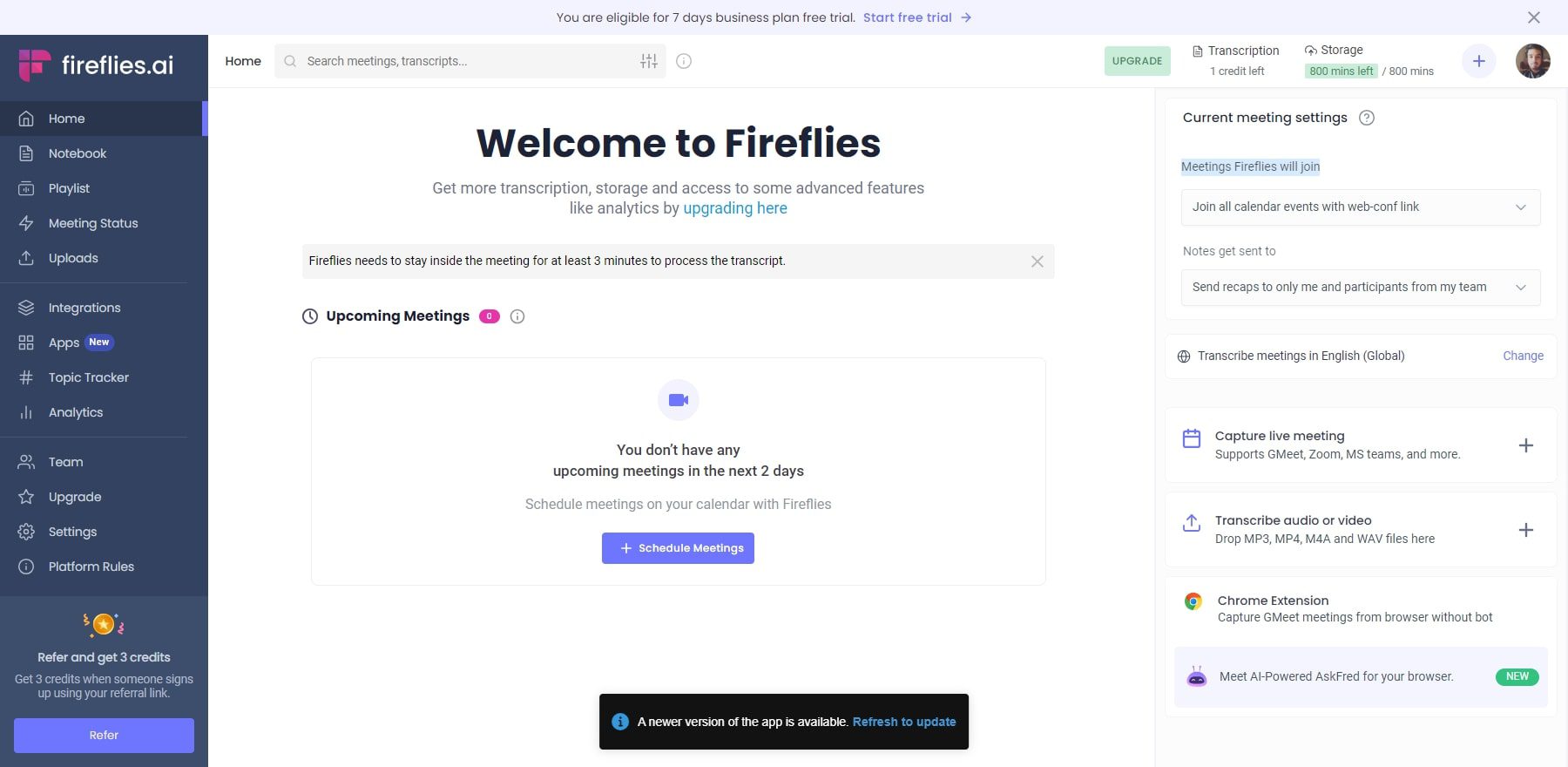 With this tool, you can efficiently organize and conduct personal and team meetings using public and private channels. Whether you're managing internal discussions or client interactions, Fireflies.ai streamlines the meeting process, enhancing overall organization and communication within your team.
Best For: Fireflies.ai is an ideal solution for professionals across various industries who rely on diverse web conferencing platforms for communication. It caters to business leaders, project managers, sales representatives, and customer support teams who require a reliable tool to capture, transcribe, and manage audio and video content from their meetings and interactions.
Pricing: Offers a free plan, with the paid plans starting at $18/month.
5. Beey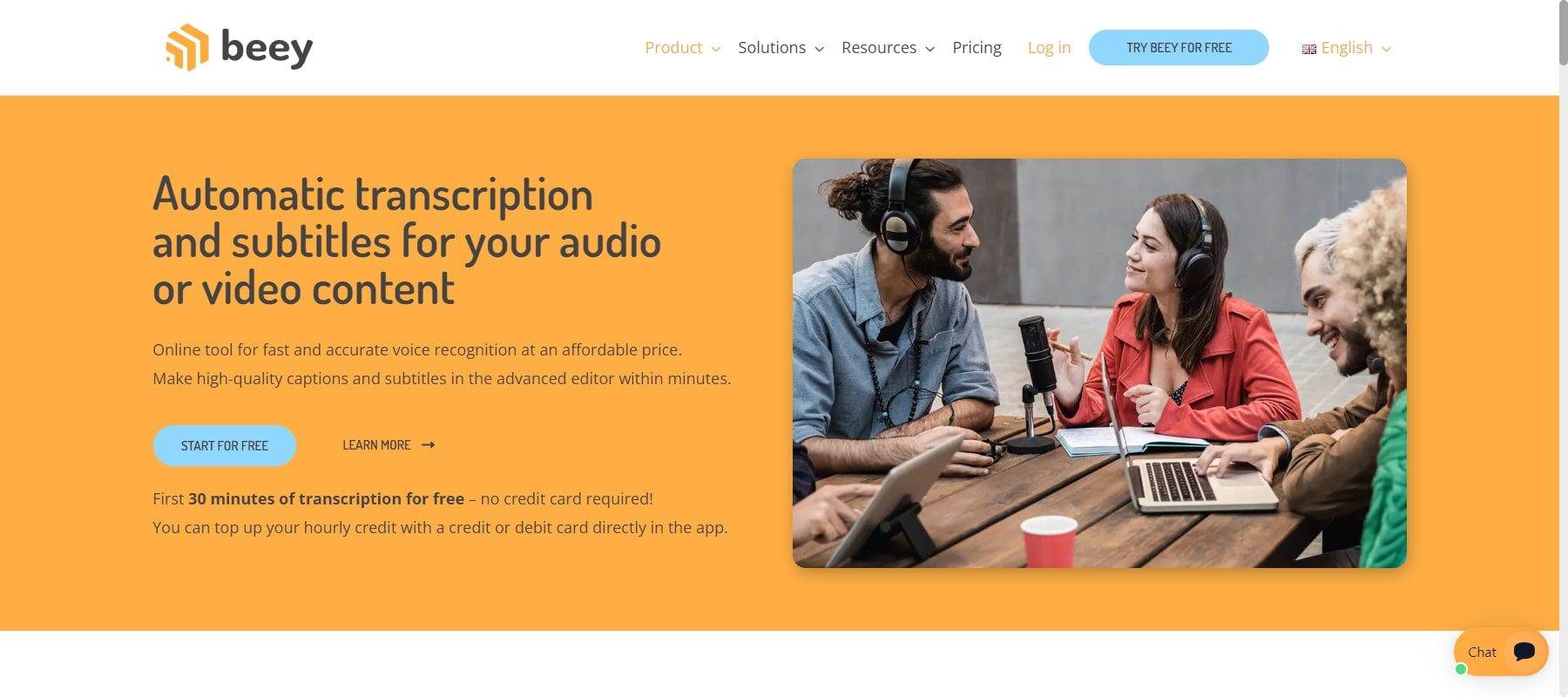 Beey.io is a reliable solution for automatic transcription and subtitles. Using advanced voice recognition technology, it delivers quick and accurate transcriptions at an affordable price. The platform features a user-friendly editor for transcript refinement, format export, and easy subtitle creation. It efficiently transforms audio and video content into high-quality captions and subtitles.
The platform is an excellent asset for content creators and professionals. It automatically converts various media types into text, including videos, podcasts, meetings, and interviews. While it boasts over 90% accuracy in English, German, and Czech, Beey.io allows manual fine-tuning to ensure the highest quality and clarity.
Key Features of Beey
Offers automatic transcription through advanced voice recognition.
Provides high-quality captions and subtitles.
Features a robust editor for text editing and formatting.
Includes speaker separation for precise identification in conversations.
Utilizes speaker recognition technology to label speakers in the transcript.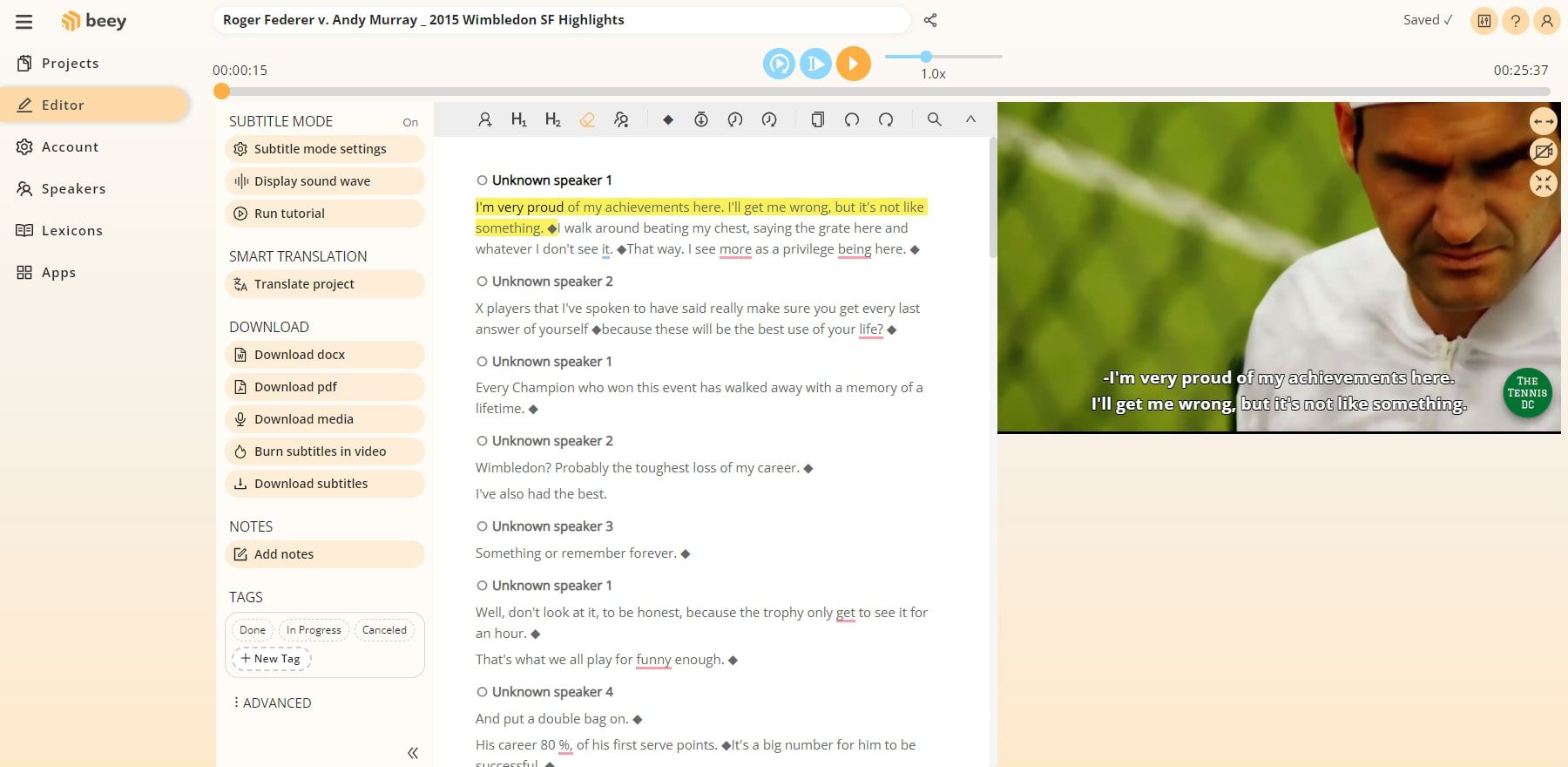 Beey.io introduces a powerful Subtitle Mode designed for professionals. This feature ensures the creation of high-quality captions and subtitles for videos. Additionally, the platform includes an automatic translation tool, enhancing the accessibility of your content in up to 20 languages.
Best For: Beey.io is designed for professionals in journalism, video content creation, and education. It offers tools that cater to the specific needs of these groups, enhancing their workflow and content creation processes.
Pricing: Provides a free plan, with the paid plans starting at 7.5 € for one hour of transcription.
6. MeetGeek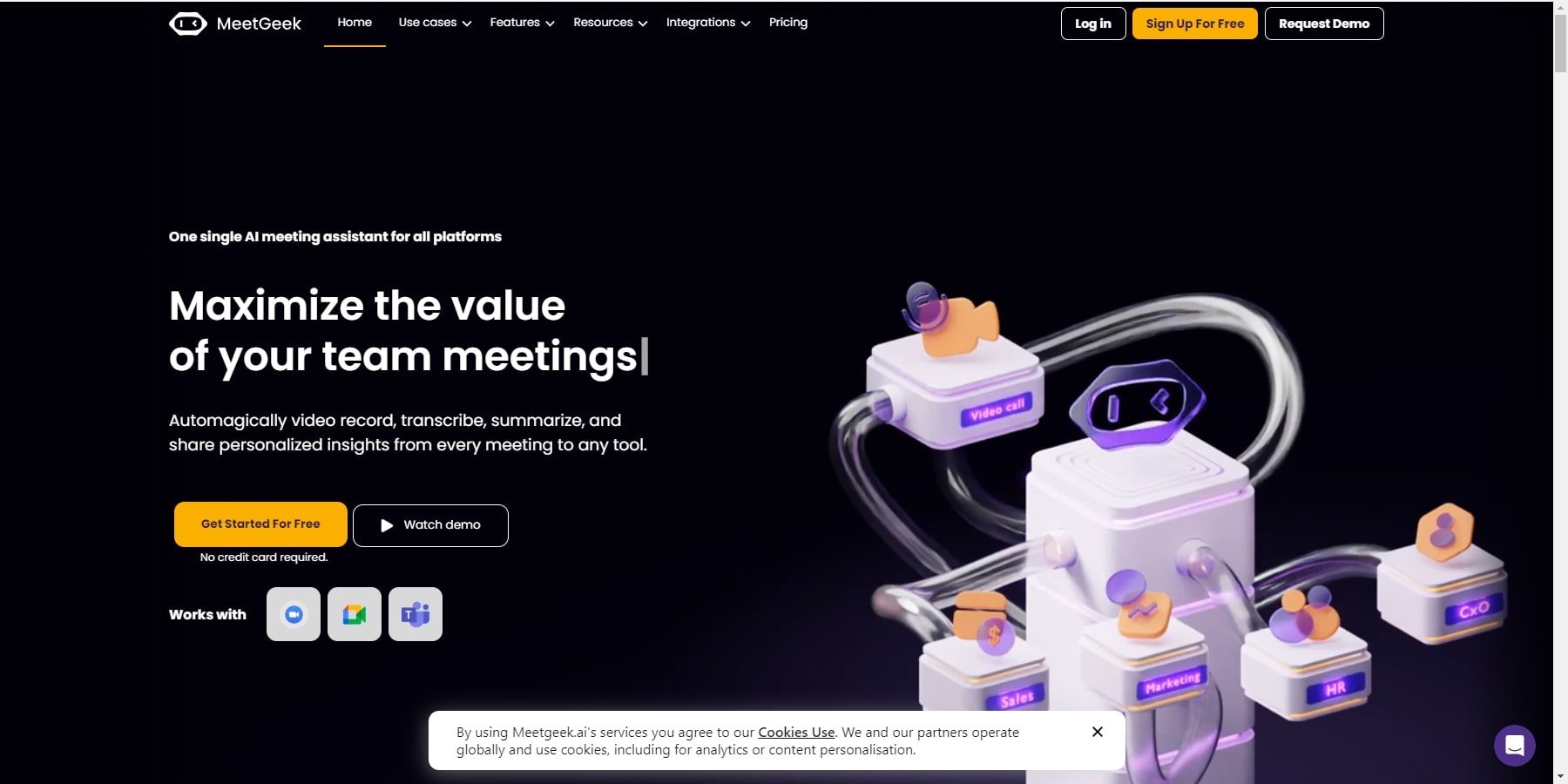 MeetGeek is designed to enhance customer interactions through AI transcription. It records, transcribes, and summarizes meetings in real time, capturing essential insights. The tool also translates video meetings automatically, streamlining the review process. Its user-friendly interface enables easy note-taking and automatic summarization of key points, making it invaluable for boosting productivity and gaining customer insights.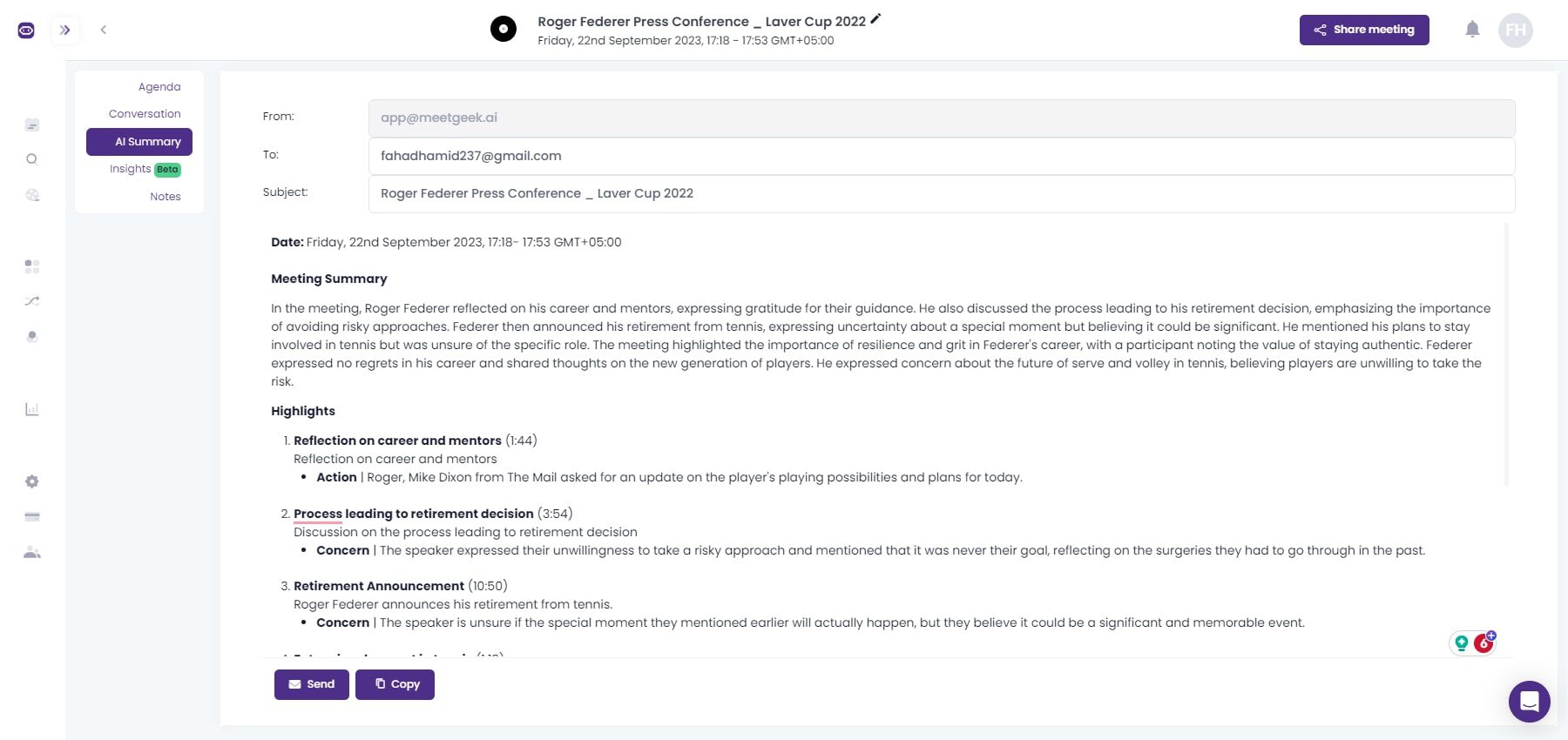 MeetGeek provides an efficient solution for managing and collaborating on past meetings. It converts meetings to text, including video and screen recordings, and allows for overlaying videos with auto-generated captions. The platform also enables easy navigation of transcripts through timestamps and downloading of meeting assets, streamlining your workflow.
Key Features of MeetGeek
Automatically records and transcribes meetings, converting audio and video to text quickly.
Provides easy access to meeting recordings and transcripts.
Integrates seamlessly with over 2000 apps for easy content sharing.
Generates AI-powered meeting summaries with highlights and action points.
Keeps team members informed about meeting decisions and updates.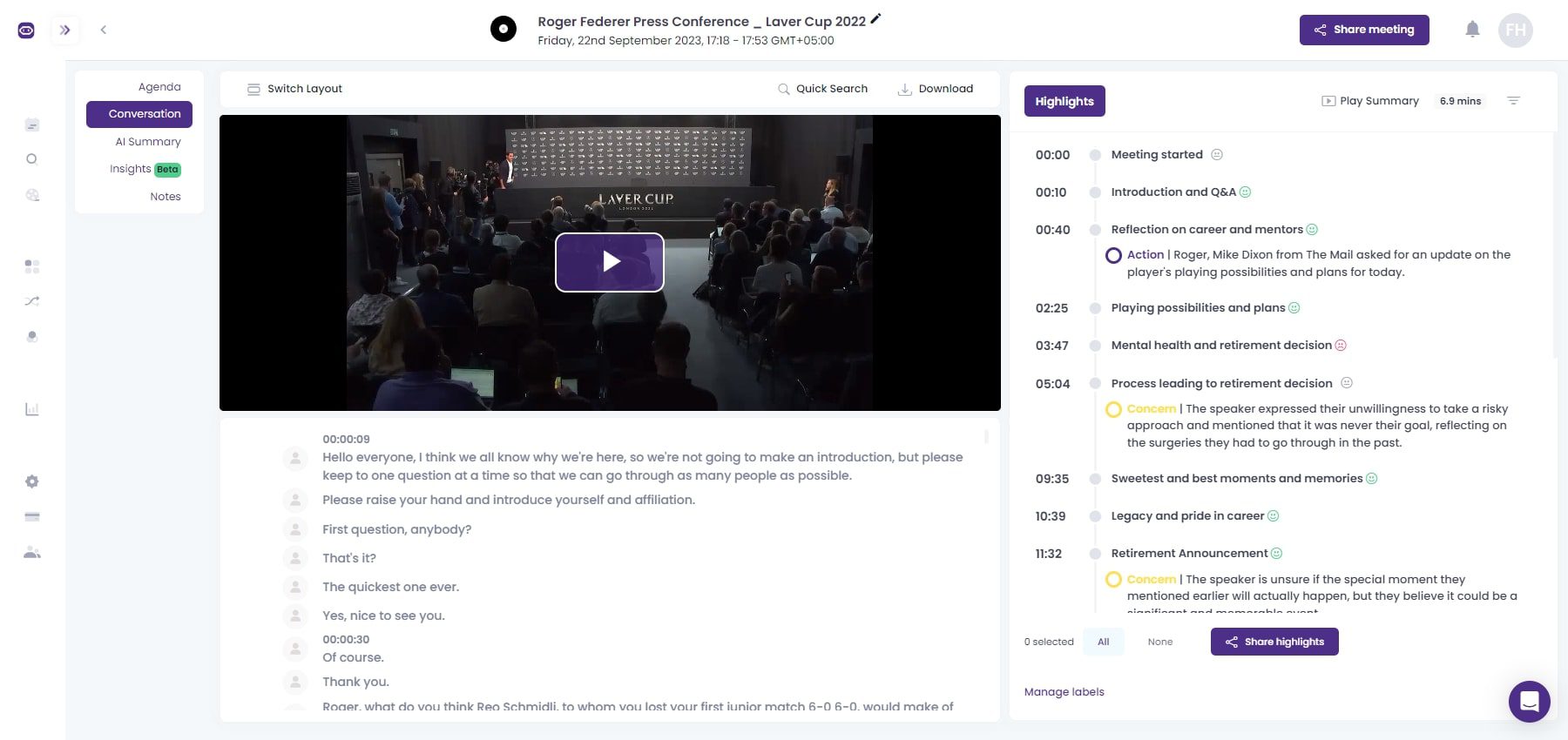 MeetGeek introduces a "Conversation" feature to easily access meeting recordings and transcripts. This allows you to recall specific details or share crucial information quickly. With a repository of past conversations, you can search for missed details, prepare for upcoming meetings, and stay well-informed. Eliminate the need for repetitive knowledge-transfer sessions by sharing the meeting recording with your team.
Best For: MeetGeek is ideal for researchers, content creators, journalists, students, and business analysts who require efficient and accurate transcription services.
Pricing: Offers a free plan, with the paid plans starting at $19/month.
7. SpeakAI
SpeakAI is a cutting-edge AI transcription tool that transforms unstructured audio, video, and text data into actionable insights. It excels in high-accuracy transcription and employs natural language processing (NLP) to glean valuable information and sentiments from text, facilitating in-depth analysis.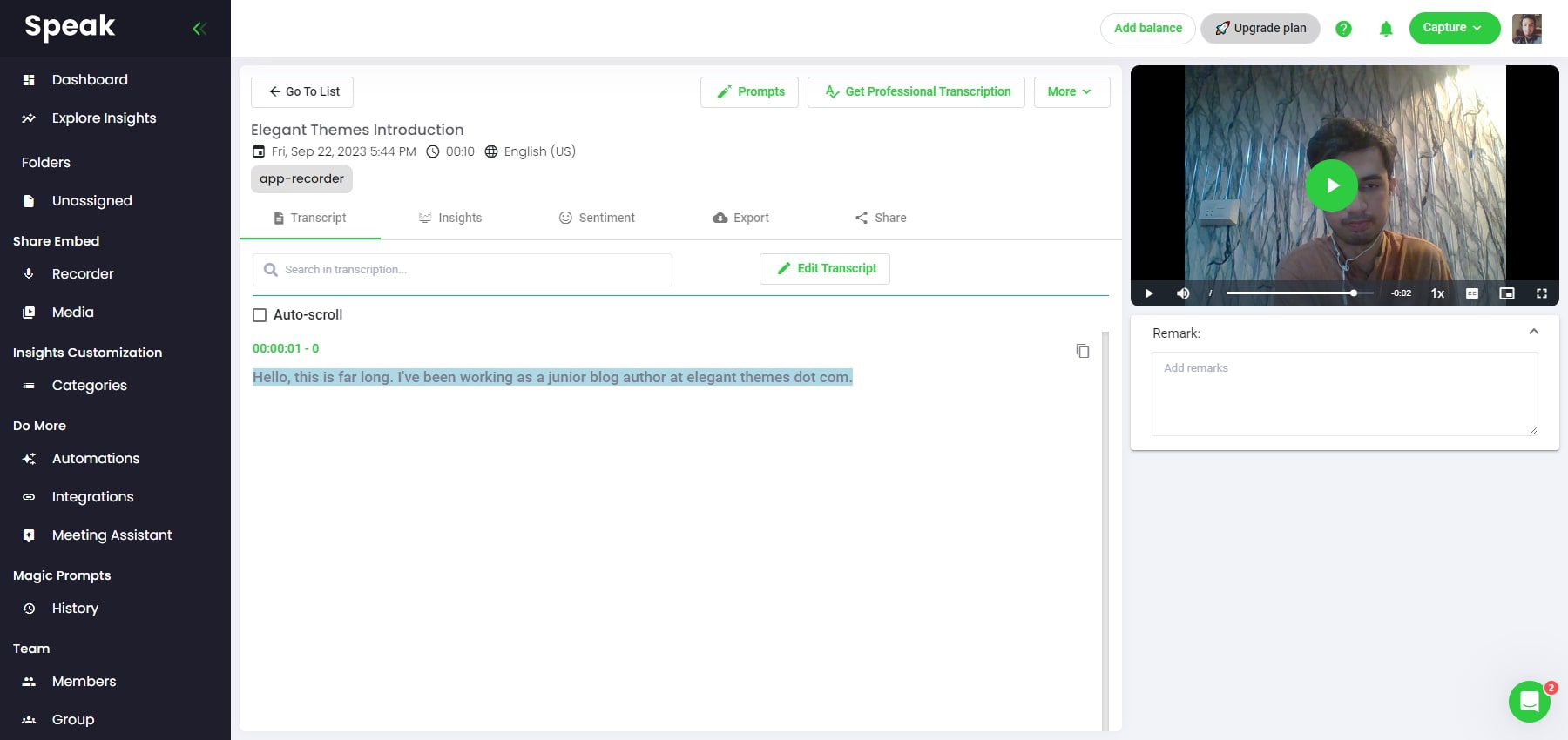 The tool simplifies the gathering and analyzing of media content for various applications, including research and marketing. SpeakAI enables the effortless creation of recorders, link sharing, and audio, video, and text data collection. Its features for automated transcription and CSV imports bolster bulk analysis, delivering valuable analytics that can enhance a range of organizational functions.
Key Features of SpeakAI
Effortlessly upload large volumes of audio, video, and text data in bulk or individually.
Achieve unparalleled transcription accuracy, especially with high-quality audio files.
Utilize SpeakAI's advanced NLP engine to uncover valuable insights, such as keywords, topics, and sentiment analysis.
Engage with your data through natural language queries, receiving meaningful responses and actionable insights.
Share research findings effectively via user-friendly repositories.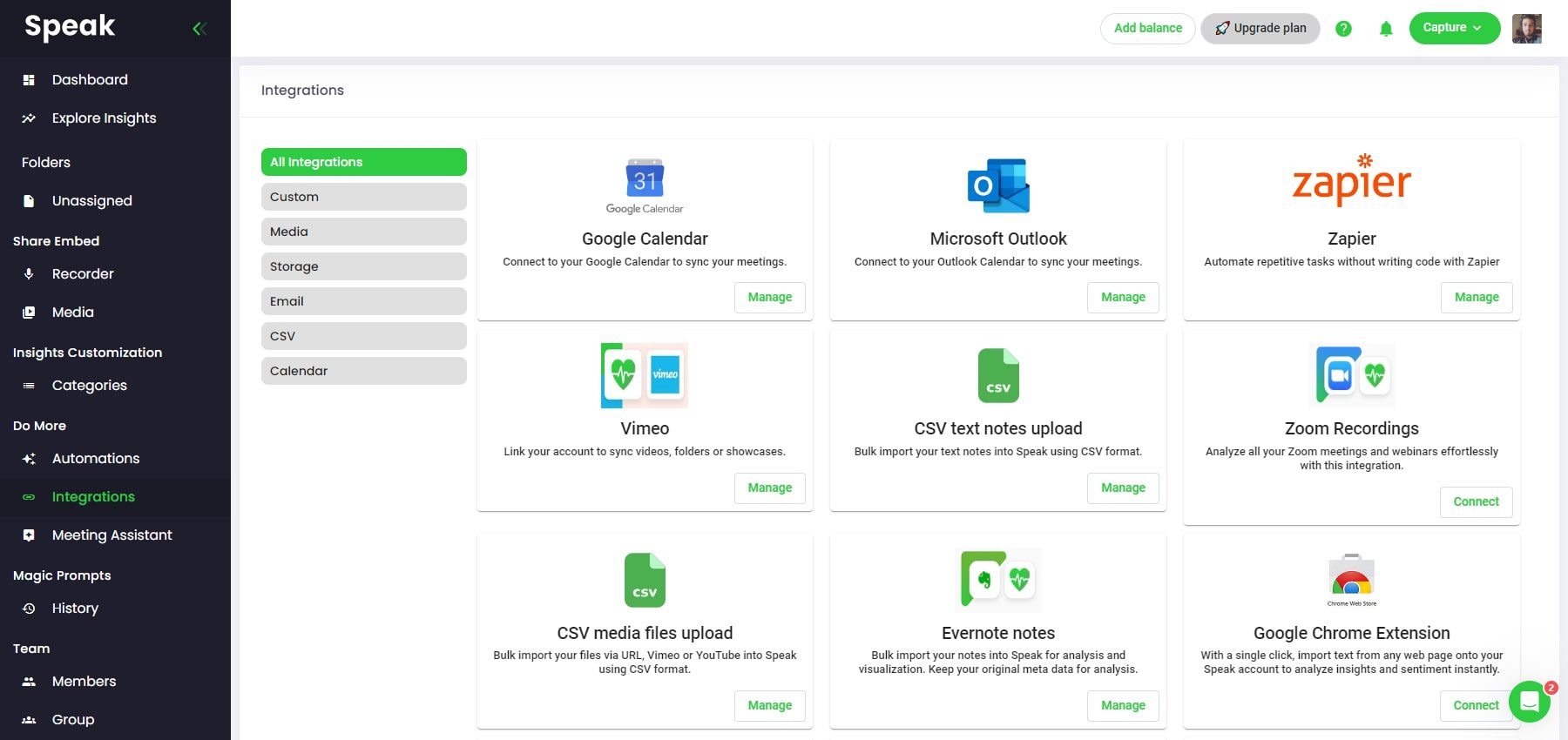 SpeakAI offers seamless integration with a variety of applications. Its user-friendly Zapier Integration lets you connect SpeakAI with thousands of other apps, streamlining your workflow. With features like the Google Chrome Extension and available integrations, you can automate tasks such as transcribing YouTube videos and podcasts, saving media to Google Drive, and even analyzing RSS feeds.
Best For: SpeakAI is particularly useful for market and qualitative researchers who rely on language data analysis. Academic researchers and educational institutions can also benefit from its transcription services to enhance their research and educational materials. Digital marketers can optimize content strategies with SpeakAI, while go-to-market teams can improve their communication analysis through its capabilities.
Pricing: Offers a free plan, with the paid plans starting at $71/month.
8. Trint

Trint is an advanced AI transcription tool that transforms audio and video files into editable and searchable text. It streamlines the content creation process and enhances collaboration on transcription projects.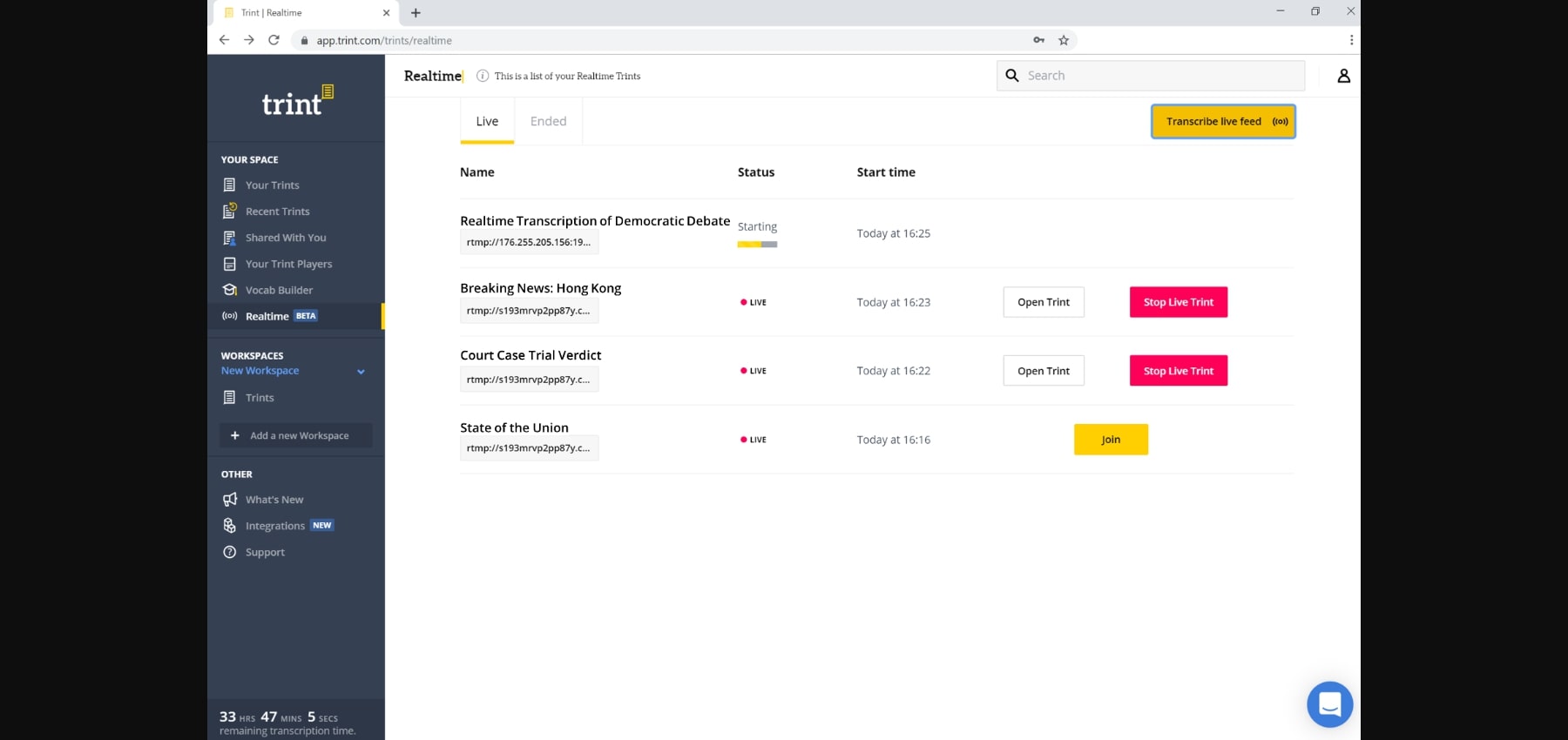 One of Trint's key features is its rapid transcription service for audio, video, and live content. The platform allows users to easily extract important quotes from transcripts and verify them with simple playback. It also offers intuitive tools like tags, highlights, and comments to streamline teamwork.
Key Features of Trint
Uses ASR and NLP for accurate speech-to-text conversion.
Achieves up to 99% accuracy with clear audio.
Provides transcripts in seconds through the Trint Editor.
Supports multiple file formats like .mp3, .mp4, .wav, and more.
Offers quick live transcripts in over 30 languages.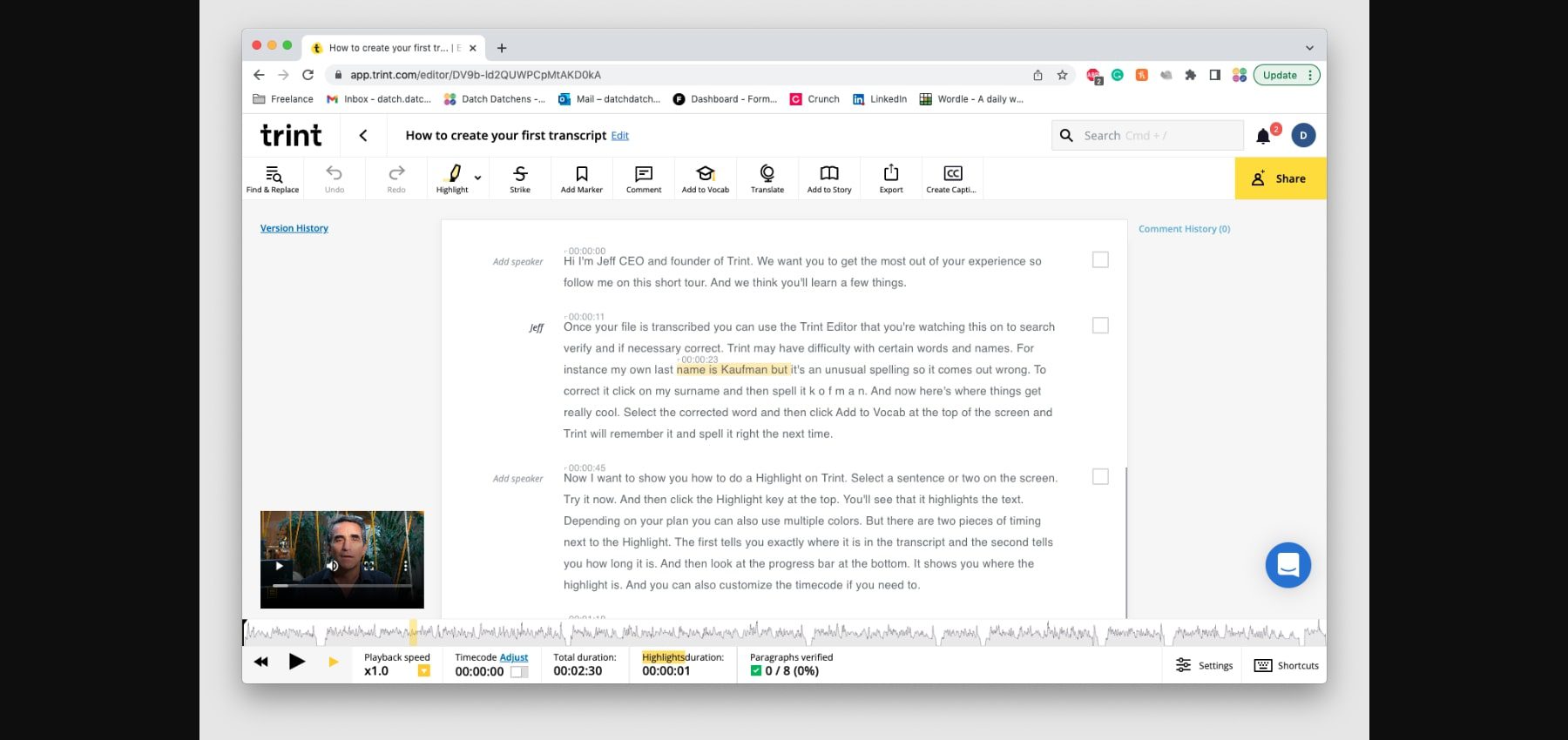 Trint also excels in generating and editing closed captions instantly. This feature enhances the accessibility of video content, making it more inclusive. It's a time-saver and ensures your videos reach a wider audience, including those with hearing impairments.
Best For: Trint is highly versatile, making it ideal for journalists and media companies. They often use it to transcribe interviews and press conferences. Content creators, including YouTubers and podcasters, also rely on Trint for transcribing spoken content, which aids in captioning and subtitling. Additionally, professionals in the corporate and business sectors use Trint for documenting and analyzing meetings and interviews.
Pricing: No free plan, with the paid plans starting at $60/month.
9. Descript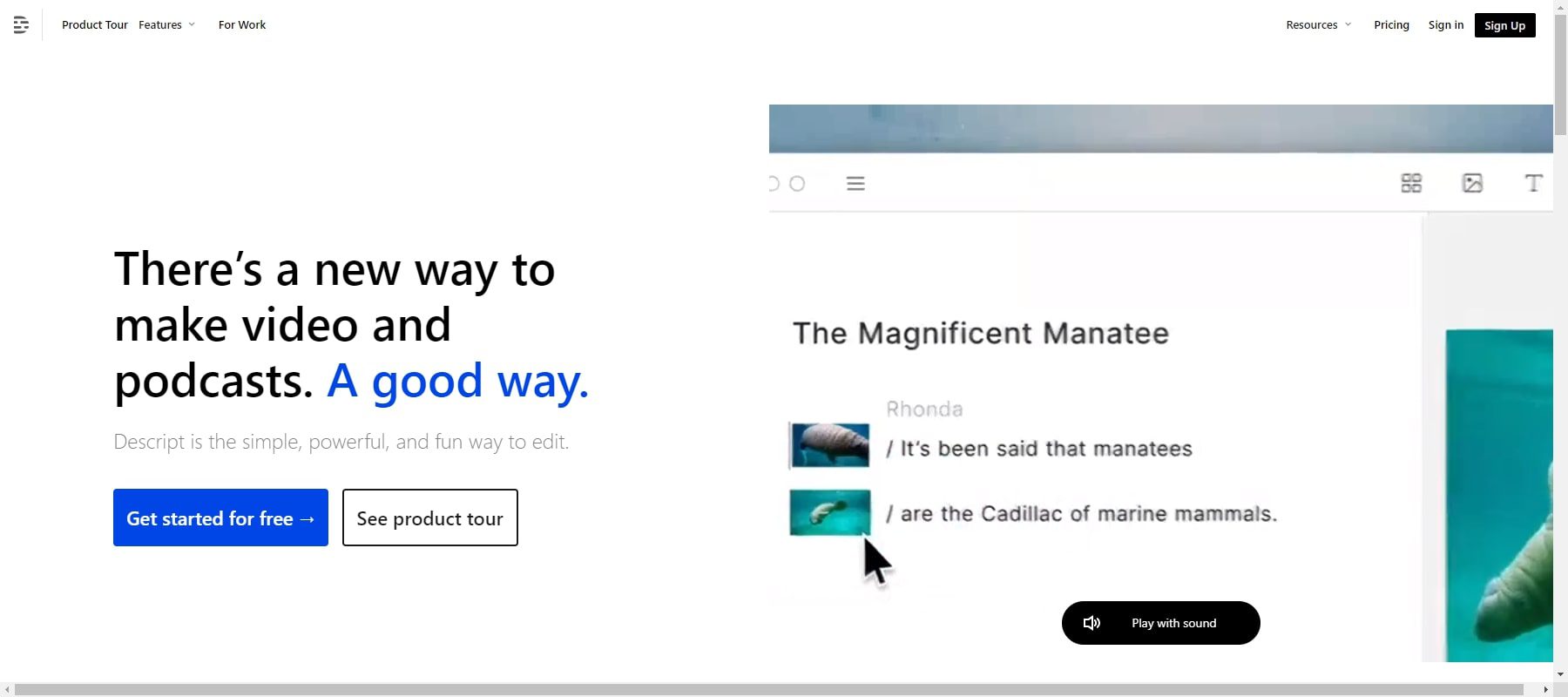 Descript is considered one of the best AI audio tools, revolutionizing how we edit videos and podcasts. The platform simplifies the editing process using artificial intelligence, making it as easy as editing a document. It allows users to transcribe audio and video content, offering a text-based interface for straightforward editing and collaboration.
Descript stands out for its automatic transcription capabilities, offering industry-leading accuracy. Its quick turnaround time ensures that users can access their transcriptions promptly. The platform's White Glove service guarantees up to 99% accuracy within 24 hours, making it ideal for time-sensitive projects. Additionally, Descript's Speaker Detective feature enables users to label speakers in their transcriptions.
Key Features of Descript
Provides a comprehensive set of tools for editing videos and podcasts.
Offers quick access to data visualizations for deeper insights.
Features a user-friendly interface for easy video editing.
Includes advanced tools for editing multiple audio tracks.
Supports instant screen and webcam recording, editing, and sharing.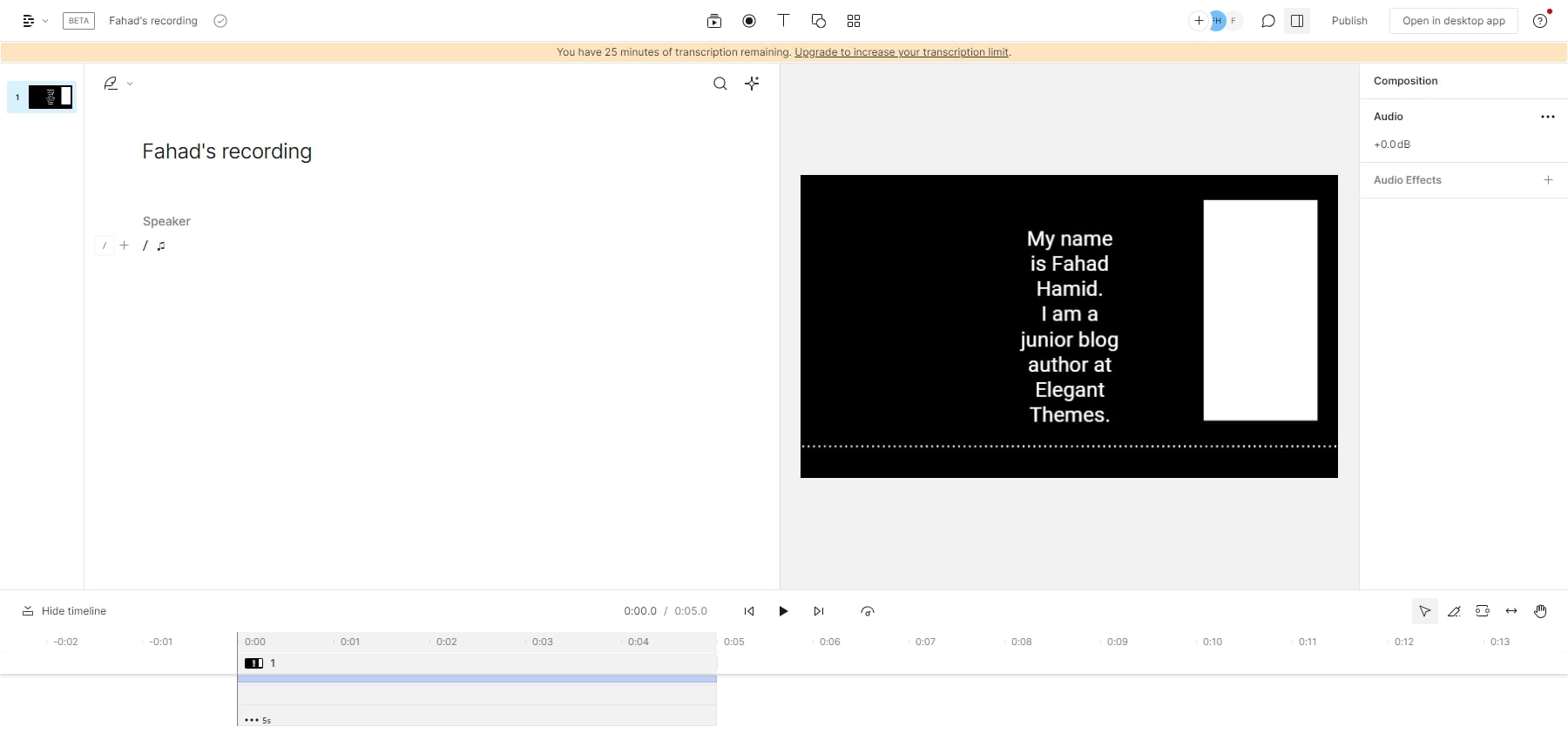 Descript simplifies working with audio and video content. It automatically transcribes your recordings, allowing you to edit them like a text document. This feature makes the platform incredibly user-friendly. Moreover, Descript goes beyond transcription to offer a unique approach to content creation. It allows users to arrange visuals as easily as working on a slide presentation.
Best For: Descript is ideal for content creators and teams looking to streamline their video and podcast production processes. It saves time and effort in post-production, making it a valuable tool for content creators and editors.
Pricing: Provides a free plan, with the paid plans starting at $15/month
AI Transcription Tools: Price Comparison
Navigating the pricing landscape of AI transcription tools can be a complex task. However, we've created a comprehensive price comparison table for the top AI transcription tools to streamline the process and aid decision-making.
What is the Best AI Transcription Tool?
Otter.ai excels in converting spoken language into written text. Unlike traditional tools, it specializes in generating high-quality notes and summaries from spoken conversations. The tool is available on both Android and iOS, making it versatile for recording and transcribing a variety of situations like meetings and lectures. It features real-time transcription, speaker identification, timestamps, and custom vocabulary recognition.
Rev focuses on efficiently converting audio and video into text. It provides fast and accurate transcription services, offering various options like general, verbatim, and timestamped transcriptions. The web-based editor from Rev simplifies the review and editing process, featuring synchronized audio playback, editing tools, and note-taking capabilities. Collaboration features also allow teams to work on transcripts in real-time.
In conclusion, the best AI transcription tool for you will depend on your specific needs, whether that's real-time note-taking, content creation, or data analysis. Each tool offers unique features that cater to different requirements, enhancing both productivity and content quality. Consider your use case and preferences when making your selection.
Looking for more? Check out our complete collection of top AI tools to boost productivity.